Tired of smoothies without staying power? This nutritious and ultra filling green smoothie recipe is made with intentional ingredients to provide a blend of fiber, protein, carbs, and fat to fill you up like a meal.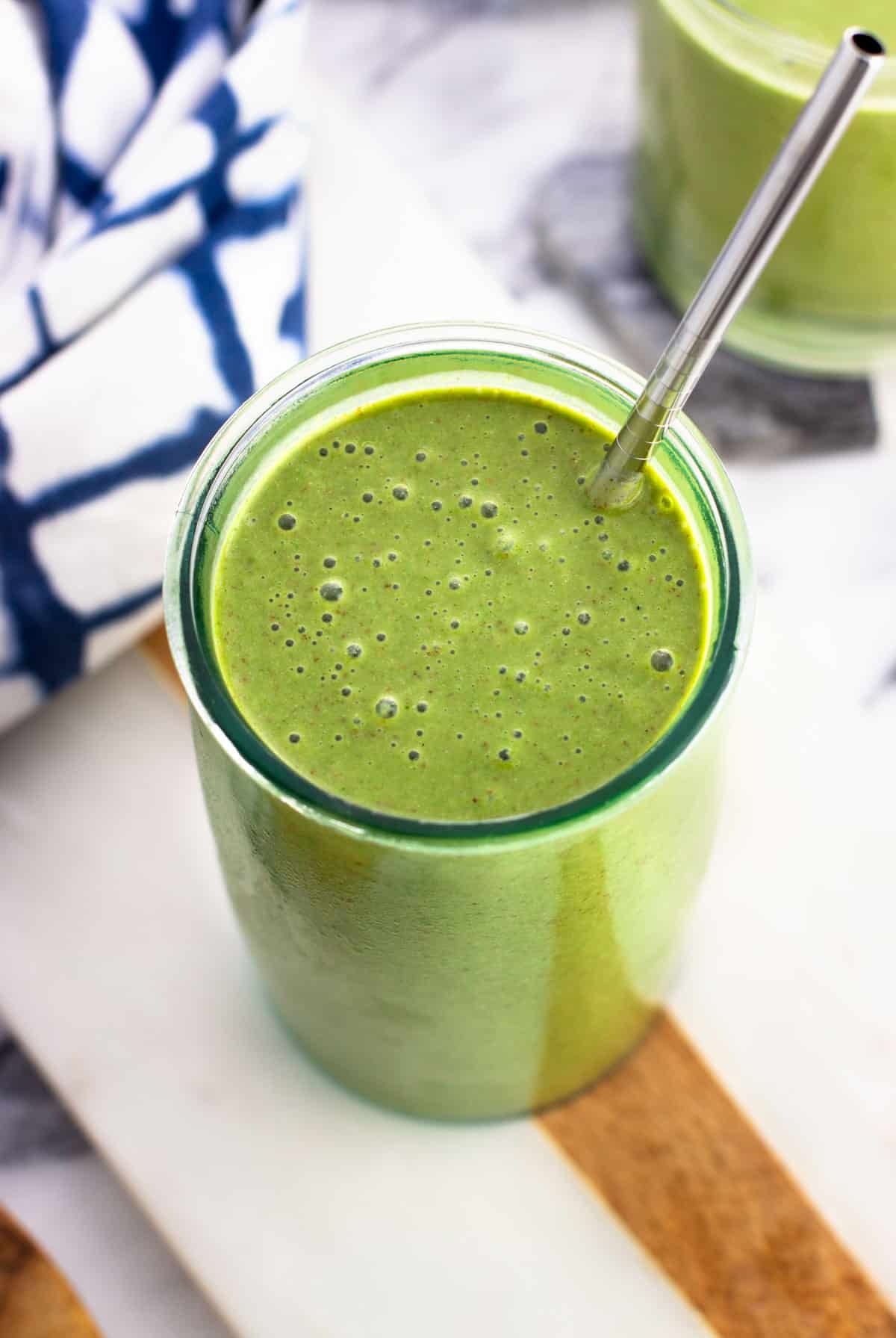 As someone who has long been a frequent snacker and small meal eater in order to ward off low blood sugar symptoms, trying to curb the snacking and to stretch time between meals after getting Invisalign was TOUGH. Hands down it continues to be the hardest part of the whole process (said now as I'm nine months in).
Trying to go from lunch to dinner without snacking has been tricky, and I quickly set to work concocting an optimal lunch, tinkering with add-ins and ingredients, to find what holds me over best. Over time my ultra filling green smoothie was born.
I've eaten this smoothie (or a version of it) for lunch nearly every day, and can often go 6-7 hours between meals feeling completely balanced, without becoming a shaky, sweaty, hangry, distracted mess. And that feels nothing short of miraculous.
Reasons to Love This Recipe
This is a green smoothie with serious heft. Think more meal than snack.
Soaking and then blending the chia seeds well makes them all but disappear into your smoothie. No having chia seed fragments latching onto your tongue (hate that).
You can take this framework and mix and match ingredients to your tastes and what you have on hand. Different berries, greens, milk, protein flavor, nut butter, etc.
It tastes really good!
Recipe Ingredients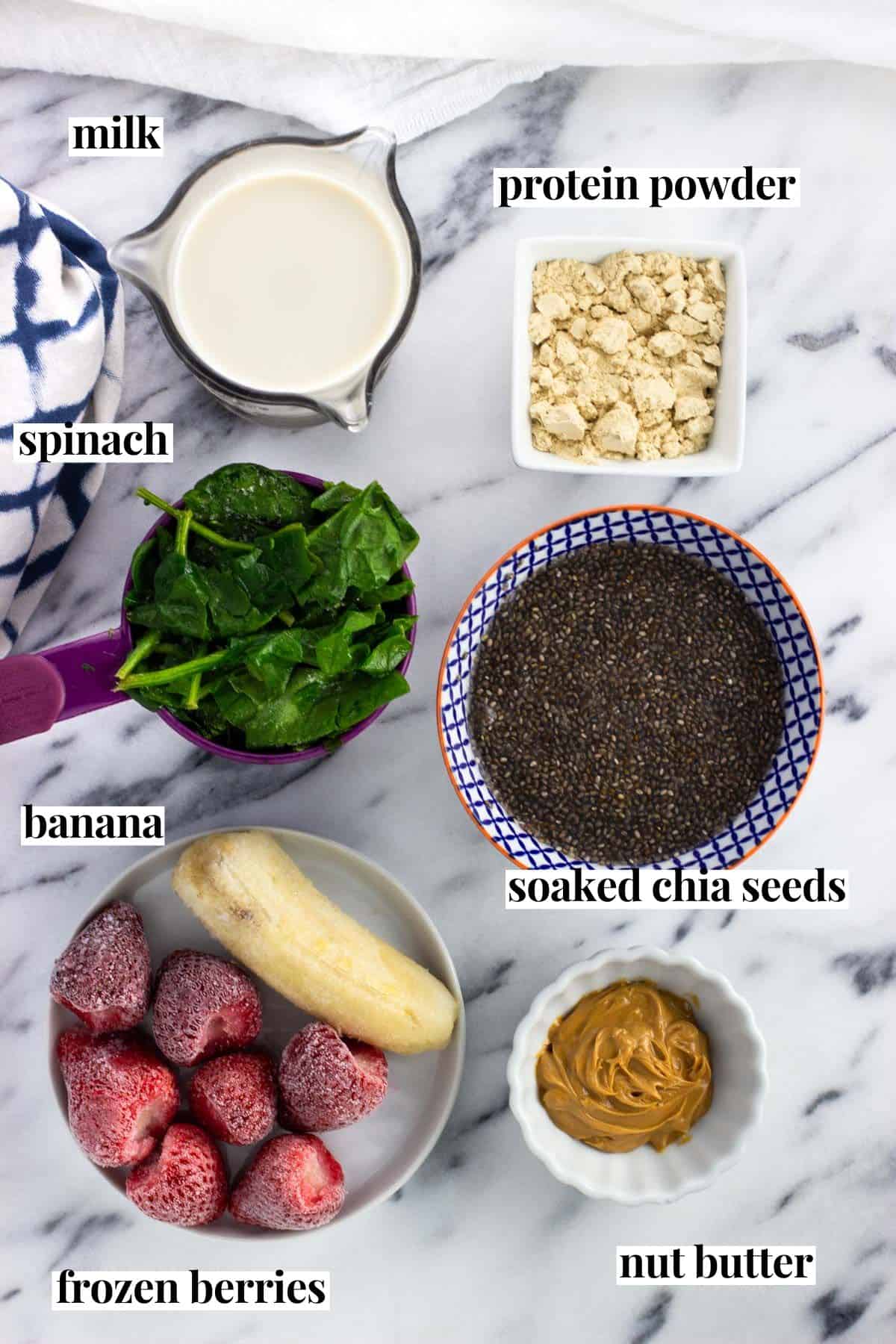 Milk: Whichever kind you prefer will work. I like unsweetened vanilla almond milk or oat milk. If using oat milk I try and make sure the sugar content isn't super high as the fruit provides sufficient sweetness.
Chia seeds: Excellent sources of fiber, omega-3 fatty acids, and other nutrients (source), these also bulk up smoothies as they thicken when soaked in liquid.
Nut butter: I go back and forth between using peanut and almond butter. They're both sources of protein and monounsaturated fats (source), and their flavors add a nice touch to a green smoothie.
Protein powder: Use your favorite! I recommend a vanilla flavor, but chocolate is pretty good too. My go-to is Orgain vegan plant-based protein (not sponsored) which is no-sugar-added and derives its protein from peas, brown rice, and chia seeds. I use a half-serving (one scoop) to add roughly 10 grams of protein.
Spinach: Fresh or fresh-frozen works great (see how to freeze spinach). If avoiding high-oxalate foods, baby kale is a good replacement for spinach.
Banana: Half of a frozen banana blends right in without providing much flavor.
Strawberries: These add sweetness and flavor, and are good sources of a variety of nutrients. I also like to use frozen blueberries or raspberries.
If not using frozen fruit, you may wish to throw in a few ice cubes for a bit of frostiness.
Step-by-Step Instructions
It seems silly to go into such depth on how to make a smoothie ("Add ingredients to a blender, blend") but preparing this on the daily for months and months gave me the opportunity to fine-tune the process and truly make it the best green protein smoothie going.
Soaking the Chia Seeds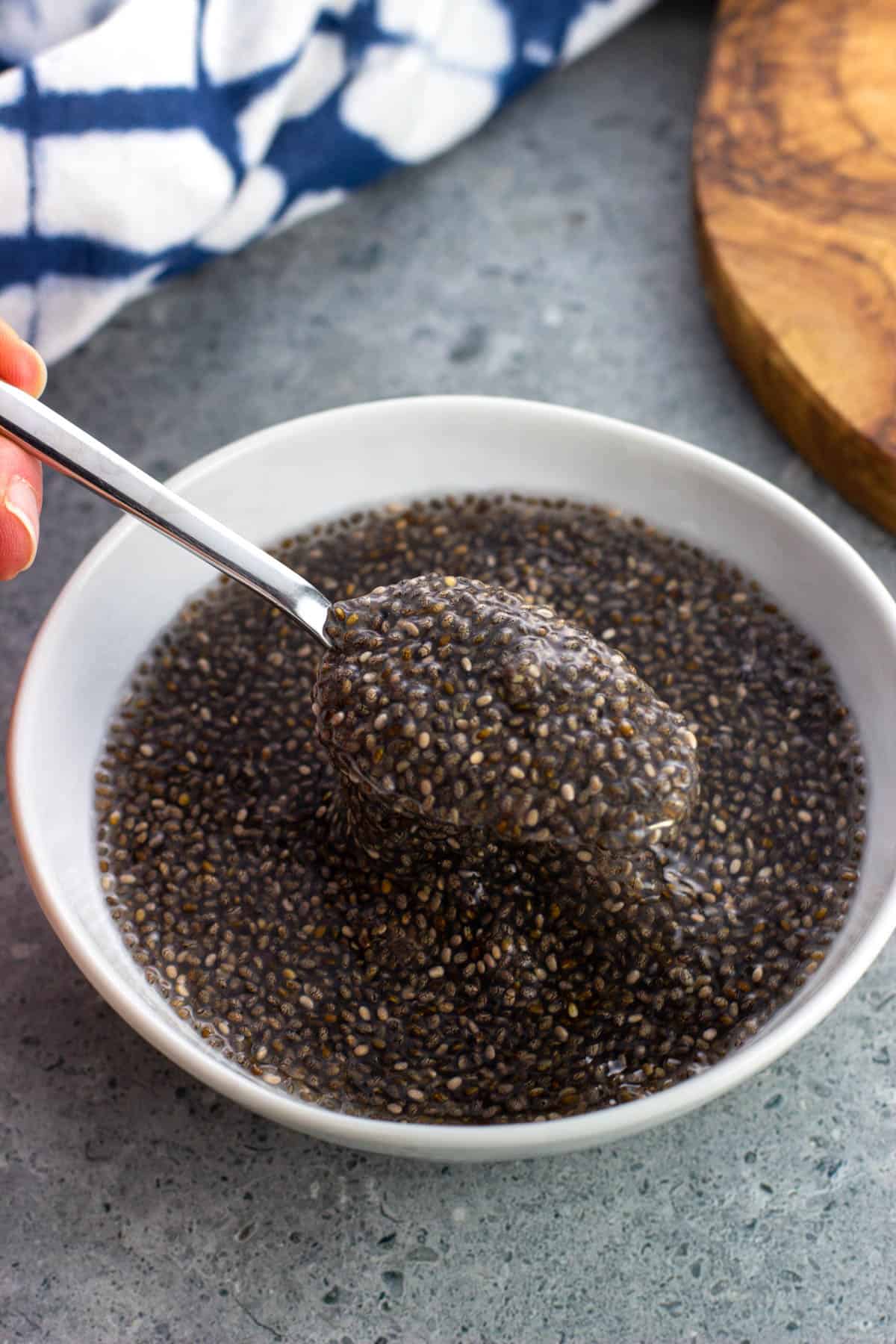 When soaked in water, milk, or other liquid, chia seeds plump up and become thick and gelatinous. This expanded form makes them easier to digest and blend into small pieces.
There are two ways I go about soaking chia seeds for smoothies. The amount doesn't have to be precise, but I usually use two tablespoons of dry chia seeds and at least four ounces of water.
Stir together chia seeds and cool water in a bowl or container. Refrigerate for several hours, ideally overnight.
Heat water in your preferred manner until it's warm, not boiling. Add chia seeds to a heat-safe container and pour water over top. Stir and let sit for a half hour, or until thickened. I transfer the bowl to the refrigerator to cool down after a half hour.
With either method, you want the chia seeds to have absorbed sufficient water to have considerably grown in size and become gelatinous before making your green chia smoothie.
The First Blend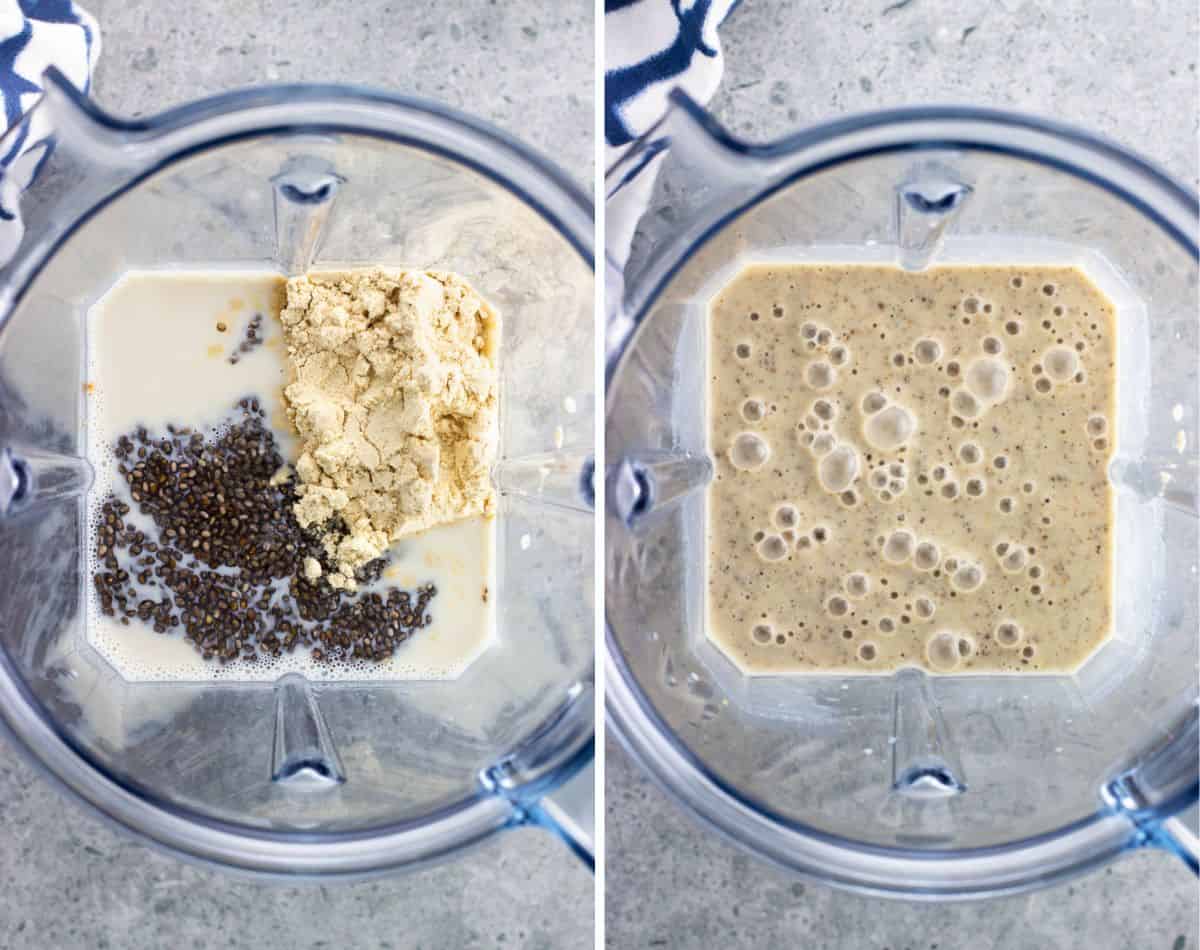 Blend everything but the fruit and greens. This means your milk, soaked chia seeds protein powder, and nut butter.
I find blending these ingredients by themselves more effectively chops up the chia seeds into unnoticeable bits. While adding everything all at once still works, the chia seeds don't circulate around the blender blades as much and remain in larger pieces.
This also works to completely break down and disperse your nut butter and protein powder so there aren't any unevenly globby or grainy areas.
The Second Blend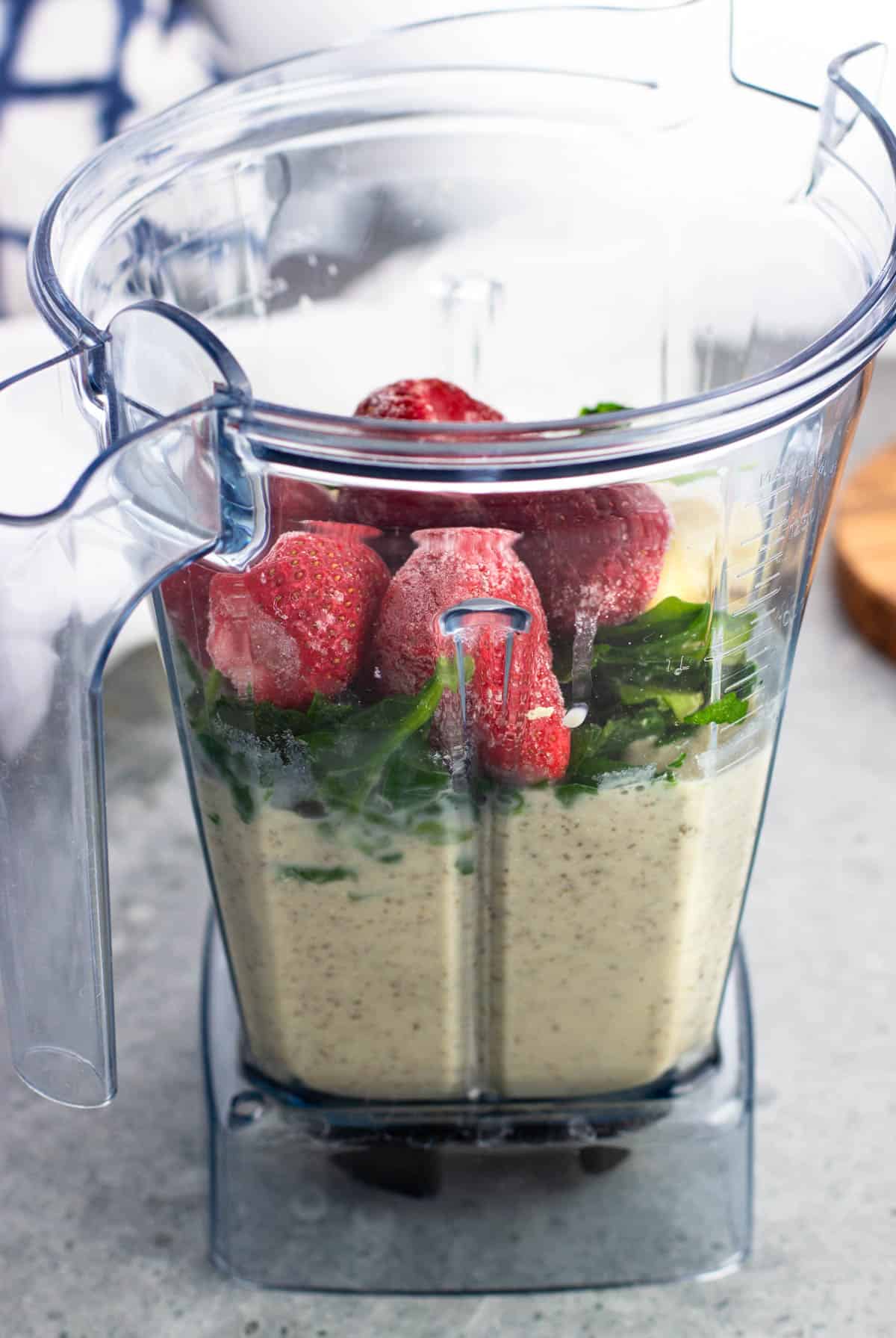 Now's the time to add leafy greens and fruit. The instruction booklet that came with my blender recommends layering smoothie ingredients with the heaviest ones on the top to help push everything downward, so the greens go in first and then the banana and berries.
As you blend, if progress stalls out add a little extra drizzle of milk and/or stir it up to help move things along.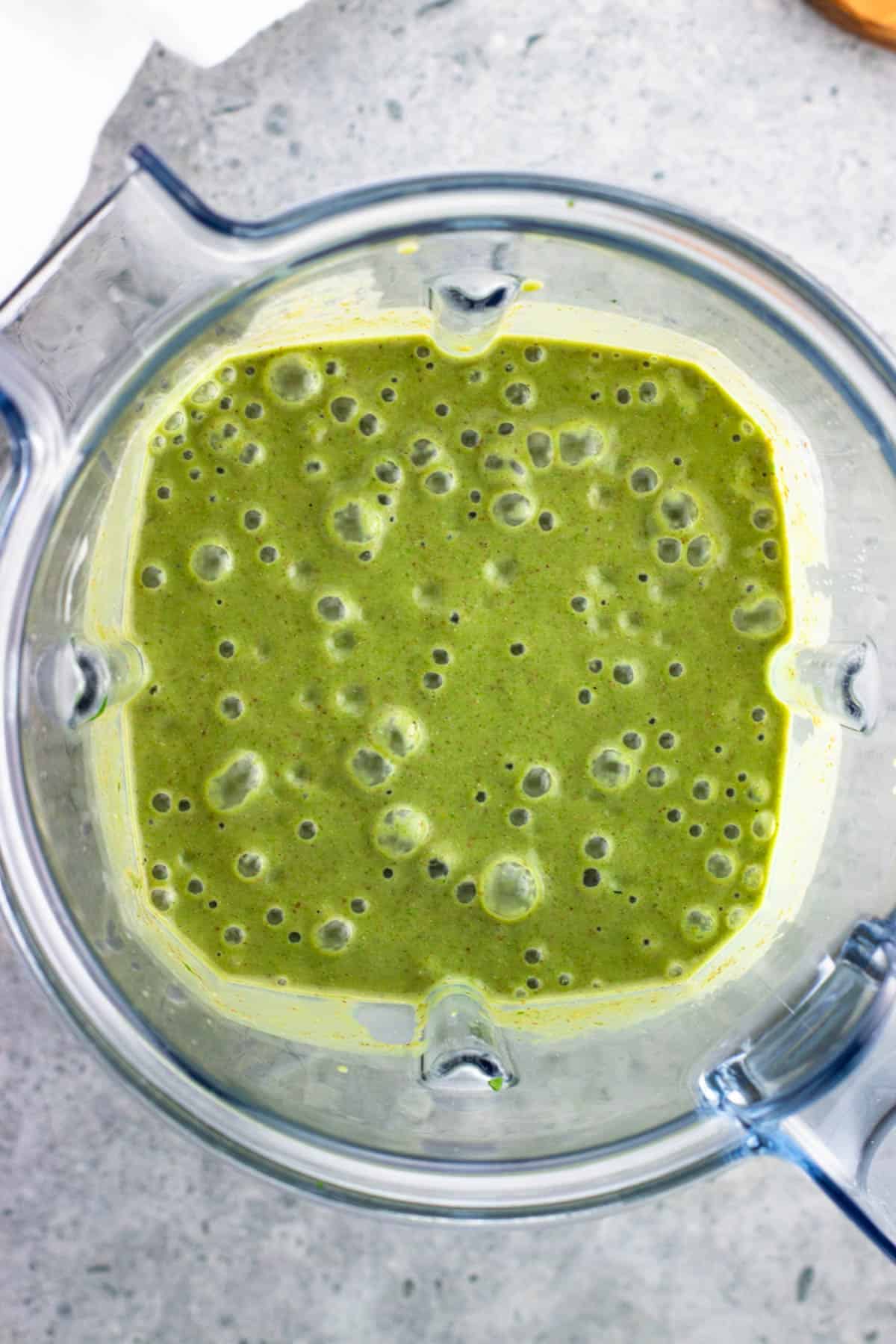 Recipe Tips and Tricks
Soak your chia seeds. This allows more nutrients to be absorbed by the body and helps them all but disappear texture-wise in the smoothie.
Blend your green smoothie in two stages. This allows the chia seeds time to become tiny specks, which then all but disappear into your finished smoothie.
Layer heavier ingredients on top. Whether you have a standard or high-powered blender, the weight on the top helps press everything downwards to blend smoothly.
Keep in mind this is meant to be a meal smoothie. And it shows in the nutrition panel estimate! This is certainly not a low-calorie, low-sugar, or low-fat type of smoothie. The fat primarily comes from chia seeds and nut butter, the sugars from strawberries and the banana, etc.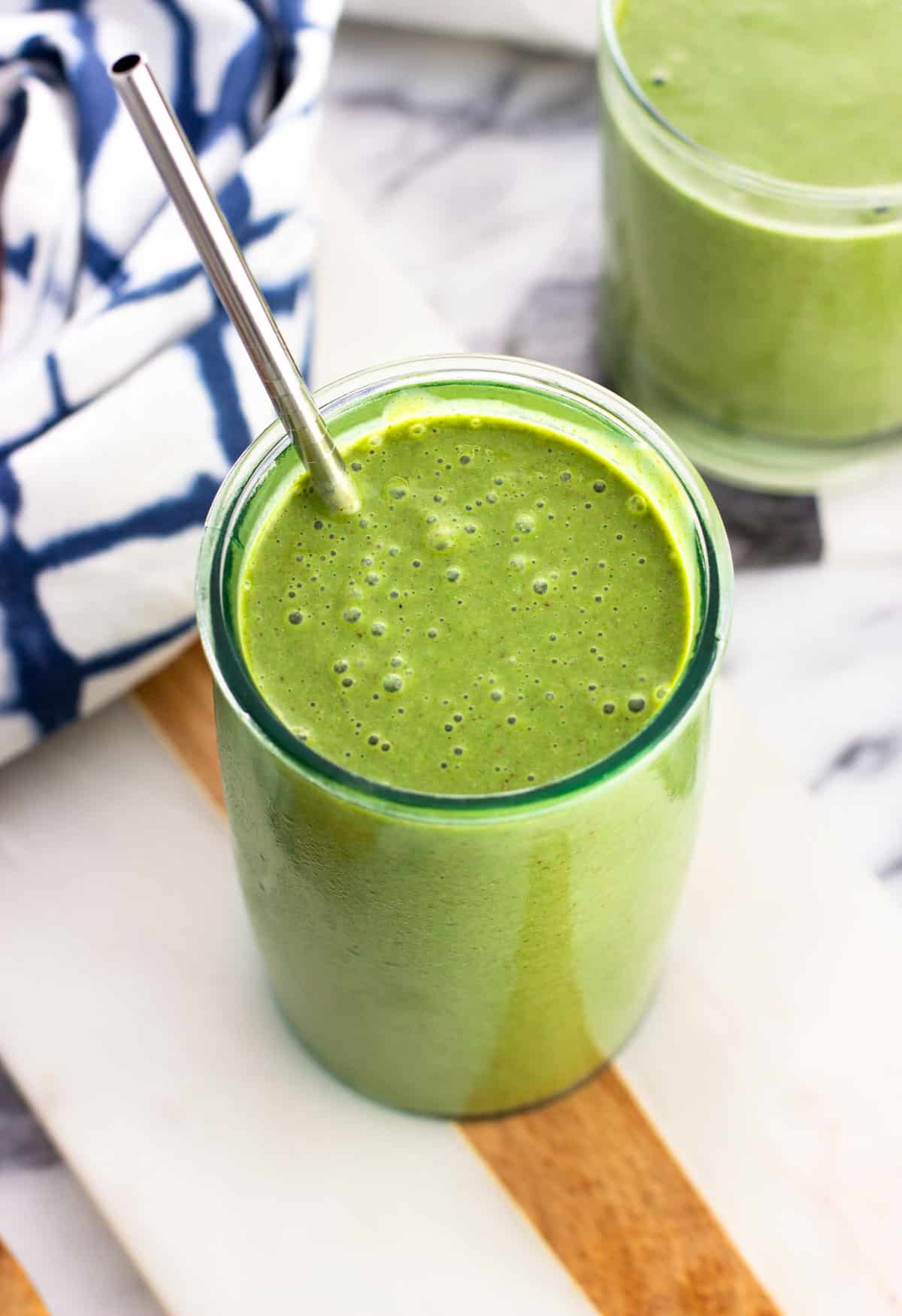 Frequently Asked Questions
Why isn't my smoothie blending right?
You may need to add more liquid, especially if you're using all frozen fruit. If this is a frequent issue you run into when making smoothies, try including some fresh fruit to help the blender liquefy everything more easily. Otherwise you may need to (carefully) stir it up if the frozen fruit has formed a block and is resistant to becoming blended.
How does this green smoothie stay in the refrigerator?
It stays so-so. It's okay overnight with slight surface discoloration and additional thickening, but I would not batch-prepare this recipe for the week. The tradeoff between a slightly less enjoyable next-day smoothie and not having to clean the blender another time is worth it to me, but that's about it.
Will this smoothie be a good option for my health condition, eating plan, etc.?
I am not a doctor or dietitian so please consult with your own medical professionals regarding your specific dietary needs. This is simply a green smoothie I enjoy eating that helps keep me full for longer.
Related Recipes
If you've enjoyed this recipe, I'd love for you to leave a star rating in the recipe card and/or a comment review below!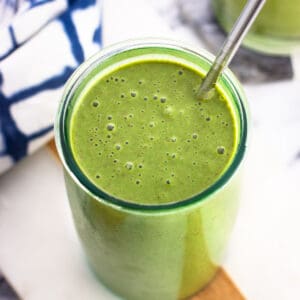 Ultra Filling Green Smoothie
Tired of smoothies without staying power? This nutritious green smoothie recipe is made with intentional ingredients to provide a blend of fiber, protein, carbs, and fat to fill you up like a meal.
Print
Pin
Rate
Servings:
1
very large (28 ounce) smoothie
Ingredients
1

cup

unsweetened almond milk,

oat milk, or milk of your choice

2

Tablespoons

chia seeds

soaked (see note)

1½

Tablespoons

almond or peanut butter

1

scoop (23g)

vanilla protein powder

1 ¼

cups

frozen spinach leaves

or fresh, packed

Half of a

medium

frozen banana

or fresh

⅔

cup

fresh or frozen strawberries

or blueberries
Instructions
Add milk, soaked chia seeds, nut butter, and protein powder to blender. Blend on low and then medium speed for 25-30 seconds, or until frothy, smooth, and you can see the chia seeds have been broken into smaller bits.

Add the spinach, banana, and strawberries to the blender, layering the heaviest ingredients on the top. Blend for 30 seconds on medium speed, or until liquefied and smooth. If your blender is having trouble, pour in an extra drizzle of milk and/or stop to carefully scrape down the sides and stir up the fruit, as needed.
Notes
Soaking Chia Seeds: Add two tablespoons of dry chia seeds to a bowl and pour in at least one-half cup water. Stir and refrigerate for several hours, up to overnight. Give it a big stir after 20-30 minutes of soaking to reintegrate the chia seeds that form a layer on the top surface. Warm water can be used to speed up the process to take around 30 minutes. Aim for the chia seeds to expand and become very gelatinous before using in the smoothie. Protein Powder: As other ingredients also provide protein, I use half of a serving of my preferred protein powder, adding about 10 grams. You can use as much as you like if you'd like a higher protein content. Spinach: If you want to avoid high-oxalate foods, replace this with baby kale. Berries: Frozen blueberries are a good option to use here in place of strawberries, though they'll turn your green smoothie purple. Frozen raspberries taste great, too, but you will notice the seeds don't blend up smoothly and add some texture. Ice: Not needed if using frozen fruit. If all of your fruit is fresh, you may wish to add a few ice cubes to help it become frosty. Serving Size: As written, this recipe yields a really big smoothie, around 28 ounces. If you don't want to drink quite that much, cover the leftover amount in a glass with plastic wrap and refrigerate for up to one day. The top surface may become a bit discolored and the texture will thicken and need a stirring, but it will be fine to drink later on.
Nutrition
Serving:
1
smoothie
|
Calories:
485
kcal
|
Carbohydrates:
48.1
g
|
Protein:
23.9
g
|
Fat:
25.9
g
|
Saturated Fat:
3.7
g
|
Sodium:
391
mg
|
Potassium:
913
mg
|
Fiber:
19.2
g
|
Sugar:
15.9
g
|
Calcium:
704
mg
|
Iron:
6
mg
Nutritional information is provided as an estimate. As it can vary due to many factors (brands used, quantities, etc.), we cannot guarantee its accuracy.
Food Safety and Nutrition Disclaimer