This peach mango smoothie is sure to be an A.M favorite! Fruits (and a sneaky vegetable) are blended with a touch of lime juice and unsweetened almond milk for a flavorful, customizable, and vegan smoothie.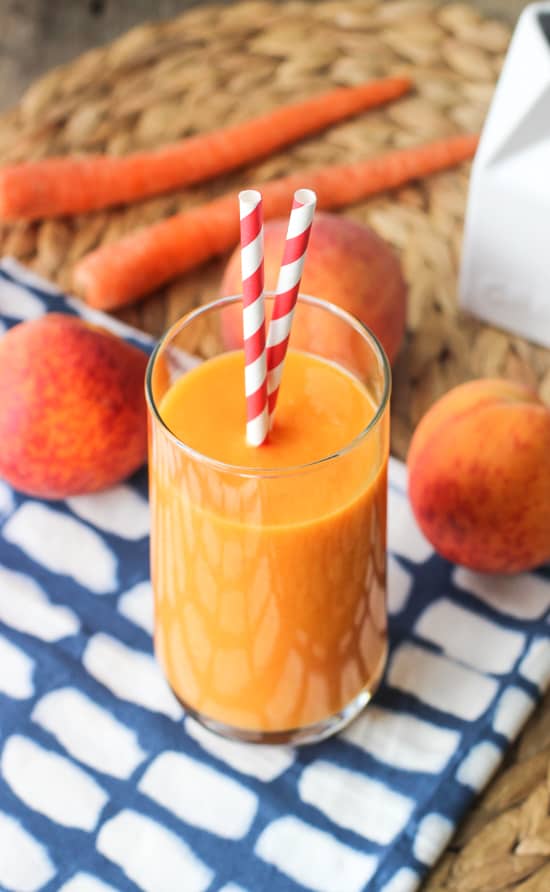 Well, it happened. Just as I was getting comfortable with the layout of my new-ish grocery store, they went and moved around just about every aisle. Ugghhhh. After working all week, I tend to be a little nutty with my weekend time and try to tackle all eight million things on my to-do list. Nevermind the fact that I come up short eeeevery single week, but a little thought exists in the back of my mind that if I'm crazy super efficient, I can do it all.
Newsflash – not gonna happen.
Anyway, crisscrossing the grocery store five times to find half the items on my list makes me a little grumbly. In one of my many trips past the OJ, I spied a peach mango juice that somehow hopped in my cart, probably between trips 3-4 when my defenses were down.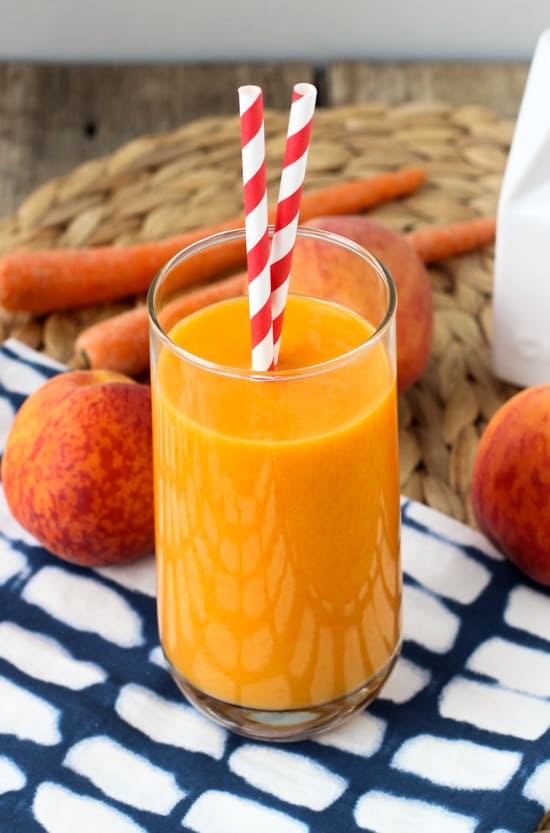 So good! We're having a moment, that juice and I. The only thing being that I tend to gulp down juices lightning quick, which means I'm drinking calories but still looking around for breakfast or a snack afterwards. Not really my favorite way to start the day.
Enter, this smoothie! It has all of the great flavors of my juice inspiration, but is thicker and more substantial than straight juice. If it takes me longer to drink, my brain (and my stomach) feel waaaay more satisfied. Healthier eating trickery right there. 😉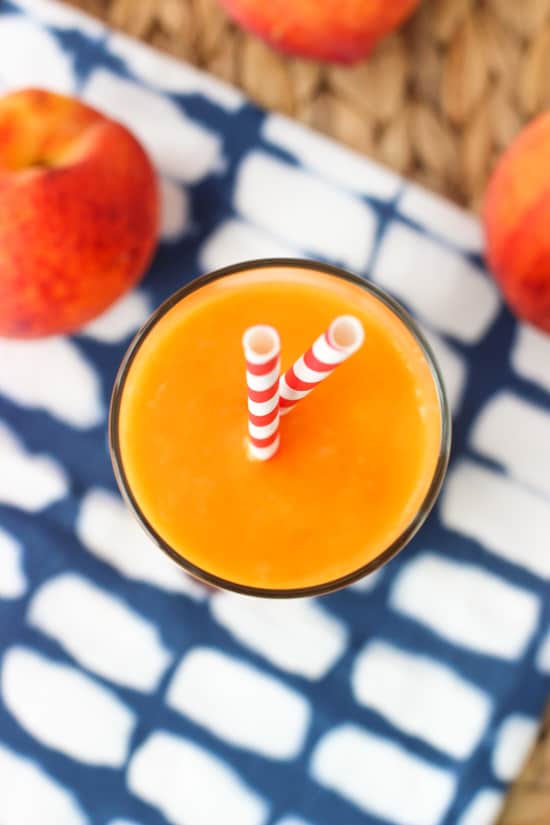 A peach and a mango were obvious additions here, along with a hidden vegetable – carrots! They fly under the radar both with this smoothie's color and taste, and add a serious boost of vitamin A and other nutrients. I used unsweetened almond milk to thin the fruits and veggies out and a splash of lime juice for extra flavor, but use any type of milk you prefer. I bet even yogurt or cottage cheese would work, too. On top of all this goodness, protein powder, oats, flaxseed, greens, etc. can be thrown into the mix for a hearty and totally customizable breakfast or snack. Happy sipping!
If you're in the mood for more smoothie recipes, check out my Smoothie board on Pinterest and follow along!
Power Peach Mango Smoothie
This peach mango smoothie is sure to be an breakfast or snack favorite! Peaches, mango, and carrots are blended with a touch of lime juice and unsweetened almond milk for a flavorful, customizable, and vegan smoothie
Ingredients
1

ripe peach,

peeled and chopped

1

ripe mango,

peeled and chopped

2

large carrots,

peeled and chopped

2 1/2

tsp

lime juice

1/2

cup

unsweetened almond milk

Optional: your favorite protein powder, flaxseed, spinach, oats, etc.
Instructions
Add all ingredients to a food processor or blender and blend until mixture is smooth. The smoothie will be fairly thick but still drinkable through a straw. Add additional almond milk if you'd prefer a thinner consistency.
Recipe Notes
Use whatever milk you prefer.
Nutrition Facts
Power Peach Mango Smoothie
Amount Per Serving
Calories 170
Calories from Fat 18
% Daily Value*
Total Fat 2g 3%
Sodium 96mg 4%
Potassium 702mg 20%
Total Carbohydrates 40g 13%
Protein 3g 6%
* Percent Daily Values are based on a 2000 calorie diet.
P.S. I have a Ninja food processor/blender combo set
 and love it! ♥♥ It doesn't leave any lingering fruit or veggie chunks thanks to its multi-level blades and is SUPER affordable (yet effective).
*this post contains affiliate links.