Enjoy all of the health benefits of chia seeds without the usual texture in this ultra smooth and blended chocolate chia pudding. Naturally sweetened and dairy-free, this easy recipe has a truly delicious flavor and thickens up just right.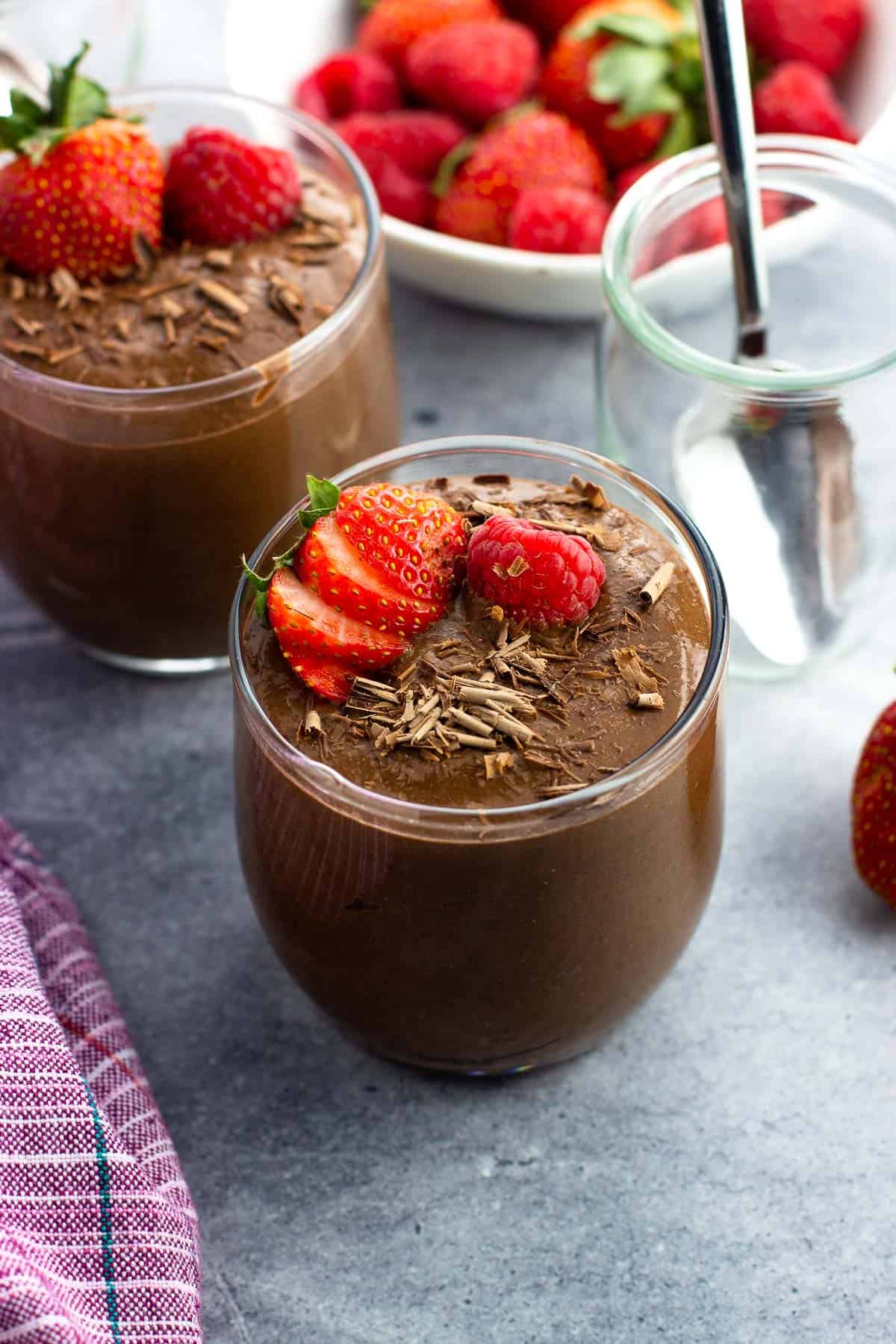 A crucial part of my favorite filling green smoothie, chia seeds have made their way into a variety of other breakfasts and snacks in my house, like chia pudding. It's probably one of the most popular chia recipes online, right? But for having a simple and straight-forward ingredient list, achieving an optimal blended chocolate chia pudding is not quite as easy as it looks.
You want the chia seeds to soak and begin to gel in order for them to blend nicely. But you don't want them to soak for too long and overly thicken, which might require additional liquid in order to blend. More liquid means a thinner, less enjoyable pudding. And what about adding more chia seeds at that point? Well, they're whole, so there goes your smooth chia pudding.
Enough of that! I tinkered with this recipe to get it just right: smooth, rich in flavor, and naturally sweetened, with all of the health benefits you expect from a chocolate chia pudding. I REALLY look forward to my afternoon snack when I have this blender chia pudding in the fridge.
Why This Recipe Works
Partially-soaking the chia seeds before blending is key in producing a truly smooth chocolate chia pudding, almost mousse-like.
Reserving some of the milk until blending also ensures the blender works optimally to produce the smoothest possible whipped texture.
Using high-quality Dutch-process cocoa powder provides a rich and less bitter flavor that truly makes this healthy pudding dessert-worthy.
Sweetening this blended chia pudding with maple syrup and dates brings a well-rounded natural sweetness with a balanced flavor.
Recipe Ingredients
Chia Seeds: Wonderful sources of fiber and omega-3s, chia seeds make a perfect base for a more nutritious chocolate pudding. These come in black and white varieties, though they don't make a difference for this pudding. I use the commonly found black chia seeds, which I often buy in bulk from Costco.
Milk: Almond milk or lower-fat coconut milk found in a carton are good options, though you can use your preferred variety.
Cocoa Powder: While you can use natural (standard) cocoa powder, the earthier and less bitter Dutch-process unsweetened cocoa powder shines in this no-bake recipe.
Dates: Medjool dates provide a base-level sweetness and slight, almost caramel-like flavor. Unlike some other natural sweeteners they're a source of nutrients, such as potassium and magnesium, and aid in iron absorption (source). Although they are a dried fruit, they soften in the liquid while the chia seeds soak to better blend up smoothly.
Maple Syrup: This provides a "sharper", high-level sweetness that pairs well with the subtler date sweetness. Be sure to use pure maple syrup and not a maple-flavored pancake syrup.
Vanilla Extract: An easy way to bring a dessert note.
Sea Salt: Just a small pinch provides balance.
Step-by-Step Instructions
Prep the dates. Slice open each date lengthwise and remove and discard the pit. Even if buying pitted dates, I still check each one as I've had a pit or two slip through the cracks before. Give the dates a rough chop. They will be sticky, so use a good knife for this.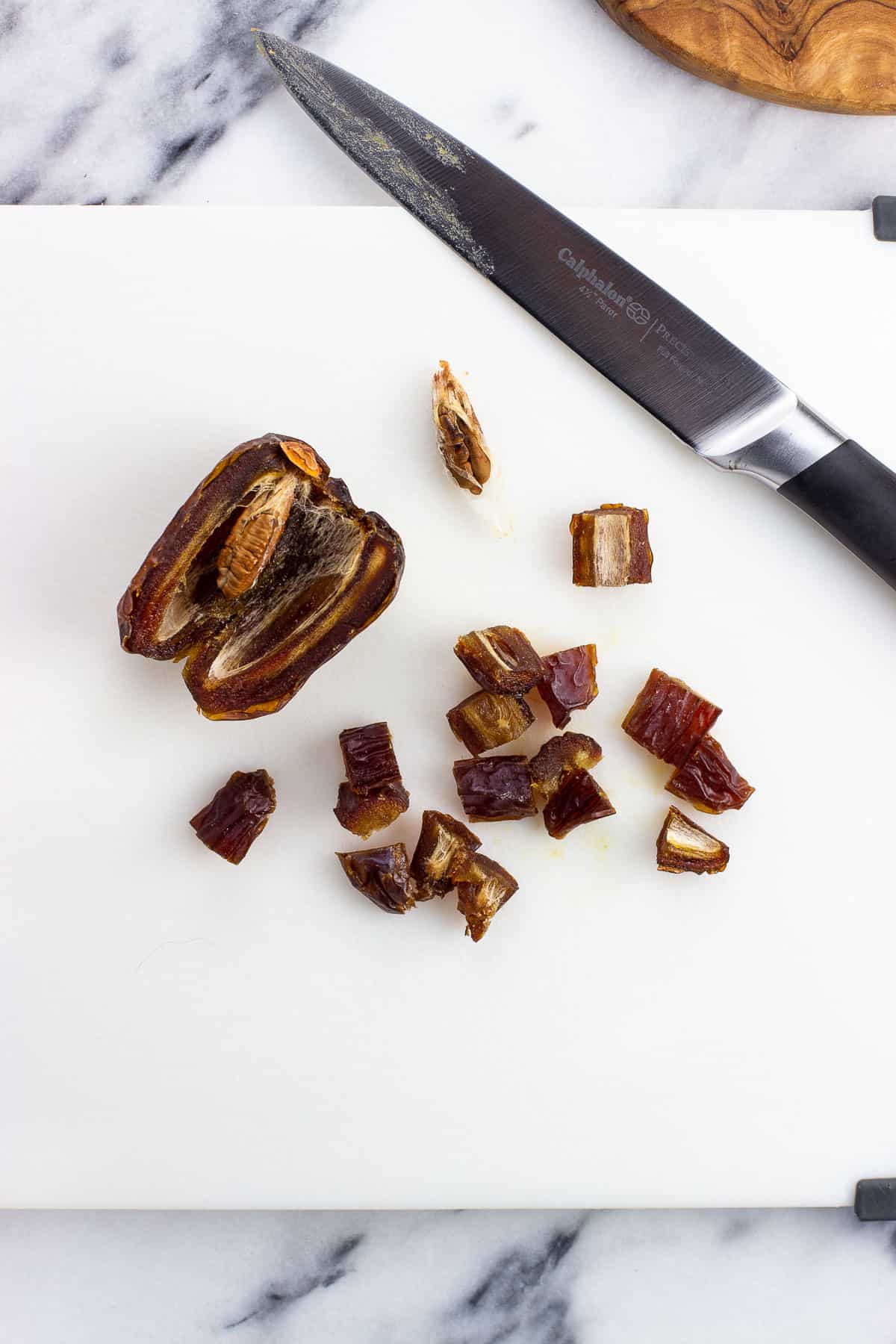 Combine the ingredients. Add everything but ¼ cup of the milk to a bowl and whisk.
Let sit and gel. Leave everything to sit for 10 minutes, then give everything a big stir. Let sit for another 10 minutes or so until thickened. The chia seeds will be beginning to turn gelatinous.
Blend. Pour the reserved milk into the blender, then add the contents of the bowl. Blend, starting on low speed and moving up to medium-high, until the chia pudding is as smooth as can be.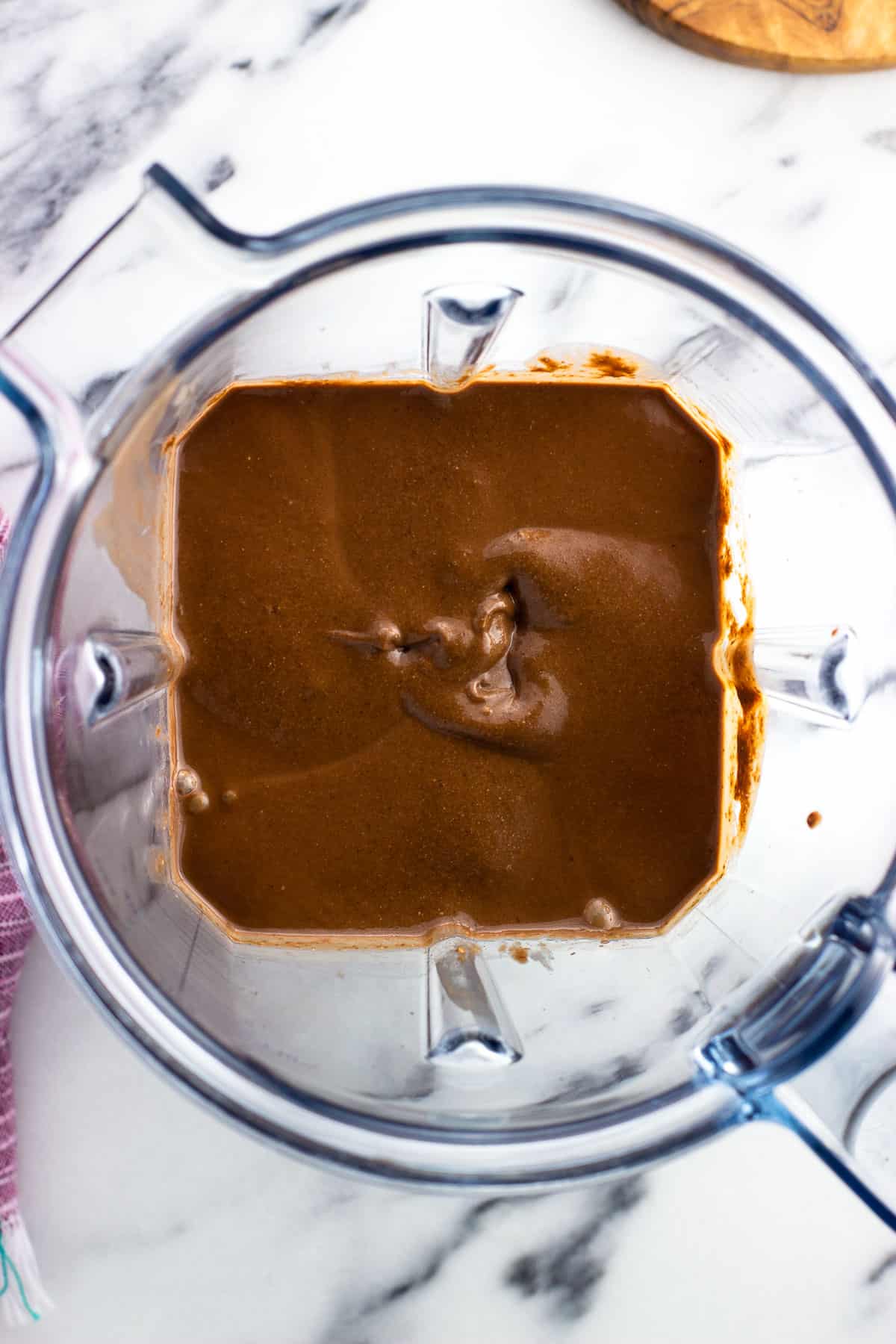 Chill. Pour blended chocolate chia pudding into an air-tight container, then refrigerate for at least several hours, ideally overnight, to thicken additionally.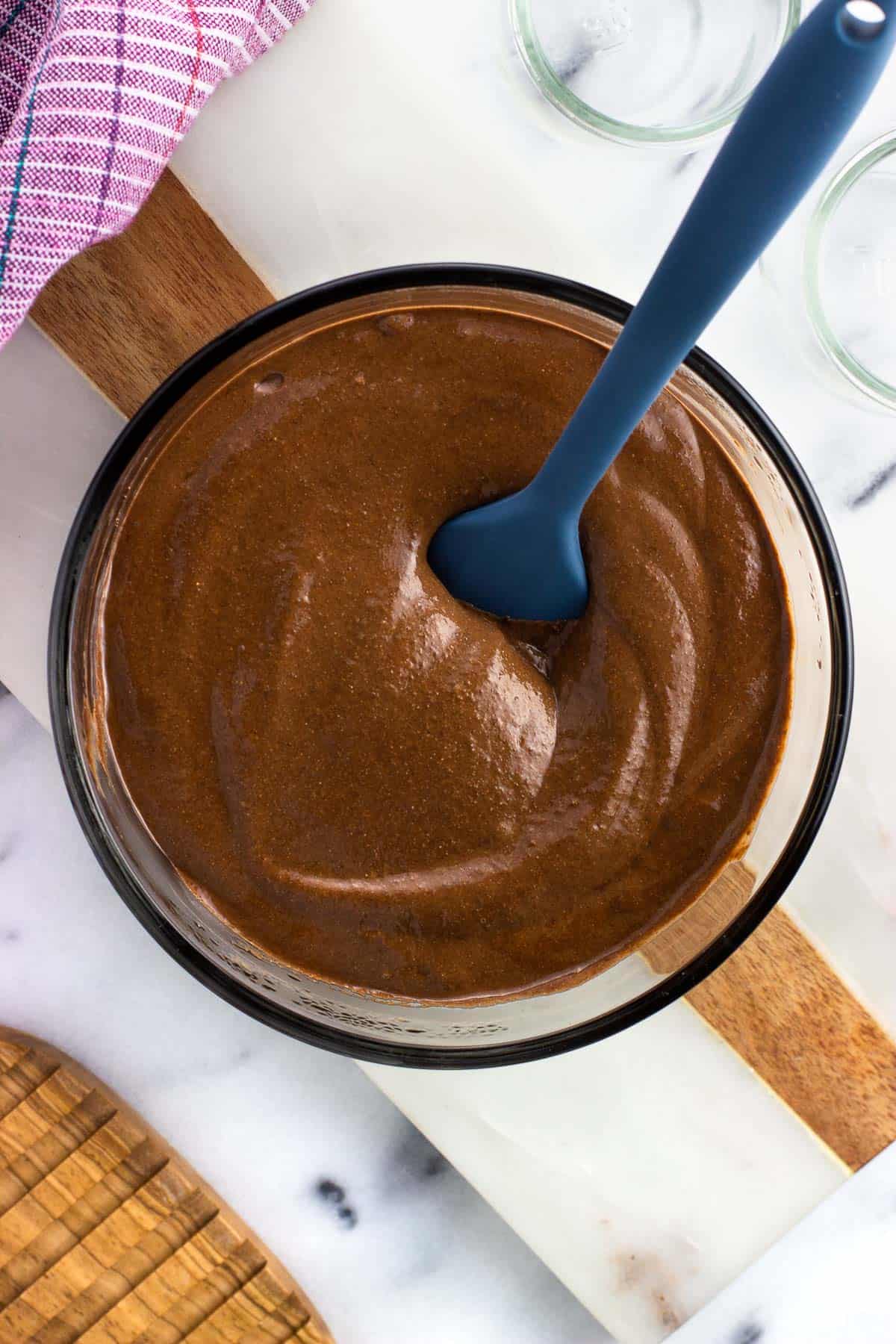 Recipe Tips and Tricks
Soak the chia seeds before blending. This is major. You want the chia seeds to start to expand and become gelatinous. I do not recommend simply adding all of the ingredients to a blender, blending, and then refrigerating. The chia seeds will not break up as finely and can lead to lumpier texture.
Reserve some milk. Adding it to the blender first, before the thicker chia mixture, more easily allows the blades to form a vortex and blend effectively.
Store chia seeds in the freezer. As they are rich in omega-3 fatty acids, refrigerating or freezing chia seeds helps prevent the oils from going rancid. Place them in a freezer bag, press out all excess air, and seal.
Sweeten to taste. This is a personal preference, so do adjust the number of dates and amount of maple syrup to your liking. If you find the pudding not sweet enough once blended, stir in extra maple syrup, add whipped cream or fruit, etc.
Serving suggestions. Fruit (especially berries or banana slices) is my pick for breakfast or a snack, while adding whipped cream and chocolate shavings turns this blended chocolate chia pudding into a proper dessert!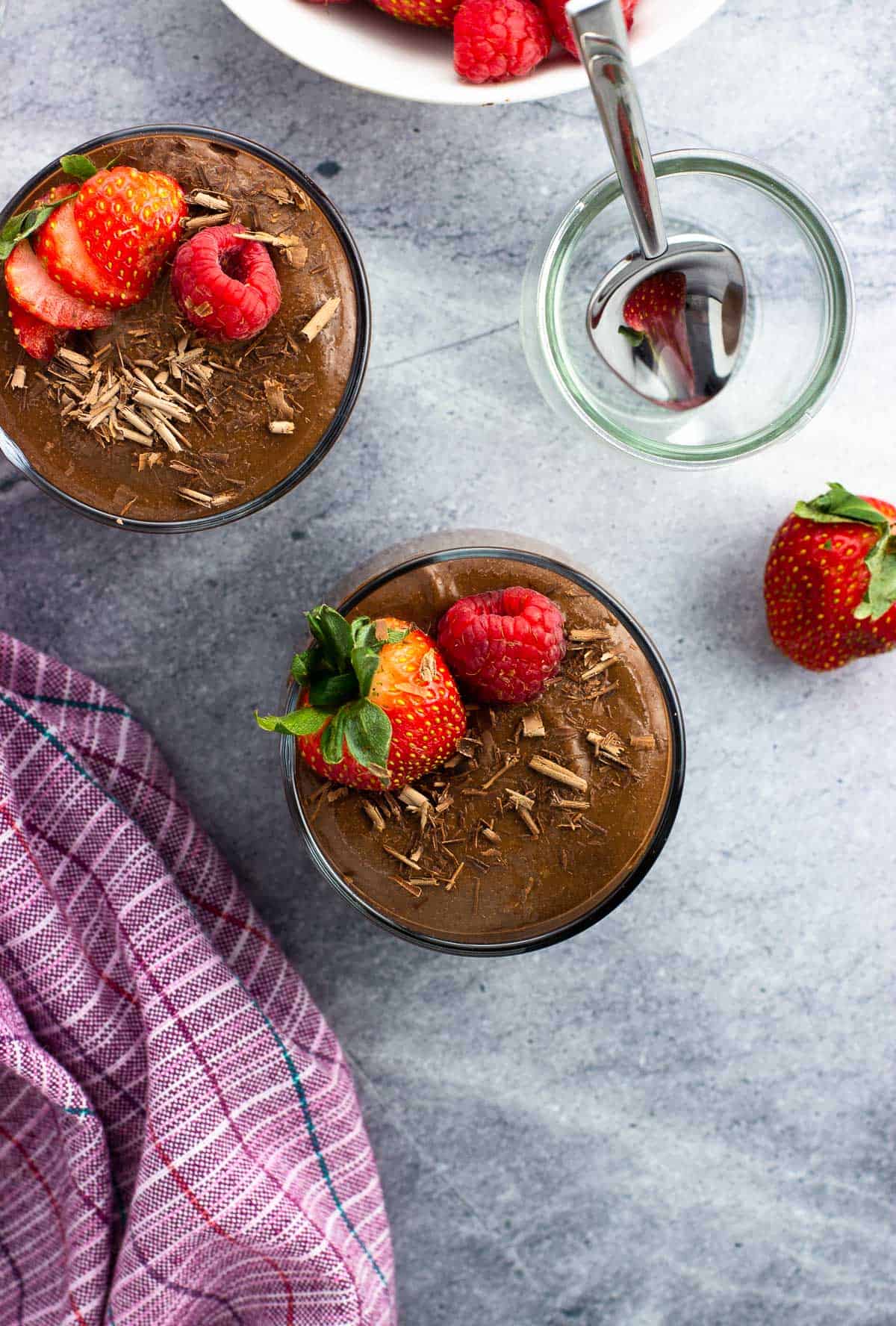 Recipe FAQs
Which cocoa powder should I use in chocolate chia pudding?
Either natural (the standard supermarket variety) or Dutch-process cocoa powder will work. Both are unsweetened. Dutch-process has a less bitter, richer flavor so I love to use it in this pudding. Natural cocoa powder (and not Dutch-process) reacts with baking soda for leavening which is why baking recipes can be particular with which kind, but that's not an issue here.
What kind of milk should I use for blended chia pudding?
Unsweetened almond or oat milk works well for chia puddings, as do the refrigerated cartons of low-fat coconut milk. Unsweetened chocolate almond milk is especially good to boost the flavor. See recipe card for the adjustments to make if using a sweetened milk variety. The chia seeds thicken the pudding up plenty so you don't need to use a thicker milk, such as canned coconut milk or extra creamy oat milk.
Can I use just one sweetener: dates or maple syrup?
Yes, this recipe works with just one or the other. Try adding a little less milk if increasing the maple syrup, and a little more if using more dates as they blend up thicker.
Is chia seed pudding good for meal prep?
Yes it is! Blended chia pudding will last for 5 days or so in an air-tight container, kept refrigerated. It can be stored in one big bowl or in individual jars.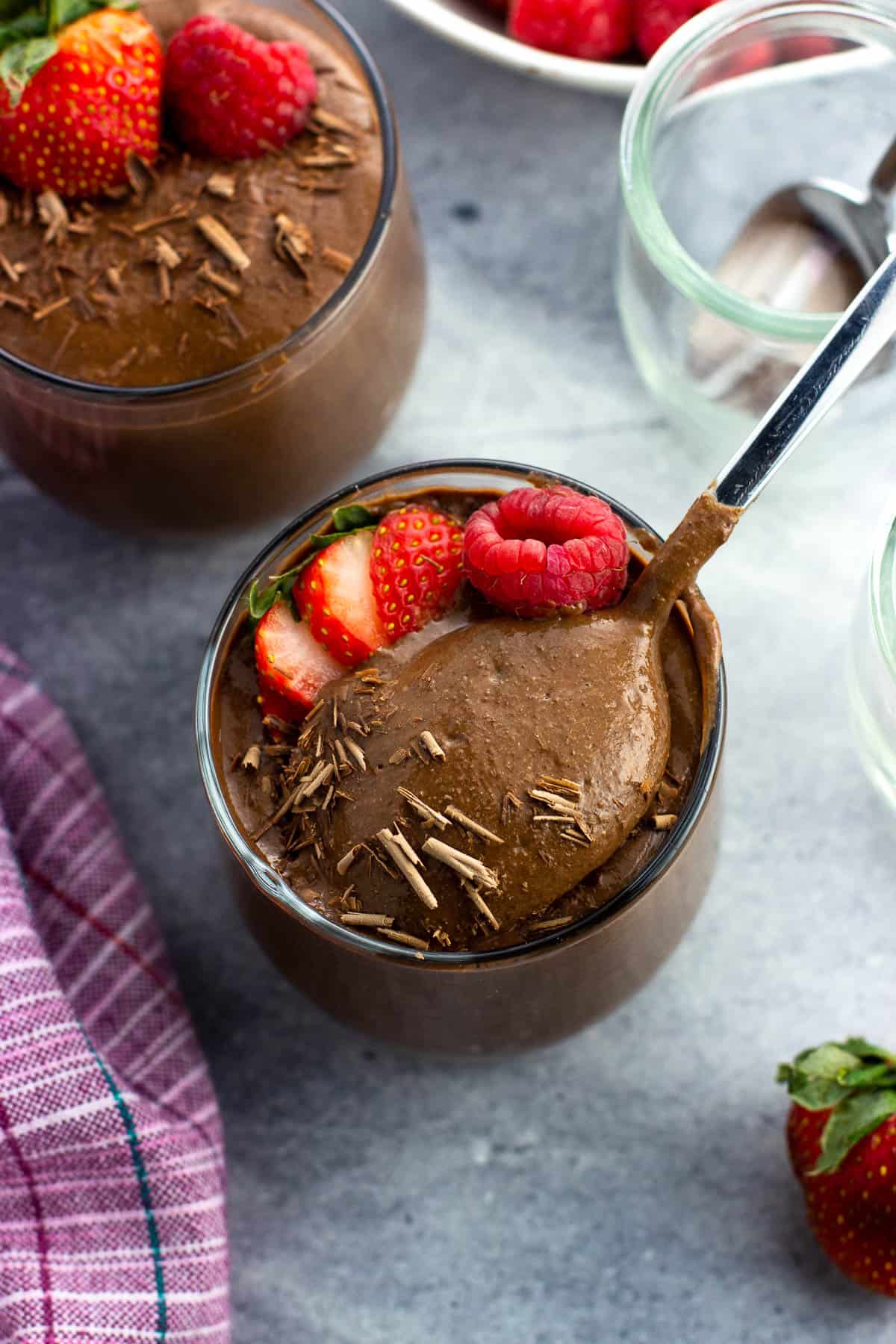 Related Recipes
If you've enjoyed this recipe, I'd love for you to leave a star rating in the recipe card and/or a comment review below!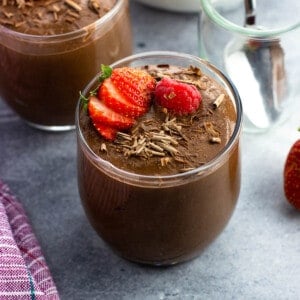 Blended Chocolate Chia Pudding
Enjoy all of the health benefits of chia seeds without the usual texture in this ultra smooth and blended chocolate chia pudding. Naturally sweetened and dairy-free, this easy recipe has a truly delicious flavor and thickens up just right.
Print
Pin
Rate
Ingredients
4

(80g)

Medjool dates

pitted and roughly chopped

1 ¾

cups (420 ml)

unsweetened almond milk

vanilla, chocolate, or plain, divided

¼

cup (22g)

unsweetened cocoa powder

2

Tablespoons (30 ml)

maple syrup

¾

teaspoon

vanilla extract

Pinch of

sea salt

6

Tablespoons (67g)

chia seeds
Instructions
Slice each date open lengthwise and remove and discard the pits. Roughly chop the dates and set aside for now.

Pour 1 ½ cups of the almond milk into a mixing bowl (reserve the remaining ¼ cup), then add the cocoa powder, maple syrup, vanilla extract, and salt. Whisk well to combine.

Add the chopped dates and chia seeds and whisk again to moisten all of the seeds. Let the mixture sit for 10 minutes, then give everything a big stir to reintegrate any chia seeds that have congealed on the top surface. Let sit for another 10 minutes.

Pour the reserved milk into the blender, then add the chia mixture. Start blending on a low speed, increasing the speed to medium-high as a vortex forms. Stop and carefully stir up the mixture, as needed, until the pudding is very smooth and the chia seeds have all but disappeared.

Pour blended pudding into one big container or several smaller ones, cover with a lid or plastic wrap, and refrigerate for at least 2 hours, ideally overnight to thicken further. Serve with berries, banana slices, whipped cream, chocolate shavings, etc.
Notes
Almond Milk: If using regular almond milk (sweetened with added sugar), reduce the number of dates by 1 or 2 to account for the additional sweetness. Lower-fat refrigerated coconut milk (in a carton) or unsweetened oat milk can also work.
Cocoa Powder: Either natural or Dutch-process cocoa powder works here, though I'm partial to the deeper, richer flavor that a Dutch-process variety brings.
Tips and Tricks
Store pudding in the refrigerator for 5 or so days.
Blended chia pudding can be frozen and then thawed in the refrigerator. Stir to reintegrate any pooled moisture.
You can use all maple syrup or all dates to sweeten this chocolate chia seed pudding if you like. If using all maple syrup, consider reducing the milk slightly to account for the extra liquid, and vice versa for using more dates.
This recipe can be doubled, though I recommend against halving it as the blender needs sufficient volume in order to operate smoothly.
Nutrition
Calories:
175
kcal
|
Carbohydrates:
31.8
g
|
Protein:
5.5
g
|
Fat:
7.4
g
|
Saturated Fat:
0.9
g
|
Sodium:
68
mg
|
Potassium:
283
mg
|
Fiber:
9.2
g
|
Sugar:
19
g
|
Calcium:
344
mg
|
Iron:
3
mg
Nutritional information is provided as an estimate. As it can vary due to many factors (brands used, quantities, etc.), we cannot guarantee its accuracy.
Food Safety and Nutrition Disclaimer