Perfectly tart and sweet, this dairy-free lemon pudding is a winner. It's made with coconut milk and coconut oil, and wonderful topped with fruit, nuts, and more.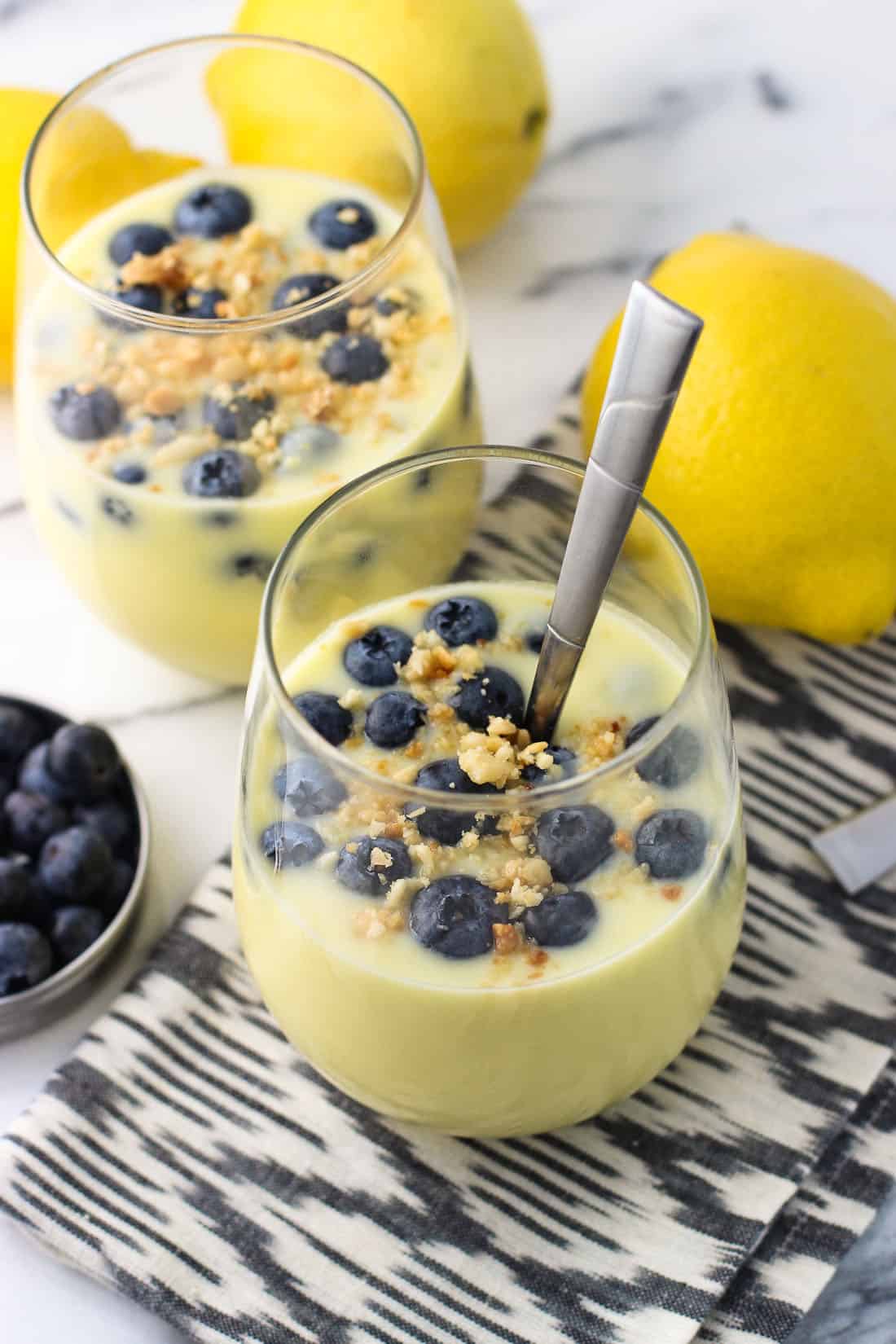 I pride myself in the fact that, barring the rare occasion, I'm a lover of all foods. Granted there was a moment when I was little in which I thought I didn't like cheese (thankfully I got over that), and I had a previous uncertainty surrounding Indian food that has been turned around in a big way…so please please give me all the curry. Still though, my preferences are fairly strong in ranking my culinary options when it comes to dinner, dessert, etc.
Let's say there's a dessert table. Even without knowing the individual options available, I can say that 99% of the time I'd make a beeline for the chocolate. Chocolate in any form = life is good. However that 1% though…that 1% is reserved for lemon pudding. Especially when it comes to this dairy-free lemon pudding made with coconut milk. It's sweet (just enough), sour (just enough), smooth, and easy. Only the best combination of tart and creamy can get me to stray with my chocolate-obsessed sweet tooth, and this is it!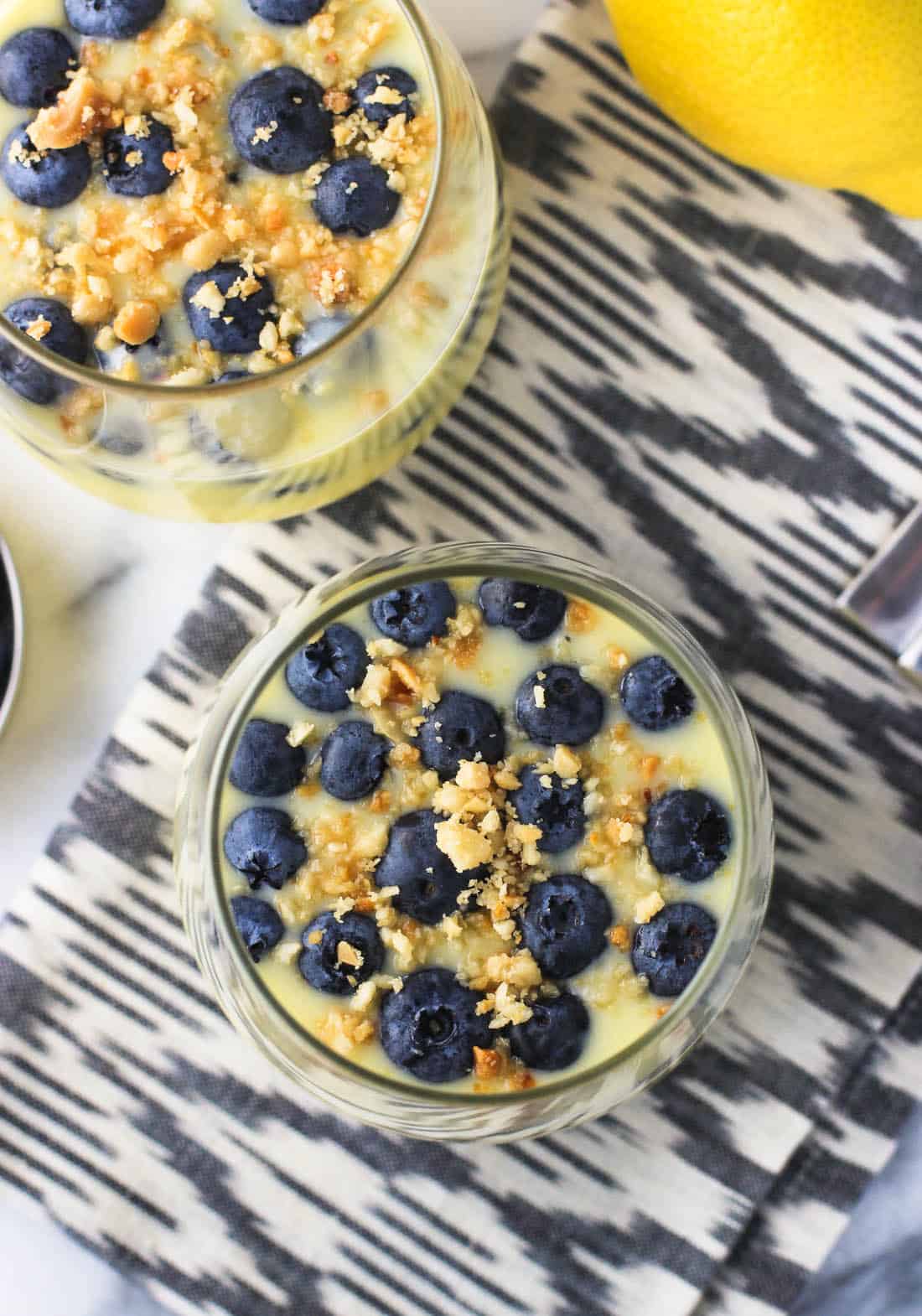 I shared a recipe for coconut milk lemon pudding with fruit a few months back that uses this pudding, but it's so good it deserves a post of its very own. Coconut milk and a bit of coconut oil are used in place of milk/cream and butter to keep this pudding dairy-free. Although I'm in the know because I've been the one to make it each time I've eaten it, I'd venture to say that your crowd wouldn't even suspect that it's any deviation from classic pudding (aka with a dairy base). The bright lemon flavor from the zest and juice mask any hint of coconut from the coconut milk, and the creamy, thick consistency is spot on.
This time around I served this dairy-free lemon pudding with blueberries and a few chopped up toasted macadamia nuts leftover from this lemon coconut ice cream, but go ahead and get creative with fruit or nut pairings. Or you can take it on good authority that straight from the fridge with a spoon is entirely satisfying, too. 😉
Dairy-Free Lemon Pudding
Perfectly tart and sweet, this dairy-free lemon pudding is a winner. It's made with coconut milk and coconut oil, and wonderful topped with fruit, nuts, and more.
Ingredients
1/2

cup

granulated sugar

2

tbsp

cornstarch

1/4

tsp

salt

2 1/4

cups

coconut milk,

regular or lite

4

large egg yolks

2 1/2

tbsp

lemon zest

(from about 3 lemons)

1/2

cup

freshly squeezed lemon juice

(from about 3 lemons)

2

tbsp

coconut oil
Instructions
Add sugar, cornstarch, and salt to a saucepan and whisk to combine. Add coconut milk and whisk again until all ingredients are combined evenly. Set saucepan over medium heat.

In a mixing bowl, add egg yolks and whisk until creamy. Add whisked egg yolks and lemon zest to the saucepan with the coconut milk mixture and stir to combine. Stir the mixture often as it heats, keeping an even closer eye on it as it begins to thicken (after 12-15 minutes, for me). When the pudding mixture can coat the back of a wooden spoon in a thick layer (not just thinly), it's done.

Remove the saucepan from heat, pour in lemon juice and coconut oil, and whisk or stir until the oil has melted (it should melt quickly). Once everything is evenly combined, let the pudding cool to room temperature (see tip).

Once at room temperature, pour pudding through a strainer to remove out the lemon zest. Refrigerate pudding for at least 2-3 hours before serving, or overnight.
Notes
To help prevent a top layer 'film' from developing on the pudding as it cools, press plastic wrap to the top of the pudding. Simply remove once you're ready to use and you're good to go!
The prep time for this recipe includes one hour for the pudding to cool to room temperature and two hours for the pudding to chill in the refrigerator.
Recipe yields 24 oz of pudding total.
Nutritional info is an estimate assuming the use of lite coconut milk.
Nutrition
Calories:
246
kcal
|
Carbohydrates:
28.6
g
|
Protein:
3.8
g
|
Fat:
14.7
g
|
Saturated Fat:
11.3
g
|
Cholesterol:
168
mg
|
Sodium:
155
mg
|
Potassium:
54
mg
|
Fiber:
0.3
g
|
Sugar:
20.8
g
|
Calcium:
20
mg
|
Iron:
0.9
mg
Nutritional information is provided as an estimate. As it can vary due to many factors (brands used, quantities, etc.), we cannot guarantee its accuracy.