BBQ chicken stuffed sweet potatoes make an easy, healthy meal and are a great way to use leftover or rotisserie chicken. These sweet potatoes feature shredded chicken that has been tossed with BBQ sauce and a creamy dollop of Greek yogurt-based avocado sauce to round out this healthy lunch or dinner recipe.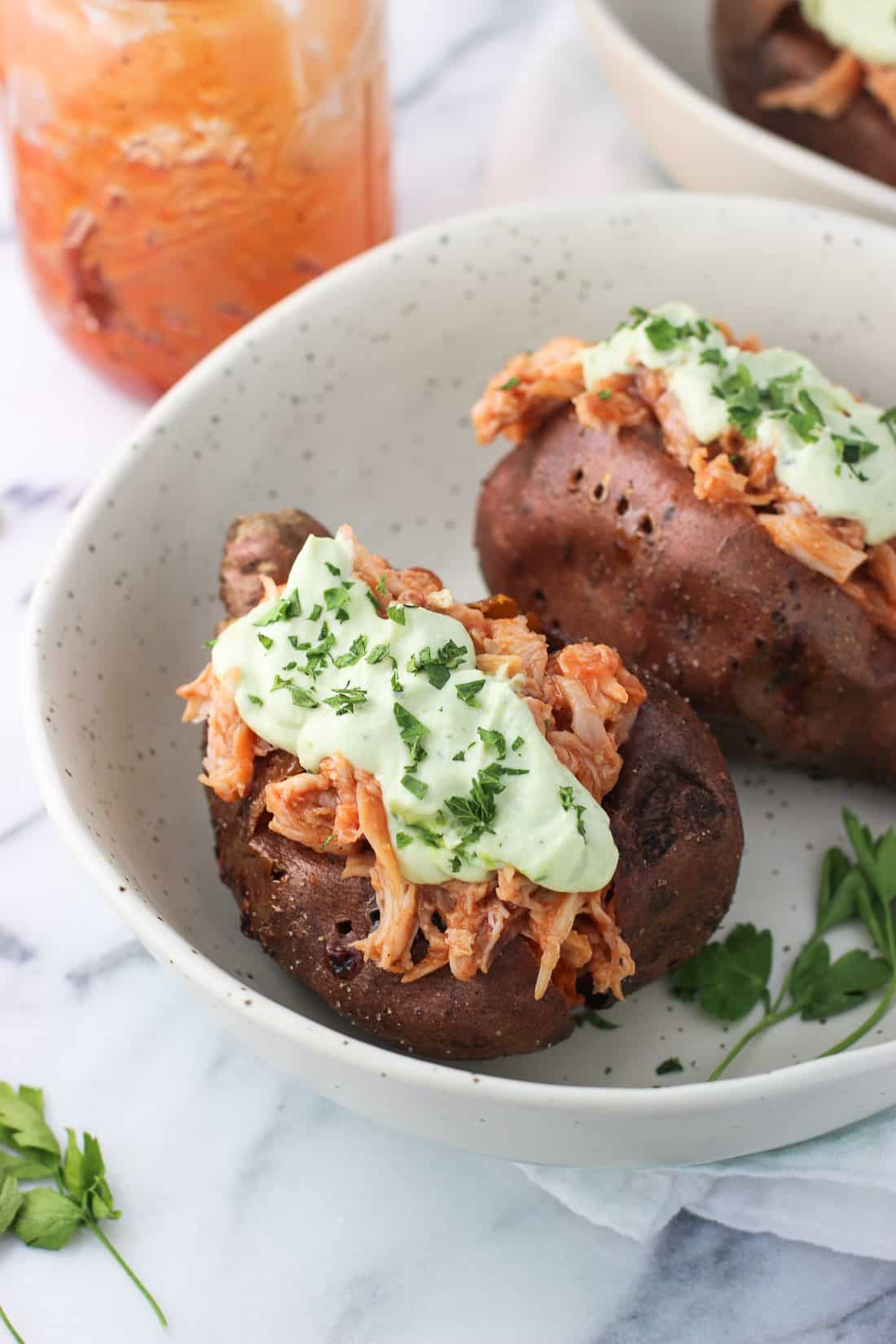 This recipe for BBQ chicken stuffed sweet potatoes represents everything I like in a main dish. It's hearty and satisfying while being on the healthier side, it leaves open the opportunity for several short cuts, and is heavily customizable. Well, maybe that's not an exhaustive list of all I like in a dinner recipe (because things like grilled pizza exist…) but those are three main pillars of my fave main meals.
The idea of a baked stuffed sweet potato has been floating around my mind for awhile now, but for some reason I thought I needed to save it for fall. I'll gladly scarf down sweet potato fries year-round but a baked sweet potato? There's no possible way that's happening before Labor Day. <–what was wrong with me? I certainly put the oven on for baking desserts (hello, rainbow cookie cake) and other oven-baked savory treats, so a baked potato should be no different.
Consider that (weird) mindset broken because I'm all up on the year-round baked sweet potato train now. And especially so when they're stuffed with BBQ chicken and topped with creamy avocado sauce!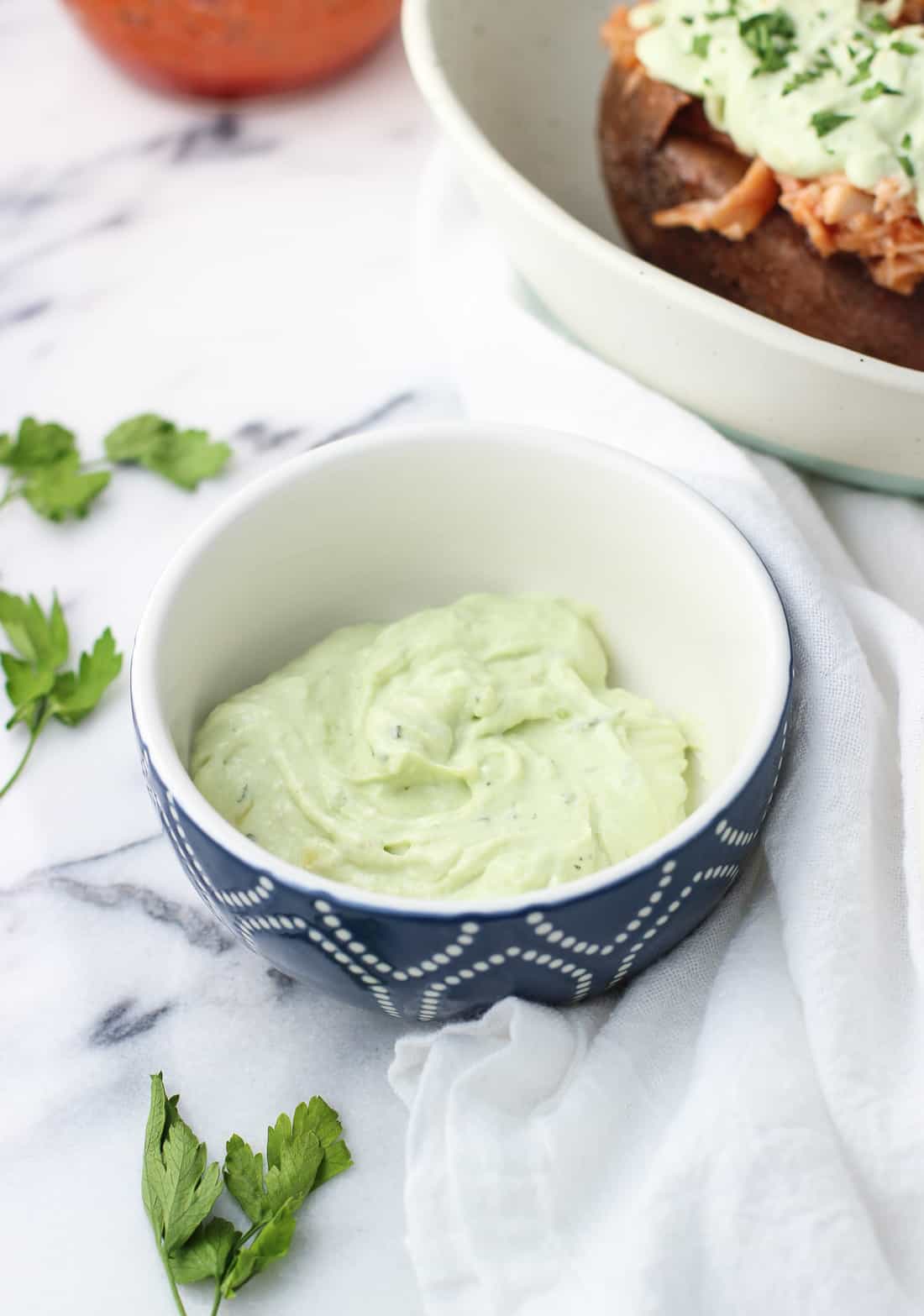 Speaking of, I can already tell this avocado sauce will be making more appearances on the blog in the future. Its base is plain Greek yogurt, so it's creamy but healthy all at the same time. The yogurt takes a spin in the food processor with half of a ripe avocado, a (tiny) drizzle of olive oil, and some spices for a flavorful sauce that is a great complement to the BBQ chicken. If you're a little unsure of how you feel about Greek yogurt's tang, you really cannot taste it here at all.
To keep things as simple as possible in terms of the recipe card and measurements, I wrote out the sauce recipe using a full single-serve container of Greek yogurt. By doing so you'll likely have extra sauce leftover. I used mine as a sandwich spread the next day and it was awesome. Feel free to scale to your preferred quantity. Avocado oxidizes after its been cut, but even two days after making this avocado sauce the refrigerated portion was still as green as it was to start.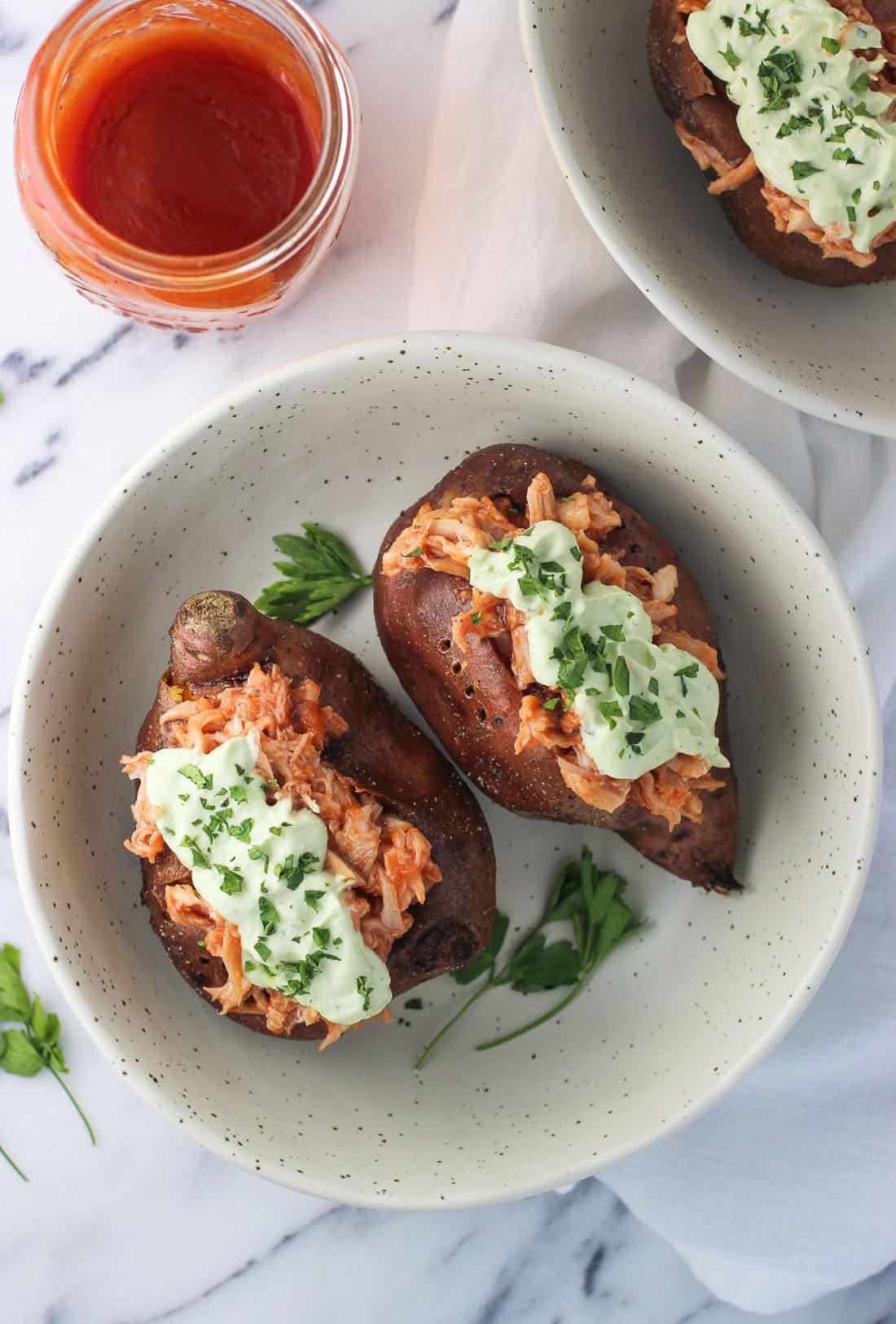 I mentioned that this BBQ chicken stuffed sweet potato recipe has major short cut potential so let's discuss. One of my favorite quick steps when a recipe calls for shredded chicken is to buy a rotisserie chicken from the store. That's what I did here! Of course, you can always cook up some at home for this recipe, or use these potatoes as an excuse to use up leftover cooked chicken.
One short cut I didn't take is that I made my own BBQ sauce in which to toss the shredded chicken. Homemade BBQ sauce isn't difficult – combine all ingredients, bring to a boil, and let simmer to thicken – but it does take extra time. Feel free to use your favorite store-bought BBQ sauce in place of the homemade recipe below. When I made the below BBQ sauce recipe, I doubled the quantity of ingredients to make a double batch. Because that yielded more BBQ sauce than would be needed for two cups of chicken I halved the BBQ sauce recipe below to try and keep the ratios in line.
Because a whole rotisserie chicken yields more than two cups of shredded chicken, I only called for two cups of chicken to yield a serving size of four stuffed sweet potatoes. You can certainly scale the recipe up to feed more people by baking more sweet potatoes and shredding more chicken!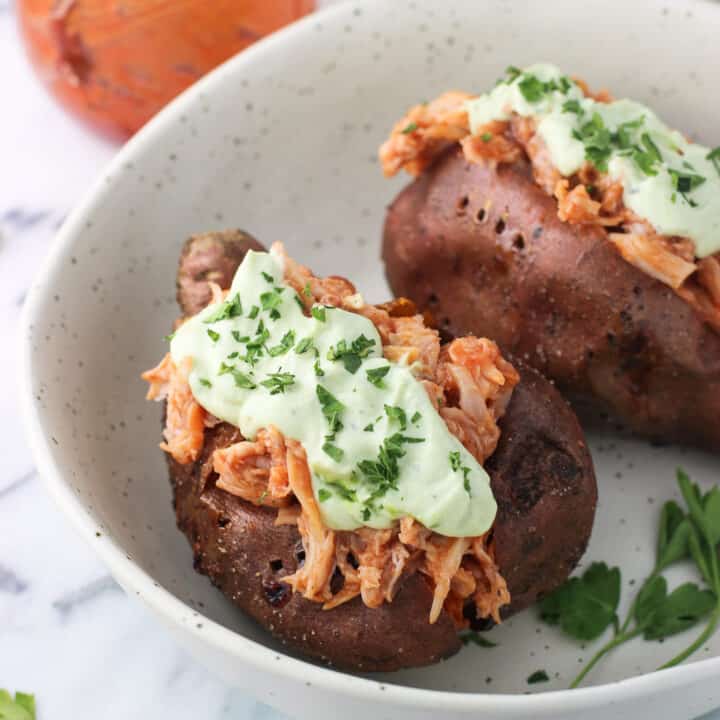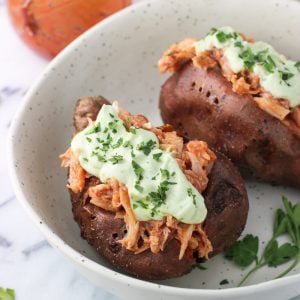 BBQ Chicken Stuffed Sweet Potatoes with Avocado Sauce
BBQ chicken stuffed sweet potatoes make an easy, healthy meal and are a great way to use leftover or rotisserie chicken. These sweet potatoes feature shredded chicken that has been tossed with BBQ sauce and a creamy dollop of Greek yogurt-based avocado sauce to round out this healthy lunch or dinner recipe.

Print
Pin
Rate
Ingredients
2

cups

cooked, shredded chicken
For the sweet potatoes:
4

sweet potatoes,

scrubbed

Olive oil

for brushing

Salt and pepper

for seasoning
For the BBQ sauce:
1/2

cup

ketchup

2

tbsp

cup honey

2

tbsp

apple cider vinegar

1/4

tsp

garlic powder

1/8

tsp

cayenne pepper

1/8

tsp

ground black pepper

Pinch

of salt
For the creamy avocado sauce:
1 5.3

oz

container of plain lowfat Greek yogurt

1/2

of a ripe avocado

1

tsp

olive oil

1/2

tsp

dried parsley

1/4

tsp

onion powder

1/4

tsp

garlic powder

Pinch

of dried thyme

Salt and pepper

to taste
Instructions
To bake the potatoes:
Line a baking sheet with foil and heat oven to 400°F. Scrub sweet potatoes, dry them, and pierce them with a fork 7-8 times.

Brush the potatoes with olive oil and season with a little salt and pepper. Place potatoes on the baking sheet and bake for about 1 hour, or until a fork can easily be inserted into the potato and it's soft all the way through. Remove from oven and set aside.
To prepare the BBQ sauce:
While the potatoes are baking, combine all BBQ sauce ingredients in a small saucepan set over medium-high and bring everything to a boil. Once boiling, reduce heat to low-medium and let simmer for 15-20 minutes, or until the sauce has thickened.

Once thickened, remove from heat and pour into a bowl with the cooked chicken shreds. Stir everything up to evenly coat chicken.
To make the avocado sauce:
Add all avocado sauce ingredients to the bowl of a food processor. Process until everything is creamy and the avocado is fully broken up.
To assemble:
Cut a slit into each sweet potato lengthwise and press on the ends to open up the potato a bit. Scoop about 1/2 cup of the BBQ chicken mixture into each sweet potato. Top each stuffed sweet potato with a spoonful of avocado sauce and serve.
Notes
As written above, this recipe will yield in 4 potatoes, each stuffed with approximately 1/2 cup of shredded BBQ chicken, and a hearty dollop of avocado sauce. You likely will have extra avocado sauce leftover, as the recipe uses one single-size container of yogurt to keep things simple.
This recipe is certainly scaleable - increase quantities as you see fit!
Nutrition
Calories:
383
kcal
|
Carbohydrates:
53.1
g
|
Protein:
26.1
g
|
Fat:
8.9
g
|
Saturated Fat:
2.2
g
|
Cholesterol:
58
mg
|
Sodium:
590
mg
|
Potassium:
380
mg
|
Fiber:
5.8
g
|
Sugar:
23.4
g
|
Calcium:
80
mg
|
Iron:
1.4
mg
Nutritional information is provided as an estimate. As it can vary due to many factors (brands used, quantities, etc.), we cannot guarantee its accuracy.