This rainbow cookie cake consists of three spongy, almond-flavored layers with chocolate raspberry frosting in between, and is topped with fluffy chocolate frosting. Each slice of this cake is like digging into one huge rainbow cookie – except with more chocolate!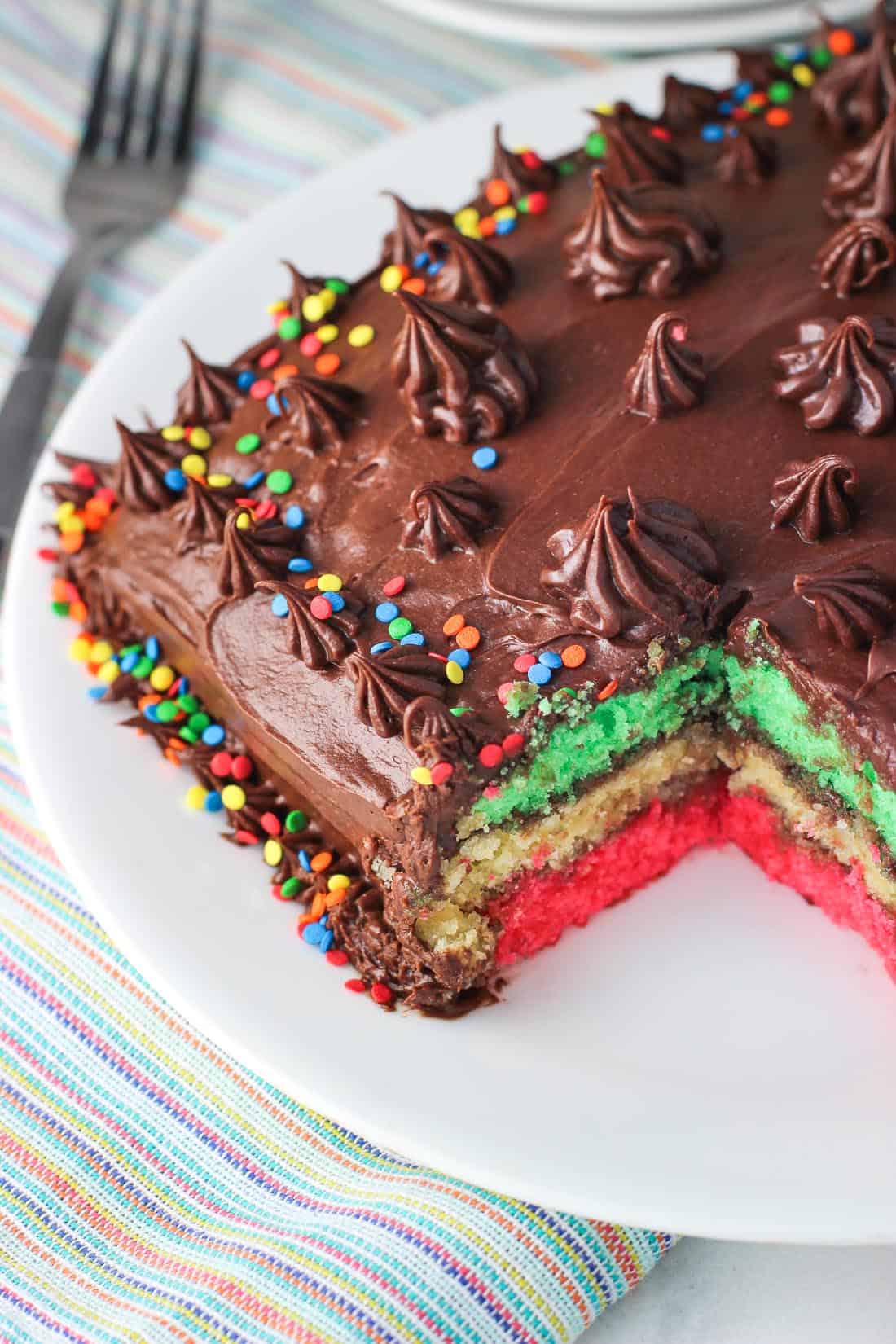 I've been waiting for the 2 1/2 years(ish) this blog has been around to post this rainbow cookie cake recipe. My hands-down favorite cookies are rainbow cookies (also known as tricolor cookies, seven layer cookies, and Italian flag cookies) and there have been a few iterations of them on the blog over the years. Mainly they've been for holidays – Fourth of July, Christmas, and Easter – but there's never been never a quintessential, standard-but-fancied up cake version. Until now! My birthday is coming up and I had a tube of almond paste teasing me from the pantry, so what better excuse to make my favorite birthday cake from when I was younger?
If you're unfamiliar with rainbow cookies, they consist of three deliciously almond-flavored cookie layers. Two layers of raspberry or apricot jam hold the cookies together, and a thin layer of chocolate traditionally cap off the top and bottom. I'm partial to raspberry jam so that's what I like to use…and let's talk that bottom layer of chocolate. Since the cookie layers are dense and hardy, I usually skip the bottom layer of chocolate and just spread it over the top. Cutting down steps while still satisfying my chocolate fix. 🙂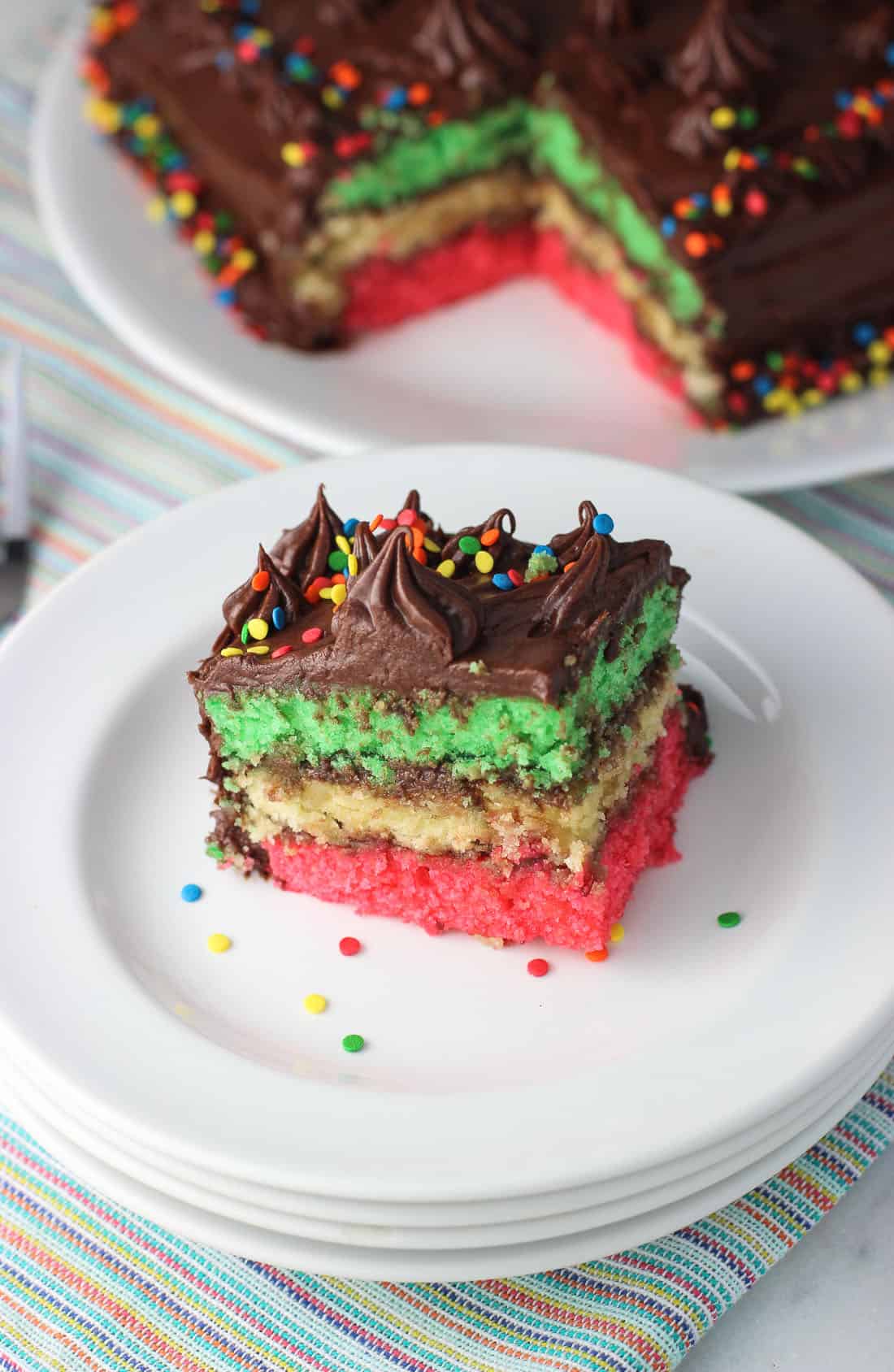 I made a few changes to the classic rainbow cookie recipe to transform this rainbow cookie cake into a cake-cake instead of simply a big slab of uncut cookies:
Spread each of the three cookie layers thicker on the baking sheet than you would if making standard cookies. Each layer was approximately 3/4″ thick pre-bake, as they spread and thin out a bit while they bake.
I spread jam and then added a layer of chocolate frosting between cookie layers. This combined the two flavors (yum) and helped them stick together. Plus you get to skip the step of assembling the cake and refrigerating it for several hours with a weight on top like you do with the traditional cookies.
More about that frosting! I went with a traditional chocolate buttercream frosting instead of the thin layer of melted chocolate, making it a cake more fitting for a birthday.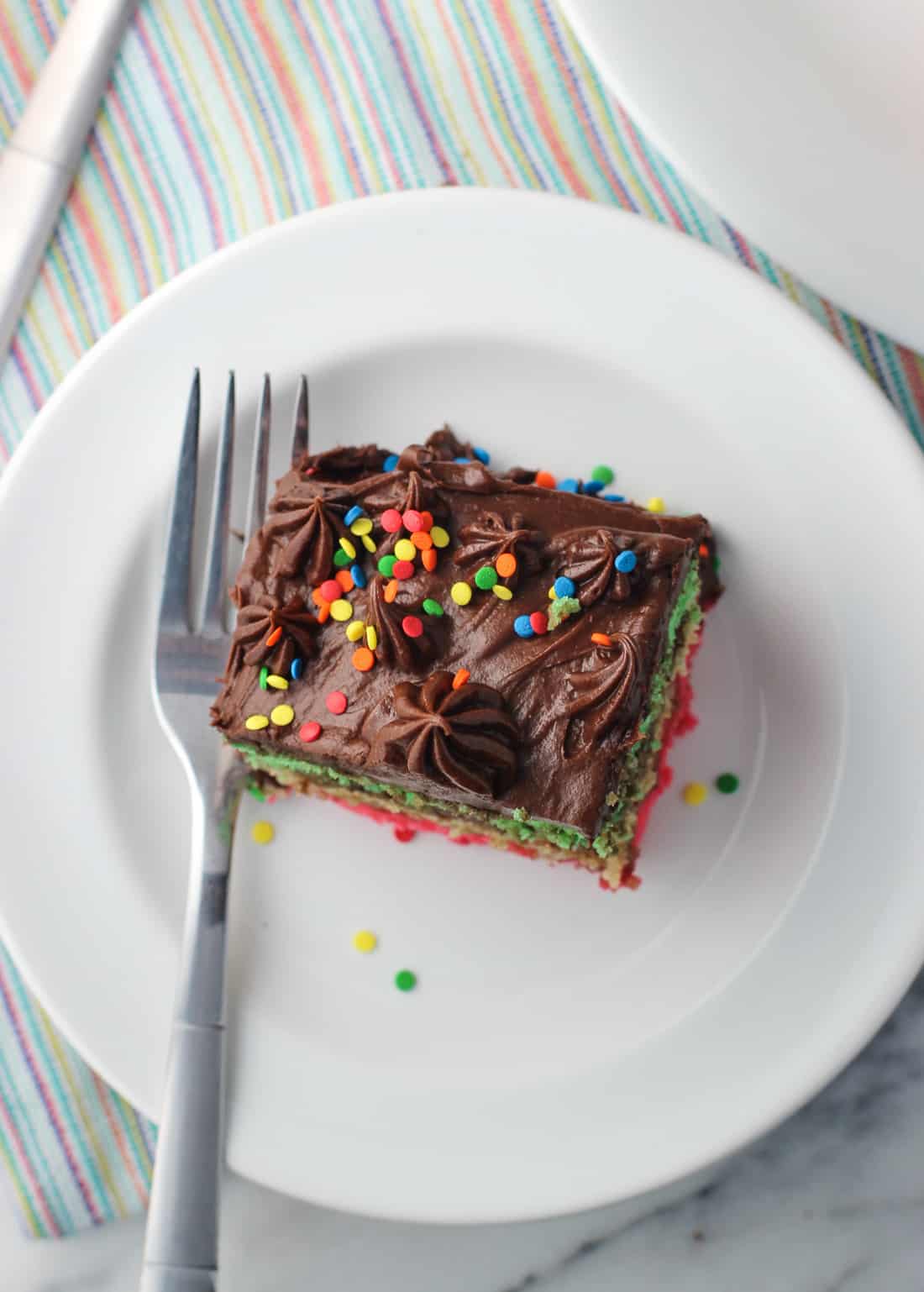 These extra tweaks truly took this rainbow cookie cake to the next level! My favorite cookies and my favorite cake all in one. 🙂
Rainbow Cookie Cake
Ingredients
For the cake:
4 eggs, separated
1 cup granulated sugar, divided
1 7- or 8-oz tube of almond paste*
1 1/4 cup unsalted butter, softened
1 tsp almond extract
2 cups all-purpose flour
1/2 tsp salt
35 drops red food coloring, give or take
20 drops green food coloring, give or take
For the chocolate frosting:
3 cups confectioners' sugar
3/4 cup unsweetened cocoa powder
1/2 cup unsalted butter, softened
1/2 cup milk, approximately (any will do)
Pinch of espresso powder, optional
For assembly:
2 tbsp seedless raspberry jam
Sprinkles, for decorating
Instructions
For the cake:
Heat oven to 350°F. Line a baking sheet with parchment paper and spray with cooking spray, leaving enough parchment paper on either side of the baking sheet so that you can easily lift the cookie slab off of the sheet once baked.
Place egg whites in the bowl of a stand mixer (or in bowl using a hand mixer) and beat on medium-high speed for a minute or two, or until peaks form. Slowly add 1/4 cup of sugar while beating. Continue beating until stiff peaks form (a few minutes longer).
In a separate bowl, add almond paste and remaining 3/4 cup sugar and mix well, taking care to break up the almond paste really well. Add the softened butter and mix for a few minutes until it is light and creamy.
Pour in egg yolks and almond extract and mix for another few minutes. Lower mixer speed to low and add flour and salt. Beat until dry ingredients are just mixed in.
Add about half of the egg white mixture to the bowl with the other ingredients and fold in completely. Repeat for the remaining half of the egg whites.
Separate batter equally into three separate bowls. Leave one bowl as is, add red food coloring to one, and add green food coloring to the other. Stir the batter in the red/green bowls until the color is evenly dispersed.
Spread one of the batters onto the prepared baking sheet in a rectangular shape about 3/4" thick. Bake for 14-16 minutes, or until the center just appears set and small bubbles appear on the surface. The edges may brown, but those will be trimmed away. Repeat for all three layers. Let cookie layers cool on the baking sheet for a few minutes, and then transfer to a wire rack to cool completely.
For the frosting:
Whisk together the granulated sugar and cocoa powder until well combined. In a separate bowl, add softened butter and about a third of the sugar/cocoa powder mixture. Add 2 tablespoons of milk and beat until all mixed. Add another third of the sugar mixture, 2 tablespoons of milk, and beat to combine. Repeat once more to use up all of the sugar mixture. At this point I added another 2 tablespoons of milk to ensure a smooth, spreadable consistency, but slowly add as much milk as your frosting needs.
To assemble:
Once cake is cooled completely, trim each of the cookie layers into even rectangles. Place the red layer on a plate and spread 1 tablespoon of raspberry jam over top. Spread frosting over the jam layer, mixing the two together.
Next place the white layer, and spread another tablespoon of raspberry jam over top. Spread frosting over the jam layer and mix. Place the green layer on top.
Frost the top and sides of the cake, decorating it as you please! Store cake in the refrigerator.
Notes
*I've used both 7- and 8-oz containers of almond paste as sometimes I can only find one or the other. Both work fine!

Cook time factors in baking each cookie layer individually. Baking more than one at once will cut this down!
Cookie layer recipe adapted from Food Network