Enjoy rainbow cookies (or tricolor cookies, or seven layer cookies) for Easter with these Chocolate-Covered Easter Egg Rainbow Cookies! The classic dessert of spongy almond layers and raspberry jam is updated with spring colors, egg shapes, and Easter egg decorations.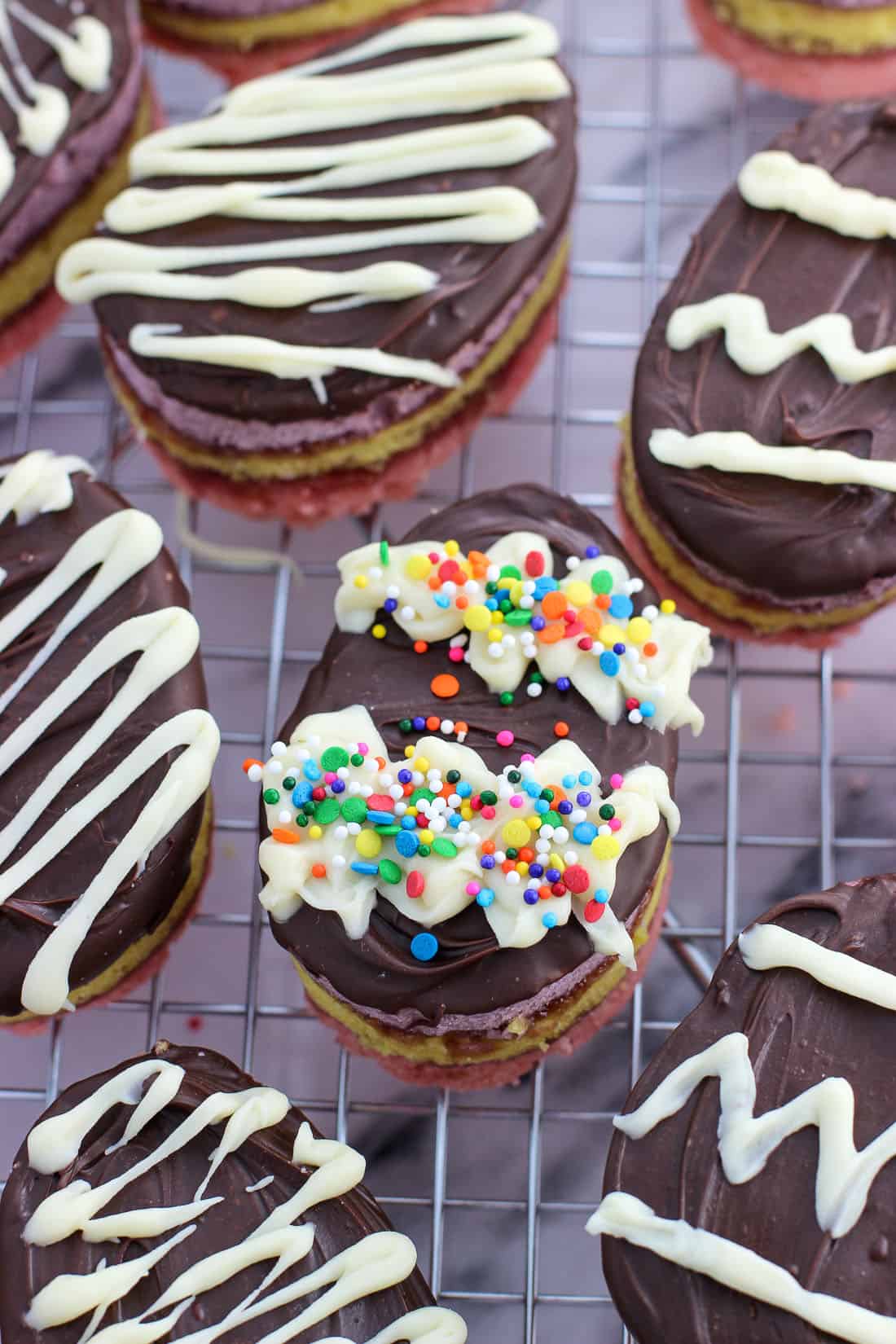 Hi, my name is Alyssa, and I'm a rainbow cookie lover. Hands down these have been my favorite cookie since as far back as I can remember.
For a few consecutive years when I was younger, I would have a giant rainbow cookie cake as my birthday cake. This always seemed like a humongous feat for a bakery to accomplish. "Wow, a WHOLE cake!", but looking back now, it probably saved them a step or two as they made their standard rainbow cookie recipe but didn't have to slice them up. Either way, I relished the opportunity to savor as much of my favorite cookie as I could.
Which even meant eating a slice for breakfast the next morning, because you're allowed to do that on the day after your birthday, right? Yes. And I think the same goes for Easter, but don't quote me on that.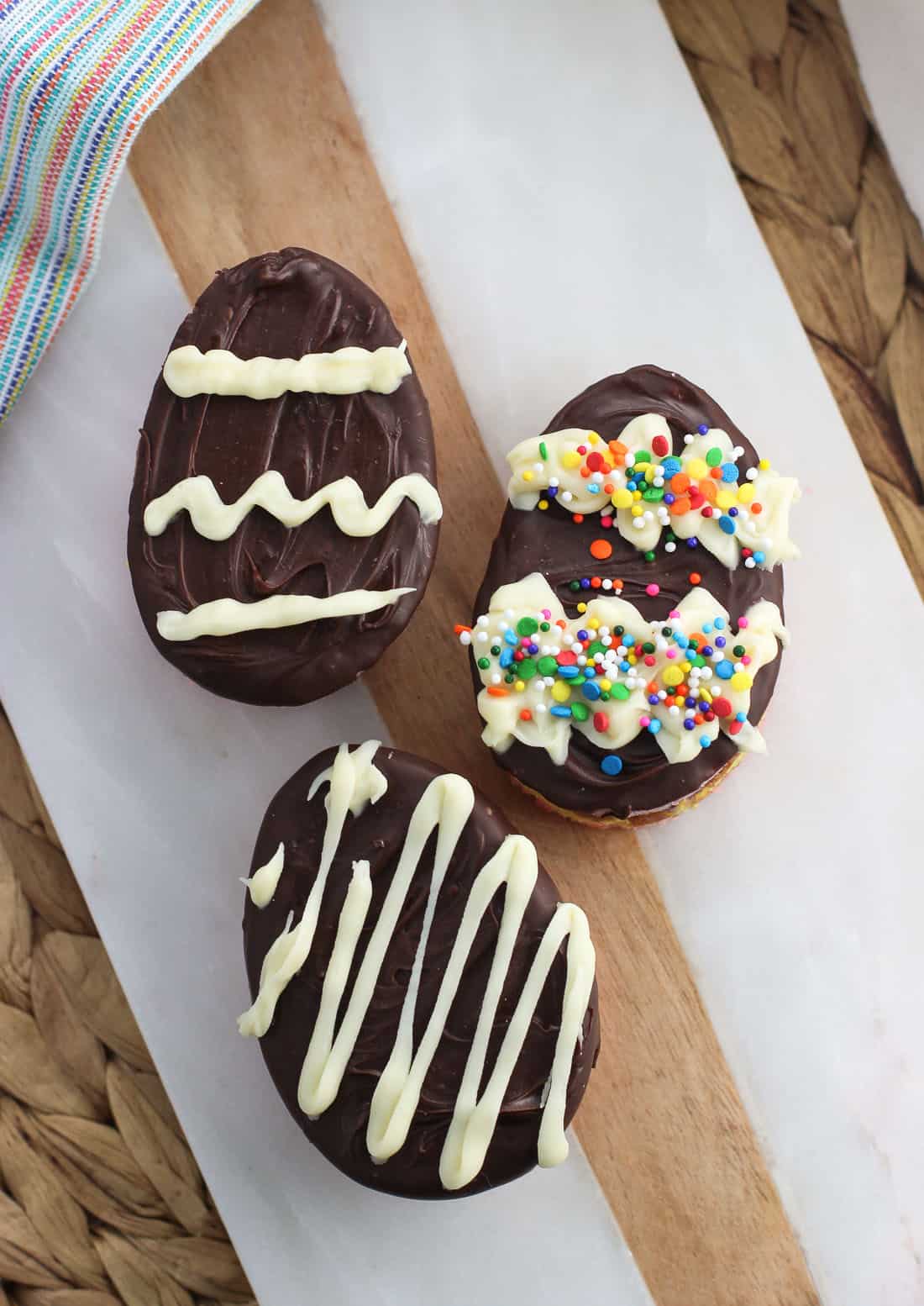 Speaking of Easter, I would absolutely love it if the Easter Bunny dropped these babies off in his yearly travels. I must admit that while I was a rainbow cookie freak when I was little, I was not a fan of the Easter Bunny. At all. Yes, I loved the delicious treats he would bring, but bordering-on-neurotic little me had a panic one year on the night before Easter. I was in despair trying to reconcile in my head how a large bunny was able to infiltrate locked doors and windows and get into my house. I didn't know of a magical entrance he would use, a la Santa, so wouldn't any old person be able to break in, too?
Can you say "over-thinker" from day one? My poor parents.
Anyway, Mr. Bunny left me a sweet letter that year, assuring me that he was a happy bunny who meant no harm, my house was secure, etc. What a stand up rabbit! His words (and chocolates) were good enough for me, though it wouldn't have hurt if he threw in a few of these chocolate-covered delights to sweeten the deal.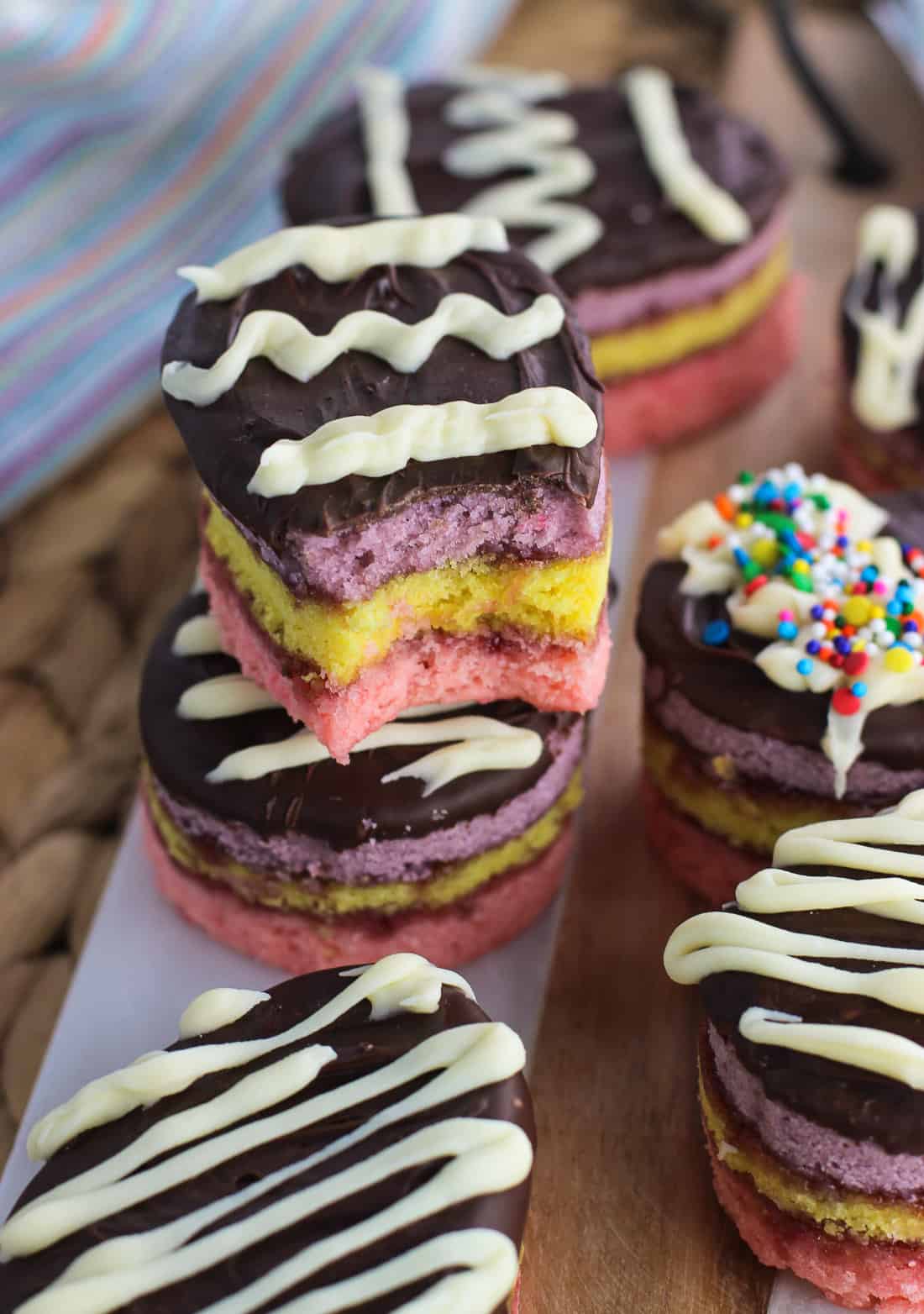 If you've never enjoyed a rainbow cookie before, a) I'm so sorry and b) let me tell you about them. These three-layer cookies are traditionally shaped like little blocks (see above) and colored red, white, and green. The layers are spongy and moist, with an almond flavoring thanks to the addition of both almond paste and extract, with jam (either apricot or raspberry) pressed in between each layer. The cookies are then topped with chocolate. Bada bing, bada boom, I'll take five please.
These Easter egg rainbow cookies use a standard rainbow cookie recipe, but the festive pizzazz is brought courtesy of using different food colorings and an oval-shaped cookie cutter. They do take a degree of planning ahead and prep time, but the final output is well worth the effort. The pan of cookies, pre-slicing, needs to be refrigerated for at least eight hours, so I recommend preparing the cookie layers the night before and letting them chill overnight. Plus when you're asleep, you're (hopefully) not pacing back and forth in front of the refrigerator waiting for them to be ready.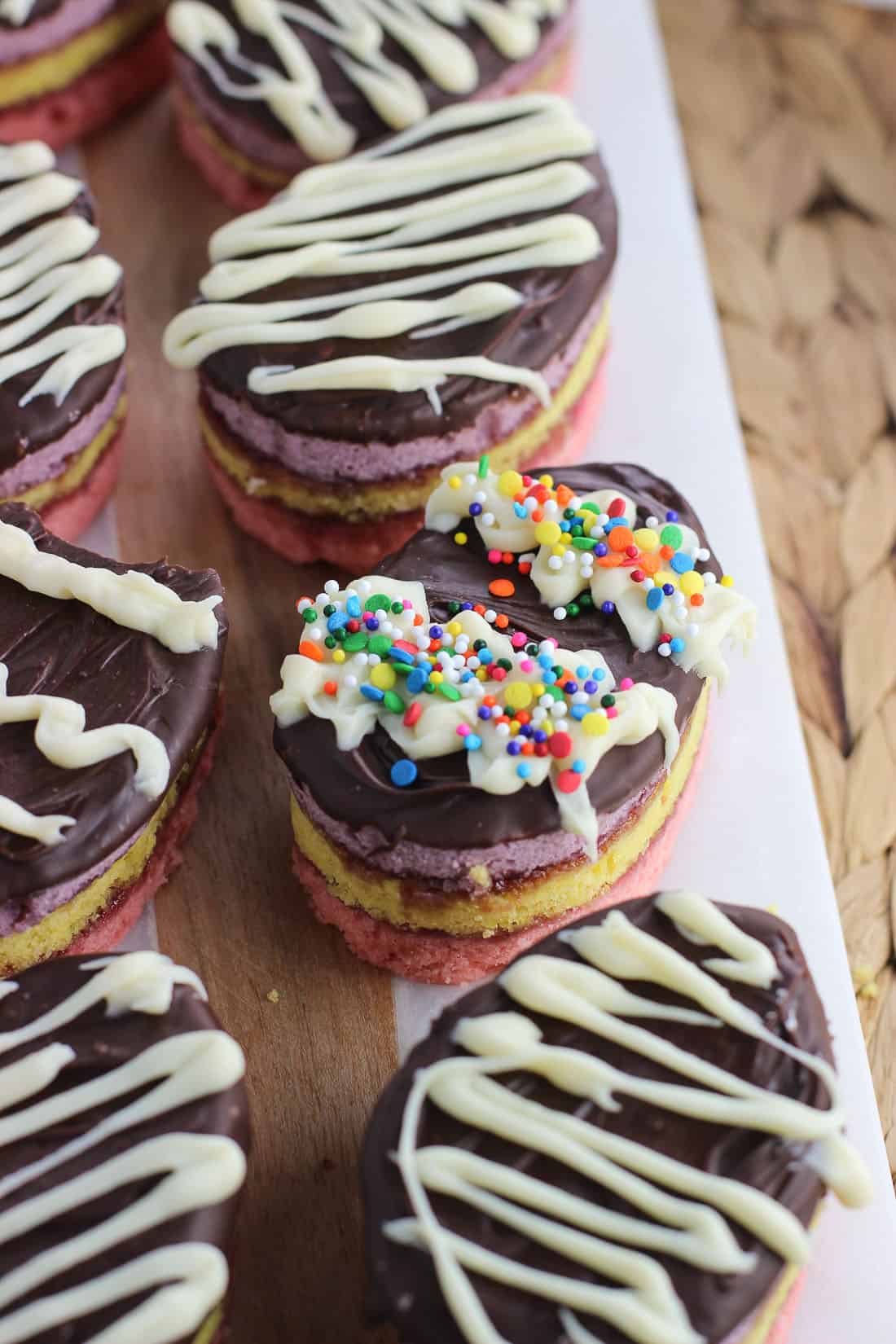 Recipe Notes
Since these Easter egg rainbow cookies are dense, you'll likely want to use a cookie cutter on the smaller size. I couldn't find a small, oval cookie cutter locally and didn't feel like ordering one, so I bent a small circular cookie cutter into an oval shape. Works! 😂
Once the cookie layers are assembled with raspberry jam between them, parchment paper and then something weighty, like another baking sheet, goes over top while the bars sit in the refrigerator. This helps the three layers stick together, so they won't separate when you cut them.
Since there are different types of food coloring available (liquid, gel, etc.), I didn't specify how many drops of each color should be used. I used liquid food coloring, and went in increments of five drops at a time and stirring to see how the colors were looking. Use enough to reach your desired coloring.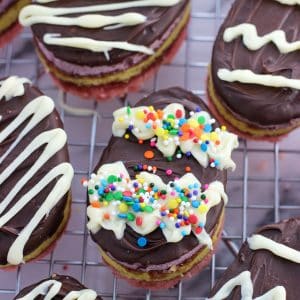 Chocolate Covered Easter Egg Rainbow Cookies
Enjoy rainbow cookies (or tricolor cookies, or seven layer cookies) for Easter with these Chocolate-Covered Easter Egg Rainbow Cookies! The classic dessert of spongy almond layers and raspberry jam is updated with spring colors, egg shapes, and Easter egg decorations.
Print
Pin
Rate
Ingredients
4

large

eggs

separated

1

cup

granulated sugar

1

7- or 8-ounce container

almond paste

(see note)

1 ¼

cups

unsalted butter

softened

1

teaspoon

almond extract

2

cups

all-purpose flour

½

teaspoon

salt

Red food coloring

for pink layer

Red & blue food coloring

for purple layer

Yellow food coloring

for yellow layer

½

cup

seedless raspberry jam

10

ounces

dark chocolate

chopped

Melted white chocolate

for piping

Sprinkles for decoration

optional
Instructions
Preheat oven to 350°F. Grease a 9" x 13" rectangular pan, then press parchment paper to bottom of pan, leaving enough excess paper sticking up along the 9" sides so that you can lift each cookie layer by them after baking. Grease top side of parchment paper, and set pan aside.

Beat egg whites on medium-high speed using a stand or hand mixer for several minutes until peaks form. Gradually add ¼ cup of the sugar to the egg whites until mixture holds stiff peaks, approximately 2-3 minutes. Pour egg white mixture into another bowl and tidy up mixing bowl to be used again.

Add almond paste to the now-empty bowl and remaining ¾ cup sugar and mix on medium speed until almond paste is broken up and both ingredients are well integrated. Add butter and mix for a few minutes until light and creamy. Pour in egg yolks and almond extract and mix for another few minutes. Lower mixer speed to low and add flour and salt. Beat until dry ingredients are just mixed in.

Pour half of egg white mixture into butter mixture and fold in. Repeat with remaining half of egg white mixture.

Separate dough into three bowls - one for each colored layer. Stir red food coloring into one (to make pink), equal red and blue food coloring into the second (to make the purple layer), and yellow food coloring into the third.

Spread dough from one of the bowls into the prepared baking pan and smooth top (batter will be very thin). The batter does not need to reach the edges of the pan - just to form an even, thin layer.

Bake for 8-10 minutes, until batter has set and a toothpick in the center comes out clean. Using the excess parchment paper sticking out from beneath the cookie layer, lift layer out of pan and place on wire rack to cool.

Press new parchment paper to bottom, leaving excess as before. Bake next layer in the same manner as the first. Once done, repeat steps with remaining layer.

Heat raspberry jam slightly in microwave and stir.

Once all layers have cooled, heat raspberry jam slightly in the microwave so that it's a bit thinner and easy to spread.

Invert pink layer onto a sheet of parchment paper, and peel off parchment paper that used to be on the bottom of the layer. Spread half of raspberry jam evenly over pink layer, then invert yellow layer on top. Peel parchment paper from top side and evenly spread second half of raspberry jam over layer. Invert purple layer on top and peel off parchment paper. Place a new layer of parchment paper over top of purple layer, and wrap cookie layers with plastic wrap. Place a baking sheet on top of cookie layers to weigh them down and refrigerate overnight, or at least eight hours.

Once cookie layers have chilled, remove from refrigerator.
For egg-shaped cookies:
Press oval cookie cutter into the cookie layers and place oval cookies onto wire rack (see note). Melt dark chocolate in bowl in microwave for 15 second intervals, stirring after each interval until chocolate is fluid. Place to top of each egg-shaped cookie in chocolate to form a top chocolate layer. Place each cookie back on wire rack to harden. Once chocolate has hardened, melt white chocolate and pipe Easter egg decorations (such as the squiggles I did) on top of chocolate-covered egg cookies. Let harden, then serve.
Notes
I've found both 7- and 8-ounce containers of almond paste and have used them both. Either one works just fine, so use what you have available or is stocked in your store.
If your cookie cutter isn't as thick or thicker than the cookie layers, push the cookie cutter as far as you can into the cookie layers and then use a paring knife to cut the oval shape on the outside of the cookie cutter.
Recipe time does not include time required for refrigeration.
Nutritional information is provided as an estimate. As it can vary due to many factors (brands used, quantities, etc.), we cannot guarantee its accuracy.
Food Safety and Nutrition Disclaimer
Recipe adapted from the Food Network
Photos in this post were updated March 2017.