We're fresh off our vacation to Nashville, and what a week y'all*! My calves still ache from walking everywhere, my ears are still reveling in the live tunes we enjoyed 24/7, and my taste buds are still doing the happy dance with the delicious eats we had. Since I seem to be the woooorst (Jean-Ralphio, anyone?) at documenting vacations, here's the smallest snippet of some food highlights (mostly courtesy of Instagram).
*Fear not, there were no actual y'all's spoken. I'm from New Jersey…"y'all" soooo doesn't come naturally.
Dunkin, my love. I've had about four cups of Dunkin coffee in the last year and a half (…where in NJ I'd occasionally pay DD a visit four times a week), so I cannot resist stopping by when I'm in a new city with a nearby Dunkin. I never get any donuts, but just about every time I order a medium toasted almond coffee, hot, with a little bit of milk and no sugar. Large if it's in the middle of a doozy of a day at work. Decaf if it's super late and I can't resist the craving.
Weirdly enough, after feeding us info that one would open in San Diego in 2015, Dunkin recently pulled a Beyonce and opened a Dunkin downtown with virtually no notice. I totally would have been there already if there wasn't the pesky issue of parking downtown. That just might be the only deterrent strong enough to keep me away. 🙁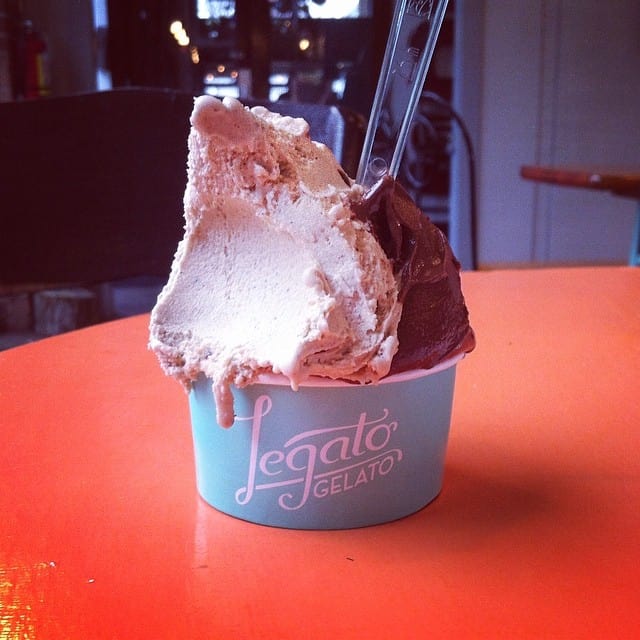 Umm, isn't that mountain of gelato just beautiful? We stopped by Legato Gelato in Edgehill Village for a little R&R on one of our miles-long treks, and I can't quite get this lovely little cup of heaven off my mind. Coffee on the left, and dark chocolate on the right. Holy perfection.
And don't worry, I totally caught that drop before it fell.
This is probably the third time I've ever eaten fried chicken, and the first "hot chicken" I've had the pleasure of digging into, which is at it sounds – spicy fried chicken. We went to Hattie B's Hot Chicken, which conveniently was right across the street from our hotel in Midtown, and despite being a little unsure if we'd want to wait in line, we were so happy we did. Crispy, crunchy, spicy, wonderful. I chose southern greens and pimento mac and cheese as my sides (when in Rome…), and WOW. Here's a confession: I had to Google pimento cheese because I had no clue what it was all about. I've certainly never eaten it before, and I don't recall seeing it sold anywhere or on a menu before Hattie B's. In-freakin'-credible. As in so good, I'm trying to push the memory out of my brain because I seriously don't need to be recreating creamy carb-y richness like that on a regular basis.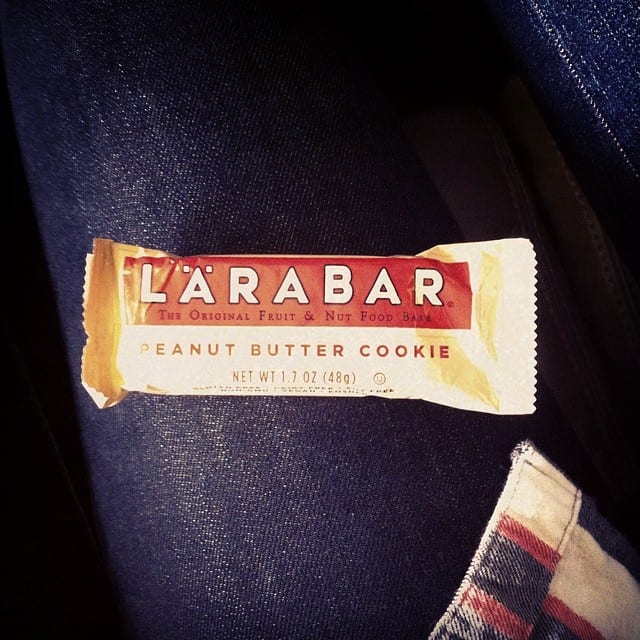 Is it just me, or does anyone else treat yourself (TREAT YO'SELF!) to a snack while traveling that you probably wouldn't if you were just at home? I've mentally categorized Larabars as "fancy treats", so I only munch on them while seated on an airplane or in the midst of a serious road trip. Is that weird? Anyway, peanut butter cookie it was this time. I savored it so much it probably took me fifty bites and fifteen minutes to finish it. So good!
Camera Shy
Then there were some fab things I didn't even think to take a picture of with my phone. How bad is that? So consider these guys camera shy.
Fried pickles. The lack of picture here isn't really my fault because these babies flew off the table so quickly. As if pickles couldn't get any greater. File these with the pimento mac and cheese above in the "don't even think about making" category.
Chili's Skinny Margarita. We were zonked and hungry the night we flew in, so we hit old-standby Chili's for dinner. I'm seriously baffled how this margarita can be SO. GOOD. It's not too sweet (just like I like it), it has the perfect amount of sourness, and it's only 110 calories. Plus it was a good $5+ cheaper than cocktails in San Diego. Uh, hello? Winner.
A diner breakfast at Noshville. This is definitely the closest breakfast I've had since my Jersey diner days. Non-pretentious eggs with some killer potatoes and boat loads of coffee. Cheesy tinsel decorations adorning the ceiling for St. Patty's Day. A display case of cakes when you walk in the front door. Pretty legit, huh? Only this time my eggs + potatoes came with a full-sized cinnamon raisin bagel as a side. Nothing like starting out your day of sightseeing with a belly full of double breakfast! Oof. (Worth it!)
Now I'm (mostly) back in the swing of things here, except for the fact that I have immense amounts of laundry to do and my stomach starts growling for lunch around 10:00 AM. Those time zone changes get me every time. Super excited to spend some quality time this weekend with a kitchen appliance that isn't a hotel room microwave. I won't lie though – I was tempted to set out and find the nearest supermarket and make an Irish cream chocolate mug cake on St. Patty's. 🙂
Happy almost weekend, everyone!