Sooooo...I still haven't decided what I'm giving up for Lent. Eeep.
In years past, I was usually prepared to say a big "SEE YA" to soda for forty days, but I've (proudly) been soda-free since December, so that wasn't happening this year. Now I'm racking my brain thinking of something to forgo and trying to remember what I've eaten over the past week or so. Because while giving up something like chocolate would be a serious sacrifice, I don't think I've gotten through a work day without it.
Then there's peanut butter. I actually gave up peanut butter for five years (!!!) back in the day because my silly Web-MD-obsessed brain thought I had developed an intolerance to it. Guess what? Totally not true. Now I'm banned from Web MD (a mandate handed down from B), which is probably for the better. That tight calf muscle probably isn't Dengue fever anyway...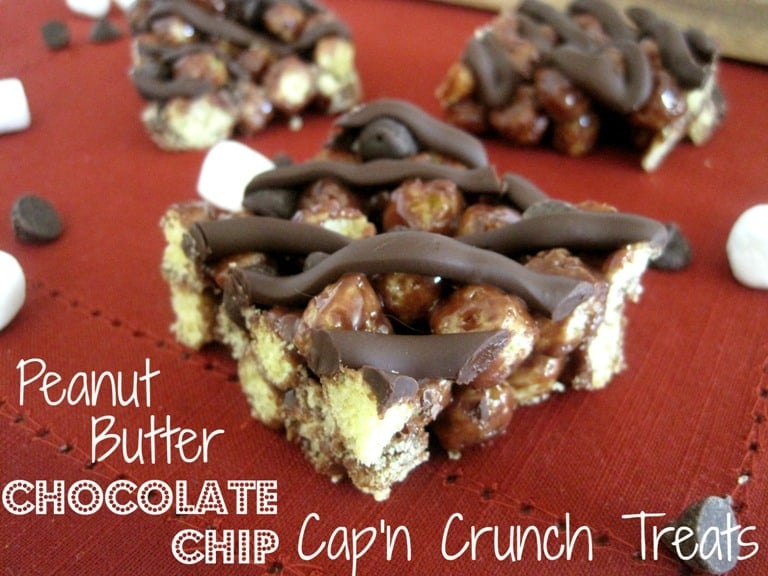 So in honor of two things I'm not giving up, I wanted to revamp ye old Rice Krispie treat. I switched up the cereal (...because I found PB Cap'n Crunch on sale) and added cocoa powder and my new favorite ingredient, powdered peanut butter, to the butter/marshmallow mixture. The powdered peanut butter is optional, but it bolsters the PB flavor, and more PB = yes, please in my book. At least nowadays. 🙂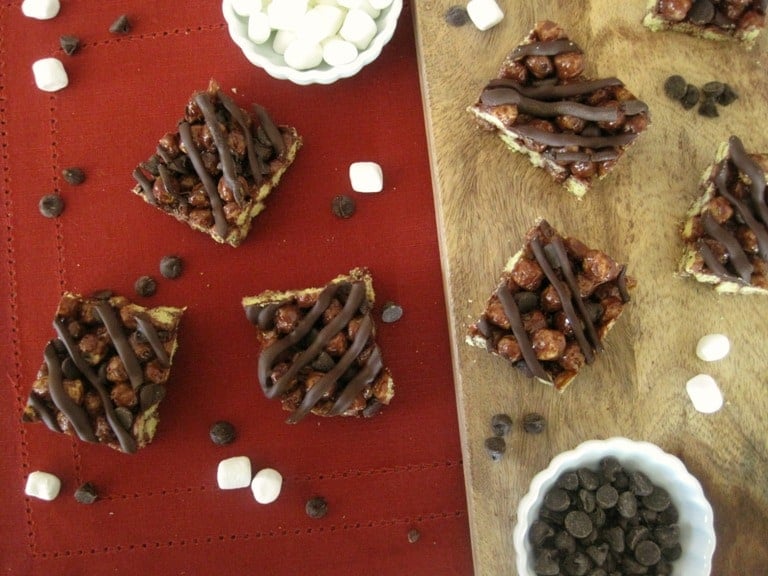 Ingredients
6

cups

peanut butter Cap'n Crunch cereal

4

cups

mini marshmallows

3

tablespoon

unsalted butter

2

tablespoon

unsweetened cocoa powder

2

tablespoon

powered peanut butter

optional

1

cup

semi-sweet chocolate chips

divided
Instructions
In a large pot set over low heat, melt butter. Once butter is just melted, add marshmallows, cocoa powder, and powdered peanut butter (if using). Stir frequently using a spatula sprayed with cooking spray, until marshmallows have lost their shape and all ingredients are well combined.

Remove pot from heat. Add cereal and stir so that the marshmallow mixture evenly coats the pieces.

Using wet hands (or a wooden spoon sprayed with cooking spray), press cereal mixture into a greased 9" x 13" pan. Top with ¼ cup of the chocolate chips, lightly pressing them into the top of the mixture so that they adhere. Let treats cool to room temperature.

For the chocolate drizzle, melt remaining ¾ cup of chocolate chips in microwave. Pipe the melted chocolate over top of the treats (I used the plastic-bag-snip-a-corner method). Let drizzle harden, then cut into pieces to serve.
Nutritional information is provided as an estimate. As it can vary due to many factors (brands used, quantities, etc.), we cannot guarantee its accuracy.
Food Safety and Nutrition Disclaimer