Swap in Cap'n Crunch cereal for classic crisped rice in these Captain Crunch Treats! It's so fun to use different flavor varieties to make these tasty no-bake cereal bars, from colorful berries to a chocolate peanut butter version.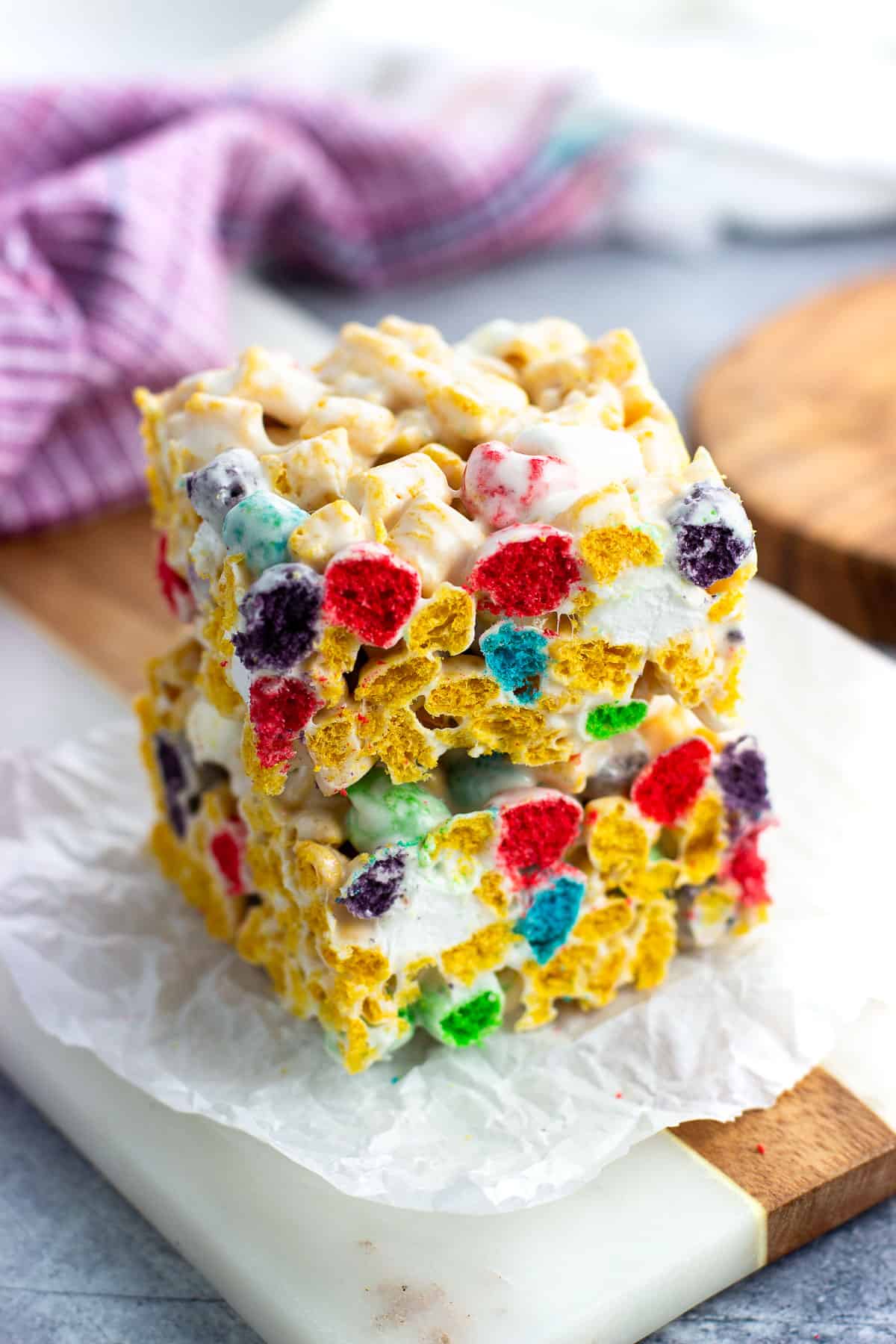 This recipe has been updated in February 2023 with new photos and slight recipe improvements from its initial publish date in March 2014.
Rice Krispies treats are a childhood favorite and for good reason! Crunchy, sweet, and chewy, they've got it all working. And they're no-bake, to boot.
I remember the exact moment my worldview of these beloved marshmallow cereal bars expanded. One day my college campus dining hall had a new rainbow-colored addition to their desserts section: cereal treats with cereals other than Rice Krispies.
I'm pretty sure the cereal they used that day was Trix, but the possibility of making these bars with options beyond crisped rice was too intriguing to pass up. I started making these Captain Crunch treats not long after and they've become a family favorite - for kids and adults alike.
Reasons to Love This Recipe
With a bit more butter than the official "Krispies treats" recipe dictates, these Cap'n Crunch treats also include vanilla extract and salt for a very well-rounded flavor.
There's no getting around it: this cereal may or may not have a reputation for being rough on the roof of your mouth. Reserving some marshmallows to mix in with the cereal at the end leaves pillow-y soft and squishy bursts throughout to soften your biting experience.
It's super easy to switch up variations by using different varieties of Cap'n Crunch: Original, Berries, All Berries, or Peanut Butter.
Recipe Ingredients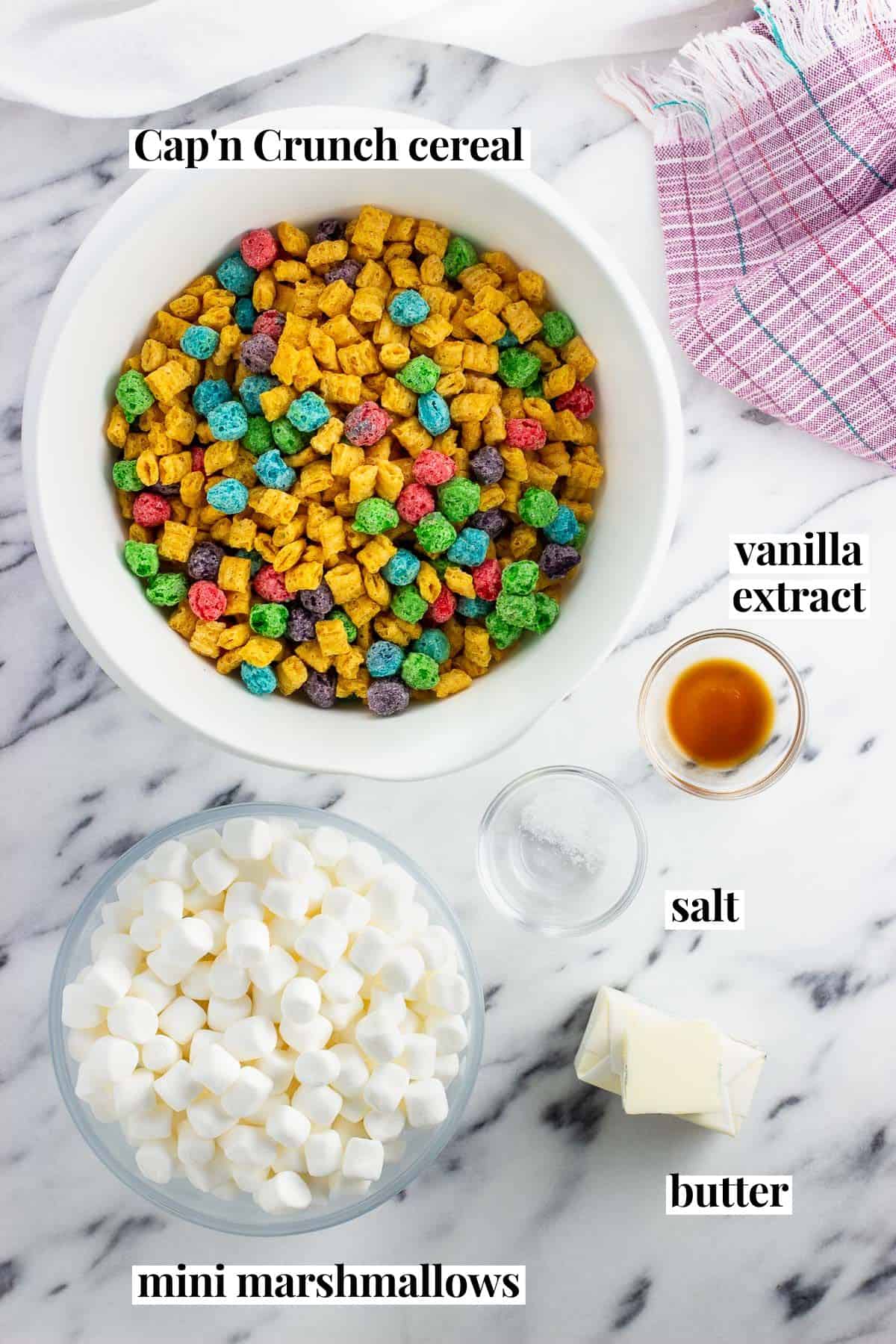 Cap'n Crunch: Any variety works for these treats, but I will usually go for the "with Berries" type for the fun pops of color. Peanut butter works with the addition of cocoa powder and chocolate chips (recipe also below).
Marshmallows: Classic! Use the mini size as they melt more quickly than jumbo.
Butter: Adds richness. Salted butter can be used if you omit the added salt.
Vanilla Extract: A little bit makes these Captain Crunch treats taste more fancy and dessert-like.
Salt: Counters the sweetness.
Step-by-Step Instructions
Melt butter in a large pot over low-medium heat. Add marshmallows and heat until they lose their shapes and melt.
Stir in the vanilla extract and salt off the heat, then stir in the cereal and reserved marshmallows.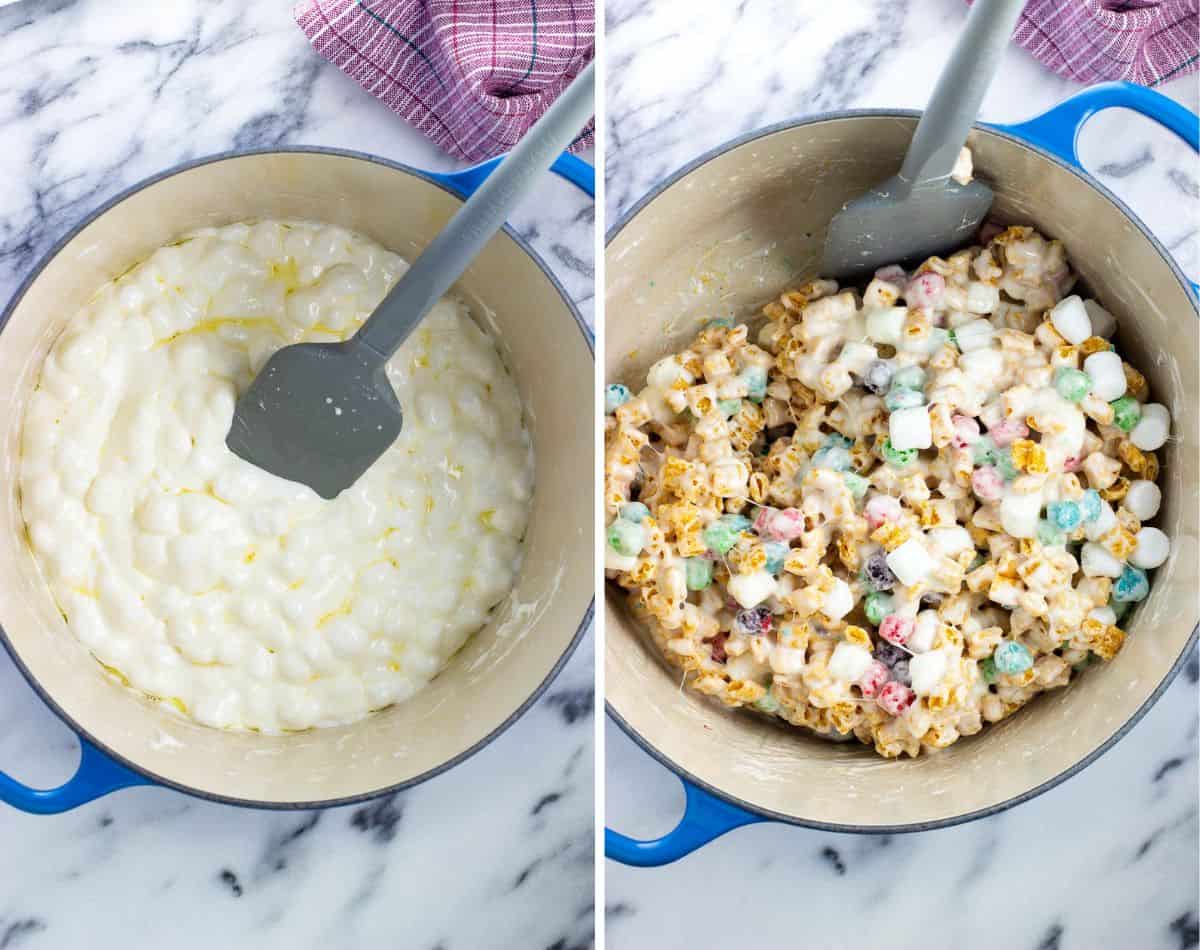 Press cereal mixture into a parchment-lined 9-inch square baking dish until it's in an even layer.
Let it sit at room temperature until completely hardened and cooled, about one hour.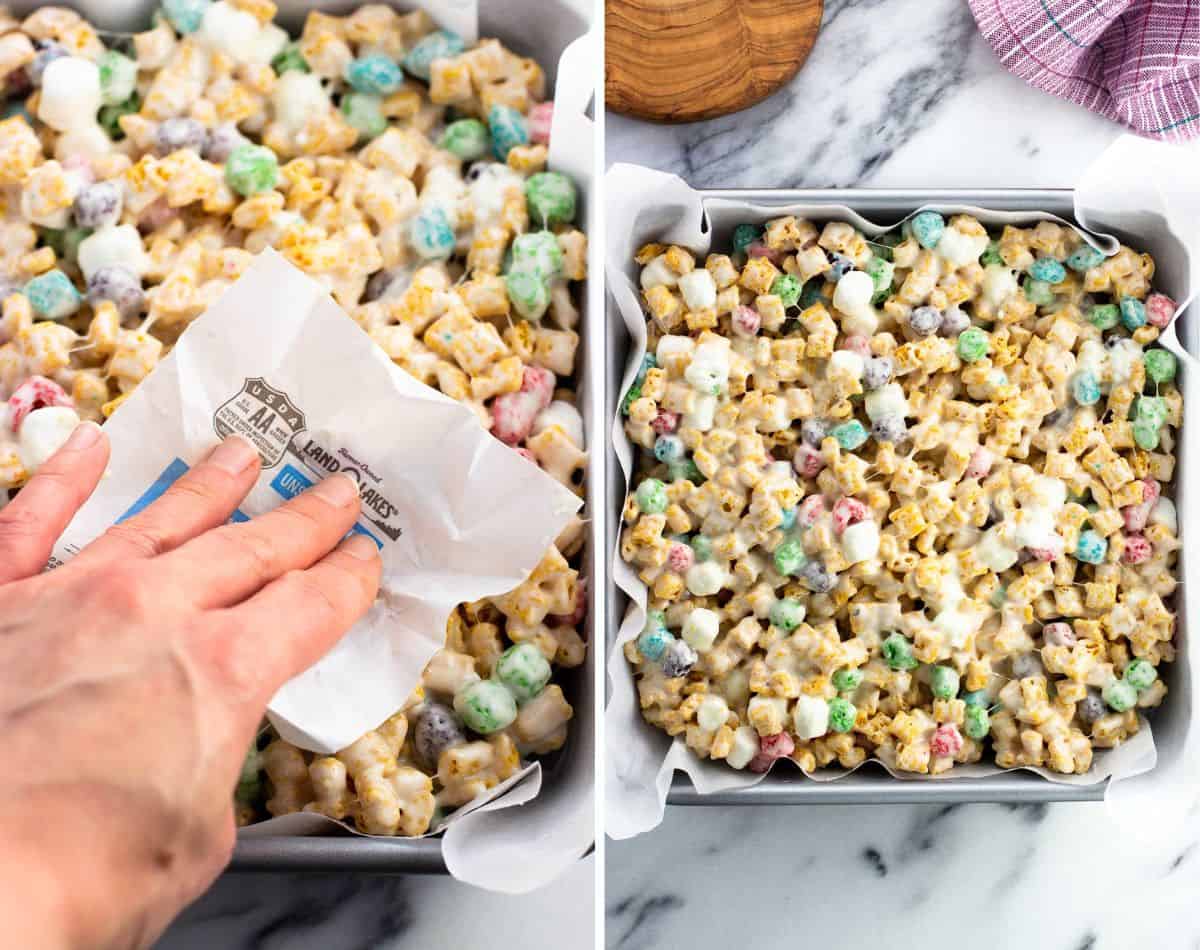 Slice Captain Crunch treats into pieces with a sharp knife. Pictured are nine large squares, but you can also slice them into 12 or 16 pieces.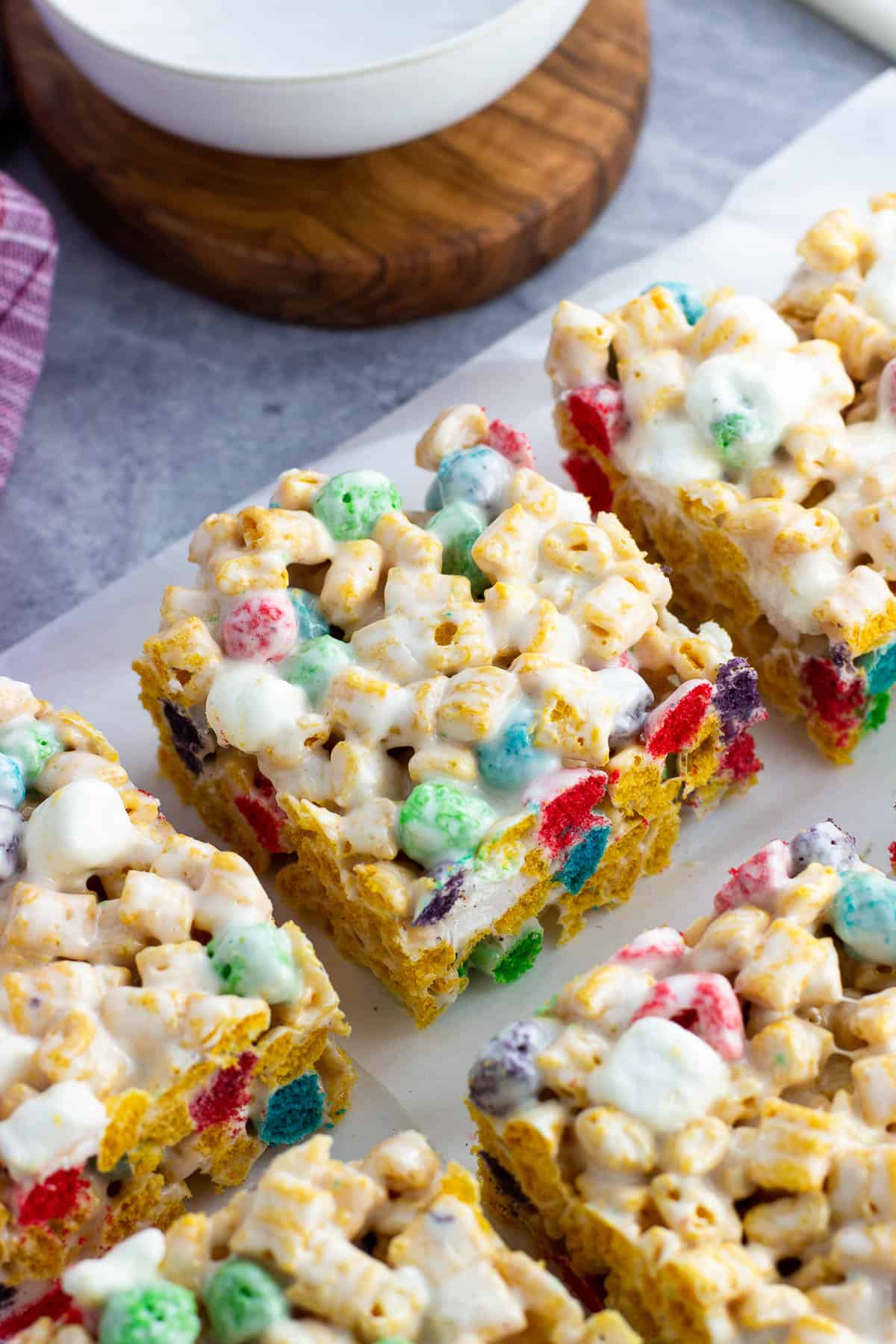 Chocolate Peanut Butter Variation
Looking for a chocolate fix? It's SO easy to switch up the flavor of these Cap'n Crunch Treats and make a chocolate peanut butter variety. My household couldn't decide on a favorite.
To make chocolate peanut butter Captain Crunch treats, you'll need all of the base ingredients, plus two extra:
Use Peanut Butter Cap'n Crunch
Add ⅓ cup chocolate chips (semisweet, milk, or dark all good)
Add ¼ cup unsweetened cocoa powder (natural or Dutch-process fine)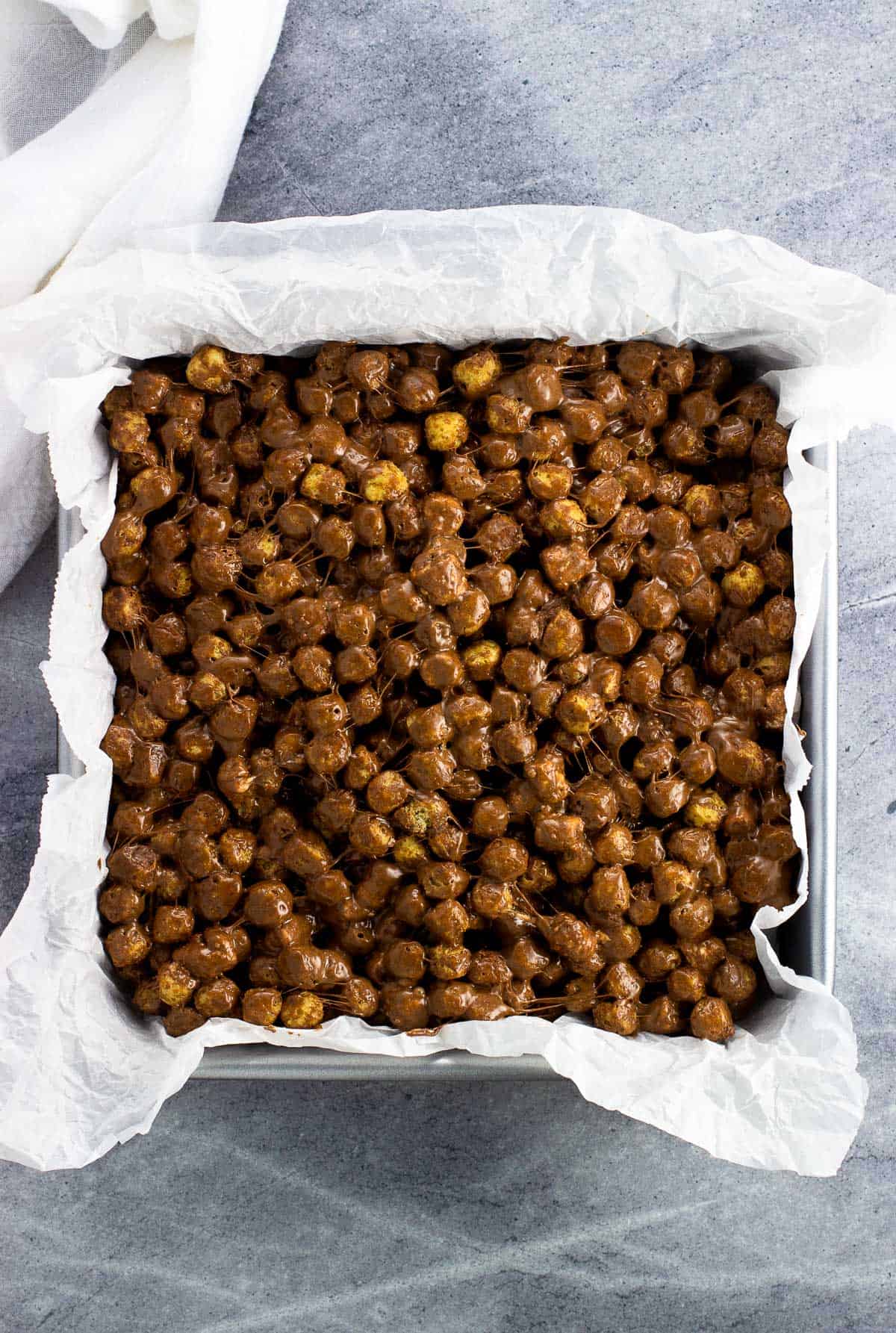 Follow the same procedure as the base recipe, adding the chocolate chips and cocoa powder at the same time you do the vanilla extract and salt (once the pot is off the heat).
The chocolate chips will melt and give another level of chocolate-y depth to the marshmallow mixture. This coats the peanut butter cereal to result in a nicely-balanced PB and chocolate cereal bar that toes the line between snack and dessert perfectly.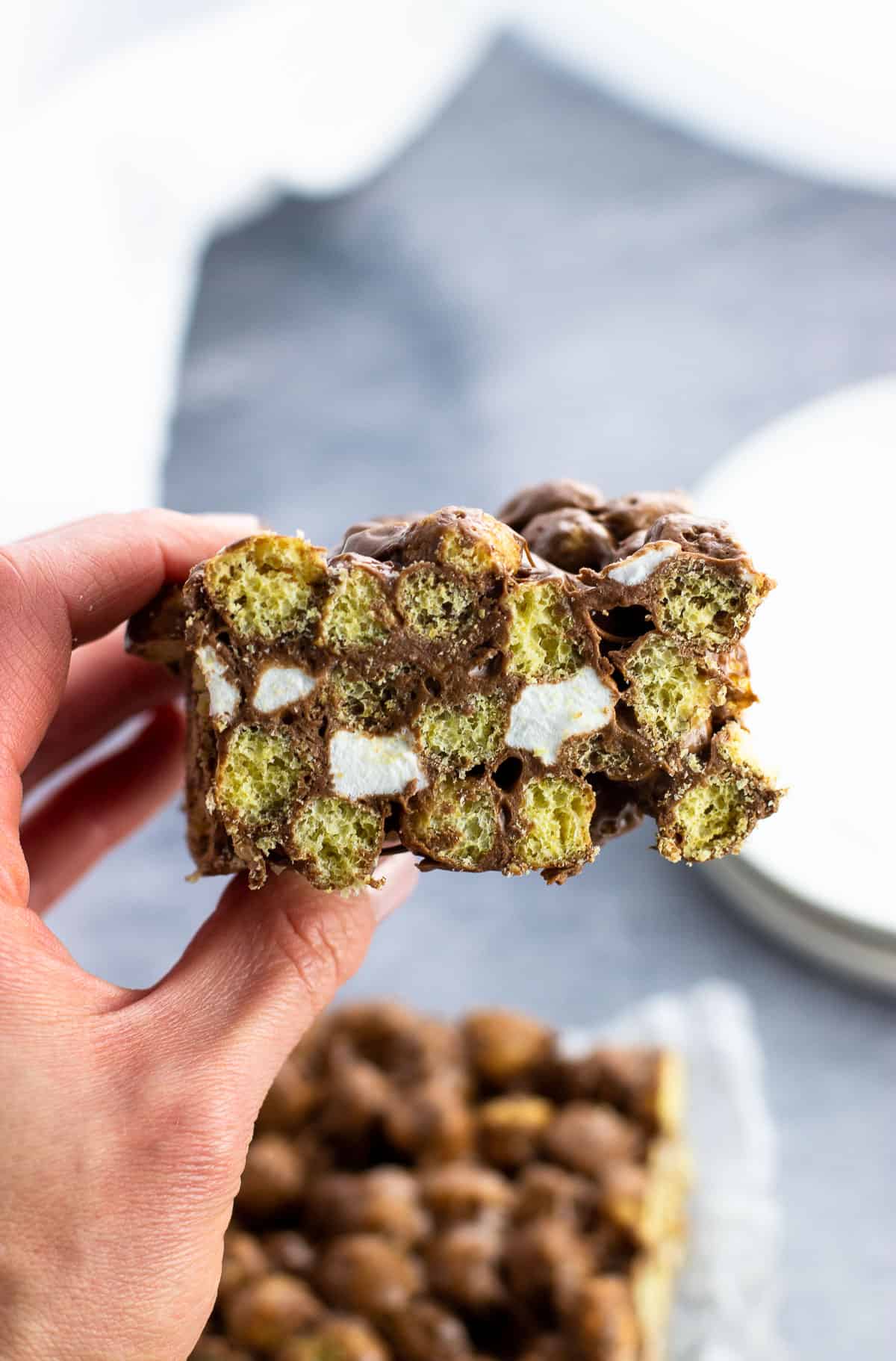 Recipe Tips and Tricks
Use Fresh Marshmallows - I'm guilty of stashing some away in my pantry for months so I'll always have some on hand for spur-of-the-moment cereal treats. However as time goes by they harden, lose their sweet aroma, and don't melt as easily. Using fairly freshly-purchased marshmallows make these Captain Crunch treats extra delicious.
Pan Size - While some marshmallow cereal treat recipes call for a 9-inch by 13-inch baking dish, I prefer to make taller bars by using a 9-inch square baking dish. That said, use the larger size if you prefer thinner bars.
Parchment Paper - The marshmallow mixture is sticky, so this is necessary in order to cleanly lift the treats out of the pan for slicing. To get your sheet of parchment to easily lay in the pan, really crinkle and scrunch it up, then unfold it. It should now mold more easily into the pan size.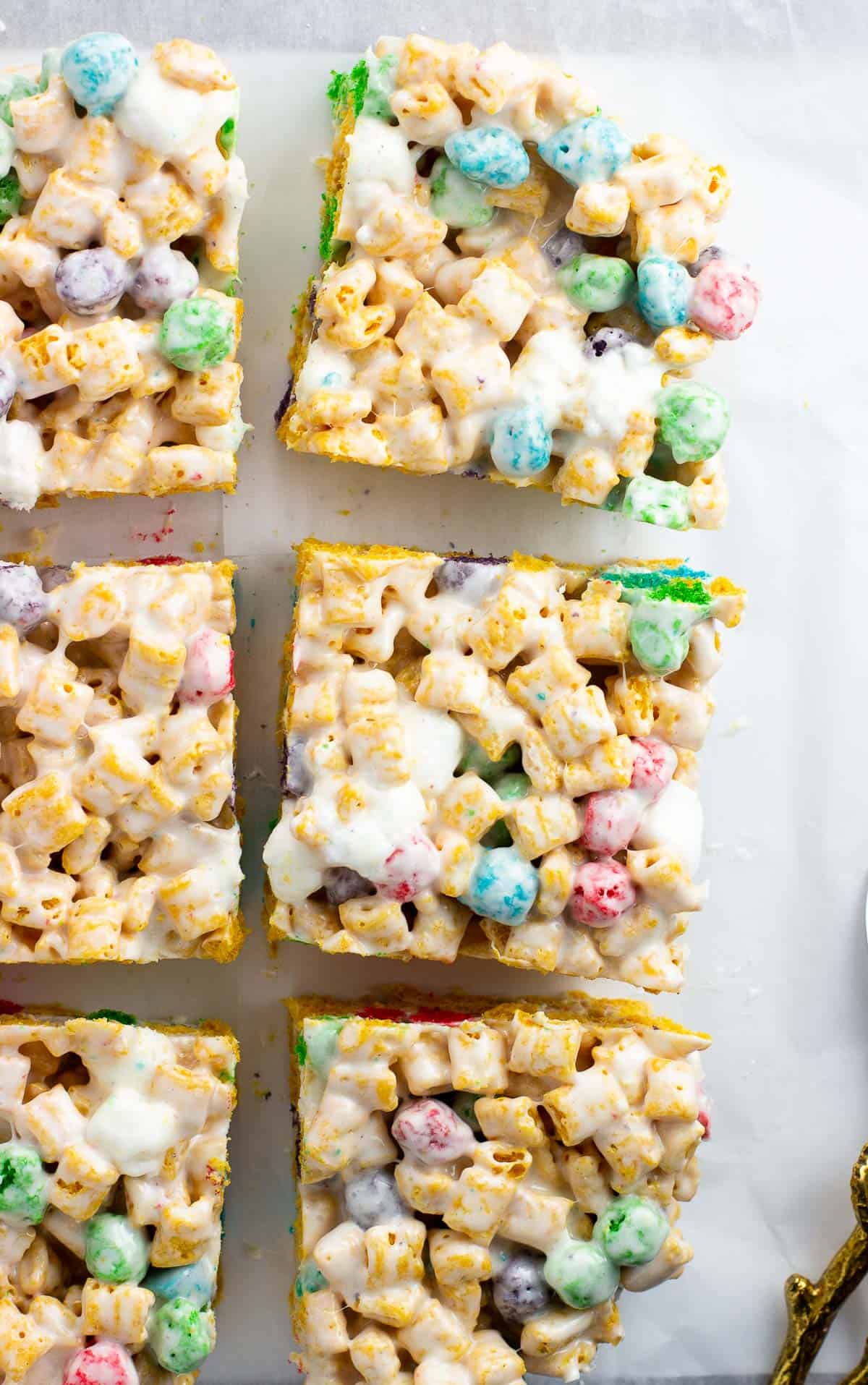 Related Recipes
If you've enjoyed this recipe, I'd love for you to leave a star rating in the recipe card and/or a comment review below!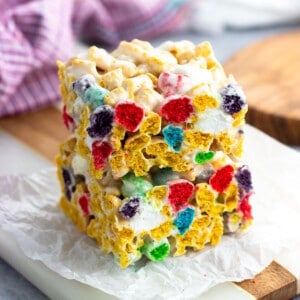 Captain Crunch Treats
Swap in Cap'n Crunch cereal for classic crisped rice in these Captain Crunch Treats! It's so fun to use different varieties to make these tasty no-bake cereal bars, from colorful berries to a chocolate peanut butter version.
Print
Pin
Rate
Ingredients
5

Tablespoons (70g)

unsalted butter

1

10.5-ounce (297g) bag

mini marshmallows

divided

½

teaspoon

vanilla extract

⅛

teaspoon

sea salt

6

cups (220g)

Cap'n Crunch cereal

your favorite variety
Instructions
Line a 9-inch square baking dish with parchment paper.

Prep your ingredients so they're portioned out and ready to go once the recipe begins. Set aside 1 cup of the mini marshmallows.

Add butter to a large pot set on the stove over low-medium heat. Once it melts, add all of the marshmallows (except for the 1 cup set aside). Stir as they expand and lose their shape. Continue until the marshmallows are just melted.

Remove the pot from the heat, then stir in the vanilla extract and salt.

Working in a few batches, add the cereal and reserved 1 cup of marshmallows and stir until evenly combined.

Turn out cereal treat mixture into the lined pan. Using slightly wet hands, a greased spatula, or the slick side of a butter wrapper, lightly press the mixture into an even layer. Try not to use a lot of force to press it in and condense it as this can make the bars dense.

Let the bars cool down and set before lifting out of the pan and slicing into treats (this will take about 1 hour). These treats are best served fresh the same day or the next day, but will stay for several days in an air-tight container at room temperature.
Notes
Chocolate Peanut Butter Version: Everything is the same, except use Peanut Butter Cap'n Crunch, then add ⅓ cup chocolate chips and ¼ cup unsweetened cocoa powder along with the vanilla extract and salt. Serving Size: This is assuming the slab of treats is cut into 9 equal pieces. Doing so yields fairly large bars, so I will sometimes slice them into 12 rectangular bars if I want something smaller.
Nutrition
Serving:
1
treat bar
|
Calories:
264
kcal
|
Carbohydrates:
48.2
g
|
Protein:
1.6
g
|
Fat:
7.5
g
|
Cholesterol:
17
mg
|
Sodium:
244
mg
|
Potassium:
45
mg
|
Fiber:
0.6
g
|
Sugar:
28.3
g
|
Calcium:
3
mg
|
Iron:
5
mg
Nutritional information is provided as an estimate. As it can vary due to many factors (brands used, quantities, etc.), we cannot guarantee its accuracy.
Food Safety and Nutrition Disclaimer