Soft and flaky dinner rolls are swirled with moist onion flakes, poppy seeds, and a hint of sweetness. Store-bought dough means these onion crescent rolls are ready in twenty minutes!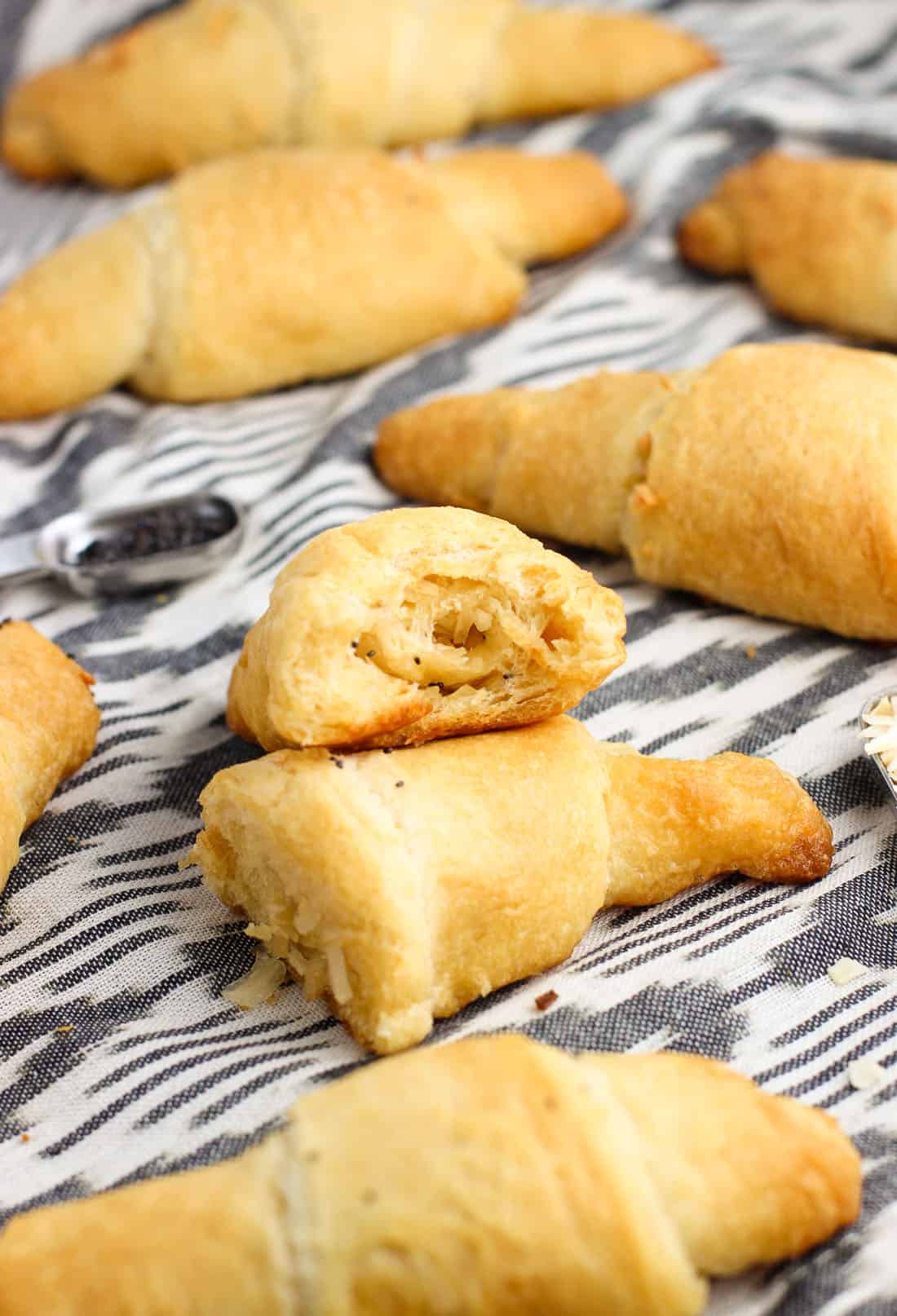 One of my very favorite, can't-pass-them-up, kinda sorta crave them foods are onion rolls. You know the ones. Fluffy soft dough that's topped with (good) or swirled with (great!) onion. In my opinion, these rolls are well worth having to pop a mint afterwards before you find yourself in a conversation with someone, and/or flossing your way to a poppyseed-free smile.
So here are some onion rolls! Or at least a super quick, impossibly simple version of them.
That works for you, right? The taste and consistency here is spot-on, and these onion crescent rolls feature the quintessential swirls of moist onion flakes and poppy seeds, with just a touch of sweetness. I went through a phase where I would eat onion rolls regularly. I'm not going to expand on "regularly" because I'm pretty sure if I told you the frequency with which I plowed through a six-pack of them, you'd think I had issues. Let's just say "often".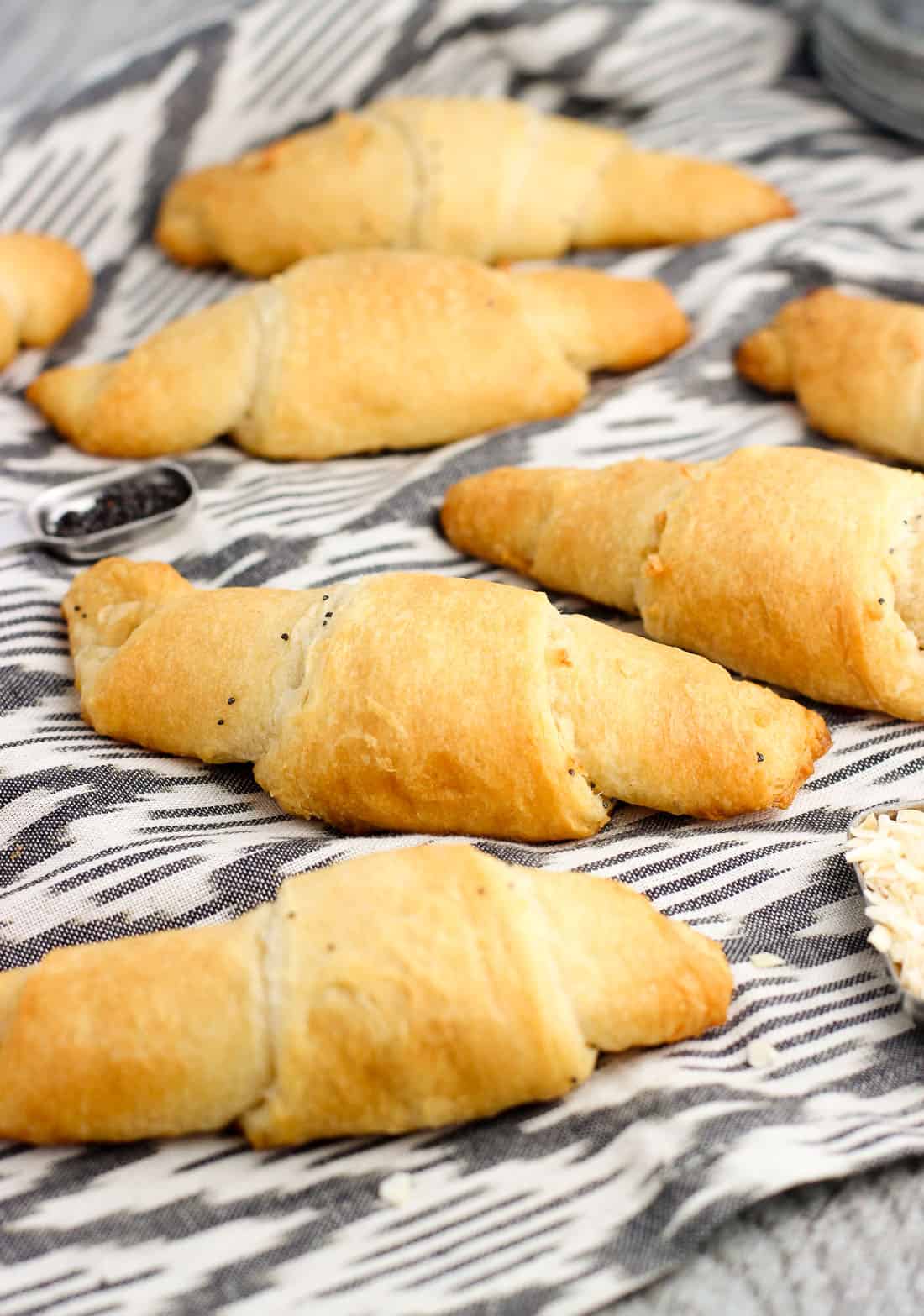 Sometimes the onion roll craving would hit, I'd have none in the house, and I didn't feel like driving to the store. Holy first world dilemma, huh? No matter, if you've got a tube of crescent roll dough hanging around, you can go from craving to snacking in just about twenty minutes.
As we're using refrigerated dough here, there's no rise time required. The recipe only calls for six other ingredients – olive oil, dried minced or chopped onion, sugar, salt, poppy seeds, and honey. All things that you may already have in your kitchen pantry (or can purchase once and have for a long time to come).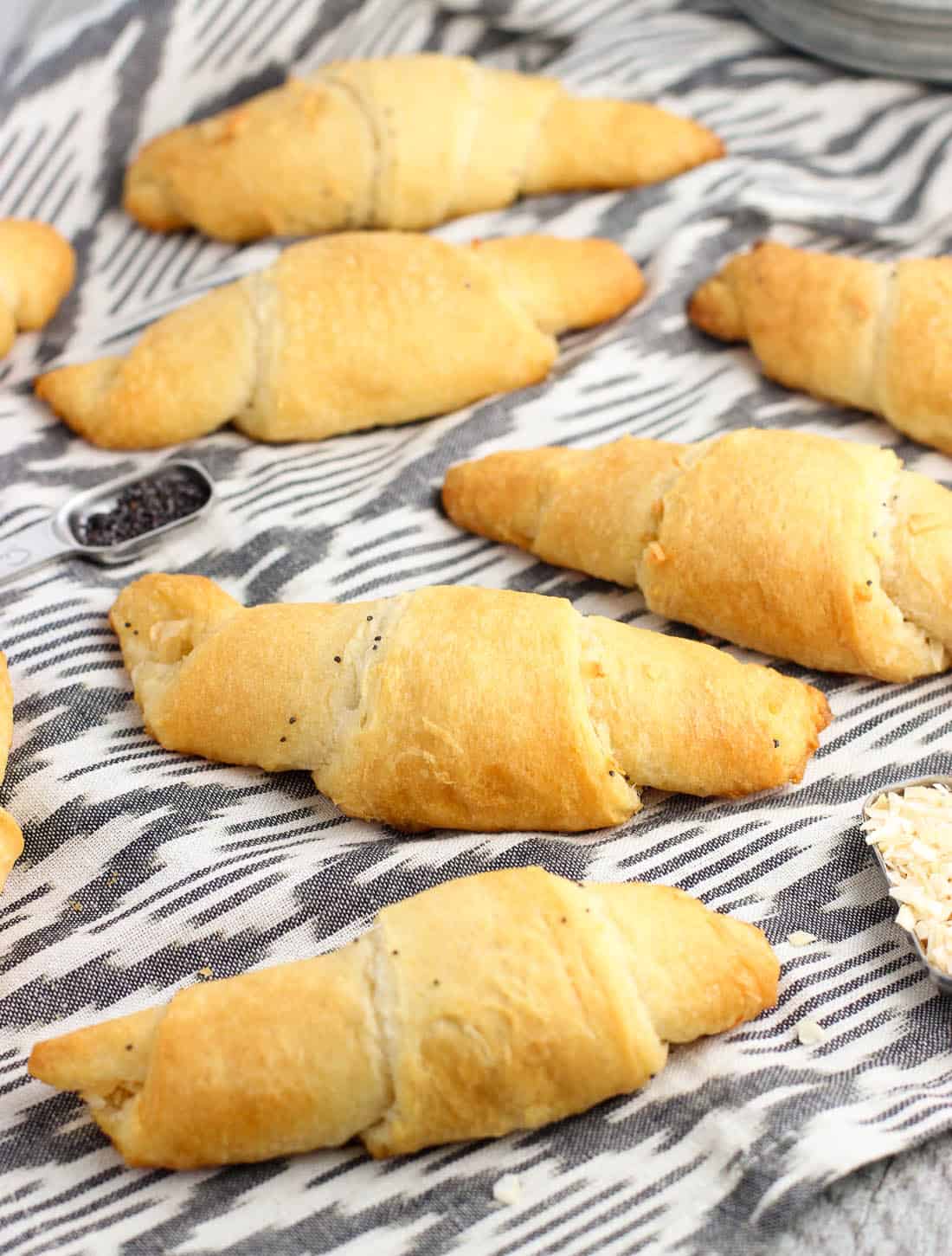 Full disclosure: The day I made these rolls, I ate one for breakfast. Then I snacked on another mid-afternoon. Aaaand that same day I may or may not have eaten one for dessert. If my experience is any indication…you've been warned.
Quick Onion Crescent Rolls
Soft and flaky dinner rolls are swirled with moist onion flakes, poppy seeds, and a hint of sweetness. Store-bought dough means they're ready in twenty minutes!
Ingredients
1

8-oz tube

refrigerated crescent dough

3 1/2

tbsp

olive oil,

divided

1/4

cup

dried minced or chopped onion

Pinch

of sugar

Pinch

of salt

1

tsp

honey

(approximate)

1/2

tsp

poppy seeds

(approximate)
Instructions
Preheat oven to 350°F. Lightly spray a baking sheet with cooking spray. Set aside.

In a small saucepan, heat 3 tbsp of olive oil over low heat. Add minced onion, sugar, and salt and stir to moisten all of the onion. Let onion flakes heat in the oil for 5-8 minutes, or until edges of flakes become golden brown and onion becomes just slightly soft (flakes will also soften while baking later on). Remove from heat.

Unroll crescent dough and separate the eight perforated triangles. Add remaining 1/2 tbsp of olive oil to a small bowl, and then brush it on the top of each dough triangle. Spread sauteed onion flakes evenly over eight triangles. Drizzle a small amount of honey over top of onion flakes, then sprinkle poppy seeds.

Roll up each dough triangle (beginning to roll with the longer end). Place rolls onto prepared baking sheet. Brush remaining olive oil from the bowl over top of crescent rolls and sprinkle extra poppy seeds over top (optional).

Bake for 9-10 minutes, or until outsides of rolls are golden brown and firm to the touch. Place rolls on wire rack to cool.
Nutrition
Serving:
1
roll
|
Calories:
168
kcal
|
Carbohydrates:
12.2
g
|
Protein:
2.1
g
|
Fat:
12.2
g
|
Saturated Fat:
2.4
g
|
Sodium:
255
mg
|
Potassium:
7
mg
|
Fiber:
0.1
g
|
Sugar:
3
g
|
Iron:
0.7
mg
Nutritional information is provided as an estimate. As it can vary due to many factors (brands used, quantities, etc.), we cannot guarantee its accuracy.