Grilled angel food cake slices are stacked high with grilled pineapple slices, toasted coconut flakes, and a drizzle of caramel sauce for a tropical and summery fruit dessert.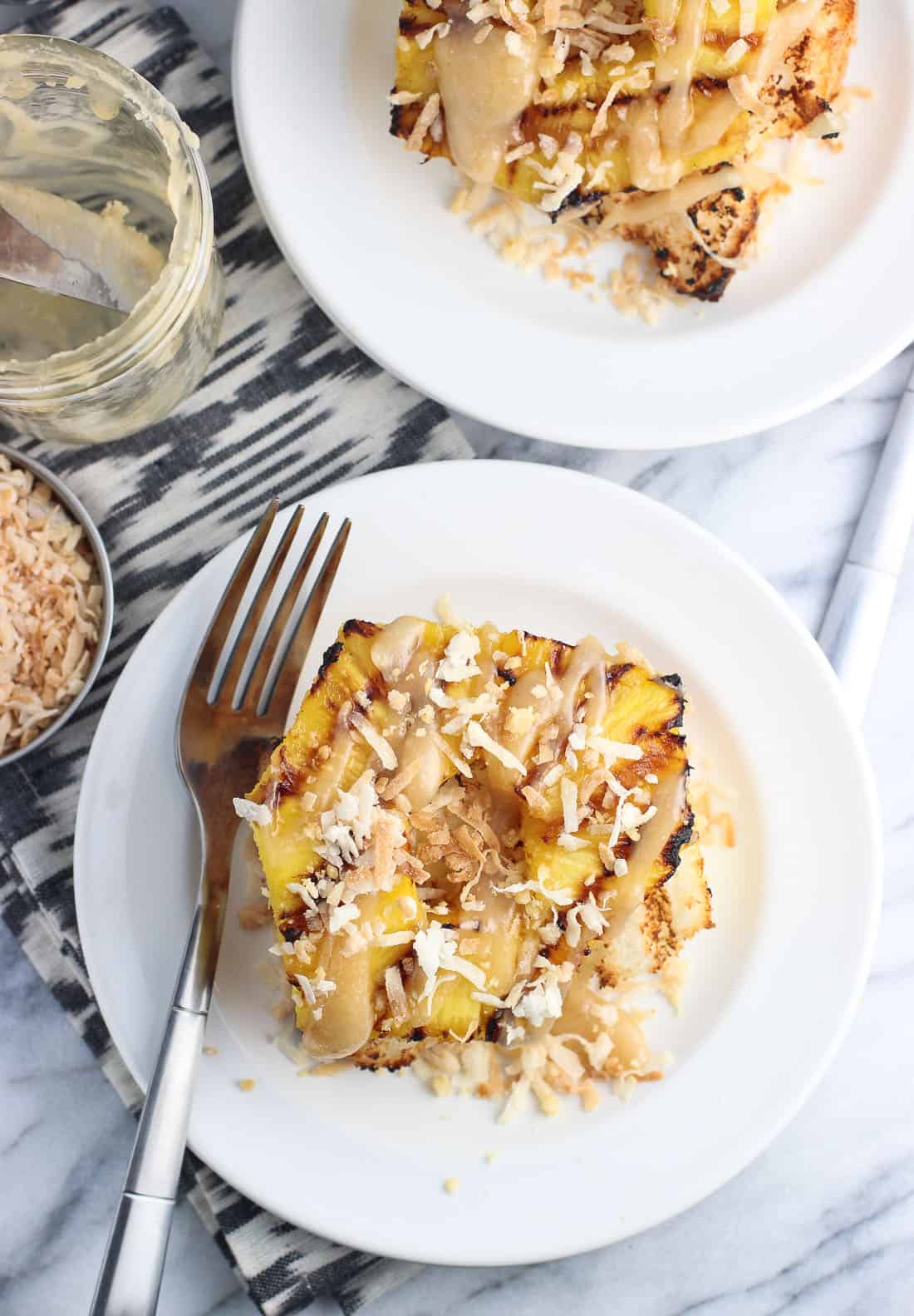 Chalk this up as another 'recipe but not really' or an excuse to throw together several of my dessert favorites, but this grilled angel food cake topped with grilled pineapple slices, toasted coconut flakes, and caramel sauce is where it's at. It's a relatively easy, semi-homemade recipe that has you grilling two non-conventional foods – pineapple and angel food cake – for a fun, tropical-inspired warm weather dessert. Plus grilling-for-grill-lines-sake is simple – no need to take an internal temperature, ensure doneness, etc. Just grill until the lines look good to you! Bada bing bada boom.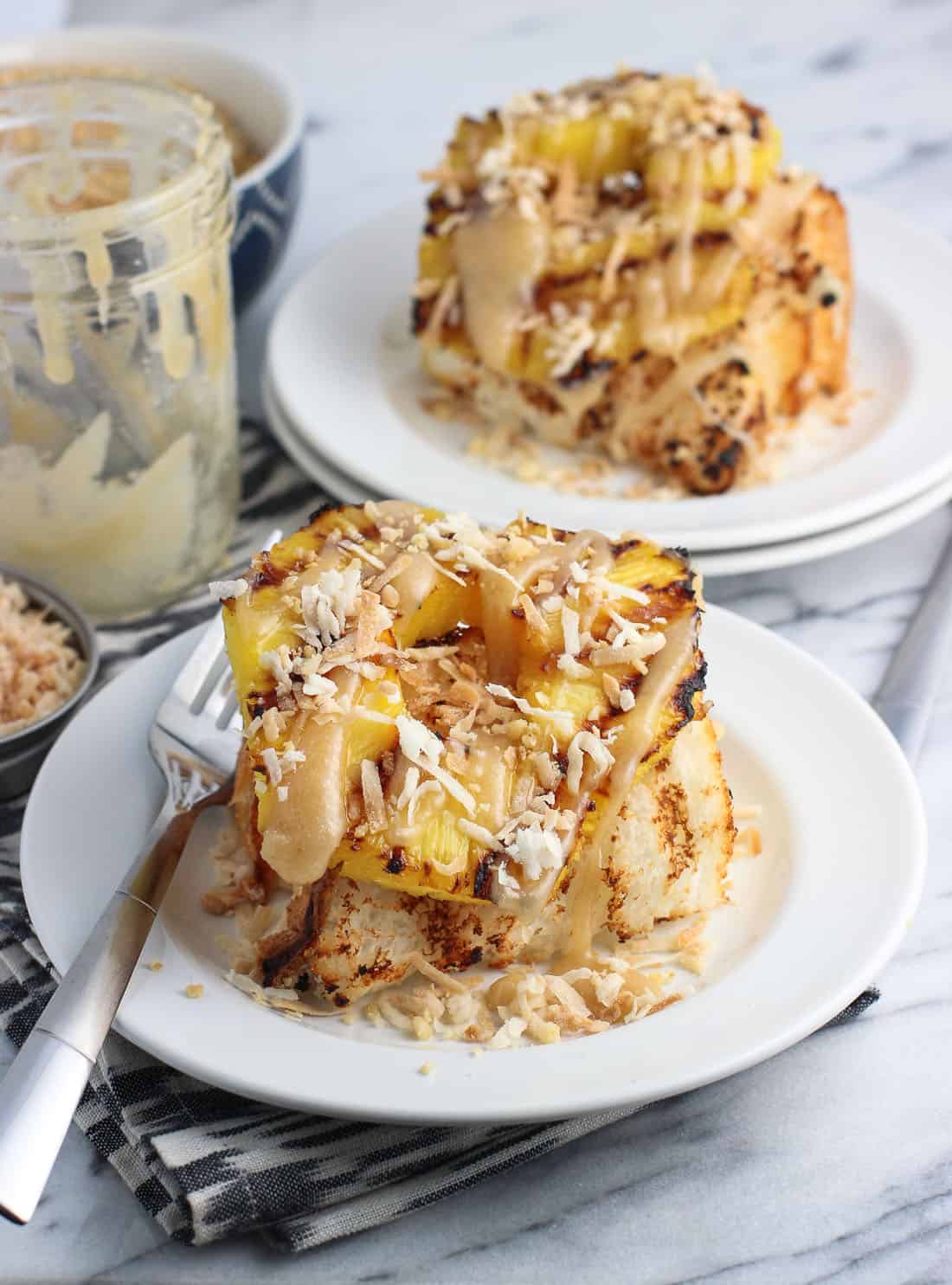 This recipe is customizable in that you can make everything from scratch, make some things from scratch, or utilize the convenience of store-bought ingredients for a quicker (but just as delicious) dessert. I don't have an angel food cake pan and have experienced the pain of winging it and baking angel food cake in a standard-sized pan (hello, spillover!), so I stuck with a store-bought bundt of angel food cake here. You can for sure use your favorite homemade angel food cake recipe if you prefer!
I did make the caramel sauce from scratch, only because I wanted to test out a non-dairy recipe using coconut milk. It's light in color because I used granulated sugar instead of the brown sugar as the recipe I followed instructed (see link in recipe card below), but it was great! Just like with the cake, you can use store-bought caramel sauce or make your own. This cinnamon brown sugar caramel sauce is my favorite homemade caramel sauce that uses dairy…I'm thinking omitting the cinnamon would yield a more classic sauce that is begging to be drizzled over this dessert!

Grilled Angel Food Cake with Pineapple, Coconut, and Caramel
Ingredients
1/3 cup sweetened coconut flakes, toasted
Oil, for grill grates
4 wedges of angel food cake, about half of a store-bought bundt
4 pineapple slices
Caramel sauce for drizzling, your favorite
Instructions
To toast the coconut flakes:
Preheat oven to 350°F and line a rimmed baking sheet with foil or parchment paper. Place coconut flakes in a single layer on the sheet. Toast for 5-10 minutes, or until the coconut flakes are golden-brown and just becoming fragrant. Remove from the oven and let cool completely.
To grill:
Heat a clean grill to medium heat and brush your preferred cooking oil on grates. Place angel food cake wedges and pineapple slices on grill.
Grill angel food cake wedges for about 2 minutes, or until grill marks appear on the bottom side. Flip and repeat on the other side, then remove to a plate.
Repeat the same grilling process for the pineapple slices, however it make take an extra few minutes per side.
To assemble:
Place one angel food cake wedge on a plate, and top with one pineapple slice. Drizzle with caramel sauce and sprinkle toasted coconut flakes over top. Serve while warm.
Notes
It's important to oil the grill grates so the angel food cake and pineapple slices don't stick!
You can use store-bought caramel sauce, or your favorite homemade version. I followed
this
recipe for a vegan caramel sauce, except I used granulated sugar instead of brown sugar (causing it to be light in color). For a homemade version that includes dairy, I love
this
one (can omit the cinnamon if you like).
Increase or decrease the quantity of ingredients to change up the serving size!