This shop has been compensated by Collective Bias, Inc. and its advertiser. All opinions are mine alone. #FoundMyDelight #CollectiveBias
Jazz up your iced coffee with this mint chip mocha milkshake! Ready-to-drink mocha iced coffee is combined with chocolate ice cream, dark chocolate chips, and juuuust enough peppermint extract for a delicious, frosty treat.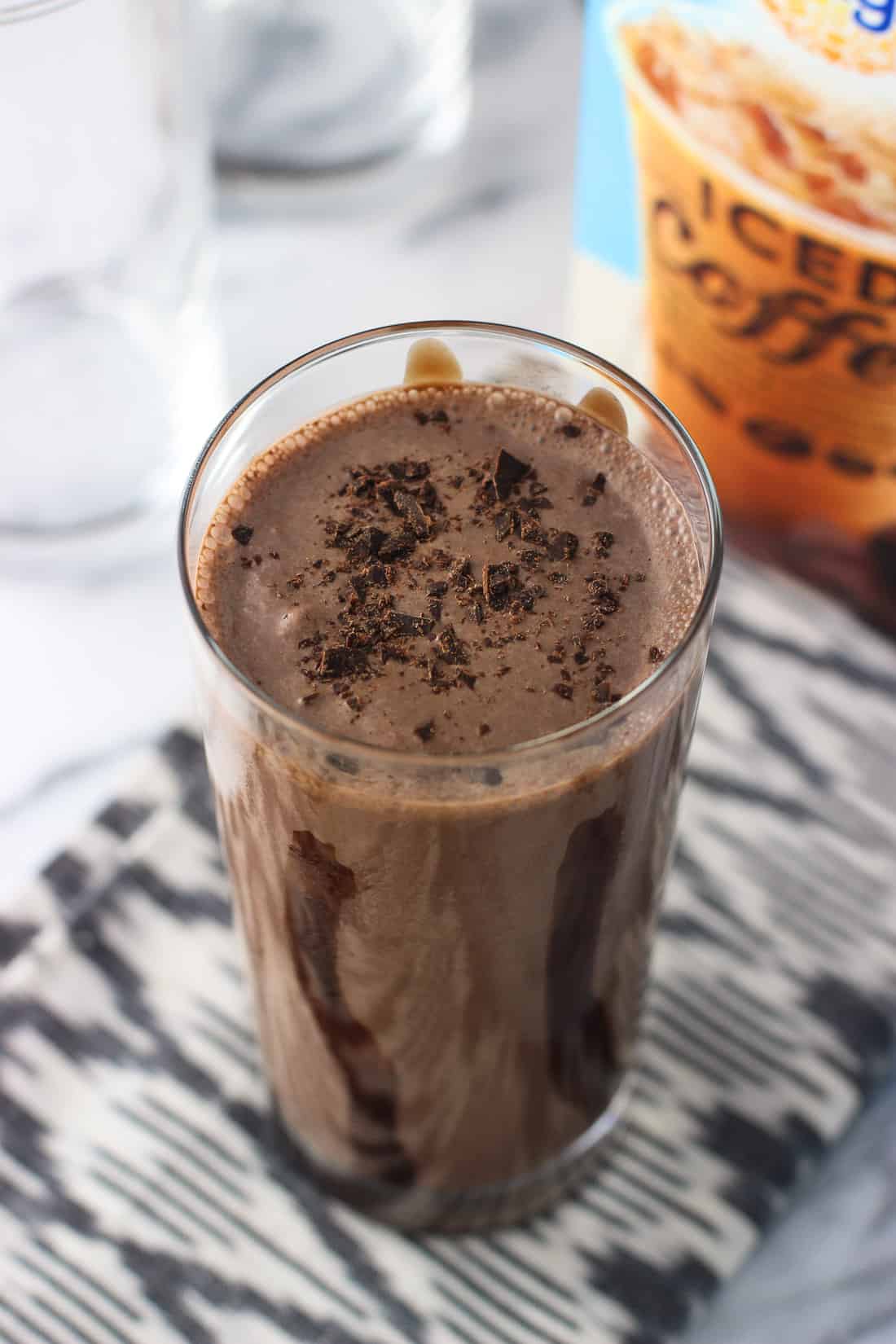 Let's kick off today by thinking about good stuff like coffee, chocolate, and ice cream. Does that sound okay? I know it does to me. There's no surprise that coffee is one of the MVPs in my daily routine, and I've been head over heels lately for iced coffee as my P.M. caffeine fix of choice. It's certainly welcome with the crazy hot temperatures this time of year, and adding a flavor or two makes it feel like an extra special treat to sip on. Especially when you do things like add ice cream and chocolate. 😉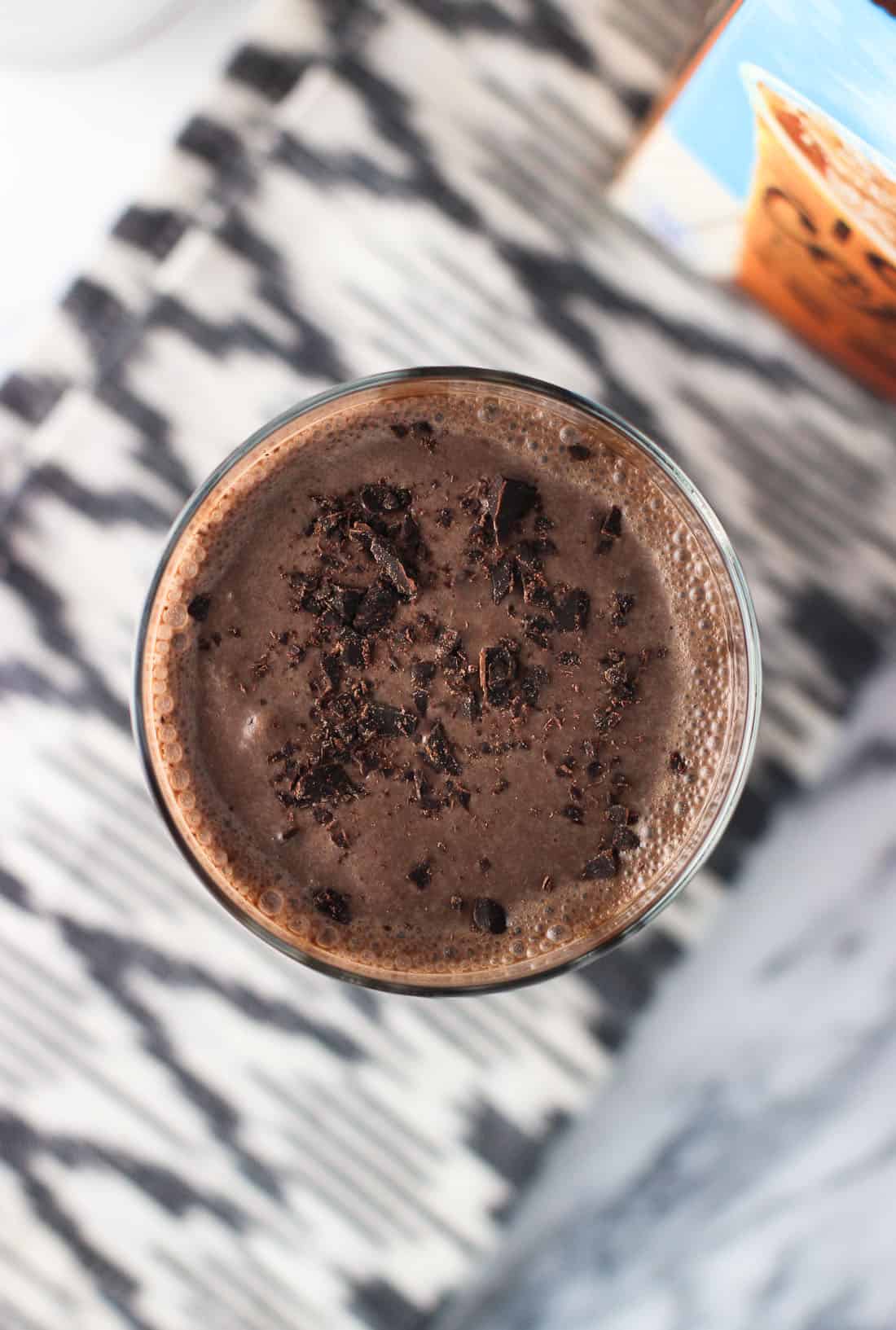 But before we dig into all things mint chip mocha milkshake (maybe literally, grab a straw…), we have to discuss one of the power players of the recipe – International Delight Iced Coffee. This fridge-friendly iced coffee is ready when you are for a smooth, deliciously flavored coffee drink without the hassle of heading to a coffee shop (or the $$$)! I know from experience that waiting behind 10+ people in line seems even more excruciating when it comes to getting your hands on coffee. And while prepping batches of iced coffee at home sounds good in theory, I can never quite get my act together to always have it on hand.
Thank you, International Delight, for iced coffee varieties like Caramel Macchiato and Mocha that are cost-effective and at-the-ready to pour over ice and enjoy.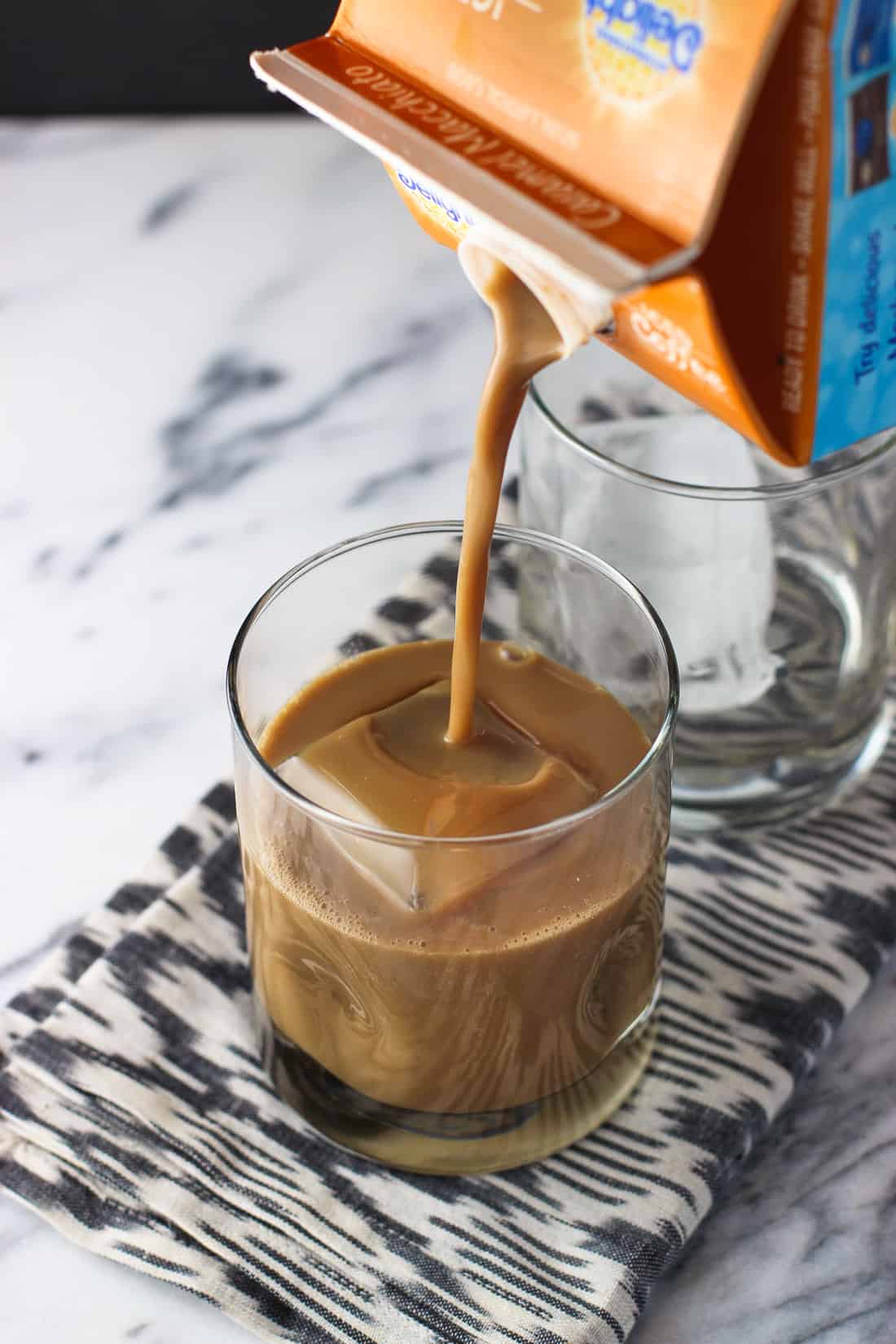 Yes, these iced coffees are delicious on their own, but I took it a step further and whipped up a mint chip mocha milkshake and OH MAN. Such a treat! I gave chocolate ice cream, a few dark chocolate chunks, a smidge of peppermint extract, and International Delight Mocha Iced Coffee a spin in the blender for a thick milkshake that combines the flavors of chocolate, coffee, and mint for a dessert worthy of sipping year round.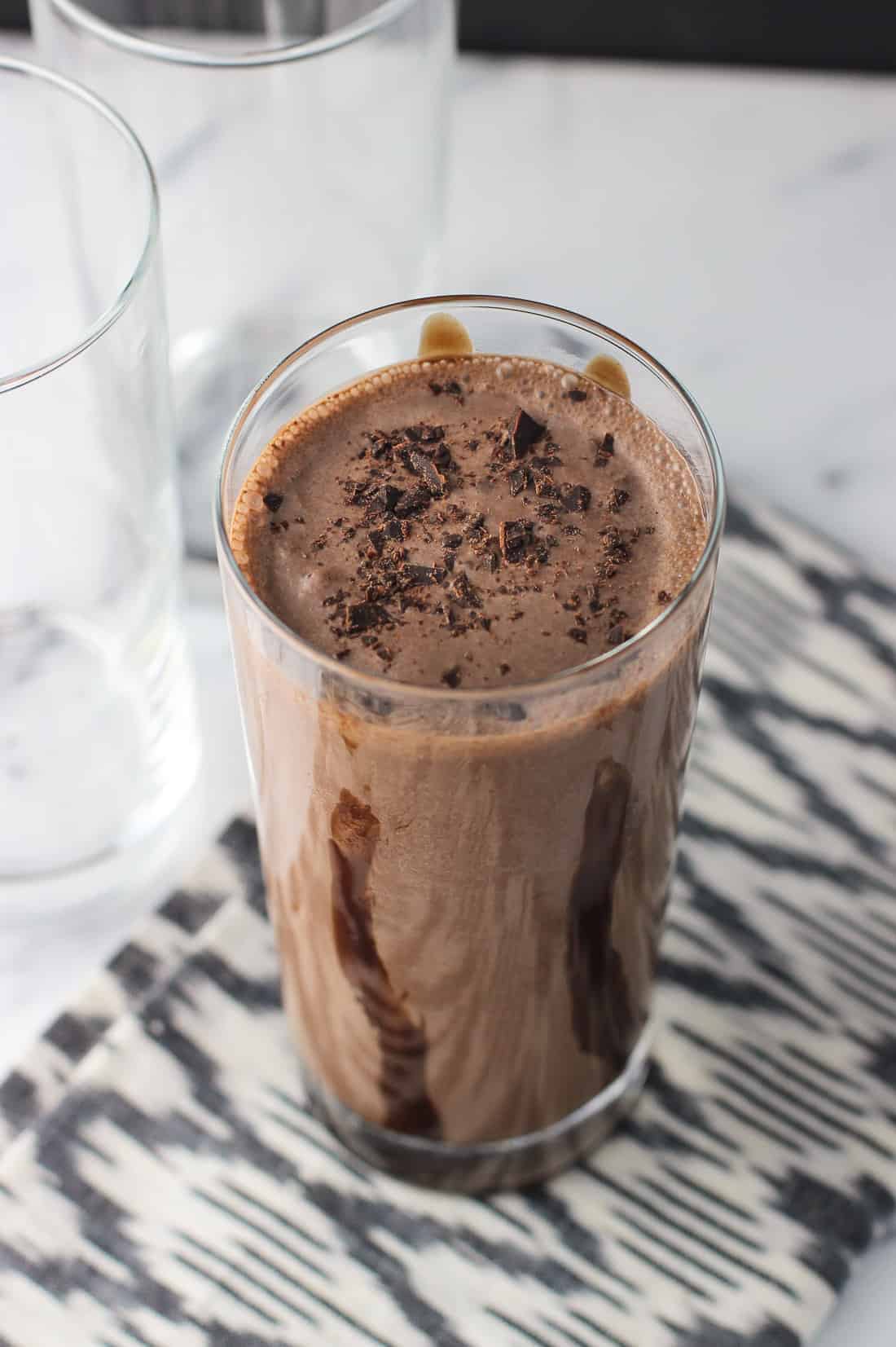 Sometimes I have an issue when it comes to peppermint extract in that even the tiniest bit too much in a recipe tastes WAY too strong. A little definitely goes a long way! I used just one-sixteenth of a teaspoon here, pouring the extract to the halfway point of my one-eighth tsp measuring spoon. I thought it gave just enough mint so that it was present, but didn't overpower the chocolate or coffee flavors. I suggest adding a conservative amount of peppermint extract to start, and adding more if you like after taking a taste.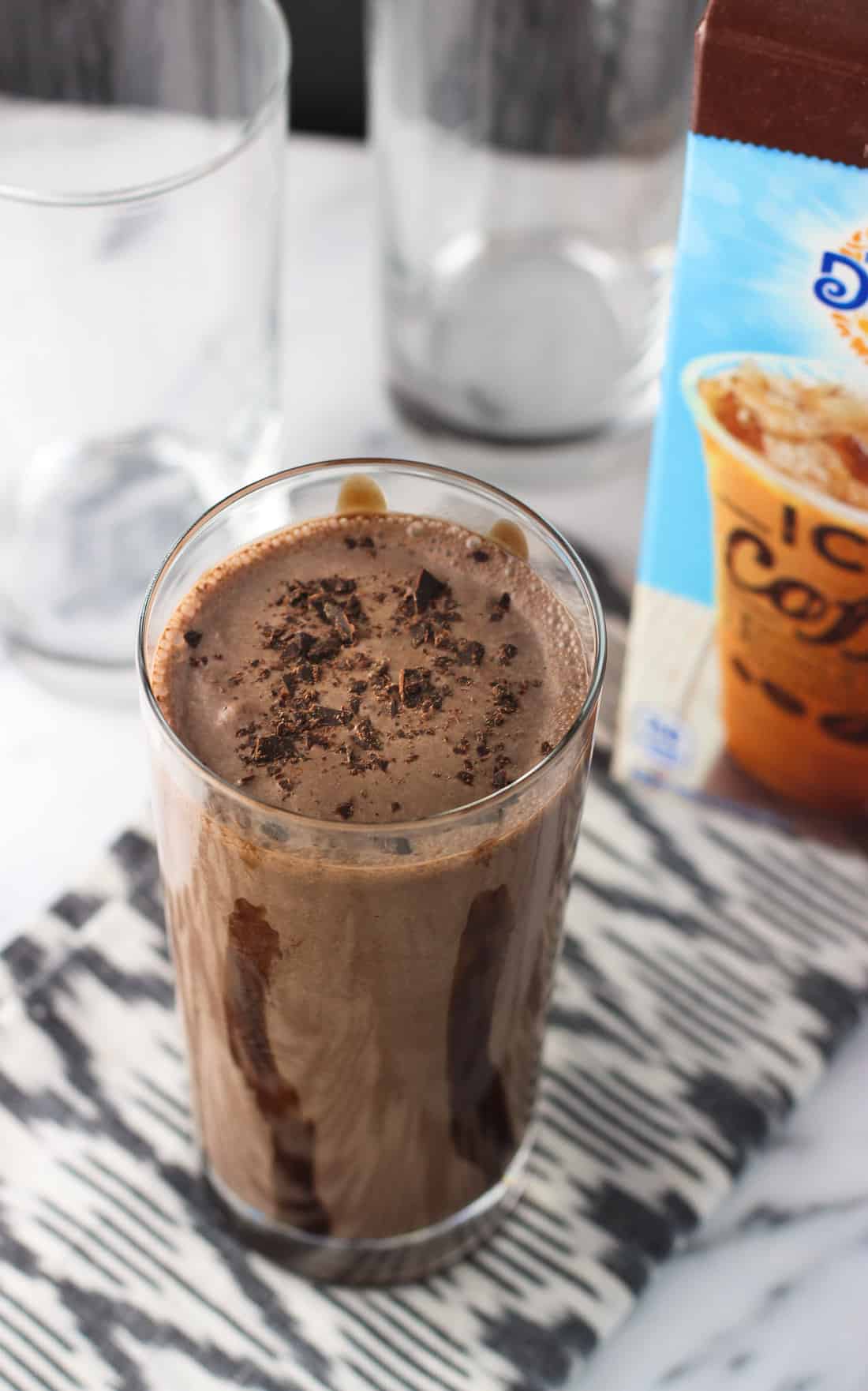 I found my International Delight iced coffees at Walmart, where the delicious variety is now located in the refrigerated tea and juice section!
Mint Chip Mocha Milkshake
Ingredients
1 1/2 cups chocolate ice cream
3/4 cup International Delight Mocha Iced Coffee
1 tbsp dark chocolate chips or chunks
1/16 tsp peppermint extract
Chocolate syrup, for lining glass
Instructions
Combine all ingredients except chocolate syrup in a blender and blend until milkshake is a thick, pourable consistency and the chocolate chips are broken up.
Pour a little bit of chocolate syrup on the sides of your glass (optional) and pour in milkshake. Recipe yields one large or two smaller milkshakes.
Notes
I loved chocolate ice cream here for a stronger chocolate taste, but feel free to experiment with flavors!