These chocolate-covered strawberry macaroons are chewy, packed with coconut (and a smidge of almond), and bursting with fresh strawberries. An easy cookie recipe is made even more special by a dark chocolate dip and drizzle!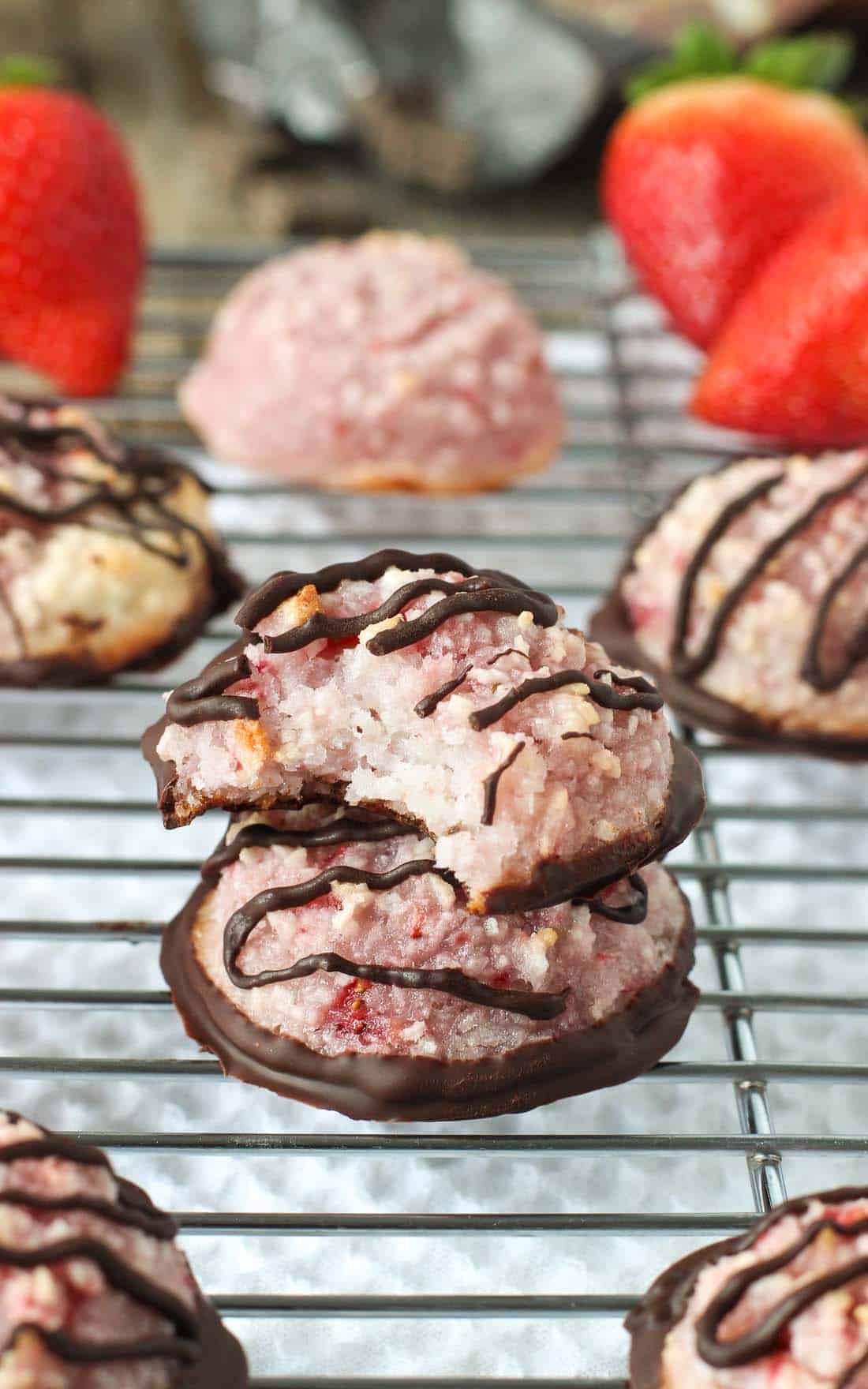 A few weeks ago, Brian and I skipped town and visited my family in San Diego. A return to our old stomping grounds! We spent time hiking beachside cliffs, visiting a winery, trying not to freak when we retraced our old work commutes, and eating ALL the things. Spending time with family too, of course. 😉
Now that we live in Nashville, something we definitely took for granted in San Diego was just how close every single store you could possibly need was. Trader Joe's, a humongous conventional supermarket, a humongous natural foods market, HomeGoods (♥), Nordstrom Rack, Pier 1, World Market, and more. You name it, and you could be there within ten minutes. Hooooooly efficiency.
Where we currently live in Nashville? Not so much. Errands require a lot more pre-planning and finger crossing if we'd like to not spend our entire weekend driving from here to there to everywhere. So on our little jaunt to California, we stopped by the BEST market with a ton of natural foods just about every day so I could comb the aisles and exclaim to Brian every five minutes, "LOOK. They have so-and-so! In stock, in person!".
One of those so-and-so's was a mean coconut macaroon. I'm not going to tell you how many I ate. Just know I did copious amounts of blog research. 😉
So today I bring you macaroons! Chocolate-covered strawberry macaroons. Not macarons, as I seem to the have the baking equivalent of a gardening 'black thumb' when it comes to those, but macaroons. Chewy, ultra coconut-y, and moist cookies that make my self-control fly out the window.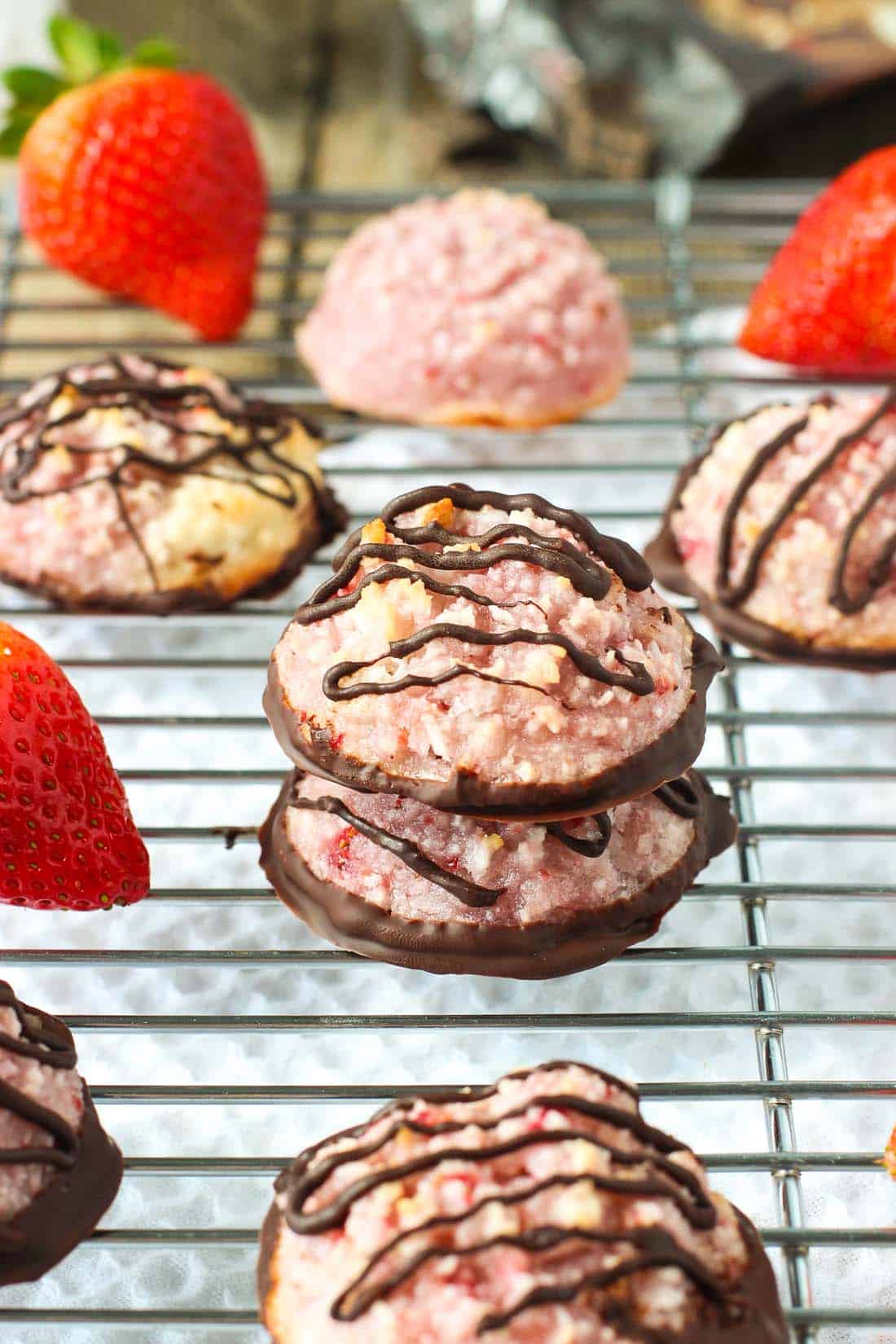 This version is jazzed up by the addition of fresh strawberries, because Lord knows I can't pass up the strawberry display without loading cartons into my cart like I was a contestant on Supermarket Sweep. Except if I was really on Supermarket Sweep, I'd be gunning for higher cost items like infant formula and rib roasts. I may or may not have had an obsession with that show back in the day.
This recipe is quick to prepare and makes use of the food processor. Sweetened, flaked coconut goes for a spin to reduce the size of the flakes and keep the chewiness in check, and then a bit of sugar, egg whites, salt, and a smidge of almond extract are added. Can't you just smell the coconut and almond mixture just reading about it? Sooooo good.
Lastly pureed strawberries are folded into the macaroon mixture, coloring the cookies pink and adding that fresh burst of strawberry flavor that screams spring. Or, screams spring-almost-summer. Or both!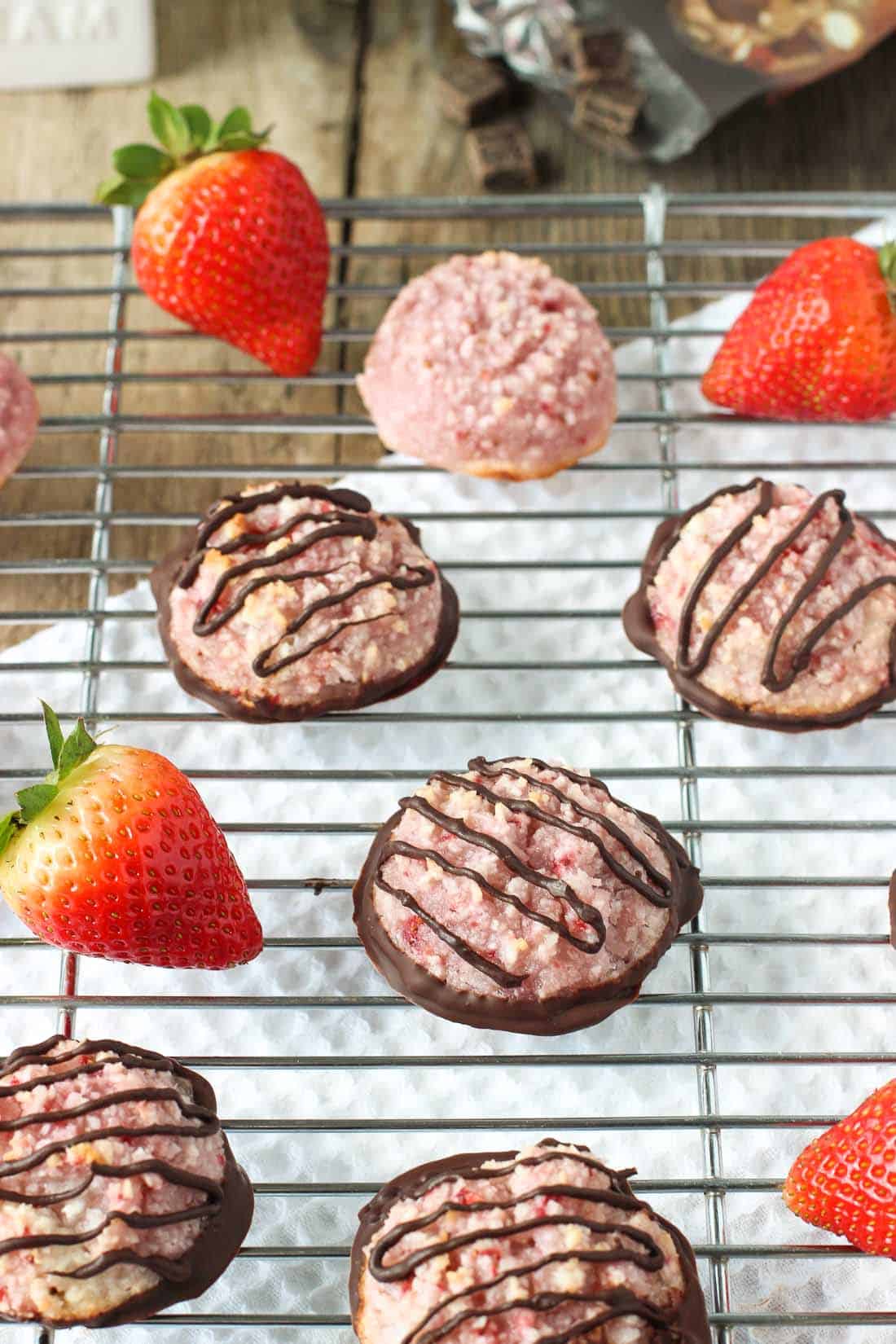 As an extra special twist, I dipped the bottoms of each macaroon in melted dark chocolate and used the excess chocolate to pipe a chocolate drizzle over the top of each one. Chocolate-covered strawberry anything is a winner in my book.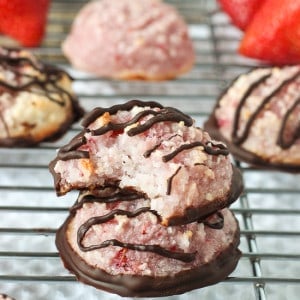 Chocolate-Covered Strawberry Macaroons
These chocolate-covered strawberry macaroons are chewy, packed with coconut (and a smidge of almond), and bursting with fresh strawberries. An easy cookie recipe is made even more special by a dark chocolate dip and drizzle!

Print
Pin
Rate
Ingredients
7

oz.

sweetened flaked coconut

¼

cup

granulated sugar

1-2

large egg whites

(see note)

⅛

teaspoon

sea salt

¼

teaspoon

almond extract

¾

cup

roughly chopped strawberries,

blotted as dry as possible (see note)

Approx. ½ cup dark chocolate chips

or semi-sweet, milk, etc.
Instructions
Preheat oven to 325 degrees F and line a baking sheet with parchment paper.

In the bowl of a food processor, add coconut and process until flakes resemble small, flaky pieces. Add sugar and process until mixed in. Add egg whites, sea salt, and almond extract and process until mixed and batter is evenly moist.

Transfer coconut mixture into a bowl and add strawberry pieces to the now empty food processor. Process for a few short pulses, until small pieces remain. Fold strawberries into the bowl with the coconut mixture until it's just about all combined (the batter doesn't need to be an even pink throughout - a few swirls are just fine).

Using a 1 ½-tablespoon cookie scoop, scoop batter and use a spatula to press it so coconut mixture is densely packed. Level off the top of the cookie scoop and place cookies evenly-spaced on the parchment-lined baking sheet. These macaroons don't spread very much at all, so they can be placed near each other.

Bake 25-30 minutes (my oven took 25), or until the bottom edges of macaroons have browned and top coconut flakes are golden brown. Remove baking sheet from oven and let macaroons cool on the pan, at least 10-15 minutes.

Once cooled, I placed the macaroons in the refrigerator to harden up a little bit and get them ready for dipping in melted chocolate.

Melt chocolate in a microwave-safe bowl in twenty-second intervals on half-power, stirring after each interval, until chocolate chips just lose shape and stirring results in a smooth, dippable consistency. Alternatively you may melt chocolate in a double boiler if you prefer.

Remove macaroons from the refrigerator and dip bottoms of cookies into chocolate. Place on a piece of aluminum foil. I transferred the melted chocolate left after dipping the cookie bottoms into a plastic bag, sealed, and snipped of the very corner of the bag to pipe chocolate on the top of the cookies. Place in the refrigerator for 15-20 minutes until chocolate hardens.
Notes
A note on the egg whites: Since the processed strawberries will provide a good amount of moisture, you may wish to start with adding one large egg white, then adding the remainder of the ingredients (through the strawberries) and seeing how moist the mixture is before adding the second egg white if you need it. Ideally you'd want the mixture to be sufficiently moist, but cohesive enough to be able to retain its rounded shape once a cookie is scooped onto the baking sheet. I used two egg whites for these macaroons, but blotted as much excess moisture as I could from the strawberries after I chopped them.
Macaroon recipe adapted from Smitten Kitchen.
Nutrition
Serving:
1
cookie
|
Calories:
131
kcal
|
Carbohydrates:
17
g
|
Protein:
1.2
g
|
Fat:
7
g
|
Saturated Fat:
5.5
g
|
Sodium:
57
mg
|
Potassium:
67
mg
|
Fiber:
2
g
|
Sugar:
14
g
|
Iron:
0.2
mg
Nutritional information is provided as an estimate. As it can vary due to many factors (brands used, quantities, etc.), we cannot guarantee its accuracy.
Food Safety and Nutrition Disclaimer