With a few simple steps, you can enjoy crispy buffalo sweet potato fries that are baked, not fried! Add as much (or as little) buffalo spice as you wish to totally customize this addictive side dish to fit your family's taste buds.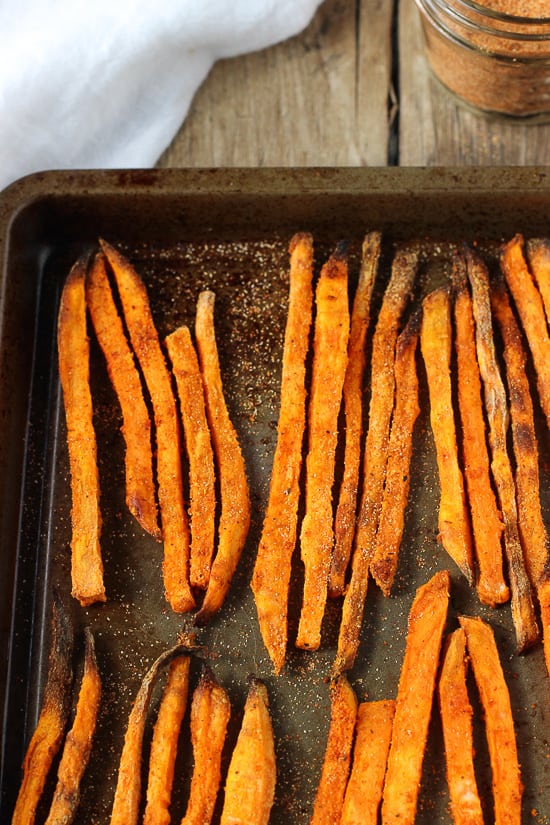 Once upon a time I took a psychology class where I learned about the Myers-Briggs personality type indicator. Try as I might, I can't remember actually taking the test then, but I'm sure I made a nice flash card about it and crossed my fingers I'd remember the highlights long enough to take the exam. SO, when I saw this quiz over at the Kitchn that matched kitchen styles to Myers-Briggs types, obviously it was time for me to take it...ten years or so late.
OH MAN does it describe everything. Eeevvverything. For the record, I'm an ISFP ("the artist" says this page), and I've been using this scientific/unscientific determination as reason for everything. Errrmm obviously I skipped that work team building event because I'm an ISFP. Not feeling the extrovert, rah rah crowd situation. Sometimes I need my space....because I'm an ISFP. I'm also an only child, so that's a double whammy there.
And then there's the fact that my ISFP-self supposedly has a super deep sympathetic side. Judging by the fact that every time I read remotely heartwarming news story I have to fight back tears, I'd say that's accurate.
So in true ISFP fashion, I've been expressing my love and concern for all those around me by feeding them these baked sweet potato fries, and then staring at them awkwardly until I get feedback. Because how else would I know they liked them if I didn't have them affirm it four times?
(Per the internet and not a psychology textbook...) ISFPs are a bit reserved, only letting loose with those nearest and dearest to them. Welllll that's true, because my inner circle certainly heard plenty about these fries. They're baked in the oven and crispy (!), thanks to a few little tricks. I first soak the cut fries in water for at least an hour, so the starches dissipate and give the fries the best chance of being crispy once they're baked.
After they're soaked, I tossed the cut potatoes with a bit of cornstarch and my faaaavorite buffalo spice mix to give them a thin outside coating that'll add to the crispness once the oil is added and they're baked. Now this spice blend...I can't even tell you how many things I've put it on. It's heavy on the garlic flavor (♥) and zippy from the cayenne pepper, but not too crazy that you'll dunk a bucket of water on your head to extinguish the heat. Would it be wrong to carry it around with me in my purse?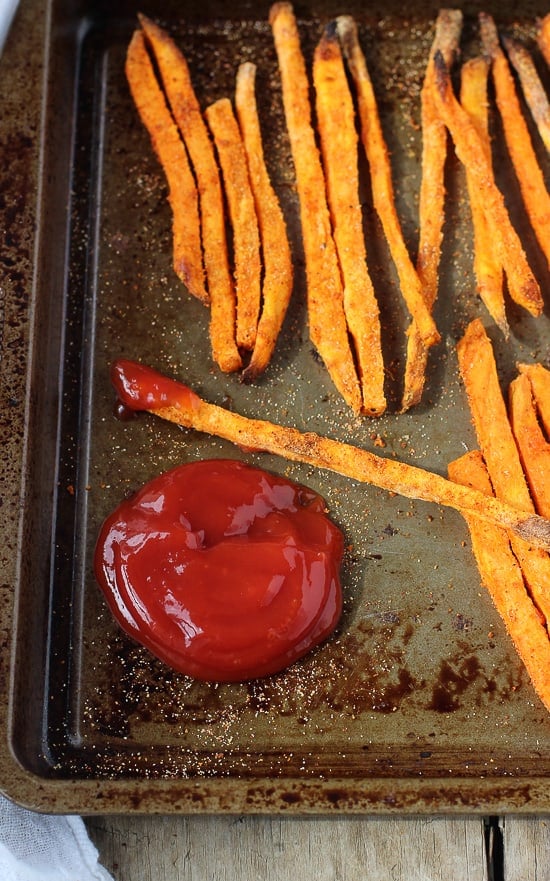 Once the dry ingredients are tossed to evenly coat the potatoes, I tossed them in a bit of melted coconut oil and lined them on a wire rack with a bit of space in between. Halfway through I flipped them and brushed the remaining coconut oil on the fries, baking them until they're crispy and browning on the ends. Score!! These fries are juuust spicy enough, baked and not fried, and crisp with a little crunch as you bite into them. I always look around for seconds (and thirds...) when I make these.
I'd imagine using melted butter in place of the coconut oil would work as well, and give even more of the traditional buffalo flavor. I like to drizzle white vinegar over top of these fries, a little habit I picked up from Brian, that adds to the buffalo-ness and give them an addictive little tang.
P.S. As for that kitchen style? Meh. A little kitchen with lace curtains and a balcony isn't stocked away in my dream home memory bank. Ample counter space and natural light however...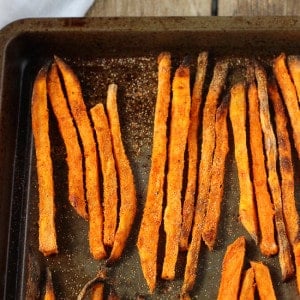 Crispy Baked Buffalo Sweet Potato Fries
With a few simple steps, you can enjoy crispy buffalo sweet potato fries that are baked, not fried! Add as much (or as little) buffalo spice as you wish to totally customize this addictive side dish to fit your family's taste buds.
Print
Pin
Rate
Ingredients
2

sweet potatoes

Water

for soaking

¼

cup

cornstarch

2 ½ - 3

teaspoon

buffalo spice mix

¼

cup

coconut oil,

divided
Instructions
Peel and cut potatoes into long, thin strips. Place potatoes in a bowl of cold water to soak for at least one hour. Drain potatoes and blot as much excess moisture as you can with a paper towel. Preheat oven to 425 degrees F.

In a separate bowl, add cornstarch and buffalo spice mix and whisk together. Add potatoes to the bowl with the cornstarch mixture and toss so that the potato slices are evenly coated.

Melt coconut oil and pour about three-quarters of it into the bowl (it doesn't need to be exact). Toss so potatoes are evenly coated.

Place potatoes in a single layer on an oven-safe wire rack set over a baking sheet, maintaining a little space between each fry. Brush potatoes with about half the remaining coconut oil.

Bake fries for about 15 minutes, then remove tray from oven. Flip over each fry and brush the remaining coconut oil over top. Return baking sheet to the oven and bake for about 15 additional minutes, or until fries reach your preferred doneness.
Nutrition
Calories:
213
kcal
|
Carbohydrates:
23.8
g
|
Protein:
1
g
|
Fat:
13.6
g
|
Saturated Fat:
11.8
g
|
Sodium:
171
mg
|
Fiber:
2.1
g
|
Sugar:
3.5
g
|
Calcium:
10
mg
|
Iron:
0.2
mg
Nutritional information is provided as an estimate. As it can vary due to many factors (brands used, quantities, etc.), we cannot guarantee its accuracy.
Food Safety and Nutrition Disclaimer
And here's the Buffalo Spice Mix!