Feel the heat with this dry buffalo spice mix! This buffalo seasoning is customizable to your tastes and is great as a rub on chicken and meat, sprinkled on vegetables or eggs, and more!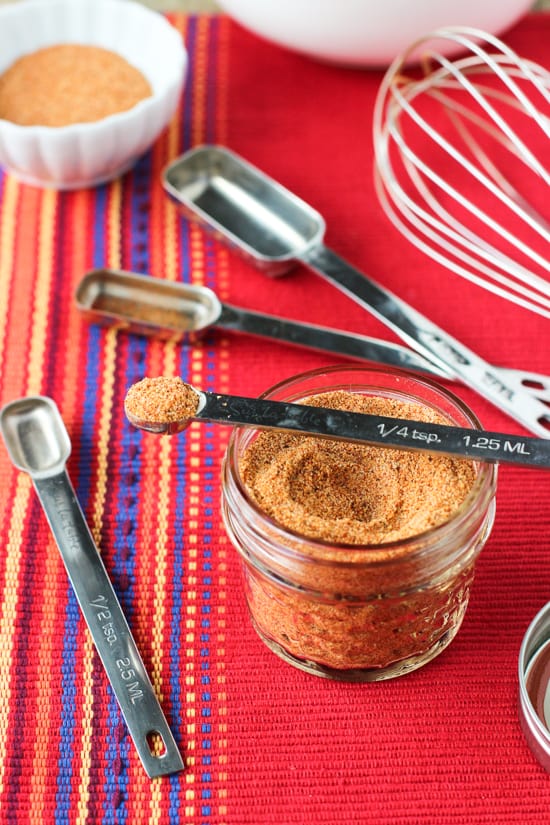 When it comes to a favorite condiment, I'd have to say that ketchup is #1 in my household. Just the two of us fly through a Costco-sized bottle at frankly, an alarming rate. But next? It would be Frank's Red Hot Wings sauce. Frank, you're right, I do put that ish on everything. Burgers, eggs, plain old turkey sandwiches (not 'plain old' anymore with buffalo sauce!), you name it.
It's got some heat to it, it's a kitchen staple, and a little goes a long way -- just like this dry spice blend. This buffalo seasoning is a mix of spices you probably have hanging around your kitchen cabinets, and is full of zip just like its inspiration.
I also add it to everything. 🙂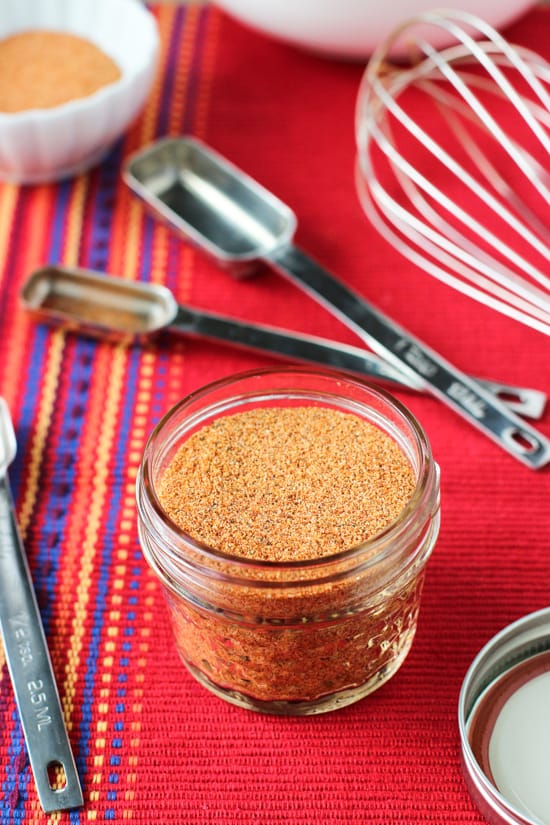 Recipe ingredients
Before we get into what's in this blend, let's begin by talking about something that's not. You'll notice that cumin is not invited to this buffalo spice mix party.
Nothing personal to cumin, but even the tiniest bit in some of the earlier test versions of this blend immediately made me think of homemade taco seasoning. And while I do love that taco seasoning, that flavor isn't what we're after here.
The most prominent ingredient besides brown sugar (if using, more on that in a sec) and kosher salt is garlic powder. A bold garlicky flavor is a must in all things buffalo, you know? After that we have equal amounts of paprika, chili powder, onion powder, mustard powder, and ground black pepper.
The spice in the smallest quantity makes a big impact: ground cayenne pepper. It brings the classic heat we associate with buffalo seasoning. As written this recipe is definitely spicy, but shouldn't be overpowering.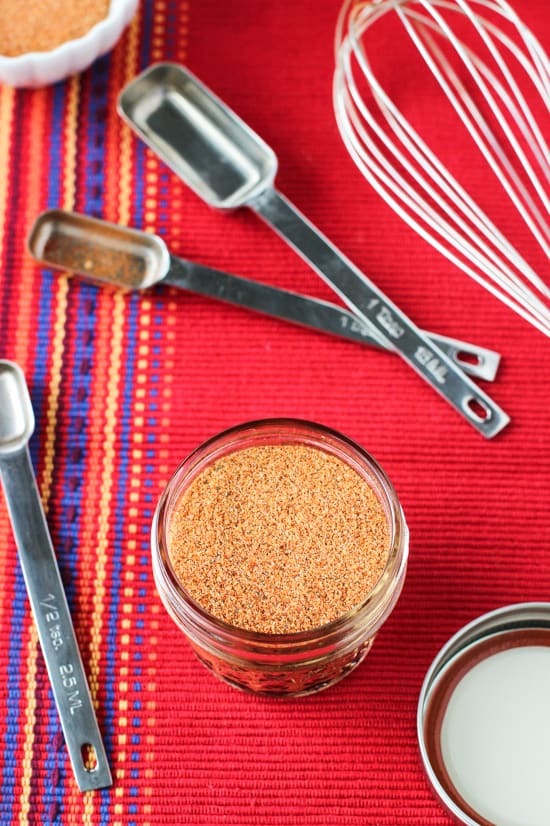 Of course, spiciness is all relative, so you might try it and have to dunk your head under a faucet, or you may call me a lightweight.
This heat builds a little bit, especially when sprinkled over already-cooked food (versus being used as a rub), so after a few bites, you might want to take a drink or two of water. It won't stop you from enjoying the rest of your food as the spice levels off, but you'll notice that oof/spicy/mouth-is-tingling feeling sticks around with you for a few minutes after you're done. That kind of spicy (if that's helpful?).
Bear in mind that wing sauce is a liquid, and includes ingredients that wouldn't go over so well in a dry spice blend. Namely butter and vinegar, so this spice mix isn't an exact replica of a powdered Frank's.
What I like to do when I'm cooking is to add a bit of butter and white vinegar along with this buffalo spice mix to whatever it is I'm making to bring out the...buffaloness even more.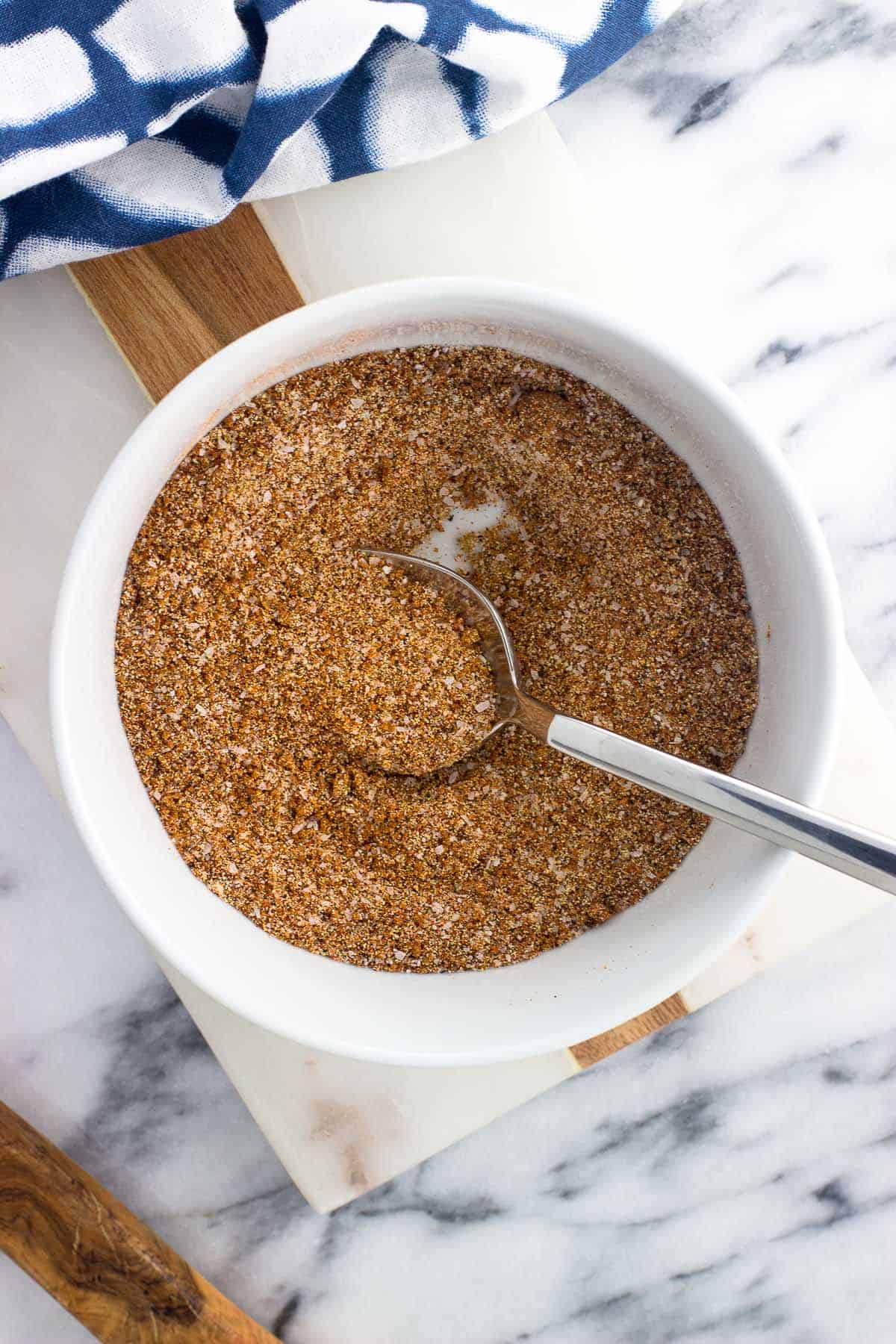 Using this spice blend as a rub
One way you can switch this buffalo seasoning up is by adding brown sugar. If I'm seasoning vegetables or sprinkling this over eggs I don't add brown sugar, but when preparing meat with a rub? Brown sugar adds a wonderful sweet element to this spicy, smoky blend.
The photo above is a batch that includes two tablespoons of brown sugar in the mix. Here I used it on pork butt for my slow cooker pulled pork and really enjoyed it! I just substituted it in for the spice rub listed in that recipe card.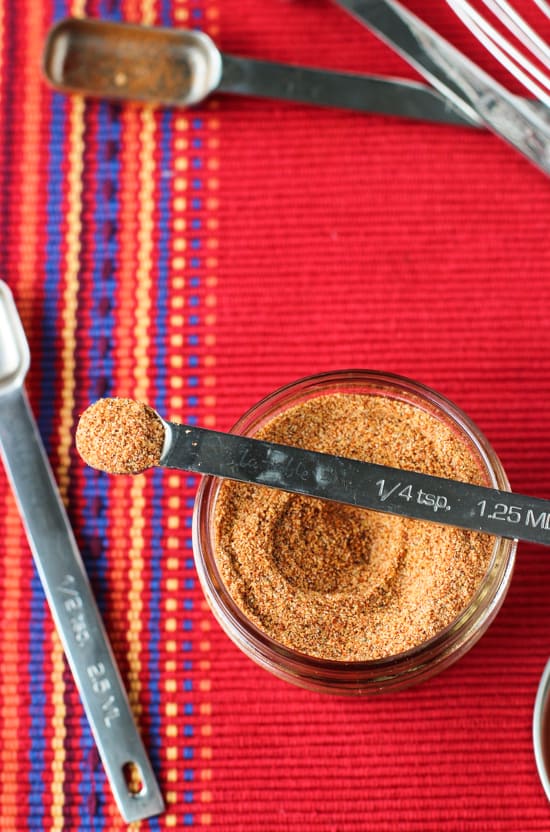 Related recipes
If you're a fan of all things buffalo, you may be interested in two classic main dish recipes: slow cooker buffalo chicken and Instant Pot buffalo chicken. Both spicy with lots of hands-off time!
For a lightened-up Game Day appetizer, you can't beat healthy buffalo chicken dip. This one also brings the heat and features a sneaky better-for-you ingredient I bet you won't even know is there.
Buffalo chicken alfredo pasta tastes decadent, but is actually lightened up a great deal, too. This is one of my all-time favorite blog recipes. It truly doesn't taste "healthy" at all!
Recipe note
This post was updated in September 2020 with slight tweaks to the recipe. The ingredients were scaled down in a close ratio to what they were before, however they're ordered in a clearer manner in the recipe card. Additionally the amount of salt was increased (switching to kosher salt), with the addition of a brown sugar option to make this buffalo spice mix even better as a meat rub.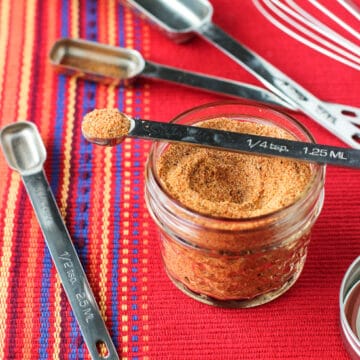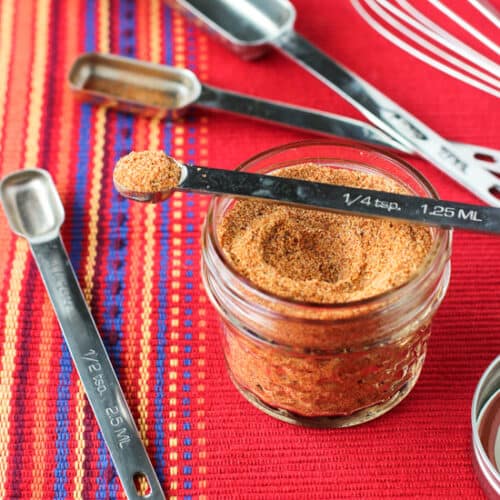 Buffalo Spice Mix
Feel the heat with this dry buffalo spice mix! This buffalo seasoning is customizable to your tastes and is great as a rub on chicken and meat, sprinkled on vegetables or eggs, and more!
Print
Pin
Rate
Servings:
25
teaspoon servings
Ingredients
1

tablespoon

kosher salt

more to taste

1

tbsp plus 2 tsp

garlic powder

(5 teaspoons total)

2

teaspoon

chili powder

2

teaspoon

onion powder

2

teaspoon

mustard powder

2

teaspoon

paprika

2

teaspoon

ground black pepper

1 ½

teaspoon

cayenne pepper

more to taste
For a rub, also add:
2

tablespoon

brown sugar

optional (see note)
Instructions
Stir together all ingredients in a bowl, breaking up the brown sugar (if using) into small granules.
Notes
Paprika: If you're a big smoky flavor fan, substitute one of the teaspoons of paprika with smoked paprika. Spice level: This spice mix packs a moderate heat. Decrease the cayenne if you'd prefer a less spicy spice blend. Brown sugar: Brown sugar makes a great addition to a spice rub for chicken or other meat. I leave it out if seasoning veggies or eggs. Yield: As written these quantities of spices yielded enough of a spice mix to generously season a large pork butt. Scale up/down as needed. Nutrition: Nutritional info is an estimate for one teaspoon of spice mix, including the usage of brown sugar.
Nutrition
Serving:
1
teaspoon
|
Calories:
1
kcal
|
Sodium:
136
mg
|
Potassium:
1
mg
|
Sugar:
0.7
g
|
Calcium:
1
mg
Nutritional information is provided as an estimate. As it can vary due to many factors (brands used, quantities, etc.), we cannot guarantee its accuracy.
Food Safety and Nutrition Disclaimer