The chai tea latte is turned up a few notches with this Extra Dirty Iced Chai Tea Latte. Chai tea latte concentrate is poured over coffee ice cubes, then mixed with milk, a splash of Kahlua, and a shot of espresso.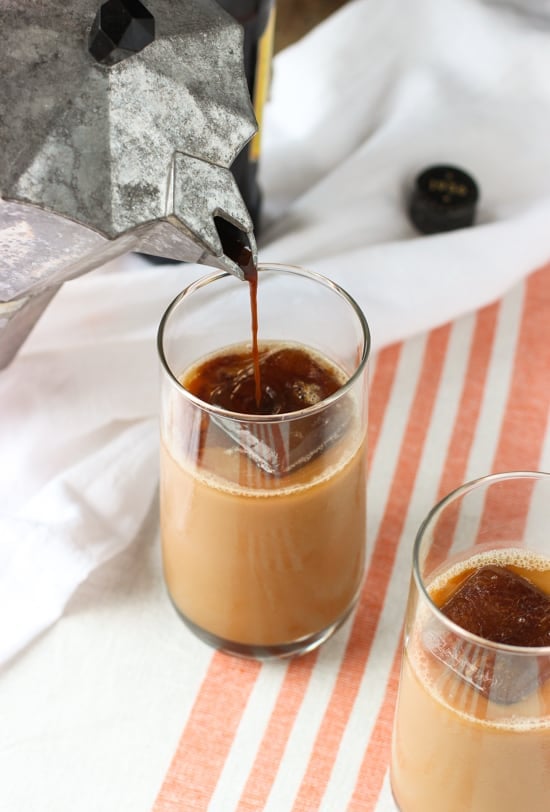 Well that's a mouthful, isn't it? A delicious mouthful though! I'll be honest and say that I'm definitely a late in the game chai tea lover. I stole a sip of Brian's chai tea latte one day expecting it to be too spiced and not really my style, but siiiiipped sipped sipped until half of it was gone. Whoops. 😉 Inevitably I'm a fan.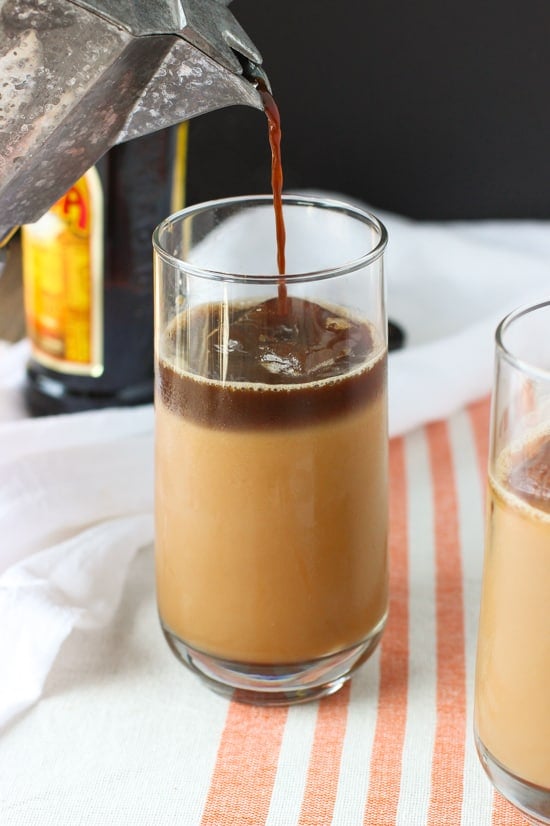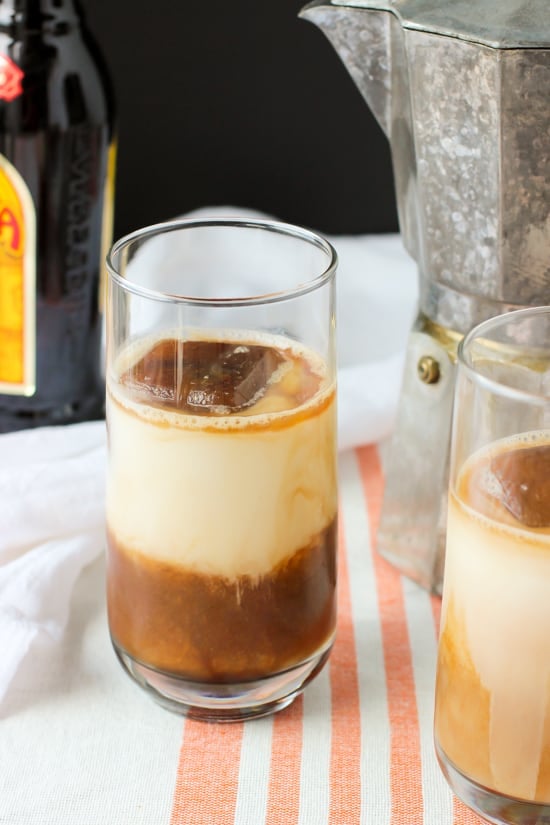 Without fail, every day I drink two cups of coffee. This year I made a New Year's resolution to cut it down to two, as an extra cup (or two…) kept creeping into my day-to-day routine and creeping up my bedtime. So far so good in 2015! My morning coffee needs to be hot and unflavored (Colombian ♥) with milk and no sugar, but I'll branch out a little with my afternoon cup. Usually it's the same as my morning coffee, but occasionally I'll splurge and walk on the wild side with an iced chai tea latte with a shot of espresso. A dirty iced chai tea latte!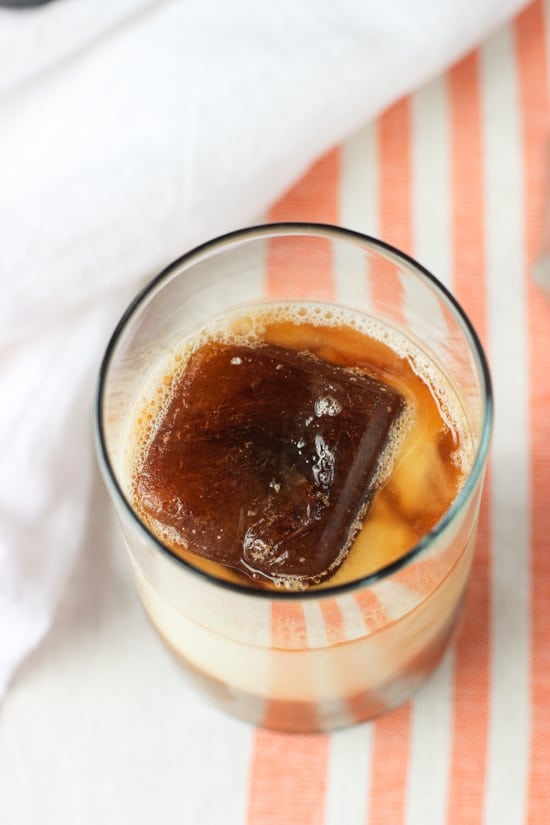 This version though isn't exactly sanctioned to keep you chugging along on a workday afternoon. 'Extra dirty' partially means boozy thanks to coffee liqueur, so I'd save this iced latte for a weekend spent lounging in leisure. Of course, you could always leave out the liqueur, but where's the fun in that? 😉
One thing I'm a little bit nutty about is weak coffee. Noooo thanks. That means ice cubes tend to be enemies when it comes to iced coffee, granted I don't drink it down in a few minutes time which is usually the case (seriously, does anyone have the willpower to savor and just sip on an iced coffee?). In the case of this beautiful beverage, 'extra dirty' also means that it has coffee ice cubes, so no dilution will be happening here. I use a LARGE ice cube tray to add a fun element to my drinks and cocktails - one per glass will do the trick!
So here you have an iced chai tea latte, with coffee liqueur, espresso, and coffee ice cubes. A refreshing spiced tea drink with an extra jolt (or two…) of caffeine. This definitely counts as just one coffee, right? 😉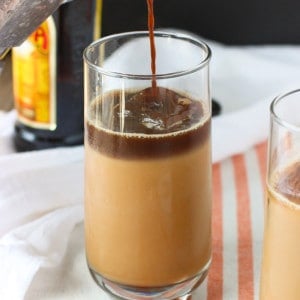 Extra Dirty Iced Chai Latte
This Extra Dirty Iced Chai Latte features chai latte concentrate, milk, a splash of Kahlua, and a shot of espresso all poured over coffee ice cubes!
Print
Pin
Rate
Ingredients
8

ounces

chai latte concentrate

8

ounces

milk

(any)

1 ½

ounces

Kahlua

2

shots of espresso,

brewed and ready to pour

Coffee ice cubes
Instructions
Prepare coffee ice cubes and brew espresso in advance of enjoying these drinks.

In two glasses, add coffee ice cubes and into each glass, pour about 4 oz. chai tea latte concentrate, 4 oz. milk, and 0.75 oz Kahlua. Stir to combine. Pour about one shot of espresso over top (or desired amount) and stir again. Enjoy!
Notes
I used plain leftover drip coffee to make coffee ice cubes.
Nutritional info is estimated based on a regular (not sugar-free) chai concentrate and 1% milk.
Nutrition
Serving:
1
drink
|
Calories:
203
kcal
|
Carbohydrates:
34.5
g
|
Protein:
3.8
g
|
Fat:
1.2
g
|
Saturated Fat:
0.7
g
|
Cholesterol:
6
mg
|
Sodium:
87
mg
|
Potassium:
176
mg
|
Sugar:
31.8
g
|
Calcium:
100
mg
Nutritional information is provided as an estimate. As it can vary due to many factors (brands used, quantities, etc.), we cannot guarantee its accuracy.
Food Safety and Nutrition Disclaimer
*this post may contain affiliate links
You may also like
Whole Wheat Blueberry Chai French Toast Bake (uses chai tea latte concentrate)
Boozy Mocha Syrup (uses Kahlua!)