These chocolate chip Reese's peanut butter cookies have it all! Flourless peanut butter cookie dough is loaded with chocolate chips and chopped peanut butter cup pieces. This small-batch recipe makes just 10-12 cookies.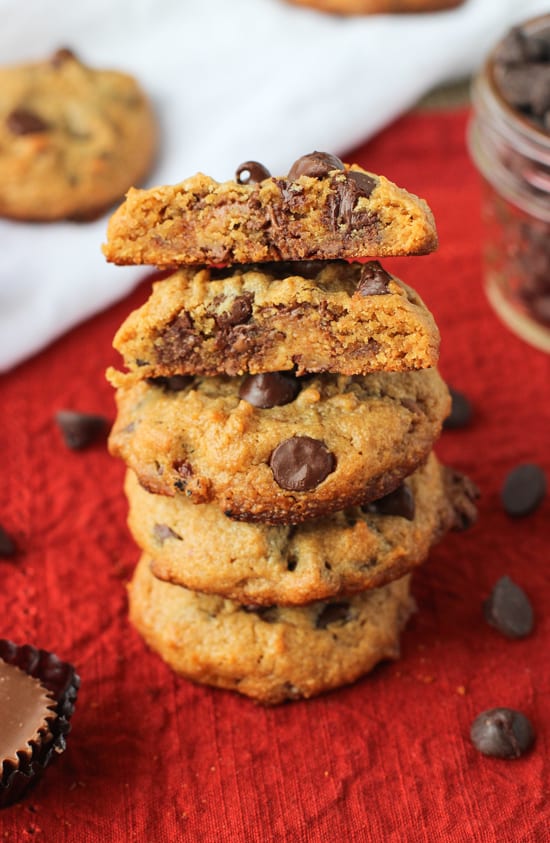 Sooo do you remember a few weeks ago I shared these healthy peanut butter cookies? I have SO much love for those cookies, I swear. Sneaking one for a mid-morning snack at work makes me feel like I'm being bad and breaking that "no dessert before dinner" rule some people adhere to. Not that I abide by that rule most of the time, but still. A recipe for cookies that are surprisingly healthy for how they taste is a winner in my book.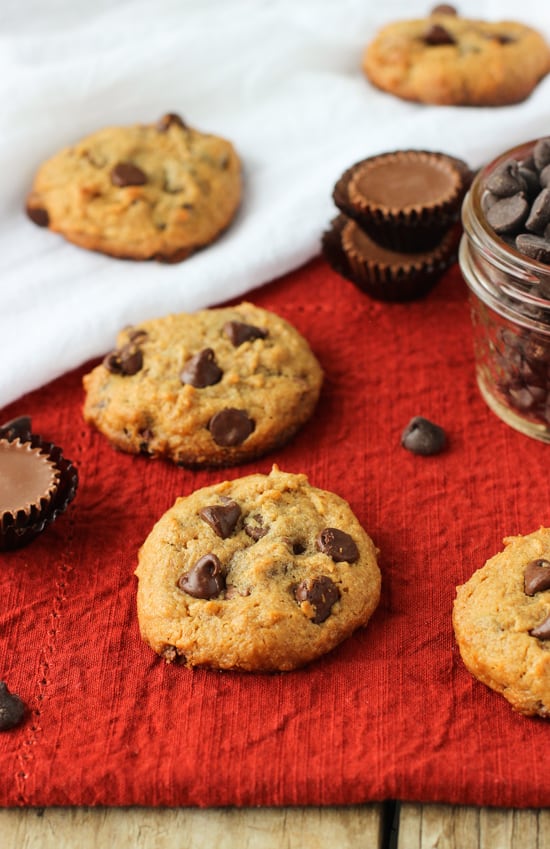 These cookies are not those cookies. These cookies include sugar…and chocolate…and peanut butter cups. They're equally delicious in true dessert fashion, and the best part? This recipe makes a small batch, meaning you can enjoy your indulgence in moderation without trying to hide thirty extra cookies in your house where your sweet tooth won't find them.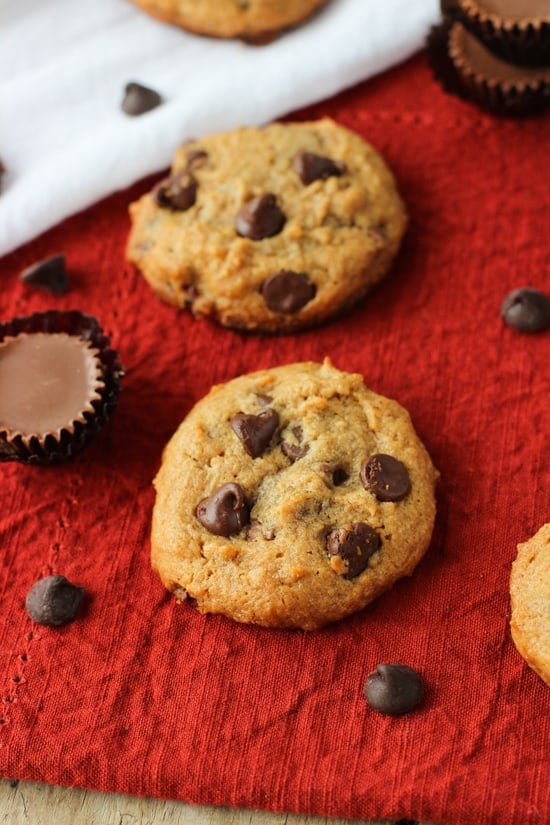 As a household of two (both of us with a respectable sweet tooth), I tend to gravitate toward cookies when I'm craving some dessert. Usually I play around with the recipe and reduce the yield so I'm not up to my eyeballs in cookies afterwards, but if I don't, half the batch or however many go straight into the freezer once they cool. If they're not out on the counter in a storage container, they're a lot less likely to be calling my name, just begging to be eaten. That pssst, pssst Alllyssssaaa definitely gets muffled by the freezer door. 😉
Since we're hopefully moving in the short term, I've been eying up our stocked-to-the-brim freezer and putting a moratorium on freezing anything that isn't a main dish that can easily be defrosted on a weeknight. The number of different types of cookies and cookie dough in there is a liiiiittle out of hand. SO, no more freezing cookies = small batch it is!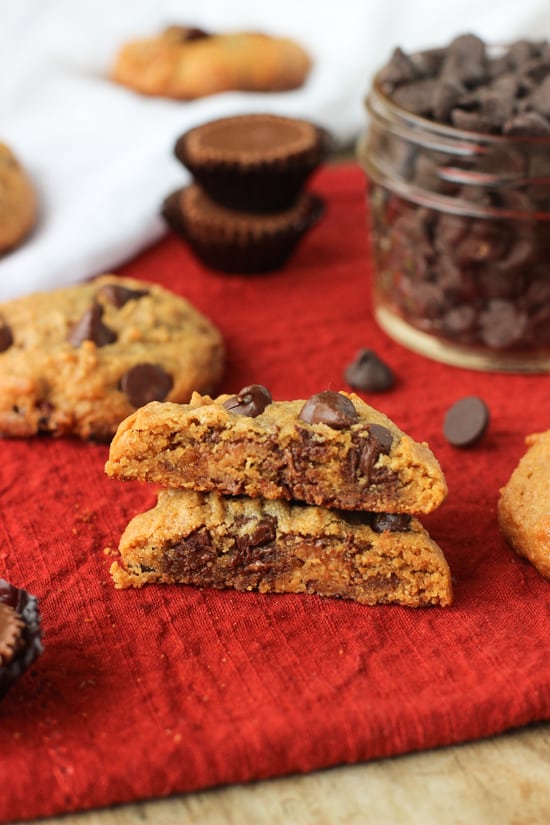 These cookies are heavy on the mix ins, just the way I like 'em. Each bite is guaranteed to be loaded with chocolate chips and chopped mini Reese's peanut butter cups. More is more when it comes to chocolate and peanut butter, don't you think? This rich, flourless peanut butter dough holds all the goodness together and is a definite dessert. Consider these cookies your P.M., after-dinner treat and these healthy ones your A.M. indulgence. A peanut butter cookie for any time of day!
Loaded Chocolate Chip Reese's Peanut Butter Cookies
Ingredients
1/2 cup creamy peanut butter
1/4 cup + 2 tbsp brown sugar
3/4 tsp vanilla extract
1 egg
10 miniature Reese's peanut butter cups, each chopped into 4 pieces
3 tbsp chocolate chips (I used semi-sweet)
Instructions
Preheat oven to 350 degrees F. In medium-sized bowl, mix together peanut butter, brown sugar, vanilla extract, and egg. Fold in chopped peanut butter cups and chocolate chips.
Using a 1 1/2" cookie scoop or a spoon, place cookies on an ungreased baking sheet, about 1 1/2" apart from one another. Lightly flatten the tops of each cookie, and press a few extra chocolate chips on the tops if you'd like. Bake for 10-12 minutes, or until tops are golden brown and bottoms are beginning to brown. Let cool on baking sheet.
Recipe adapted from
Food Network