If you're looking for a healthy and filling breakfast recipe, then look no further than this peanut butter baked oatmeal! It has a great texture, is naturally sweetened, and can be customized with many fruit and nut options.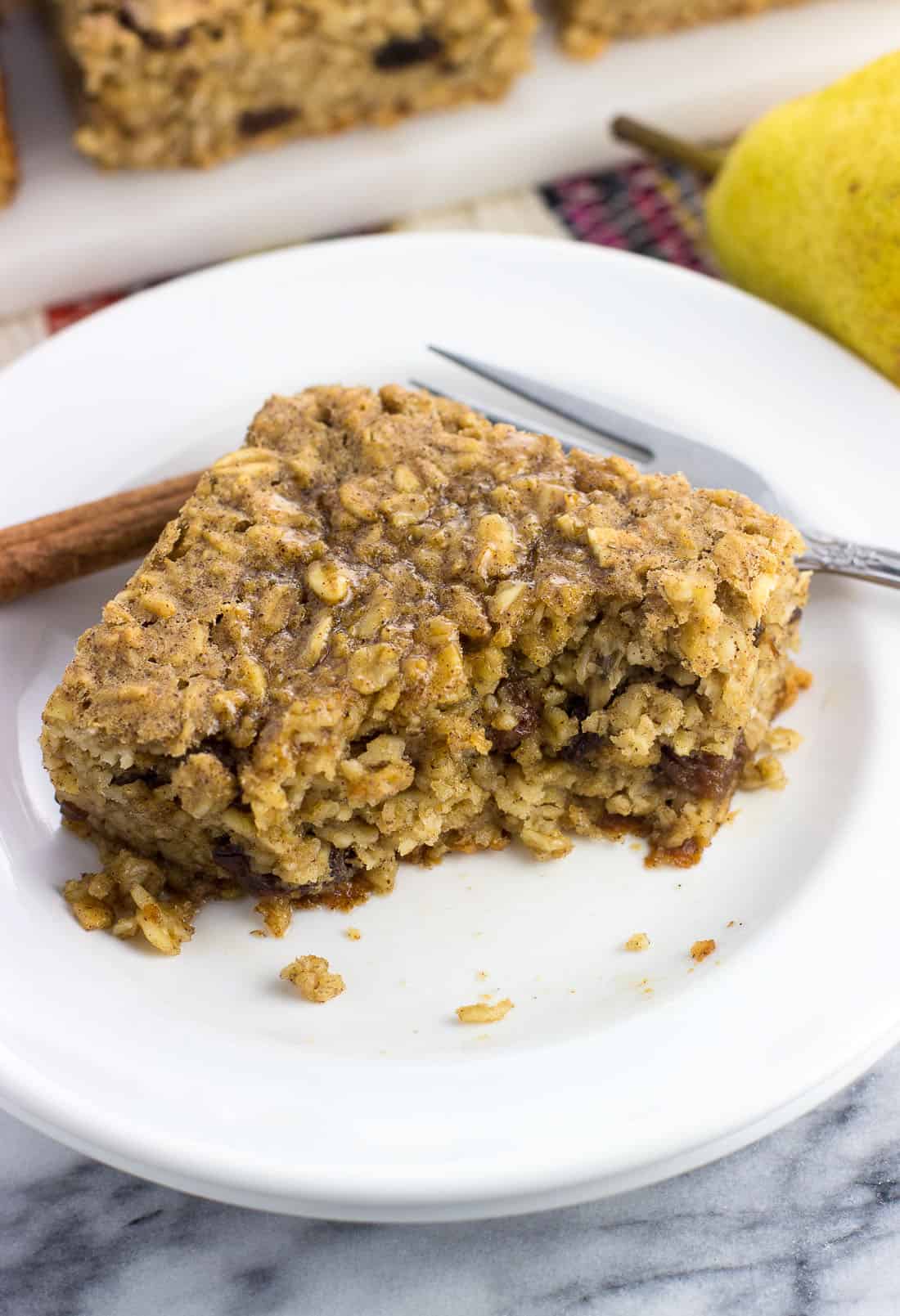 Baked oatmeal is one of the few regular exceptions I make to my savory breakfast routine. Not that I don't enjoy whole wheat waffles or a chocolate cherry smoothie when the craving strikes, because I totally do. But those are rarer exceptions.
On a semi-frequent basis I'll toss aside my avocado toast, scrambled eggs, or breakfast burrito and dig into healthy baked oatmeal bars.
That baked oatmeal post I linked to just above is my base recipe for healthy baked oatmeal. Which is just how I like my baked oatmeal. I'll save the butter, sugar, and oatmeal trifecta for real deal oatmeal cookies.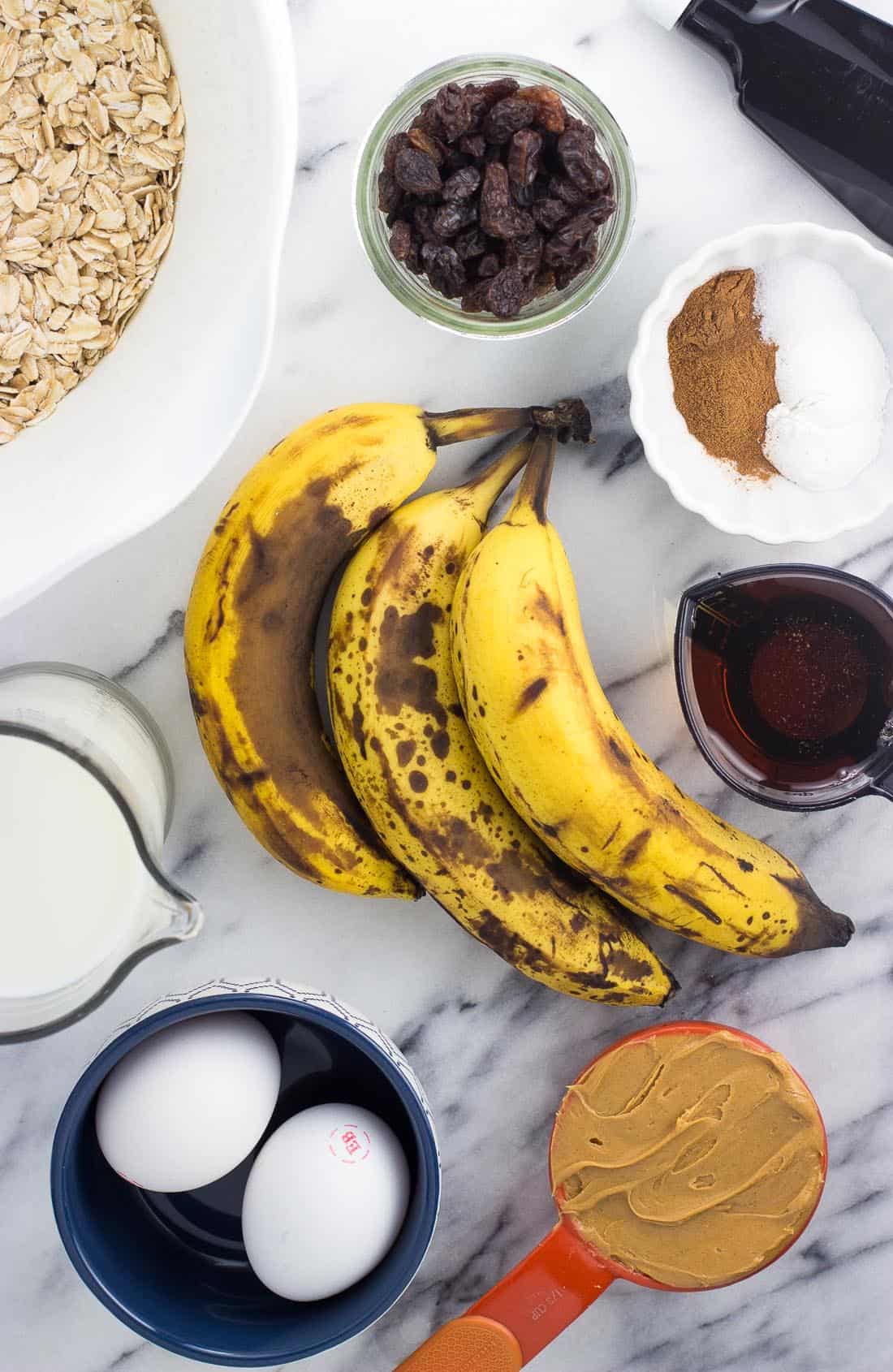 Since I never want my taste buds to tire of something this good, I've been experimenting with new baked oatmeal add-ins and flavors. With a few tweaks, my gold standard recipe morphed into this peanut butter baked oatmeal…
…and it might be my new favorite? idk. Thankfully no one's making me choose. 😉
Lots of the same ingredients happening here! Obviously we have oats as the base (more on which kind to use later), which combine with baking powder, cinnamon, and salt as our dry ingredients.
Over on the wet ingredient side we have overripe bananas, milk (use your preferred, I use 2%), creamy peanut butter, maple syrup, eggs, and vanilla extract. Then raisins, nuts, other dried fruit, fresh fruit, etc. all work great as stir-in extras.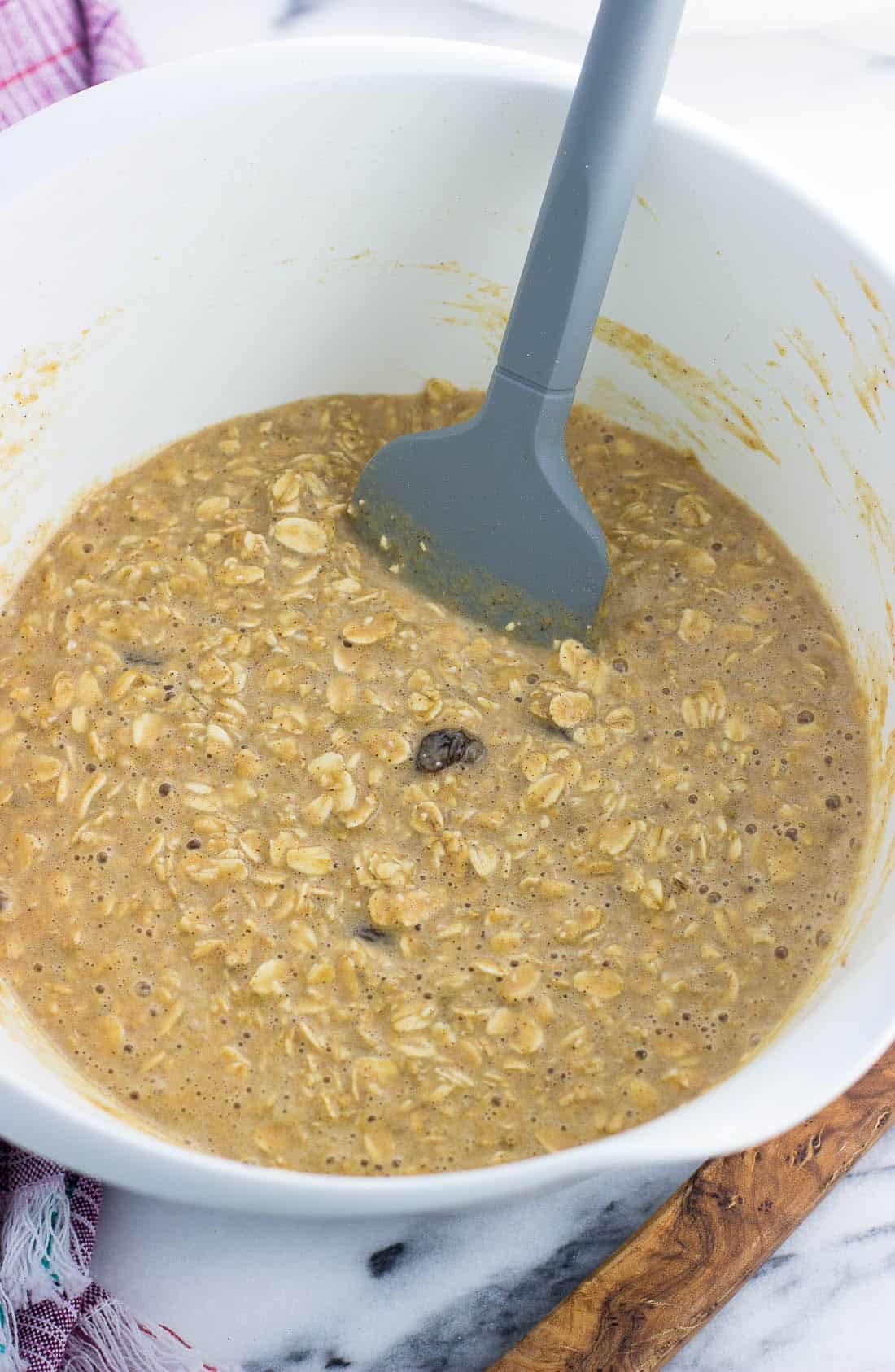 How to make peanut butter baked oatmeal
While we have a lot of wiggle room with what to stir into this peanut butter baked oatmeal, do use old-fashioned (rolled) oats here. Molto importante.
I've hyped up the texture of this baked oatmeal a few times already, and using old-fashioned oats in this recipe is a big part of why it works.
These heartier oats hold up very well to combining with liquid and then being baked. Quick/instant oats have already been processed and would likely mush up much more than you'd like in a recipe like this.
Old-fashioned oats don't mush up at all, rather they soften for comfortable chewing. If I wanted mushy oatmeal I'd just make regular oatmeal. I much prefer baked oatmeal in bar-format that you can pick up and eat with your hands on the go if you choose.
Though drizzling a square with a little extra maple syrup and eating with a fork? Might be my #1.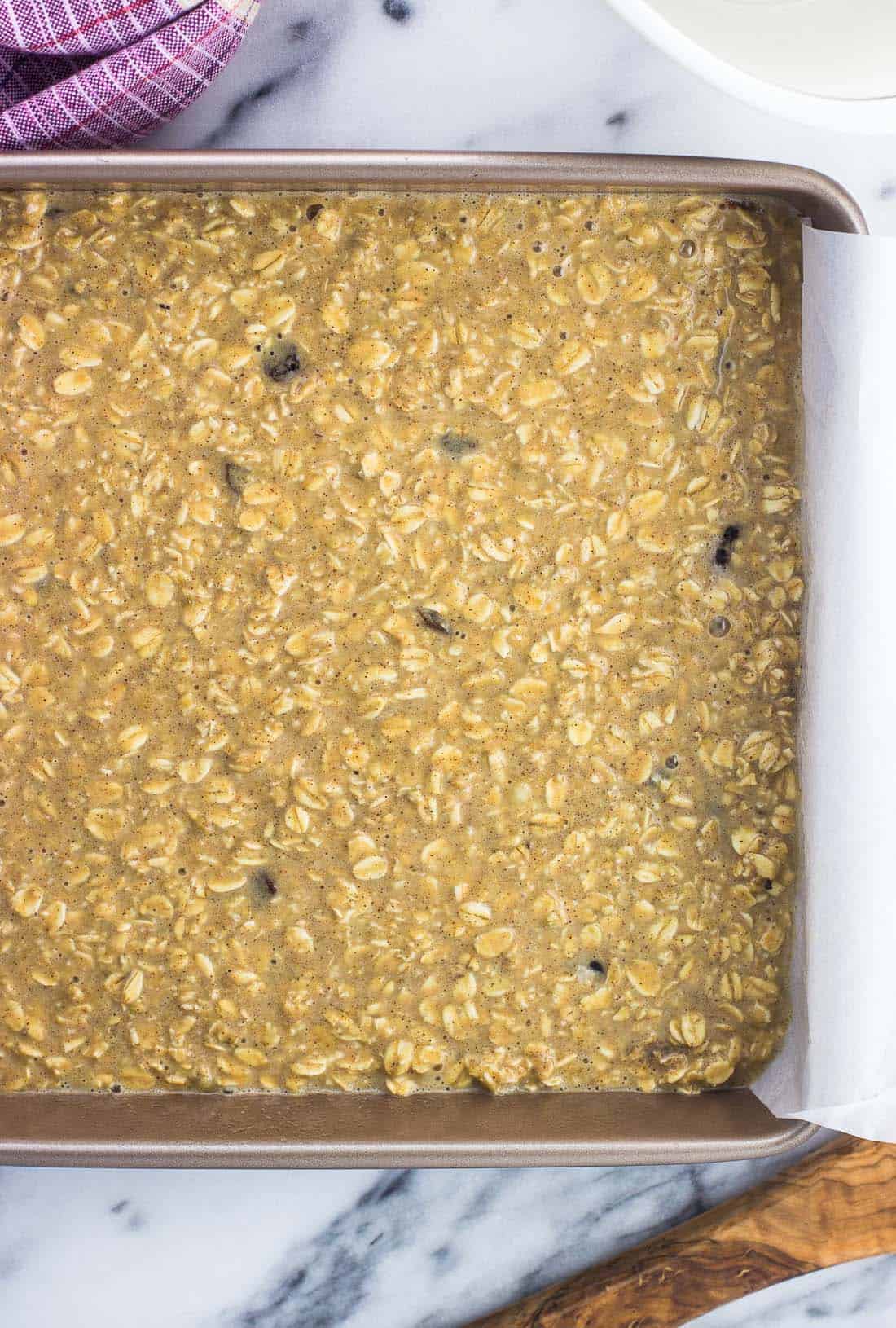 You can likely finagle this peanut butter baked oatmeal into a one-bowl kind of recipe, but I end up using two. One reason being that I like to mix the dry ingredients together well to evenly disperse the leavening agent. The cinnamon and salt too, of course, but I really want to make sure the baking powder is mixed in well.
The second reason has to do with the bananas — and it's personal.
I love bananas, I just don't like chunks of bananas in whatever type of bread/muffin/baked oatmeal I'm eating. You certainly don't have to process them as much as I do, but my standard procedure is to add them to a separate mixing bowl, break out my hand mixer, and mix them until super light and as creamy and smooth as possible.
This helps them become much less detectable in the finished product. I end up using this banana bowl as the one for combining all of my wet ingredients, so it's not a total waste. If banana texture isn't a big deal to you than by all means you can just mush them up with a fork or however you choose, but hopefully this tip is helpful for some.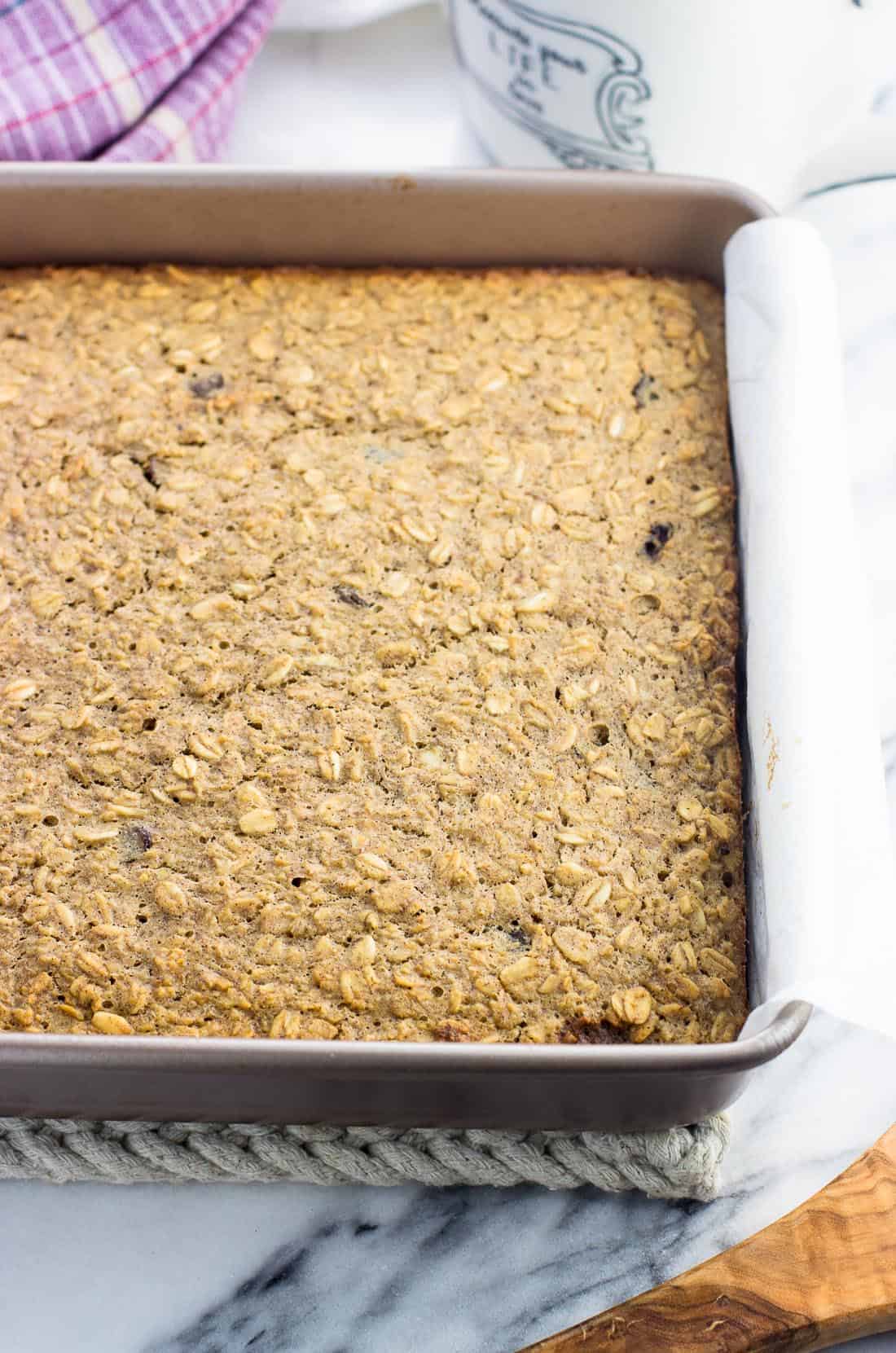 Now that we've mixed up both our wet ingredients and our dry ingredients, it's time to combine them, stir in our mix-ins, and bake.
I kept this version super simple and just went with raisins, but the sky is the limit for whatever you'd like to add. One-third of a cup of peanut butter provides a definite peanut flavor so do keep that in mind when you're ingredient mix-and-matching, but it's not overwhelming where it's the only thing you taste.
This peanut butter baked oatmeal bakes for forty-five minutes, or until the top is dry and set as seen in the picture above, and the edges have browned nicely.
You'll want to allow the baked oatmeal to cool completely before slicing it into squares so that it holds its shape and is less messy.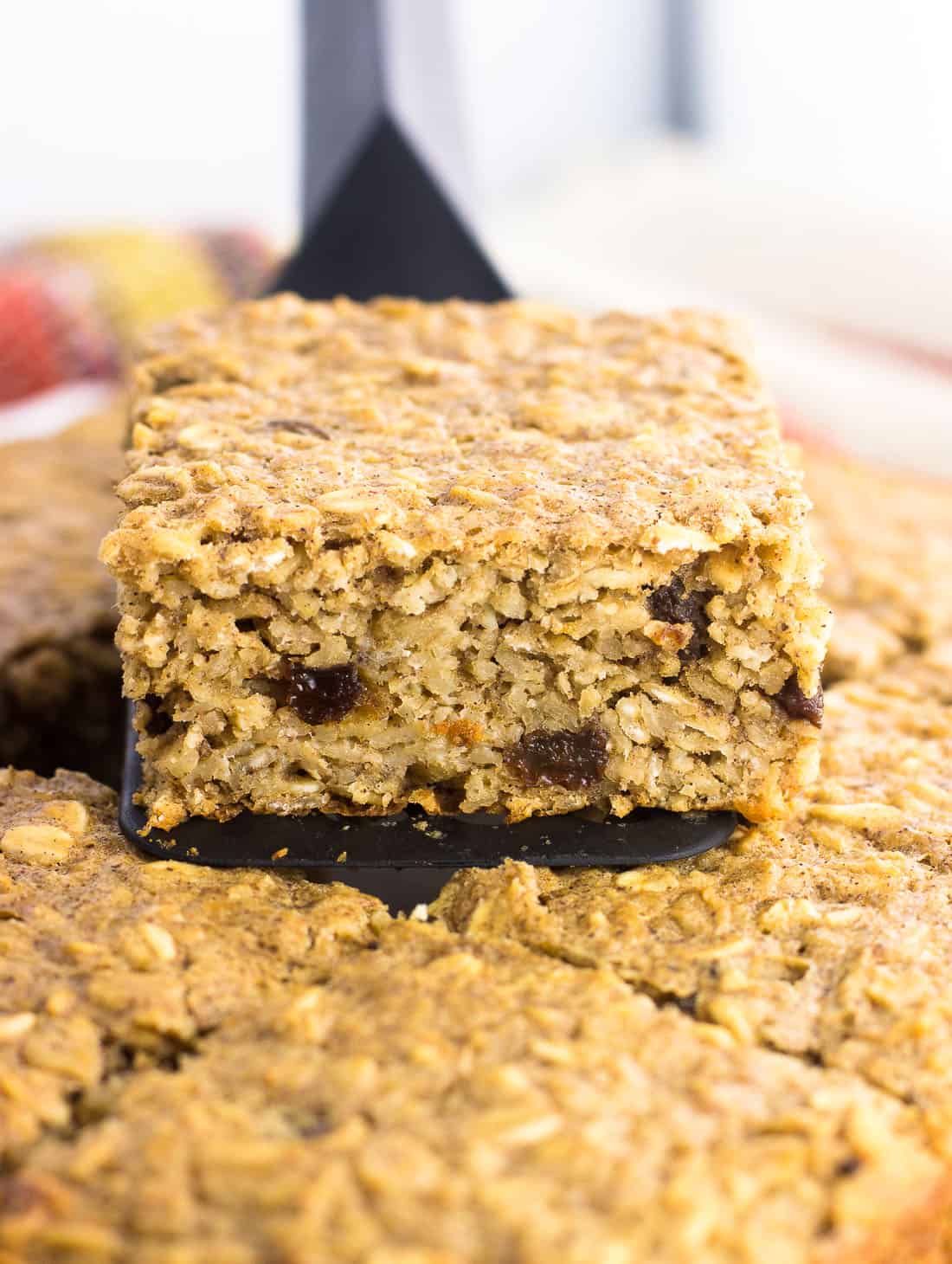 This baked oatmeal can be stored once it has cooled completely. It'll stay just fine in an air-tight container out at room temperature for several days, or in a container or wrapped in foil in the refrigerator or freezer.
If freezing them, I also place them in an air-tight sealable plastic bag so that they don't start to taste stale if they're in there awhile. Then I pull one out and reheat it in the microwave until slightly warm for a homemade breakfast treat made much quicker.
Other peanut butter recipes you might like for breakfast
Hear me out – these

healthy peanut butter cookies

are TOTALLY breakfast fare. Also naturally-sweetened and made with oats, these tender and rich cookies truly work for any time of the day.

No-bake peanut butter cereal bars

are a different take on same old, same old cereal for breakfast. Just a few ingredients here including Cheerios, peanut butter, and honey. And (optional) mini chocolate chips don't hurt, either.
Keeping the grab-and-go theme, well, going,

chocolate peanut butter chia bars

are one of our household favorites. Also naturally-sweetened and no-bake, these date bars are made in minutes thanks to the food processor.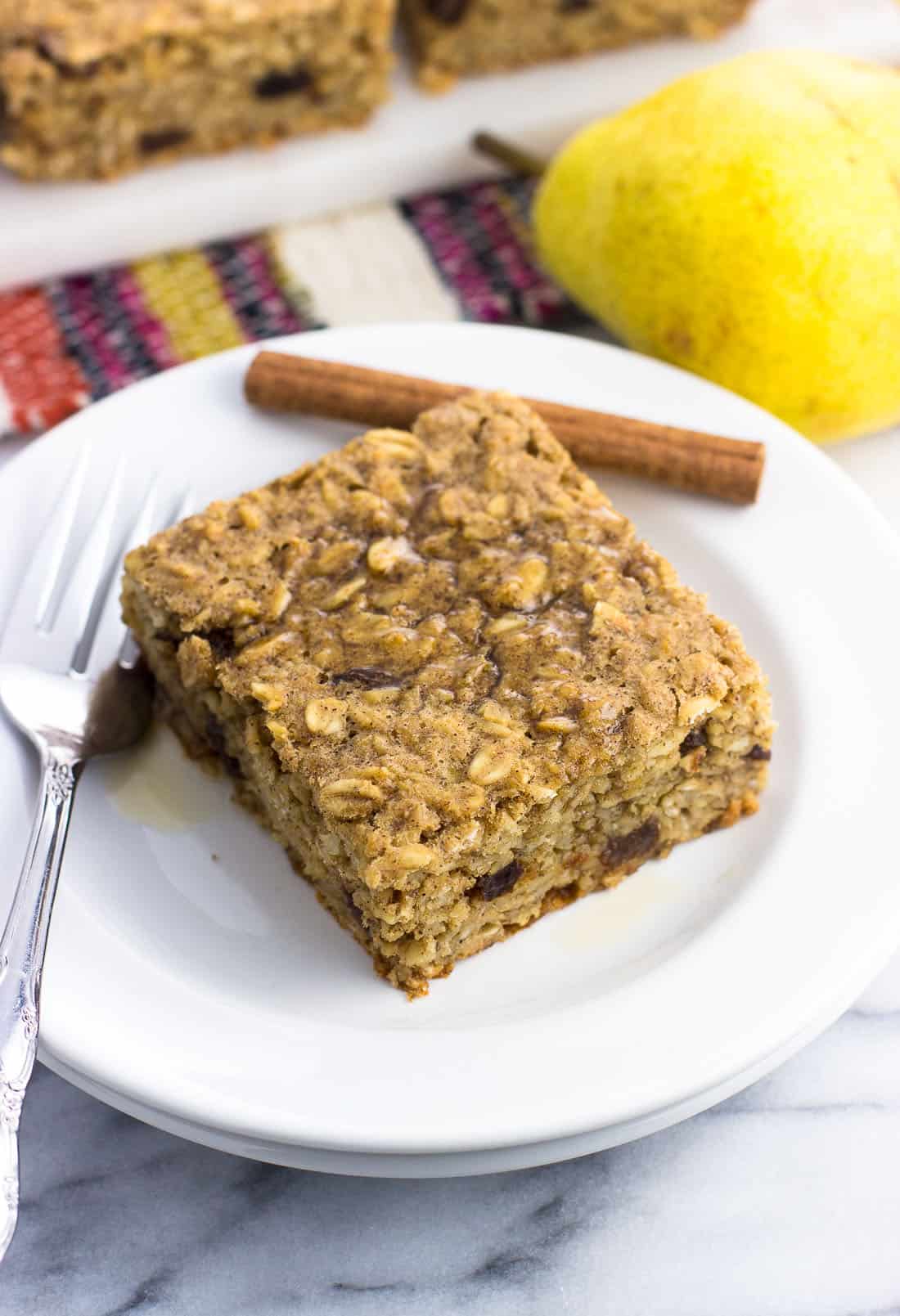 Recipe notes:
Use old-fashioned oats for this peanut butter baked oatmeal recipe. They will hold up well to all the liquid and a longer bake time. I don't recommend quick or instant oats.
I kept this version extra simple by just adding raisins. Swap in whatever dried fruit, fresh fruit, or nut you prefer.
While I haven't tried it, I would imagine any creamy nut butter would work just fine here if want to avoid peanuts.
On that note, I've only made this recipe with creamy peanut butter. I'm not sure how the runny texture of natural peanut butter would do here. It might be just fine but I've never tested it, so please proceed with caution.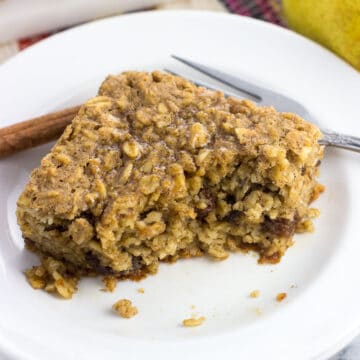 Peanut Butter Baked Oatmeal
If you're looking for a healthy and filling breakfast recipe, then look no further than this peanut butter baked oatmeal! It has a great texture, is naturally sweetened, and can be customized with many fruit and nut options.
Print
Pin
Rate
Ingredients
3

cups

old-fashioned oats

2

tsp

baking powder

1 1/2

tsp

ground cinnamon

1/2

tsp

salt

3

small/medium

overripe bananas

(about 11.5 oz with peels, 8.5 oz without in total)

1

cup

milk,

your preferred variety

1/3

cup

creamy peanut butter

2

eggs

1/4

cup

maple syrup

(or honey)

1 1/2

tsp

vanilla extract

1/3

cup

raisins,

or other dried fruit, nuts, etc.
Instructions
Preheat oven to 350°F. Line an 8"x8" baking dish with parchment paper, leaving enough overhang on either side of the dish so that you can easily lift the baked oatmeal out of the dish later on for slicing.

In one mixing bowl, add the oats, baking powder, cinnamon, and salt. Stir to combine evenly.

In a separate bowl, add the bananas. Using a hand mixer (or do this in a stand mixer if you prefer), beat the bananas until mostly smooth, until no big banana chunks remain. Add the milk, peanut butter, eggs, maple syrup, and vanilla extract and beat until creamy and smooth.

Pour the combined wet ingredients into the bowl with the oats and mix until everything is evenly combined. Stir in raisins.

Pour out baked oatmeal mixture into the parchment-lined pan and smooth the top. Bake for 45 minutes, or until the top and center has set and the edges are browned. Let the baked oatmeal cool in the pan before carefully lifting out and slicing.
Nutrition
Serving:
1
bar
|
Calories:
253
kcal
|
Carbohydrates:
39.6
g
|
Protein:
8.5
g
|
Fat:
8.2
g
|
Saturated Fat:
2
g
|
Cholesterol:
39
mg
|
Sodium:
202
mg
|
Potassium:
477
mg
|
Fiber:
4.3
g
|
Sugar:
14.9
g
|
Calcium:
110
mg
|
Iron:
3
mg
Nutritional information is provided as an estimate. As it can vary due to many factors (brands used, quantities, etc.), we cannot guarantee its accuracy.