This chicken Parmesan gnocchi skillet is total comfort food made all in one pan. With less dishes to clean, you get to enjoy saucy gnocchi, juicy chicken, and Parmesan and mozzarella cheeses in a quick and simple dish. Top this easy dinner with fresh basil for serving and it'll be a family favorite!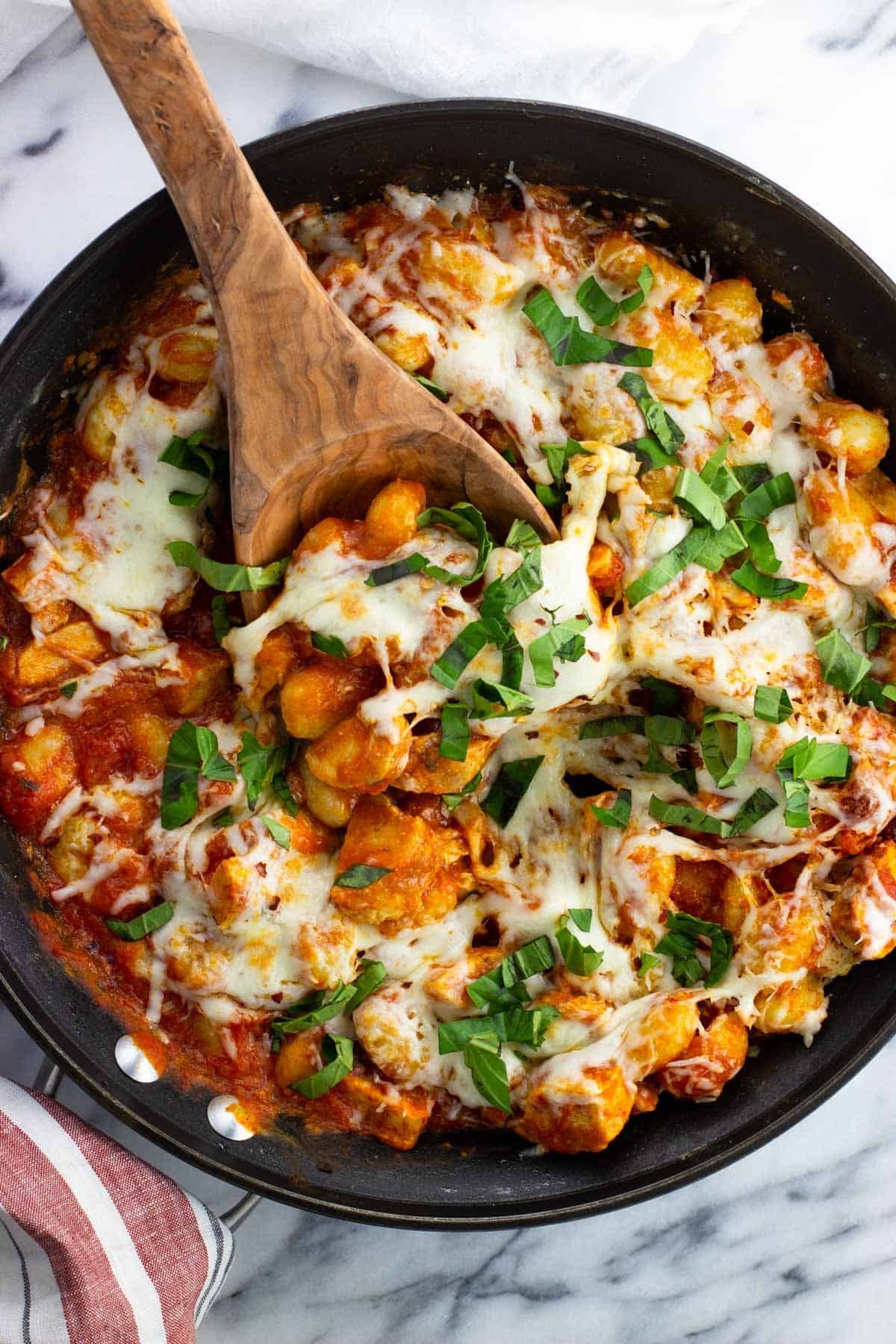 If it was solely up to me, I would eat chicken Parmesan something multiple times a week. Baked chicken Parmesan, regular chicken Parm with that perfect breaded chicken cutlet, a chicken Parm sub, etc. How can you beat these flavors?
This time around, gnocchi are added to the mix, combined with chicken, marinara sauce, and cheeses for a seriously good chicken Parmesan gnocchi skillet. Really it's chicken Parm-ish as I'm skipping a few of the traditional steps like breading and pan-frying the chicken, but all the flavors are here.
Reasons to Love This Recipe
The ingredients are really simple. I know that as long as I have either cooked or raw chicken, I'll have everything on hand that I need to make this gnocchi chicken recipe.
It's a delicious way to use up leftover cooked chicken, but also includes steps to quickly cook chicken breasts on the stovetop.
Reducing the chicken broth into a thick sauce that coats the gnocchi adds a special touch that makes this basic dish taste a little fancier than it is.
There's no boiling the gnocchi!
Recipe Ingredients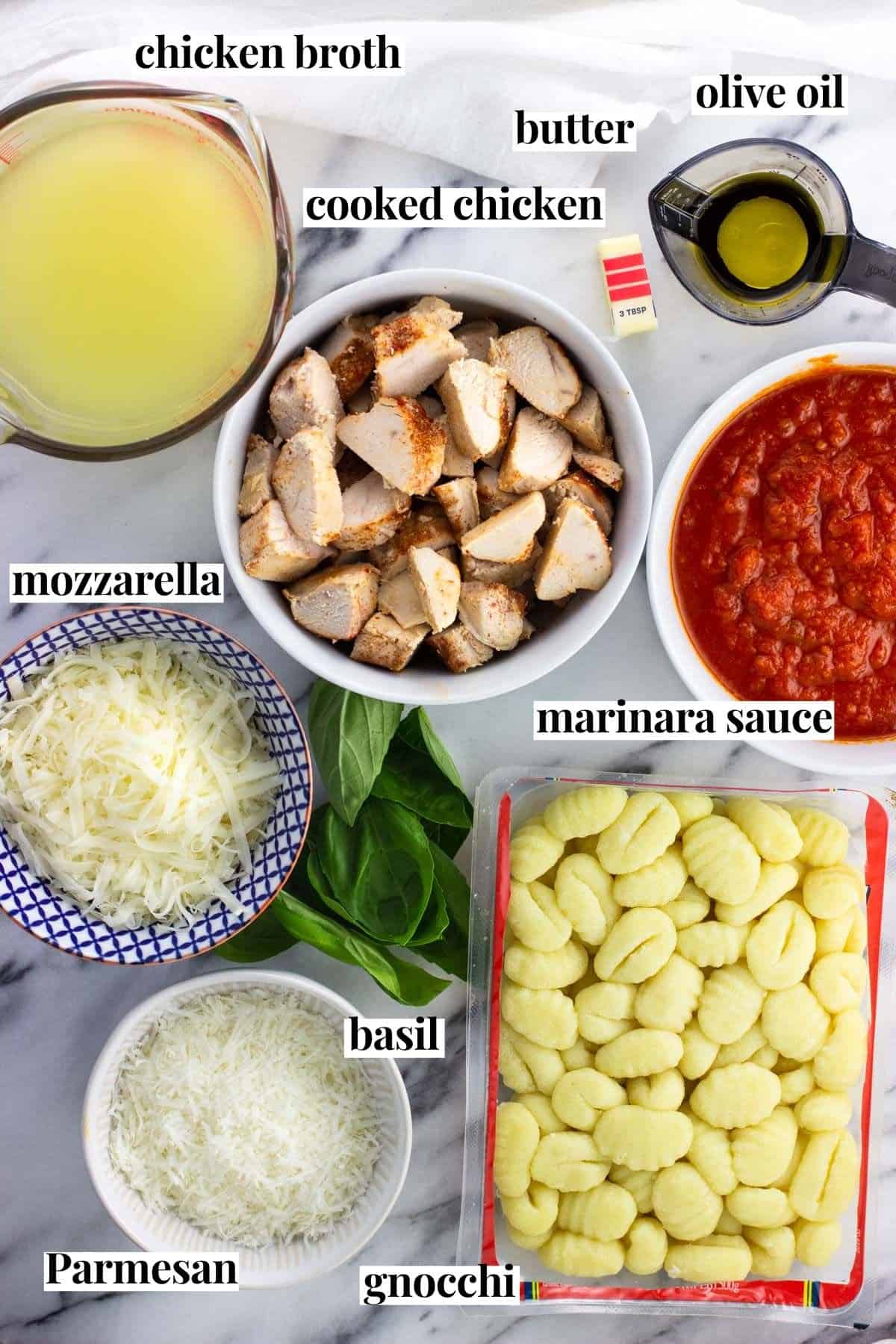 Chicken: While the recipe card lists steps for cooking chicken breasts, any sort of cooked leftover chicken or rotisserie chicken can work. Just cut it into bite-sized pieces.
Gnocchi: The gnocchi I can most conveniently find are found in the dry pasta aisle of the supermarket. They don't require any pre-cooking.
Butter/olive oil: The gnocchi are pan-toasted in one tablespoon of each for a golden-brown, toasty exterior. Cutting butter with oil helps prevent it from burning.
Chicken broth: Two cups of broth reduce almost entirely to cover the gnocchi in a thick and creamy coating. It's my favorite trick when making gnocchi! I recommend reduced-sodium broth.
Marinara sauce: This sounds silly to say, but make sure you like how your marinara sauce tastes! There's a wide range of them out there, from surprisingly good to so blah they'd bring down the dish. My favorite is Rao's (not sponsored but I wish!), and I find it cheapest at wholesale warehouses like Costco.
Parmesan: Another hard Italian cheese, such as Pecorino Romano, works if it's what you have on hand. I recommend grating your own, though pre-grated tubs of it from the refrigerated deli case are just fine to use, too.
Step-by-Step Instructions
If you are using leftover cooked chicken, slice it into cubes and move on to the next step. If you have raw chicken breasts, cut them into larger bite-sized pieces and cook in olive oil in a skillet until fully-cooked (165°F in the center), around 7 minutes. Set the chicken aside for now.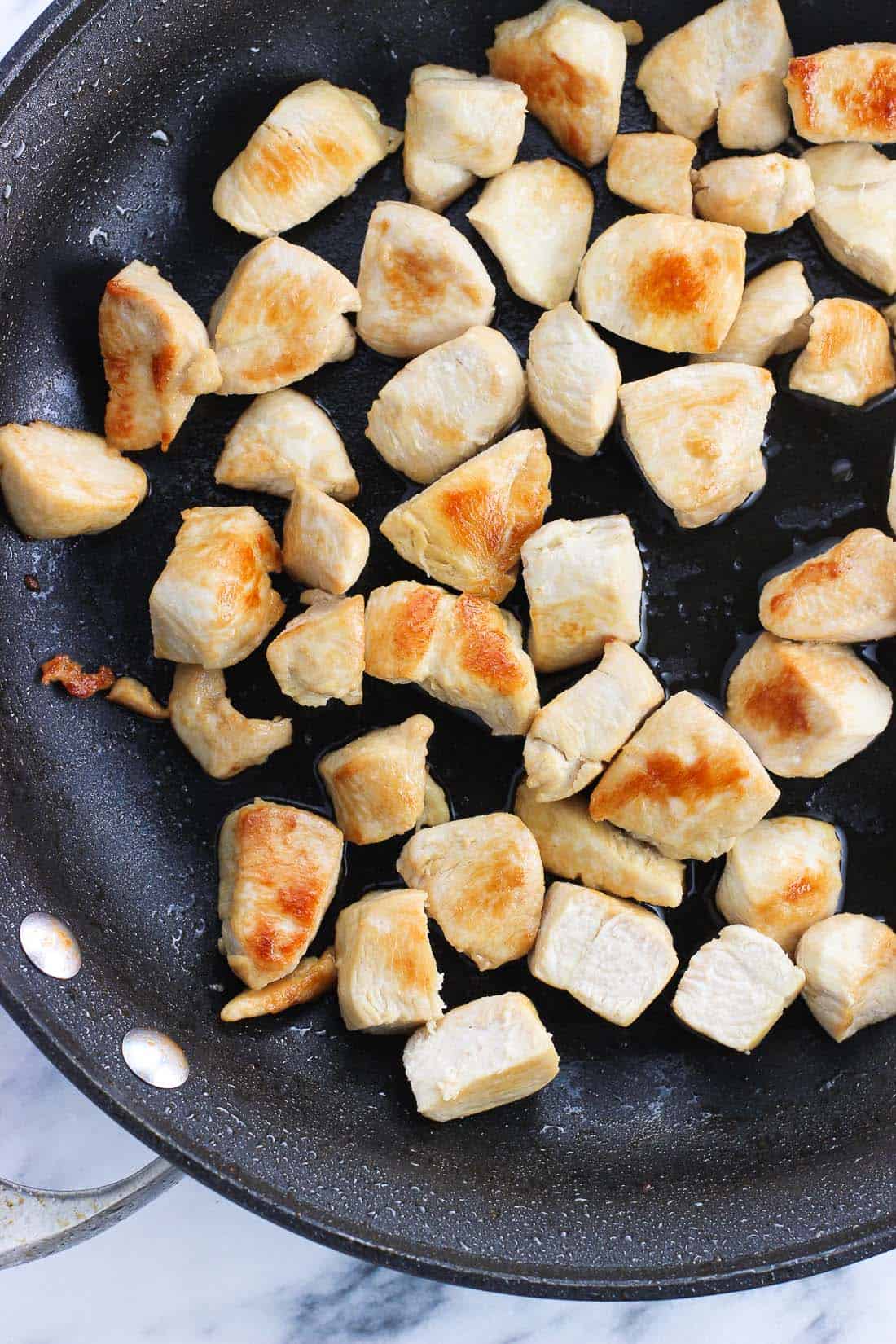 Add butter and olive oil to the now-empty pan. Add the gnocchi and toast for 7-8 minutes. Pour in the chicken broth - it'll be very soupy!
Stir occasionally while the broth reduces. It'll take about 9-10 minutes to form a thick "sauce" that coats the gnocchi.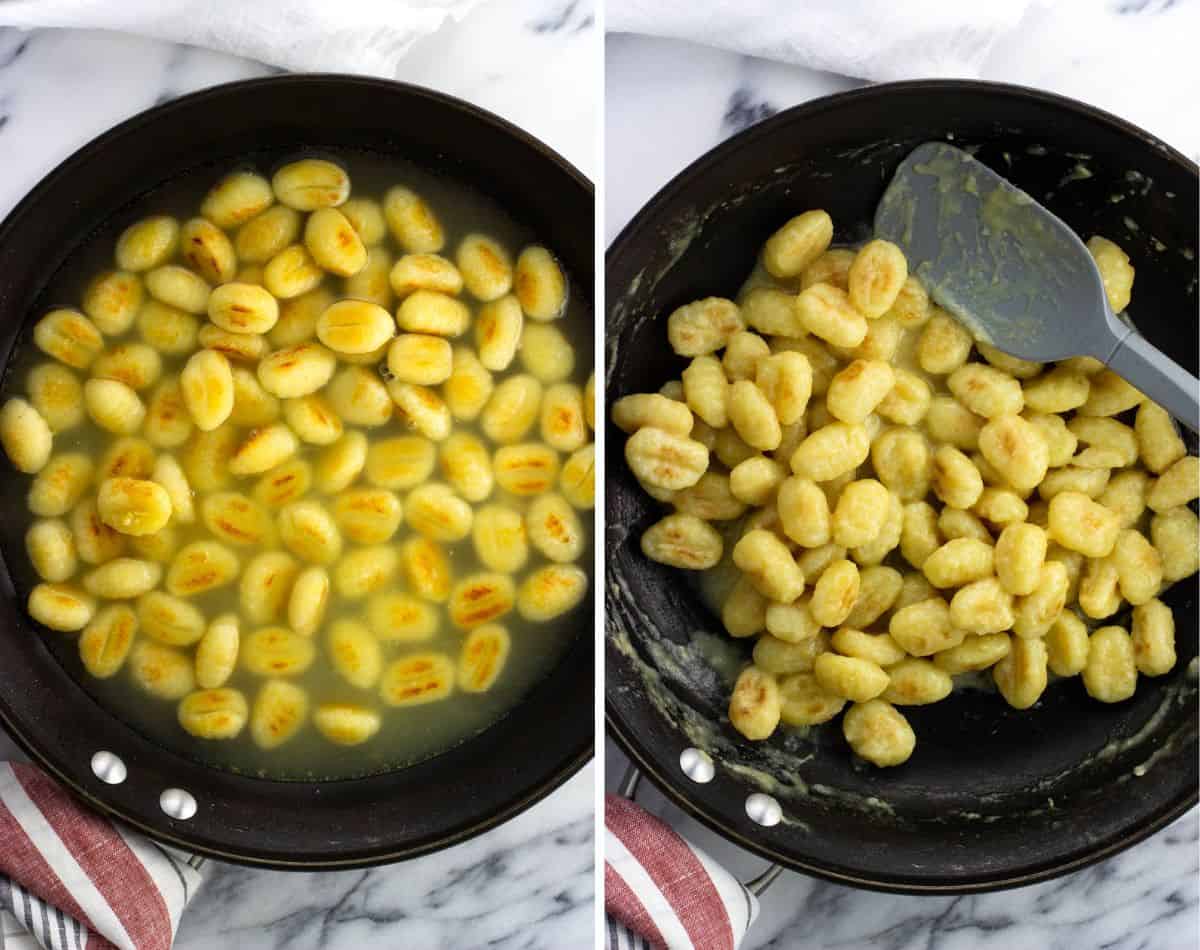 Pour the marinara sauce into the pan and add the cooked chicken. Let it heat for a few minutes.
Scatter the grated Parmesan and mozzarella cheeses on top. Transfer the skillet to the oven to broil to melt the cheese.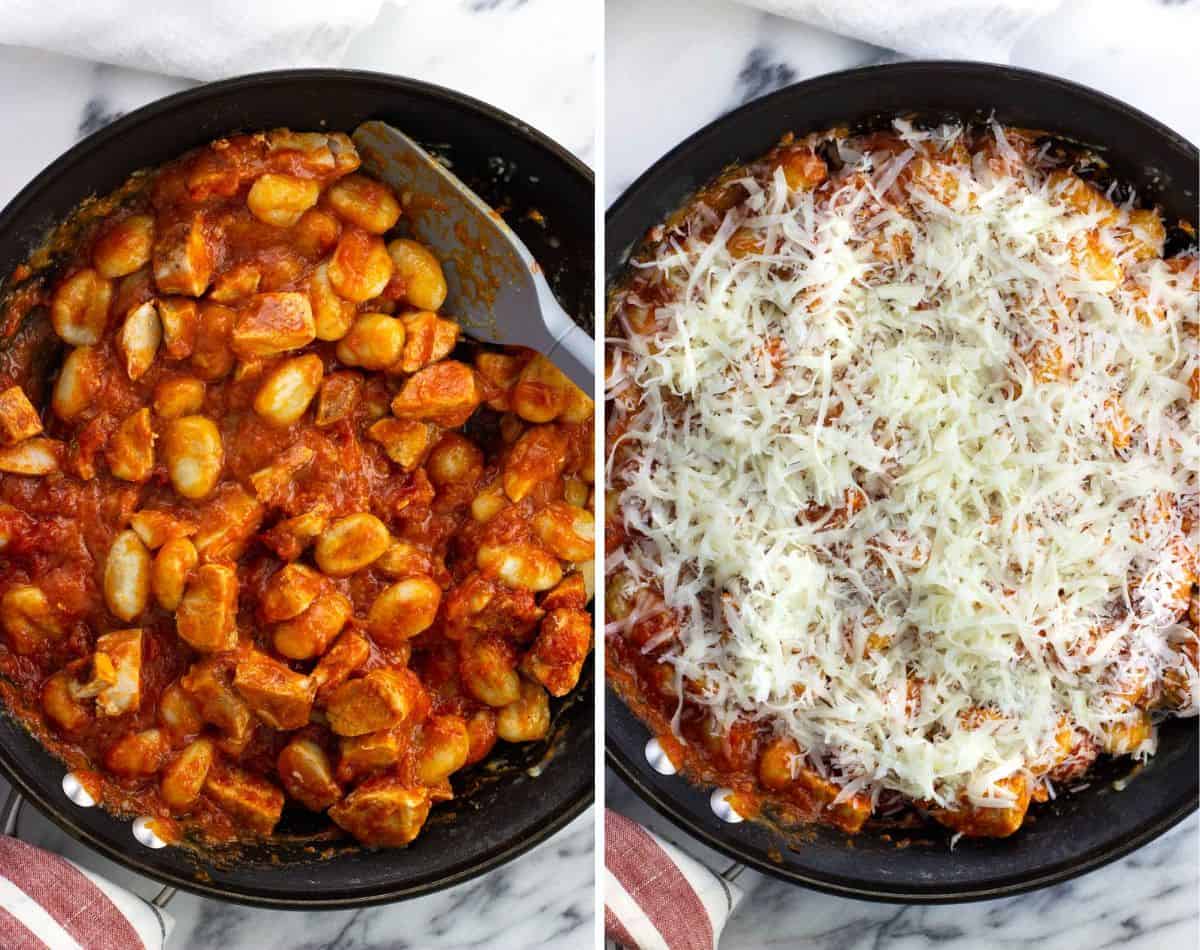 Once the cheese has melted, top with fresh basil before serving. In these photos I did a (very) thick basil chiffonade. Rolling the basil leaves up and slicing into ribbons takes no time!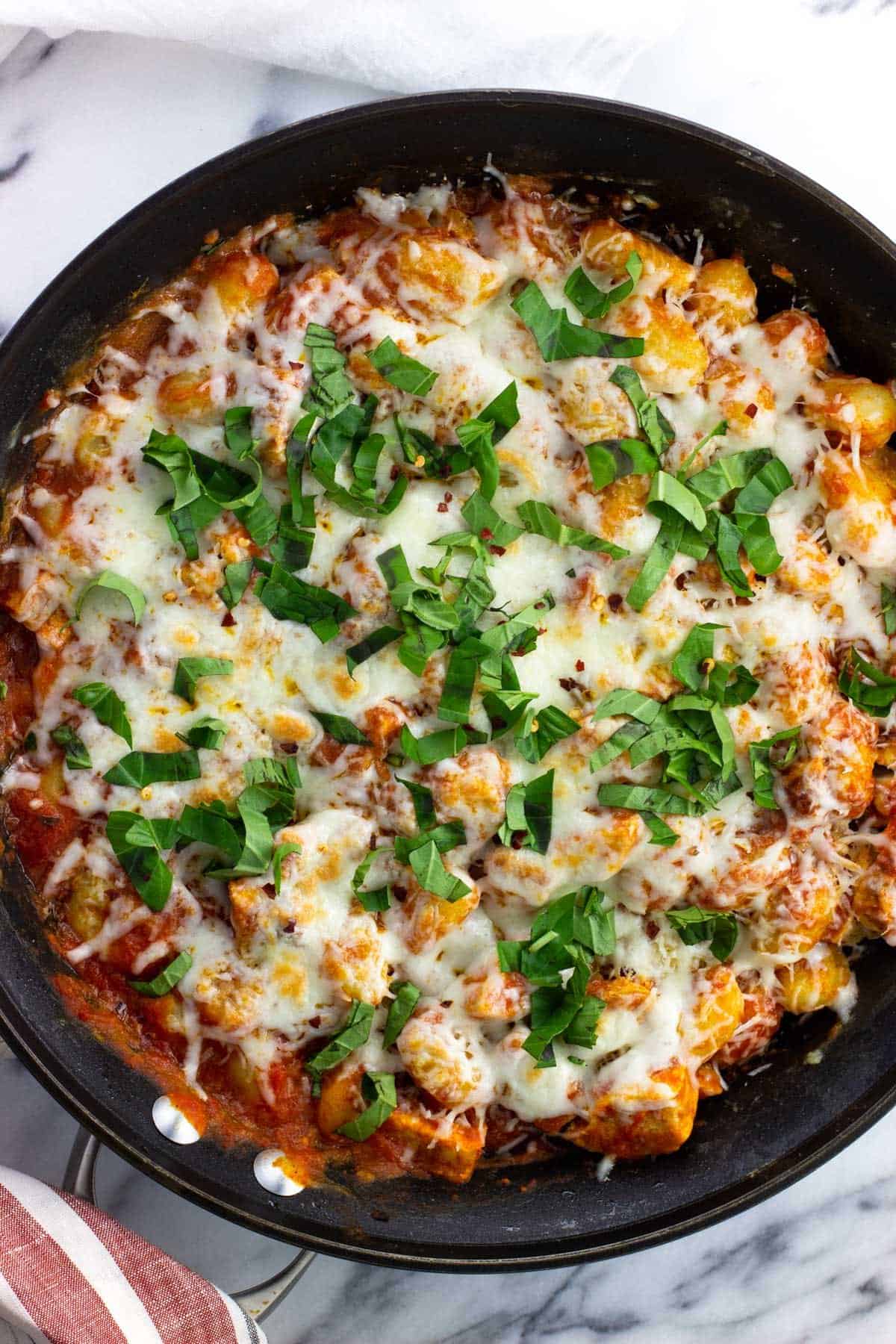 Recipe Tips and Tricks
While technically you could boil the gnocchi according to package directions and stir everything together, pan-toasting provides a great golden-brown crust that prevents them from becoming overly mushy. It also eliminates another pot to wash, which is always a win.
Make sure you use an oven-safe skillet (cast iron or otherwise) as this gnocchi skillet finishes by taking a spin under the broiler. If your pan isn't oven-safe or if you're unsure, you can place a lid on the skillet and wait until the cheese melts.
If you find your jarred marinara sauce is lacking some flavor, add a variety of dried Italian seasonings as your heart desires: garlic powder, onion powder, dried oregano/basil/parsley, crushed red pepper, etc.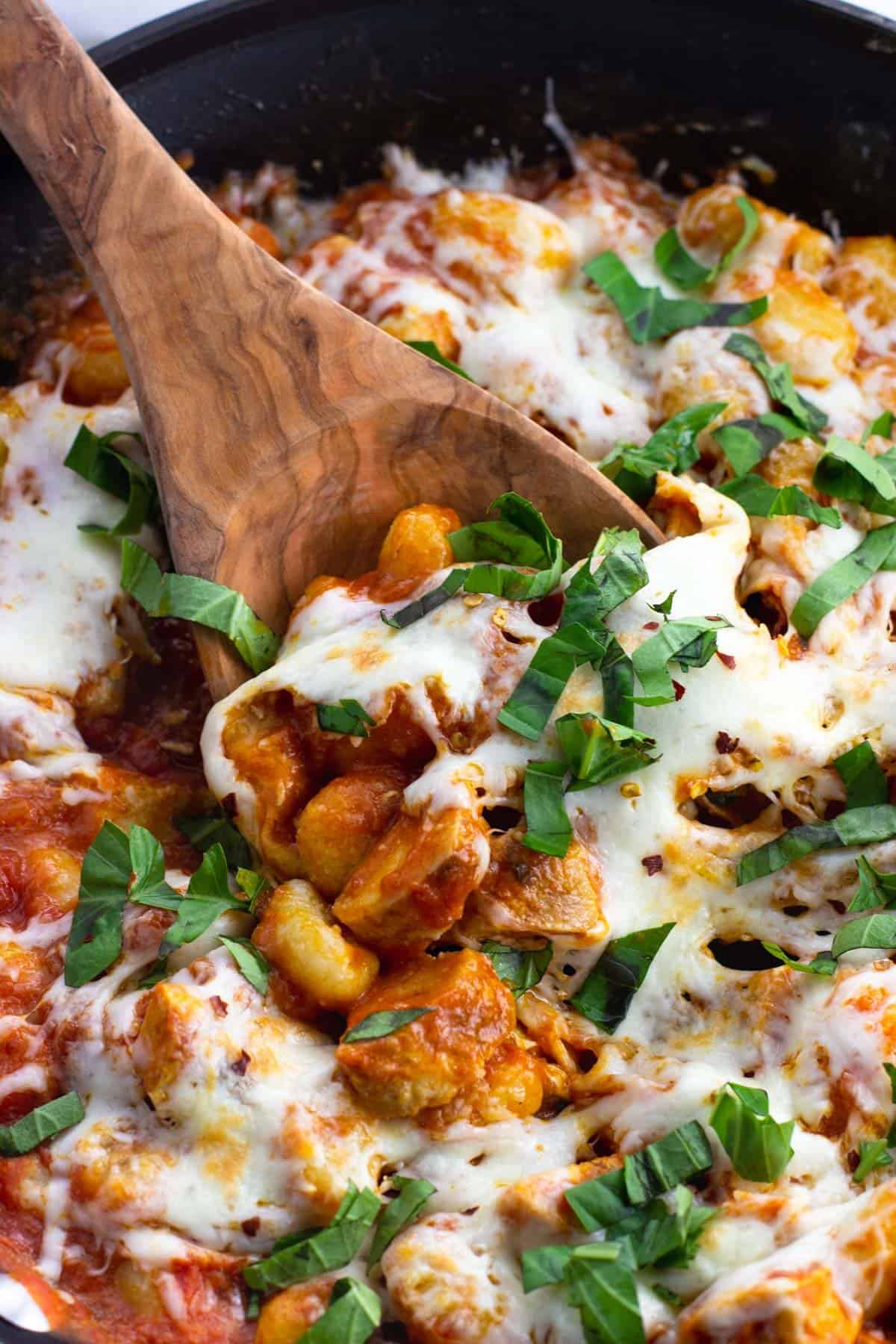 Note: The pictures in this post were updated in August 2022, along with additional detail added. No changes were made to the recipe itself.
Related Recipes
If you've enjoyed this recipe, I'd love for you to leave a star rating in the recipe card and/or a comment review below!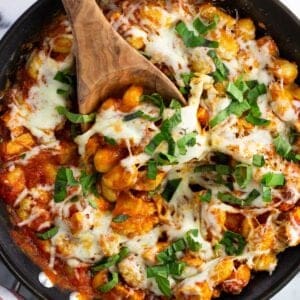 Chicken Parmesan Gnocchi Skillet
This chicken Parmesan gnocchi skillet is total comfort food made all in one pan. With less dishes to clean, you get to enjoy saucy gnocchi, juicy chicken, and Parmesan and mozzarella cheeses in a quick and simple dish. Top this easy dinner with fresh basil for serving and it'll be a family favorite!
Print
Pin
Rate
Ingredients
3

Tablespoons

olive oil

divided

1 ⅓

pounds

boneless skinless chicken breasts

(approximate, around 3 breasts)

1

Tablespoon

unsalted butter

1

16-ounce

package gnocchi

1 ½

cups

reduced-sodium chicken broth

12

ounces

marinara sauce

your favorite

½

cup

grated Parmesan cheese

1

cup

shredded mozzarella cheese

Fresh basil

for serving
Instructions
Cut chicken into approximately 1-inch pieces.

Add 2 Tablespoons of the olive oil to a large (12-inch diameter recommended) oven-safe skillet set over medium-high heat. Add the chicken pieces and cook for 6-7 minutes, flipping over as needed, until the center is no longer pink and the chicken is fully cooked (internal temperature registers 165°F in the center of the largest piece). Remove cooked chicken to a plate.

Place the now-empty skillet back on the stovetop over medium-high heat and add the remaining 1 Tablespoon olive oil and 1 Tablespoon butter. Swirl the butter and oil around the skillet until the butter is melted.

Once melted, add gnocchi to the skillet and break up any that are stuck together. Stir so that the gnocchi are coated evenly.

Cook, stirring occasionally, for 8-10 minutes, or until all sides of the gnocchi are golden-brown.

Pour the chicken broth into the skillet and reduce heat to medium. Let the broth reduce, stirring occasionally, for 8-9 minutes or until a thick "sauce" coats the gnocchi.

Add the marinara sauce and cooked chicken to the skillet and stir to combine. Let heat for 1-2 minutes, then remove from heat.

Sprinkle Parmesan cheese over top of the skillet, and top with shredded mozzarella cheese.

Place skillet in the oven on a rack near the top and set oven to broil. Broil for a minute or so, or until the mozzarella cheese melts. Remove and top with basil chiffonade for serving.
Notes
Ingredient Notes
Chicken: This is a great recipe for using up leftover cooked chicken or rotisserie chicken. The amount is approximate, less can be used and still be a hearty dish.
Gnocchi: I use the kind from the dry pasta aisle. There's no need to boil or pre-cook them. They go straight from the package to the pan.
Marinara sauce: Some store-bought marinara sauces are...not so great. Make sure to use one you like! If you find the kind you have isn't that flavorful, add additional dried seasonings to taste: garlic powder, onion powder, dried oregano/parsley/basil, crushed red pepper, etc.
Tips and Tricks
Be sure your pan is oven-safe before putting it in the oven to broil. If it isn't or if you're unsure, skip that step and place a lid on the pan so the heat melts the cheeses.
Keep a close eye on this chicken Parmesan gnocchi skillet while it's under the broiler. Don't walk away as things move quickly under there.
Nutrition
Calories:
563
kcal
|
Carbohydrates:
44
g
|
Protein:
49
g
|
Fat:
21
g
|
Saturated Fat:
6.5
g
|
Cholesterol:
120
mg
|
Sodium:
1291
mg
|
Potassium:
77
mg
|
Fiber:
3
g
|
Sugar:
4
g
|
Calcium:
150
mg
|
Iron:
3.4
mg
Nutritional information is provided as an estimate. As it can vary due to many factors (brands used, quantities, etc.), we cannot guarantee its accuracy.
Food Safety and Nutrition Disclaimer