Pineapple upside down cake frozen yogurt is a creamy homemade frozen yogurt recipe that isn't too 'icy' or 'frosty' thanks to a few tips. Vanilla wafers, pineapple chunks, and maraschino cherries are swirled throughout for a fun take on a dessert classic.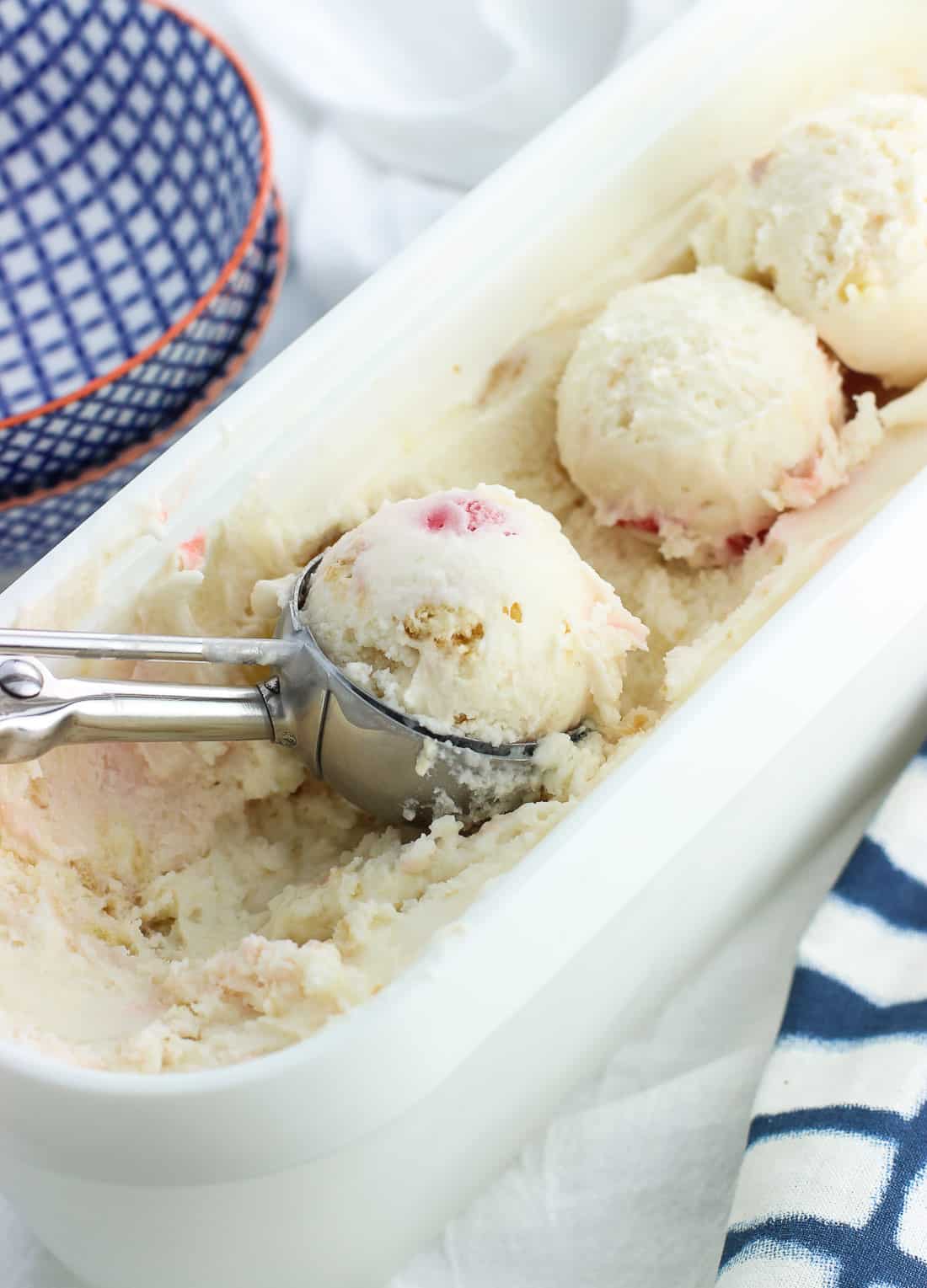 Once upon a time I lived dangerously close to an absolutely fabulous small chain ice cream shop. And I do mean dangerously close. Walking for ten seconds past my mailbox would land me smack in the middle of the waffle cone-scented breeze that would waft out each time their door would open.
Looking back I'm amazed I had any self-control whatsoever.
Now that I don't live within walking distance to a mecca of frozen goodness (sigh) I lean more heavily on making ice creams and frozen yogurts from scratch. Though with a nod to the inspiration! This pineapple upside down cake frozen yogurt is a rough recreation of a fro yo flavor I happily enjoyed at that ice cream shop.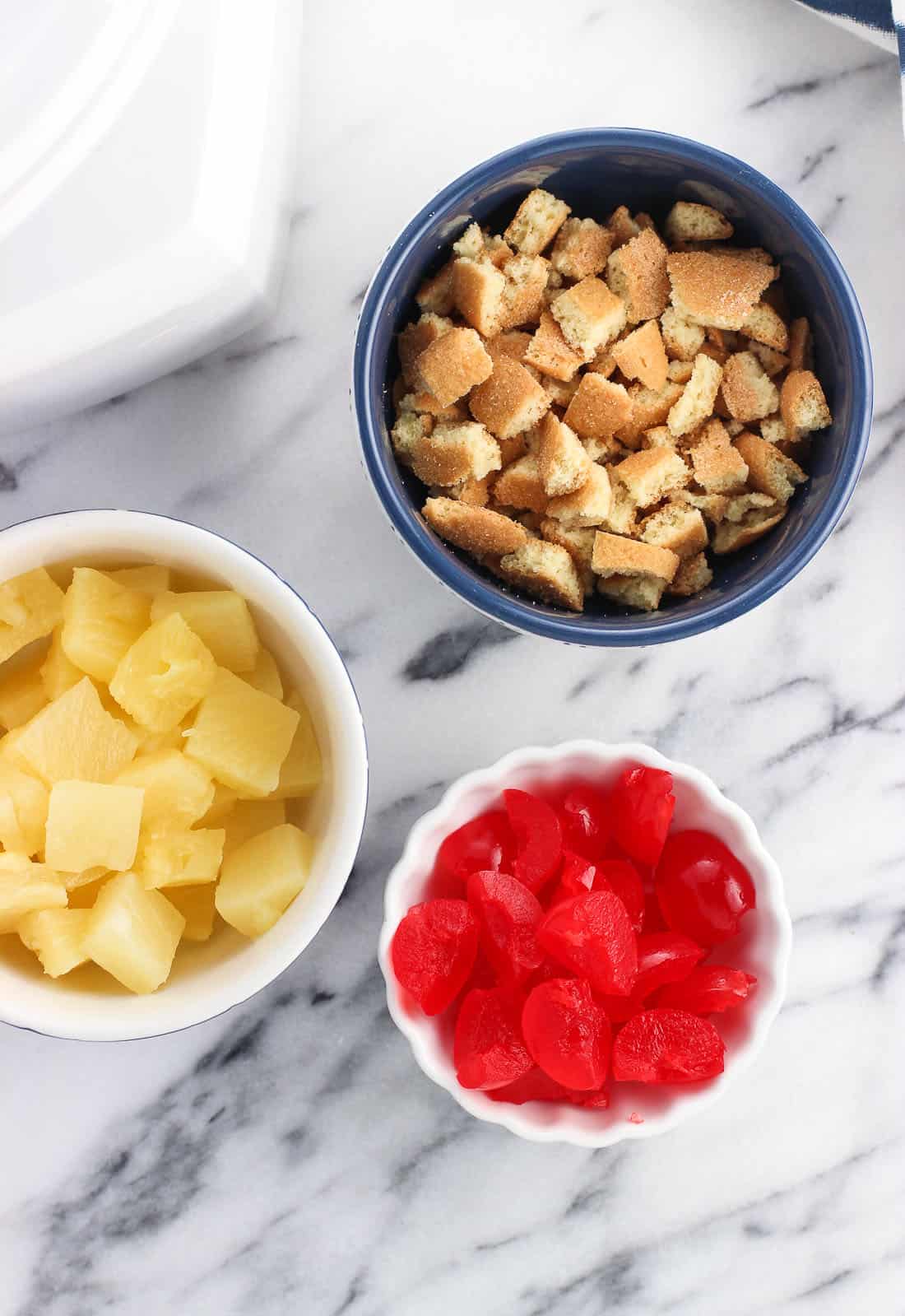 While ice cream is usually my go-to, I thought I'd give frozen yogurt a try to keep with my inspiration. Coincidentally when researching a frozen yogurt base I came across this recipe for a lemon and blueberry frozen yogurt in Food & Wine that - surprise, surprise - is from the creator of my beloved ice cream shop.
It behooved me to give it a go, right?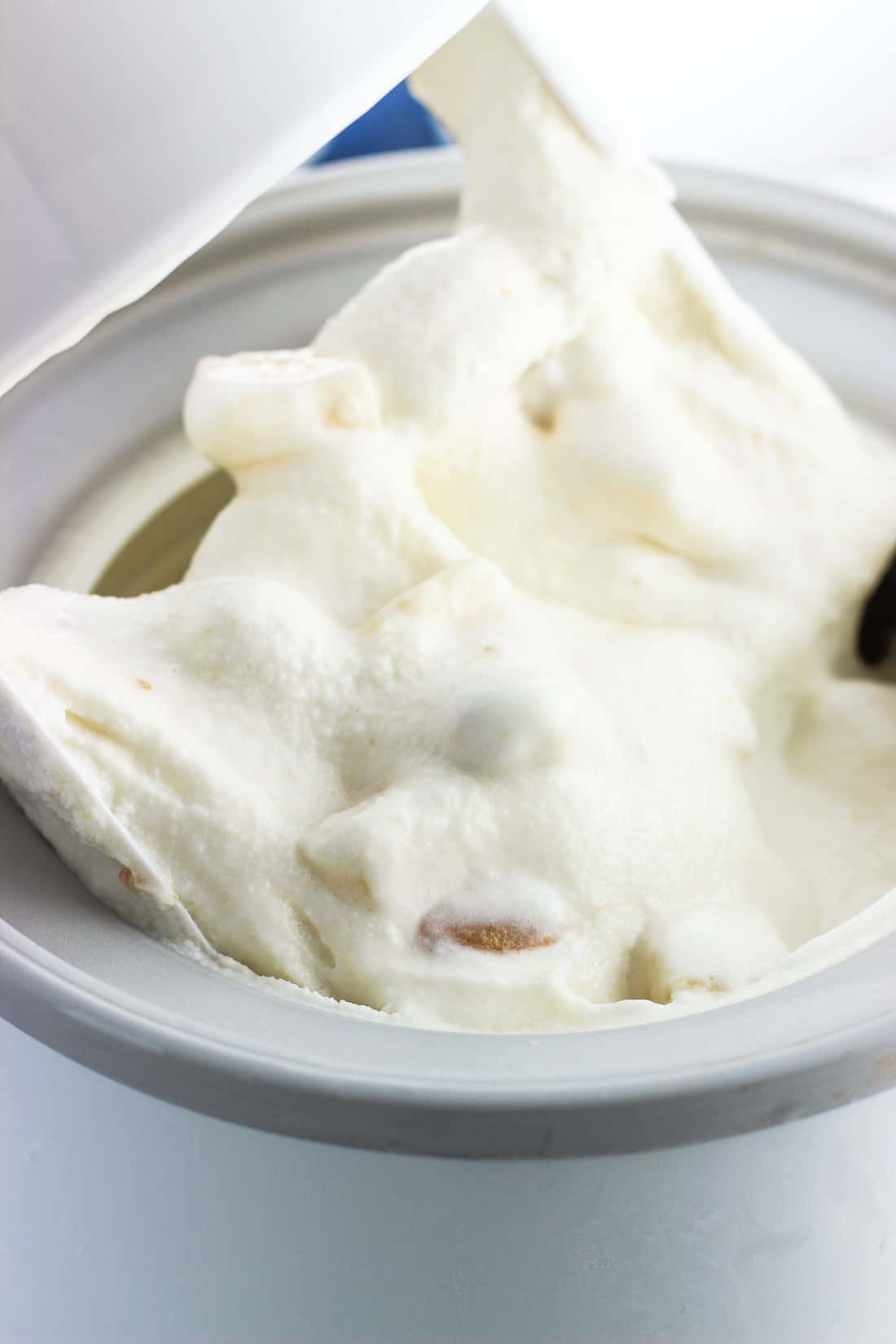 Homemade frozen yogurt can be tricky to make smooth and creamy vs. rock-hard and icy. Part of the problem comes from a lack of fat and a higher water content in some yogurts. This makes yogurt healthier when it comes to snacking, but less than ideal for creamy delicious desserts.
For this pineapple upside down cake frozen yogurt, I chose a vanilla yogurt made with whole milk. For reference, the nutritional stats on the yogurt I chose state each one cup serving contains 200 calories, with 7 grams of fat per cup.
I also made sure that there wasn't water listed on the list of ingredients, which I did notice on a few varieties. Added water = less creaminess/more iciness = no good.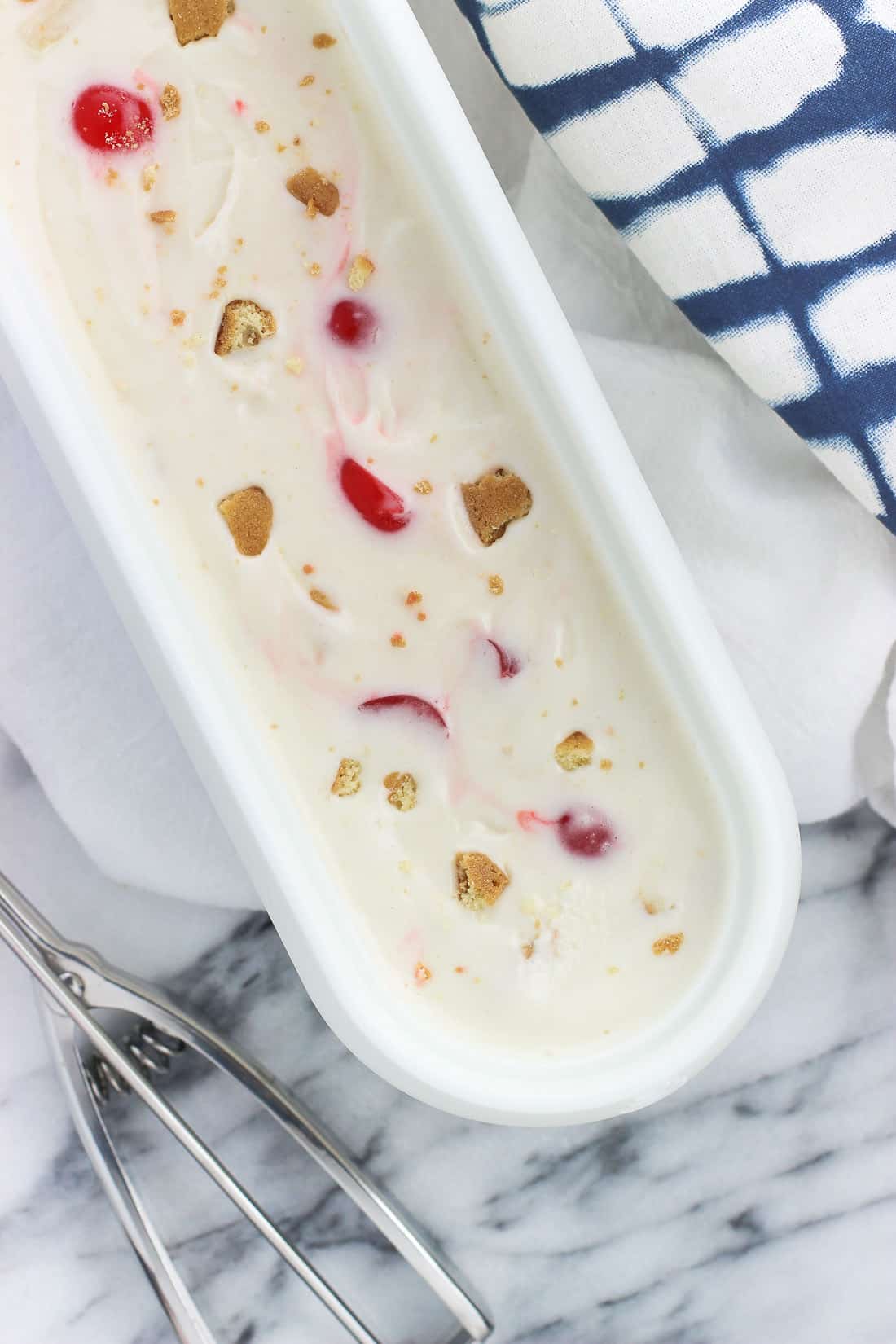 Then there's the matter of the cream. I know, I know, this pineapple upside down cake frozen yogurt isn't exactly diet food, but rather an ice cream equivalent with a satisfying tang from using yogurt. Light whipping cream mixed with the yogurt adds additional fat to help produce an ultra thick and creamy homemade frozen yogurt.
Something that was new-to-me as it pertains to homemade frozen yogurt is the unflavored powdered gelatin. I always have bunch on hand for when my chocolate Irish cream marshmallow cravings strike, but it makes sense as an important addition here as it also helps prevent ice crystals from forming. Same with the agave nectar!
Whole milk yogurt, cream, gelatin, agave nectar...it's like a little ingredient army warding off iciness to deliver you an ultra creamy and enjoyable dessert.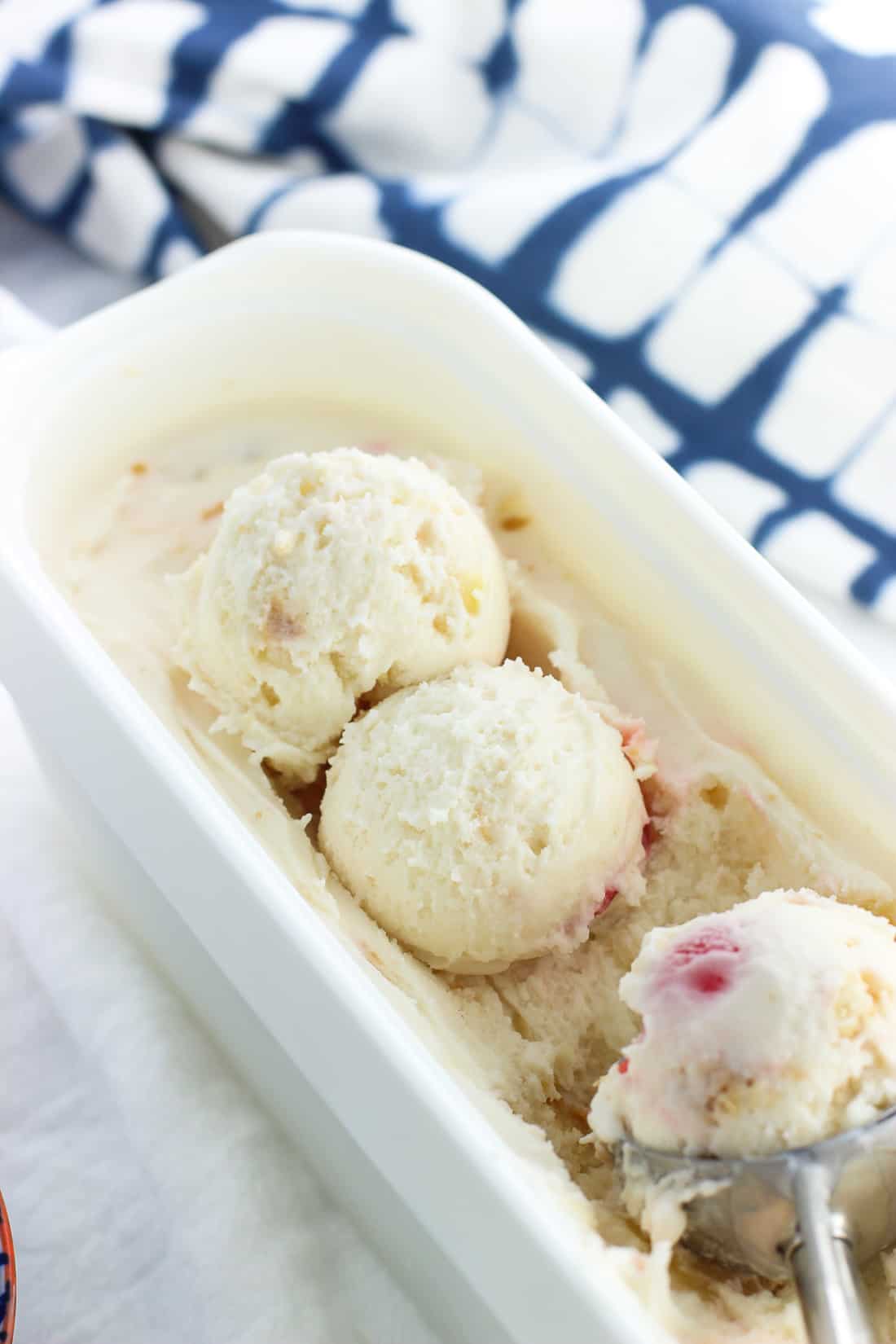 Once this pineapple upside down cake frozen yogurt gets going in your ice cream maker (this is mine <--affiliate), swirl in the vanilla wafers and pineapple chunks at the designated time to get them dispersed throughout.
You'll have a slight pineapple flavor in the yogurt base itself, with extra pineapple chunks added in. The vanilla wafers soften to provide a spongy, vanilla cake flavor, with maraschino cherries added at the end for an ubiquitous pineapple upside down cake touch. All combined with rich vanilla yogurt for a frozen dessert on par with homemade ice cream.
Recipe notes:
Look for a vanilla yogurt made with whole milk that doesn't list water as an ingredient.
Adding the maraschino cherry pieces as you're spooning the ice cream into its storage container (vs. adding to the ice cream maker with the pineapple chunks and vanilla wafers) helps minimize the bright red coloring from taking over the whole batch.
I love this

ice cream storage container

(affiliate), which you see in these photos. It's double-walled and is oblong-shaped to fit more efficiently in the freezer. Mine is the 1.5 quart size, which fits the entire batch perfectly. (My ice cream maker linked above also has a 1.5 quart capacity).
You'll have about one-half cup of pineapple chunks leftover. Just the right amount to make a

pineapple matcha vanilla smoothie

. 😉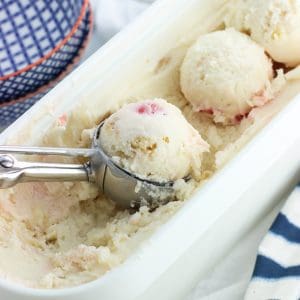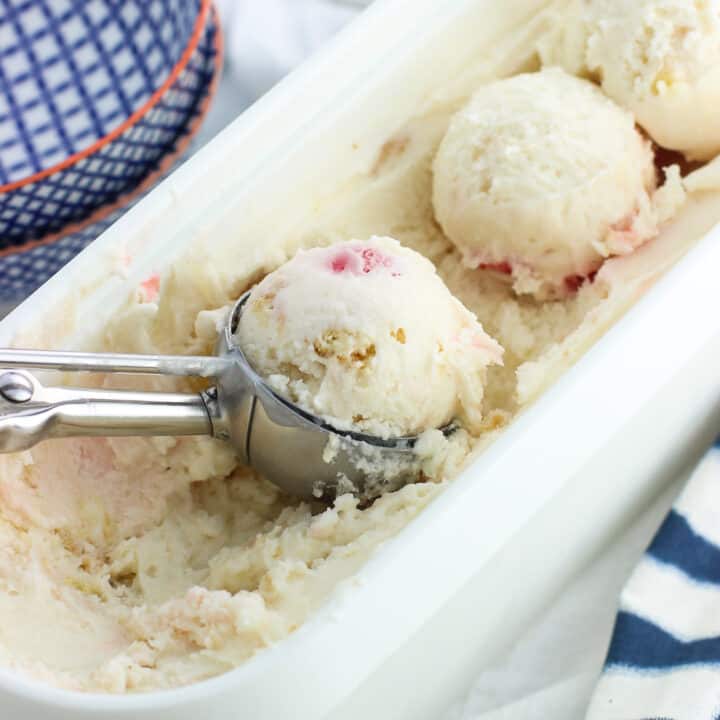 Pineapple Upside Down Cake Frozen Yogurt
Pineapple upside down cake frozen yogurt is a creamy homemade frozen yogurt recipe that isn't too 'frosty' thanks to a few tips. Vanilla wafers, pineapple chunks, and maraschino cherries are swirled throughout for a fun take on a dessert classic.
Print
Pin
Rate
Ingredients
1

24-oz

can pineapple chunks in 100% juice

(juice reserved)

1

cup

pineapple juice, divided,

reserved from can [see note]

.25 oz

packet

unflavored gelatin

½

cup

granulated sugar

2

tablespoon

agave nectar

2

cups

whole milk vanilla yogurt

½

cup

light whipping cream

10

vanilla wafer cookies,

roughly chopped

6

maraschino cherries,

drained and chopped
Instructions
Drain pineapple juice from the pineapple chunks. You should have about 1 cup of juice. Set pineapple chunks aside. Add 2 tablespoon of the juice to a small bowl and pour gelatin over top.

In a small saucepan set over medium heat, add 6 tablespoon pineapple juice (reserving the remaining ½ cup), granulated sugar, and the agave nectar. Whisk to combine ingredients and let it come to a simmer. Once simmering, let cook for a minute or so, or until the granulated sugar has dissolved. Remove from heat.

Add pineapple juice/gelatin mixture to the saucepan and whisk to combine until dissolved.

In a separate mixing bowl, add yogurt, remaining ½ cup pineapple juice, and cream. While whisking, slowly pour in pineapple juice/sugar mixture until evenly combined.

Pour frozen yogurt mixture into a large sealable plastic bag. Place it in the middle of a large bowl filled with ice water. Let frozen yogurt chill for 20 minutes before proceeding.

Once chilled, pour frozen yogurt into your ice cream maker and prepare according to the instructions. Near the end of the process, add chopped pineapple chunks and vanilla wafer pieces and let them mix throughout.

The frozen yogurt will be of a soft-serve consistency at this point. Spoon it into a freezer-safe container, layering maraschino cherry pieces throughout. Freeze for a few hours before serving for a firmer scoop.
Notes
All of the pineapple juice you need for this recipe can be found in the can of pineapple chunks. Be sure to use pineapple chunks in 100% juice and not the ones packed in heavy syrup!
Total recipe time includes 20 minutes for the ice bath.
Nutrition
Calories:
158
kcal
|
Carbohydrates:
27
g
|
Protein:
3
g
|
Fat:
4
g
|
Saturated Fat:
2.3
g
|
Cholesterol:
15
mg
|
Sodium:
43
mg
|
Potassium:
56
mg
|
Fiber:
0.3
g
|
Sugar:
25
g
|
Calcium:
60
mg
|
Iron:
0.2
mg
Nutritional information is provided as an estimate. As it can vary due to many factors (brands used, quantities, etc.), we cannot guarantee its accuracy.
Food Safety and Nutrition Disclaimer
Frozen yogurt base adapted from Food & Wine.
This recipe and these photographers were given a spruce up in March 2018.
This post contains affiliate links.