YES.
Is there anything better than a creamy, cool-me-down treat in the summer? Maybe the feeling of stepping into a room with frosty A/C after being outside in the heat and humidity for awhile, but I'm talking food-related. This frozen yogurt has been on my mind for awhile. Too long, really. Wouldn't you know it that the minute I packed up my ice cream maker for the big move I was hit by a super craving for homemade frozen yogurt? Homemade pineapple upside down cake frozen yogurt. It's funny how things happen that way. So I put my craving on the shelf as we meandered across the country and settled into our new place. And with the simultaneous chaos/rat race/exhaustion that sets in with a major move, I kind of forgot about it.
Which is strange, because I'm not one to forget about dessert. Ever. Ever ever.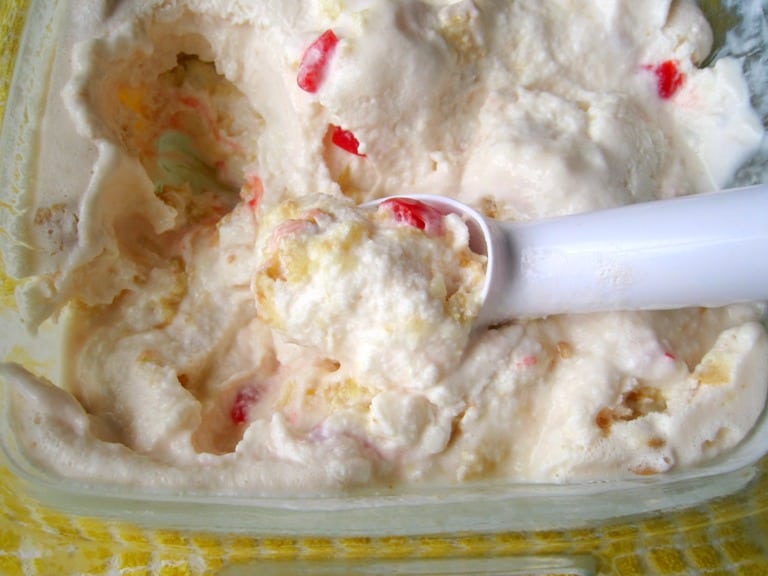 Fast forward to our first week here in Nashville, where B and I were not-so-patiently waiting for our belongings to arrive. After a day of scrambling to fit in errand after errand, we decided that ice cream needed to be in our immediate future. Luckily (or not-so-luckily – my pants size hasn't decided yet) we live near a fab ice cream shop. Good apartment picking on our end, huh? So we walked in, I glanced at the menu, and BAM! Pineapple upside down cake frozen yogurt is ON the menu. It exists! And it's delicious!
But expensive. Cringe. I didn't exactly pencil in recurring gourmet ice cream stops into my summer budget. The occasional treat is great, but this acted as serious fuel to my fro yo fire. Which I gladly put to the test after I unearthed my ice cream maker from serious layers of bubble wrap. (But not before I popped a few bubbles…total guilty pleasure).
This frozen yogurt tastes like a cool, frosty pineapple upside down cake. That's not a very creative description but it hits the nail on the head.  All of the flavor profiles are there, from the sponge-y vanilla cake to the juicy pineapple pieces to the sweet maraschino cherries. Because it's already hot enough in the summer and I didn't want to turn the oven on for a frozen dessert, I used vanilla wafers for the "cake" part. As they mix with the yogurt, they soften and really taste like cake pieces. Quick and oven-free "cake" – yesssss.
The recipe as written below calls for an ice cream maker. I used one because I have one, but I've seen a bunch of how-to's for making frozen yogurt without (though I haven't tested any out). Experiment as you see fit! Now's also a good time to talk about the sweetener. I used 3 tbsp of truvia, which is the equivalent of 1/2 cup granulated sugar (approx.). I welcome experimentation in this area, too – truvia, sugar, stevia, etc. Just take note that truvia has a more concentrated sweetness than sugar, so if you're converting between the two you may need to dig out a pen and paper and do a good 'ol "plug the variable" ratio equation.
Math…ugh. But this frozen yogurt is worth it!
Pineapple Upside Down Cake Frozen Yogurt
Yield:
2 quarts of frozen yogurt
Ingredients
4 cups full-fat yogurt, plain or vanilla
1 cup 1% milk
1/2 cup pineapple juice*
3/4 tsp vanilla extract
1/4 tsp almond extract
3 tbsp truvia (or equivalent sweetener of your choice)
pinch of salt
18 vanilla wafer cookies, roughly chopped
15 maraschino cherries, drained and chopped
1 cup pineapple chunks, drained and roughly chopped
Instructions
In a large bowl, stir together yogurt, milk, pineapple juice, vanilla extract, almond extract, truvia (or other sweetener), and salt until combined. Pour mixture into ice cream maker.
Once yogurt mixture is just about finished in the ice cream maker (about 12-15 minutes in), add vanilla wafer pieces, maraschino cherries, and pineapple chunks. Let ice cream maker continue to run as these ingredients are evenly mixed throughout.
Once pieces are evenly mixed and yogurt mixture is frozen and creamy, transfer frozen yogurt to a separate container. Frozen yogurt will be very soft and creamy at this point. Freeze for a few hours to achieve a more solid consistency.
Notes
*I reserved the pineapple juice from the can of pineapple chunks for the 1/2 cup juice.

Frozen yogurt will be very hard once removing from the freezer after it's been frozen for awhile. For easier scooping, I suggest removing the container from the freezer to sit at room temperature about 20 minutes before you'd like to dig in!