It's so easy to have perfectly ripened bananas on hand for baking, smoothies, and more! Prep bananas several different ways to freeze them for use in future recipes with these simple steps.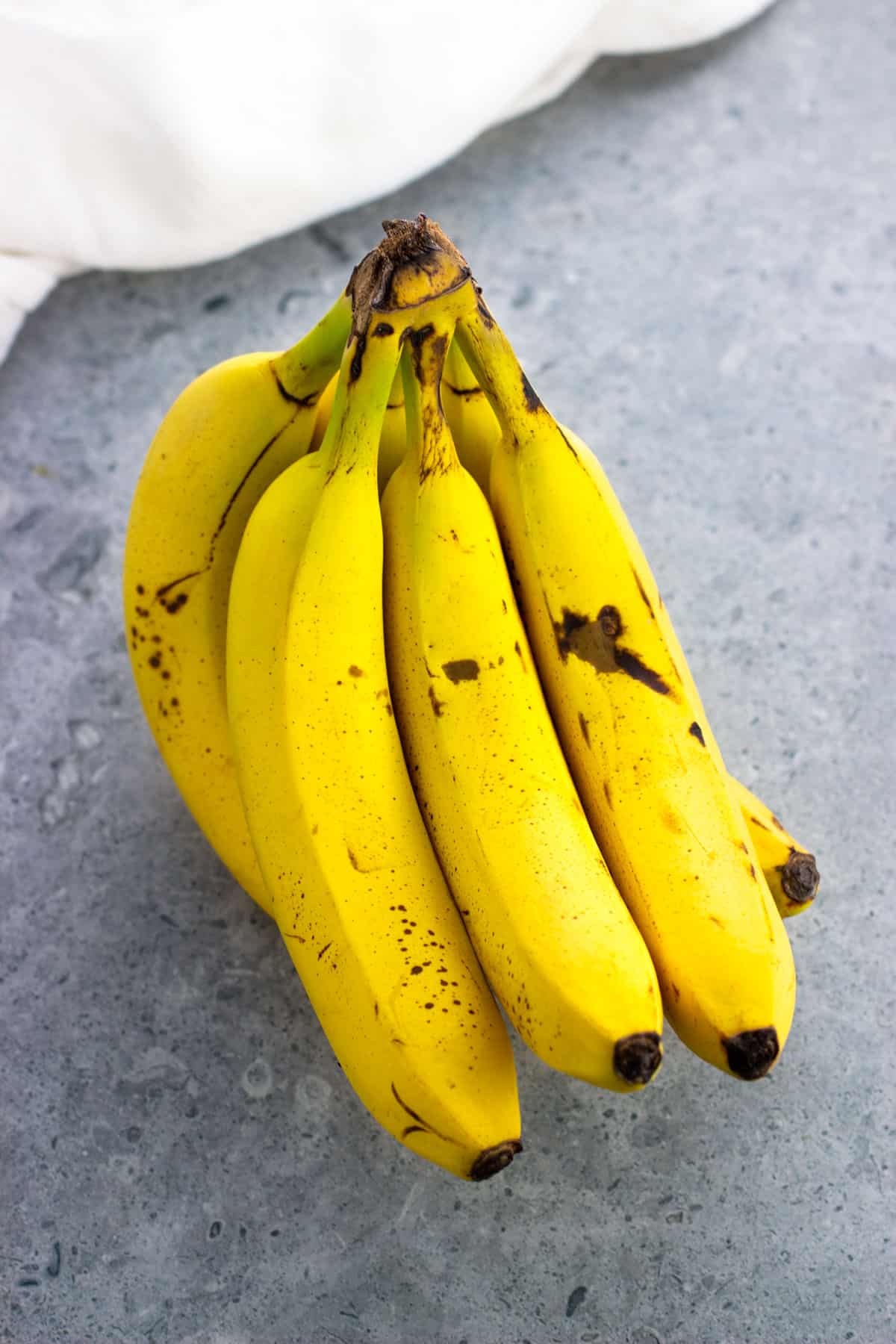 Having bananas in the freezer is one of my kitchen "musts". Really inexpensive and versatile, they're a staple in healthy baking recipes and an integral part of my near-daily filling green smoothie.
So buy a bunch (or two!), let them get nice and spotty on your kitchen counter, and read on to see how to freeze bananas several ways depending on how you want to use them.
The Basics
A banana won't continue to ripen once frozen, so make sure it's at the level of ripeness you prefer when it goes in.
You won't be able to peel a frozen banana.
It's normal for the peel to turn black if frozen. This doesn't impact the banana underneath.
Think about how you use bananas in cooking to determine which method of freezing bananas you prefer.
Reduce air exposure to prevent browning. Zip-top freezer bags with as much air pressed out as possible or reusable silicone bags (I really like the ones from Stasher as they have a solid seal) are good options.
Method #1: Freezing Banana Halves
In my opinion this is the best way to freeze bananas. Wait until the bananas have ripened to your preferred level of spotting, then cut each in half. Discard the peel and freeze the halves next to one another in an air-tight bag.
With this method:
You don't have to freeze the halves on a sheet pan first. They separate pretty easily at their touch points once frozen.
It's easy to portion out one banana or however many a recipe calls for when they're in halves as compared to slices.
They're already peeled, so you don't have to thaw before using.
Method #2: Freezing Pureed Bananas
If you primarily use bananas in baking recipes you may wish to front load the work and puree ripened bananas and add to an ice cube tray to freeze. This way you can simply thaw and add directly to a recipe.
Some caveats of this method are:
You'll need the right container. The large silicone ice cube tray pictured below has 3-ounce compartments.
It can be hard to measure out portions: how much is one banana?
Larger, solid blocks can be harder to blend in smoothies.
Other Methods
The above two methods cover the bases for all the ways I use bananas, so they're the only two ways I freeze them. The following two ways also work, but have more drawbacks.
Freezing Banana Slices
This works just fine, however you'll need to place the banana rounds in a single layer on a sheet pan to freeze them individually before adding them to an air-tight bag. Otherwise they'll freeze together and be hard to separate. I rarely have freezer room for that. It's also hard to eyeball how many rounds make up one banana if needed for a recipe.
Freezing Whole Bananas
You can freeze a whole banana in the peel, though you won't be able to peel the frozen banana so you will need to wait for it to thaw. It will also release a ton of moisture while thawing, so make sure to place it in a bowl so it doesn't make a mess in your fridge.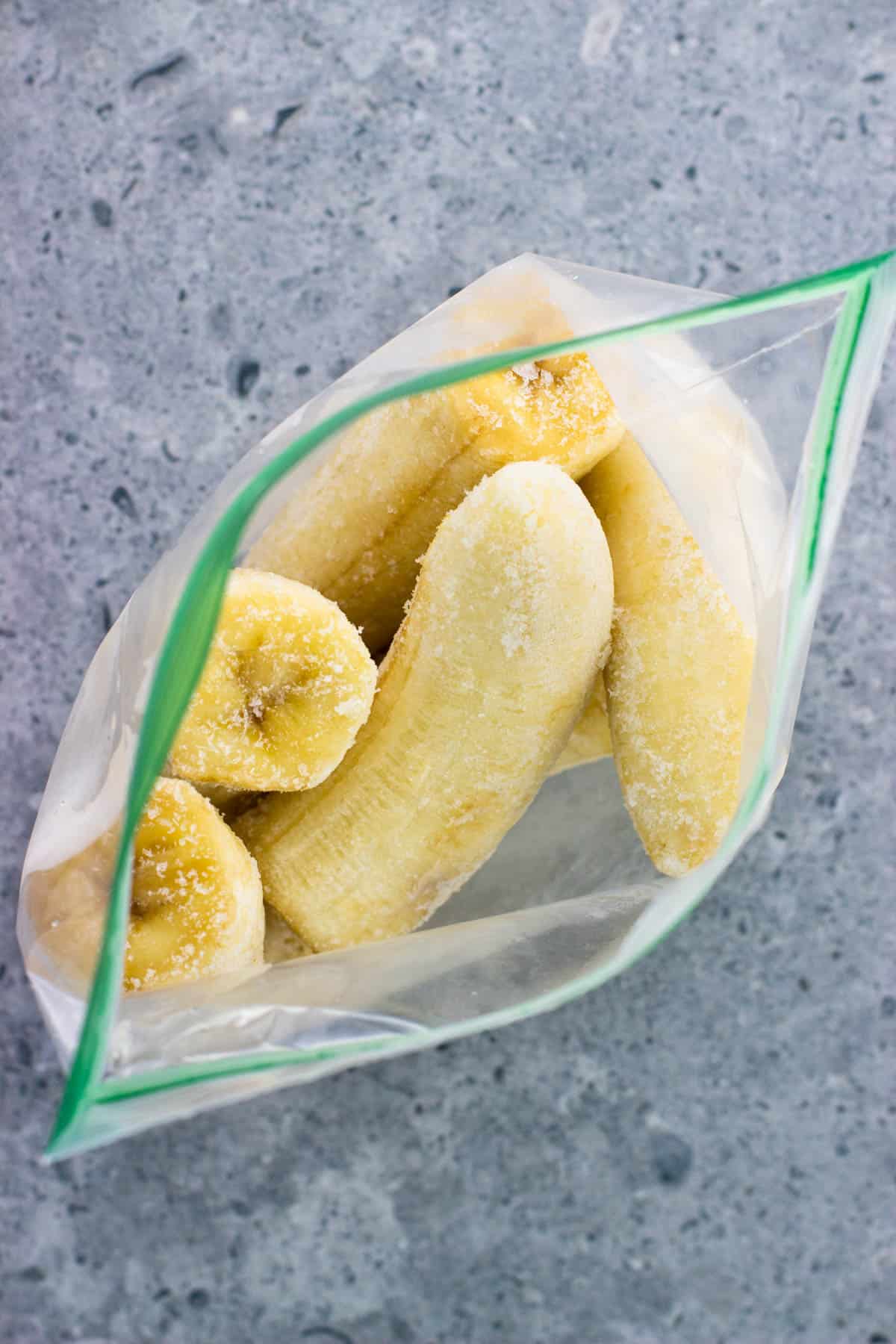 Recipes to Use Frozen Bananas
If thawing frozen bananas to use in baking recipes, you'll notice a fair amount of watery liquid being released. Depending on the recipe you may want to discard the excess moisture as to not make a batter too liquid-y.
Here are some ways to use up frozen bananas:
More Kitchen How-Tos
How to Freeze Bananas
It's so easy to have perfectly ripened bananas on hand for baking, smoothies, and more! Prep bananas several different ways to freeze them for use in future recipes with these simple steps.
Print
Pin
Rate
Instructions
Easy Method:
Peel bananas and slice each one in half. Place each banana half vertically in a air-tight sealable bag (some can then fit on top of them horizontally), press the air out of the bag, and then freeze.
Sliced Method:
Slice each ripe banana into rounds roughly ½-inch thick. Place them in a single layer on a parchment-lined sheet pan and then place the pan in the freezer until frozen completely. At this point you can transfer the frozen banana slices to an air-tight bag and store in the freezer that way.
Pureed Method:
Mash up ripe bananas using a fork or a hand mixer. Transfer the pureed banana into ice cube trays or other freezer-safe container and cover with plastic wrap. Freeze until solid.
Notes
Bananas don't continue to ripen once frozen, so make sure they go in at the level you need.
You can freeze a banana whole but you won't be able to peel it until it thaws. The peel will also turn black, but this doesn't impact the actual banana.
Reduce air exposure once frozen to minimize/prevent browning. A zip-top freezer bag or reusable silicone bag with as much air pressed out as possible are good options to use for freezing.
Frozen bananas are good to use for several months, after which time they're likely still fine but may begin to develop a bit of freezer burn.
Nutritional information is provided as an estimate. As it can vary due to many factors (brands used, quantities, etc.), we cannot guarantee its accuracy.
Food Safety and Nutrition Disclaimer