These moist maple walnut muffins are richly flavored with walnut oil, maple extract, cinnamon, and chopped walnuts. A sauteed banana, brown sugar, and walnut mixture is baked on top to add a delectable, slightly-sweet note.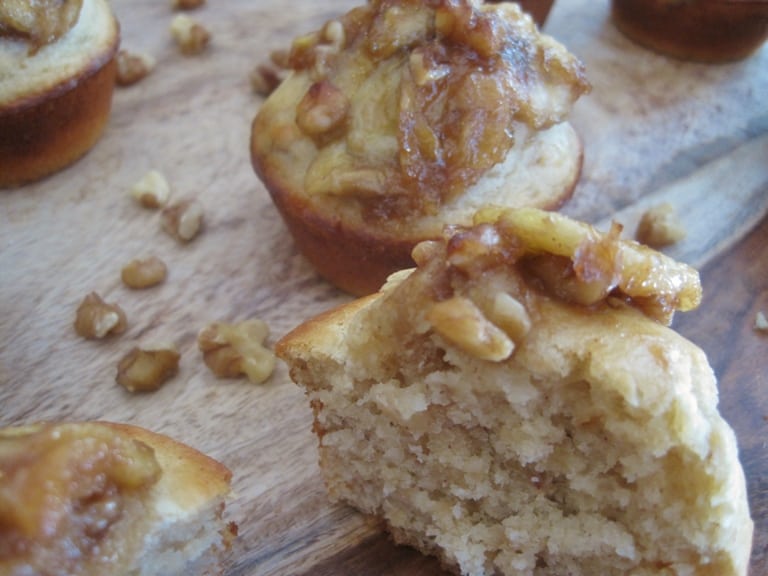 So…today's Thursday. That means yesterday was Wednesday, huh? Guys, I came up short on that Life on Wednesdays post this week. In all honesty though, being an accountant in Q1 of the year really does not lend itself to hip, happenin' extracurriculars, so I'm thinking instead of a consistent weekly post, I'll sprinkle them in when the feeling hits. Trust me, you don't want to hear about the fourth take-out salad in a row I've eaten for lunch. It's for the better.
Though yesterday I did take the plunge and get those subtle ombré highlights I've been thinking about on-and-off for a year now. Big moves around here!
I also made big moves in organizing my baking supplies and ingredients this weekend, which probably gave me more self-satisfaction than it should've. It's not like I've amassed a ton of stuff in the few months since starting this blog, but with a few cupcake liners here, a couple of plates there, and an errant sweet potato hiding in a loaf pan (whoops!) among other things, it started to get a little out of hand. In corralling all the cute little extracts (that I realized I've started to collect), I saw the maple extract left over from autumn and was hit with the craving for maple something. I had just so happened to take a pantry inventory too, so I knew there was a big ol' bag of walnuts with my name on them just begging to be used in a batch of muffins. How could I say no?
Maple walnut is one of those flavor combinations that is just perfect for breakfast dishes. Maple walnut waffles, maple walnut pancakes, maple walnut scones, maple walnut ice cream…I mean, am I wrong?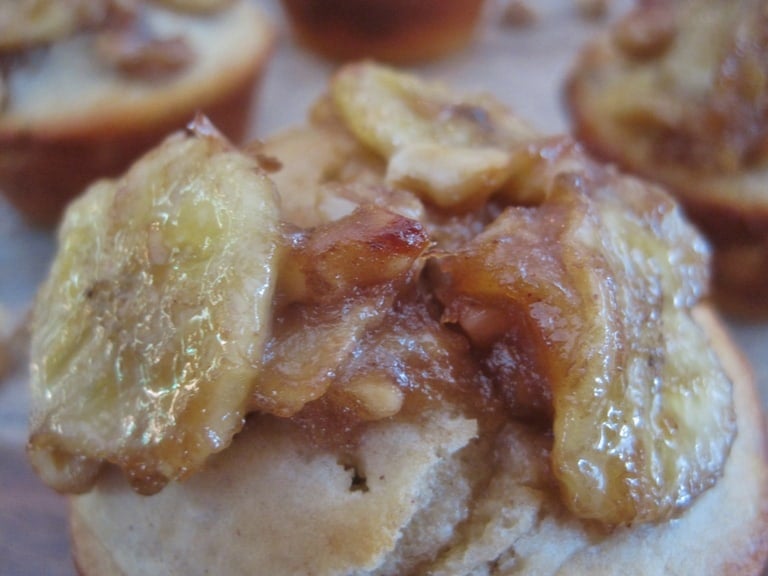 Plus, with a ripe banana or two verging on wearing out their welcome, this sauteed banana topping will fill your kitchen with the scent of warming brown sugar, cinnamon, and walnut oil. If your nose has never had the pleasure of experiencing that, it really ought to. Like cupcakes have frosting, these muffins have a "breakfast frosting", if you will, consisting of ooey gooey sauteed bananas and walnuts. Mmmm.
The recipe below makes enough topping for twelve regular-sized muffins, so feel free to increase it if you'd like to share the sauteed-banana-walnut love with the eight mini muffins the muffin batter also makes (or if you foresee yourself taking a spoon directly to the mixture – I won't judge). Likewise, instead of making eight mini muffins with the excess batter, you can make a few extra regular-sized ones if you'd prefer, or some muffin tops if you have a pan, etc. Totally up to you. Regardless of the shape or size, starting your morning off with these bad boys will be a very good thing.
Maple Walnut Muffins with Sauteed Banana Topping
These moist, cinnamon-spiced muffins are richly flavored with walnut oil, maple extract, and chopped walnuts. A sauteed banana, brown sugar, and walnut mixture is baked on top to add a delectable, slightly-sweet note.
Print
Pin
Rate
Servings:
12
regular muffins and 8 mini muffins
Ingredients
For the Topping:
1 1/2

bananas

sliced thin

2

tbsp

brown sugar

2

tsp

walnut oil

1/8

tsp

ground cinnamon

2

tbsp

chopped walnuts
For the Muffins:
3

tbsp

butter

softened

1/4

cup

granulated sugar

1/4

cup

brown sugar

3

tbsp

walnut oil

1/2

cup

low-fat buttermilk

2

eggs

1/2

tsp

vanilla extract

1 1/2

tsp

maple extract

1/2

cup

vanilla yogurt

I used Greek

2

cups

all-purpose flour

2

tsp

baking powder

1/2

tsp

baking soda

2

tbsp

cornstarch

pinch

of salt

1/4

tsp

ground cinnamon

3/4

cup

chopped walnuts
Instructions
Grease a saucepan and set over low heat. Add thin slices of bananas, 2 tbsp brown sugar, 2 tsp walnut oil, and 1/8 tsp ground cinnamon. Stir all together and saute for approximately 5-7 minutes, or until brown sugar coats bananas thoroughly and bananas become soft. Remove saucepan from heat and stir in 2 tbsp chopped walnuts. Set aside while you prepare the muffin batter.

Preheat oven to 400°F. Grease muffin pan(s) and set aside.

In a large bowl, cream together 3 tbsp butter, 1/4 cup granulated sugar, and 1/4 cup brown sugar. Add 2 tbsp walnut oil, buttermilk, eggs, vanilla extract, maple extract, and yogurt. Mix to combine.

In a medium bowl, whisk together flour, baking powder, baking soda, cornstarch, salt, and cinnamon. In 2-3 intervals, pour dry ingredients into wet and mix after each addition until just combined. Stir in 3/4 cup chopped walnuts.

Spoon out batter into greased muffin pan(s), taking care not to fill wells up to the very top. Bake for approximately 10 minutes, then remove from oven. To the top of each muffin, spoon a portion of the sauteed banana mixture. Return muffin pan(s) to oven to bake for an additional 6-8 minutes, or until a toothpick inserted into the tallest muffin comes out clean.

Let muffins cool for a few minutes in the pan(s), then transfer to a wire rack to cool completely.
Nutritional information is provided as an estimate. As it can vary due to many factors (brands used, quantities, etc.), we cannot guarantee its accuracy.