Mango peach white sangria is a fruity, refreshing, and just-sweet-enough spin on a classic cocktail. Perfect for spring or summertime entertaining!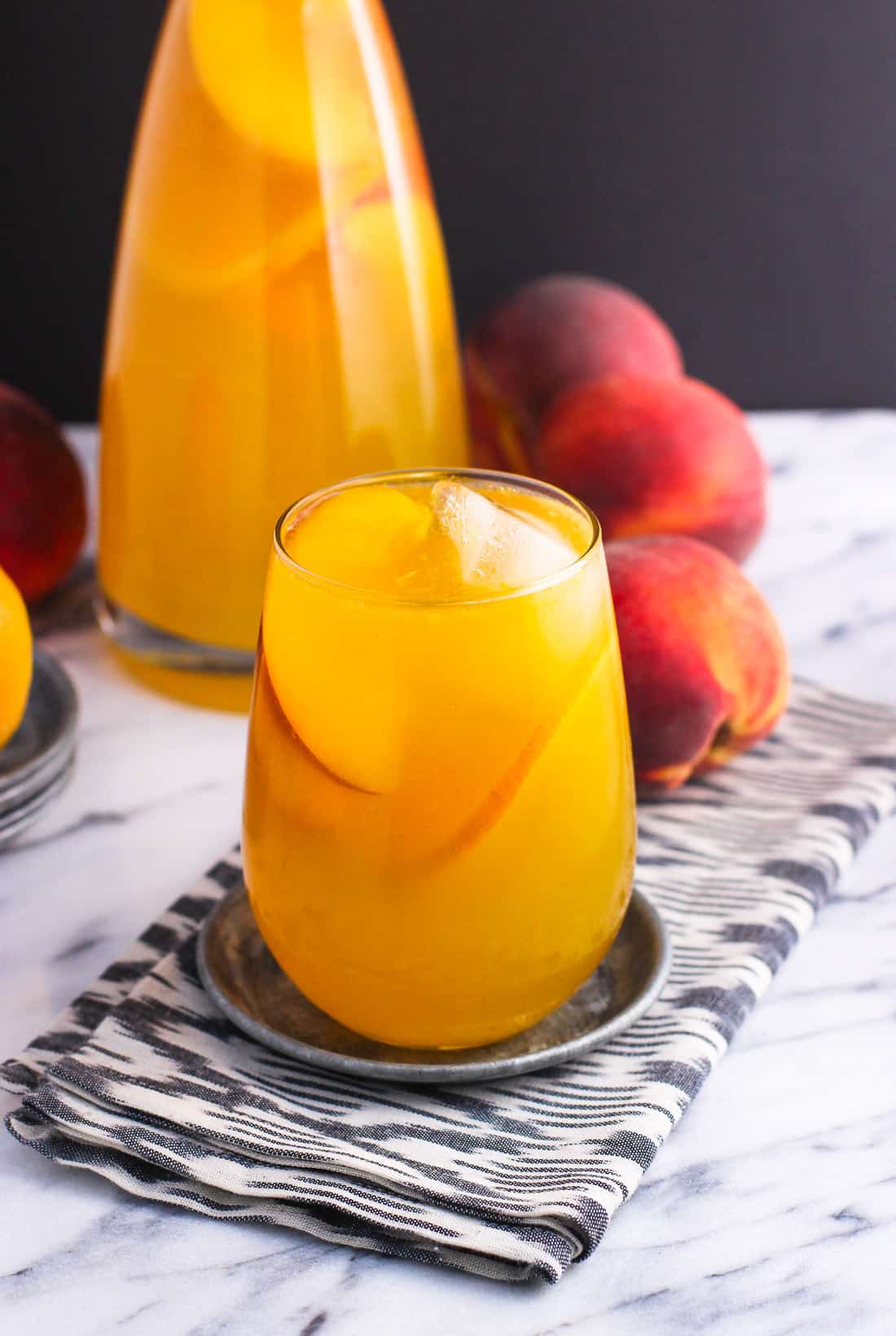 From Taco Tuesday to Thirsty Thursday, I'm on it this week. If only with the blog…there was a day I wore two different earrings to work and forgot my packed lunch at home two days in a row. Moving on…
If I had to choose, my signature summertime cocktail would be a margarita. Delicious for pairing with tacos, revamping with healthier ingredients, and even combining with beer. However in anticipation of hosting friends + fam in our brand spankin' new backyard, it's always good to branch out if maybe just maybe someone doesn't like tequila, or is looking for something lower in alcohol. Ding-ding-ding – sangria! Specifically, this mango peach white sangria.
The base here is a white wine that's on the drier side – something like a Sauvignon Blanc (which I used here) or a Pinot Grigio. The sweetness in this sangria comes from the other ingredients like peach + mango nectars and fresh fruit, so a dry white wine works fine. And you can stick with a no-frills, less expensive variety, too. That works for me when serving up drinks to a crowd!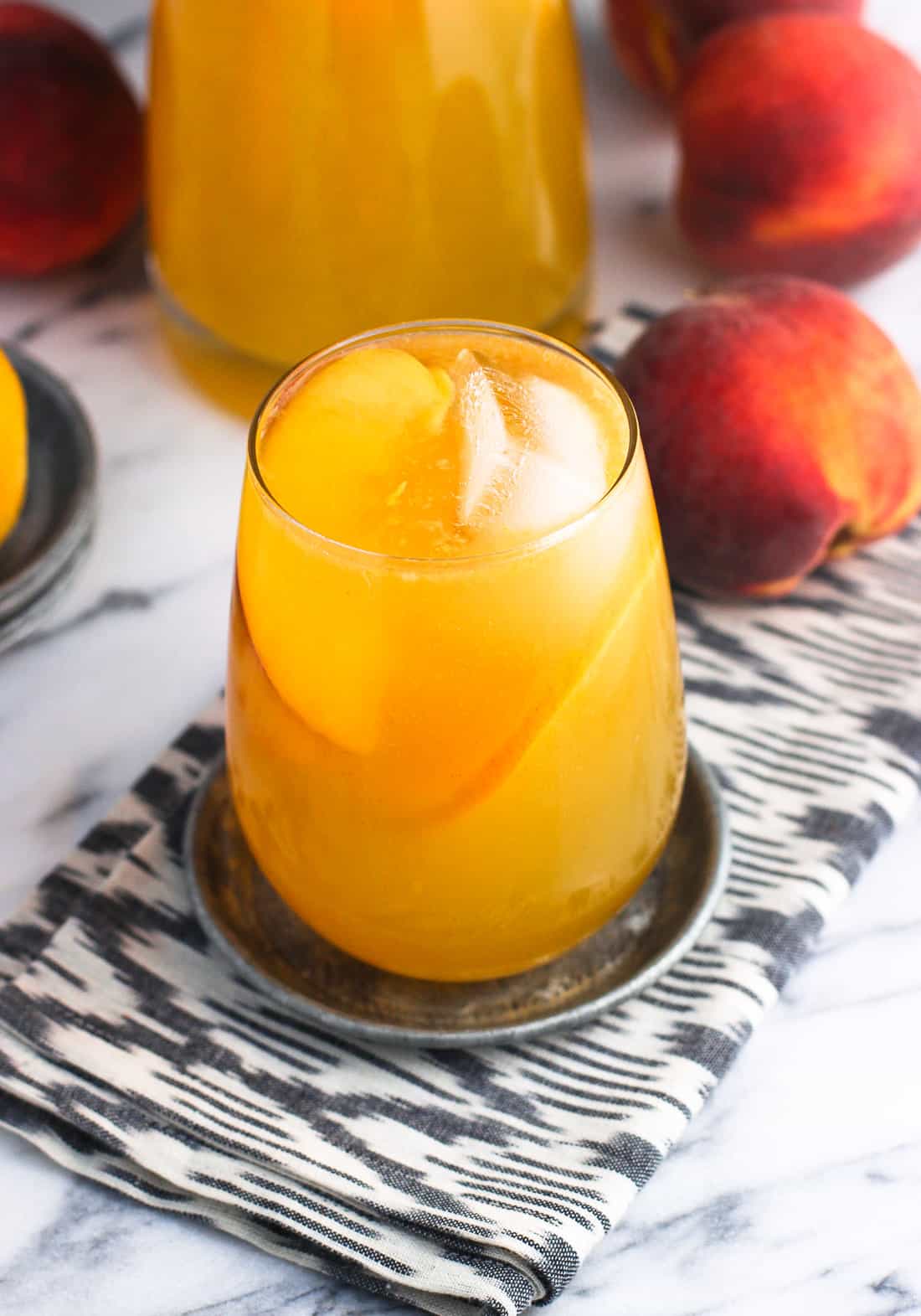 The mango and peach nectars here are easy ways to flavor this sangria – just crack a can! I found each of these nectars in the international foods aisle of the grocery store for just over $1 each. I added more of the mango nectar than the peach because I didn't use fresh mango slices here, but you can use as much or as little of these nectars as you like. Sangria recipes also have a citrus element to them, so I sliced an orange in half and added the juice of one side while cutting the other half into slices and adding to the batch. You can add as much (or as little) fresh fruit as you like.
I'm already thinking that buying one of those BIG 1.5L bottles of wine and doubling the rest of the ingredients would sufficiently take care of our cocktail needs for a warm weather housewarming party. But that means we'd have to finish the never-ending painting and unpack more than a few pesky cardboard boxes. And buy a few chairs…

Mango Peach White Sangria
Ingredients
1 750 ml bottle of white wine on the drier side (I used Sauvignon Blanc)
1/2 cup brandy
2/3 cup mango nectar
1/3 cup peach nectar
Half an orange, juiced (about 2 tbsp)
Half an orange, cut into slices
1 peach, cut into slices
Ice, for serving
Seltzer water, for serving (optional if you like bubbles)
Instructions
Combine wine, brandy, mango nectar, peach nectar, orange juice, orange slices, and peach slices in a large pitcher. Stir. Refrigerate for at least a few hours so the flavors combine.
For serving, pour over ice and add seltzer water for some bubbles (if you like).
Notes
Feel free to play around with the quantities here of the nectars, orange juice, and fresh fruit to fit your tastes.