These shandy beergaritas are a light and fruity take on a margarita! Simple, customizable ingredients to suit your tastes (use whatever shandy you like!)
Here in Nashville, I think it's safe to say that it's solidly springtime. Birds are chirping (loudly, and early in the A.M.), baseball games are hogging up our TV (thanks Brian ♥), and I've resumed my search for that bottle of self-tanner I just know is hiding somewhere in the bathroom cabinets.
Springtime also means that Cinco de Mayo is coming up. Ariiiiba! What better way to celebrate than by whipping up these Shandy Margaritas. Easy and customizable – pick your favorite flavor of shandy!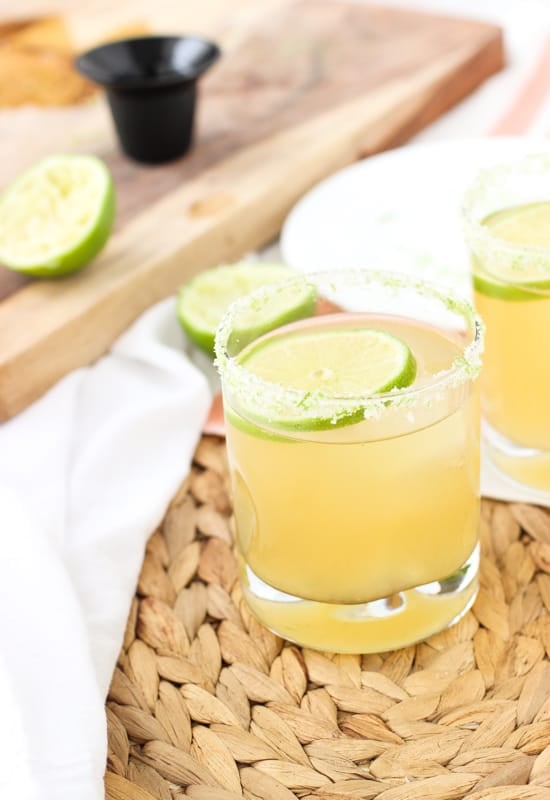 Shandies are a lovely beer and juice or soda combo that just screams warm weather. They're light, fruity, and when they're ice cold? Holy summer beer trifecta. Just let me slather on some SPF and point me in the direction of the nearest lawn chair.
These beergaritas are a fun take on margaritas, except using shandy as a base. I happened to pick up a variety pack of shandy flavors, which meant we had the option of using lemon, grapefruit, orange, or ginger shandy in our drinks. Basically we had our own shandy beergarita bar. Highly recommend!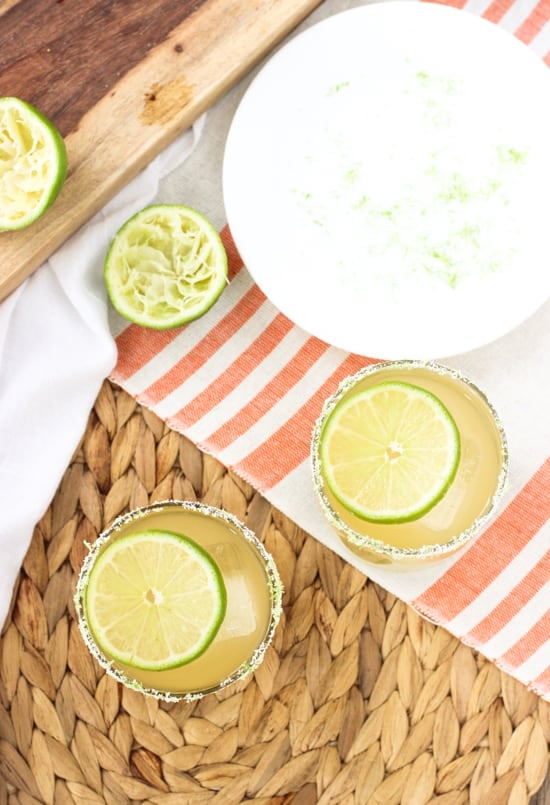 These beergaritas are pretty speedy to make, so don't worry about peeling yourself away from the baseball game for too long, or missing your turn in Cornhole. Shandy is poured over ice, with tequila, triple sec, and lime juice stirred it. That's it! I bet so-and-so is still up at bat, undoing and redoing his batting gloves over and over between pitches.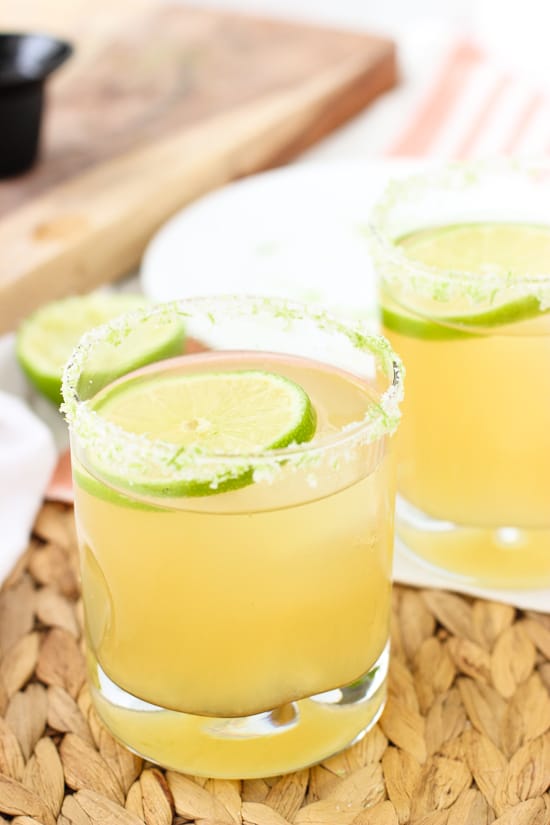 As an extra festive citrusy/salty touch, I mixed together salt and lime zest to use to rim the glasses. You can certainly omit, or use sugar even if you're jonesing for a little sweetness.
And I can't possibly share a carbonated mixed drink with you without mentioning to you this: carbonated drinks + cocktail shakers = nope nope nope. All of that carbonation pressurizes the shaker something fierce, and odds are the lid will fly off and you'll be left cleaning sticky drink contents and an inch of dust from the tops of your kitchen cabinets. So I recommend stirring, not shaking these shandy beergaritas! Doing a kitchen deep clean totally squashes that celebratory/it's spring YAY vibe.
P.S. check out this Maraschino Snakebite for another beer-centered mixed drink recipe. Also refreshing!
Shandy Beergaritas
These shandy beergaritas are a light and fruity take on a margarita! Simple, customizable ingredients to suit your tastes (use whatever shandy you like!)
Ingredients
4.5

oz

shandy beer

(your preferred flavor)

1.5

oz

silver tequila

0.5

oz

triple sec

Juice of half a lime

Ice

Salt and lime zest

for rimming glass (optional)
Instructions
If rimming the glass, mix together salt and lime zest on a small plate. Wet the outside rim of the glass with water and press moistened edge into the salt/lime zest mixture. Add ice to glass.

Over ice, pour shandy, tequila, triple sec, and lime juice. Stir to combine.
Notes
As always, modify the ratios to fit your tastes!
One can or bottle of shandy will yield approximately two drinks.
Nutrition
Serving:
1
beergarita
|
Calories:
202
kcal
|
Carbohydrates:
13.9
g
|
Protein:
0.1
g
|
Sodium:
1106
mg
|
Potassium:
26
mg
|
Fiber:
0.1
g
|
Sugar:
11.7
g
Nutritional information is provided as an estimate. As it can vary due to many factors (brands used, quantities, etc.), we cannot guarantee its accuracy.
If you like these beergaritas, you may also like:
Guacamole with Feta, Pistachios, and Pomegranate Seeds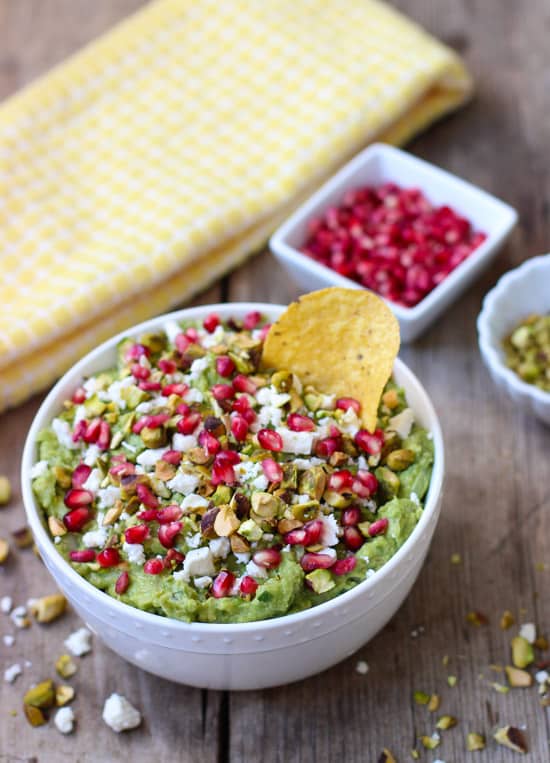 Frozen Strawberry Kiwi Moscato Cooler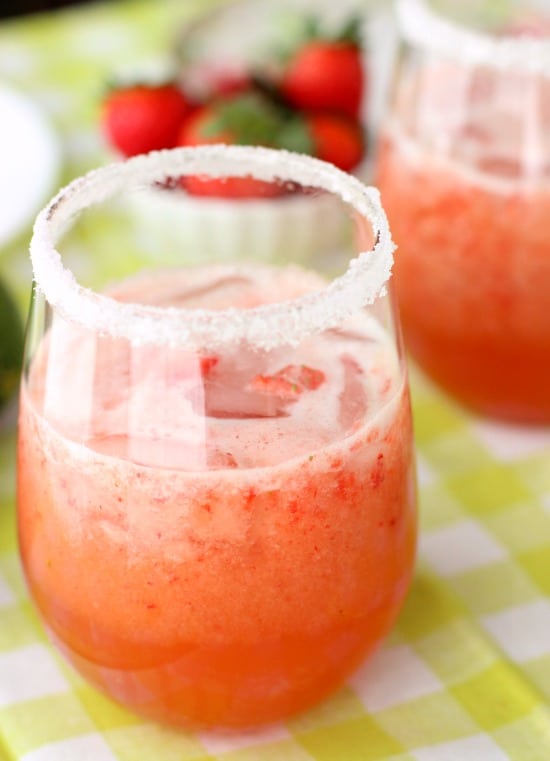 Fizzy Pineapple Ginger Cocktails with Pineapple Ice Cubes