This easy lemon chicken quinoa soup is packed with fresh spinach leaves and has a bright, bold flavor. Use rotisserie chicken for a quick shortcut!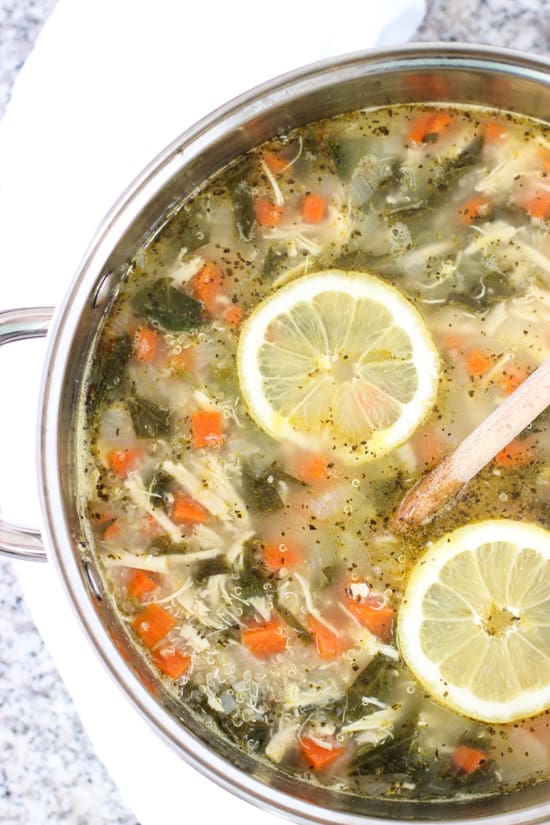 Back in January, I briefly considered choosing a 'word' for 2015. Something inspiring, a buoy in life's hecticness to help me keep my eye on the prize when it came to my goals. All eleven million of my goals, mind you. In 2015 I was going to be the most efficient blogger, super fit exerciser, powerhouse house cleaner, craftiest DIYer, best dog mama ever.
Per Tug, I've got the whole best dog mama thing down pat. Little mister wants for nothing. Belly rubs for DAYS.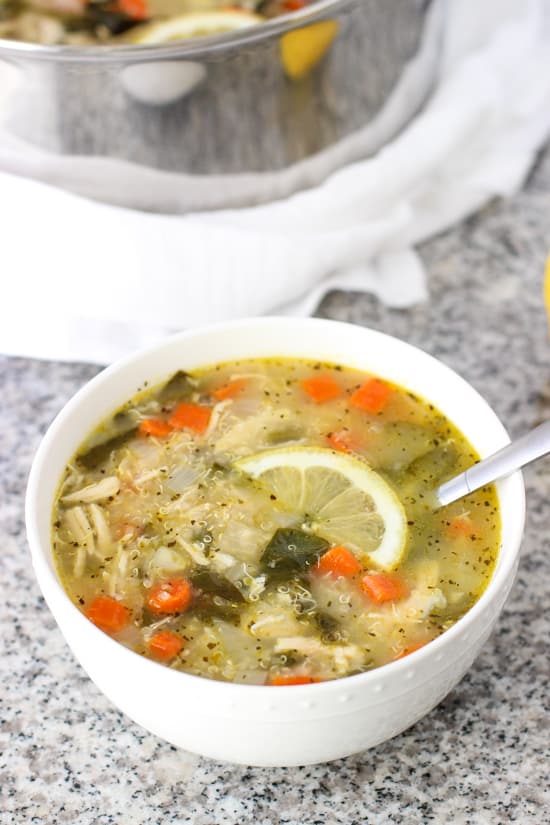 As for everything else…well you win some, you lose some.
Working crazy hours at my office job doesn't bode well for kicking ass and taking names on the exercise front, and falling into bed once I get home (and not even turning on my computer) works against any sort of blogging efficiency, don't you think? If I would have picked a 'word' for April so far, it would be "bummed".
And "tired".
So one morning recently while washing my face, three words, clear as day, popped into my head. Live each season. The season I'm in now is one that's focused on my day job, with other goals hanging on the sidelines until it'll be their season to shine – and that's perfectly okay.
That means my exercise routine at the moment consists of walking a few extra flights of stairs on my lunch break and only getting to share one post a week. Even though my goal was at least two. Whatevs.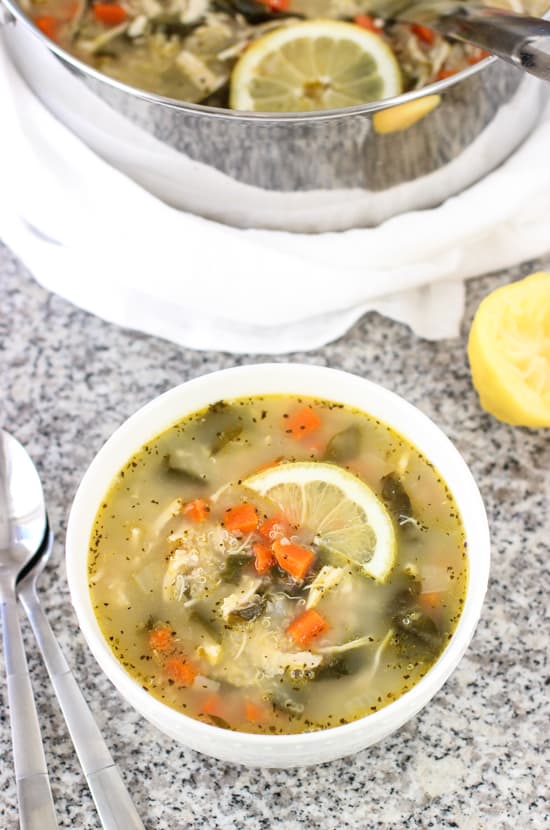 While I hope there's a season of crazy good planning and blog organization coming up, right now I'm going to LIVE the heck out of this season and post my first soup recipe just as the weather is heating up. Totally going with it.
Lemon Chicken Quinoa Soup with Spinach
If there's ever a springtime soup though, this one's it (though it's a year-round favorite). An easy chicken broth base is brightened up with fresh lemon juice and a mix of vegetables, including fresh spinach leaves.
The quinoa is added dry, cooking and fluffing up in the broth and absorbing flavor. Then there's the chicken, of which I used my ultimate favorite shortcut and used meat from a rotisserie chicken I picked up at the store. You can easily use up leftover chicken or cook up a few chicken breasts prior to adding them to the soup if you have extra time to prepare dinner.
You do whatever fits with the season you're in. 🙂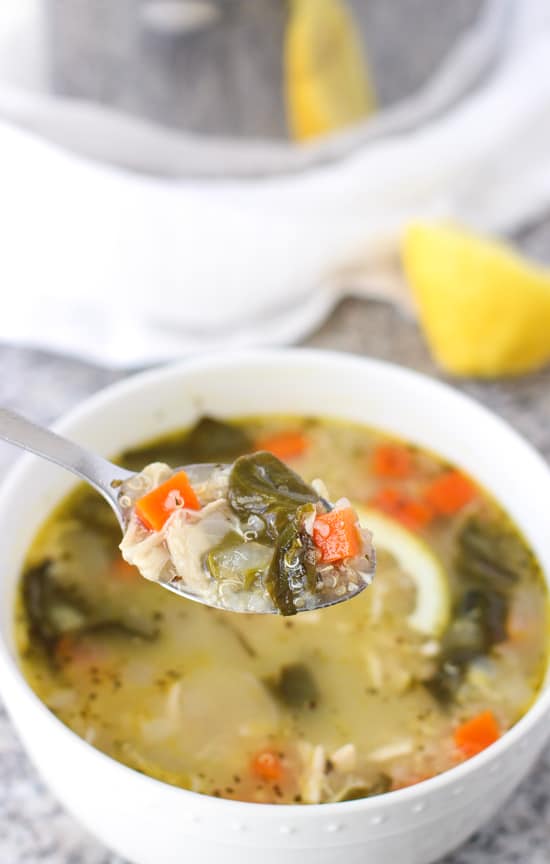 If you're digging this lemon chicken quinoa soup, check out these other nutritious and flavorful soup recipes:
Lemon Chicken Quinoa Soup with Spinach
This lemon chicken quinoa soup is packed with fresh spinach leaves and has a bright, springy flavor. Use leftover or rotisserie chicken to make this soup a seriously quick and light meal.
Ingredients
1

tbsp

olive oil

1

medium onion,

chopped

2

carrots,

peeled and chopped

1

tsp

minced garlic

1

cup

quinoa,

uncooked

4

cups

reduced-sodium chicken broth

3

cups

water,

plus 1-2 cups additional if needed

1/2

tsp

salt,

to taste

1/4

tsp

pepper,

to taste

3/4

tsp

dried basil

2

cups

packed baby spinach leaves,

roughly chopped

2 1/2

cups

cooked, shredded chicken

Juice of three lemons,

or to taste*
Instructions
In a large saucepan set over medium-high heat, add olive oil, onion, carrots, and garlic. Let cook for 4-5 minutes, or until vegetables begin to soften, stirring a few times.

Add quinoa, chicken broth, 3 cups of water, 1/2 tsp salt, 1/4 tsp pepper, and dried basil and stir to combine. Cover the saucepan most of the way, leaving it vented a little bit, and bring soup to a simmer. Once simmering, reduce the heat to medium and cook for 10-12 minutes to allow quinoa to cook. You should notice the quinoa germ ring (that little squiggle) has separated from the kernel. Add additional water, up to 2 cups, if soup has thickened too much.

Add spinach and chicken and stir. Cook for 5-7 minutes until spinach leaves are wilted and chicken is warm. Add lemon juice and stir.
Notes
*Start with the juice of two lemons and taste to ensure the soup is lemony to your liking. Three lemons worked perfectly with our taste buds!
When serving leftover portions, you may wish to add additional chicken broth/water and lemon juice if the quinoa absorbs a little too much of it and you'd like extra lemon flavor.
Soup recipe adapted from

Food Network

.
Nutrition
Calories:
243
kcal
|
Carbohydrates:
23.2
g
|
Protein:
23.8
g
|
Fat:
5.9
g
|
Saturated Fat:
1
g
|
Cholesterol:
45
mg
|
Sodium:
624
mg
|
Potassium:
556
mg
|
Fiber:
3.1
g
|
Sugar:
2.2
g
|
Calcium:
40
mg
|
Iron:
2.7
mg