Creamy chicken and rice soup is a hearty soup recipe that uses brown rice and fresh spinach for a boost of nutrition. This healthier soup recipe (no cream!) has a wonderful spice to it and is so easy to make.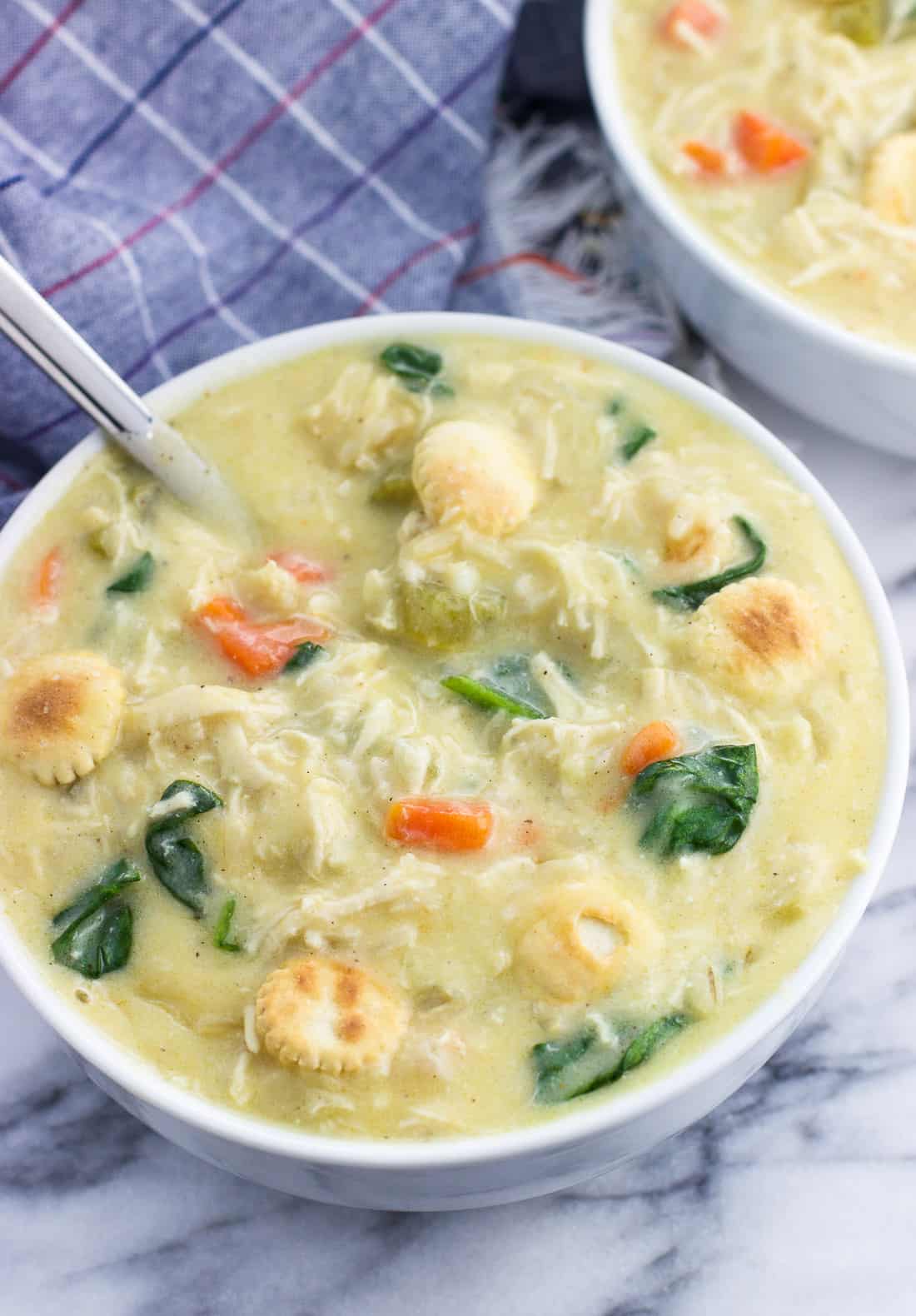 By my count this is the eleventh soup recipe on MSL (see them all in the soup tag). And while this winter certainly hasn't been that cold here in the south, I think just about all of these have made it onto my dinner menu over the past few months.
Healthy potato leek soup with orzo is a great Meatless Monday/anytime vegetarian option, while easy chicken tortilla soup with rice is a favorite for using up shredded rotisserie chicken meat.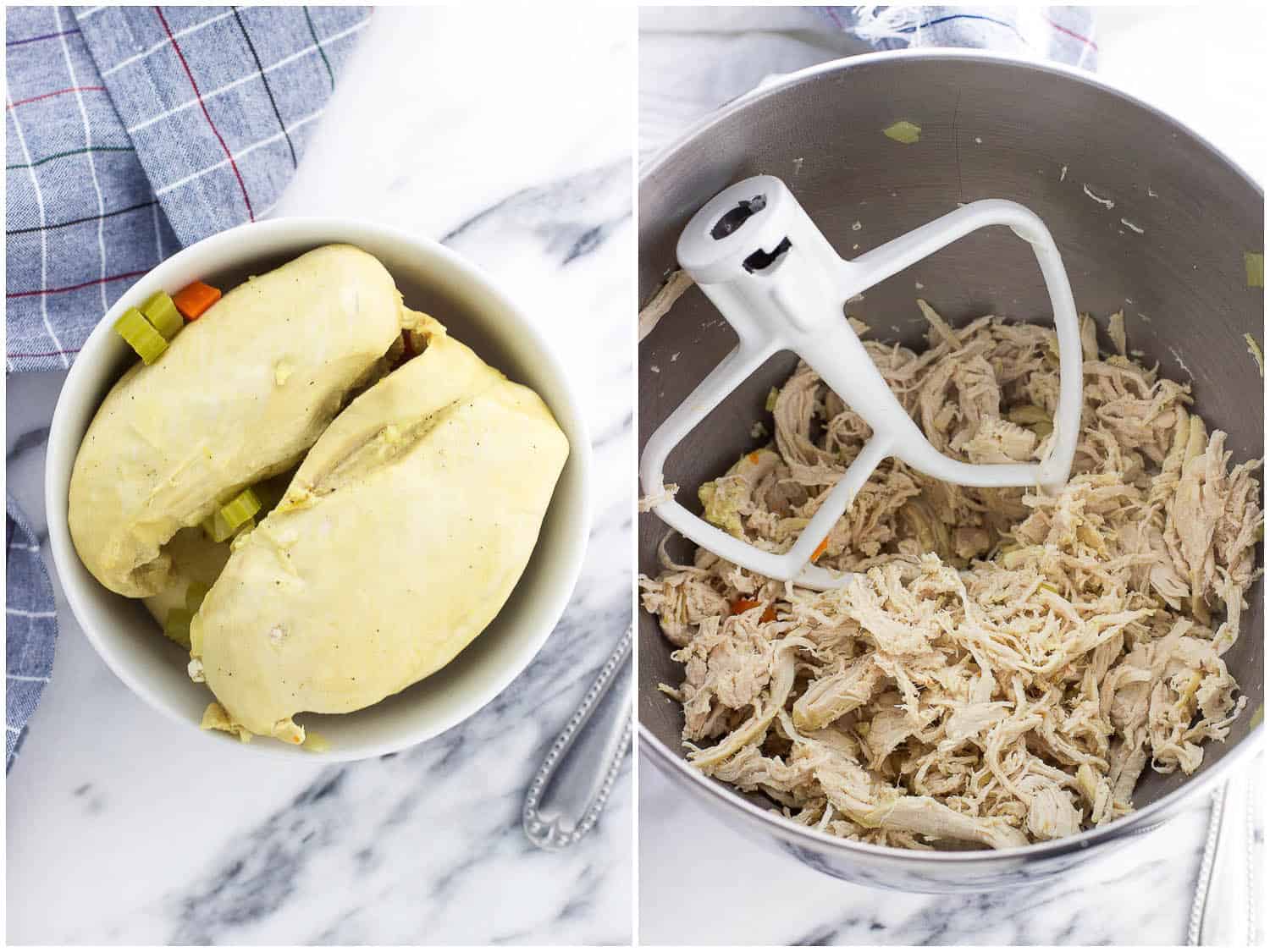 This recipe for creamy chicken and rice soup with spinach uses brown rice just like my chicken tortilla soup, but simplifies things by boiling the chicken right in the broth.
I'm not sure about where you are, but I can't seem to go to the grocery store without running into a boneless skinless chicken breast BOGO. This creamy chicken rice soup is perfect for that!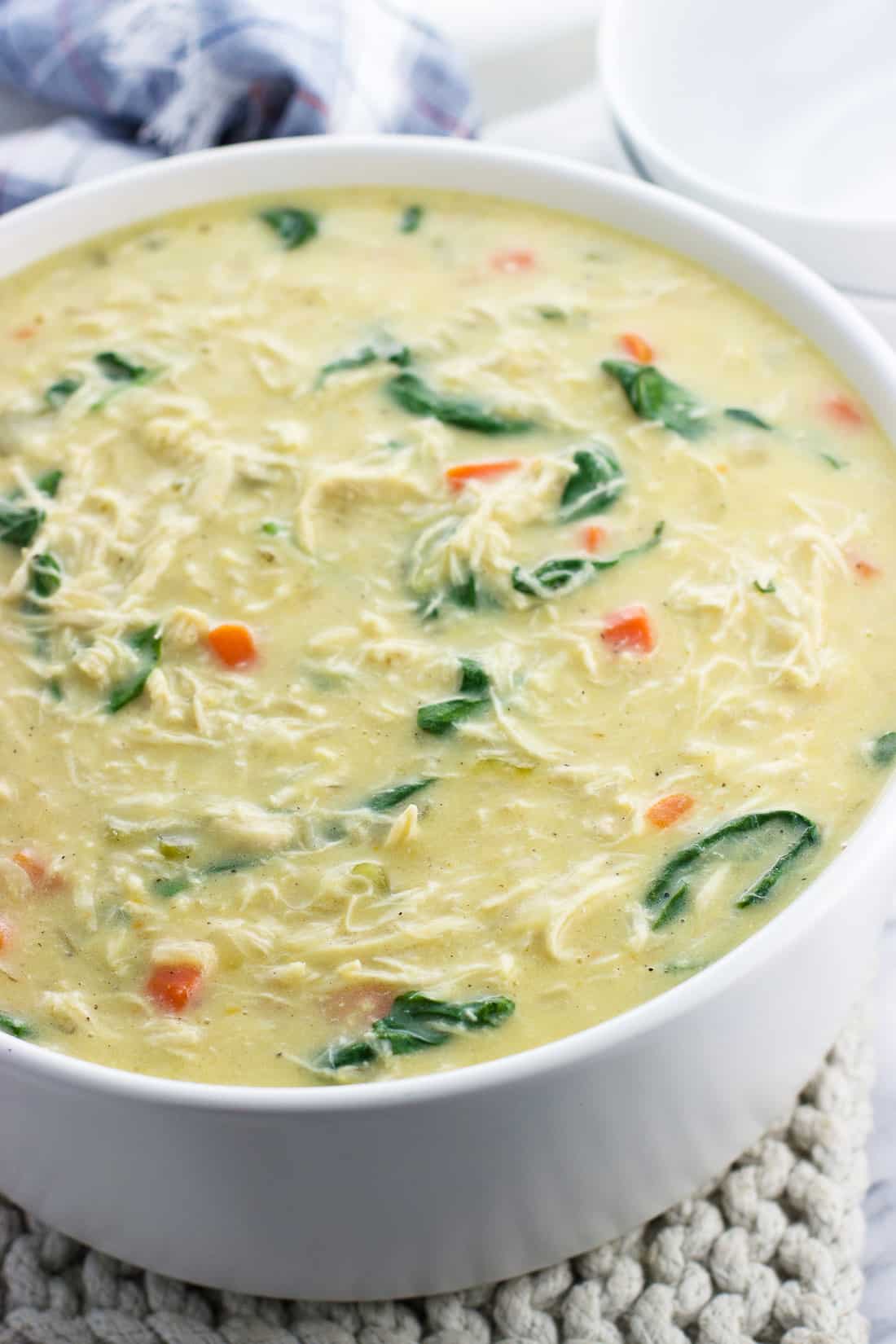 While none of the ingredients here are wild and crazy, there are a few that might be unexpected so let's talk about those.
For starters: the seasonings. Curry powder and Old Bay! Not exactly a combo you see a lot, right?
My husband and I went to Antigua on our honeymoon and split a panini every afternoon as a snack. (This ties in and isn't just an elongated food blogger diary entry, I promise). One afternoon's panini was comprised of fish and a vaguely golden sauce. It wasn't spicy at all, but was warm and…spiced? Spiced, not spicy.
I'm not selling it well but it was DELICIOUS. I never asked what spices they used so I was thinking about this sauce on the flight home (naturally) and a lightbulb went off…curry powder and Old Bay.
Clearly this wasn't what they used, but I decided to play around with that spice blend until I do some digging in my Caribbean cookbooks.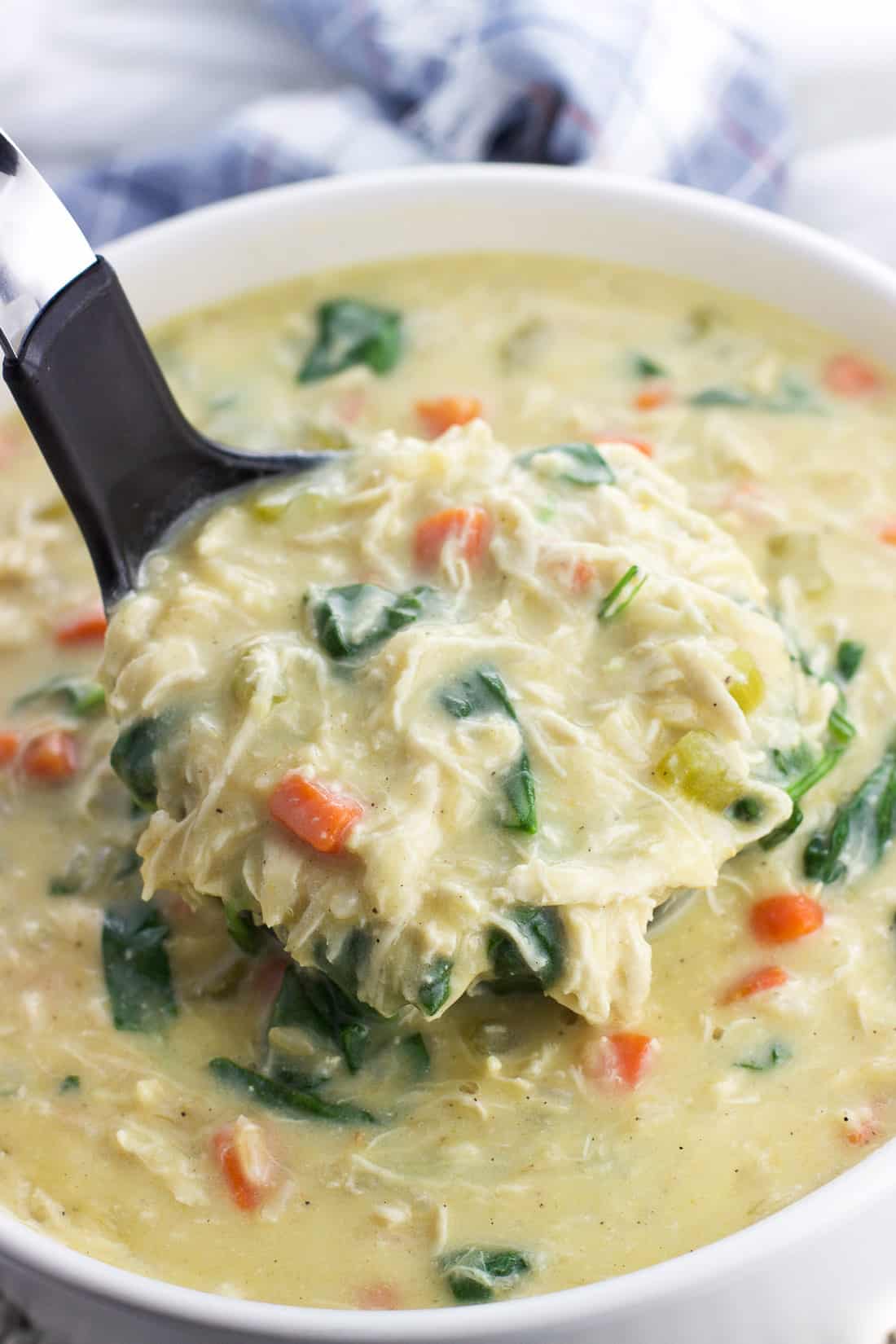 While an unlikely pairing, curry powder and Old Bay pair so well together. Seriously! They add a cozy, comfort food-like quality to a dish like creamy chicken and rice soup.
The ingredient quantities written into the recipe card below won't overwhelm you, rather they exist in the background without hitting you over the head with curry or seafood/Old Bay flavor. Hence why I didn't included the words "curried" or "Old Bay" in the recipe title.
I think this creamy chicken and rice soup recipe stands on its own in a classic way without any extra descriptors. 🙂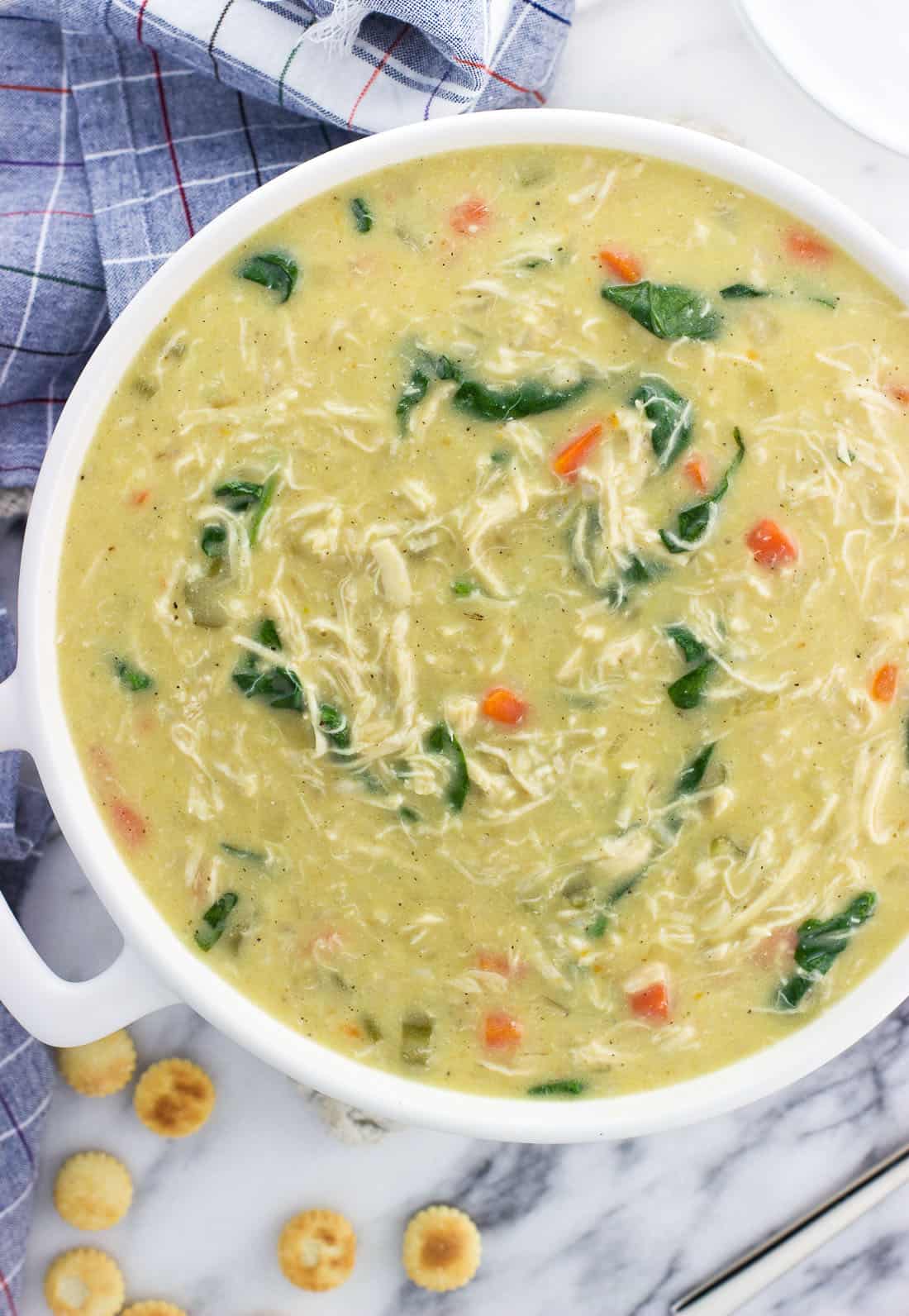 How to make creamy chicken and rice soup
This soup recipe starts off traditionally with a mirepoix base, which is the fancy pants way to say we're sauteeing onion, carrot, and celery.
Next come the garlic and seasonings: curry powder, Old Bay, salt, and pepper.
Then it's time for the broth (I always use reduced-sodium for my chicken broth), then in go the raw boneless skinless chicken breasts.
Boil them until they're fully cooked, with the center of the largest chicken breast reaching 165°F. This took around twenty minutes for me, though differing chicken breast sizes means it may take more/less time for you. Using an instant-read thermometer makes life so much easier and takes the guesswork out of food safety. I highly recommend using one!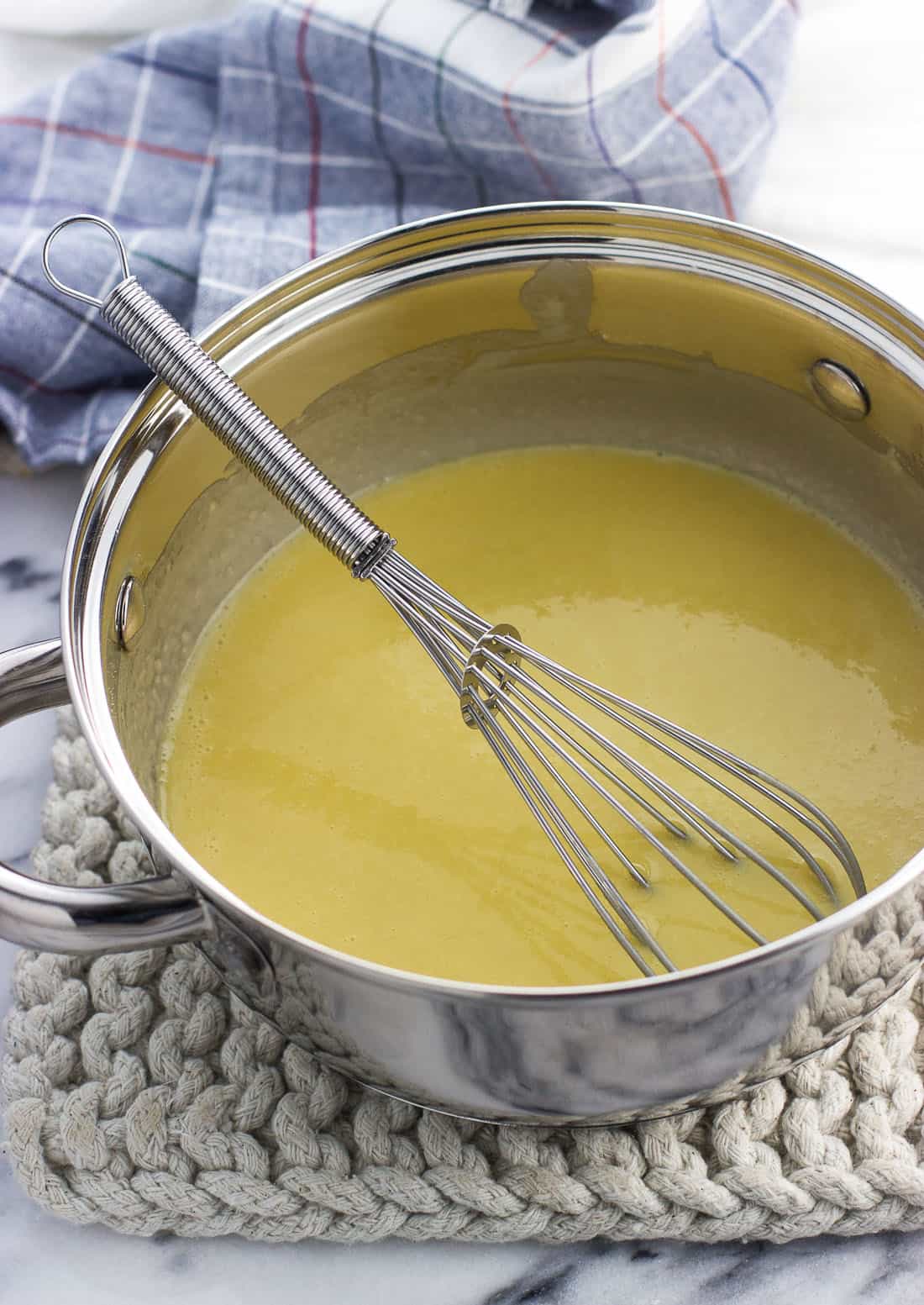 Once the chicken is fully cooked, it's time to shred shred shred. I take the chicken breasts out of the soup as that's much easier. You can shred them using two forks, though I'm partial to using my stand mixer. To shred that way, place the chicken breasts in the bowl of the stand mixer fitted with the paddle attachment. Cover the bowl with the pour shield or a clean kitchen towel so hot chicken shreds don't fly out and burn you, then turn the mixer on the lowest speed until the chicken is shredded. <–this is a big time saver!
This next part is where the other somewhat unusual ingredient comes in. Since there isn't any cream used here (just 2% milk), the silky smooth thickness comes from a roux (pictured above).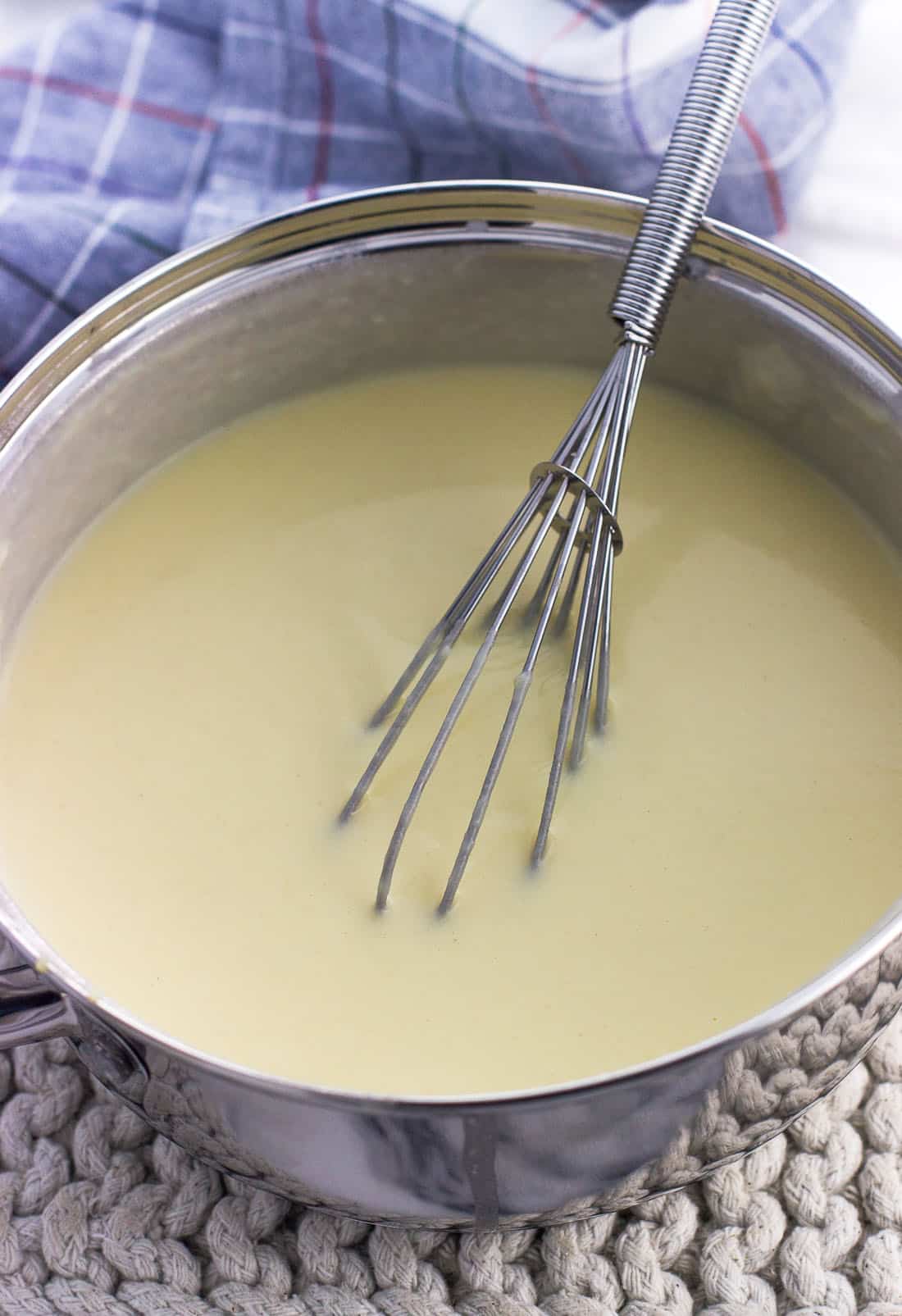 Magic happens when equal amounts of fat and flour combine together. While I've used butter in the past for a roux, clarified butter (a.k.a. ghee) is my pick.
My trusty copy of Ratio by Michael Ruhlman states that butter contains around 85% fat/15% water, while ghee is straight-up 100% fat. That means no adjustments are necessary to account for the water cooking off. Using an inexpensive digital kitchen scale here makes it super easy to measure equal amounts of ghee and flour by mass.
Scroll down to the recipe notes to see a blurb about subbing in butter if you don't have ghee on hand.
Once the roux is thickened, slowly whisk in the milk. It might thicken substantially at first, but keep whisking and pouring and soon you'll have a nicely thickened consistency. Aim for it to look like the light and creamy mixture pictured in the photo below.
Add this thickened milk mixture back to the soup pot along with the shredded chicken and cooked brown rice and allow everything to heat up a bit. Throw in fresh spinach leaves just prior to serving for them to wilt and there you have it. Warmly seasoned, slightly better-for-you comfort food you in a bowl.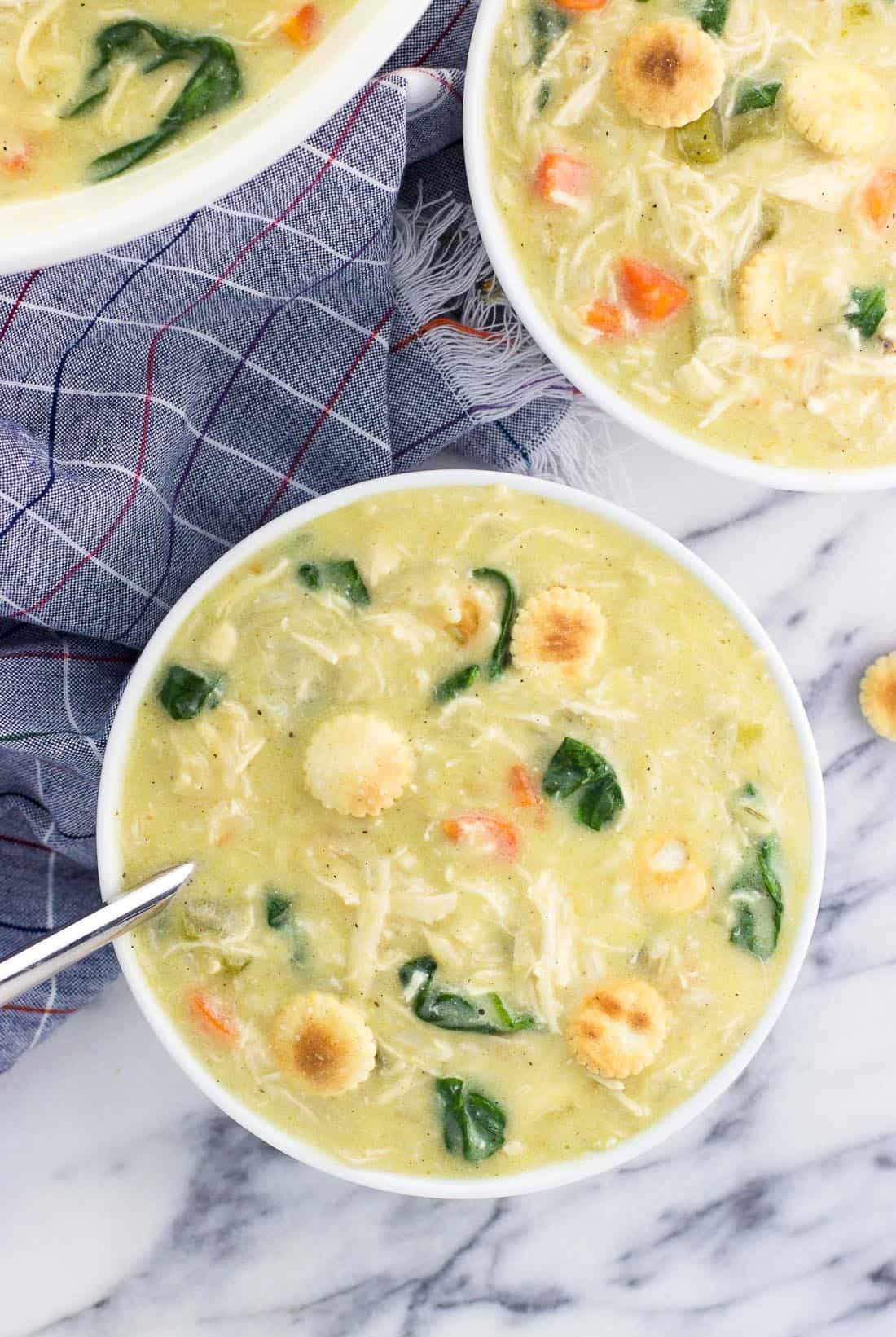 Creamy chicken and rice soup with spinach recipe notes:
Cooked brown rice is added to this soup for a nutritional boost. I like to cook brown rice in the

Instant Pot

using

this tutorial

, test method #2. This results in fully cooked brown rice with enough chew to it that it'll hold up well in soup without mushing up.
If you'd rather use butter instead of ghee, you can use 9 tablespoons of butter to 3/4 cup flour.
The amount of chicken isn't precise – use between 1 – 1 1/2 pounds. Fair warning though – 1 1/2 lbs results in a lot of chicken in each serving! I wouldn't go over 1 1/2 lbs.
Creamy Chicken and Rice Soup with Spinach
Creamy chicken and rice soup is a hearty soup recipe that uses brown rice and fresh spinach for a boost of nutrition. This healthier soup recipe has a wonderful spice to it and is so easy to make!
Ingredients
2

tbsp

olive oil

1

onion,

diced (about 1 cup)

2

carrots,

diced (about 1 cup)

2

celery stalks,

diced (about 1 cup)

4

cloves

garlic,

minced

3/4

tsp

curry powder

1/2

tsp

Old Bay seasoning

1/2

tsp

salt

1/4

tsp

ground black pepper

48

oz

reduced-sodium chicken broth

1 to 1.5

lbs

boneless skinless chicken breasts

105

grams

ghee

(1/2 cup)

105

grams

all-purpose flour

(just about 3/4 cup)

2

cups

2% milk

1 1/2

cups

cooked brown rice

2

oz

baby spinach
Instructions
Heat olive oil in a large pot set on the stovetop over medium heat. Add onion, carrot, and celery and saute for 5-6 minutes, or until beginning to turn golden.

Add minced garlic, curry powder, Old Bay seasoning, salt, and pepper and stir to evenly coat vegetables with the spices. Cook for 1-2 minutes more.

Pour in the broth and raise the heat so it comes to a boil. Add the chicken breasts and cover the pot. Cook for 20 minutes or so, or until the center of the largest breast reaches 165°F.

Once fully cooked, reduce the heat to low. Remove the chicken breasts from the pot with a slotted spoon and shred the meat using two forks, or by adding to the bowl of a stand mixer fitted with the paddle attachment and (carefully - they're hot!) putting the mixer on the lowest speed until broken up into shreds.

Add the ghee to a separate, medium saucepan set over medium-low heat. Once the ghee is melted, sprinkle in flour while whisking until combined. Whisk for another 2-3 minutes, or until the roux has thickened some.

Slowly pour in the milk to the saucepan with the roux, whisking constantly. Keep whisking and cooking for a few minutes more once all the milk has been added until the mixture is smooth and thick.

Pour the thickened roux/milk mixture into the pot with the soup and stir to combine. Add back the shredded chicken, then add the cooked brown rice and the spinach. Cook for several minutes to heat the chicken/rice up and allow the spinach time to wilt. The soup is ready to serve once the spinach is wilted.
Notes
See recipe note above about using butter instead of ghee if you prefer.
Using 1 1/2 lbs of chicken breasts results in a seriously hearty soup. Use less if you'd like a less bulked up soup.
If leftover portions thicken up too much once refrigerated, thin with a little bit of water while heating up.
Nutrition
Nutritional information is provided as an estimate. As it can vary due to many factors (brands used, quantities, etc.), we cannot guarantee its accuracy.
*this post contains affiliate links
Recipe loosely adapted from allrecipes.