An easy blueberry banana smoothie that'll have you craving it for breakfast or a pick-me-up snack! It's creamy, sweetened with fruit, and spiced just right with cinnamon.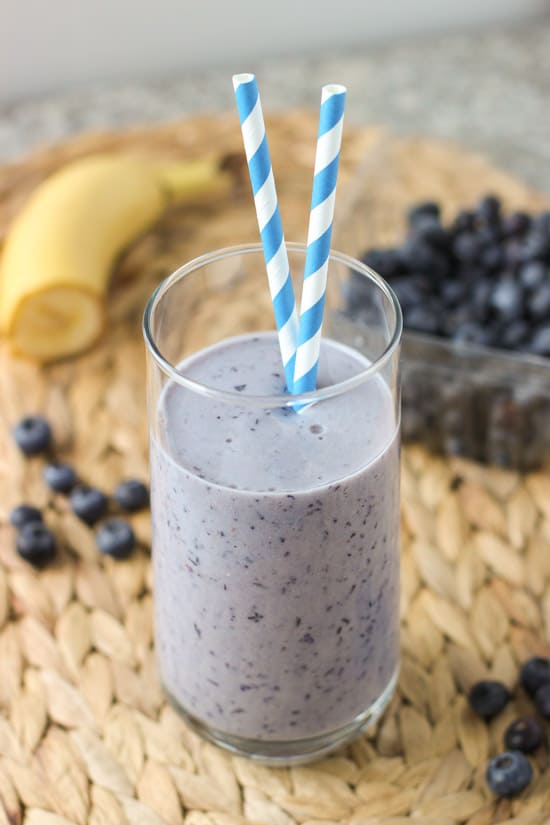 With summer (!) coming up, I've been on a little bit of health kick. A small one, but a health kick at that. Considering that some of my recent posts have the words "healthy", "whole wheat", and "skinny" in the titles, maybe it's been more obvious than I thought. Though don't get me wrong…gems like chocolate chip cookies and Belgian waffles were nibbled on but undocumented here on le blog.
As part of this hip hip hooray health kick, I mentioned my new habit of taking the stairs at work vs. the elevator a little while ago when I shared this lemon chicken quinoa soup. I know this doesn't sound like a big deal, but taking the stairs in this case means hoofing it up precisely 242 stairs. That's a lot of stairs!
Now that I've told you something I'm proud of, I'll also tell you a secret. My desk area tends to be really quiet, so once I get to my desk I turn on my semi-noisy fan so my coworkers in my immediate area can't tell that I'm out of breath. SO out of breath. Ooof.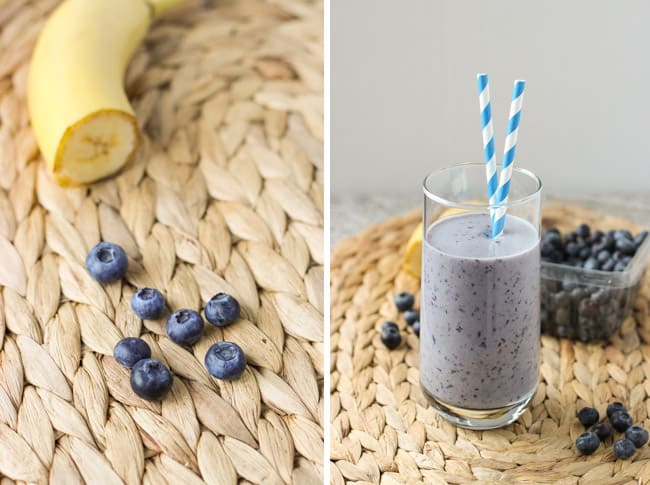 If I'm going to bust my booty climbing my own personal Mt. Everest of stairs every day, I need serious A.M. fuel to get me going on the right foot. That's where this blueberry banana smoothie comes in! It's naturally sweetened with fruit, including one of my very favorites – pineapple. Pineapple can do no wrong in my eyes.
I know smoothies tend to be kind of basic in general, but what I love about this one is the dash or two of cinnamon added in. The little bit of spice adds so much to the flavor here and really pulls together the pineapple/banana/blueberry goodness going on. Plus adding cinnamon takes approximately 0.03 seconds, so it's totally help/late-for-work/in-a-rush friendly. Not that I know anything about that… 😉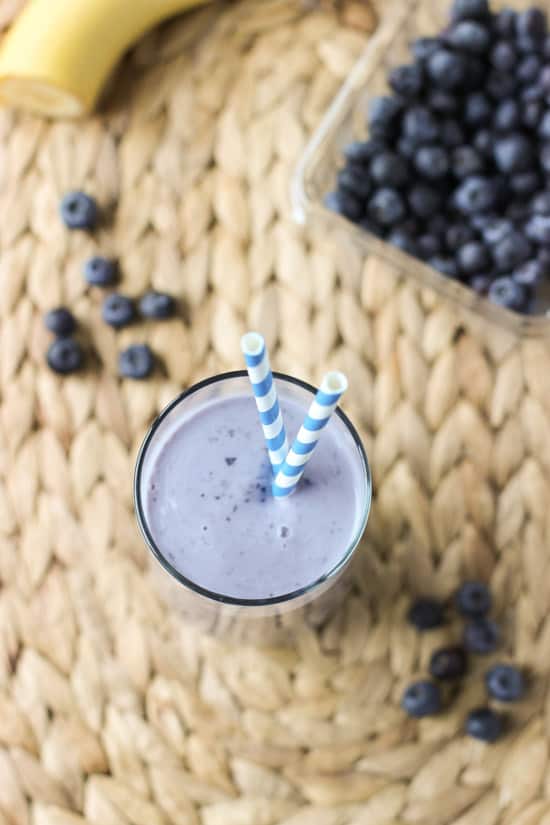 Pssst – if you're in the mood for more smoothie recipes, check out my Smoothie board on Pinterest and follow along!
Spiced Blueberry Banana Smoothie
An easy blueberry banana smoothie that'll have you craving it for breakfast or a pick-me-up snack! It's creamy, sweetened with fruit, and spiced just right with cinnamon.
Servings
1
smoothie (approx. 1 3/4 cup)
Ingredients
1/2

cup

Greek yogurt or cottage cheese

1/2

cup

unsweetened vanilla almond milk

(or any milk you prefer)

1/4

cup

pineapple chunks,

drained of juice, heaping

1/2

cup

blueberries,

heaping

1/2

medium banana

Small shake or two of ground cinnamon

Optional: ground flaxseed, spinach, protein powder, etc.
Instructions
Place all ingredients in food processor or blender and blend until fruit has broken down and mixture is smooth. Enjoy!
Notes
What I love about smoothies is that they're so versatile. To the above recipe, feel free to add in whatever ingredients you like to throw into your smoothies. Ground flaxseed, spinach leaves, protein powder, etc.
Nutrition
Serving:
1
smoothie
|
Calories:
174
kcal
|
Carbohydrates:
29.1
g
|
Protein:
13.1
g
|
Fat:
1.6
g
|
Saturated Fat:
0.1
g
|
Cholesterol:
5
mg
|
Sodium:
119
mg
|
Potassium:
364
mg
|
Fiber:
3.5
g
|
Sugar:
19.4
g
|
Calcium:
280
mg
|
Iron:
1.1
mg
Nutritional information is provided as an estimate. As it can vary due to many factors (brands used, quantities, etc.), we cannot guarantee its accuracy.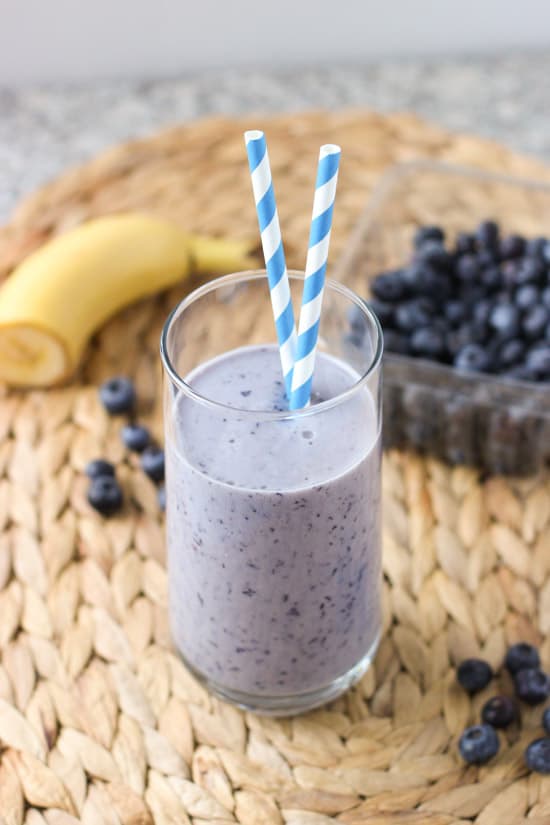 P.S. Over the years I've had plenty of blender issues – some (really, most) were never able to blend everything and would leave chunks of ice or fruit hanging around. Then some burnt out randomly or plain stopped working. Grr. After our move I wasn't in the market for the high end blender of my dreams, but took a chance on this (MUCH more affordable) Ninja Master Prep blender/food processor set
instead. Two words: LOVE IT. It's powerful, has multi-level blades to chop/blend, and have I said it's totally more affordable? Yeah!
*this post contains affiliate links.