This chocolate cherry smoothie is extra filling thanks to the addition of oats, flaxseed, and avocado. Everything blends right up to form this dairy-free smoothie with great staying power. Great for breakfasts, snacks, or even as a healthy chocolate-flavored dessert.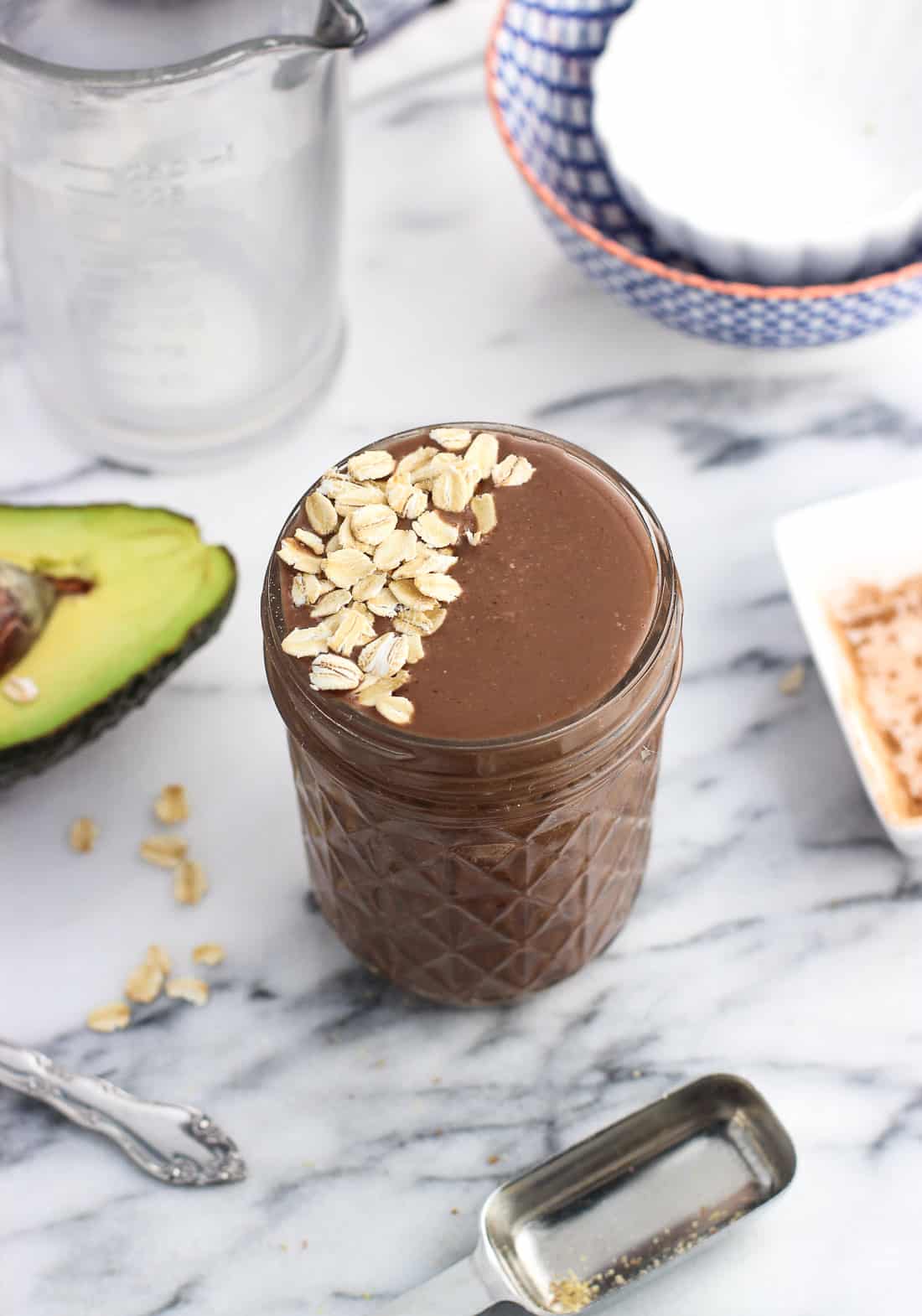 While I'm still not a smoothie-every-day kind of girl (entirely too much blender cleaning required for that), I have been upping my smoothie frequency lately. One of the things that I love about them is that for having pretty much identical recipe steps, there's huge variety of flavor combinations and add-ins available so that you don't get bored of the same old, same old.
That's key, because after blowing myself out on a daily breakfast for years of vanilla Greek yogurt, frozen strawberries, and multi-grain cereal, I still haven't been able to stomach the thought of those flavors together. Five years later!
This chocolate cherry smoothie is dairy-free and features rich chocolate flavor with a burst of dark sweet cherries. I used frozen cherries so as to make this smoothie accessible year-round, because it's too good to only keep for a short window of time. Of course it's not like eating a piece of candy, but in my opinion this smoothie can totally pass as a healthier chocolate dessert-like treat.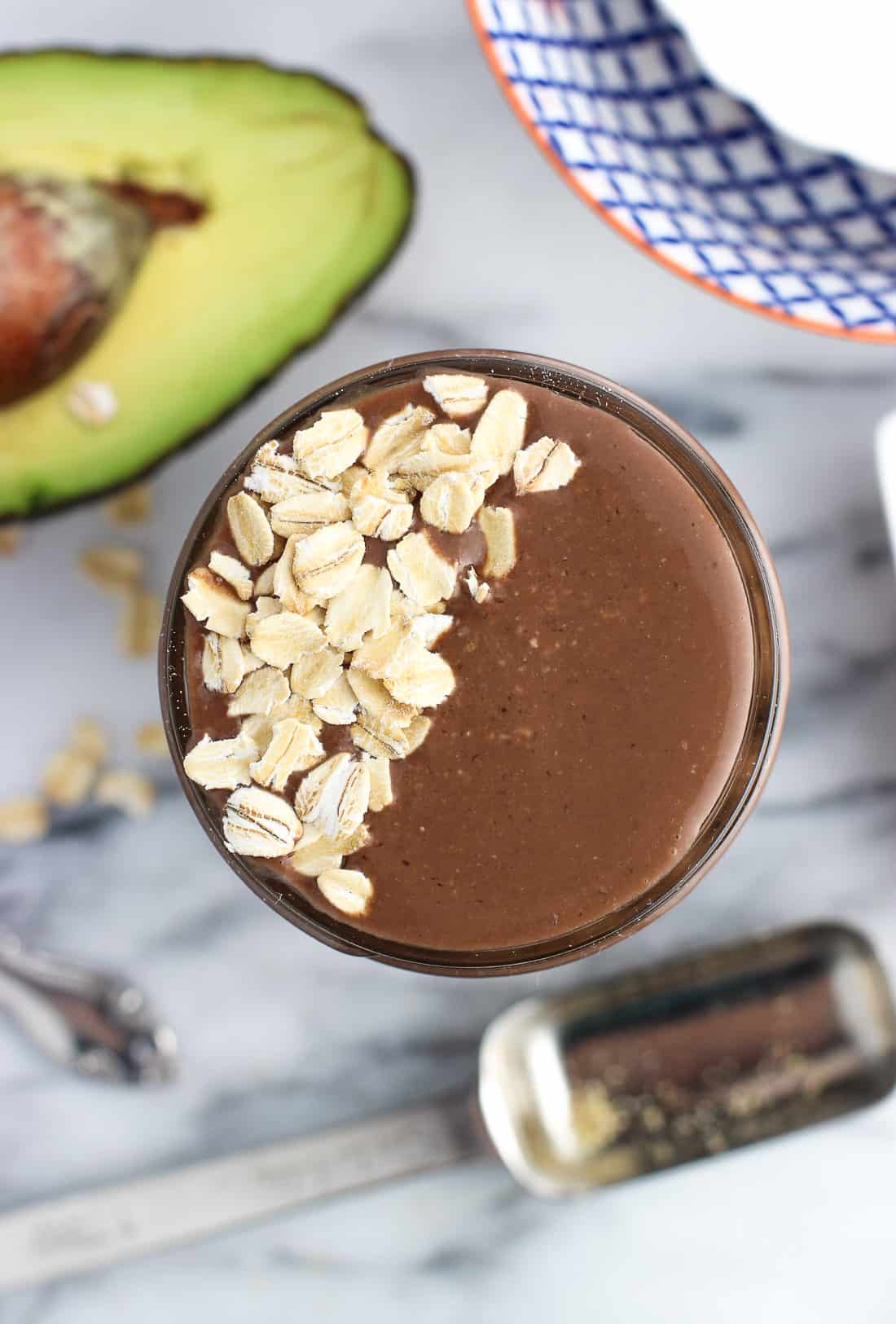 As evident from the title, this chocolate cherry smoothie is extra filling. I'll find myself reaching for a mid-morning snack if I don't incorporate ingredients with staying power in my breakfast smoothie, which isn't exactly helpful if you're trying to stay on-track with any healthy eating goals.
There are three ingredients in particular here that help carry you through to your next meal: oats, flaxseed, and avocado. Bet you couldn't tell by looking at it that this chocolate cherry smoothie was hiding a green vegetable, err fruit (had to Google that).
Old-fashioned oats bring whole-grain goodness and fiber – perfect for staying power. Then ground flaxseed is something I add to all different kinds of smoothies (including two favorites, this green kefir smoothie with granola and this pineapple matcha vanilla smoothie). It also adds a bit of fiber, as well as omega-3s. I keep my container in the freezer to help extend its storage time.
Then there's that sneaky avocado. It adds extra creaminess and more heart healthy fats, all while flying fairly under the radar flavor-wise. It might seem strange to add avocado in a chocolate smoothie, but just one-quarter of a ripe avocado adds enough heft without taking over. This isn't a green smoothie, after all. 🙂
I like to use the remaining avocado to make avocado toast, add slices to a sandwich, or make a mini batch of guacamole.
Recipe notes:
The oats cause this chocolate cherry smoothie to have a very thick, not super smooth texture. Just a heads up in case you're texture-sensitive in that way. I suggest blending the oats by themselves before adding the rest of the ingredients, but also recommend grinding them in a coffee or spice grinder if you'd like them to be extra fine.
Be sure you're using a ripe avocado! Unripe avocado is next to impossible to blend into a smoothie, and has a more bitter flavor. Ripe is the way to go.
I used vanilla almond milk, but use your preferred milk here: soy, dairy, rice, etc.
Extra Filling Chocolate Cherry Smoothie
Ingredients
1/3 cup old-fashioned oats
1 cup frozen pitted dark sweet cherries
3/4 cup vanilla almond milk
2 tbsp unsweetened cocoa powder
1 heaping tbsp ground flaxseed
1/4 ripe avocado
Instructions
Add oats to the blender and pulse to grind them a bit finer. If you'd like a finer grind, you can do this step in a coffee or spice grinder until to your liking.
Add the rest of the ingredients to the blender with the oats and process until smooth.
Pictures updated in February 2017.