Anginetti Cookies are soft and cake-y with the BEST bright lemon flavor. Also known as Italian lemon drop cookies, this easy recipe stays moist for days and features a lemon glaze with rainbow nonpareils.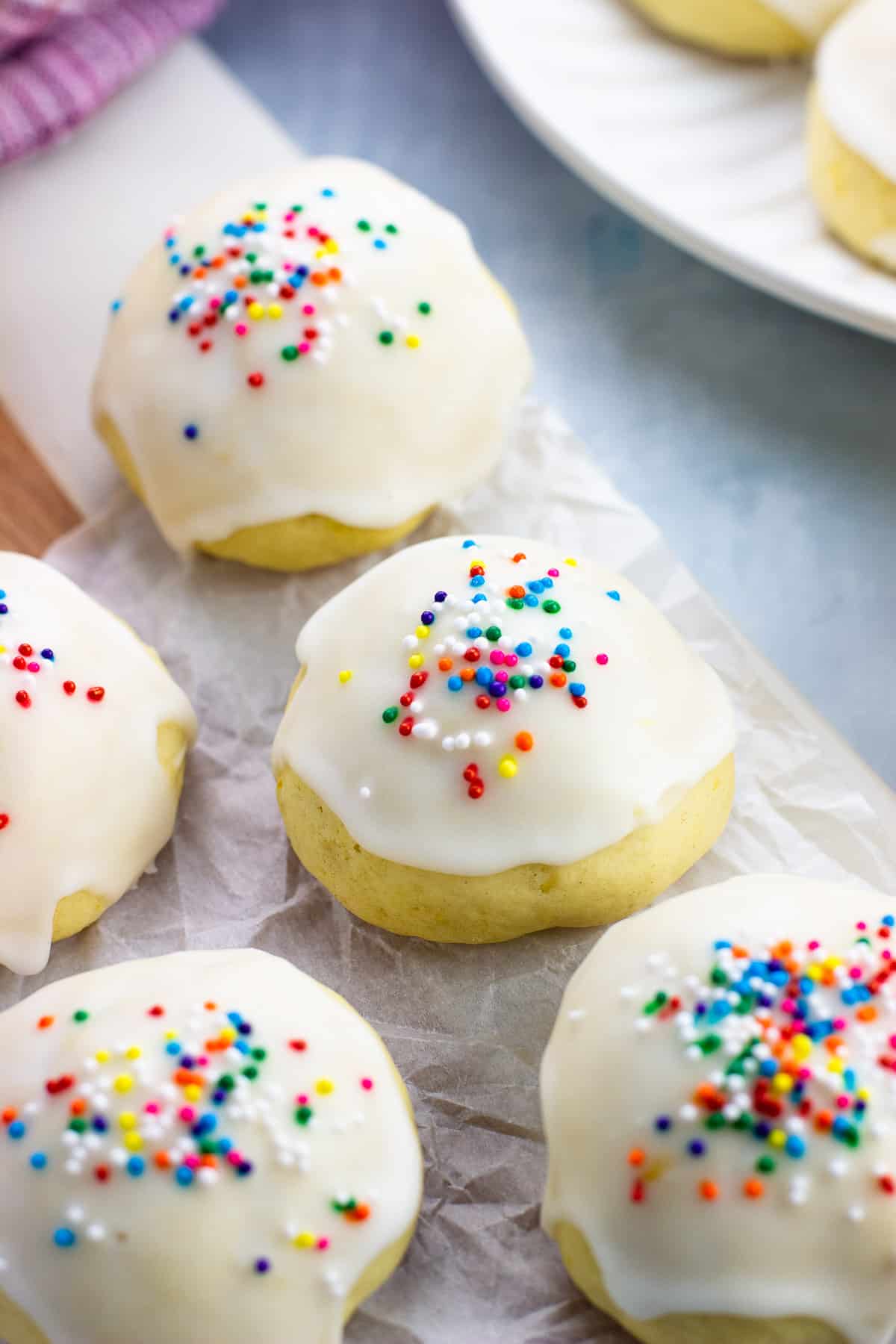 Experiencing déjà vu? I am when I scroll through my cookie archives. Contrary to what you might think, the cookies pictured are not anise cookies or ricotta cookies, they're anginetti cookies.
Also called Italian lemon drop cookies (or lemon knot cookies when the dough is rolled and knotted), these cake-y cookies feature a simple ingredient list and have a very lemon-forward flavor. They're a popular Italian Christmas cookie, but I think they shine as a springtime dessert, too!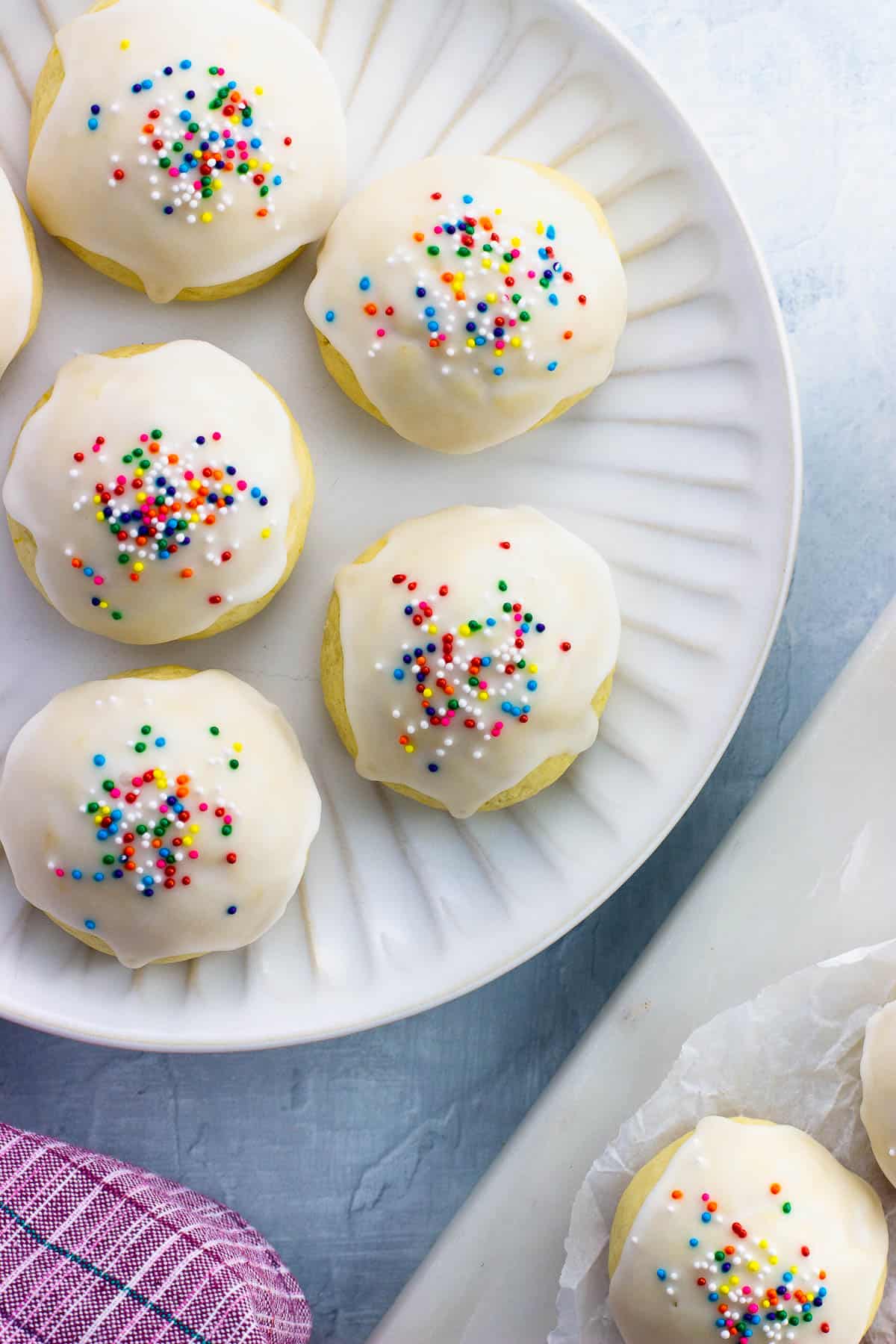 Reasons to Love This Recipe
Lemon fans will love anginetti cookies. Fresh lemon ingredients are used where they're most impactful: (lots of) lemon zest in the batter and lemon juice in the icing.
Olive oil provides tenderness and a hint of complementary flavor, but this recipe was tweaked so that the cookies won't spread too much.
Like many Italian cookies, Italian lemon drop cookies aren't overly sweet.
Recipe Ingredients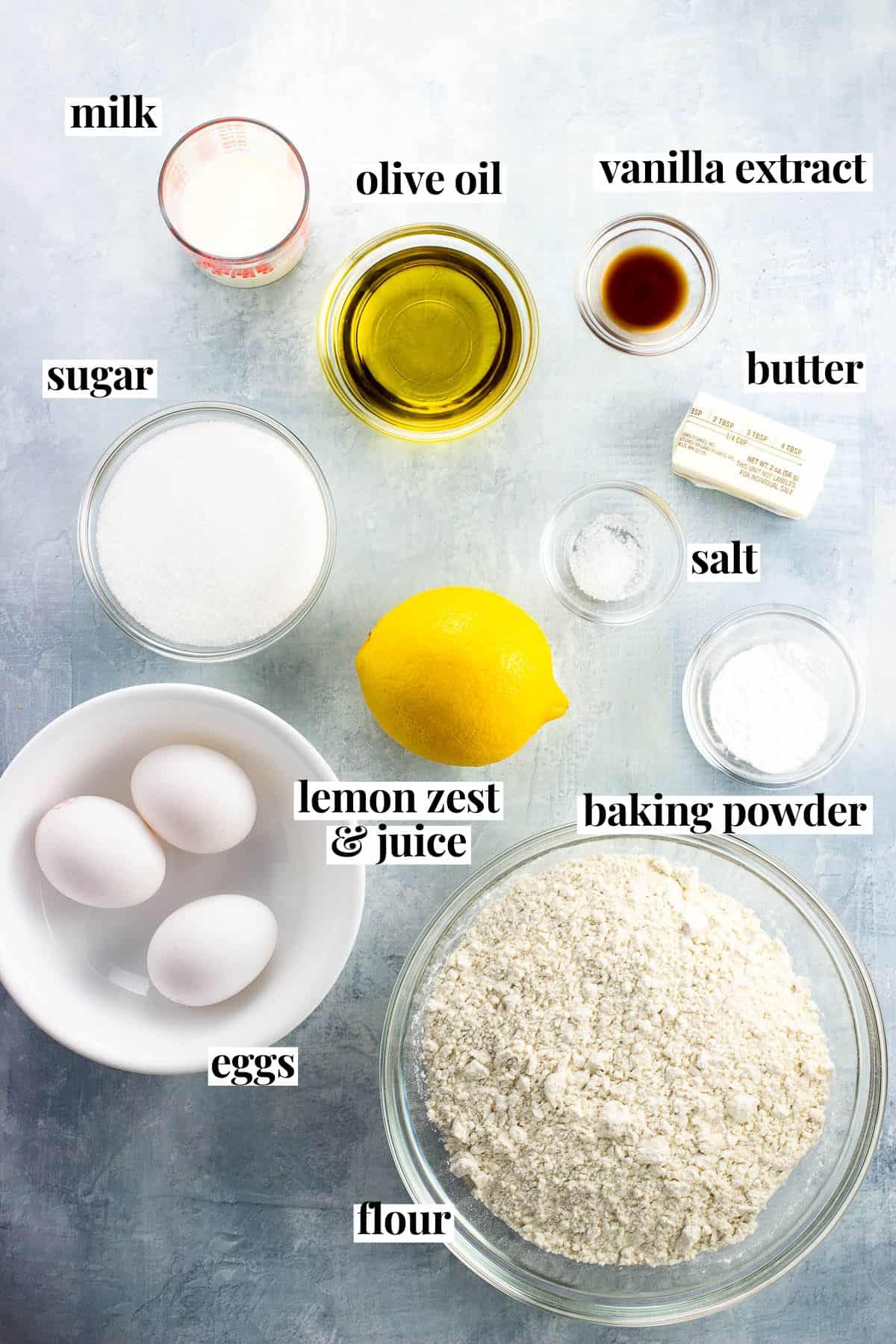 My take on anginetti cookies is a bit different in that I include both olive oil and milk in the dough, which helps prevent them from drying out.
Butter: Soften before using. It's softened enough when a finger pressed into the surface with a small amount of pressure leaves a light indent. Depending upon the temperature of your kitchen, this may not take as much time as you think! It is too soft if the butter is sticky, shiny, and greasy soft and won't combine properly.
Olive Oil: Its flavor combines so well with lemon in lemon yogurt cake, I had to incorporate it here. It adds moisture, tenderness, and flavor, and reduces the amount of butter used.
Lemon: Zest goes in the dough and juice is used in the icing.
Sugar: Two-thirds of a cup provides just enough sweetness to play off of the lemon notes.
Eggs: Room temperature eggs are recommended as they incorporate more easily into the batter.
Milk: Any variety is fine to use.
Flour: It's important to measure correctly as packing it in can lead to drier baked goods. Use the "spoon and level" method, or for the most accuracy, a kitchen scale.
Baking Powder: One tablespoon is indeed the correct measurement! Some people have sensitive enough palates to pick up on a metallic tinge in food that has a higher amount of baking powder. Look for a variety that bills itself as being aluminum-free.
Step-by-Step Instructions
Rub the lemon zest into the sugar with your hands. This helps release the lemon oils, which enhances the flavor and scent.
Cream in the butter, then mix in the rest of the wet ingredients: olive oil, eggs, milk, and vanilla extract.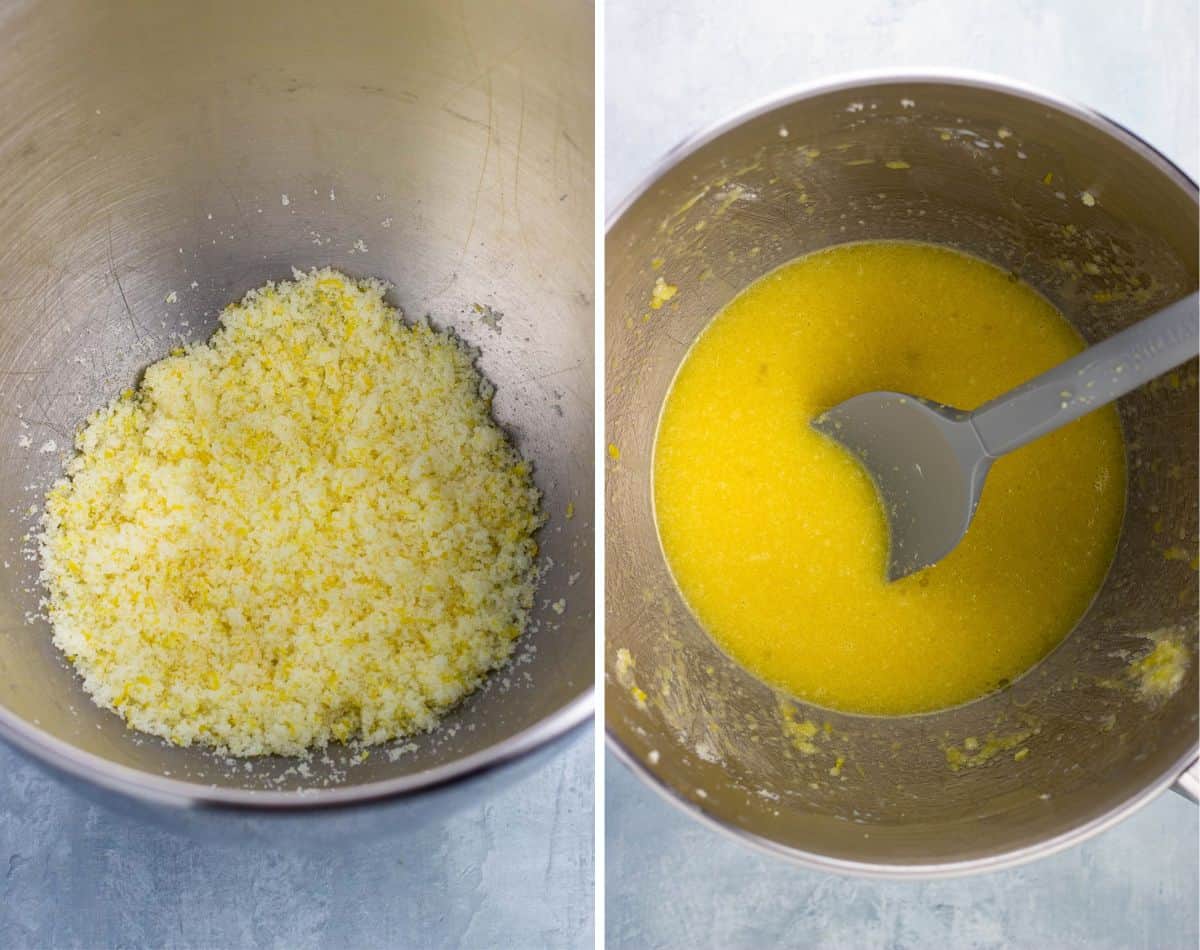 Separately whisk together the dry ingredients.
Mix them into the bowl of wet ingredients in three batches, taking care not to overmix. Chill for at least 2 hours.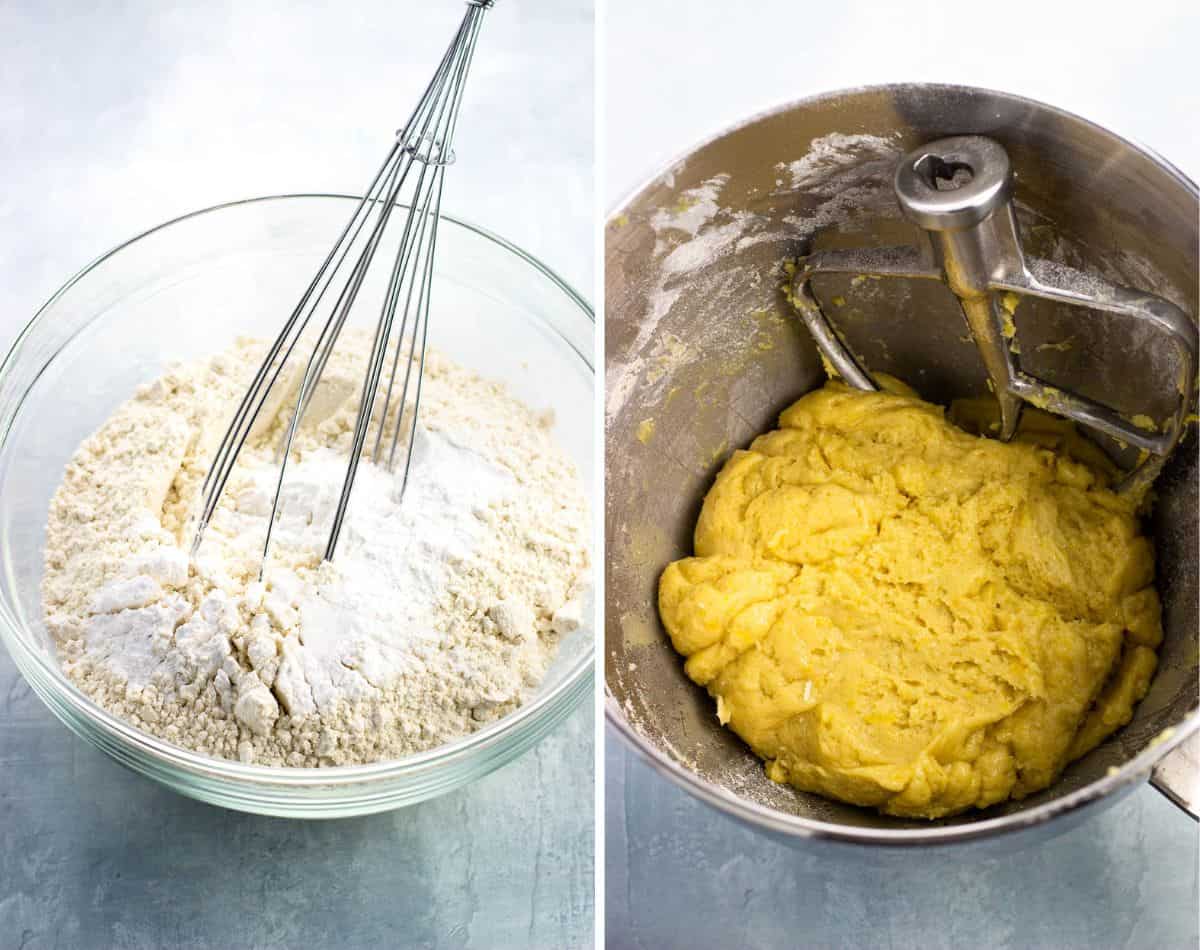 Scoop balls of dough and place them at least 2 inches apart on a parchment-lined sheet pan.
Bake at 350°F for 12-13 minutes, or until domed and set on top and golden to lightly golden-brown on the bottom.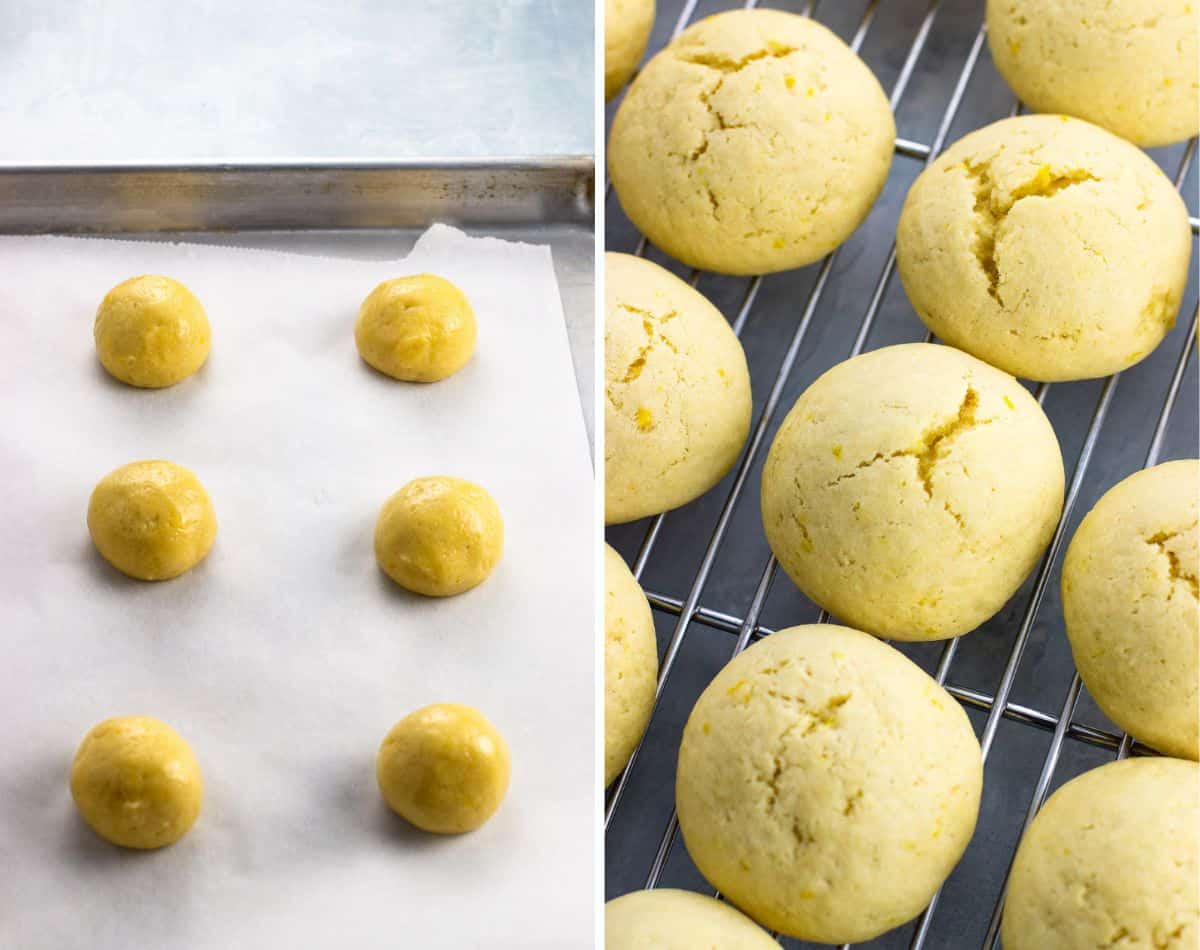 Once these Italian lemon drop cookies have cooled, whisk together all glaze ingredients in a bowl.
Dip each cookie in the glaze and decorate with nonpareils (optional).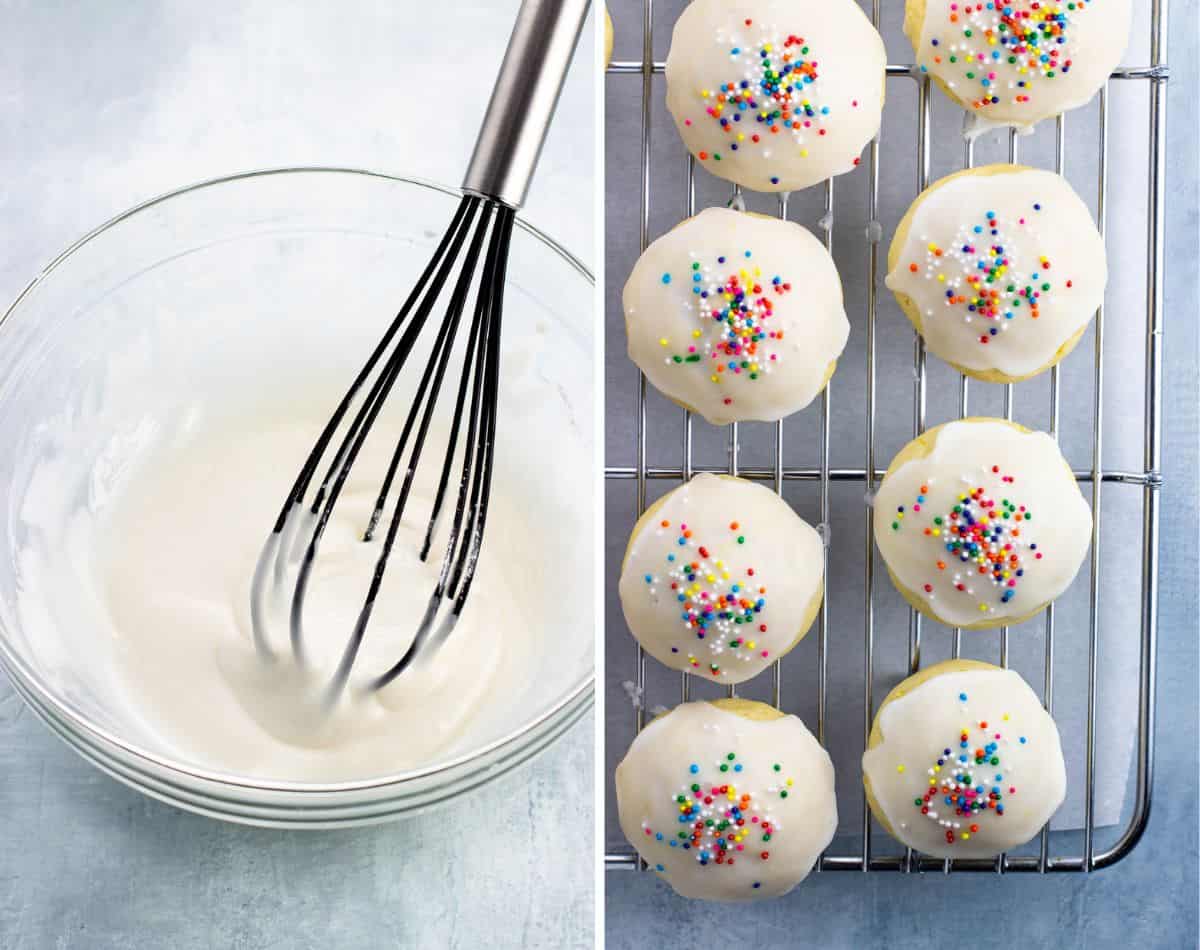 Recipe Tips and Tricks
Keep the Dough Cold - If baking anginetti cookies in multiple batches, place the bowl of remaining dough back in the refrigerator while waiting so it doesn't warm up too much, which can lead to spreading.
Use Fresh Sheets - Similarly, use new (cold) sheet pans to bake batches of these cookies to prevent overspreading.
Cracks are OK - All of this baking powder helps lift a moist dough into domed cookies, but can cause some cracks to form on the top surface. This is normal and they'll be covered completely by the glaze.
Reuse the Parchment - Parchment paper can be reused between batches because it doesn't retain heat. You can also then use it underneath your wire rack to catch icing drips when glazing.
Adjust the Glaze - Pull back on the lemon juice if you'd like a thicker glaze, or add a tiny bit more if you'd prefer a thinner consistency. While I think it's quicker to dunk the tops of the cookies into the bowl of glaze, you can also use a spoon to drizzle it over top.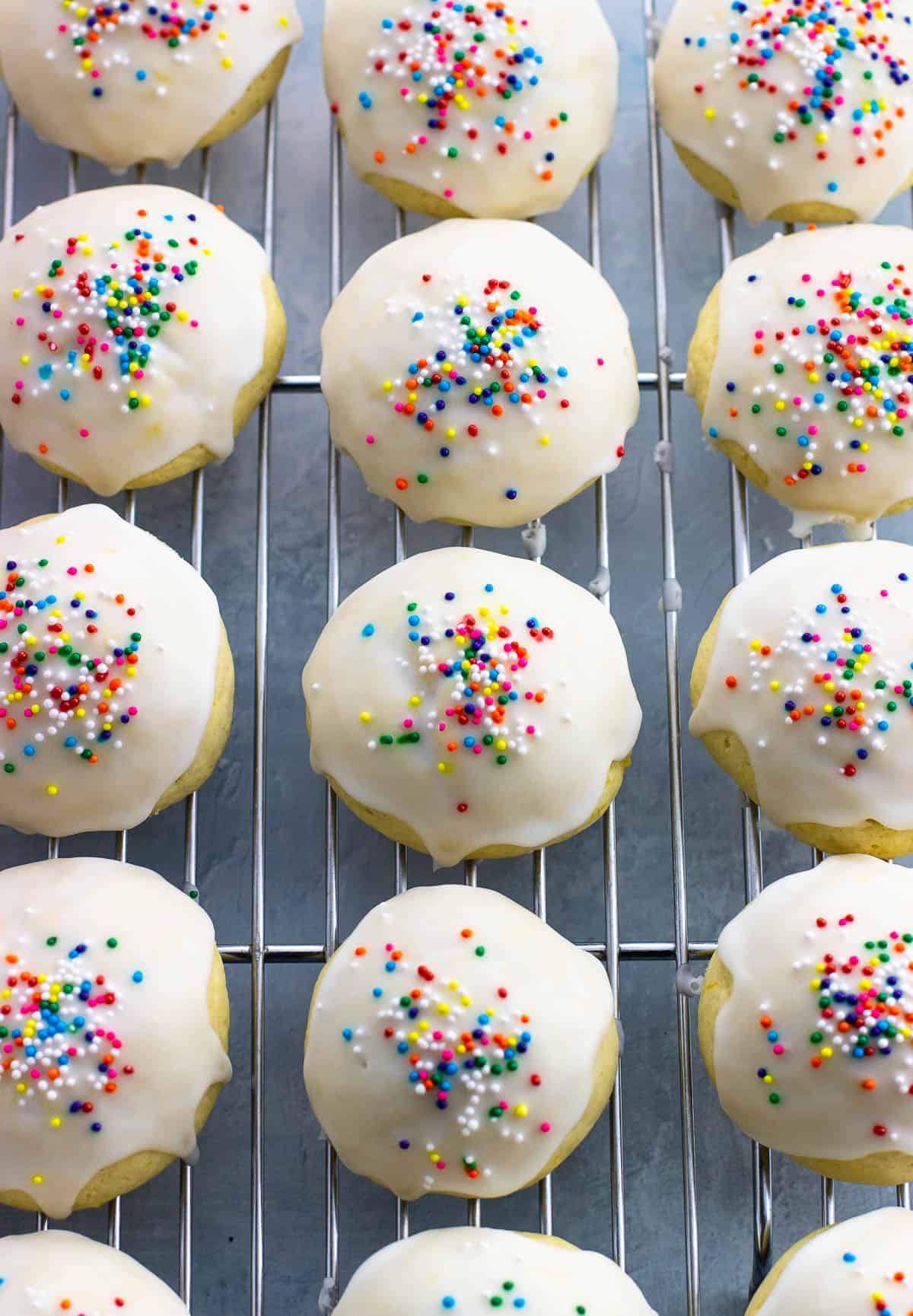 Recipe FAQs
How do anginetti cookies differ from anise and ricotta cookies?
While they look nearly identical, their differences primarily come down to flavor. Anginetti cookies are bursting with lemon, while anise cookies are flavored with licorice-like anise extract. Ricotta cookies are soft and moist from ricotta cheese and are flavored with lemon and almond extract.
Can I shape these cookies into knots?
I would stick with scooping and rolling these particular anginetti cookies into balls. Reason being is that the olive oil and milk make this dough a bit softer, which will likely cause a headache if you try and intricately shape it.
Can you freeze anginetti cookies?
Yes. I recommend baking the cookies and freezing them without the glaze. They'd be fine to eat glazed, but the glaze can sometimes become wrinkled or otherwise less-than-ideal looking as it goes through the freezing and thawing process.
Are anginetti good cookies to mail around the holidays?
They'd be fine, with some notes. They look the best the day of baking and the next day. The days afterward the glaze can begin to look a bit wrinkled (not a huge issue) but the color from the rainbow nonpareils will start to bleed. Consider glazing but not adding nonpareils if this would be an issue for you.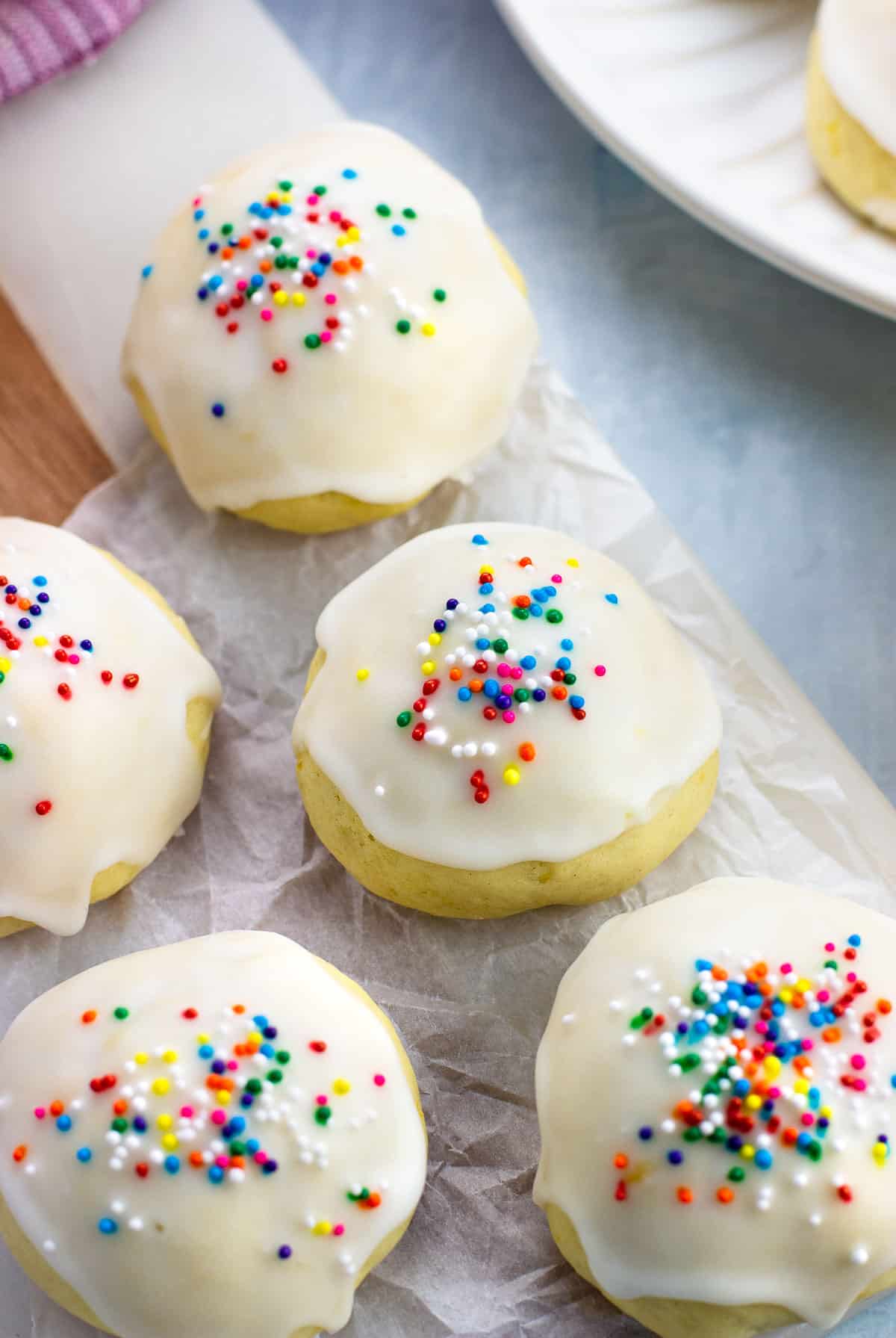 Storing Anginetti Cookies
Cookies that are cake-y with a confectioners' sugar frosting are notorious for becoming a little moist as they're stored. Ricotta cookies are the biggest offender.
The last few times I made anginetti cookies I tested out various types of storage to see if there was a true winning method, and found there wasn't much difference between them (except in the case of one).
You should store these cookies at room temperature. Wait until the glaze is entirely set, placing sheets of parchment or wax paper between layers to avoid smushing and sticking.
I experimented by storing some cookies in a fully sealed air-tight container and others in a container in which the lid had been left open a small crack (a trick I started doing for moist muffins). But after several days the cookies didn't seem much different at all.
Just don't store them in the refrigerator, which made them a bit dry.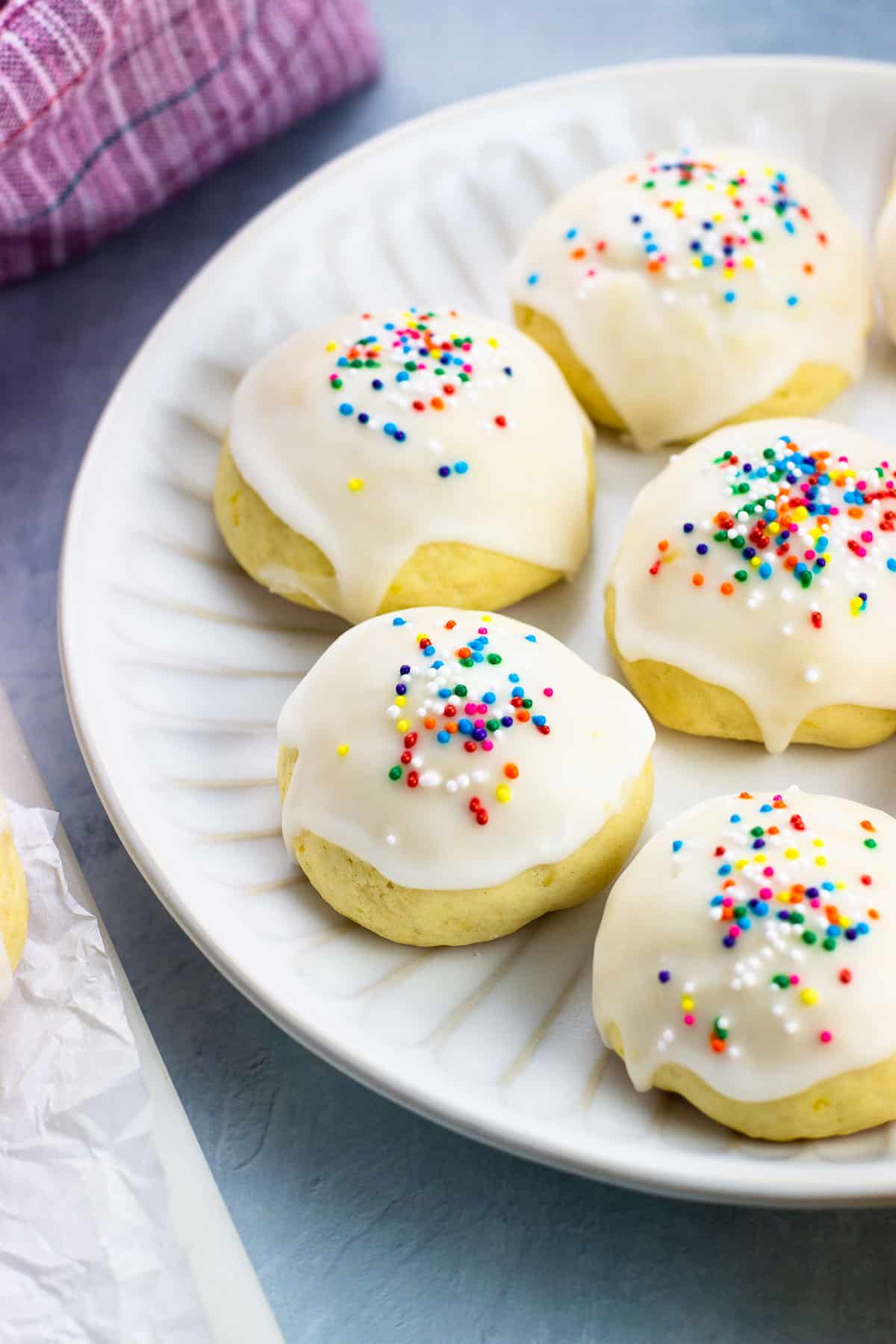 More Italian Cookies
If you've enjoyed this recipe, I'd love for you to leave a star rating in the recipe card and/or a comment review below!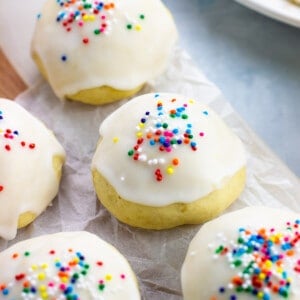 Anginetti Cookies
Anginetti Cookies are soft and cakey with the BEST bright lemon flavor. Also known as Italian lemon drop cookies, this easy recipe stays moist for days and features a lemon glaze with rainbow nonpareils. Great for Christmas or anytime.
Print
Pin
Rate
Ingredients
Cookie
⅔

cup (133g)

granulated sugar

1 ½

Tablespoons

lemon zest

fairly well packed

4

Tablespoons (57g)

unsalted butter

softened

¼

cup (60 ml)

extra-virgin olive oil

3

large

eggs

room temperature

¼

cup (60 ml)

milk

any variety

1

teaspoon

vanilla extract

3

cups (375g)

all-purpose flour

spooned-and-leveled

1

Tablespoon

baking powder

¼

teaspoon

salt
Glaze
2

cups (240g)

confectioners' sugar

3

Tablespoons

freshly-squeezed lemon juice

¼

teaspoon

vanilla extract
Instructions
Add sugar to a mixing bowl (or bowl of a stand mixer). Rub the lemon zest into the sugar for a minute or so, until well combined.

Add softened butter and cream on medium speed for 2-3 minutes until light and creamy. Mix in the olive oil, eggs, milk, and vanilla extract, stopping to scrape down the sides as needed.

In a separate bowl whisk the flour, baking powder, and salt to combine very well. In three increments add the dry ingredients into the bowl of wet ingredients and mix in until just combined and no dry streaks remain. The dough should be moldable into a ball shape but slightly sticky, soft, and moist when poked.

Cover the bowl snugly with plastic wrap and refrigerate for at least 2 hours.

Preheat oven to 350°F and line baking sheet(s) with parchment paper.

Using a 1 ½-Tablespoon capacity cookie scoop, scoop cookies and roll between your hands. Place them at least two inches apart from one another on the parchment-lined pans.

Bake for 12-13 minutes, or until the top is set and the bottom is golden to turning golden brown. Let cookies cool on the pan for 5 minutes, then transfer to a wire rack to cool completely before glazing.

Once cooled, whisk together all glaze ingredients in a bowl. Grasp each cookie by its base and dunk it into the bowl of glaze, holding it over the bowl for a few seconds afterwards so excess glaze drips back in. Place on a wire rack, garnish with nonpareils, and let set fully before serving or storing.
Notes
Measuring Flour - If not weighing, stir up the flour so it's not packed down, then spoon it into a dry measuring up until overflowing. Level off the top with a straight-edge.
Baking Powder - Choose an aluminum-free variety if you have a sensitive palate that has ever picked up on metallic tinges in baking goods with a higher amount of baking powder.
Prevent Overspreading - Use fresh (cold) baking sheets for each batch, leave remaining dough in the fridge while another batch is baking so it doesn't overly warm up, and don't form larger cookies.
Reuse Parchment Paper - It can be reused quickly between batches as it doesn't retain heat. Also use it underneath the wire rack to catch drips of icing.
Storage Instructions - Store anginetti cookies at room temperature in an air-tight container with parchment or wax paper between layers. After 2-3 days you may notice the glaze begin to wrinkle and the nonpareils to bleed their colors.
Freezing Instructions - Bake and cool cookies, then freeze without glazing. Glaze once fully thawed.
Nutrition
Serving:
1
cookie
|
Calories:
139
kcal
|
Carbohydrates:
24
g
|
Protein:
2.1
g
|
Fat:
4
g
|
Saturated Fat:
1.5
g
|
Cholesterol:
22
mg
|
Sodium:
28
mg
|
Potassium:
81
mg
|
Fiber:
0.4
g
|
Sugar:
13.4
g
|
Calcium:
31
mg
|
Iron:
1
mg
Nutritional information is provided as an estimate. As it can vary due to many factors (brands used, quantities, etc.), we cannot guarantee its accuracy.
Food Safety and Nutrition Disclaimer