Simplify the process of making lemon bars with this easy recipe. These lemon bars with graham cracker crust are bursting with bold, juicy flavor, a balanced sweetness, and a foolproof crust. I won't make lemon bars any other way!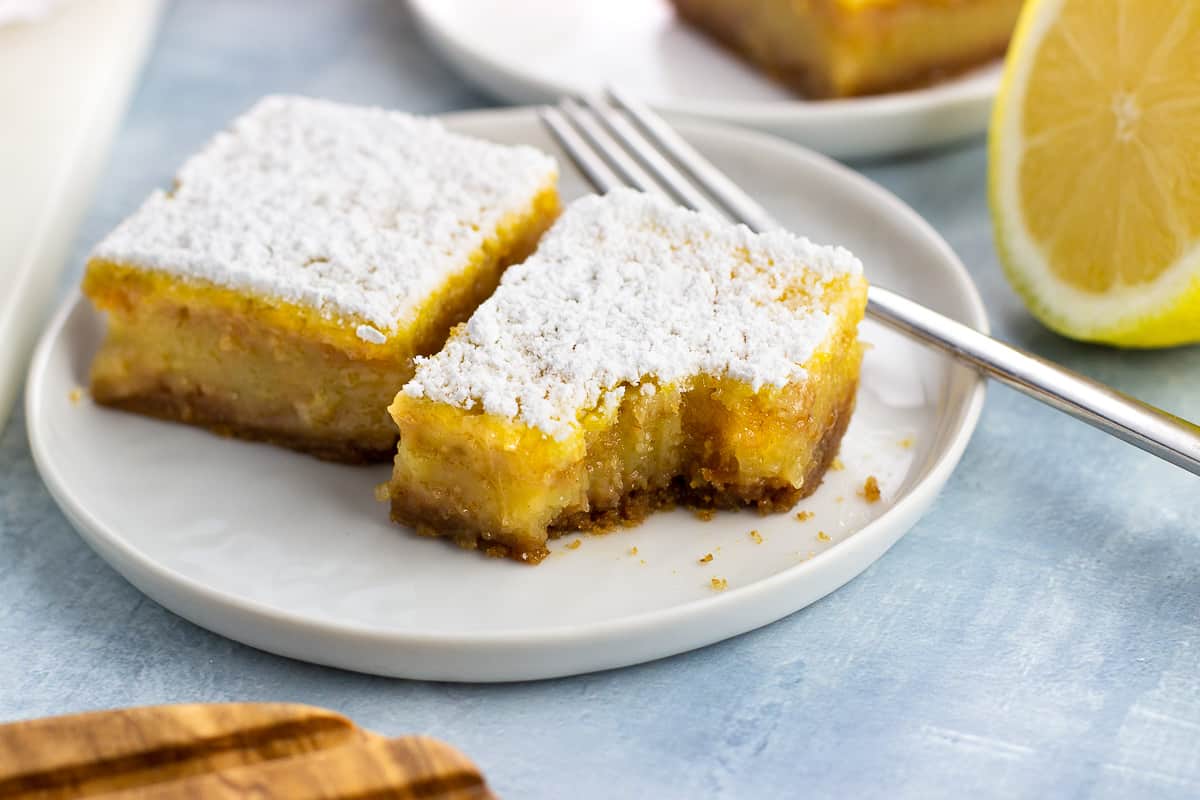 Calling all lemon lovers! Lemon-forward desserts like lemon yogurt cake are always welcome, but you can't beat the big, bold flavor of lemon bars when it comes to crowning the quintessential lemon dessert.
As a *huge* fan of a graham cracker crust in sour cream cheesecake, I scaled it up to fit in a 9-by-13-inch pan so it could impart its warm and cozy flavor underneath classic lemon bar filling.
What results is an ever-so-slight deviation from a classic that has become my new favorite way to make lemon bars.
Reasons to Love This Recipe
Traditional lemon bars are made with shortbread crust, which can sometimes lean bland and/or crumbly. This crushed graham cracker crust holds together beautifully and the graham flavor pairs well with citrus.
Lemon bars are a dance between tartness and sweetness, and this recipe balances the two. Fresh lemon zest boosts the lemon flavor when worked into a sufficient amount of sugar. These aren't cloyingly sweet.
This filling sets up really well (not runny!) and yields clean-cut squares by following a few simple tips.
Lemon bar recipes produce a fair amount of servings. They're an excellent spring or summertime dessert for a party, but they also freeze well so leftover squares don't go to waste.
Recipe Ingredients
Graham Crackers: While honey- or cinnamon-flavored graham crackers are fine if you'd like those flavor notes with lemon, I prefer to use plain graham crackers for lemon bars. The taste of graham flour shines without other "noise" as this is a simple dessert.
Butter: Unsalted butter is melted to form the crust.
Lemon Juice: Freshly-squeezed, and a lot of it. Newly-purchased, fresh lemons provide a noticeably brighter flavor than ones I've had in the fridge for weeks.
Lemon Zest: This adds an extra punchy citrus note.
Eggs: Both the yolks and whites of six large eggs provide much of the structure of the lemon filling.
Flour: This thickens the filling and helps it set. Make sure to sift it to prevent lumps.
Step-by-Step Instructions
Lemon bars bake twice: first the crust by itself, then again to cook the filling. You want to pour the lemon filling mixture onto a hot/warm crust so the two layers stick well to one another, so I don't recommend baking the crust ahead of time.
Graham Cracker Crust
This is actually for the filling, but it's the first step: blitzing the sugar and lemon zest. This breaks the zest down into smaller bits so it's less discernible in the baked filling, and also releases some of the lemon oils to become extra fragrant.
Wipe out of the food processor, then process graham crackers into fine crumbs. Process in sugar and salt.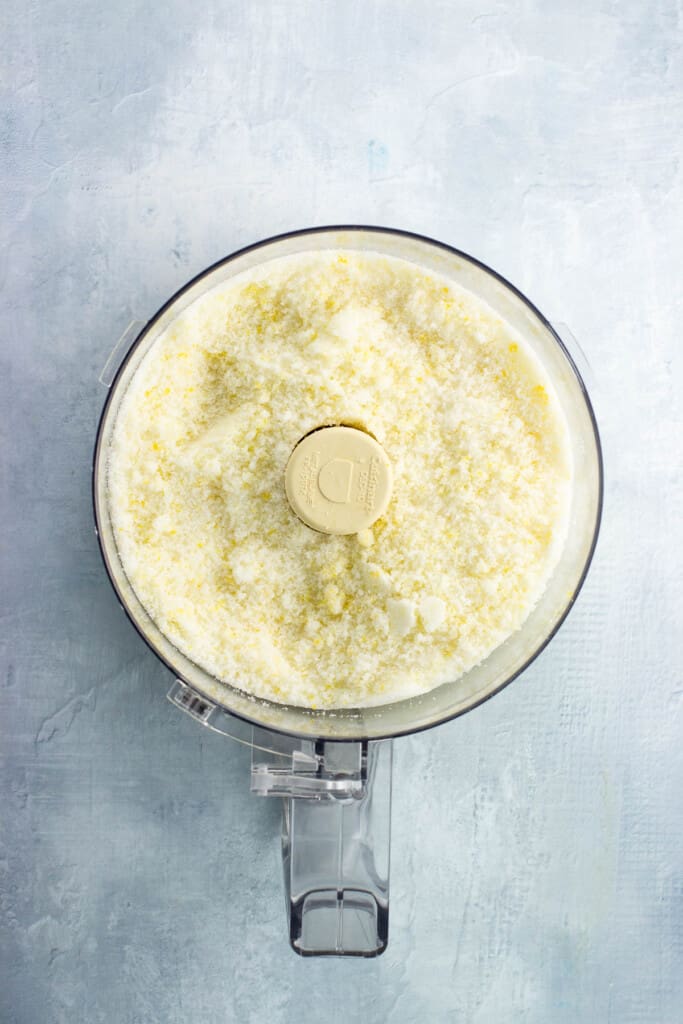 Pour out graham mixture into a bowl and stir in the melted butter.
Press graham crust mixture into a parchment paper-lined 9-by-13 inch pan until it's even and very compact. Bake until it's darkening in color and the center is more set.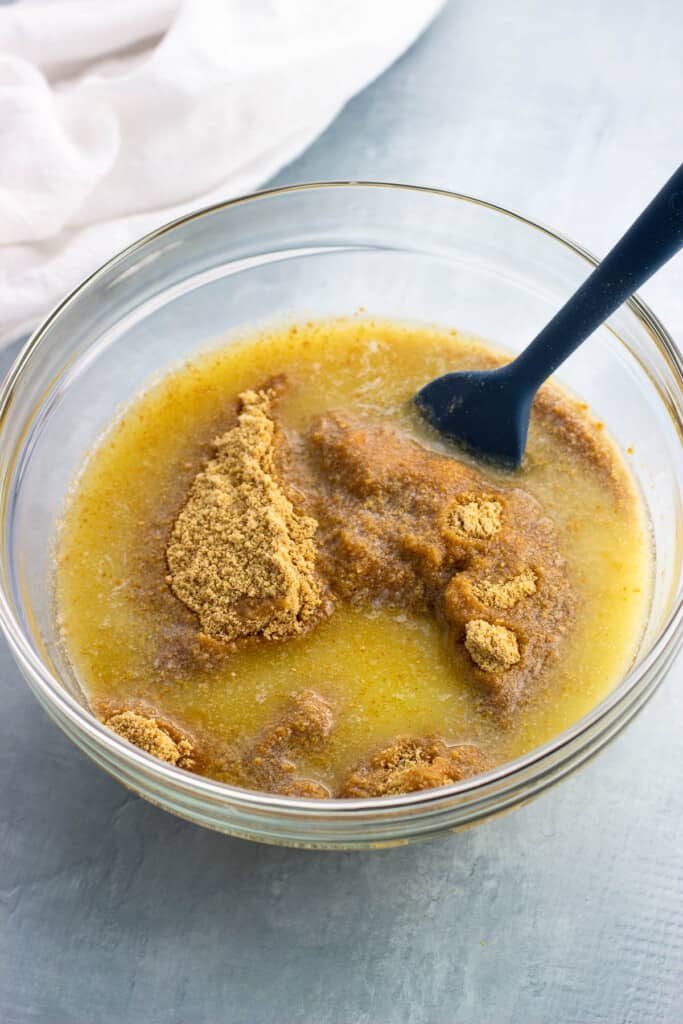 Lemon Filling
Get going on this while the crust is baking so it'll be ready to pour in and bake again.
Whisk together the sugar and eggs, then sift in the flour.
Add the lemon juice, then whisk until combined and there are no dry streaks of flour.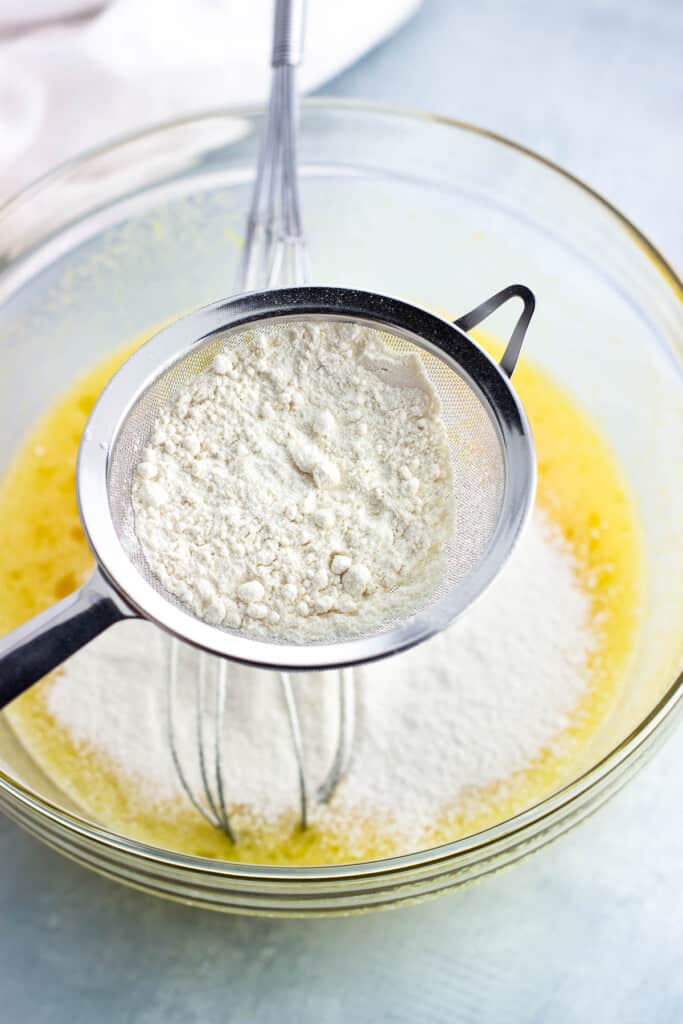 Once the crust has baked, pour in the lemon filling and bake again for 25-28 minutes. It's normal for air bubbles to form (in fact, this batch I photographed had quite a lot!).
Let these lemon bars with graham cracker crust sit at room temperature for at least one hour before chilling in the refrigerator for at least several hours before coating in powdered sugar, slicing, and serving.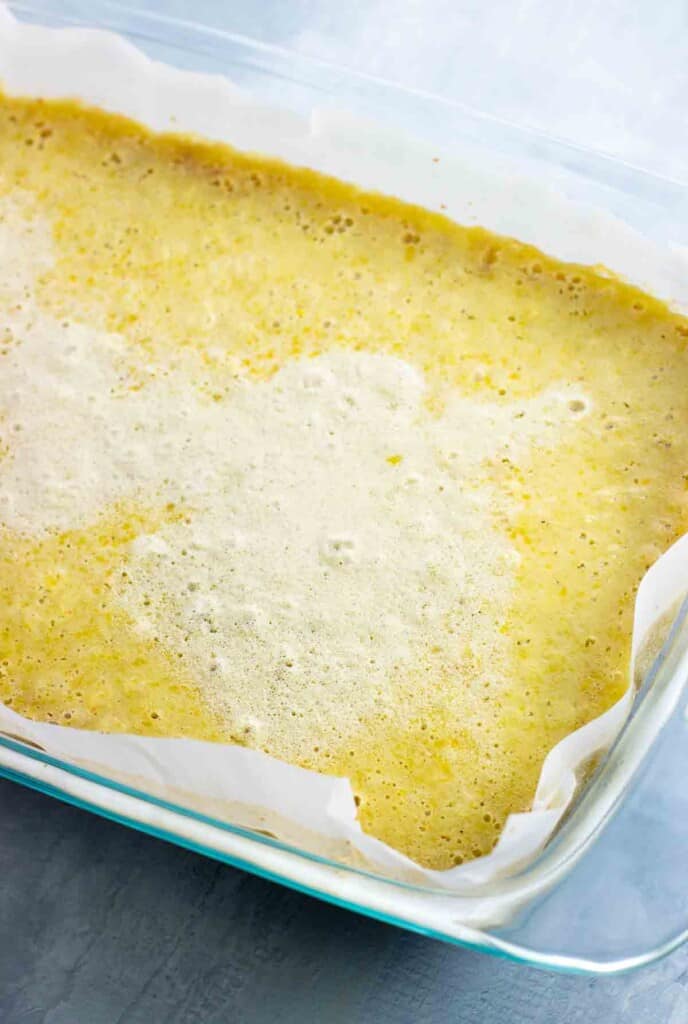 Recipe Tips and Tricks
Whisk by hand. An electric mixer will whip too much air into the filling mixture, leading to even more bubbles.
Use fresh ingredients. Fresh lemons and eggs provide the best flavor.
Don't rush slicing. Warmth will cause lemon bars to spread if you cut them too early. Wait until they are thoroughly chilled for firmer, precise squares.
Dust with sugar just prior to serving. Confectioners' (powdered) sugar will absorb into the surface over time, so add this finishing touch right before serving.
Use care with a glass pan. Best practices to avoid shattering include:

Avoiding sharp temperature swings, like going right from the fridge to the oven. This lemon bar recipe addresses this by having the lemon bars cool for at least an hour at room temperature before chilling.
Setting the hot pan on a trivet or heat-safe cutting board, not on a glass stovetop or cold tile.
Baking with an oven temperature on the low side - we're doing 325°F.
Not washing a glass pan while warm. That won't be an issue here.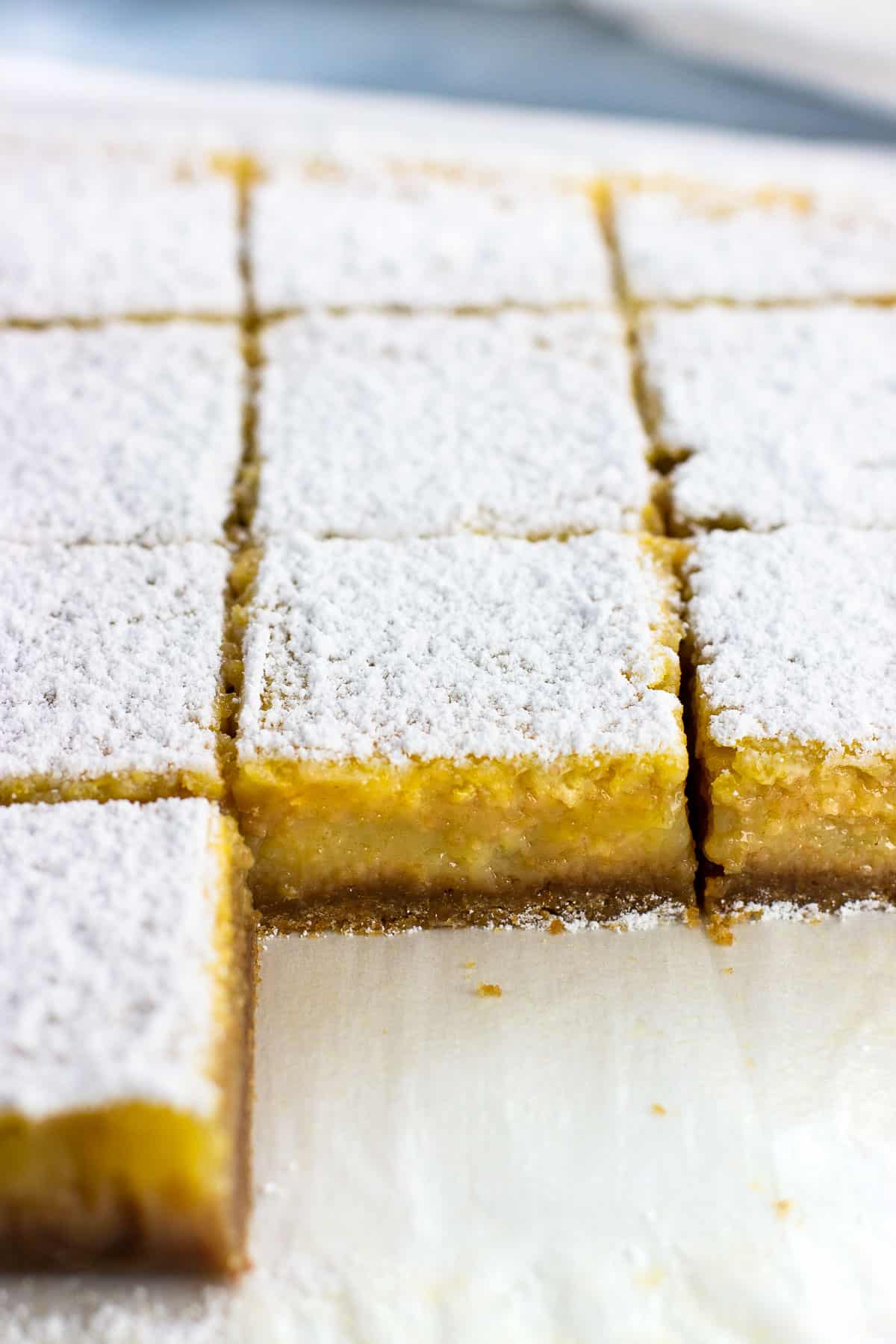 Recipe FAQs
Is it normal for bubbles or foam to form on the surface?
Yes it is. Nearly every batch of lemon bars I've ever made has some level of bubbling or white foam on the top surface. It's just a function of the ingredients, but the good news is that everything gets covered by powdered sugar.

I've considered setting the lemon filling mixture in the refrigerator overnight to give it time for the air bubbles to dissipate, but honestly haven't felt like going through the effort for a something immaterial that gets disguised anyway!
Why did some of the crust rise up into the filling?
Pour the lemon bar filling into the graham cracker crust while it's still warm to help solidify the two layers in place. Also be sure to really press well along the edges of the crust to pack in the crumbs there. One time I was a little lax with this and some outer crumbs floated up into the filling.
Can you freeze lemon bars?
Yes, they actually freeze really well. Wait until they are well-chilled, then slice and wrap slices in plastic wrap. Store in an air-tight container or freezer bag (if they won't be smushed) and freeze for several months. You can thaw in the fridge before enjoying, or you can dig in while they're still semi-frozen - they're delicious that way.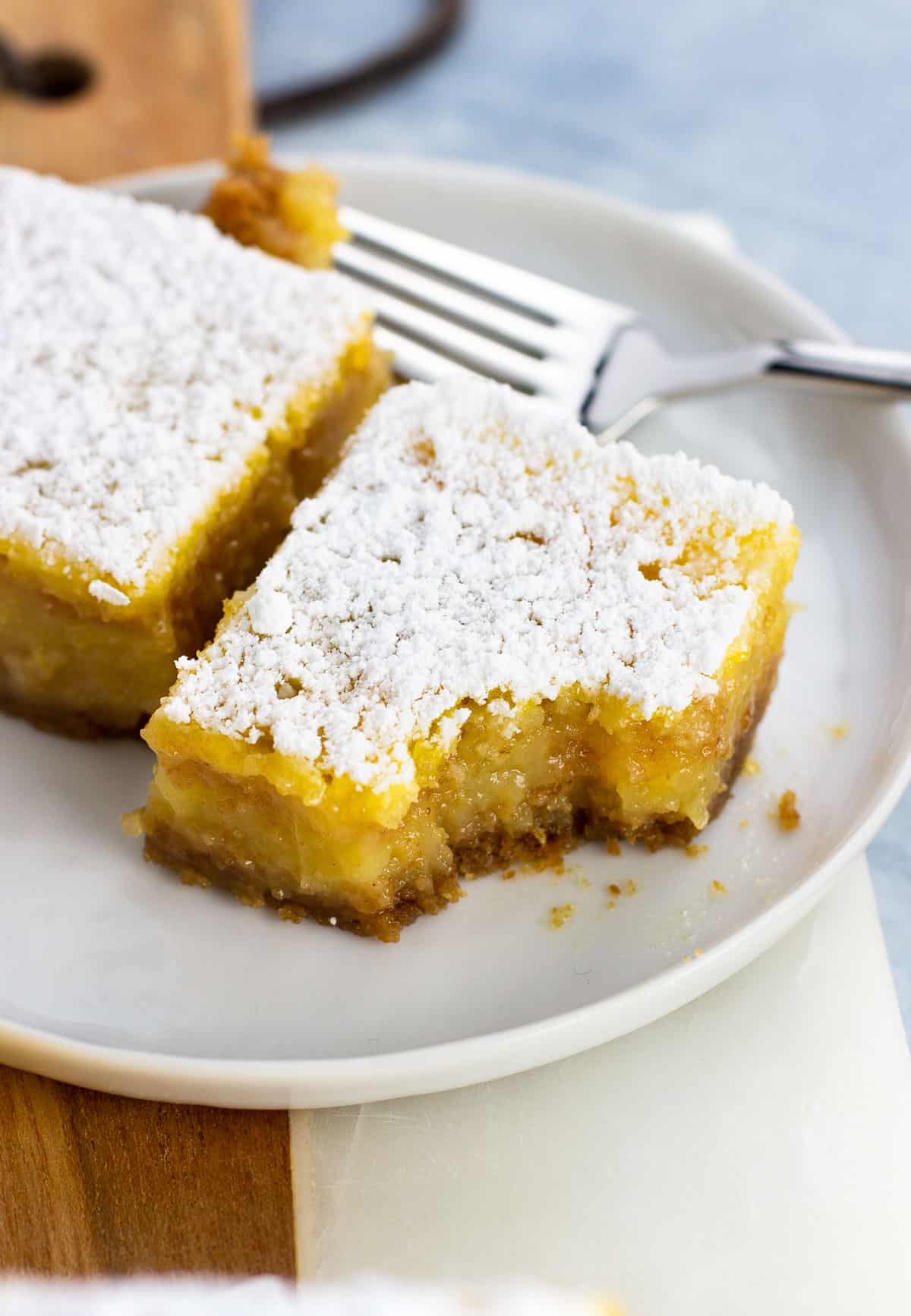 More Lemon Desserts
If you've enjoyed this recipe, I'd love for you to leave a star rating in the recipe card and/or a comment review below!
Lemon Bars with Graham Cracker Crust
Simplify the process of making lemon bars with this easy recipe. These lemon bars with graham cracker crust are bursting with bold, juicy flavor, a balanced sweetness, and a foolproof crust. I won't make lemon bars any other way!
Print
Pin
Rate
Ingredients
Crust
2 ½

cups

graham cracker crumbs

(about 18 full sheets)

¼

cup

granulated sugar

Pinch of

salt

10

Tablespoons

unsalted butter

melted
Filling
2 ½

cups

granulated sugar

2

Tablespoons

lemon zest

6

large

eggs

7

Tablespoons (55g)

all-purpose flour

sifted

1

cup

freshly-squeezed lemon juice
For Serving
Confectioners' sugar

for dusting
Instructions
Prep by lining a 9-by-13 inch glass pan with parchment paper, leaving some excess paper along the two longer sides so you can more easily lift out the baked lemon bars later on. Preheat the oven to 325°F.

Before beginning with the crust, add the filling's 2 ½ cups of granulated sugar and lemon zest to the bowl of a food processor. Process in bursts until the zest is broken up into small bits and is evenly dispersed. Turn out lemon sugar into a bowl and set aside. Doing this first prevents darker graham crumbs from mixing into the light-colored sugar.

Wipe out the food processor bowl (no need to do a full clean), then roughly break up graham cracker sheets and add them in. Process in bursts until the grahams total 2 ½ cups of fine crumbs. You may need to add more graham crackers to arrive at the full amount.

Add ¼ cup of granulated sugar and pinch of salt and process to combine with the graham cracker crumbs.

Pour out graham mixture into a bowl and stir in the melted butter until evenly combined. Turn this mixture out into the prepared pan and press firmly into an even layer to form the crust. Take special care to really compact the crust around the edges.

Bake the crust for 18-20 minutes, or until it has mostly set up and is turning golden-brown. Continue on to prepare the filling while the crust bakes.

Whisk together eggs and sugar in a mixing bowl, then sift in the flour and whisk until combined. Pour in lemon juice and whisk again until evenly mixed.

When the crust has finished its first bake, remove the pan from the oven and pour the lemon filling over it while it's warm. Place the pan back in the oven and bake for 25-28 minutes, or until the center has just set. It won't be a very firm texture, but you should not see any pooled liquid remaining in the center.

Remove the pan from the oven and let it cool at room temperature for 60-90 minutes before transferring it to the refrigerator to thoroughly chill.

Once well-chilled, slice into bars using a sharp knife, carefully cleaning the knife off between cuts for a less-messy presentation. Dust with confectioners' sugar through a fine sieve just prior to serving.

Store lemon bars in an air-tight container in the refrigerator for up to 5 days. Bars can be carefully wrapped in plastic wrap and frozen in an air-tight container or freezer bag for several months.
Notes
Recipe Time: This includes roughly 1 ½ hours for cooling to room temperature and 2 hours for chilling.
Tips and Tricks
Make sure the bars are very well chilled before slicing for the cleanest slices.
The powdered sugar will absorb into the top surface the longer it sits, so do this just before serving.
Be careful with a glass pan to avoid shattering. Some best practices include avoiding sharp temperature swings (such as going right from the fridge to a hot oven), setting it down on cool tile or glass stovetop surfaces, or cleaning while warm.
Nutrition
Serving:
1
bar
|
Calories:
205
kcal
|
Carbohydrates:
34.4
g
|
Protein:
2.4
g
|
Fat:
6.8
g
|
Saturated Fat:
3.3
g
|
Cholesterol:
53
mg
|
Sodium:
129
mg
|
Potassium:
31
mg
|
Fiber:
0.9
g
|
Sugar:
25.4
g
|
Calcium:
7
mg
|
Iron:
1
mg
Nutritional information is provided as an estimate. As it can vary due to many factors (brands used, quantities, etc.), we cannot guarantee its accuracy.
Food Safety and Nutrition Disclaimer