Ready for an unexpectedly delicious and easy fruit dessert? This anise fruit salad features a flavorful simple syrup that adds a touch of sweetness and special something to a medley of fruits. With a present but not overwhelming flavor, this anise cinnamon syrup is the secret to making the best fruit salad.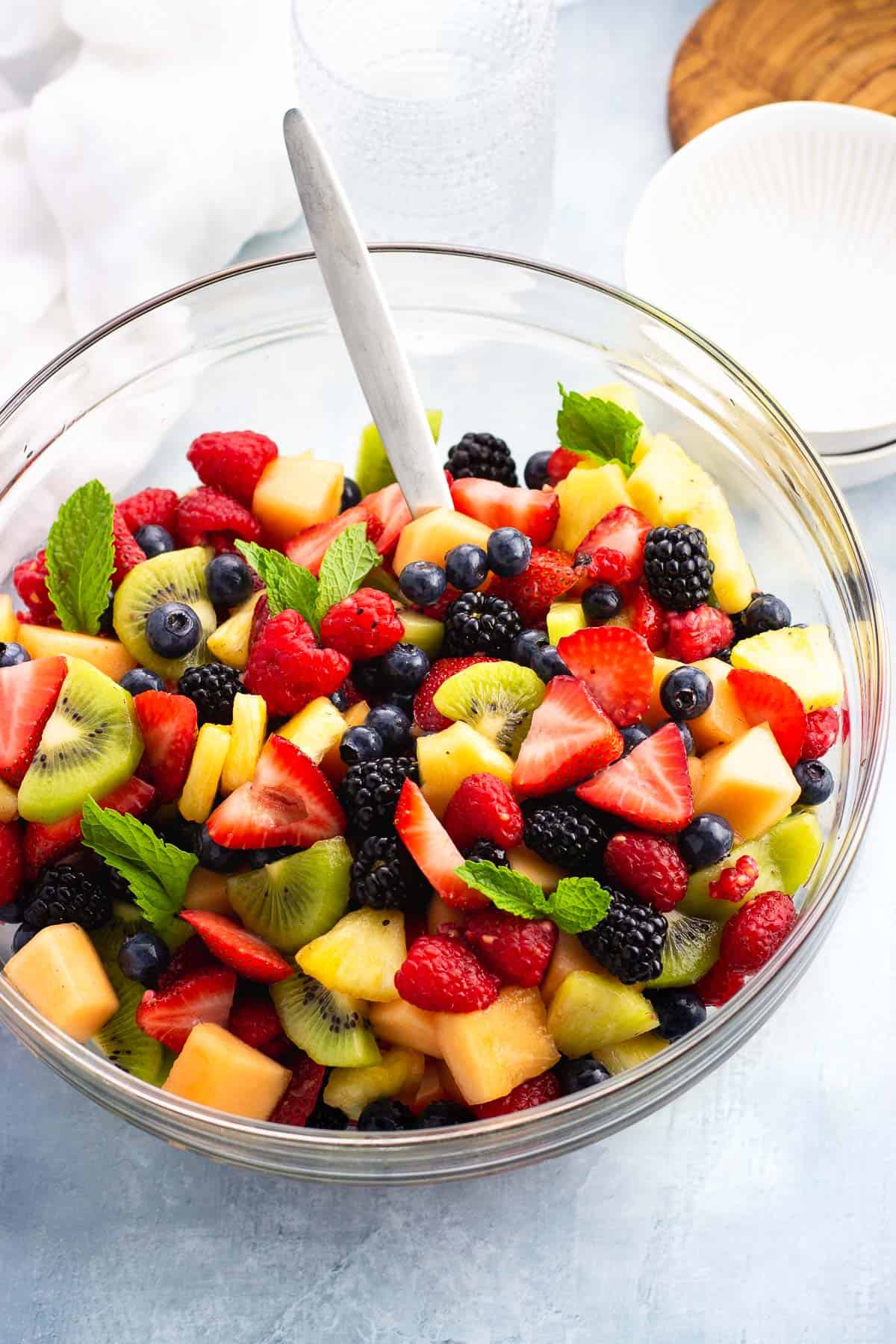 Stay with me now, but this anise fruit salad is the very best fruit salad I have ever eaten. I know, anise!
The sharp licorice notes in anise extract can make it a polarizing ingredient, but it's an essential and beloved element in anise cookies and other Italian baking recipes. The good news here is that we're using whole anise seeds and not ultra concentrated extract.
Whole anise seeds are mellower than extract, and provide more complex spiced and earthy notes along with a tamed licorice flavor. Infused in a simple syrup with cinnamon, the pair makes a shockingly delicious dressing for a bright melon and berry fruit salad.
Reasons to Love Anise Fruit Salad
The dressing. Whole anise seeds and a cinnamon stick provide a unique flavor to an infused simple syrup that adds such a special touch. Anyone I serve this to can't get enough! Plus you can add as much (or as little) syrup as you like to control the sweetness.
It's a great fruit salad for a crowd. As written this recipe yields between 11-12 cups of fruit with a generous enough portion of syrup to coat more if needed.
This mix of fruit is optimized to last for a bit in the fridge. None of the seven kinds browns quickly or mushes up very fast.
Best Fruits For Fruit Salad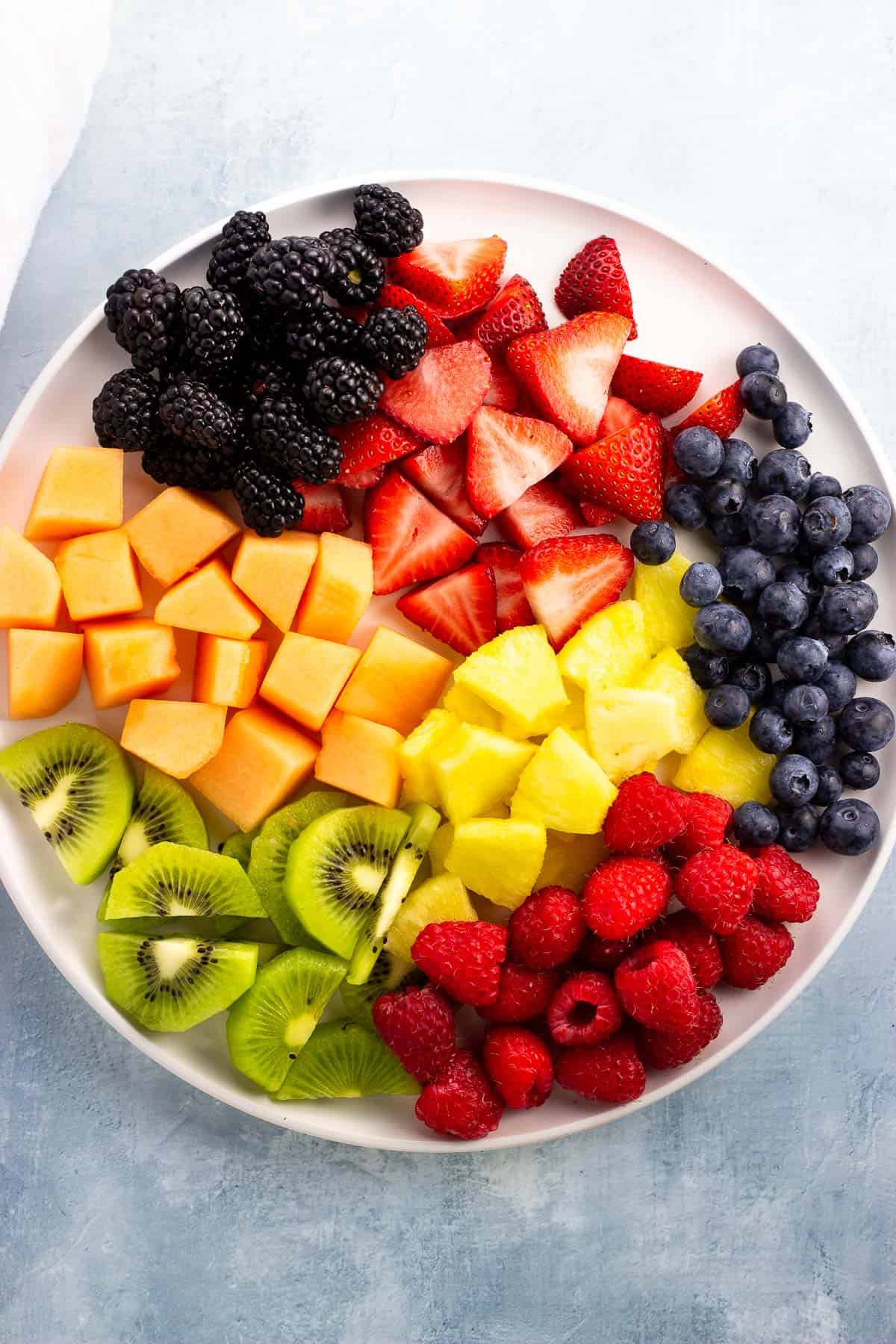 There's lots of wiggle room here for you to mix and match fruit depending upon what you like and have on hand. You don't have to use all seven varieties! All of these fruits are good options for fruit salad as they don't brown too quickly (like apples or pears) or quickly become mushy (bananas, ripe stone fruits).
Cantaloupe
Pineapple
Kiwi
Strawberries
Blueberries
Blackberries
Raspberries
You may notice this is a fruit salad without grapes. That's only a personal preference, substitute in sliced green or red grapes if you like.
Anise Syrup Ingredients
Anise Seeds: These are whole (not ground) and can be found in the baking aisle with the dry spices if your store stocks it. This is not the same thing as star anise. Do not substitute with anise extract.
Cinnamon Stick: These come in all different sizes, so a measurement of "one stick" can really vary. Use one about four inches in length (they can be carefully cut down to size).
Lemon Juice: Just a little to temper the sweetness.
Sugar & Water: Equal parts for a classic simple syrup base.
Step-by-Step Instructions
Simmer syrup. Add all ingredients to a small saucepan and simmer for at least 10 minutes. Remove from the heat and let cool, then thoroughly chill.
Strain. Pour the infused syrup through a fine mesh strainer so it's smooth.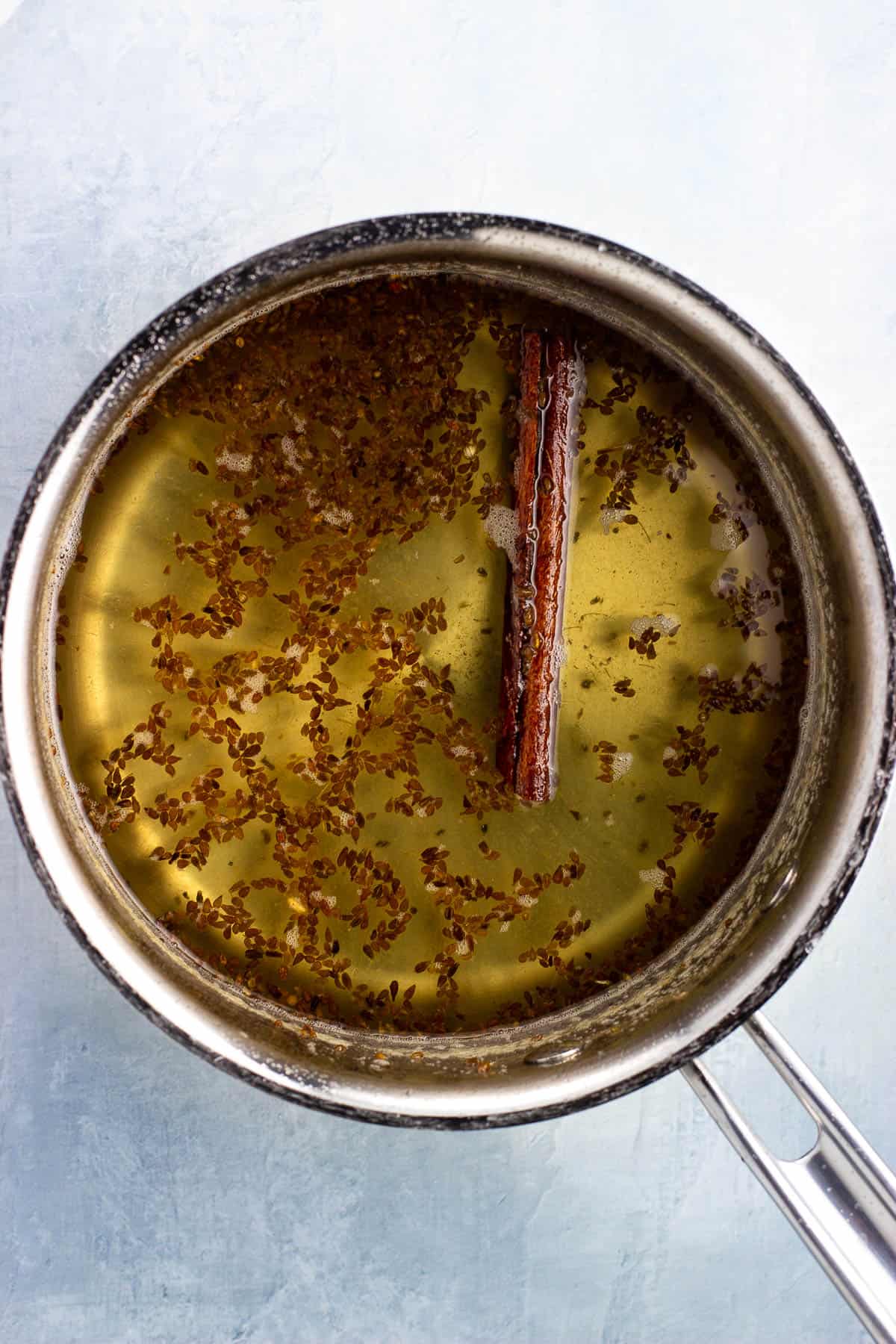 Dress. Prepare all fruit and add to a large bowl. Pour in syrup (not all).
Adjust and serve. Take a taste and see if you'd like more syrup to be added before briefly chilling/serving.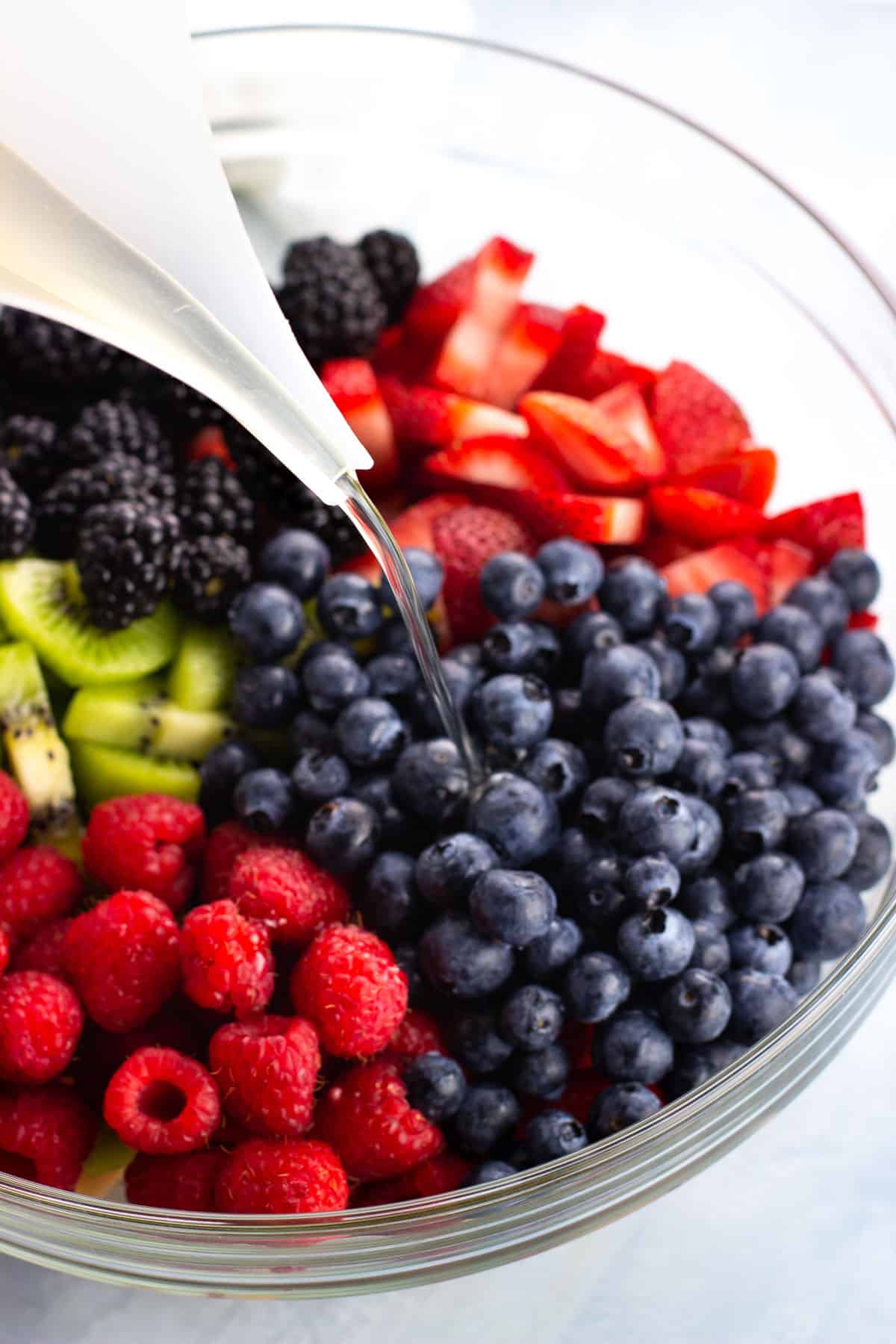 Tips and Tricks
Fruit Size - Slicing roughly uniform, bite-sized pieces of fruit will make this salad easy to eat.
Garnish - While not necessary, fresh mint leaves acts as a colorful garnish with complementary flavor.
Prep Ahead - Fruit like pineapple and cantaloupe can be sliced and chilled the day before for easier day-of prep. Hold off on rinsing the berries until making the fruit salad as they are best kept as dry as possible in the fridge to ward off spoilage.
Leftover Syrup - This will stay for 1-2 weeks when refrigerated, or it can be frozen for an even longer life. Use it to toss with fruit for a quick single-serving treat, or add it to mocktails or cocktails that call for simple syrup for a fun flavor twist.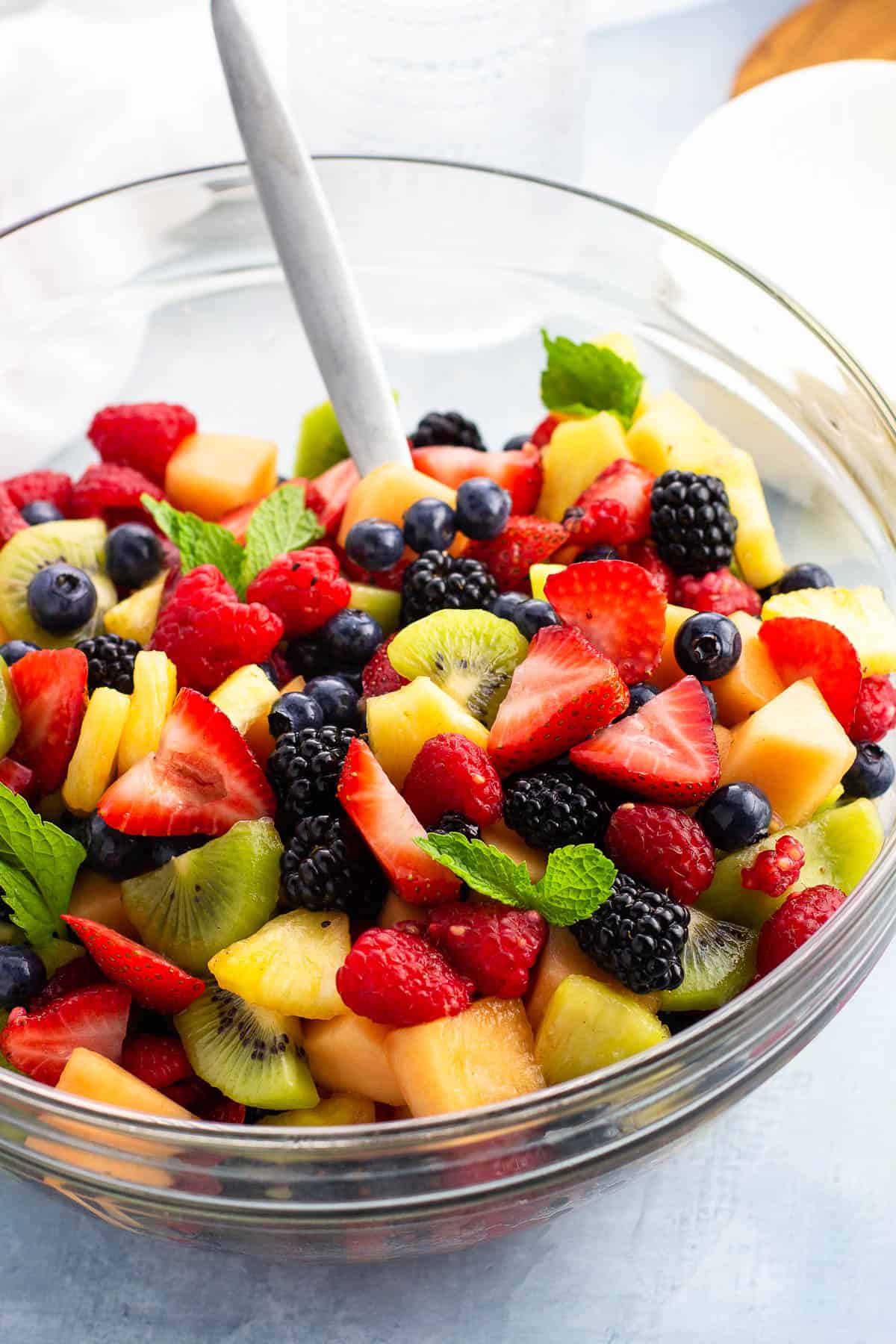 Recipe FAQs
Can you put bananas in fruit salad?
Technically yes, though I am not a fan. The banana flavor really overwhelms and their softer texture is quicker to mush up and become unpleasant.
Can I use a different type of anise - anise extract, star anise, etc.?
Please do not use anise extract in this recipe as it will be way too potent. I have only made this fruit salad dressing with anise seeds and not star anise pods so I couldn't say for sure how the substitution would taste. The two are actually in different plant families but feature similar flavors.
How far ahead of time can you make fruit salad?
This anise fruit salad is best served within a day of preparing, ideally within a hour or two of assembling. Kept refrigerated it will last for several days, but some fruit (raspberries in particular) will become mushier as time goes by.
More Fruit Recipes
Recipe Inspiration - This anise fruit salad was inspired by a recipe in my mom's 1991 edition of The Good Housekeeping Illustrated Book of Desserts. I was really intrigued by the addition of anise seeds to fruit salad syrup, but otherwise made a fair amount of changes: omitted salt, added the cinnamon stick, switched up the fruit, held back on the quantity of syrup, etc.
If you've enjoyed this recipe, I'd love for you to leave a star rating in the recipe card and/or a comment review below!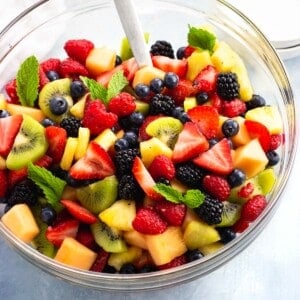 Fruit Salad with Anise Cinnamon Syrup
Ready for an unexpectedly delicious and easy fruit dessert? This anise fruit salad features a flavorful simple syrup that adds a touch of sweetness and special something to a medley of fruits. With a present but not overwhelming flavor, this anise cinnamon syrup is the secret to making the best fruit salad.
Print
Pin
Rate
Ingredients
Anise Cinnamon Syrup (not all will be used)
1

cup

water

1

cup

granulated sugar

2

Tablespoons

freshly-squeezed lemon juice

2

teaspoons

whole anise seeds

1

4-inch (or so)

cinnamon stick
Fruit Salad
2

cups

cubed cantaloupe

2

cups

pineapple chunks

16

ounces

strawberries

tops removed and sliced (about 2 ¼ cups)

4

kiwi fruit

peeled and sliced (about 1 ½ cups)

6

ounces

raspberries

(about 1 ¼ cups)

6

ounces

blueberries

(about 1 ¼ cups)

6

ounces

blackberries

(about 1 ¼ cups)
Instructions
Make the Syrup
Add water, granulated sugar, lemon juice, anise seeds, and cinnamon stick to a small saucepan. Bring to a boil on the stovetop, then reduce heat to a constant simmer for 10 minutes. Remove the pan from the heat and let cool some before refrigerating until well chilled.
Prepare the Fruit
Rinse fruit well and pat dry. Raspberries, blueberries, and blackberries remain whole.Cantaloupe: Cut into sections, then discard seeds and slice away peel. Slice the fruit into bite-sized cubes.Pineapple: Remove the crown of the pineapple, slice away the rind, then cut long strips of fruit away from the core. Discard the core and slice remaining pineapple into bite-sized pieces.Strawberries: Cut away the stems and slice.Kiwi: Peel, then slice into rounds. Cut each round in half.
Assemble the Fruit Salad
Add all prepared fruit to a large serving bowl. Strain the chilled anise cinnamon syrup through a fine sieve and pour roughly ⅓ cup of it (not all of the syrup) over the fruit. Gently stir to coat the fruit evenly. Take a taste and see if you'd like more sweetness/flavor, and add additional syrup to taste.
Serve
This fruit salad is best served right away, or after a quick chill (one hour or less) to preserve the best texture. Garnish with mint leaves for serving. Store leftover fruit salad in the refrigerator. It will be fine to eat for several days (stir again to coat the fruit in syrup after it sits) but the texture will become softer as time goes by.
Notes
Fruit: Mix and match varieties, substitute in sliced grapes or honeydew, etc. Pineapple and cantaloupe can be sliced the day before, but hold off on rinsing berries until just prior to use. Simple Syrup: Not all will be used for one batch of fruit salad (though add as much as you like). Store leftover syrup in an air-tight container in the refrigerator for up to 1-2 weeks, or portions can be frozen for longer. Make-Ahead Tips: The simple syrup can be prepared 1-2 days in advance and refrigerated. Strain it after the first several hours. Nutrition: This assumes the use of one-third of the simple syrup.
Nutrition
Serving:
1
heaping cup
|
Calories:
111
kcal
|
Carbohydrates:
27.6
g
|
Protein:
1.7
g
|
Fat:
0.7
g
|
Sodium:
7
mg
|
Potassium:
351
mg
|
Fiber:
5
g
|
Sugar:
20.6
g
|
Calcium:
34
mg
|
Iron:
1
mg
Nutritional information is provided as an estimate. As it can vary due to many factors (brands used, quantities, etc.), we cannot guarantee its accuracy.
Food Safety and Nutrition Disclaimer