Cherry rhubarb crisp packs sweet, tart, and butter-y all into one perfect springtime dessert. Sweet cherries, lots of rhubarb, and a spiced oatmeal crisp topping make this easy rhubarb crisp recipe something special. A scoop of vanilla ice cream for serving is a must!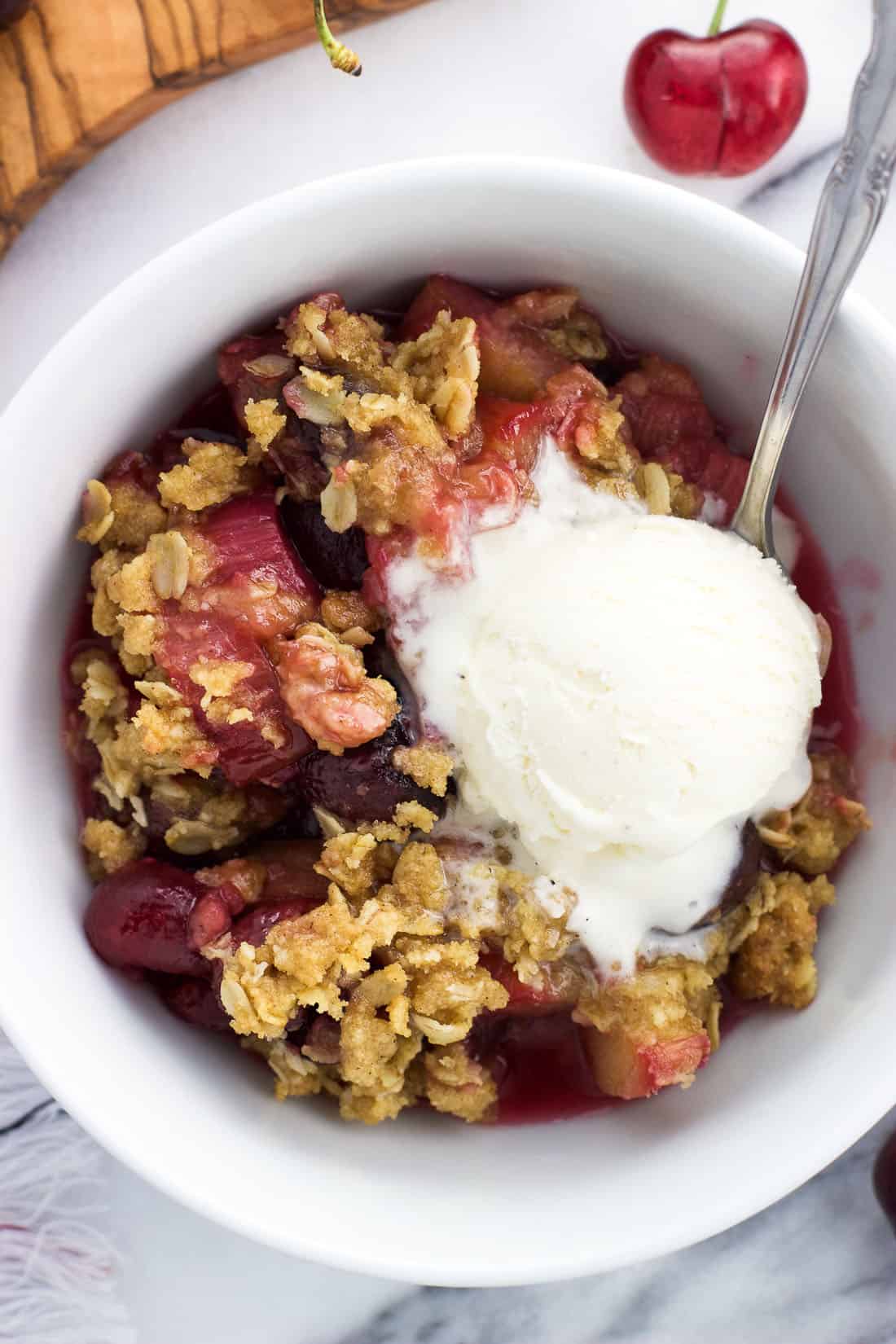 Strawberry rhubarb has the distinction of being my husband's favorite type of pie, which is quite a feat given how much he likes pie. I think most days he would choose it over chocolate cake, and that's saying something.
The thing is...I'm not much of a pie maker. At all. Here on the blog I get as close as a strawberry rhubarb crumble. (Yum, btw.)
My mother-in-law is excellent at pies, and I was eager to learn under her pie tutelage during their last visit. We planned to make a blueberry pie since rhubarb can be elusive here in the southeast U.S. but, lo and behold, we found one lone package of fresh rhubarb nestled in next to the berries.
Strawberry rhubarb pie it was, and man was it delicious.
I need to build my pie confidence before sharing it here, and today is not that day. Today we're right smack in the middle of my dessert comfort zone (easy and rustic looking) with something a little different when it comes to classic rhubarb desserts: a cherry rhubarb crisp.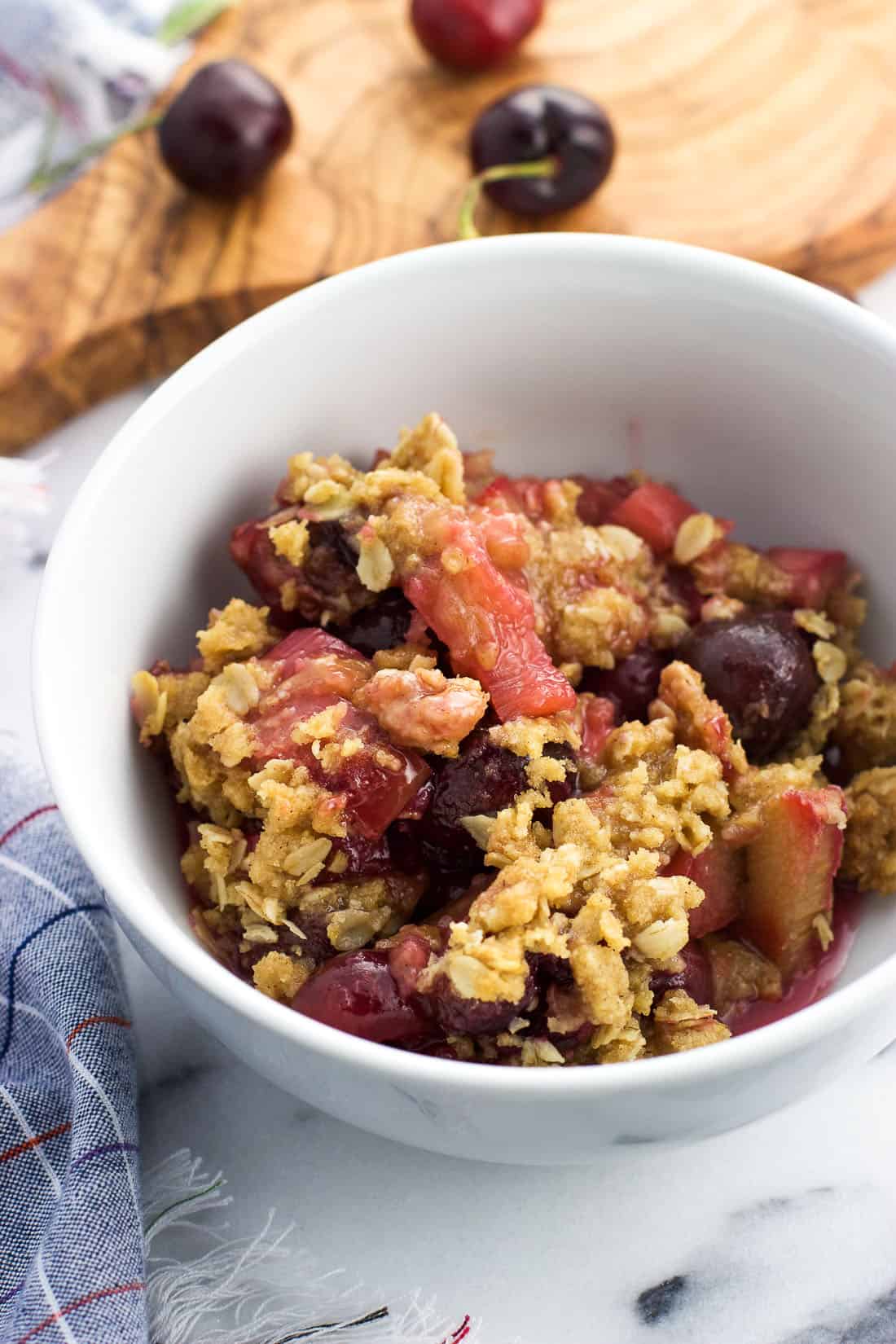 Reasons to Love This Recipe
With sweetness from the cherries and deliciously tart flavor from the rhubarb, this is a fruit crisp that features the best of both worlds.
Crisps have the advantage of being much less finicky than pies. The method here can be boiled down to mixing up the filling and topping in separate bowls, pouring one on top of the other, and baking.
This recipe includes extra detail for using frozen cherries and/or rhubarb for convenience, ensuring your cherry rhubarb crisp ends up just the right consistency.
Recipe Ingredients
There are two parts to this recipe: the fruit filling itself and the oat crumble toppping.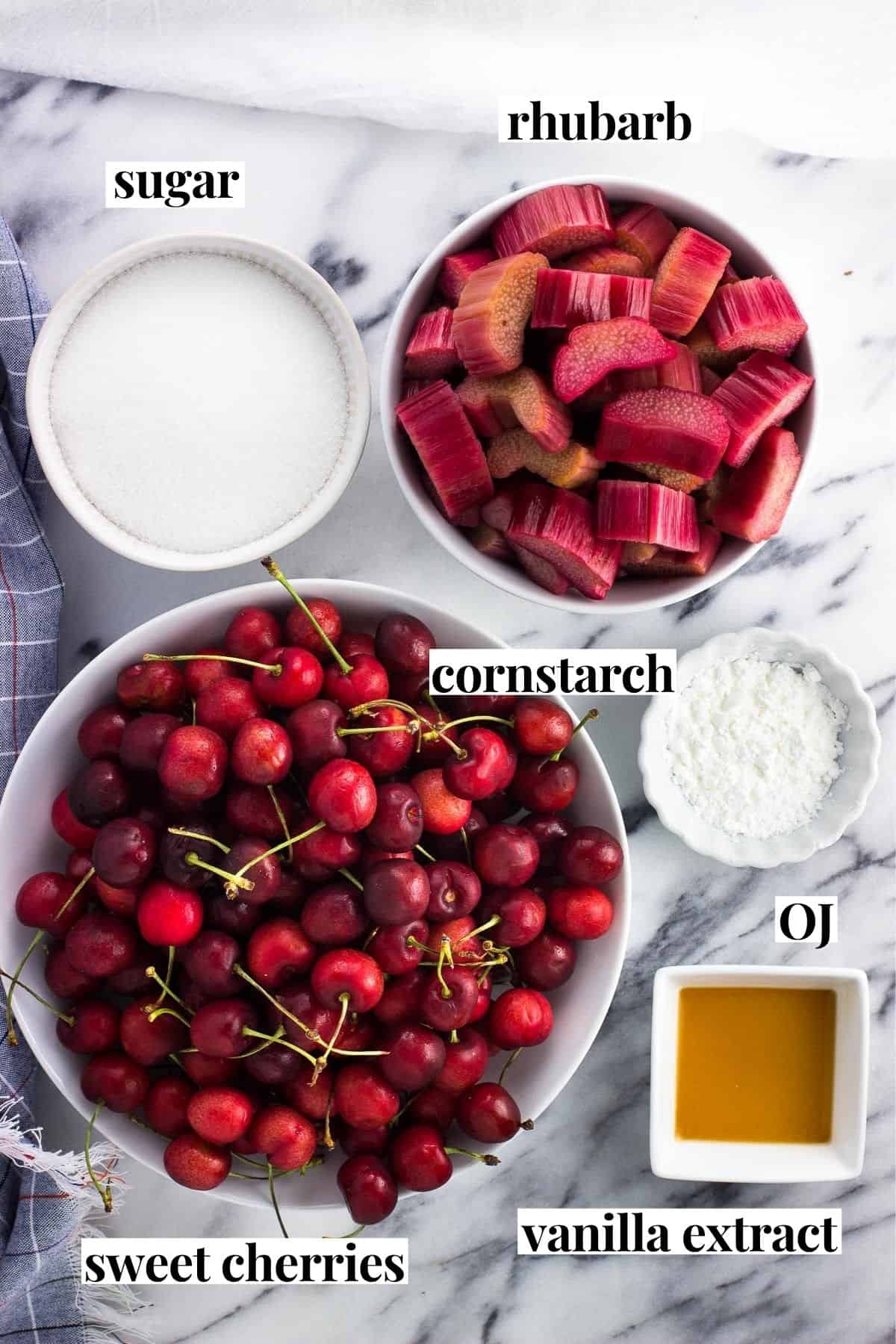 Cherries: This recipe calls for sweet cherries, not sour. Rhubarb is tart enough!
Rhubarb: One-and-a-half pounds (between five and six cups) of fresh or frozen rhubarb is used here. Cut it into half-inch slices.
Cornstarch: This is important to thicken the fruit juices so you don't end up with a soupy (but delicious) mess. See the recipe card below for increasing the amount if using frozen fruit.
Orange juice: You can use water or another fruit juice in place of the orange juice if you don't have any or don't want to crack into an orange for a few teaspoons.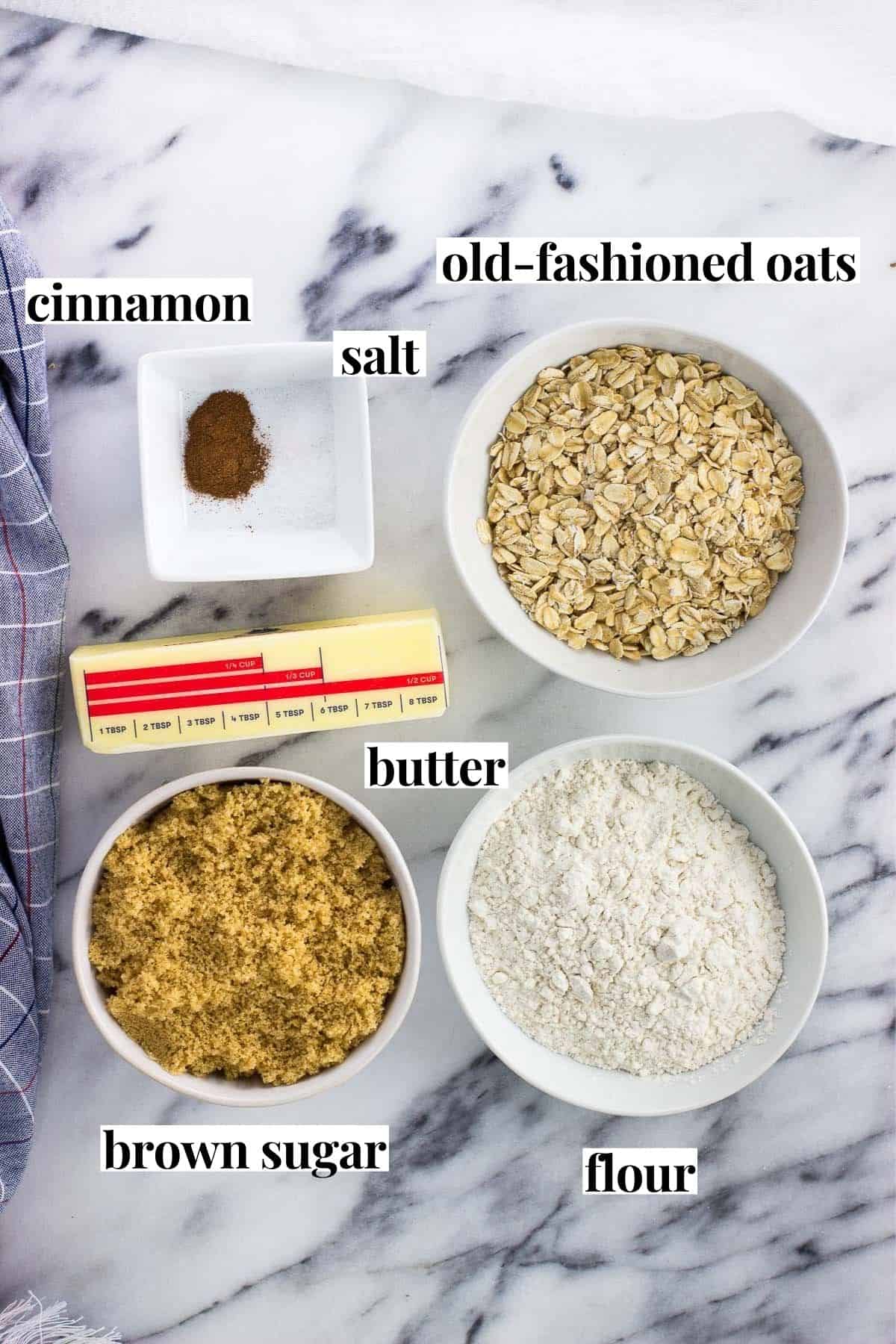 Oats: Oats are a classic in fruit crisp topping. Old-fashioned oats are preferred as they have a heartier texture and don't risk becoming too mushy like the more processed quick oats.
Brown sugar: The extra boost of warmth and moisture brown sugar provides benefits this cherry rhubarb crisp flavor and consistency.
Butter:

Chilled (right from the fridge) butter is cut into the crisp to help form a scatterable texture.
Step-by-Step Instructions
Add all of the fruit layer ingredients to a large mixing bowl, then stir to combine and coat them evenly.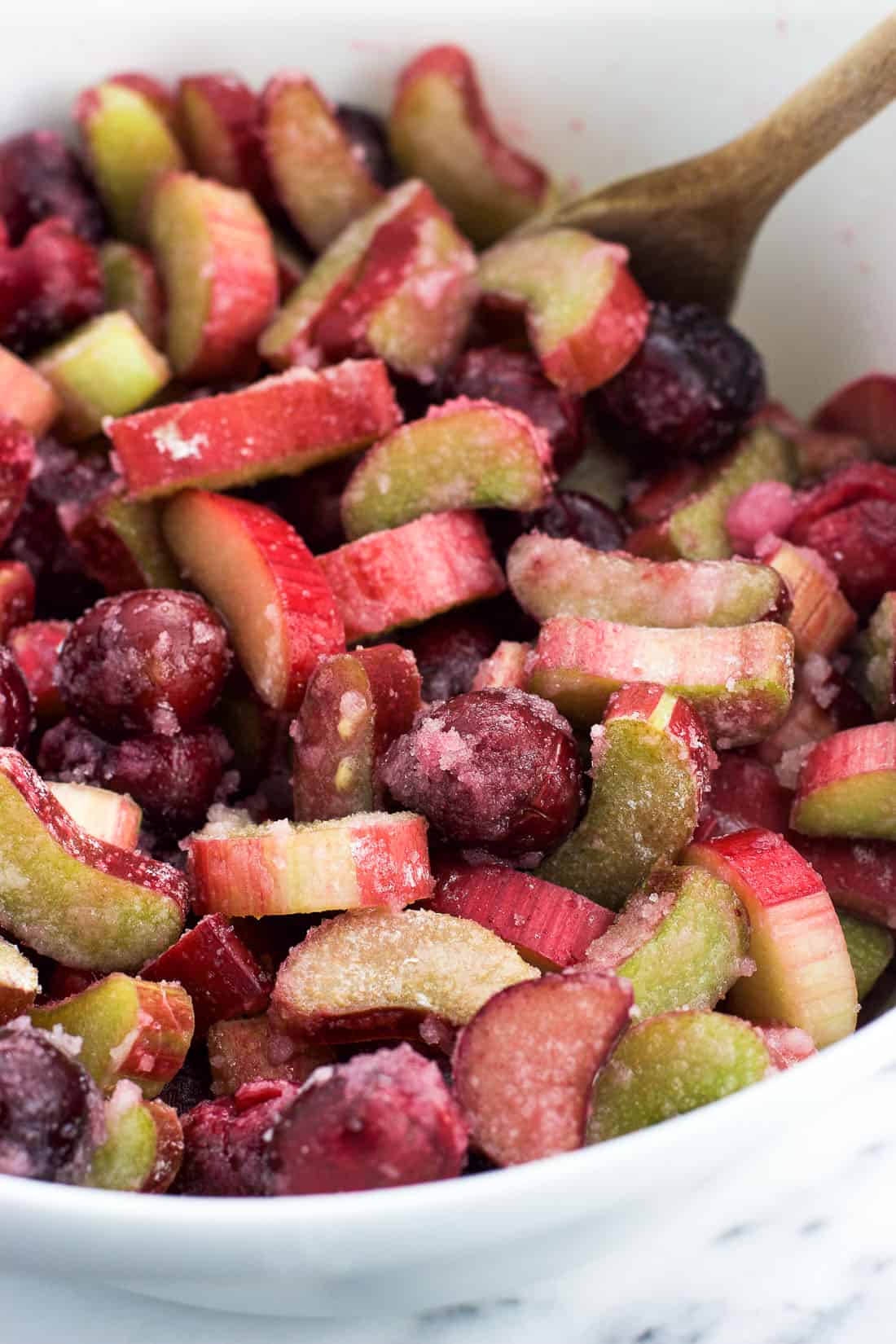 Add all of the oat crisp topping (except for the butter) to a bowl, then cut in the chilled butter pieces using a pastry blender or two forks. It won't be a smooth mixture as some chickpea-sized clumps will remain - that's okay.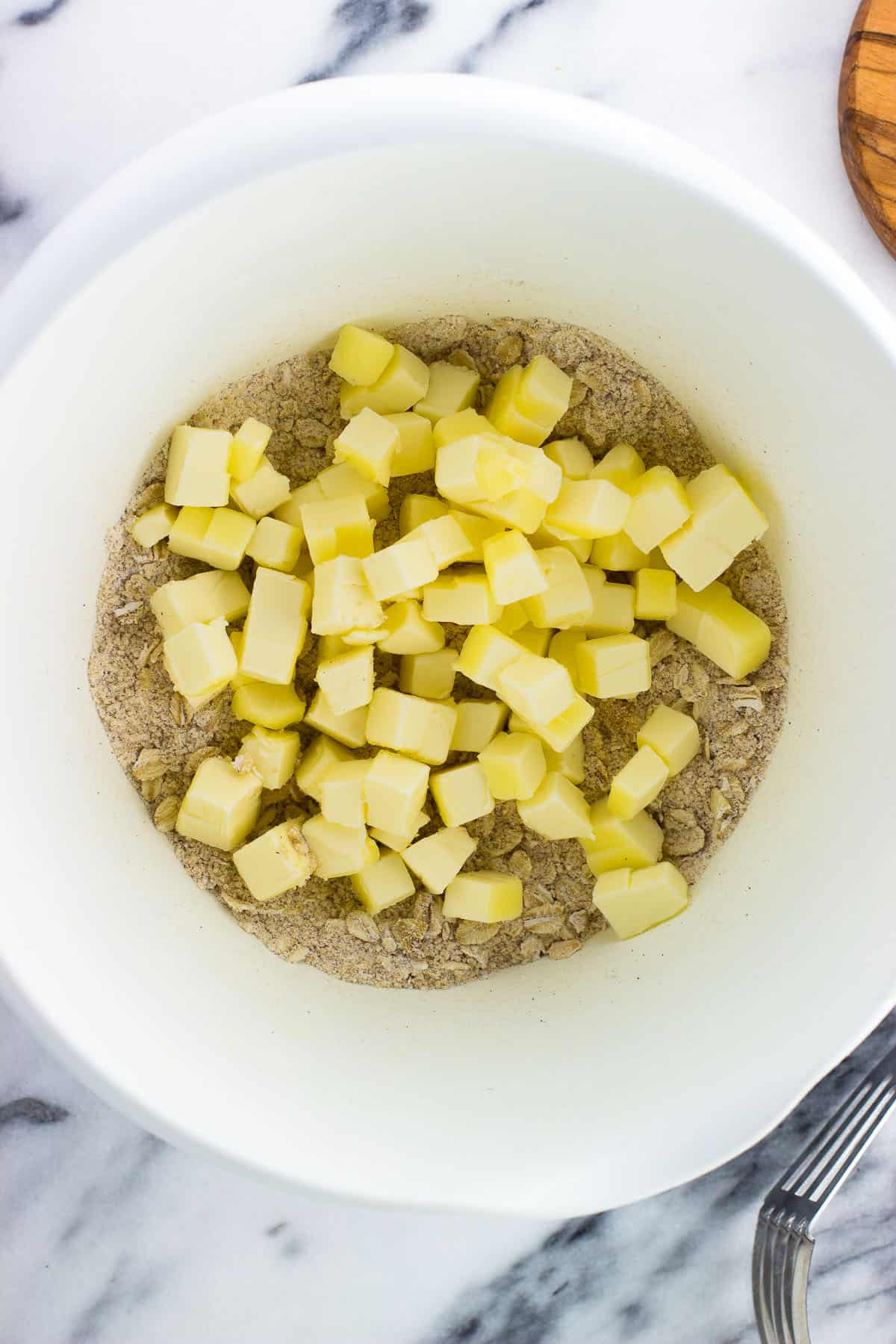 Pour out the fruit mixture into a large baking dish, then scatter the oat topping evenly over top.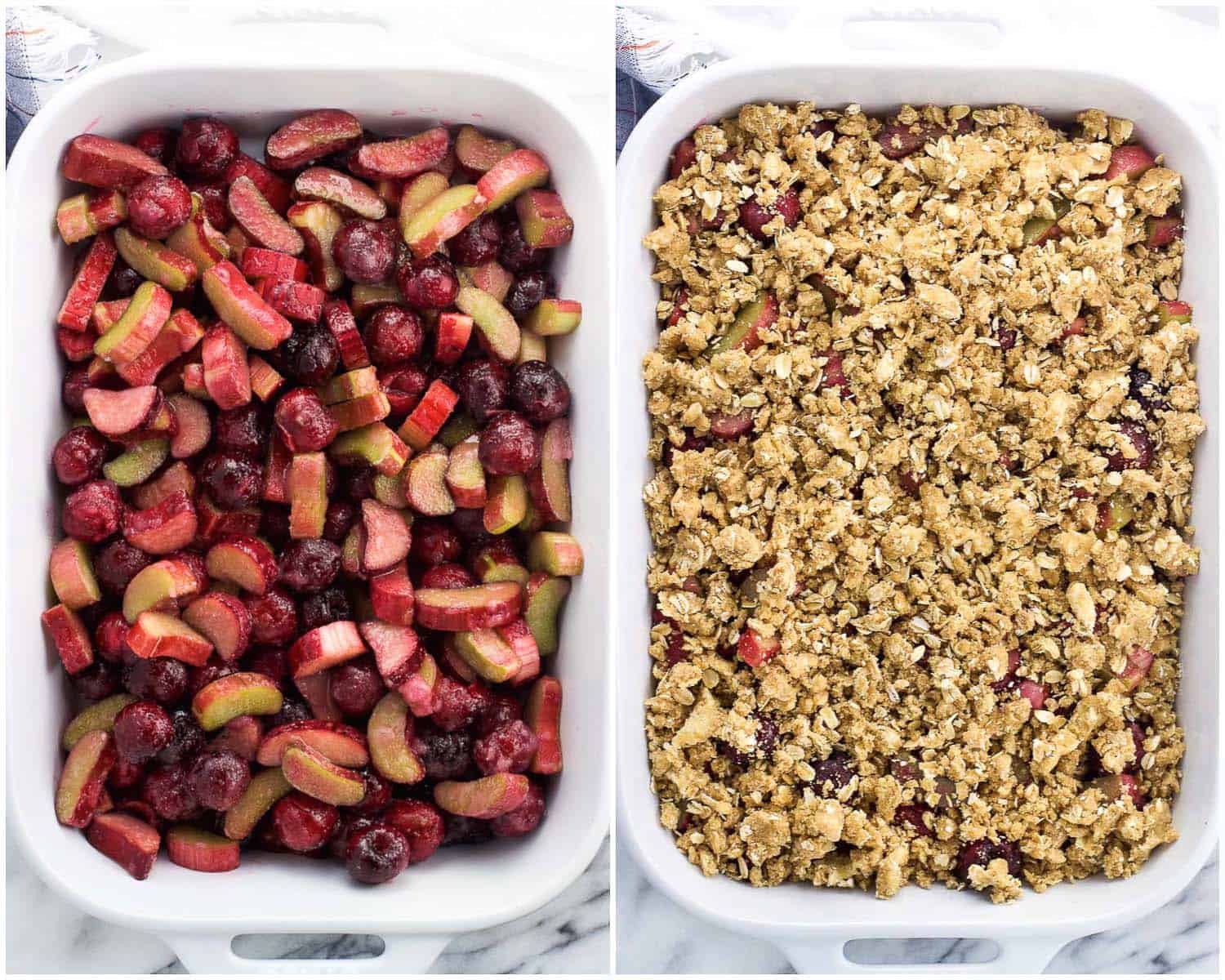 Bake until the juices are bubbling and the topping is golden-brown, about 45 minutes or so. Let this cherry rhubarb crisp cool for a little bit, and then serve with a scoop of vanilla ice cream (highly recommended). Talk about a perfect pairing.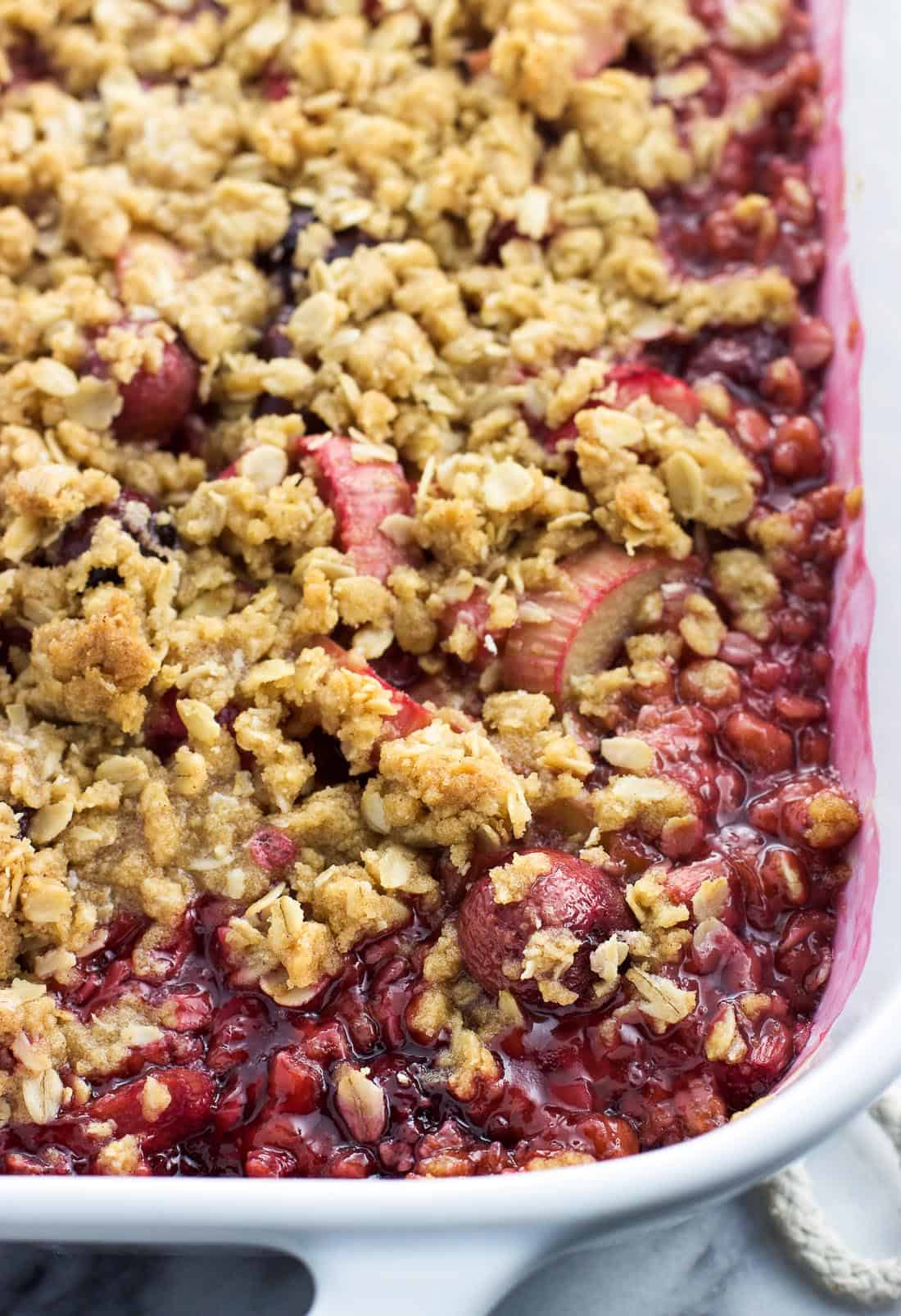 Recipe Tips and Tricks
We're in that lucky time of year when cherries and rhubarb can be found fresh, though I know that's not the case for the majority of the year. That said you can certainly use frozen cherries and/or rhubarb if it's more convenient.
If using frozen cherries, let them thaw and then strain away any excess liquid so the mixture doesn't become too soupy. They also come pitted, which is a big time saver. Just be sure to use sweet cherries and not sour.
Frozen rhubarb can also be thawed and used in place of fresh. Just like with the cherries, blot it to remove excess moisture before adding to the recipe. You may also wish to bump up the cornstarch to two tablespoons (or more, if you like) to counteract excess moisture from the frozen fruit.
Don't underestimate the size of the baking dish you'll need. This cherry rhubarb crisp filling bubbles as it cooks and you do NOT want to risk a spillover in the oven. Been there, done that. The dimensions of the pan pictured is 13" x 9" x 3".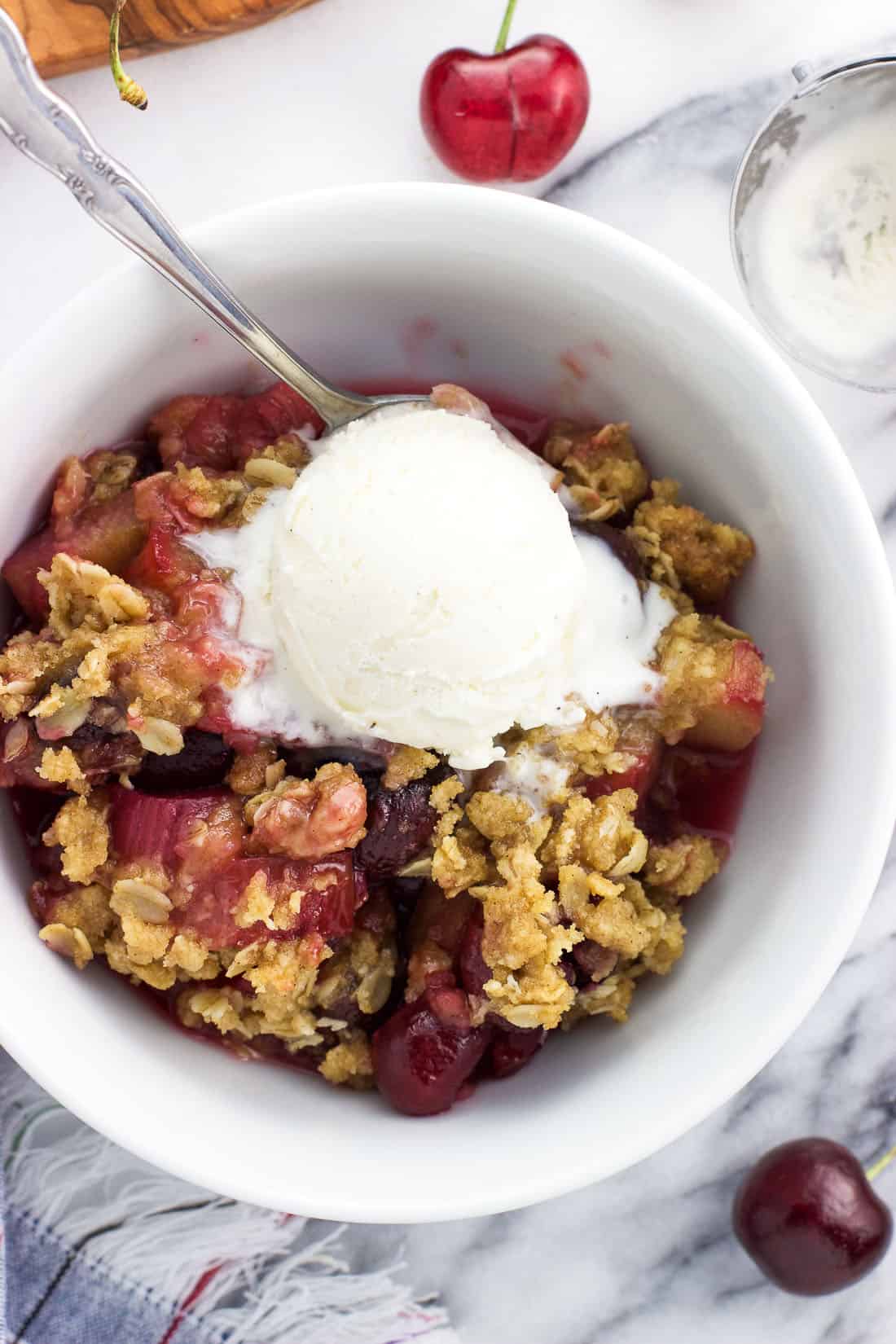 Related Recipes
If you've enjoyed this recipe, I'd love for you to leave a star rating in the recipe card and/or a comment review below!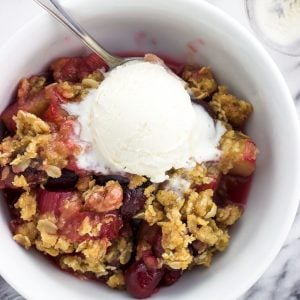 Cherry Rhubarb Crisp
Cherry rhubarb crisp packs sweet, tart, and butter-y all into one perfect springtime dessert. Sweet cherries, lots of rhubarb, and a spiced oatmeal crisp topping make this easy rhubarb crisp recipe something special. A scoop of vanilla ice cream for serving is a must!
Print
Pin
Rate
Ingredients
For the fruit:
1 ½

lbs

sweet cherries,

pitted (a little over 4 cups)

1 ½

lbs

rhubarb,

cut into ½-inch pieces (about 5 ½ cups)

¾

cup

granulated sugar

1 ½

Tablespoons

cornstarch

(see note to increase if using frozen fruit)

2

teaspoons

orange juice

¼

teaspoon

vanilla extract
For the topping:
¾

cup

all-purpose flour

¾

cup

old-fashioned oats

¾

cup

packed brown sugar

¼

teaspoon

ground cinnamon

¼

teaspoon

salt

8

Tablespoons

chilled unsalted butter,

cut into ½-inch pieces
Instructions
Add pitted cherries, sliced rhubarb, granulated sugar, cornstarch, orange juice, and vanilla extract to a large bowl and gently toss to combine and coat the fruit evenly.

Pour out filling into a large pan (mine is 13" x 9" x 3") and pat into an even layer.

Add flour, oats, brown sugar, cinnamon, and salt to a mixing bowl and stir to combine evenly. Cut in the chilled butter pieces with a pastry blender until it is in small clumps. It will not be smooth.

Scatter the topping over the fruit in the pan evenly.

Bake for 45-50 minutes, or until the crisp topping is golden-brown and the fruit filling is well-heated and bubbly. You should easily be able to pierce the center of a slice of rhubarb with a fork. Let the crisp cool off some, then serve warm in bowls (with a scoop of vanilla ice cream as a recommend topping!).
Notes
Cornstarch: If using frozen cherries and/or rhubarb, let them thaw before using and strain/blot away as much moisture from them as you can before adding to the recipe. Increase the amount of cornstarch to up to three tablespoons total to account for the inevitable extra moisture.
Be sure to use a large pan that's not filled too high as the filling will bubble up as it bakes. If you don't have a pan big enough, consider breaking the mixture up into two pans.
Nutrition
Nutritional information is provided as an estimate. As it can vary due to many factors (brands used, quantities, etc.), we cannot guarantee its accuracy.
Food Safety and Nutrition Disclaimer
Oatmeal crisp topping adapted from the fruit dessert section of The Art & Soul of Baking by Sur La Table/Cindy Mushet (affiliate link), one of the pillars of my cookbook collection. While they use a stand mixer to incorporate the butter into the other topping ingredients, I find using a handheld pastry blender helps prevent over-mixing and over-softening the butter so that's the method I include above.