This Spiced Peach Crisp with Crumb Topping is a simple, delicious way to enjoy one of summer's shining stars – peaches! Gooey, slightly spiced peaches are topped with a serious crumb layer (like crumb cake!) and baked for a perfect summer dessert. Top with confectioners' sugar for a sweet touch.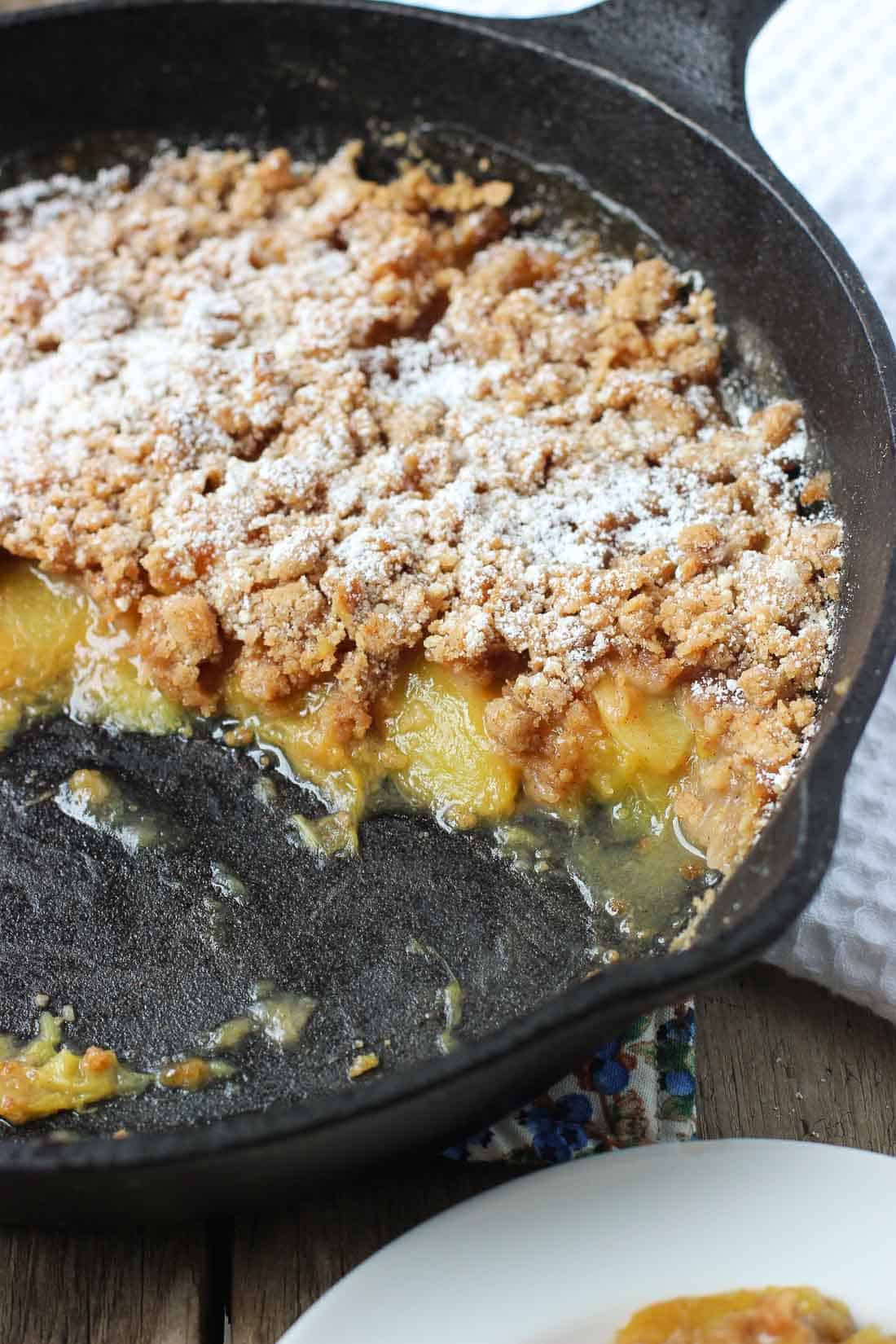 After Tuesday's cherry almond streusel muffins, let's keep rolling right along with all the best seasonal fruit and inhale this spiced peach crisp like we're in a pie eating contest. Well, a peach crisp eating contest. Judging by the intensity of my cravings when this crisp is around, I'm going for gold.
A ton of peaches happened to have jumped into my cart at the store recently (weird how that happens…), so I had peach desserts on the brain. After days of bringing them to work as a mid-morning snack and turning them into smoothies, I figured it was only right to indulge my sweet tooth with dessert. I'm all for equality.
So this spiced peach crisp with crumb topping was born! It's an easy, seven-ingredient dessert that highlights one of the best fruits spring/summer has to offer. The peaches are skinned using a quick trick, and are tossed in orange juice, brown sugar, and cinnamon. They're placed in a cast iron skillet or a baking dish and topped with my favorite part of one of my favorite baked goods – crumb cake crumbs! A thick layer of crumbs covers the peaches and once baked, is dusted with a hearty dose of confectioners' sugar, à la its inspiration.
Ripe, sweet peaches + brown sugar + cinnamon + crumb cake crumbs =  😍. As I hinted on Instagram a little while back, taking these pictures was brutal. Gimme that peach crisp!!! After ten or so minutes Brian and I couldn't take it anymore and dug right in, pictures be damned. I figured if the ones I had taken worked, awesome, and if not? Well it wouldn't be such a shame to have to remake this crisp.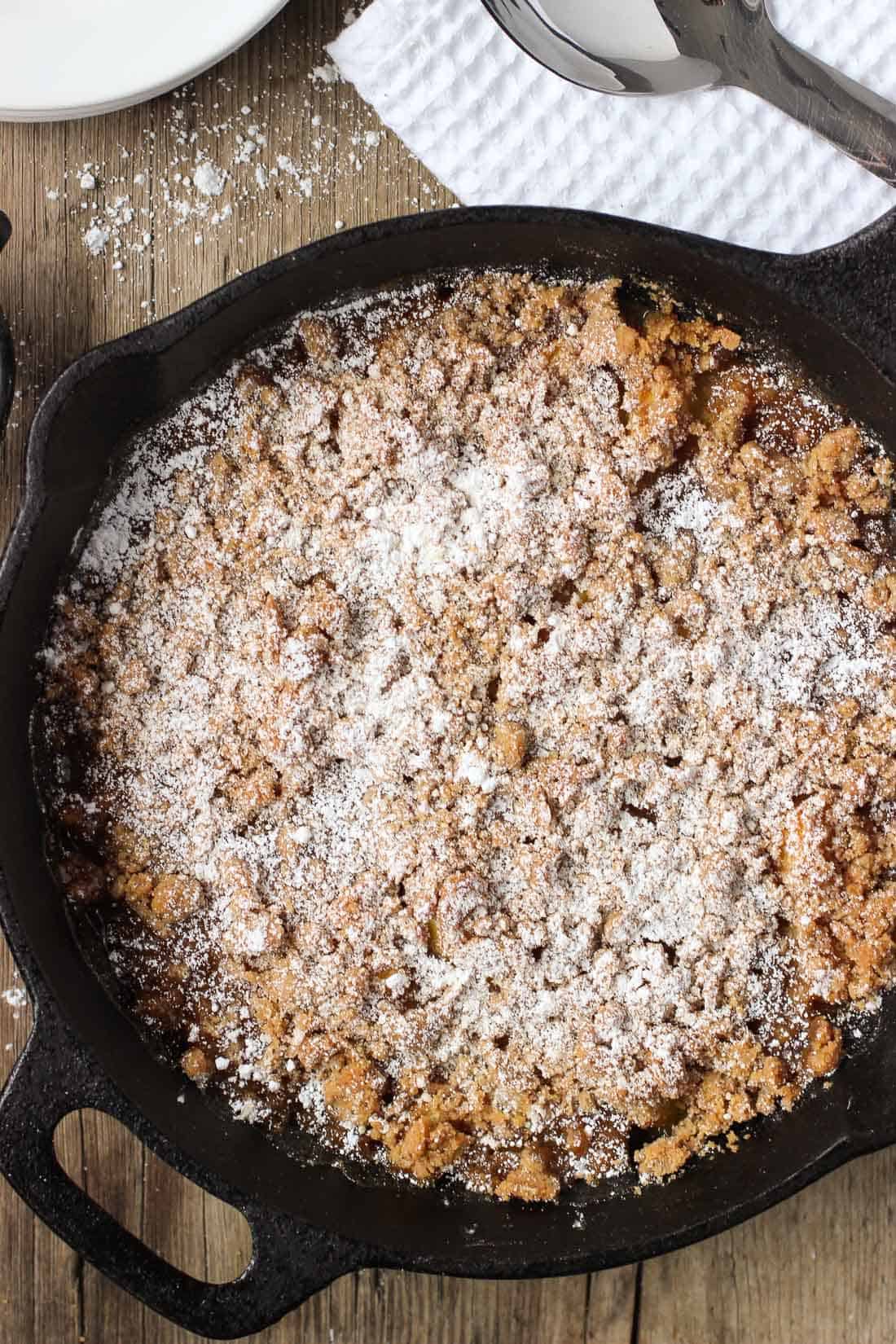 Just a word about the peach peeling – this wasn't a 100% seamless process for me, BUT I was really happy with the results. Peeling ripe peaches isn't the easiest thing ever, but dunking them in boiling water and then immediately in an ice bath seriously loosens the skins and makes it significantly easier to remove the skins without removing half of the peach with it. The skin should come off easily once you grab and pinch bits of the skin and peel. If not, no worries. One of my peaches wasn't quite there yet, so I used a vegetable peeler to remove the skin.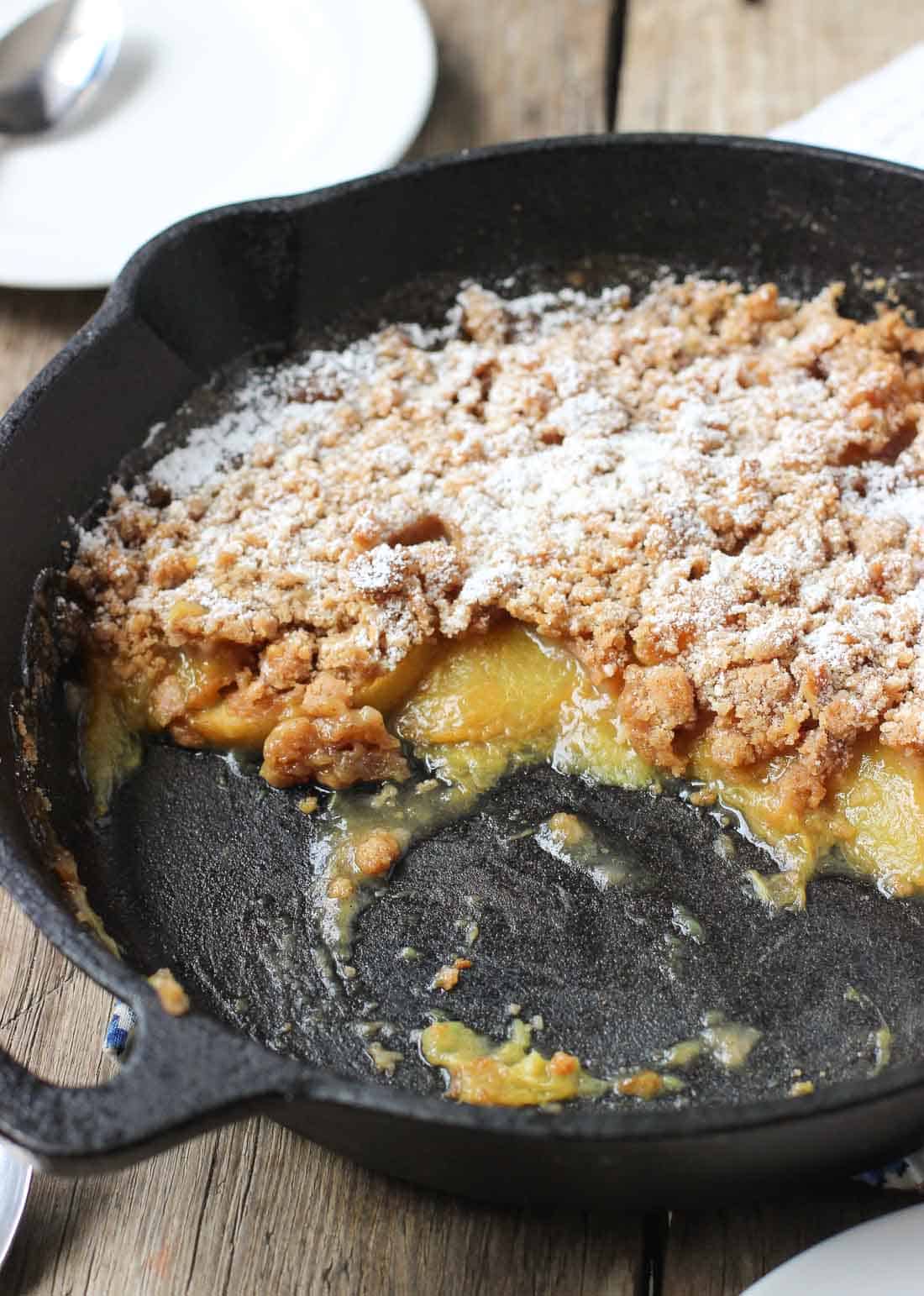 On my grocery list this weekend is, oohhhhh, six peaches, butter, and extra OJ. Bet you can't guess what I'm whipping up. 😉
Tools used:
*this post contains affiliate links
Check out how simple this spiced peach crisp is to make with the video below!
Spiced Peach Crisp with Crumb Topping
Ingredients
6 ripe peaches, peeled and sliced
2 tbsp orange juice
1/3 cup + 3 tbsp packed brown sugar, divided
3/4 tsp ground cinnamon, divided
4 tbsp unsalted butter, melted
2/3 cup + 1 tbsp flour (I used white whole wheat)
Confectioners' sugar, for serving (optional)
Instructions
Peel and slice peaches (see note below). Preheat oven to 350 degrees F and lightly grease the bottom of an 8-inch cast iron skillet or baking dish (I used butter). Place peach slices in a bowl and pour in orange juice, 3 tbsp of the brown sugar, and 1/4 tsp of the cinnamon. Gently stir so that brown sugar dissolves and the mixture is just about evenly covering peaches.
Add peaches to prepared skillet or baking dish and press lightly to form an even layer.
In a bowl, add remaining 1/3 cup of the brown sugar and remaining 1/2 tsp of the cinnamon and stir or whisk to combine. Pour in melted butter and combine, and then add flour. Mix until all flour is combined and small- to medium-sized crumbs form. With hands, scatter crumb topping evenly over the peaches in the skillet.
Bake for 30-40 minutes, or until the peaches are bubbling and the crumb topping has browned slightly. Let cool slightly before serving. Optional: sprinkle confectioners' sugar over top of the crumbs before serving.
Notes
For a trick to peel ripe peaches, bring a large pot of water to a boil and place peaches in water for about 25-30 seconds. Immediately transfer to an ice bath. After another 20 or so seconds in the ice bath, you should be able to grab a piece of the peach skin and pull off the remaining skin with ease. If you're having trouble, the peaches potentially weren't ripe enough, but you can use a peeler to remove the skin. Of my six peaches, one needed the peeler.
Crumb recipe adapted from
food.com
.
If you're digging this spiced peach crisp with crumb topping, check out my
Fruit Desserts board
on Pinterest and follow along!