Think outside the box when it comes to your next pizza night! This focaccia pizza features potatoes IN the crust for a unique flavor and a crisp yet chewy focaccia crust. Simple and bold toppings such as crushed tomatoes and onions round out the flavor for a special pizza recipe that is soon be a favorite!
If this post isn't the epitome of a family recipe, then I don't know what is.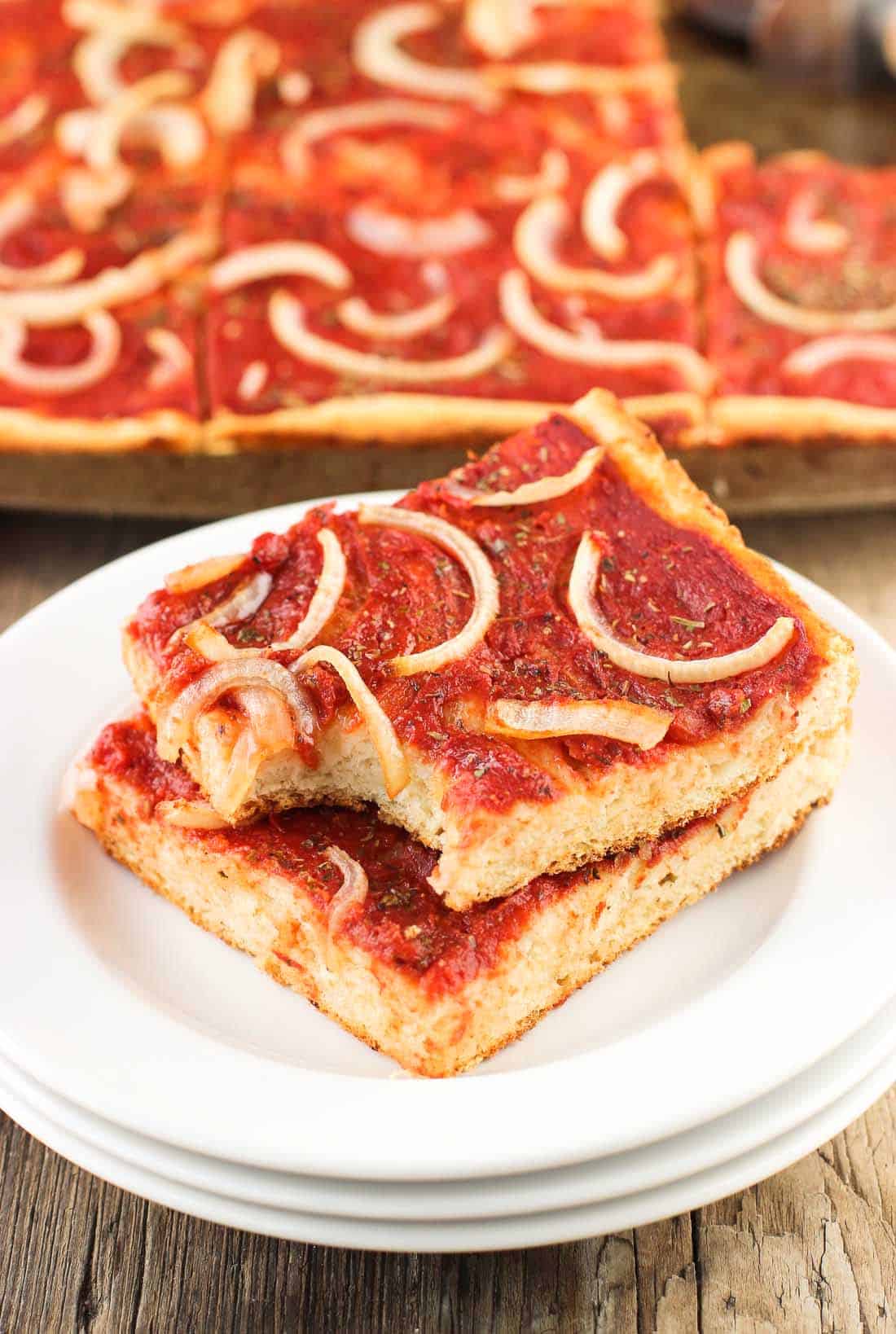 Growing up in an Italian family, cooking, eating, talking about cooking, and talking about eating are some of our favorite pastimes. They still are, actually. 🙂 Dinner gets decided over breakfast (and sometimes breakfast the day before), I'm happiest when the freezer is stocked to the brim with leftovers, and rarely a meal goes by without a picture being texted to someone. Is it any surprise I have a food blog?
With our schedules, Brian and I gravitate towards quick meals that can be prepared without a whole ton of prep. Trying to throw together a dinner that takes longer than thirty minutes is hard work when you're hungry/hangry/tired. BUT lately I've been making an effort to prepare recipes that require extra TLC on the weekends when I generally have more time. This potato crust focaccia pizza, a recipe from my great aunt, was a no-brainer!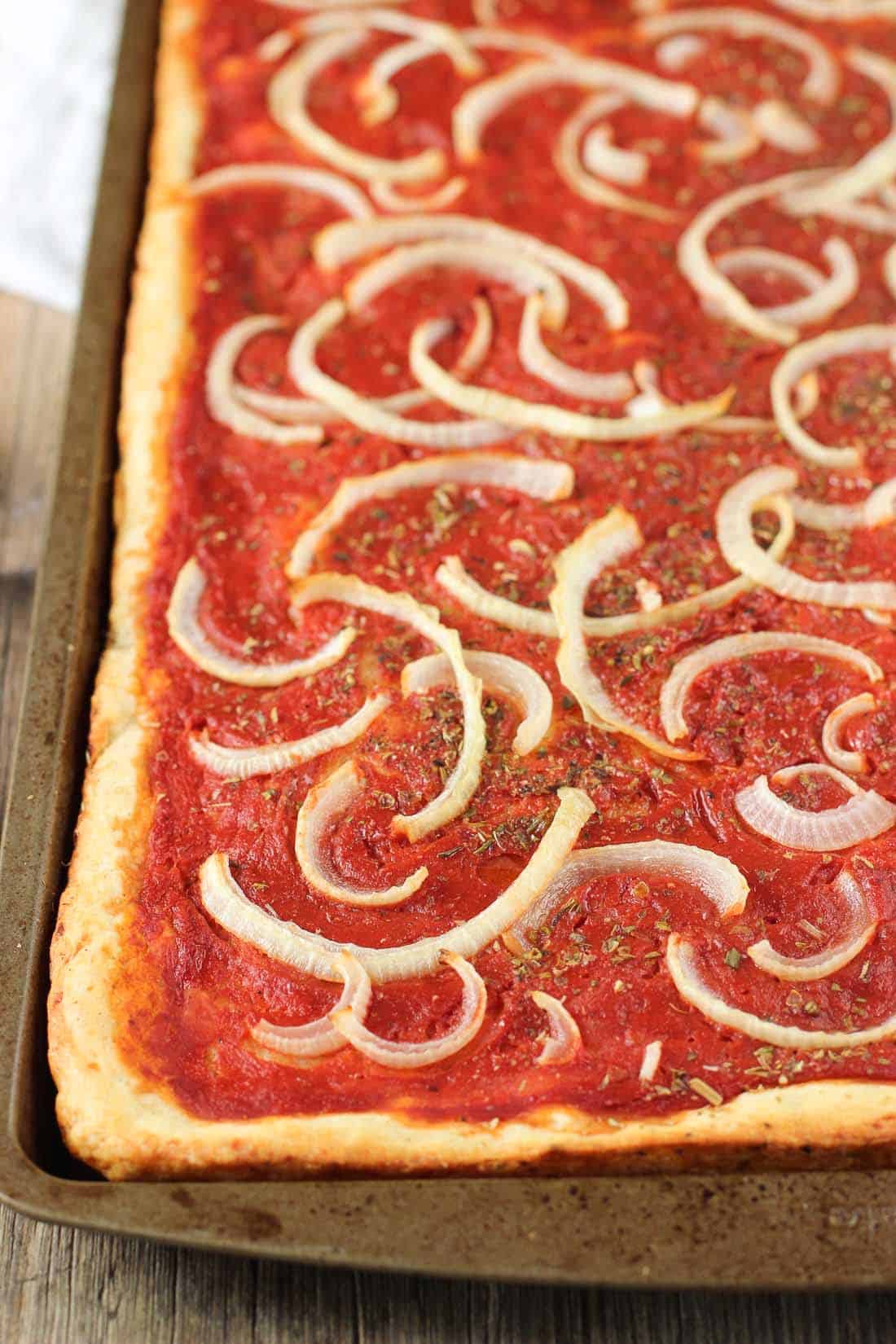 By my rough estimate there are 50 million quicker pizza recipes out there. I promise you though, with the deliciously unique flavor this focaccia pizza brings, the effort and time will be worth it. I mean, hello, there are potatoes IN the crust! You know it's going to be good. 🙂
How do those potatoes get there? They're boiled, peeled, and riced, and then worked into the pizza dough. I don't have a ricer, so I used a food grater to break down the boiled potatoes and it worked perfectly. Maybe potatoes in pizza dough sounds a little unusual, but whoa mama is it good. Really good. I don't know what magic those potatoes do in there, but this dough is one of my all-time favorites.
The toppings are kept simple to let the flavor of the focaccia stand out, using just crushed tomatoes, oregano, salt, pepper, sliced onions, and olive oil. Simplicity speaks here for sure. I've mentioned my mom's aunt before and her keen skill on being an immaculate hostess. This is her recipe, which we are lucky enough to have documented in her writing (otherwise good luck trying to remember these steps from scratch. Eeesh!).
When she hosted family meals, she routinely cooked enough food to feed the crowd ten times over. No one complained, because her dishes were top-notch and leftovers were greatly welcomed. True to form, her recipe as written yielded two 11" x 17" pans of this focaccia pizza. Even with our trusty freezer, that's a lot of pizza for just the two of us. I've halved the original recipe here, which is the reason why a few of the measurements are a bit fussy. Worth the time spent washing a few extra measuring spoons? Yes, yes yes!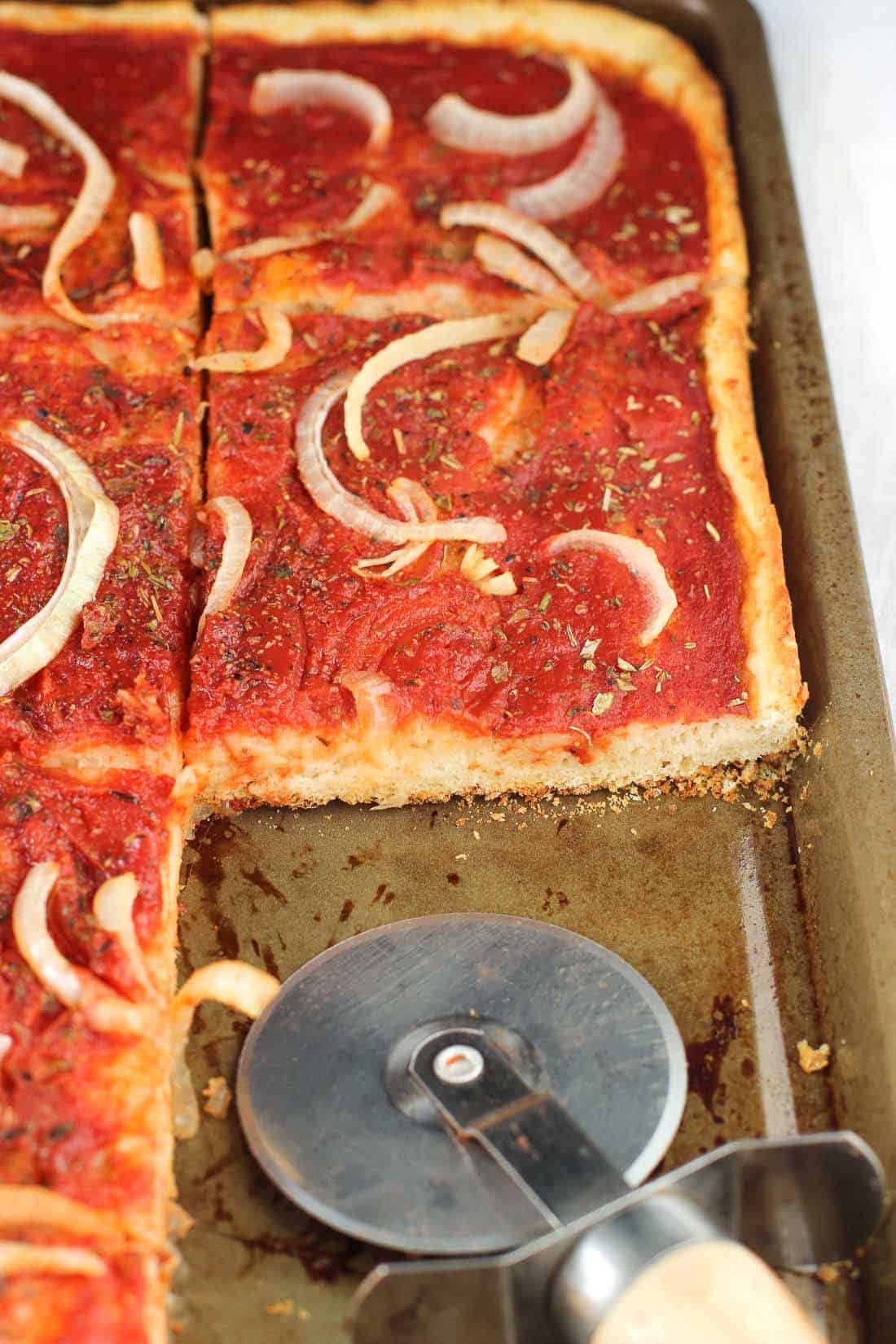 I haven't eaten potato crust focaccia pizza in years, but the moment the aroma started wafting from the oven I knew this one was legit. Immediately I was brought back to my childhood. This was confirmed by my first bite, and the second, and the third...
P.S. In our family, we refer to this potato crust focaccia pizza as "Aunt Lucy's Pizza". It was so hard thinking of an SEO-friendly name for this post. 😂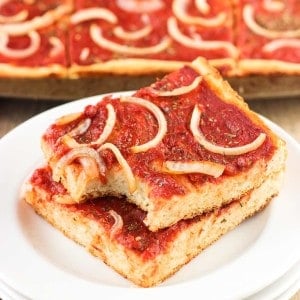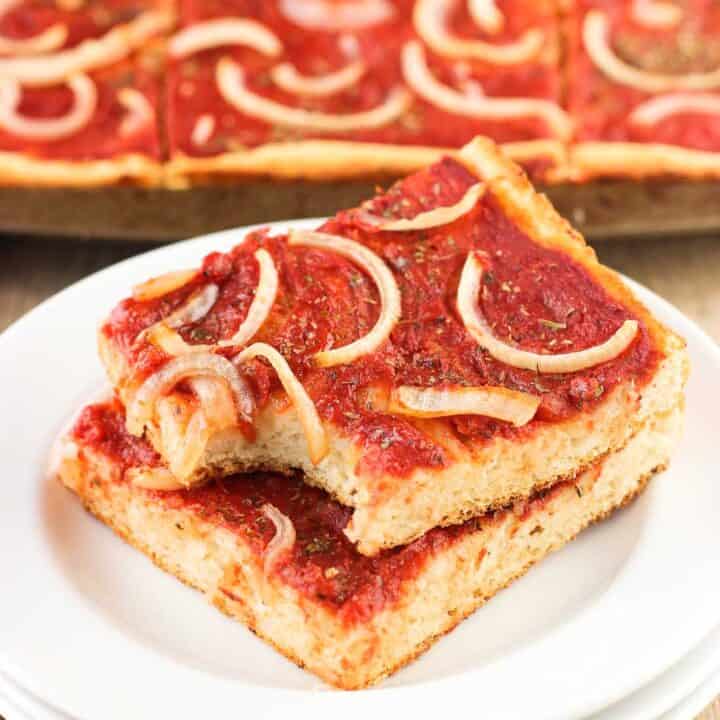 Potato Crust Focaccia Pizza
Think outside the box when it comes to your next pizza night! This focaccia pizza features potatoes IN the crust for a unique flavor and a crisp yet chewy focaccia crust. Simple and bold toppings such as crushed tomatoes and onions round out the flavor for a special pizza recipe that is soon be a favorite!
Print
Pin
Rate
Ingredients
For the Dough:
2

medium potatoes,

scrubbed

2 ¾

tablespoon

warm water

3 ¼

teaspoon

plus ⅛ teaspoon active dry yeast

(equivalent of 1 ½ envelopes)

⅛

teaspoon

granulated sugar

3 ⅔

cup

all-purpose flour,

plus additional for kneading

1

tablespoon

olive oil

½

teaspoon

salt

¾

cup

warm water
For the Toppings:
1 ½

cups

crushed tomatoes

1

teaspoon

dried oregano

Salt and pepper

to taste

2

medium onions,

sliced

2

tablespoon

olive oil
Instructions
Bring a large pot of water to a boil and add potatoes. Cook the potatoes until tender (20 - 25 minutes) until a skewer can easily be inserted into and removed from the center of each potato. Remove the potatoes from the water and let cool. Once they've cooled enough to be handled, peel the skin and discard. Grate the potatoes using a food grater (or use a potato ricer if you have one). Set grated potato aside.

Add yeast and sugar to 2 ¾ tablespoon of warm water and stir to combine. Let sit for 5-10 minutes so yeast activates and mixture becomes frothy.

Add flour to the center of a work surface, and ensure the surface is covered with flour as well so the dough doesn't stick. Add grated potato to flour and using your hands, work potato into the flour to combine. Make a well in the center of the flour/potato mixture and pour in yeast mixture and 1 tablespoon olive oil and slowly mix in. Add ½ teaspoon salt to the mixture, then slowly add in ¾ cup warm water, using your hands to work the mixture into an elastic dough ball. [See note]

Knead dough for approximately five minutes to incorporate all ingredients fully, dusting your hands and work surface as needed with flour. When the dough is sufficiently pliable, place dough ball onto a greased 11" x 17" rectangular pan and turn dough ball over a few times to grease its surface evenly. Cover. Place pan in a warm place to rise until about doubled in size, about 1 - 1 ½ hours.

Once risen, preheat oven to 400 degrees F and press the dough out in pan to cover the surface evenly. Add crushed tomatoes to top and spread around. Sprinkle oregano, salt, and pepper over top, and add sliced onions. Drizzle 2 tablespoon olive oil over top of pizza.

Bake 35-40 minutes, or until the crust is golden brown. Slice and serve.
Notes
The dough should be elastic and pliable, with just enough moisture to form a cohesive ball that doesn't have many cracks at all. If your dough is too dry, conservatively add water approx. 1 tablespoon at a time, until dough reaches the preferred consistency. Alternatively if dough is too wet, add additional flour 1 tablespoon at a time.
Nutrition
Serving:
1
slice
|
Calories:
217
kcal
|
Carbohydrates:
39.4
g
|
Protein:
5.9
g
|
Fat:
4
g
|
Saturated Fat:
0.6
g
|
Sodium:
161
mg
|
Potassium:
234
mg
|
Fiber:
3.5
g
|
Sugar:
3.1
g
|
Calcium:
20
mg
|
Iron:
2.7
mg
Nutritional information is provided as an estimate. As it can vary due to many factors (brands used, quantities, etc.), we cannot guarantee its accuracy.
Food Safety and Nutrition Disclaimer
Here are some other family favorites that have made their way to the blog!
Sunday Sauce with Meatballs and Sausage