This four-ingredient chocolate-covered espresso bean bark with almonds is an easy, no-bake dessert just perfect for the days you want a sweet treat but don't want to put the oven on! Roasted, salted almonds and whole espresso beans are covered in dark chocolate and topped with chocolate sprinkles.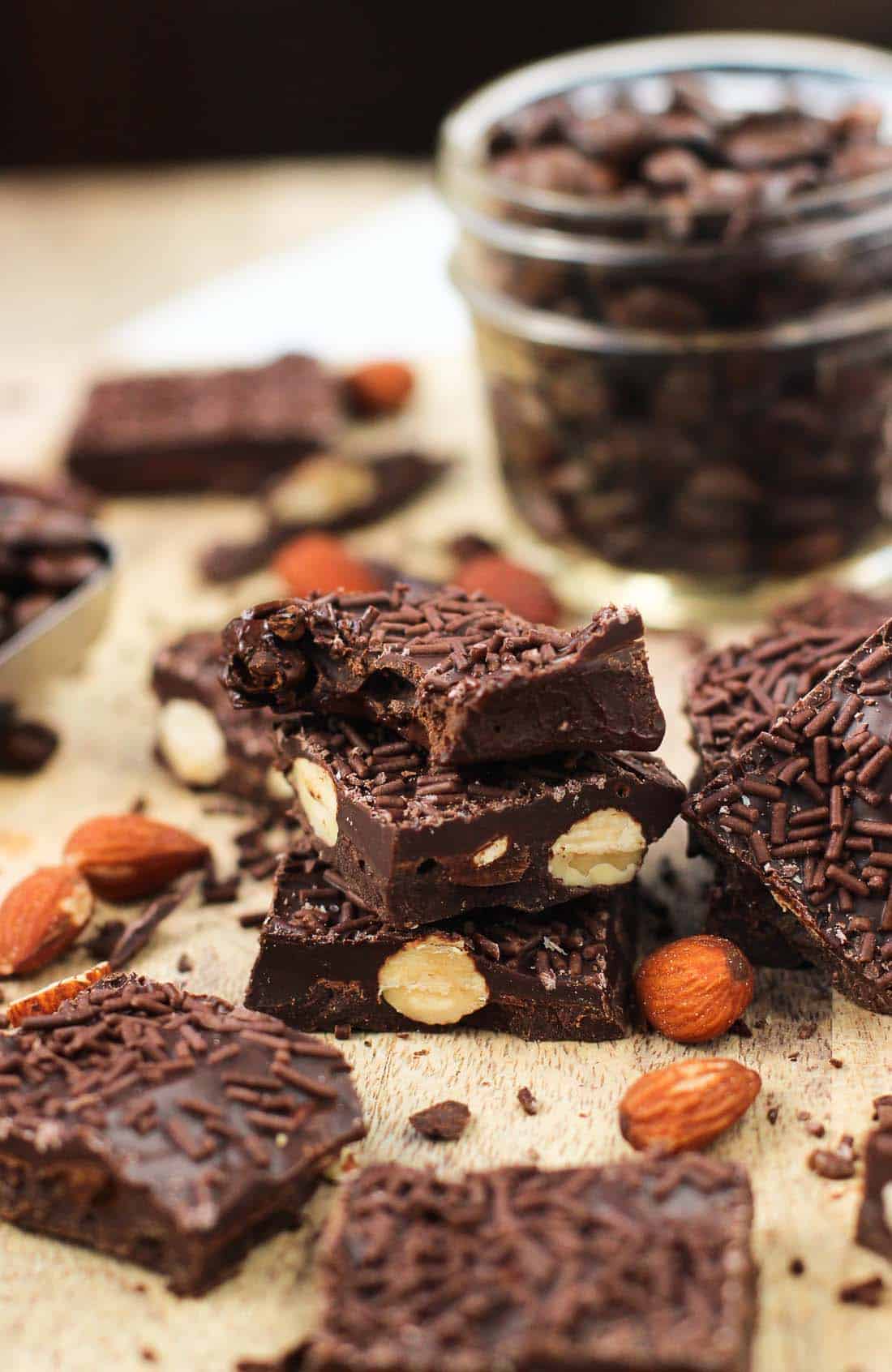 When I bought a 2+ lb. bag of whole espresso beans to make this vanilla espresso almond butter, I knew I had to commit. Commit to making multiple batches of almond butter (easy), commit to grinding my own espresso beans (not hard), and commit to coming up with other recipes that use them. Otherwise this bag would be taking up a big percentage of my tiny kitchen shelf space for years to come.
One of my favorite chocolate-covered sweet treats are chocolate-covered espresso beans. Of course, I would never turn down a chocolate-covered pretzel, raisin, strawberry, almond, peanut, etc. but espresso beans are just rare enough in a dessert spread to make me shovel a bunch in my mouth and then worry I've over-caffeinated myself for it being 9 pm at night. That's a price I'm willing to pay for indulging in those crunchy, sweet, and slightly bitter treats.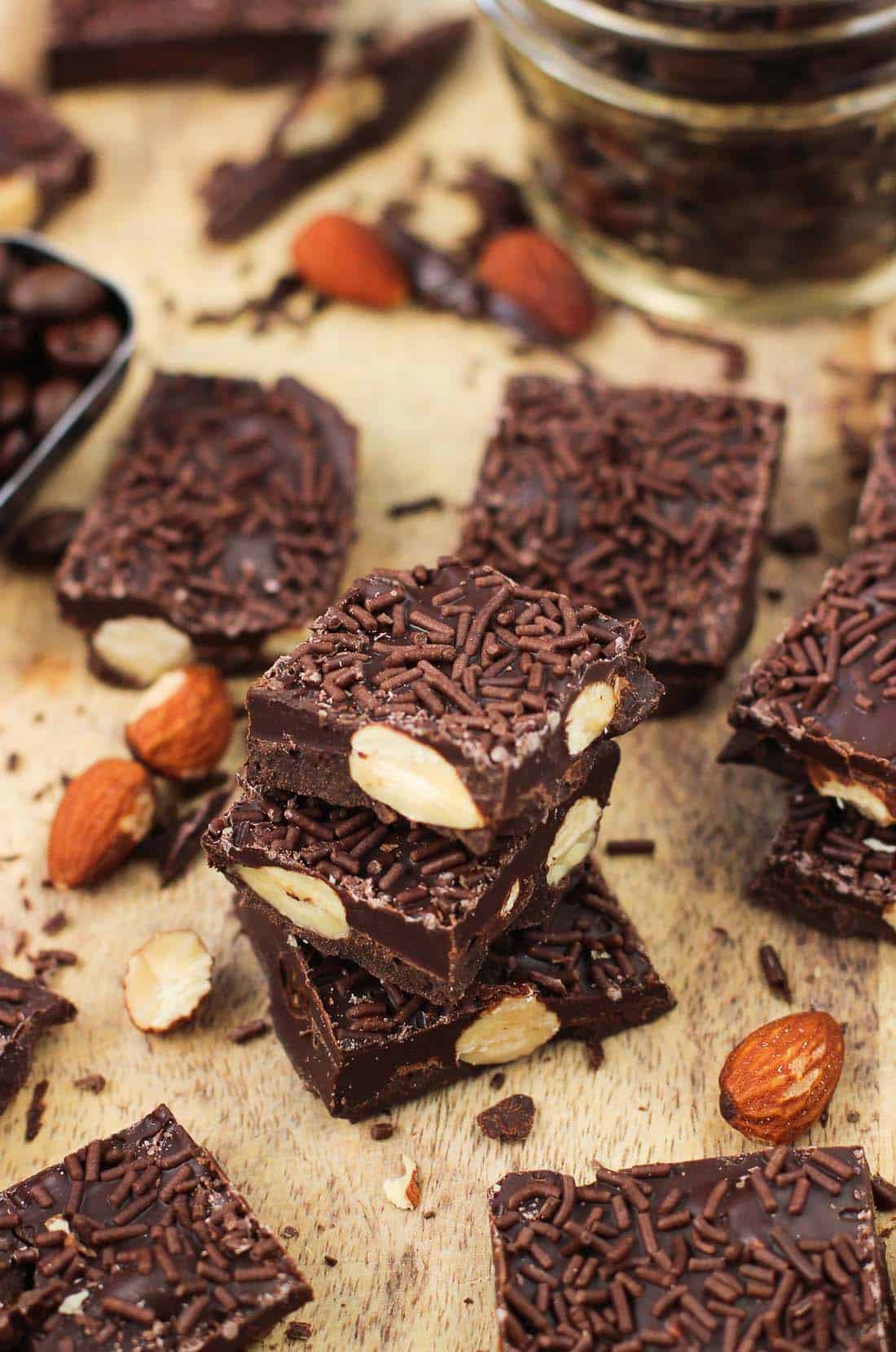 Chocolate-covered espresso beans, if bought in the store, also tend to be a little pricey for the rate I plow through them. So when I bought my mega bag of espresso beans, I knew chocolate-covered espresso something was going to happen. The thought of sticking close to the original and individually dipping espresso beans in chocolate was not going to fly with me (hello, tedium!), so chocolate-covered espresso bean bark it was. Except with roasted and salted almonds added to the mix for an extra crunchy, slightly salty taste.
This bark is E-A-S-Y, which is exactly how I like my summer desserts (also my spring, fall, and winter desserts). First you line a square baking dish with foil, melt half of the dark chocolate, and then spread the chocolate in an even layer on the bottom of the foil-lined dish. Scatter as many espresso beans and almonds as your heart desires over top while the chocolate is still melty, and then pop the pan in the refrigerator to chill, until the chocolate has hardened. Once that happens, remove the pan from the fridge and spread the rest of the melted chocolate over top to cover the espresso beans and almonds. Go nuts with the chocolate sprinkles (or any other decoration you'd like) and refrigerate once more so all the chocolate has hardened. Once that happens, slice and eat!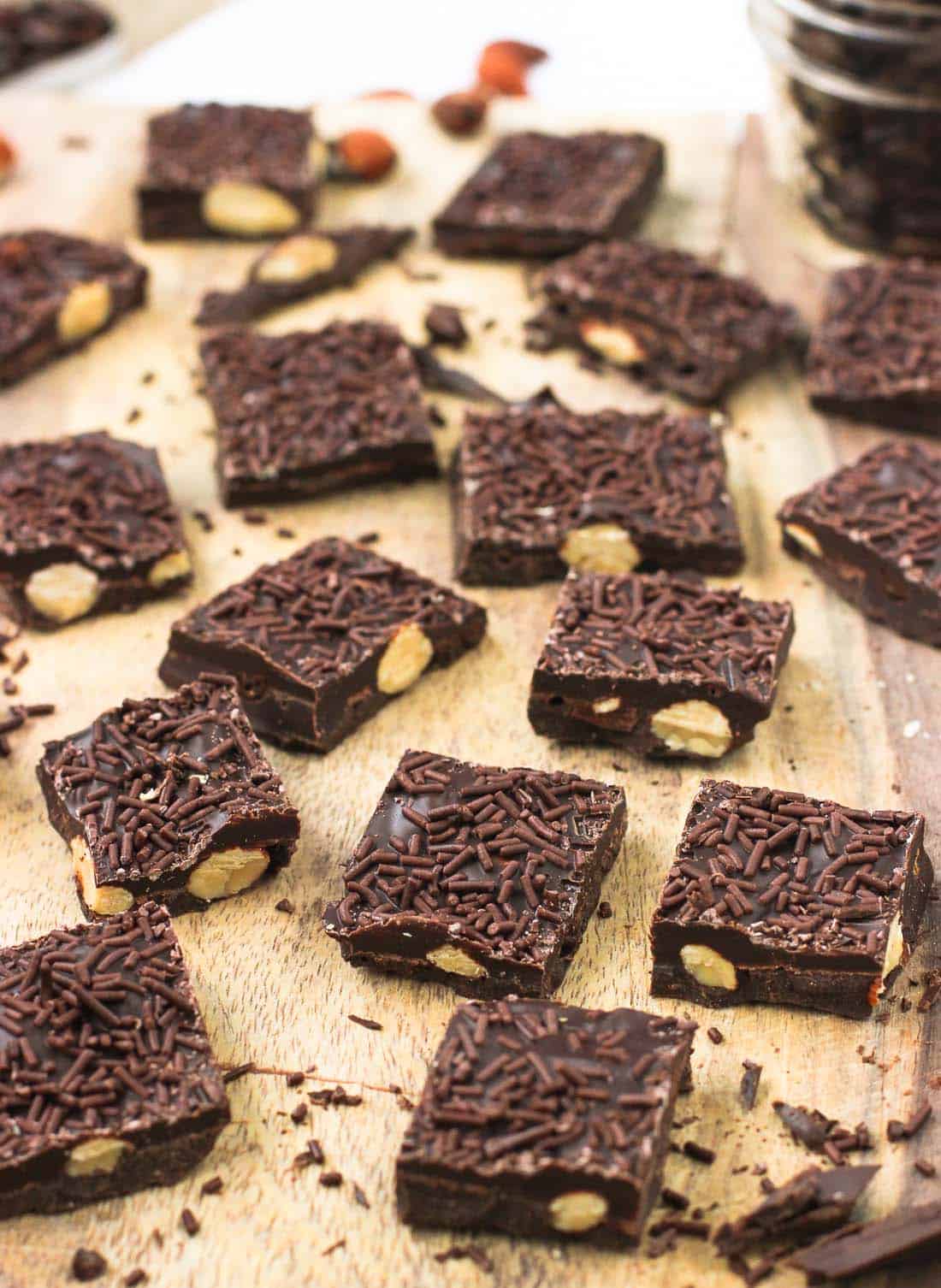 Espresso beans covered in dark chocolate are a hard beast to photograph. Try as I might, I could never get a bark piece edge that cut exactly in the middle of a bean. Trust me though, with their bold flavor, there's no mistaking that they're in there.

Chocolate-Covered Espresso Bean Bark with Almonds
Yield:
One 8" x 8" square of bark
Ingredients
1 1/3 cup dark chocolate chips or chunks, divided
2 1/2 tbsp whole espresso beans
3 tbsp roasted and salted almonds
Chocolate sprinkles, for decoration
Instructions
Line an 8" x 8" baking dish with foil. Melt half of the chocolate (2/3 cup) and evenly spread on the bottom of the foil-lined dish. Scatter espresso beans and almonds over top of the melted chocolate. Place pan in the refrigerator so that chocolate hardens.
Once chocolate hardens, melt remaining 2/3 cup chocolate and spread it over the espresso beans and almonds in an even layer, taking care to cover them. Add sprinkles over top, or whatever you'd like for decoration. Place dish back in the refrigerator to harden completely. Once hardened, slice into pieces.
Notes
This recipe is highly adaptable! Add as many or as few espresso beans/almonds as you like.