Old Bay steamed shrimp are SO quick and easy to make. These peel and eat shrimp are a four-ingredient appetizer or light meal perfect for the warm weather. Shrimp are steamed over a beer, vinegar, and Old Bay seasoning boil for a flavorful and healthy summertime dish.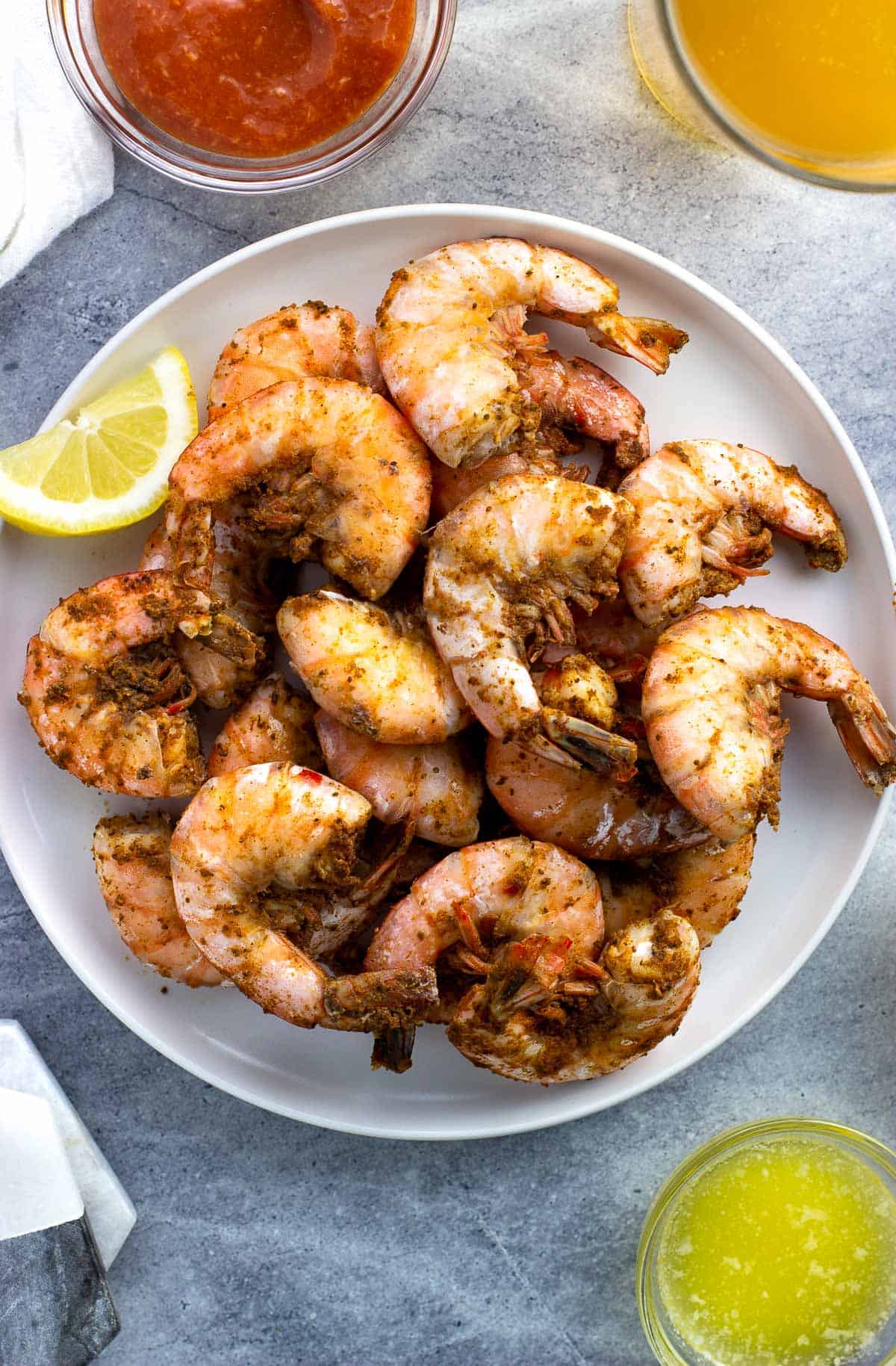 In the complete absence of locally-available blue crabs, my husband and I get our Chesapeake seafood fix with these Old Bay steamed shrimp. We save lining the table with newspaper and breaking out the mallets for proper steamed crabs on visits back home.
This recipe is how my husband prepared order after order of steamed shrimp during his summers working in the kitchen of a local dock bar restaurant. It's not anything fancy, but produces perfectly seasoned, easy peel-and-eat shrimp every time.
Note: The photos in this post were updated in 2023 from its initial publish date in 2015. The recipe is the same! Just more detail was added, step-by-step photos, FAQs, etc. An original photo is included above the recipe card below.
Reasons to Love This Recipe
It's convenient. Having a bag of frozen shrimp around means you can easily have all of these ingredients on hand for when the craving strikes.
It's quick. Thawed shrimp steam for 4-6 minutes.
It has great flavor. This recipe leans on Old Bay for flavor with an extra-fragrant steaming liquid.
It's easy to serve. Steamed shrimp are versatile! Peel and dip in cocktail sauce, melted butter, or vinegar, and serve alongside a hearty side salad for a light meal.
What You'll Need to Make Steamed Shrimp
Equipment
As for tools, you'll need a pot for steaming and a steamer basket. Baskets are often stainless steel and fit inside a pot, with some being collapsible. Some pots will also come with a designated steaming insert. Pictured here is a smaller set-in pot with holes in the bottom that goes over top of another one.
Ingredients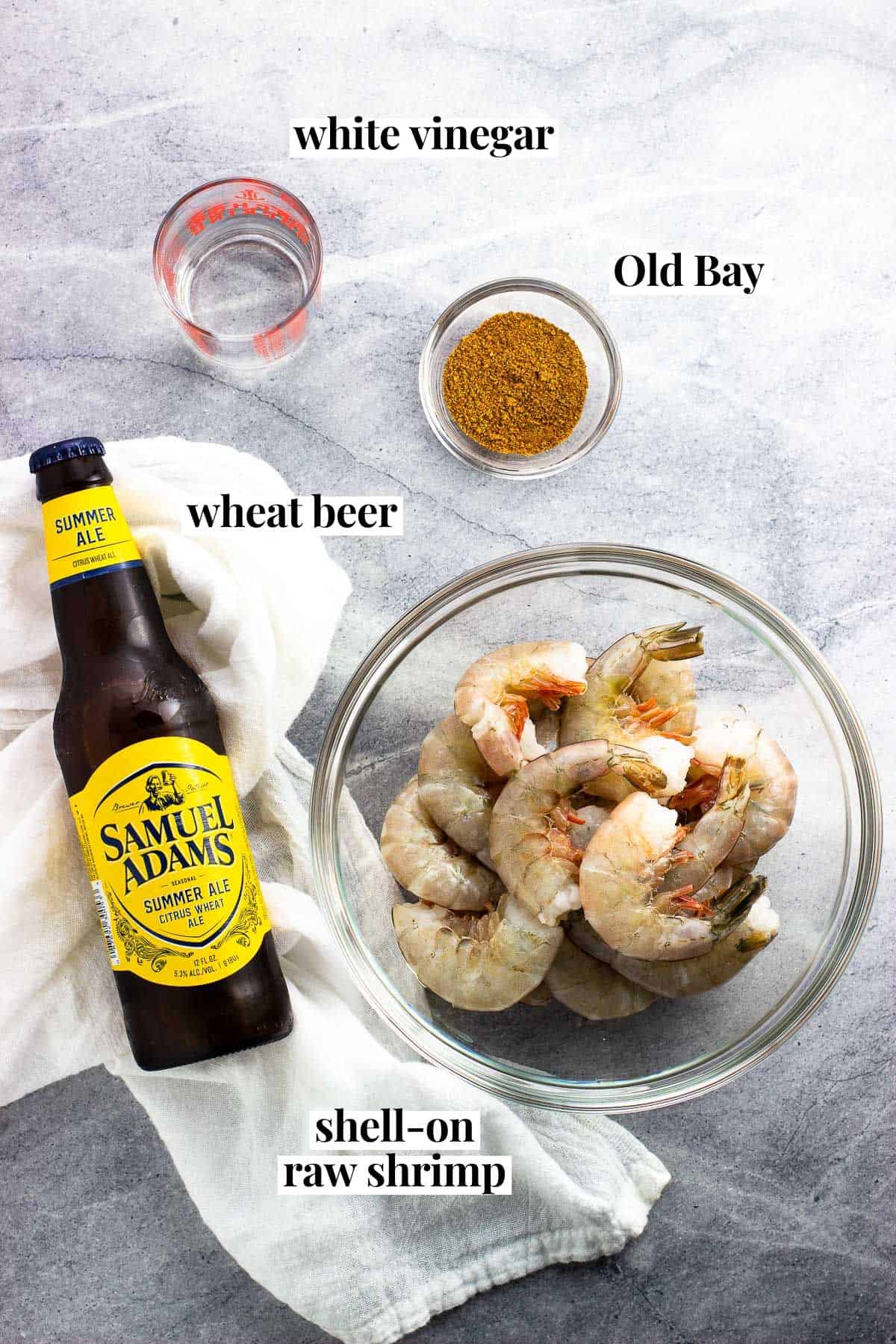 Shrimp: Use one pound of shell-on, tail-on raw shrimp. Extra-large or jumbo (anywhere between 21-30 count per pound) or large (31-35) work best. In addition to the attributes above, finding a variety that's deveined is a bonus. (Have smaller shrimp? They're perfect for shrimp corn chowder).
Beer: Look for a wheat beer, which is often golden, a bit hazy, and features a lower alcohol percentage. They're light and bright and lean a little citrusy in flavor. It might not say it's a wheat beer on the packaging, but some common descriptors used are summer ale, Belgian wheat, wheat ale, etc.
Old Bay: A classic.
Vinegar: Plain distilled white vinegar is what I use, but apple cider vinegar is another option.
Easy Step-by-Step Instructions
Thaw shrimp if you need before beginning. It's best to transfer them to the refrigerator overnight, but sealing the shrimp in a zip-top bag and submerging it in a bowl of cool water just prior to cooking is okay, too, per the FDA.
Mix steaming liquid. Stir together beer, vinegar, and Old Bay in the pot you'll be steaming the shrimp in. Use a large enough pot so that when the basket is inserted, the liquid level won't come up and over into the basket.
Coat shrimp in Old Bay. Toss them in a large bowl or in the steaming basket to cut down on dishes.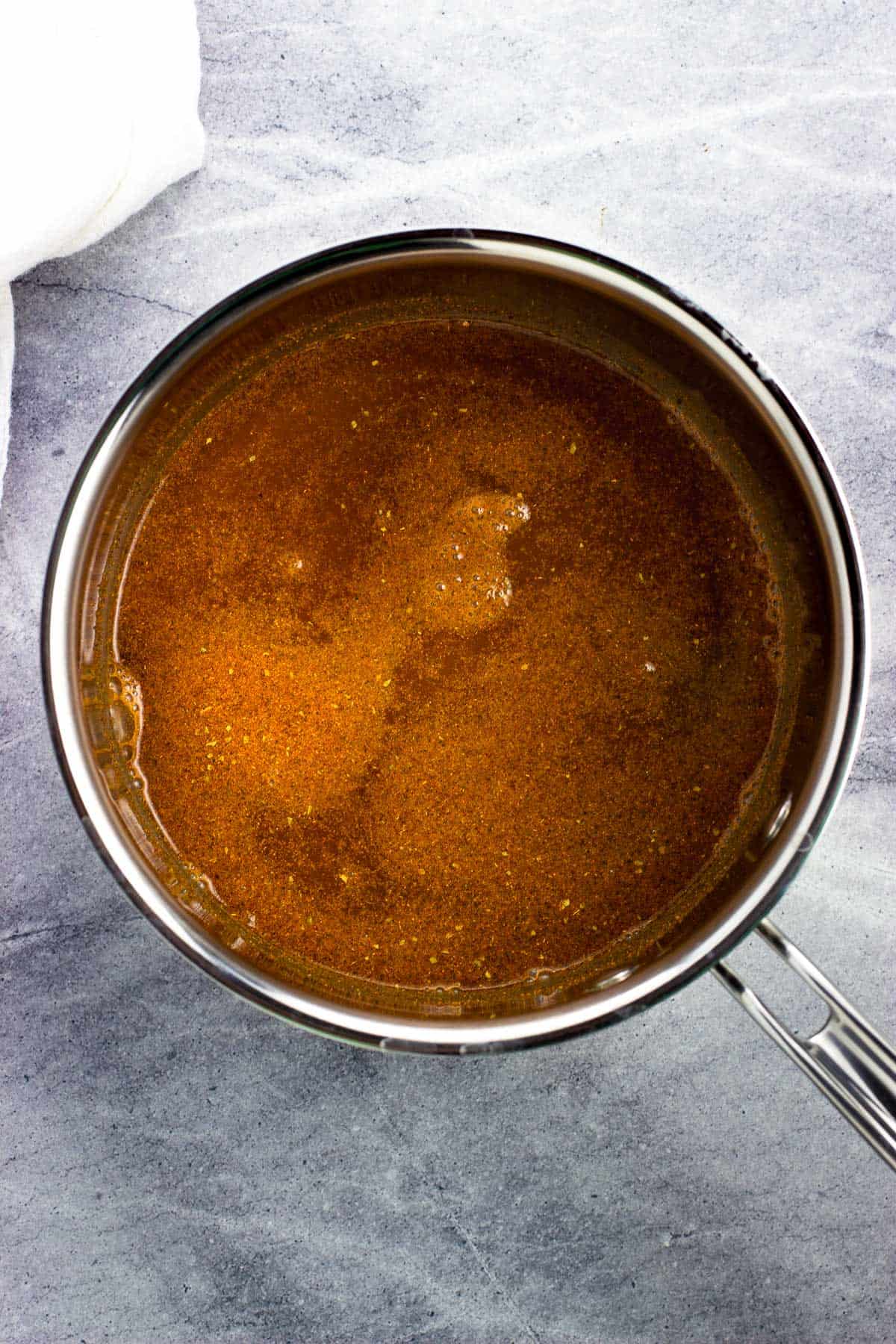 Steam. Tightly cover the pot and set it on the stove top to boil. Once boiling, add the basket and arrange the shrimp evenly around it. Put the lid back on and steam for 4-6 minutes, or until cooked (notes on this below).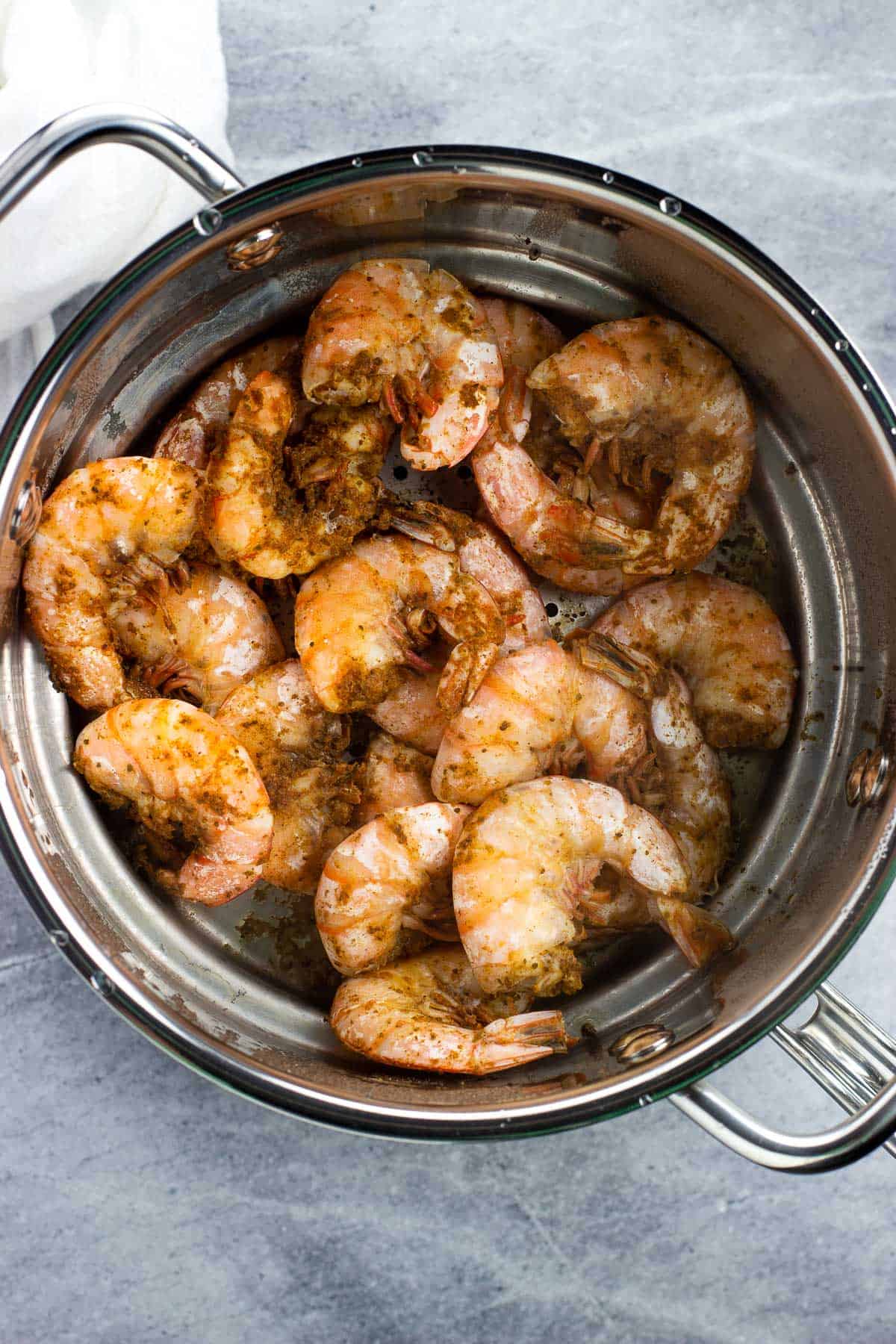 Recipe Tips and Tricks
Read the Packaging Carefully - There are many types of frozen shrimp and the packaging looks very similar. Either white or pink shrimp are fine, deveined or not. You do want to make sure the shrimp you're buying is the following:

Raw
Large, extra-large, or jumbo
Shell-on
Tail-on

Thaw Fully - Make sure all of the shrimp are thawed so that they cook evenly. If thawing in the fridge, place the package of shrimp in a bowl just in case it leaks.
Deveining - If you can find deveined shrimp, great! If not, it's not a deal-breaker. You can remove the vein after cooking if you like, or you can leave it in. It's not harmful as the shrimp are fully-cooked and is just a manner of preference.
Keep the Lid On - Make sure to keep a snug-fitting lid on the pot to trap in the heat and steamy atmosphere.
Serving Suggestions - Vinegar, melted butter, and cocktail sauce (homemade is simple if you have ketchup, prepared horseradish, Worcestershire sauce, and lemon juice). These make a great appetizer, but I usually make them a full dinner with a beefed up side salad and some crusty bread.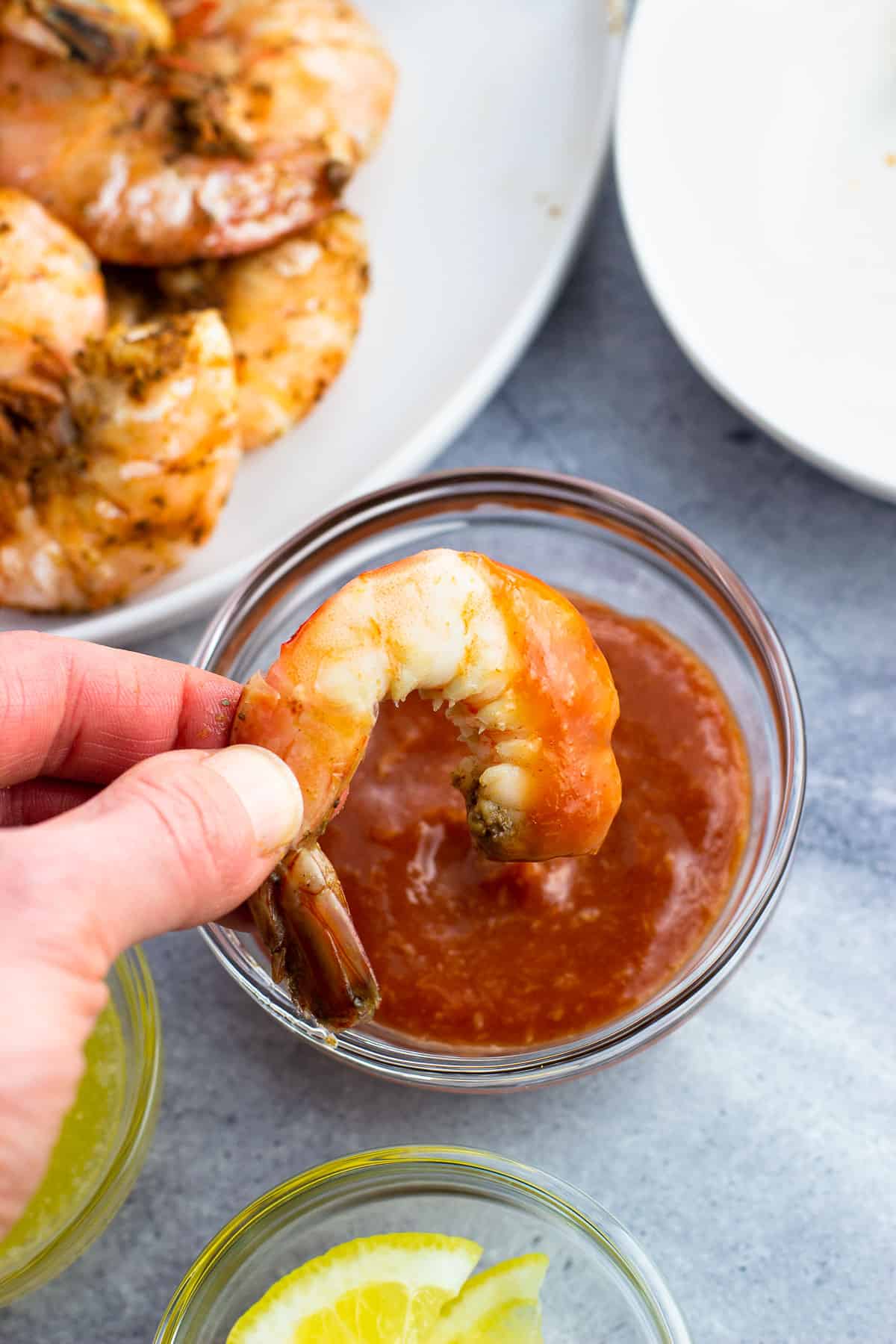 Recipe FAQs
Is it better to buy fresh or frozen shrimp?
Unless you live in a coastal area and have access to truly fresh shrimp, I recommend buying frozen. They're often frozen really quickly once caught for freshness, and are convenient to have on hand. The shrimp you see in the refrigerated seafood department case of the grocery store was in all likelihood frozen as well, but has been allowed to thaw and sit there for purchase.
When are steamed shrimp fully cooked?
Shell-on shrimp are fully cooked when they have curled into a nice "C" shape (not a tight "O" as that can mean they're overcooked) and have turned pink and opaque.
Can you steam peeled shrimp?
I recommend against it as the peel protects them from drying out. You risk the shrimp becoming tougher and rubbery.
What do you do with leftover steamed shrimp?
While these Old Bay steamed shrimp are best enjoyed right after cooking, any leftover can be refrigerated in an air-tight container for up to 3 days, per the USDA.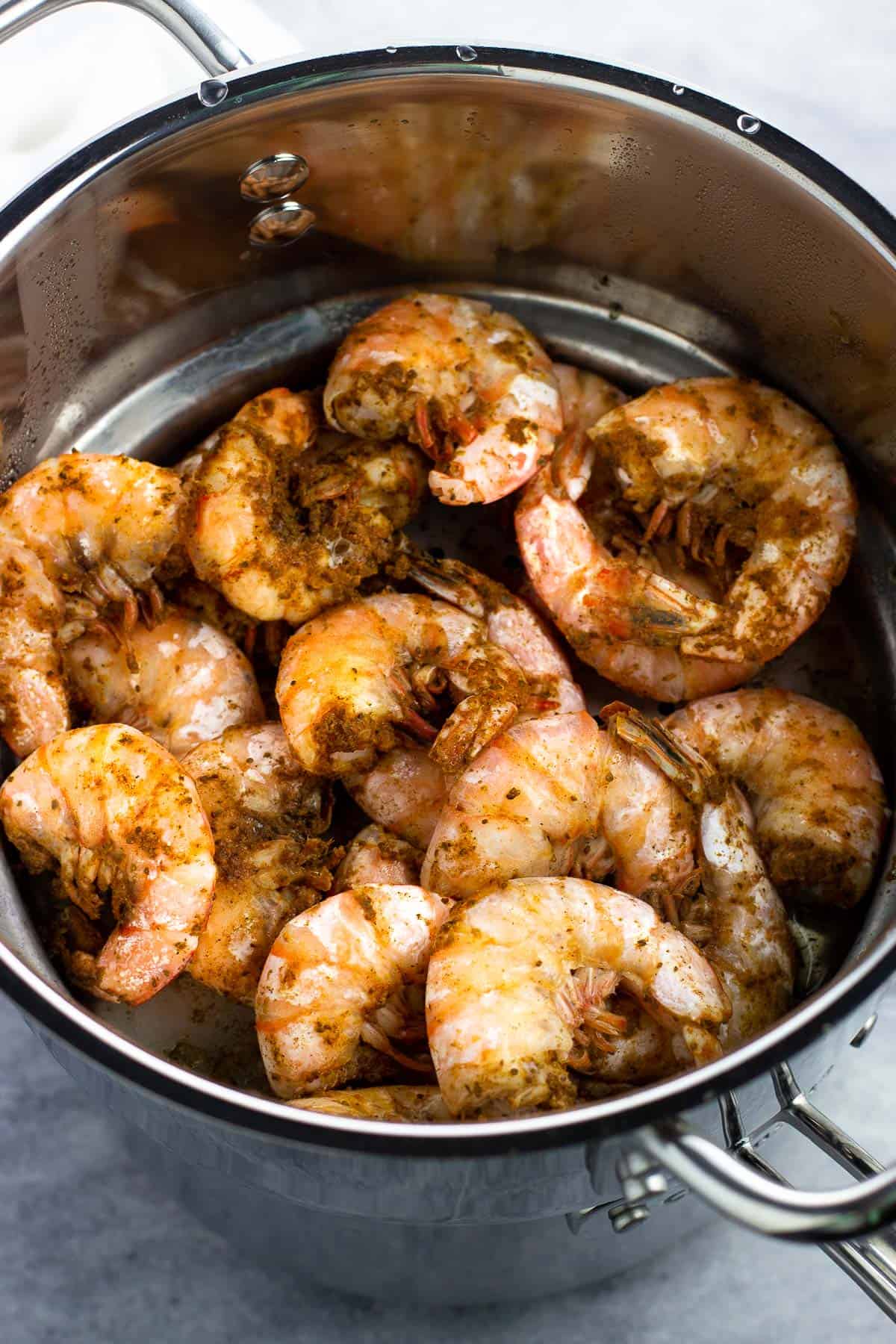 More Seafood Recipes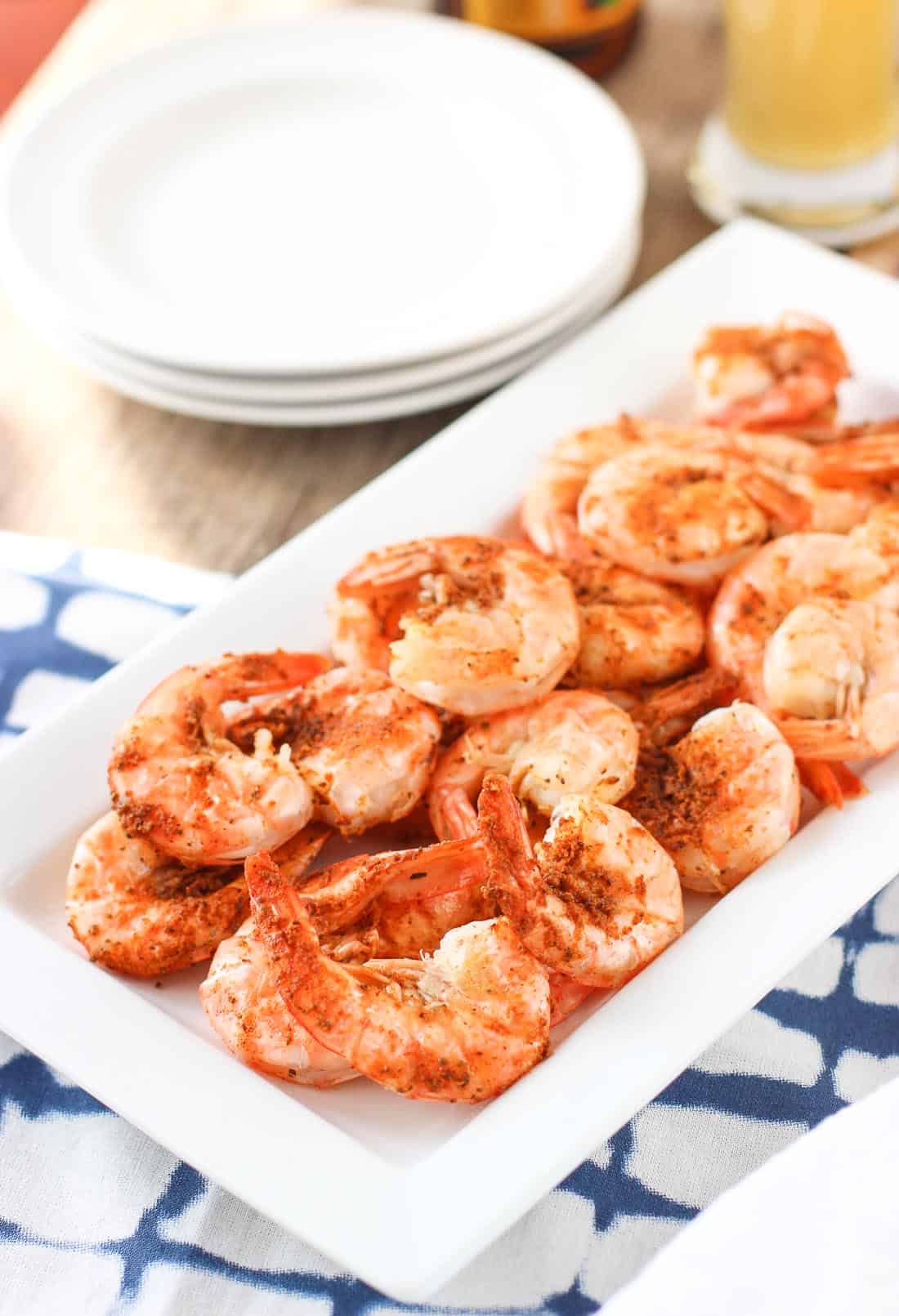 If you've enjoyed this recipe, I'd love for you to leave a star rating in the recipe card and/or a comment review below!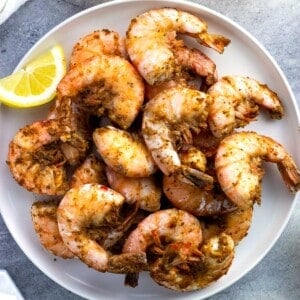 Old Bay Steamed Shrimp
Old Bay steamed shrimp are SO quick and easy to make. These peel and eat shrimp are a four-ingredient appetizer or light meal perfect for the warm weather. Shrimp are steamed over a beer, vinegar, and Old Bay seasoning boil for a flavorful and healthy summertime dish.
Print
Pin
Rate
Ingredients
Steamed Shrimp
12

ounces

wheat beer

2

Tablespoons

white vinegar

2 ½

Tablespoons

Old Bay seasoning

divided

1

pound

extra large/large shell-on raw shrimp

thawed if frozen
Serving
Cocktail sauce

Melted butter

Lemon wedges
Instructions
Add thawed shrimp to a bowl and toss with 1 ½ Tablespoons of the Old Bay so it's evenly distributed. Set aside for now.

Stir together the beer, vinegar, and the remaining 1 Tablespoon of Old Bay in a medium or large pot (whichever size will fit your steamer basket). Cover the pot, place it on the stovetop, and bring mixture to a boil over high heat. When steam begins to escape the lid, place the steamer basket in the pot. Make sure the liquid does not boil above the bottom of the steamer basket.

Tightly fit the lid back on the pot and bring back to a boil over high heat. You should begin to see steam escaping again. Reduce the temperature to medium/medium-high and steam for 4-6 minutes. Large shrimp may be on the lower end of the range, with extra-large and jumbo shrimp taking an additional minute or two. Shrimp will be done when the shrimp turns pink, they're no longer translucent, and they're in a curled shape. Do not overcook or they will become tough and difficult to peel.

Serve immediately with additional Old Bay seasoning, cocktail sauce, melted butter, white vinegar, etc.
Notes
Beer - Wheat beer is recommended, but another variety that's light in color, flavor, and alcohol percentage can work, too.
Shrimp - Packaging can look very similar so make sure you're buying shrimp with the following attributes: raw, large/extra-large/jumbo, shell-on, and tail-on. White or pink shrimp and deveined or not are fine.
Storage - Steamed shrimp are best enjoyed right away, but leftovers can be refrigerated in an air-tight container for up to 3 days.
Nutrition
Calories:
112
kcal
|
Protein:
23.7
g
|
Fat:
1.2
g
|
Saturated Fat:
0.3
g
|
Cholesterol:
221
mg
|
Sodium:
414
mg
|
Potassium:
206
mg
|
Calcium:
30
mg
|
Iron:
3.4
mg
Nutritional information is provided as an estimate. As it can vary due to many factors (brands used, quantities, etc.), we cannot guarantee its accuracy.
Food Safety and Nutrition Disclaimer