Easy Peel and Eat Old Bay Shrimp are a fast, four-ingredient appetizer or light meal perfect for the warm weather. Shrimp are steamed over a beer, vinegar, and Old Bay seasoning boil for a flavorful, healthy summertime dish.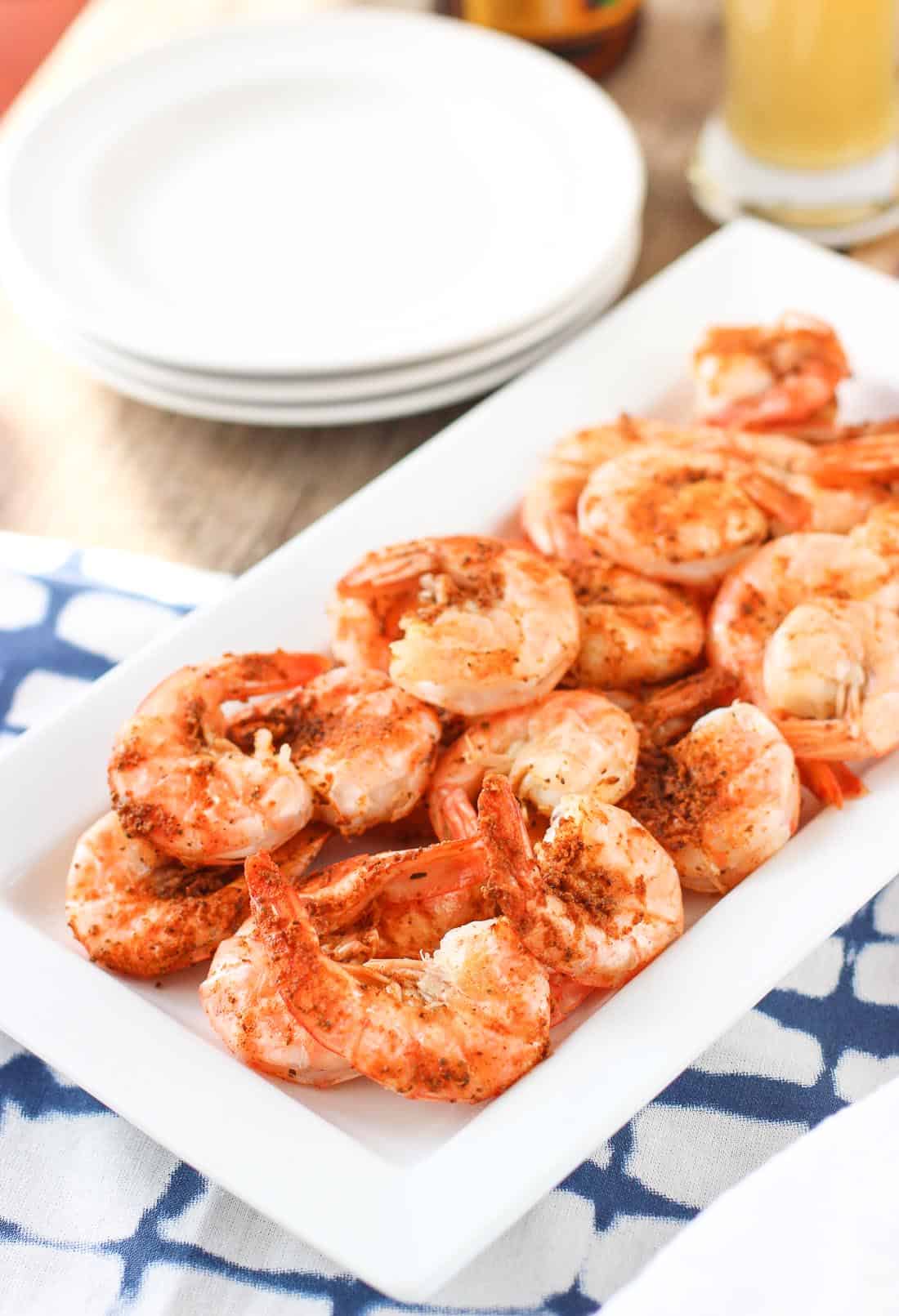 How are you doing on your summer food bucket list? Did you make a summer food bucket list? Because I'll never pass up the opportunity to make a list, we came up with a list of food + drinks that needed to be on our menu by the time the temperature stays below 90°F, the humidity doesn't turn my hair into a puff ball four seconds after leaving my house, and I don't break into a sweat while going to get the mail.
Not that I'm trying to rush time, of course, but fall — I love you, I miss you, please come soon.
ANYWAY, I hope it's not here too soon, because there are a few things on our list that have yet to be crossed off. We've enjoyed popsicles, frozen cocktails, ice cream cones on our balcony (this and this), and burgers/hotdogs/brats galore. Granted for that last category I must confess we're putting our cast iron grill pan
to serious use because grills aren't allowed on our property. 😫 It's not quite the same as grilling in the proper form, but it'll do for BBQ-deprived apartment dwellers like us.
One of Brian's *favorite* summer foods are steamed blue crabs, which are not hard to come by where he's from (Maryland). That's not the case down here in Tennessee, so we've been getting our steamed-seafood-loaded-with-Old-Bay fix by whipping up these peel and eat Old Bay shrimp like they're going out of style.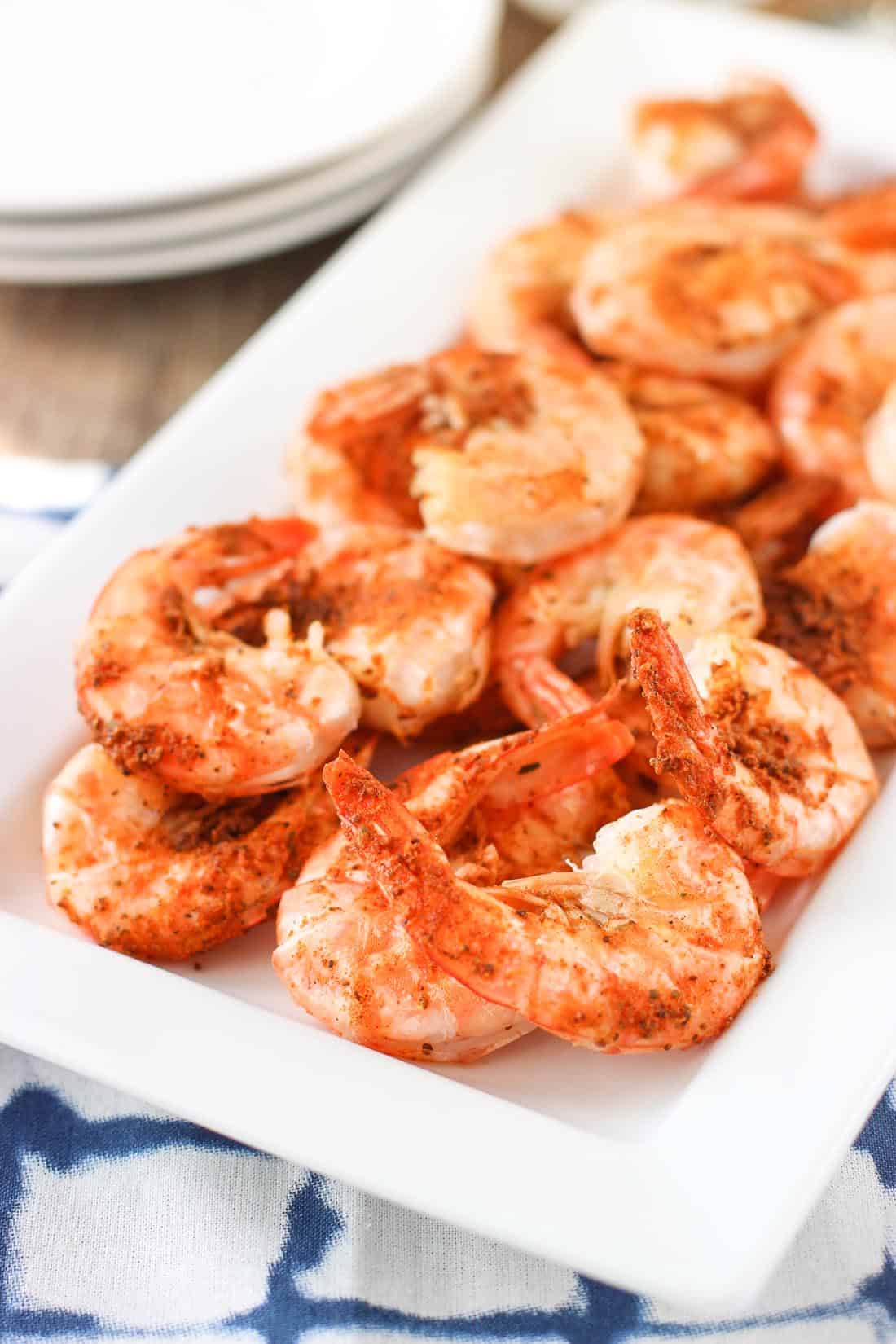 This recipe is a quick and easy appetizer or light meal that can be made with either fresh or frozen and thawed shrimp. Our preferred method is actually to use frozen shrimp, because we can stock them in the freezer and always have them at the ready. If we have shrimp, 9 times out of 10 (probably more like 99 times out of 100) we have everything on hand to make these. Note that you'll want to get shrimp with shells and tails on, and prepare them with them on, as well. The shells come off easily as you're ready to eat.
When it comes to serving, we love these peel and eat Old Bay shrimp a few different ways. Once I remove the shell and tail, I like to dip the shrimp first in vinegar, and then in extra Old Bay. A little bit of tang from the vinegar + a little bit of zip from the spices = perfection. Of course, dipping the shrimp in melted butter or cocktail sauce works as well.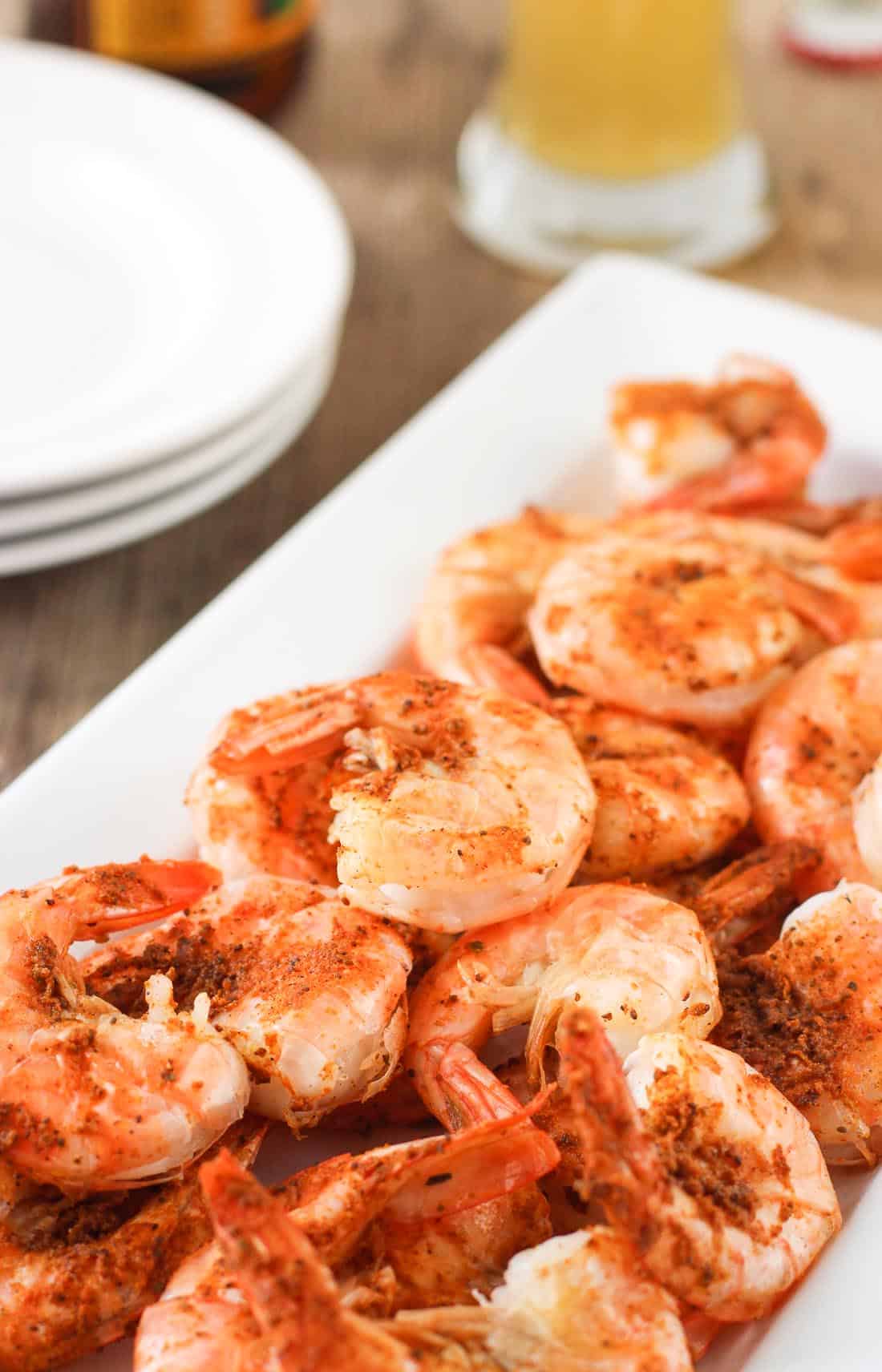 P.S. – One special kitchen gadget we use here is a steamer basket
. It's placed in the pot so that the bottom of the basket hits just above the boiling beer/vinegar/Old Bay mixture and helps make this recipe easy breezy. I've linked to the type we have above, but odds are you can probably find them in the kitchenwares section of your supermarket, too.

Easy Peel and Eat Old Bay Shrimp
Ingredients
1 12-oz. wheat beer*
2 tbsp white vinegar
2 1/2 tbsp Old Bay seasoning, divided
1 lb. extra large, shell-on raw shrimp, either fresh or frozen and thawed
For serving: extra Old Bay seasoning, cocktail sauce, melted butter, vinegar, etc.
Instructions
In a large pot, stir together beer, vinegar, and 1 tbsp Old Bay seasoning. Cover pot and bring mixture to a boil over high heat. When steam begins to escape the lid, place steamer basket in the pot (the liquid should not boil above the bottom of the steam basket).
Add shrimp to basket and pour remaining 1 1/2 tbsp Old Bay seasoning over shrimp, tossing shrimp with a spoon so that it's evenly distributed.
Replace top onto pot and bring back to a boil over high heat. You should begin to see steam escaping again. Reduce temperature to medium/medium-high and steam for 5-6 minutes. Shrimp will be done when the shrimp turns pink, they're no longer translucent, and they're in a curled shape. Do not overcook or they will become tough and difficult to peel. Serve immediately with additional Old Bay seasoning, cocktail sauce, melted butter, white vinegar, etc.
Notes
*This recipe works best with a wheat beer, or one that is on the lighter side.
*this post contains affiliate links.