This.
Oh my gosh, this. My new favorite summer-y, BBQ-y dessert.
This grilled fruit salad is all kinds of sweet.
Sweet from the natural fruit sugars, which caramelize slightly as the fruit grills. This results in those picture-perfect grill lines and a slightly-smoky yet sweet taste that takes the deliciousness of watermelon and pineapple and raises it tenfold. If there were ever two fruits I'd want to have enhanced flavors, I think it would be watermelon and pineapple.
These fruits don't take long on the grill – a couple of minutes on each side over indirect heat will do it. After the fruit is grilled and cooled and fresh blueberries are added to the mix, I added a drizzle of honey. More natural sweetness that coats the slightly-charred outsides of the watermelon and pineapple, contrasting (and complementing) that slightly-smoky attribute I mentioned above. Ying to the yang to the YES.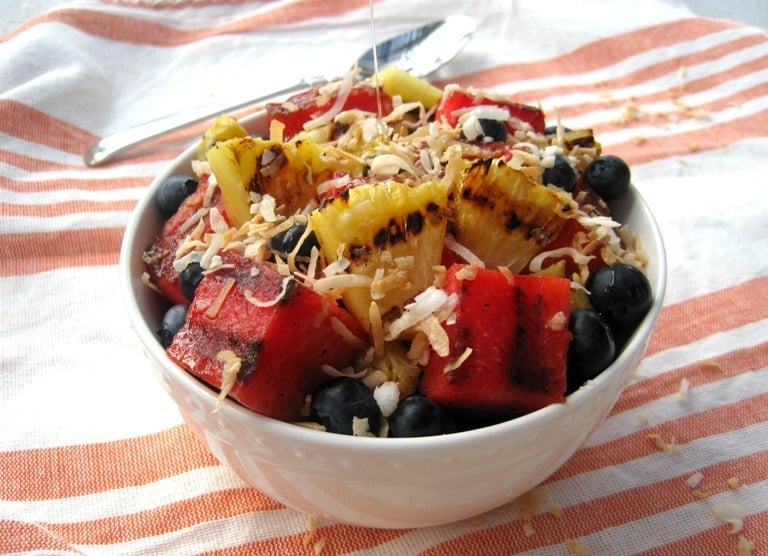 Then there's the sweetness of the toasted coconut flakes shoveled sprinkled over top. Is there anything better than scenting your kitchen with the toasted coconut aroma? Maybe just eating it atop honey-drizzled blueberries and grilled watermelon and pineapple. Swoon.
I'll be hard-pressed to revert back to non-grilled fruit salads after tasting this non-traditional version. Unfortunately this is where the last sweet comes into play – bittersweet. While B and I are so thrilled to have found our dream apartment in our dream city (Nashville!), it comes with a strict "no grills allowed" policy for our balcony or the property. B, the grill-loving guy that he is, took this news like a champ while I had grim thoughts of living a life devoid of grilled pizza flying through my head. Then I took a look around at the HUGE windows, fab kitchen, and one second commute (literally, per Mapquest) to a gourmet ice cream shop, and realized I can live without a grill…
…until we make friends who have a yard. 🙂
Grilled Fruit Salad
Ingredients
1

pineapple

skinned, cored, and cut into rings approx. 1/2"-thick

1/2

of a large watermelon

cut into large, rind-less 1"-thick slices (or approx.)

2

tbsp

olive oil

1/2

cup

sweetened coconut flakes

1/2

pint

1 cup blueberries

1/2

cup

honey

approx. 1 tbsp per serving
Instructions
Preheat your grill to high heat. While grill is preheating, prepare and cut pineapple and watermelon.

Once fruit is cut and grill is heated to high, turn off middle burners (the ones you will be placing the fruit over) and turn the other burners down to medium heat.

Brush olive oil onto both sides of the pineapple and watermelon slices and place fruit on the middle grill grates. Close the cover of the grill, and let fruit cook for 3-4 minutes.

Check underside of fruit for grill lines, and flip once visible. Grill other side of the fruit for approximately 3-4 minutes as well.

Once grill lines appear on the other side of the fruit, remove and let cool on a wire rack. To speed the cooling process up, I placed fruit in the refrigerator.

While fruit is cooling, preheat oven to 350°F. Once oven has preheated, place coconut flakes in a single layer on an ungreased baking sheet and bake for about 3-4 minutes, or until coconut becomes just fragrant and lightly browned. Remove pan from oven and place toasted coconut on a plate or separate bowl to cool.

Once fruit and coconut have cooled, slice watermelon and pineapple into small chunks and place in bowls along with blueberries. Drizzle honey over top of fruit and sprinkle with toasted coconut flakes.
Notes
When checking fruit for grill lines, you want to make sure you keep the grill cover open for only as long as it takes you to check or flip the fruit. Keeping it open for any longer will risk cooling the grill off more than you'd like.
If not serving immediately, store fruits in refrigerator separately, pre-honey drizzle, and assemble just before serving.
Nutritional information is provided as an estimate. As it can vary due to many factors (brands used, quantities, etc.), we cannot guarantee its accuracy.