This buffalo chicken tortilla pie is one of my favorite weeknight meals. Shredded chicken is mixed with a creamy buffalo sauce and layered with cheese between tortillas. Bake until the cheese melts and it's done! Great to use with rotisserie or leftover chicken.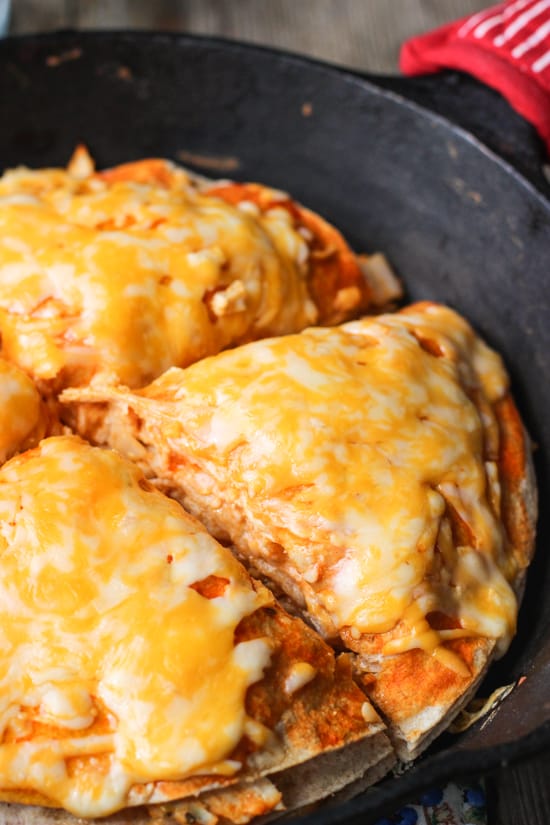 It's (almost) summer – yes! Even though the weather in San Diego has felt like summer since the actual winter, that vacation-y, beachy, school's-out vibe is in the air and I couldn't be happier. Never mind that I haven't been in school for awhile; I still have residual June excitement. Summer means that some of my daily cups of coffee are iced, my nail polish is neon enough to act as night running reflectors, and chips and salsa becomes its own food group in my diet.
Speaking of new food groups in my diet – buffalo chicken. All the buffalo chicken. It may not be the quintessential summer food like popsicles and guac, but it's stolen my heart big time this year. There have been buffalo chicken wraps, omelets, salads, grilled cheeses, even buffalo chicken straight from the bowl before it got a chance to make it into a recipe. It's so simple to whip up, and its blend of creamy/spicy just may be addictive.
I haven't gone long enough without to test that theory.
Of all the buffalo chicken I've consumed lately, this buffalo chicken tortilla pie just may be my favorite.
Of course you can cook up chicken breasts at home, but one trick I use when I'm pressed for time is to pick up a rotisserie chicken from the supermarket. All I do is discard most of the skin, use a serving fork to pull off shreds of cooked chicken, mix it up with hot sauce and spices and voilà. Before you know it you're sitting in front of a big bowl of buffalo chicken. Try to control yourself.
This buffalo chicken tortilla pie yields about four servings, and uses four tortillas. In keeping things health-minded, I used 100% whole wheat tortillas (and light sour cream, and 2% cheddar). With the layers of spicy buffalo sauce mixed with creamy sour cream and melty cheese, you won't taste whole wheat or the lightened-up nature of the dairy ingredients at all. My audience definitely didn't. Sneaking in fiber, whole grains, and less fat? I'm a fan, but feel free to use whatever version of of tortilla/sour cream/cheese you prefer or have on hand.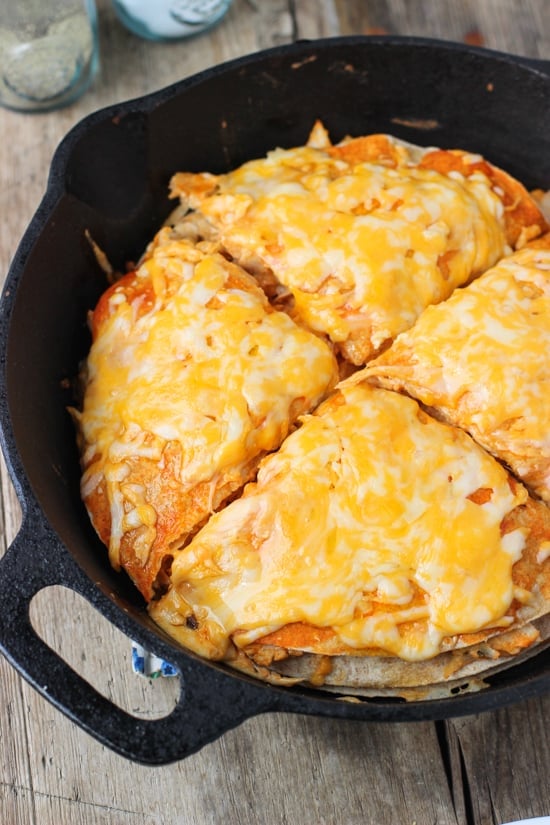 What I love about this recipe is that it's incredible versatile. The amount of hot sauce the recipe uses as written below lends a mild to low-medium zing, making it enjoyable for the masses. Does your family love to bring on the heat? Feel free to add a little extra glug-glug of the Frank's. We were a mixed group – my mom and I enjoy zing on the lower half of the spectrum, B likes a little more, and my dad would have poured the entire bottle into the recipe if he were at the helm. Just adjust as you see fit.
So let's recap. Super easy chicken – either store-bought or home-cooked, mixed with your preferred dairy ingredients, quantity of sauce and spices, that's on your table in a half hour or less? I've heard of people choosing a song for any given summer, but I think I've found my dinner of  summer 2014…even if it's still technically spring.

Buffalo Chicken Tortilla Pie
Yield:
4 dinner-sized servings
Ingredients
3 cups cooked, shredded chicken
1/4 cup + 2 tbsp Frank's Red Hot Wings sauce, divided
1/2 cup sour cream, divided
1/2 tsp dried basil
1 1/4 cups shredded cheddar cheese, divided
1/2 medium-sized onion, diced
1 clove garlic, minced
4 tortillas
1/2 bunch scallions, diced (for topping)
Instructions
Preheat oven to 350°F. Grease an 8"x8" oven-safe dish with cooking spray and set aside.
In a bowl, combine chicken, 1/4 cup + 1 tbsp of the Frank's Red Hot Wings sauce, 1/4 cup sour cream, basil, 3/4 cup cheddar cheese, onion, and garlic. Stir to combine all ingredients well.
Press one tortilla onto the bottom of the greased 8"x8" dish. Spread one-third of the chicken mixture evenly over the tortilla.
Repeat the process: another tortilla, another third of the chicken, another tortilla, remaining third of the chicken, and end with a tortilla.
Over top of the last tortilla, pour remaining 1 tbsp of Frank's Red Hot Wings sauce and sprinkle 1/2 cup cheese. Bake for 18-20 minutes, or until cheese is melted and tortilla pie is heated well throughout. If cheese is browning before the pie is fully heated, cover dish with aluminum foil and continue baking.
Before slicing and serving, top pie with a dollop of the remaining 1/4 cup sour cream and scallions. You may also add an additional drizzle of hot sauce if you'd like to spice it up even further!