Enjoy two summertime favorites in one with a flag ice cream cake! Blueberries and raspberries depict the American flag in classic flag cake decoration, with the easiest layered ice cream sandwich cake underneath. A perfect no-bake Fourth of July dessert.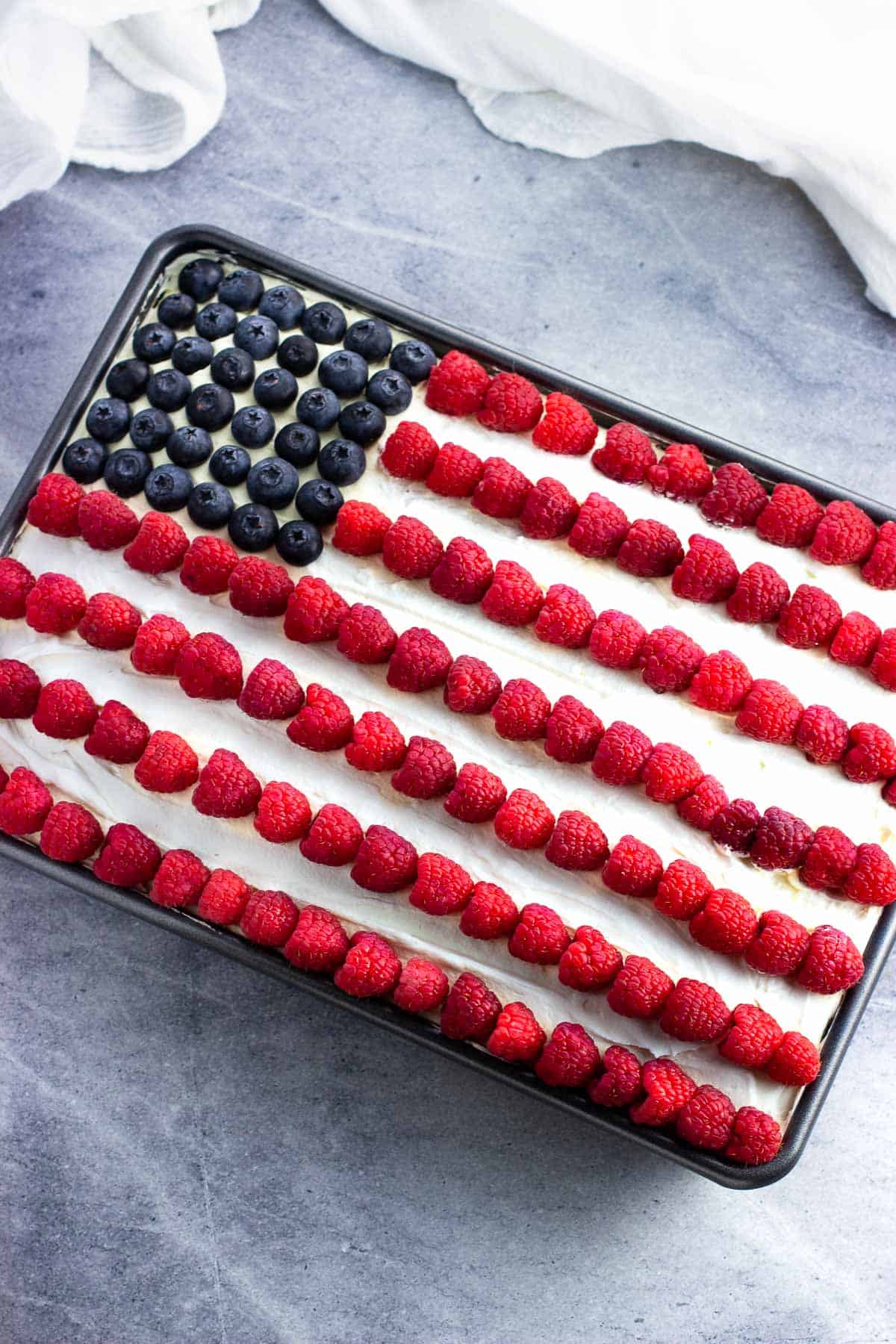 Flag cake is a ubiquitous Fourth of July dessert, but what if its design went atop an ice cream sandwich cake? And how about adding something cookies and cream in there? What about pudding mix? Clearly I let my inner child run wild making this American flag ice cream cake.
If you're unfamiliar with an ice cream sandwich cake, two layers of ice cream sandwiches are layered with Cool Whip in a 9-by-13-inch pan, often with fun flavor additions like cookie crumbs, chopped candy, chocolate syrup, etc. In our house it's known as "the last name cake" after the last name of our friends who would bring it over for summer get-togethers.
As usual I doctored a few things up in this patriotic version, firstly: no Cool Whip. Thinking of stabilized whipped cream which uses unflavored gelatin, I substituted in instant pudding mix with similar results. While instant pudding mix doesn't actually have gelatin, its high cornstarch content works in the same way to stabilize homemade whipped cream so it goes the distance. Plus it adds sweetness and flavor.
What results is a SUPER simple and festive dessert that serves a crowd.
Why This Recipe Works
Whole raspberries release less liquid than sliced strawberries, preventing a messy design.
While you can absolutely use frozen whipped topping like Cool Whip, I like to make a homemade substitute using cream, powdered sugar, and instant pudding mix. It doesn't deflate or get watery at all.
Most of this cake can be made ahead of time (with some tips below).
Recipe Ingredients
This flag ice cream cake is made in a 9-by-13-inch pan. Use one with at least 2-inch tall sides, though a deeper-dish one works, too. Because this cake is stored in the freezer, make sure the kind you use is of a freezer-safe material.
Ice Cream Sandwiches: You will need 25 standard rectangular ice cream sandwiches to fill the pan snugly from edge to edge, though you can certainly get away with just using 24 and centering the cake a smidgen. Most packages come in 6- or 12-counts.
Cream: Heavy whipping cream has a fat percentage of at least 36% if your supermarket options aren't labeled like this.
Powdered Sugar: To sweeten the whipped cream. Sift so it doesn't leave clumps.
Instant Pudding: The starches help set up the whipped cream and seriously delay any deflating or weeping. Make sure you use instant pudding and not cook-and-serve as the packaging looks very similar.
Oreos: Crushed up, these are mixed into the whipped cream layer between the sandwiches. Try different flavor varieties (mint, chocolate, peanut butter) for a fun twist!
Fruit: Blueberries form the blue background for the stars section, while raspberries create the stripes. Use fresh berries and not frozen and thawed ones as they'll bleed color.
Step-by-Step Instructions
There are three main components of this flag ice cream cake recipe: making the whipped cream (can be skipped if using Cool Whip), assembling the cake, and decorating the top. Most steps feature a make-ahead option.
Making the Whipped Cream
Whip cold cream with powdered sugar and dry instant pudding mix until it reaches the "firm peaks" stage. Remove half to a separate bowl and stir in the chopped Oreo cookies.
Assembling the Cake Layers
Arrange 12 (or 12 and a half if you really want a snug fit) ice cream sandwiches in a layer on the bottom of the pan.
Top with the Oreo whipped cream.
Add another layer of ice cream sandwiches. Freeze cake for at least one hour.
When ready to serve, spread the regular whipped cream over top.
Decorating the Flag
Arrange 36 blueberries in a square shape in the top left, then lay the raspberries on their sides to form the stripes. Aligning the raspberries all in the same direction makes things look neat.
Note - The ice cream sandwiches will naturally begin to melt as you unwrap them and assemble the cake. Freezing the cake for an hour or so before adding the top cream and berries allows everything to set up again. This extra frozen ice cream cake allows you time to add the top whipped cream and berries without stress. Plus (IMO) the berries look best when served fresh.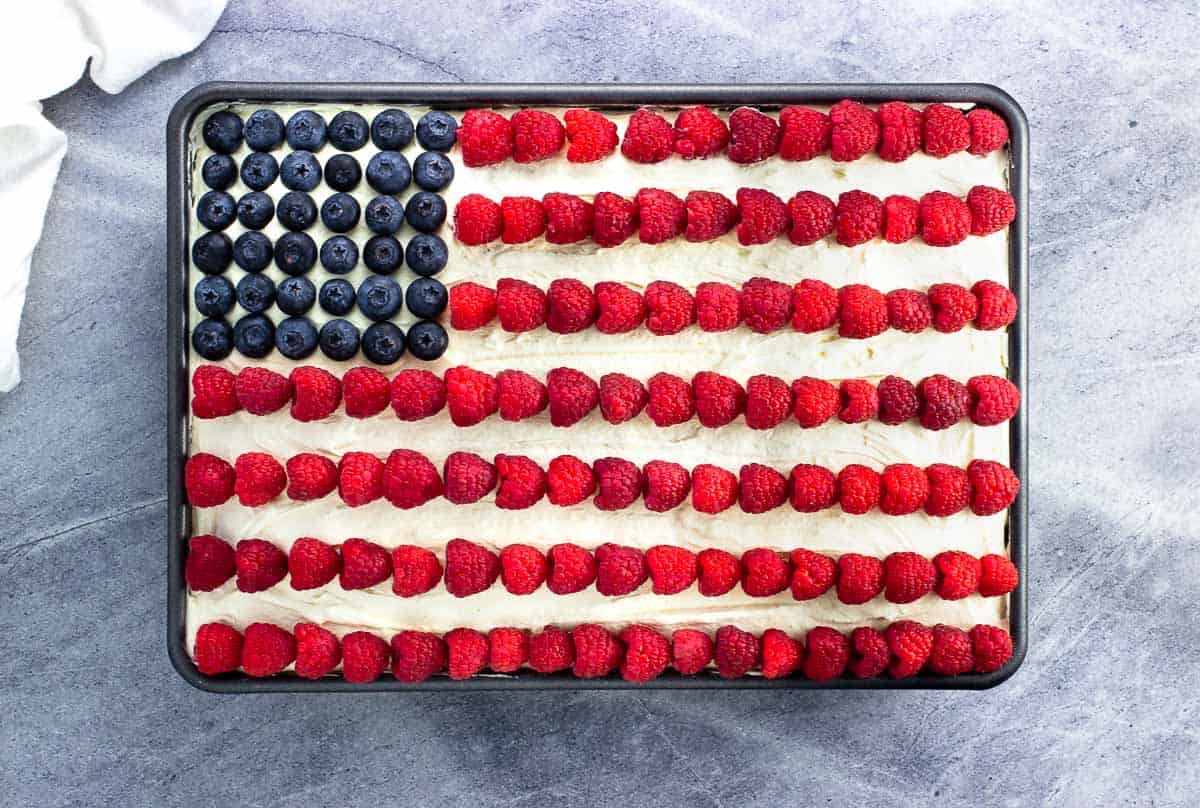 Recipe Tips and Tricks
Using a metal pan, which retains the cold well, slows down melting when slicing and serving.
Lining the bottom of the pan with two layers of parchment paper makes cleaner work of serving and works well to prevent inadvertant scratches.
Stirring the crushed Oreo cookies into the whipped cream (versus sprinkling them on top) is recommended to allow the top layer of sandwiches to stick to the rest of the cake.
Hold off on adding the top whipped cream until after the one hour freeze as the berries won't stick to it if it's frozen.
Be sure to dry the berries off the best you can. Excess moisture can lead to color bleeding onto the white whipped cream.
Make room ahead of time in your freezer so you can pop the pan back in there at any point during the process if you're afraid the ice cream sandwiches are getting too melty.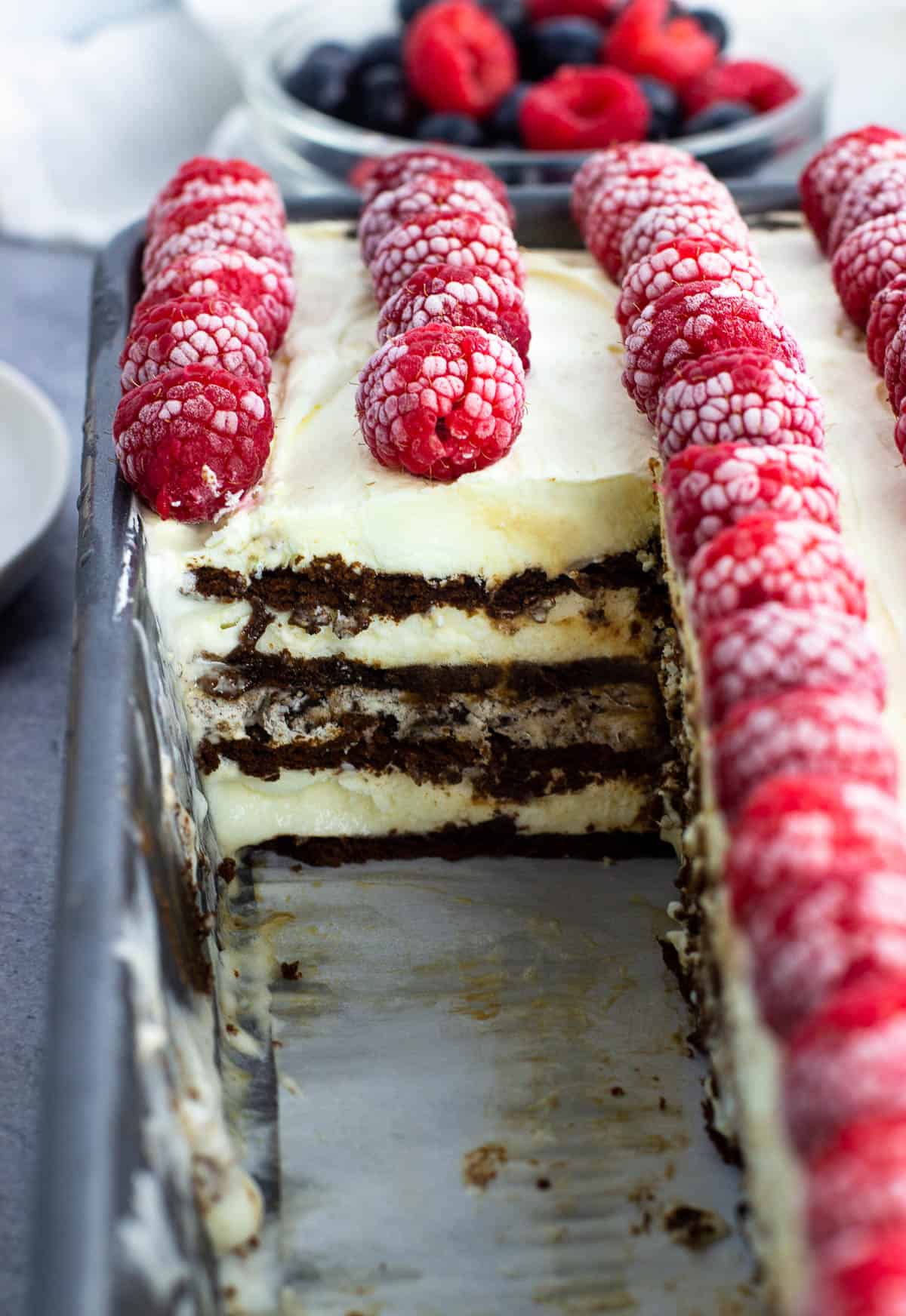 More Summertime Desserts
If you've enjoyed this recipe, I'd love for you to leave a star rating in the recipe card and/or a comment review below!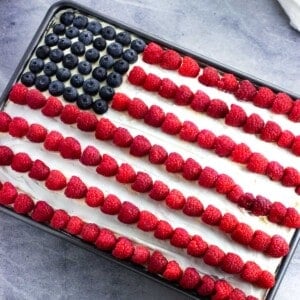 Flag Ice Cream Cake
Enjoy two summertime favorites in one with a flag ice cream cake! Blueberries and raspberries depict the American flag in classic flag cake decoration, with the easiest layered ice cream sandwich cake underneath. A perfect no-bake Fourth of July dessert.
Print
Pin
Rate
Ingredients
3

cups

heavy whipping cream

(see Cool Whip substitution note)

⅓

cup

confectioners' sugar

sifted

5

Tablespoons

dry instant white chocolate or vanilla pudding mix

(not cook-and-serve)

1

cup

finely-chopped Oreo cookies

(about 8 cookies)

25

ice cream sandwiches

(can get away with 24)

1

half-pint package

fresh blueberries

dried very well

2-3

half-pint packages

fresh raspberries

dried very well
Instructions
To Make Whipped Cream
Pour cream into a mixing bowl and add sifted confectioners' sugar and dry instant pudding mix. Beat on medium-high speed for several minutes until fluffed up and firm peaks have formed.

Transfer half of the whipped cream to a separate bowl and fold in the chopped Oreo cookie pieces. Cover the plain whipped cream bowl with tight-fitting plastic wrap and refrigerate.
To Assemble Cake
Line the bottom of a 9-by-13 inch pan with two sheets of parchment paper to prevent scratches. Arrange 12 ½ (just 12 if using 24) ice cream sandwiches next to one another on the bottom as the first layer, slicing them as needed to completely cover the bottom.

Spread the Oreo whipped cream in an even layer on top of the sandwiches.

Arrange the remaining ice cream sandwiches in a layer on top of the Oreo whipped cream. Wrap the top of the pan with plastic wrap and freeze for an hour (or longer if needed).
To Decorate and Serve
When ready to decorate and serve, pat berries dry with a paper towel. Get them all prepped and ready to go before taking the cake out of the freezer to decorate efficiently.

Spread the remaining reserved whipped cream in an even layer on top of the ice cream sandwiches. Arrange the blueberries in a square formation at the top left of the cake, then lay raspberries on their sides to form the stripes. Serve right away.
Notes
Cool Whip Substitution - As cream doubles in volume when whipped, look to use around 6 cups of Cool Whip if substituting. A 16-ounce container should do it. Omit the confectioners' sugar and pudding mix. Pudding Mix - To really nitpick, white chocolate will likely be the whitest pudding mix, followed by regular vanilla. I have used french vanilla by accident before and while it's totally fine and no one noticed, it has an ever-so-slight warmer hue. Making the Cake Ahead - You can assemble and decorate the cake, wrap in plastic wrap, and freeze. The cake will get very firm and will need to sit for a brief period of time before slicing and serving. The berries will take on a frosty appearance as they thaw. Leftovers: Wrap leftover slices of cake tightly in plastic wrap and freeze in an air-tight container or freezer bag.
Nutrition
Serving:
1
slice
|
Calories:
180
kcal
|
Carbohydrates:
21.9
g
|
Protein:
1.8
g
|
Fat:
9.6
g
|
Saturated Fat:
5.2
g
|
Cholesterol:
29
mg
|
Sodium:
115
mg
|
Potassium:
36
mg
|
Fiber:
0.9
g
|
Sugar:
12.9
g
|
Calcium:
24
mg
Nutritional information is provided as an estimate. As it can vary due to many factors (brands used, quantities, etc.), we cannot guarantee its accuracy.
Food Safety and Nutrition Disclaimer