Lemon coconut ice cream is tart, creamy, and packed full of toasted coconut flakes and toasted macadamia nuts. Because it's made with coconut milk - it's dairy-free (and vegan)!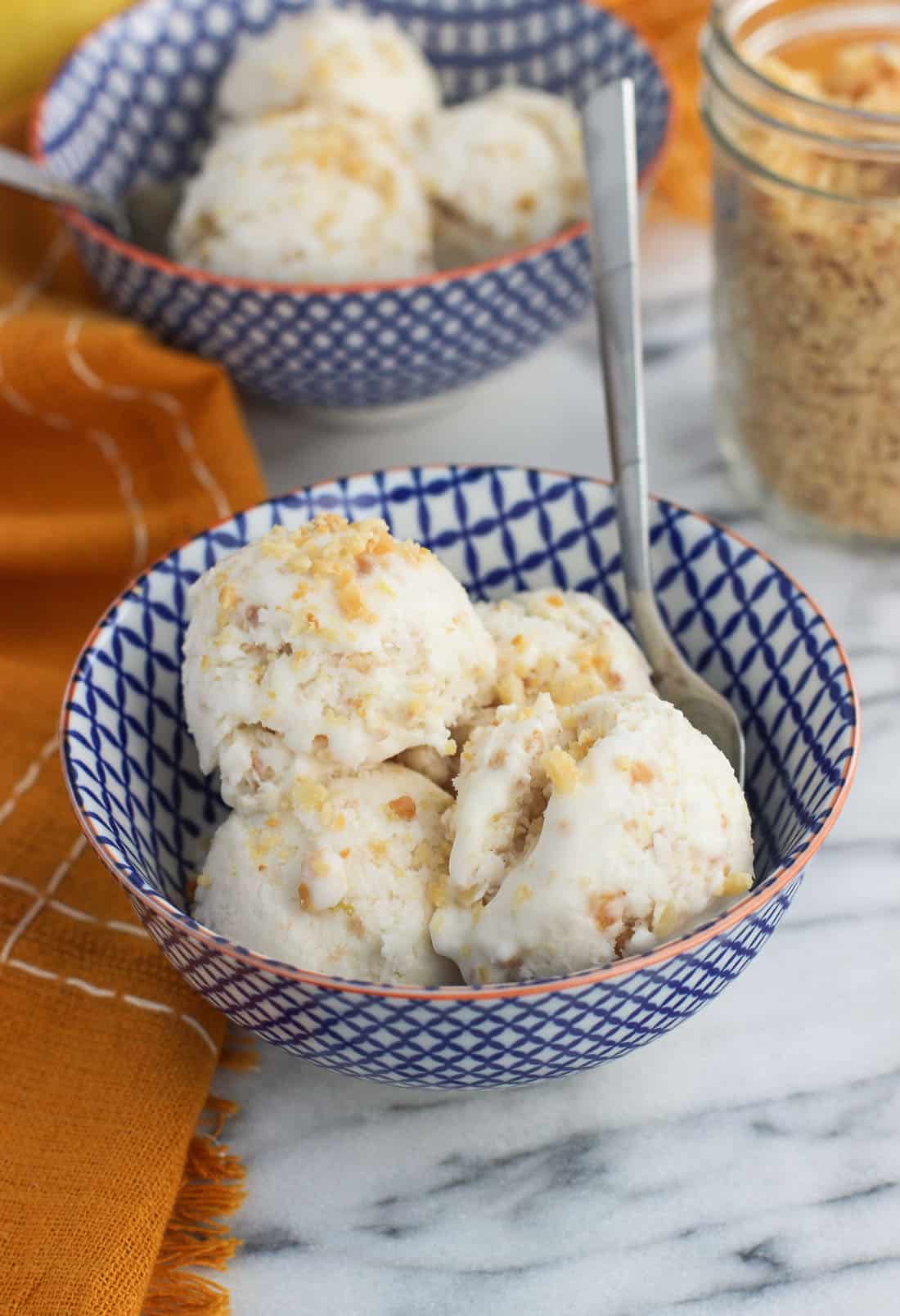 There are few summer treats I love more than ice cream. Truly, all flavors. I've heard people say "oh, I hate rum raisin" or "anything but mint chocolate chip" (seriously...who says that) but I'm decidedly an equal opportunist. To date I've shared three homemade ice cream recipes on the blog - double chocolate mint chip ice cream (with dairy), dairy-free double chocolate mint chip ice cream, and vegan pumpkin spice latte ice cream. Tuck that last one in your pocket for those late summer days when it's still hot but you can't stand to wait a day longer to bust out all things fall.
This lemon coconut ice cream makes four! The ice cream base is made with coconut milk so it's 100% dairy-free. Coconut milk doesn't impart much of a coconutty flavor, so all this coconut goodness comes from the toasted coconut flakes. Toasting them brings out their delicious flavor even more, and I chopped them smaller before adding to the ice cream to ensure they're present in every bite. The same goes for the macadamia nuts - toasting them and chopping them small. I had extra chopped nuts because I toasted up a big batch at once, so I reserved them for sprinkling over top for serving. I would have done that with the toasted coconut, but I'm powerless against toasted coconut flakes. Those may or may not have been eaten straight-up. 😉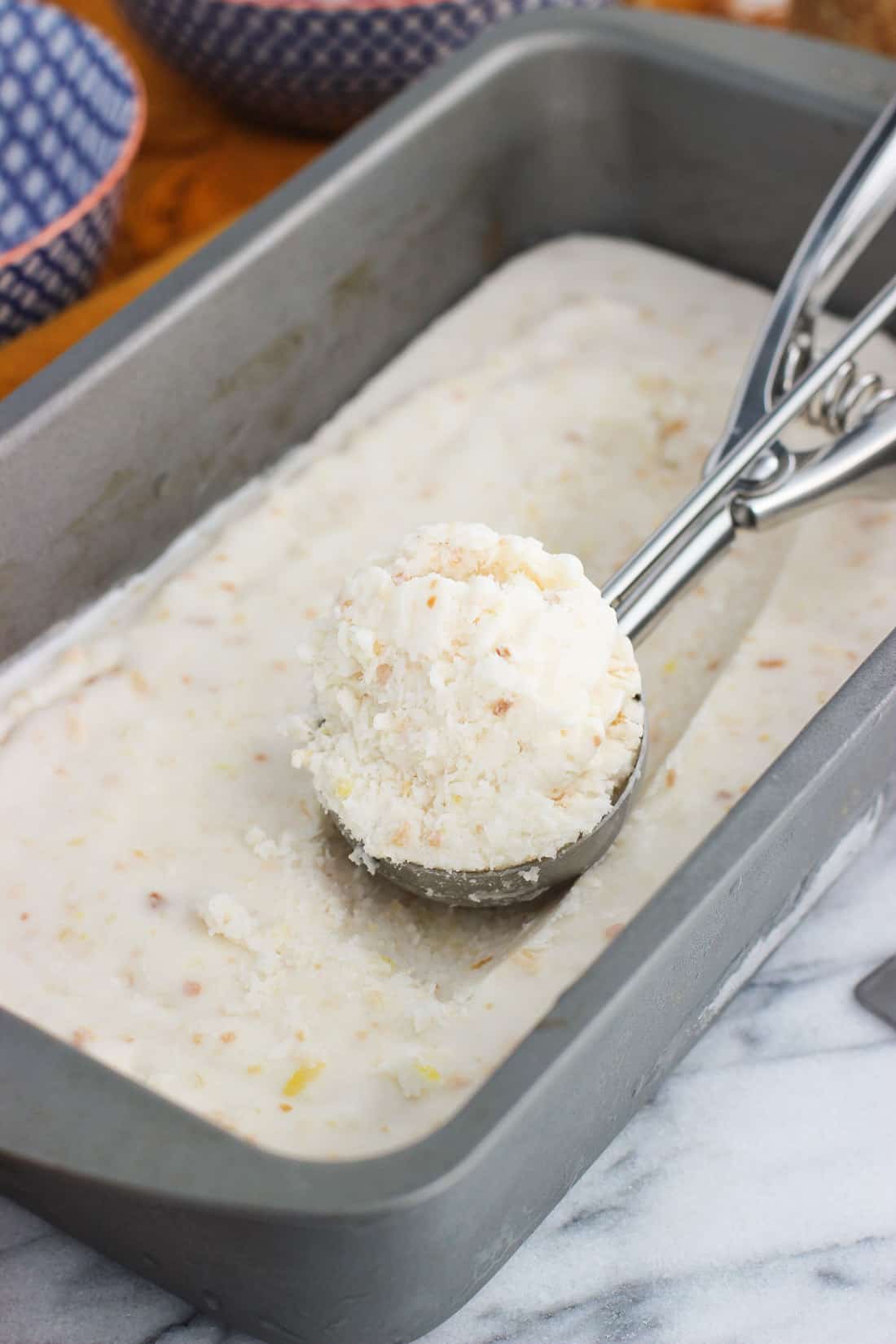 The lemon flavor is the shining ⭐️ here, coming from a half-cup of freshly-squeezed lemon juice and a few lemons worth of zest. I'm a fan of pretty much all citrus desserts (hello, lemon white chocolate macadamia nut cookies!), but there's something special about the combination of tart and creamy in a frozen dessert. So refreshing!
This recipe does make use of an ice cream maker, but I do have plans to make it without using one and see how it goes. I will say that though that I actually do use my ice cream maker a decent amount, which is a lot more to be said than some other speciality kitchen tools that have a knack for tucking themselves into far corners of the kitchen and collecting dust. Plus with how pricey a lot of dairy-free ice cream varieties tend to be, I love that I can experiment with my own flavors at home!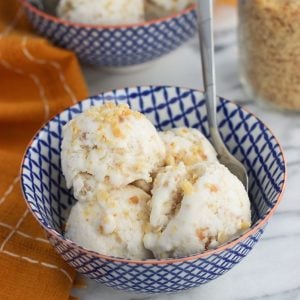 Lemon Coconut Ice Cream with Toasted Macadamia Nuts (Dairy-Free)
Lemon coconut ice cream is tart, creamy, and packed full of toasted coconut flakes and toasted macadamia nuts. Because it's made with coconut milk – it's dairy-free (and vegan)!
Ingredients
3

cups

full-fat coconut milk,

divided

1 ½

tablespoon

cornstarch

⅓

cup

granulated sugar

2

tablespoon

agave nectar

2

teaspoon

vanilla extract

½

cup

lemon juice

(from 2-3 lemons)

2 ½

teaspoon

lemon zest

(from 2ish lemons)

1

cup

sweetened coconut flakes,

toasted

½

cup

macadamia nuts,

toasted then chopped
Instructions
For the toasting:
Preheat oven to 350°F and line two rimmed baking sheets with foil or parchment paper. Place coconut flakes on one sheet and macadamia nuts on the other in single layers. Toast for 5-10 minutes, or until the coconut flakes and macadamia nuts are golden brown and are just becoming fragrant. I put them on two different sheets in case one was done before the other. Set aside to cool completely.
For the ice cream:
In a small bowl, whisk together ¼ cup coconut milk and cornstarch until the cornstarch is dissolved. Set aside.

Add remaining 2 ¾ cups coconut milk, sugar and agave nectar to a large saucepan set over medium-high heat. Whisk until the sugar dissolves and the mixture is all smooth. Let the coconut milk mixture reach a boil, stirring occasionally.

Let boil for 3-4 minutes and then whisk in the reserved coconut milk/cornstarch mixture. Let it all come to a boil again and cook for an extra 2-3 minutes.

Remove from heat and stir in vanilla extract, lemon juice, and lemon zest.

Pour mixture into a large plastic bag (or two) and seal. Place bag in a large bowl containing ice water and a bunch of ice cubes for 40-45 minutes, or until mixture is thoroughly chilled. You may wish to replenish the ice to maintain a chilly temperature.

As the mixture is chilling, chop toasted coconut flakes and macadamia nuts into smaller pieces. To make this step easier, I placed the macadamia nuts in a food processor and pulsed until they were broken up into small pieces.

Once the coconut milk mixture is well chilled, pour into ice cream maker and prepare according to instructions. Mix in toasted coconut and macadamia nut pieces when instructed. This was about 10-15 minutes into churning for me.

Once ice cream has thickened (it will still be soft), transfer to a freezer-safe container and freeze for at least a few hours to harden.
Notes
Prep time contains 45 minutes of inactive time for the ice bath.
Keep a watchful eye when the coconut and macadamia nuts are toasting as they can go from perfectly golden-brown to burnt in a short amount of time.
As lemon coconut ice cream will harden in the freezer, remove for a few minutes or more before serving so it will soften enough to scoop.