Enjoy the flavors of a pumpkin spice latte in ice cream form! Pumpkin puree, brown sugar, and warm pumpkin spices are combined with coconut milk for a vegan pumpkin spice latte ice cream that's ultra creamy, wonderfully flavored, and studded with espresso bean flecks.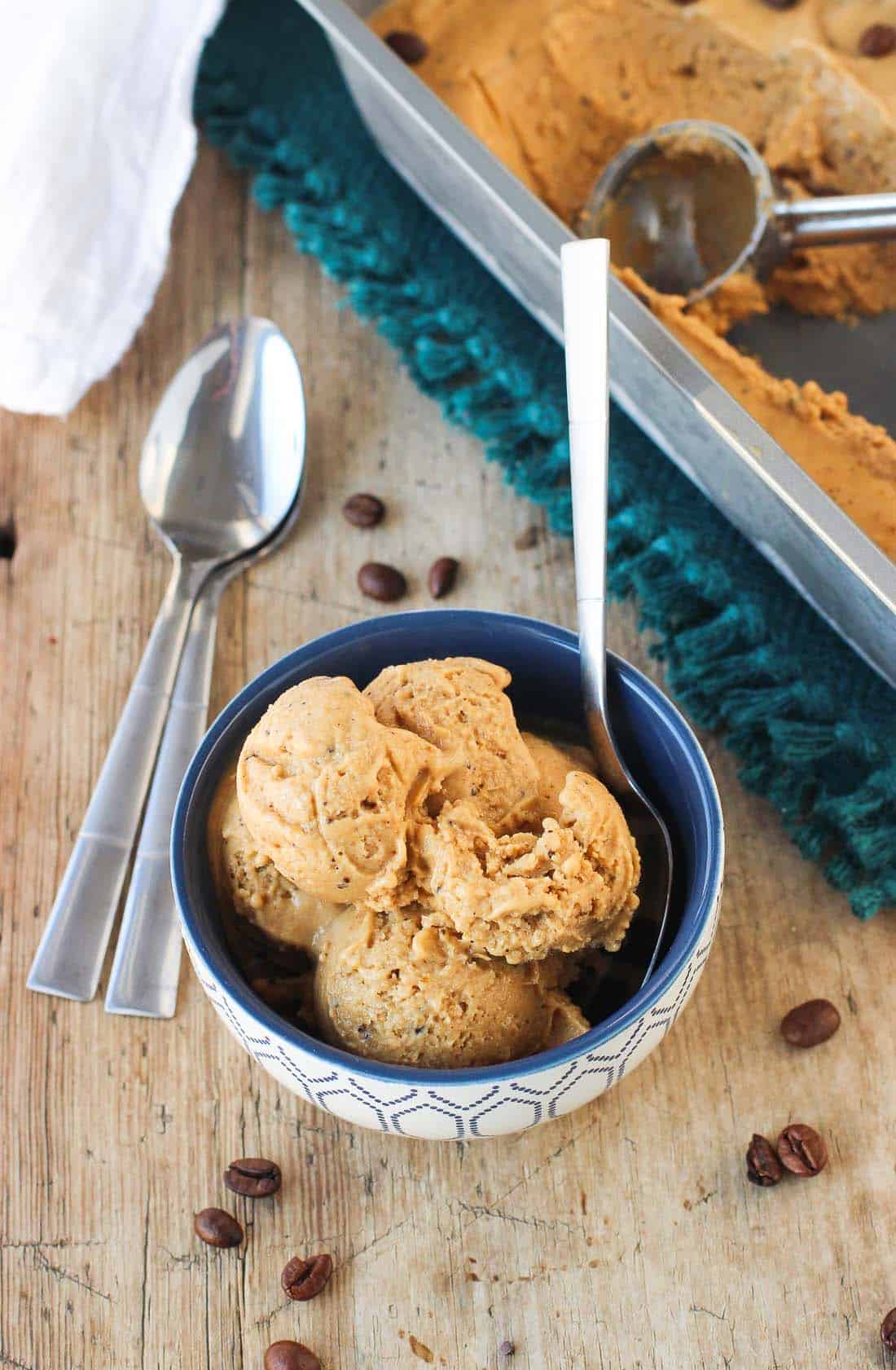 Generally once something becomes fodder for internet memes it's safe to say it's a little bit played out. But why is that supposed to somehow take away from how delicious/comfortable/funny whatever "thing" tends to be in the first place? The "thing" being pumpkin spice lattes in this case. I mean, they became wildly popular for a reason, right?
Now that we're a full three-and-a-half weeks deep into fall, I guess I'm using this opportunity to confess I've been falling hard for the more "basic" autumnal guilty pleasures this year. I'm just going to put it out there in the universe that some deep down and slightly guilty part of me is yearning for a pair of warm and fluffy Ugg boots (my first and only pair was purchased in 2007 and worn to pieces since). Couple that with my seasonal fascination with pumpkin spice lattes, and I'm putting my secret fall daydreams alllll out there on the table.
I should be clear that I haven't actually had the Starbucks version in years, rather this fall in particular I can't seem to pass little coffee shops without trying out their versions. I love them all. My true PSL memory might be a little shoddy after a few years, but somehow the pumpkin spice lattes I've sipped this year seem less sweet, less artificial, and actually…pumpkin-y.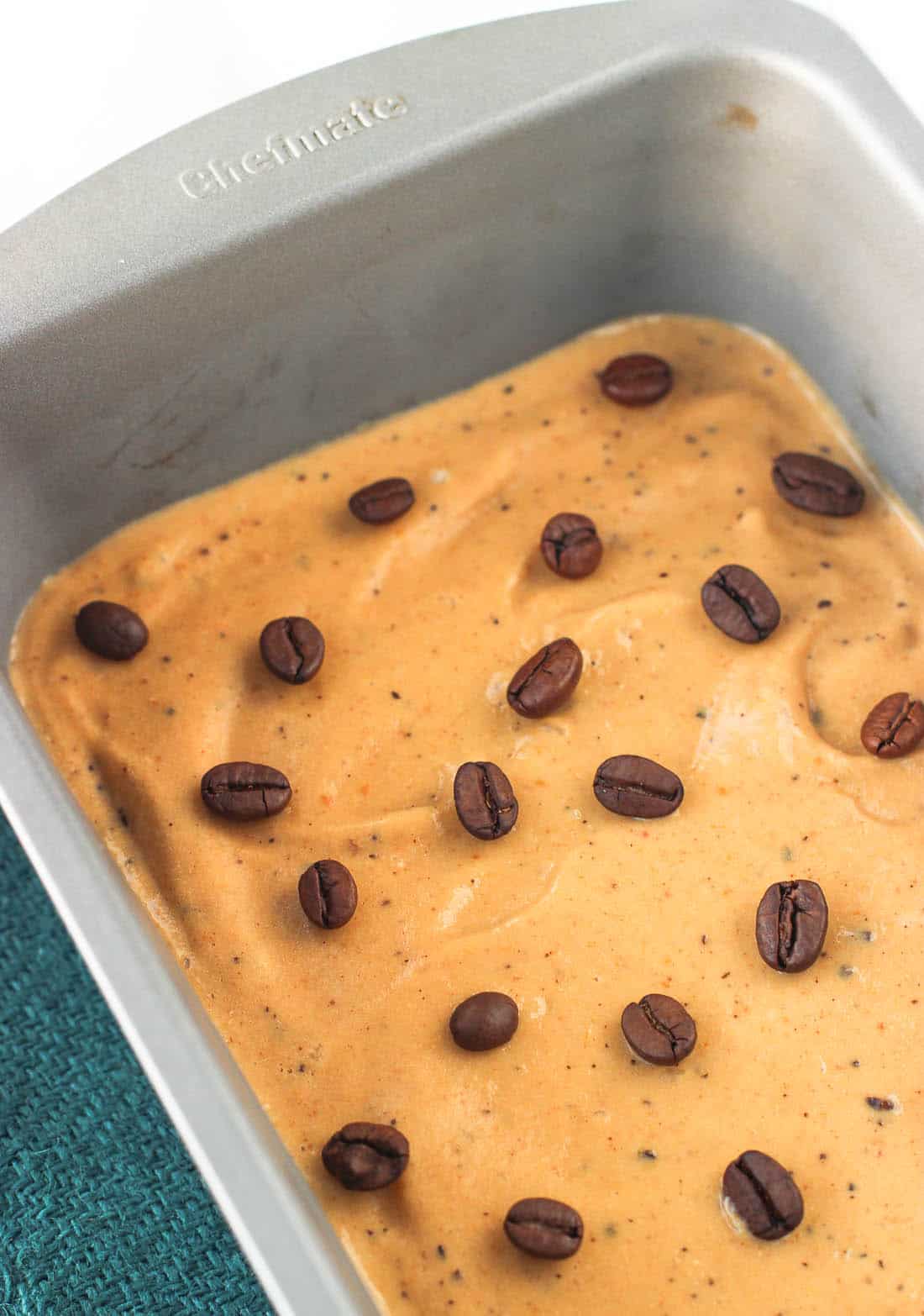 One of the very first recipes I posted on My Sequined Life when it was a blog baby was a Pumpkin Spice Gelato Affogato. In all honesty I used it as an excuse to treat myself to an ice cream maker
, which has been used surprisingly frequently despite my early thoughts otherwise. OH MAN was that gelato good. We downed that batch at a slightly alarming speed.
Now that I'm experimenting with dairy alternatives, I knew I wanted to do a recipe remix with this pumpkin spice latte ice cream because a) 'tis the season for sure and b) it would be a big shame if PSL season passed and I didn't recreate it. This ice cream is perfect for this time of year (at least here in Tennessee) when the leaves are beginning to change and Halloween is approaching, but the temperatures, which are hovering in the 70s, aren't yet cold enough to preclude ice cream from being enjoyed. An early fall dessert favorite.
I made a few tweaks with this version in comparison to the original I posted nearly two years ago. For one, I used coconut milk instead of traditional dairy ingredients. After this ice cream I just LOVE using coconut milk as part of a non-dairy ice cream base. It's ultra creamy and doesn't give off any coconut flavor, so it blends in with whatever flavors you've got going on. I also omitted eggs with this version for a true vegan ice cream, and incorporated the coffee flavor into the ice cream via ground espresso beans instead of taking the extra step of preparing brewed espresso for affogato.
Of course I wouldn't stop you in the slightest for adding ground espresso to the ice cream and serving it affogato-style, but that's up to you. 😉
Vegan Pumpkin Spice Latte Ice Cream
Enjoy the flavors of a pumpkin spice latte in ice cream form! Pumpkin puree, brown sugar, and warm pumpkin spices are combined with coconut milk for a vegan pumpkin spice latte ice cream that's ultra creamy, wonderfully flavored, and studded with espresso bean flecks.
Ingredients
3

cups

full-fat coconut milk

1 1/2

tbsp

cornstarch

1/2

cup

pumpkin puree

1/2

cup

brown sugar

2

tbsp

agave nectar

2

tsp

vanilla extract

3/4

tsp

ground cinnamon

1/8

tsp

ground nutmeg

1/8

tsp

ground ginger

Pinch

of ground cloves

1-2

tsp

ground espresso beans,

or to taste
Instructions
In a small bowl, stir together 1/4 cup of coconut milk and the cornstarch until cornstarch is dissolved. Set aside.

Add the remaining coconut milk, pumpkin puree, brown sugar, and agave nectar to a large sauce pan set over medium-high heat. Whisk until the brown sugar is broken up and all ingredients are equally combined to form a smooth mixture. Let mixture reach a boil, stirring occasionally, and cook for about 3-4 minutes. Whisk in the reserved coconut milk/cornstarch mixture. Let mixture come to a boil again and cook for an additional 2-3 minutes. Remove from heat and stir in vanilla extract, cinnamon, nutmeg, ginger, and cloves.

Prepare an ice bath to quickly cool the mixture: Pour ice cream mixture into a large plastic bag (or two), carefully seal, and place bag in a large bowl filled with ice water. Let mixture cool for 40-50 minutes or until chilled, taking care to add additional ice to keep the ice bath cold.

Once mixture is cold, pour into your ice cream maker and prepare according to your ice cream maker's instructions. Add ground espresso beans towards the end of the process, or during the designated mix-in time for your machine. Once completed, transfer ice cream to a freezer-safe container to store.
Notes
Ensure the bowl of your ice cream maker has been thoroughly chilled prior to using.
Ice cream base adapted from Jeni's Ice Cream Base via Saveur
This recipe yields approximately one quart of ice cream in total.
Nutrition
Serving:
0.5
cup
|
Calories:
197
kcal
|
Carbohydrates:
17.5
g
|
Protein:
1.6
g
|
Fat:
14.5
g
|
Saturated Fat:
12.8
g
|
Sodium:
12
mg
|
Potassium:
194
mg
|
Fiber:
0.7
g
|
Sugar:
13.2
g
|
Calcium:
20
mg
|
Iron:
2.5
mg
Nutritional information is provided as an estimate. As it can vary due to many factors (brands used, quantities, etc.), we cannot guarantee its accuracy.
*this post contains affiliate links