These Three-Ingredient (!) S'mores Cups are impossibly easy to make and are a delicious sweet treat. They're the perfect chocolate candy for holiday parties or gifting!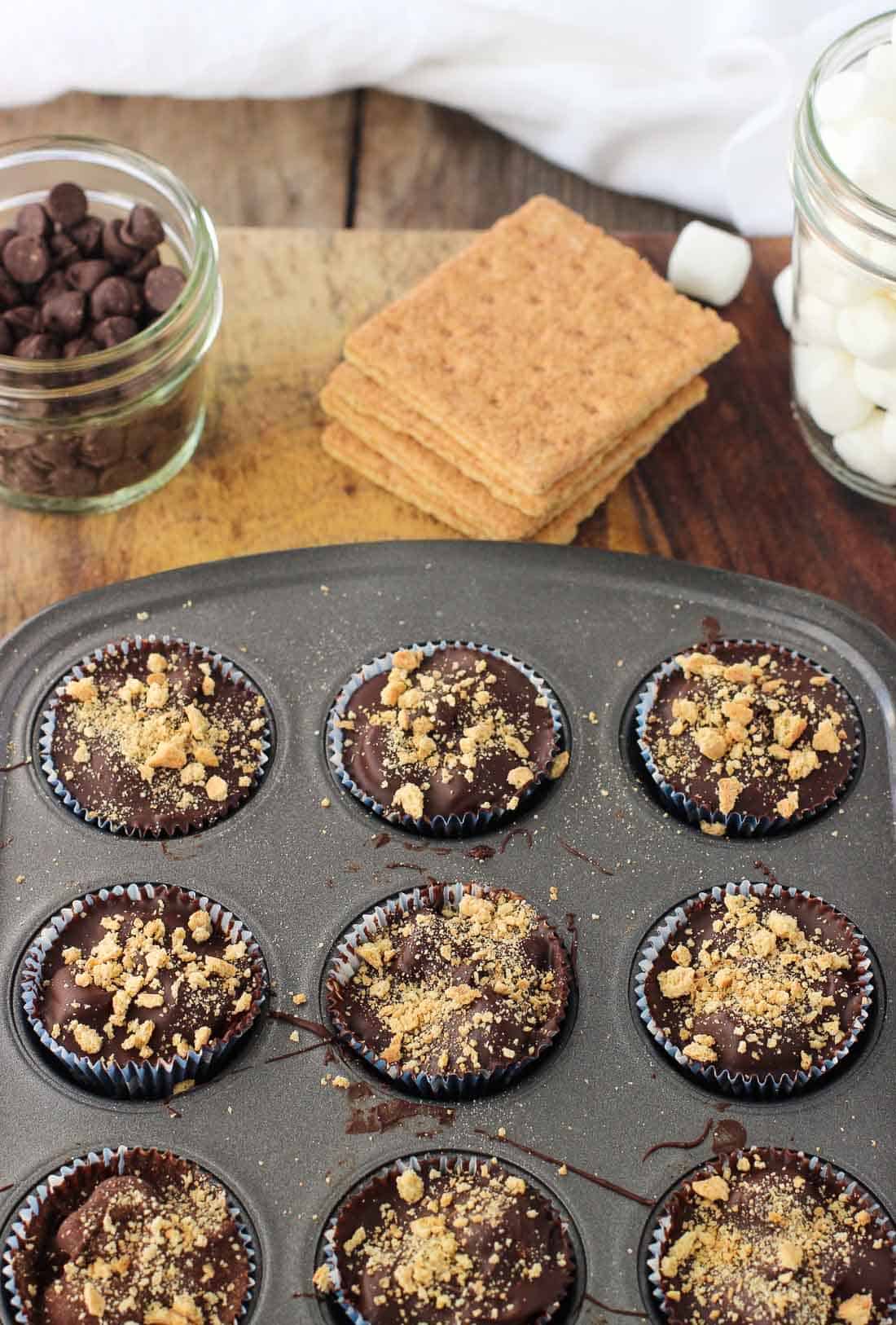 I'm not sure how much simpler these s'mores cups can get. They use chocolate, marshmallows, graham crackers...and that's it. The bare minimum for something sweet to be deemed s'mores-flavored. In the case of these s'mores cups however, we're trading in the stick and open flame for a mini muffin tin and some paper liners for a totally different, yet still delicious sweet candy treat.
Seasonally-appropriate s'mores, if you will.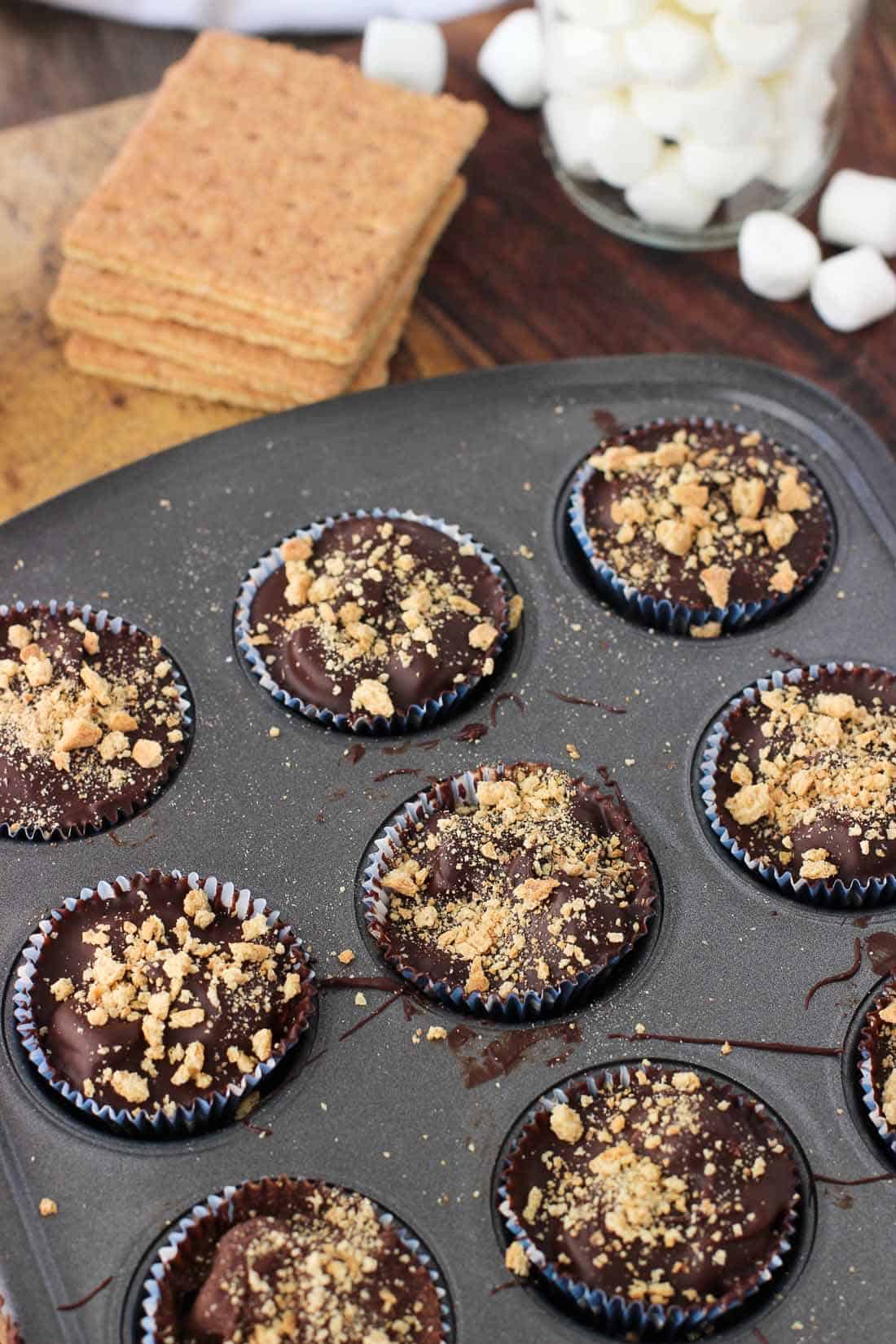 The s'mores party starts with melting chocolate and spreading a layer on the bottom and sides of each mini muffin liner. In keeping things real here I'll tell you that I used my fingers to spread the chocolate up the sides of the liners. That was only because I didn't have a small brush, which I'm thinking would work great in this scenario if you have one. Either way gets the job done.
Next you'll pop the tray of chocolate-coated liners into the fridge to hasten the hardening step. While that's happening, I did the (very minimal) prep of chopping small squares of graham crackers while the cups were in the fridge. You can use any type of graham cracker you wish (like chocolate - mmm...) but I stuck with the standard variety here. I had a fleeting worry that the graham crackers wouldn't stay crisp in these cups, but they totally did even days later. Yesss.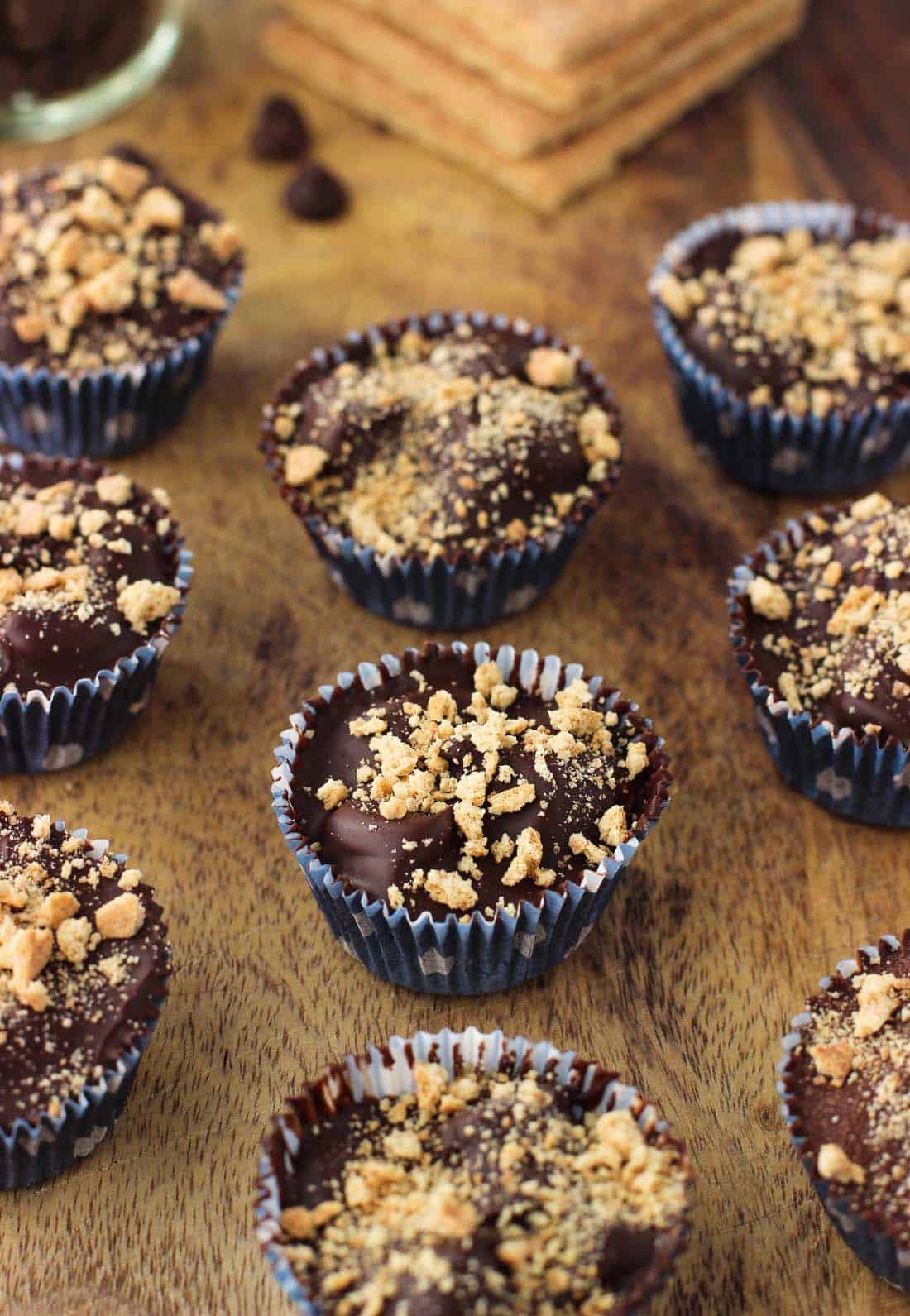 Soooo, you'll go and drop those graham squares into the cups, and then add a few mini marshmallows to complete the s'mores trifecta. I used three mini marshmallows per cup, but feel free to load 'em up if you're feeling it. More marshmallow is generally a good thing.
I briefly thought about using marshmallow fluff for the marshmallow component in these bad boys, but considering that most of the times I've dabbled in marshmallow fluff have resulted in every surface in my kitchen covered in sticky goop, mini marshmallows won out here. They give these cups the same chewy marshmallow flavor with a ton less mess. I'm all about the easy!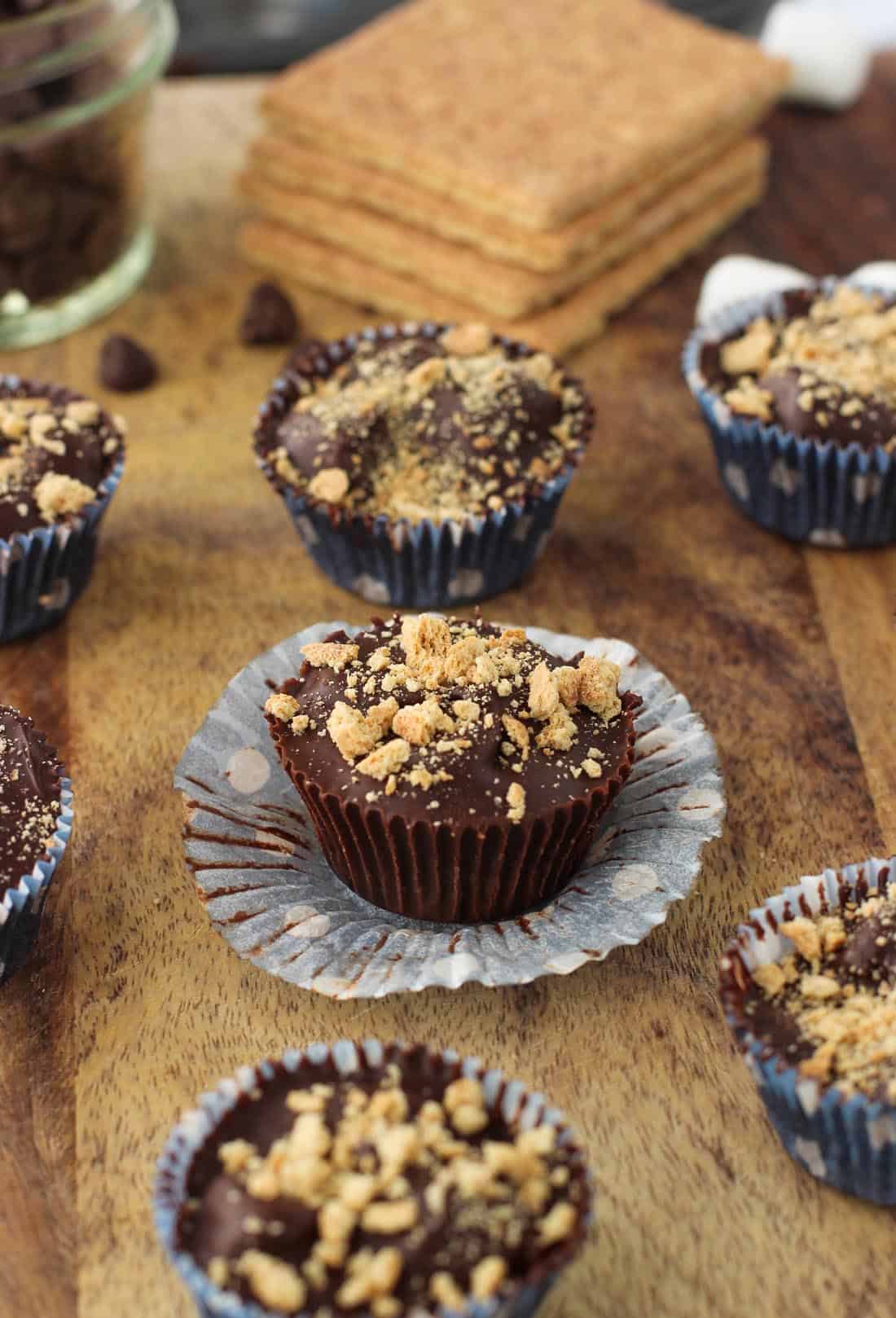 All that's left before taking a great big s'mores-filled bite is to top off the cups with more melted chocolate. I zhushed some graham cracker crumbs over top of each for a tasty and decorative touch, and then popped the tray back in the fridge to harden once again. And that's it!
Another little worry I had with these s'mores cups was that it would be difficult to remove the paper lining if the chocolate got all stuck to it. Kind of like the unfortunate situation with muffins and cupcakes, where you lose pretty much half of each one to the liner. As you can see though, there's nothing to worry about here! The liners peeled off just fine.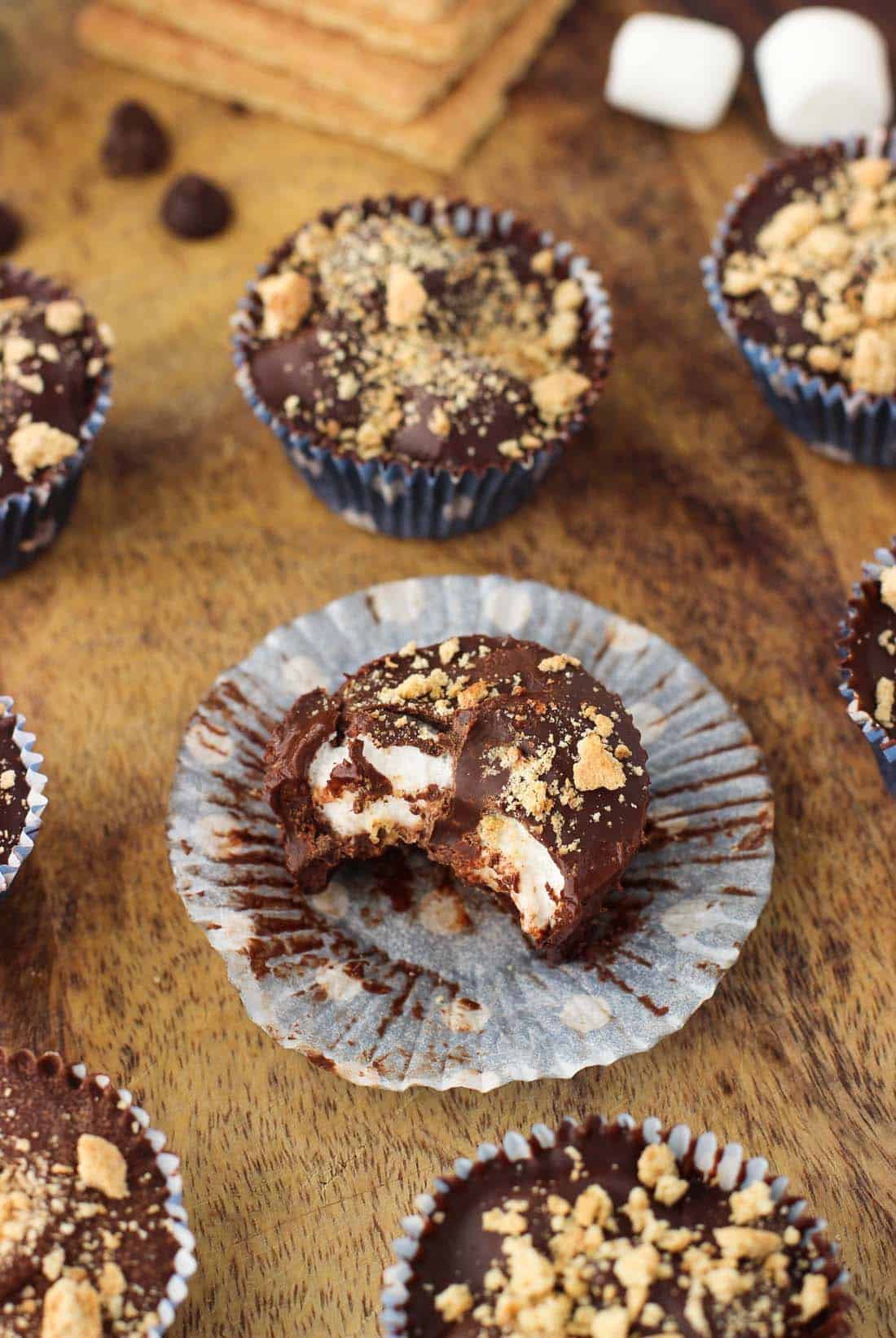 I like to keep these s'mores cups in the fridge because it gives them a nice snappy bite when you go to dig in, and slows the chocolate from melting as you're handling the cups. Though you can totally keep them at room temperature in an airtight container for some time! Basically have s'mores cups, will travel. I'm already planning on bringing these to holiday get-togethers and giving as hostess gifts over the next few months. A few s'mores cups in a bag tied with a festive bow? I'd certainly love to be on the receiving end of that. 🙂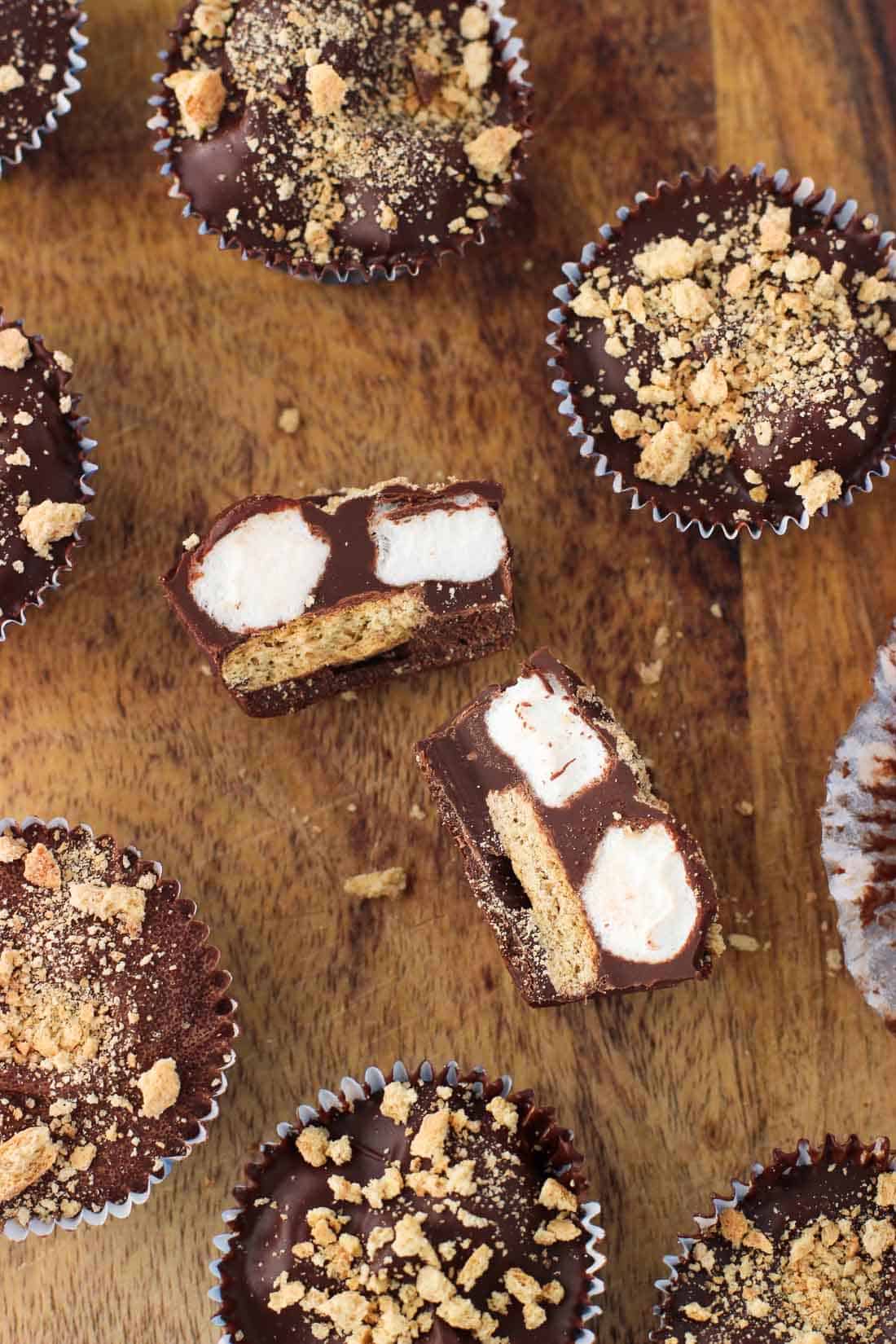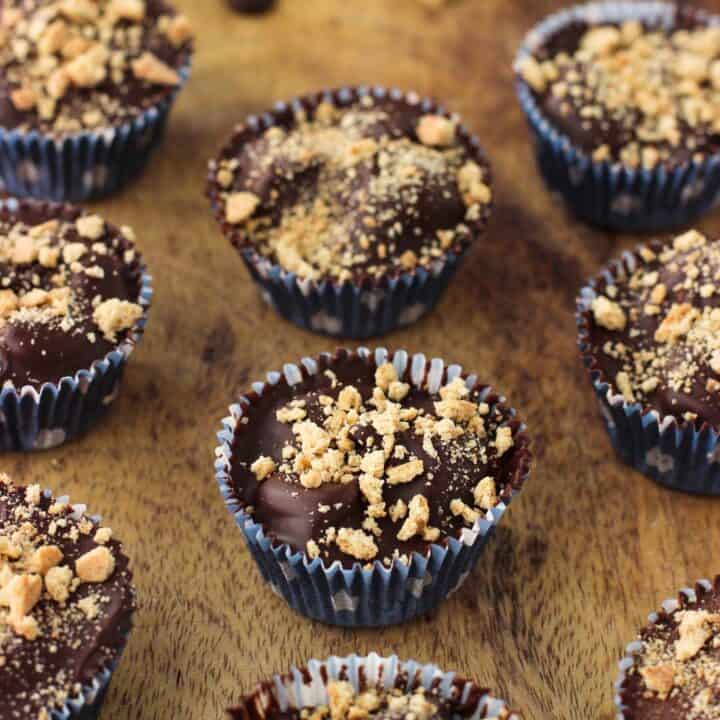 Three-Ingredient S'mores Cups
These three-ingredient s'mores cups are impossibly easy to make and are a delicious sweet treat. They're the perfect chocolate candy for holiday parties or gifting.
Print
Pin
Rate
Ingredients
3

cups

semi-sweet chocolate chips,

divided

3

sheets of graham crackers,

plus extra for crumbs

2

cups

mini marshmallows
Instructions
Line 24 mini muffin tin wells with paper liners. Add 1 cup of chocolate chips to a microwave-safe bowl and melt in 20- or 30-second intervals in the microwave, stirring after each interval, until chocolate becomes smooth. Add about ¾ teaspoon to 1 teaspoon of melted chocolate to each liner, spreading the chocolate around to evenly coat the bottom and most of the sides. This part is a little messy, but I suggest using your finger to spread the chocolate to make it easier.

Stick the muffin tin(s) in the refrigerator to quickly harden the chocolate, about 15-20 minutes. While hardening, cut squares from the graham cracker sheets that will cover the bottom of each mini muffin cup.

Once the chocolate has hardened, remove cups from the refrigerator. Place one graham square on the bottom of each cup, and then place 3 (or so) mini marshmallows on top of the graham square. You may wish to slightly flatten the marshmallows so they don't stick up too much beyond the top of the mini muffin well.

Add remaining 2 cups of chocolate chips to a microwave-safe bowl and melt in the same manner as the first round. Once melted, pour enough chocolate in each cup to cover marshmallows, taking care to pour chocolate down the sides to completely coat the marshmallows. Smooth out chocolate on top of each cup in an even layer. Sprinkle graham cracker crumbs on top of each cup and place cups in the refrigerator until hardened.
Notes
You may store cups at room temperature or in the refrigerator, but I'm partial to refrigerating as it gives a nice bite to the cup as you're biting into it. However these will hold up at room temperature, so they can be transported to get togethers, etc.
I used semi-sweet chocolate chips for these s'mores cups, but feel free to use dark chocolate, or your favorite chips.
This recipe can easily be halved to make 12 mini s'mores cups. Simply use 1 ½ cups of chocolate chips (½ cup to coat the liners, and the remaining 1 cup to top them), about 1 ½ sheets of graham crackers, and 1 cup of mini marshmallows.
*recipe time includes inactive time while chocolate is hardened in the fridge
Nutrition
Serving:
1
s'mores cup
|
Calories:
121
kcal
|
Carbohydrates:
17.9
g
|
Protein:
1.1
g
|
Fat:
6.5
g
|
Saturated Fat:
3.7
g
|
Sodium:
16
mg
|
Potassium:
80
mg
|
Fiber:
1.3
g
|
Sugar:
14
g
|
Calcium:
10
mg
|
Iron:
2
mg
Nutritional information is provided as an estimate. As it can vary due to many factors (brands used, quantities, etc.), we cannot guarantee its accuracy.
Food Safety and Nutrition Disclaimer