Pumpkin gelato affogato is a fun dessert take on a coffee shop favorite! Easy, no-cream spiced pumpkin ice cream is covered in freshly brewed espresso for an affogato inspired by a pumpkin spice latte.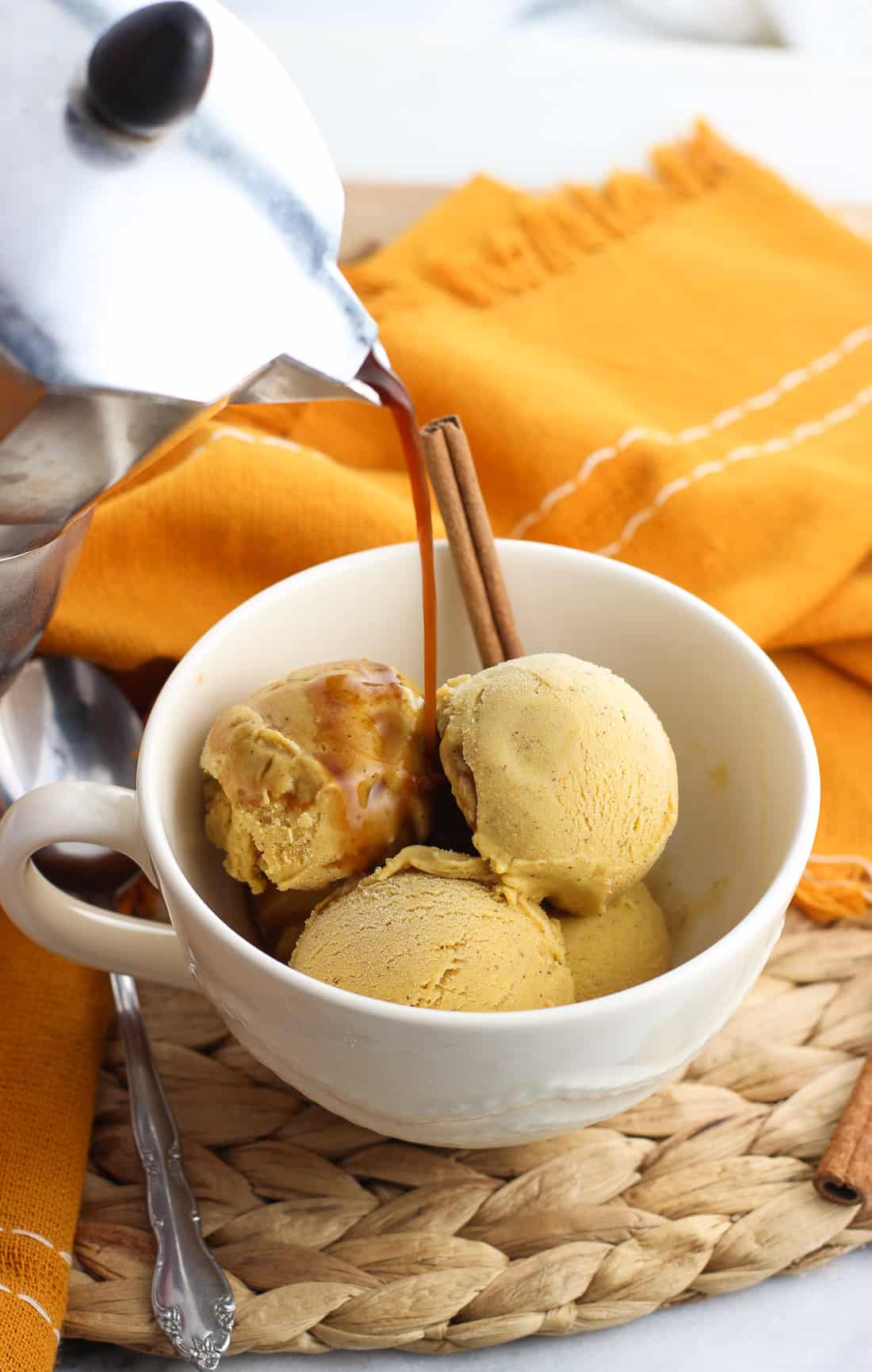 Have you ever had the pleasure of eating an affogato? I have and let me tell you...incredible. Freshly-brewed espresso is poured over top of gelato for a rich dessert with a hit of caffeine.
The flavor of your gelato quickly begins to melt into the hot espresso and combines beautifully. When my husband and I lived in San Diego, we'd go down to an Italian cafe in Little Italy for a treat and share a dark chocolate affogato. Heavenly.
As we're approaching fall 2017, I figured it was about time to redo the photos in this post. That only means it's my job to make it again for the pictures, right? Right, and I enjoyed every second of it.
This pumpkin gelato affogato was one of my very first blog posts in November 2013 - my fourth, in fact! It's crazy how fast time flies. It's inspired by Starbucks' Pumpkin Spice Latte which is probably even way more popular now than it was back then (if that's possible).
I haven't yet gotten around to ordering a PSL this year, but I have polished off a pumpkin gelato affogato and a few pumpkin swirl brownies and it's not even officially fall yet.
The combination of hot espresso and melting gelato tastes luxe, but the cost of making a whole batch (six servings) of this is a whole lot more affordable than buying six PSLs.
Recipe ingredients
At the base of this pumpkin gelato is two cups of whole milk. While gelato recipes traditionally consist of a mix between milk and cream, I really enjoy making this recipe with all whole milk. It still becomes perfectly smooth and creamy as it churns, especially with the addition of three egg yolks. Egg yolks add such a nice richness to homemade ice cream.
Also to the base we're adding pumpkin puree and sweetening everything with brown sugar for extra warmth. Be sure to use pure pumpkin puree and not pumpkin pie filling, which is pre-spiced and pre-sweetened. Their cans are nearly identical and will likely be right next to each other on the store shelf.
All that's left are the flavor boosts. We have vanilla extract, salt, and a smattering of pumpkin pie spices: ground cinnamon, nutmeg, ginger, and cloves. You can easily sub in pumpkin pie spice if you have it on hand instead of adding the individual spices.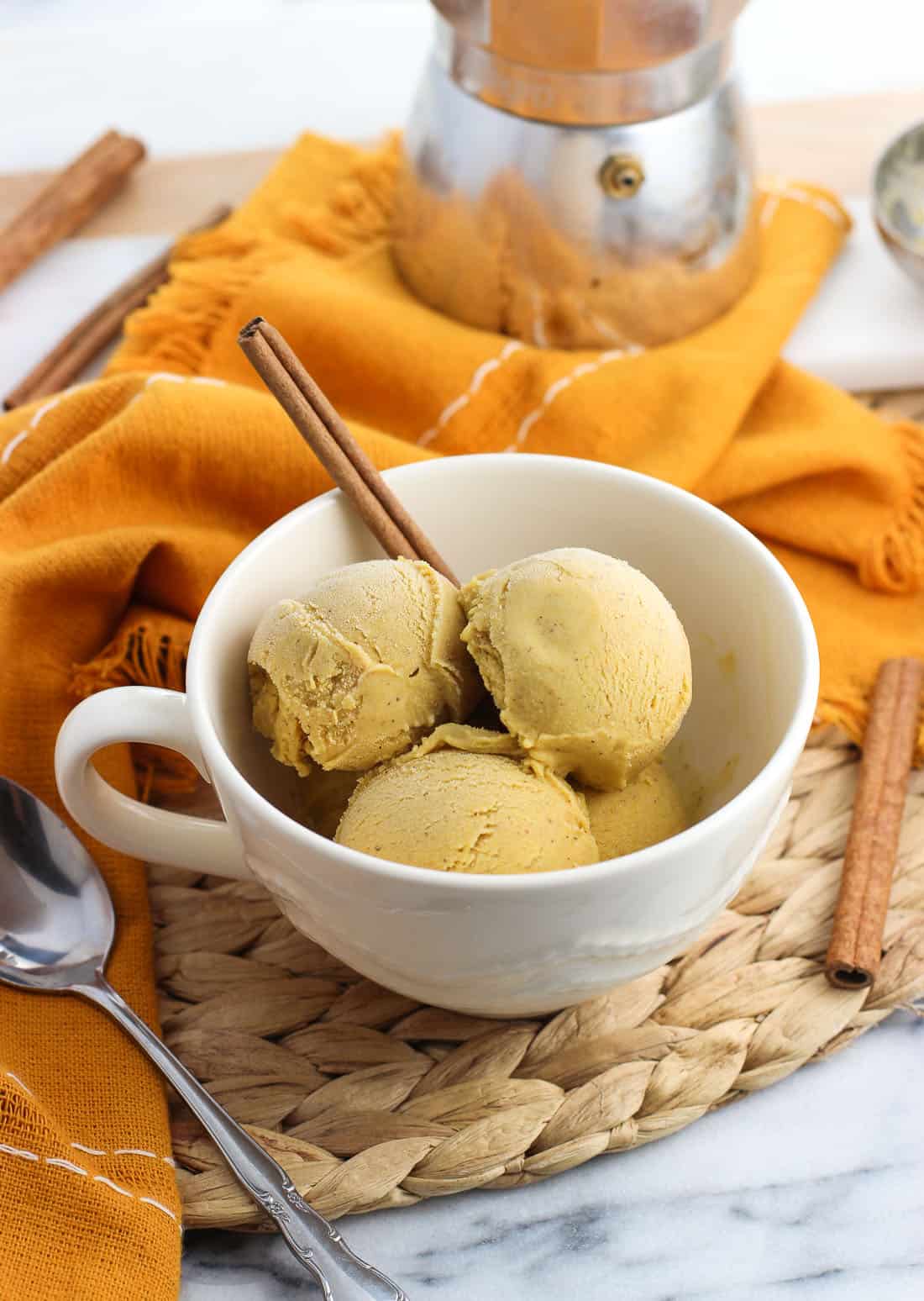 Step-by-step instructions
This isn't an instant gratification type of dessert as there are several steps to this pumpkin gelato, but I'd argue the first might be the most important: freeze your ice cream maker bowl a day in advance.
When you're ready to make this pumpkin gelato, combine the milk and most of the brown sugar in a saucepan set over low-medium heat. Let this heat until it's becoming bubbly around the edges -- we don't want this to come to a true boil as that would lead to curdled milk and not gelato.
Meanwhile whisk together the egg yolks, the remaining brown sugar, pumpkin puree, and the salt in a medium mixing bowl. Now we're going to temper the egg yolks by slooowly whisking it the warmed milk in a little bit at a time.
We want to go slowly here and not just pour everything together because we don't want the egg yolks to cook and solidify from the heat. Adding the warm milk in a small stream while whisking continuously allows the milk mixture to very slowly incorporate into the egg yolk mixture and heat it up gradually.
Once combined, pour everything back into the saucepan and gently heat until it reaches the consistency in which it can coat the back of a wooden spoon. Then remove it from the heat and whisk in the vanilla extract and pumpkin spices. We want to wait to add the vanilla extract until the mixture is done heating so the alcohol (and the flavor) doesn't cook off.
Now chill the gelato mixture in an ice bath, or let it sit in the fridge until it's as cold as can be. Then pour it into your ice cream maker and let it churn according to its directions.
I use my trusty Cuisinart ice cream maker (affiliate link) to make this pumpkin gelato. I've had it for years, and in fact bought it because I got the idea to make pumpkin gelato affogato all the way back when. In the time since, I've made countless batches of ice cream and gelato and have never had a problem.
I've dabbled in dairy-free ice creams too, and let me say, making your own is definitely a more economical choice than purchasing coconut/almond/cashew-based versions at the supermarket.
Once churned, the gelato is perfectly edible but it will be a little soft. I like to give it some more time in the freezer before scooping and serving with a drizzle of espresso.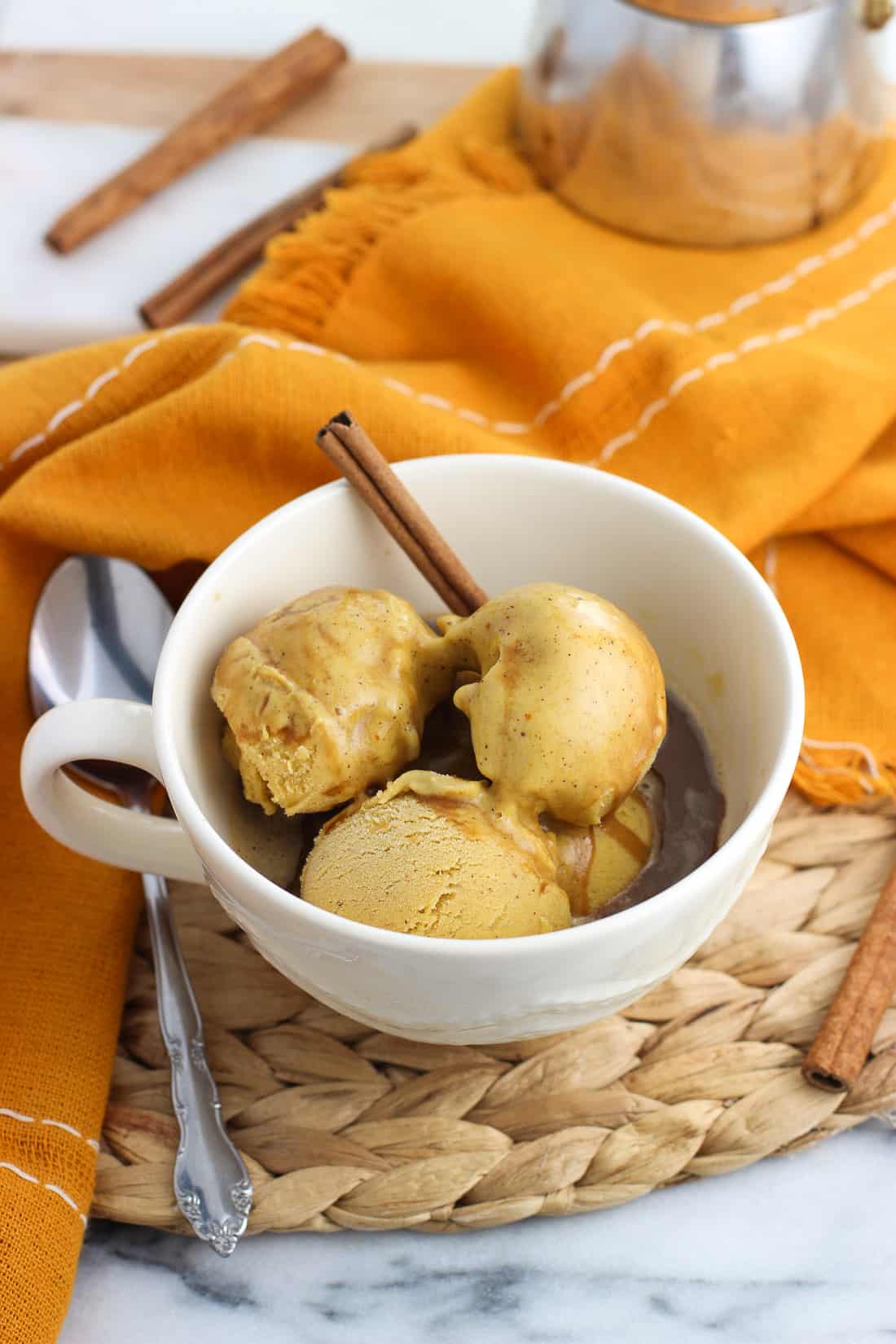 Recipe notes
It's possible this pumpkin ice cream can be made no-churn, without an ice cream maker, but I haven't tested this recipe that way.
Be sure to temper the egg yolks with the hot milk mixture so you don't end up with cooked egg bits in your gelato.
Looking for something dairy-free? This

pumpkin spice latte ice cream

is made with coconut milk, no eggs, and even has espresso bean flecks swirled right in!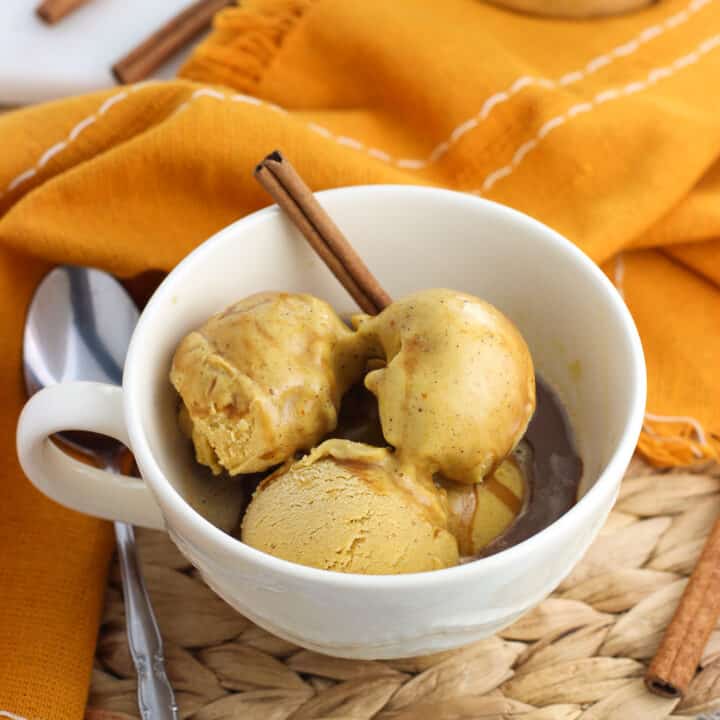 Homemade Pumpkin Gelato Affogato
Pumpkin gelato affogato is a fun dessert take on a coffee shop favorite! Easy, no-cream homemade pumpkin spice gelato is covered in freshly brewed espresso for an affogato inspired by a pumpkin spice latte.
Print
Pin
Rate
Ingredients
2

cups

whole milk

¾

cup

brown sugar

divided

3

egg yolks

¾

cup

pumpkin puree

Pinch of

salt

1 ¼

teaspoon

vanilla extract

½

teaspoon

cinnamon

or to taste

⅛

teaspoon

nutmeg

⅛

teaspoon

ginger

Pinch of

ground cloves

Brewed espresso

for serving
Instructions
Combine milk and ½ cup of the brown sugar in a saucepan. Heat over medium-low heat until just barely boiling.

Meanwhile, whisk together egg yolks, the remaining ¼ cup of brown sugar, pumpkin puree, and pinch of salt in a large bowl (you can also use a hand mixer). Mix until it looks light and creamy.

When milk is barely boiling, slowly pour the milk/sugar mixture into the egg mixture, about ½ cup at a time, until all incorporated. Whisk continuously until all combined.

Once everything is combined, pour the whole mixture back into saucepan and stir continuously over low heat until mixture reaches the thickness where it sticks to back of a wooden spoon. Remove from heat and stir in vanilla extract, cinnamon, nutmeg, ginger, and cloves.

Next prepare an ice bath to quickly chill the mixture: Pour ice cream mixture into a large plastic bag or two, seal, then set in a large bowl filled with ice water. Let mixture cool for 45-50 minutes or until chilled, taking care to add additional ice to ensure the water stays cold.

Once chilled thoroughly, pour into your ice cream maker and prepare according to your ice cream maker's instructions. For me, this part took about 20 minutes.

The gelato is soft but ready to be eaten at this time, or can be frozen for a little while afterward for a more solid consistency.

To take this recipe from 'gelato' to 'affogato', scoop into a cup or mug and pour about a shot's worth over top of gelato. Enjoy immediately.
Notes
Tempering eggs: You'll want to pour the heated milk and brown sugar mixture very closely into the egg mixture, whisking constantly, so that the hot milk doesn't begin to cook the eggs. Adding a little bit at a time and quickly whisking it to disperse it among the egg mixture will help prevent this.
Nutrition
Calories:
161
kcal
|
Carbohydrates:
28.6
g
|
Protein:
3.7
g
|
Fat:
3.9
g
|
Saturated Fat:
1.9
g
|
Cholesterol:
111
mg
|
Sodium:
43
mg
|
Potassium:
96
mg
|
Fiber:
0.9
g
|
Sugar:
26.4
g
|
Calcium:
80
mg
|
Iron:
0.7
mg
Nutritional information is provided as an estimate. As it can vary due to many factors (brands used, quantities, etc.), we cannot guarantee its accuracy.
Food Safety and Nutrition Disclaimer