Sheet pan lemon turmeric chicken and potatoes is a hearty meal made all on one pan! Chicken drumsticks are coated with a turmeric and spice breadcrumb mixture and baked alongside potatoes until juicy and tender.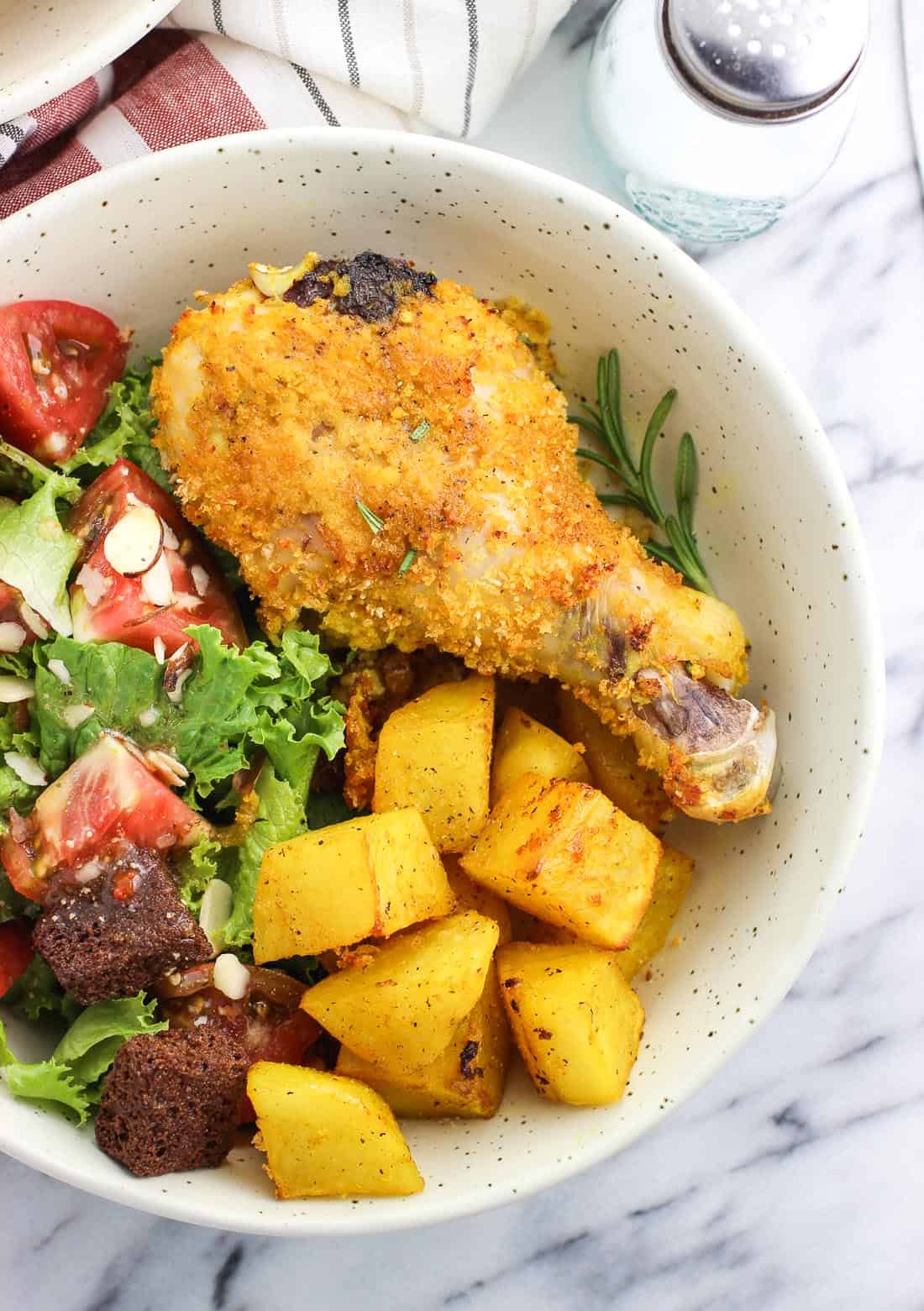 Umm hello, September? Where did you come from? To be honest I'm not even sure I finished my spring cleaning, and here we are inching up on fall. Not that I'm complaining! The past few years have definitely been worse temperature/humidity wise here, but there's nothing like being able to open the windows and let a cool breeze in.
Even though it still feels like (and is) summer, as soon as I turn the calendar to September it's all about fall. Growing up we didn't go back to school until after Labor Day, so September is equated in my mind with school buses, new classes, extracurricular activities…basically the return of routine after a few month's worth of freedom.
Now the schools here have been back in session for weeks already (and, I mean, the school calendar has no bearing on my day-to-day life), but I'm still feeling the need to get back to routine, particularly as it comes to weeknight dinners. It was just too easy in the summer months to slack on meal planning and bank on grilling whatever you find in the fridge/freezer.
That brings us to this lemon turmeric chicken and potatoes. It's a one-pan meal that allows you to bake the chicken and potato wedges all at the same time, until the chicken is juicy and the potatoes are fork-tender. Anything that makes clean-up easier is always a win!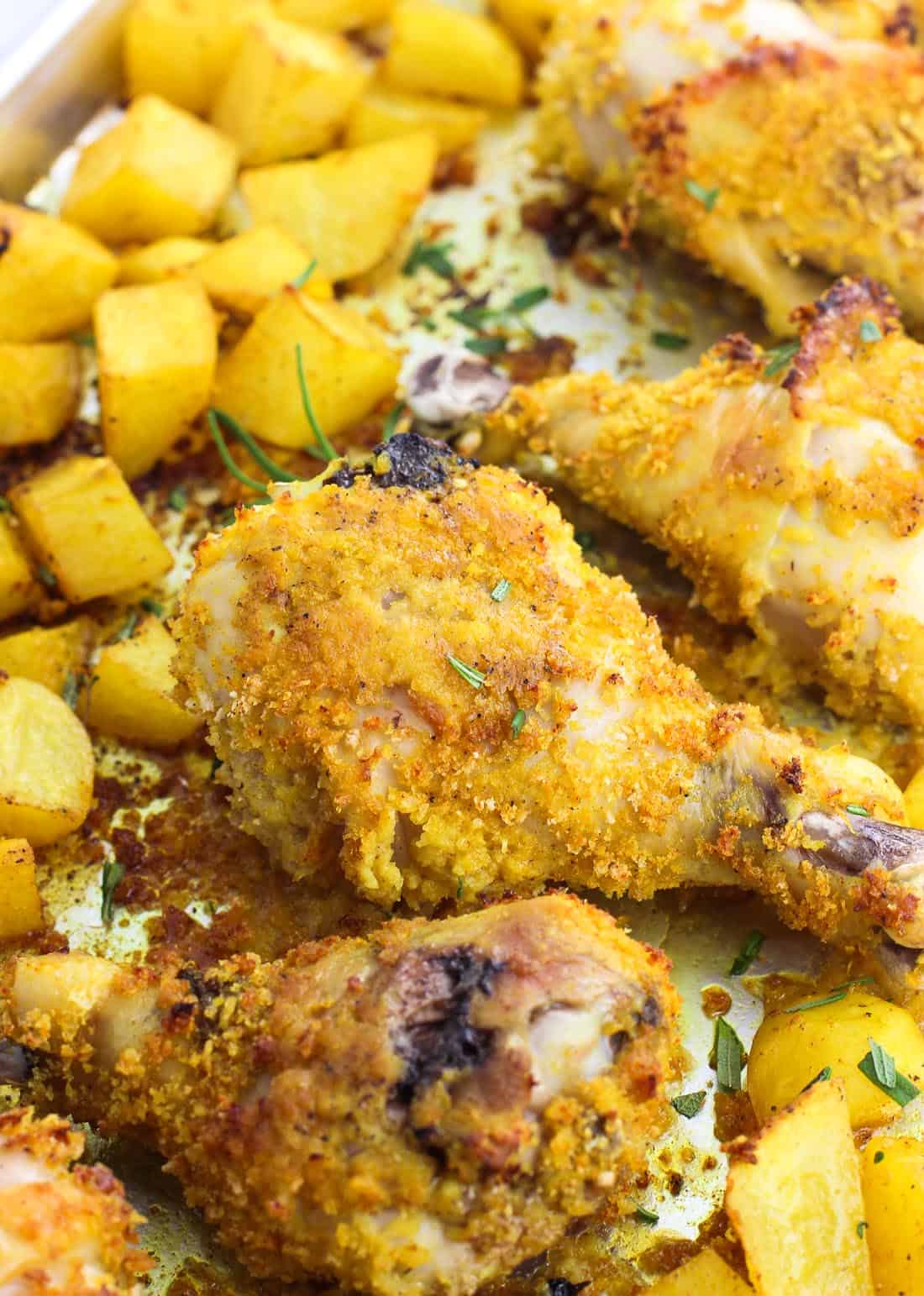 This sheet pan lemon turmeric chicken and potatoes begins by tossing potato wedges in a mixture of consisting of olive oil, lemon juice and zest, garlic, ground turmeric, and salt and pepper. That'll get spread out on the sheet pan and pushed towards the edges to make room for the drumsticks. I like to pour all of the liquid out onto the pan and brush it along the center space where the drumsticks will go to help prevent the coating from sticking to the pan.
The comes dipping the drumsticks in egg/lemon juice and coating them with a seasoned panko breadcrumbs. The panko mixture includes some of the same flavors as the potatoes – garlic, turmeric, salt, and pepper – with a few additions. Feel free to add a little of this and a little of that in line with your tastes.
After that, arrange the drumsticks on the sheet pan and it's time to bake. I like to flip the potatoes and drumsticks over mid-cook time so that both sides have a chance to become golden brown. Use a little extra care when flipping the drumsticks with a spatula so that you don't lose part of the coating.
Since I'm a big time lemon fan, my favorite part of this dish is squeezing a lemon wedge over top of the chicken and potatoes once they're done, right before serving. It adds a delicious fresh lemon flavor that amplifies the juice/zest in the seasoning. I wouldn't skip this part!
Tools used:
This post contains affiliate links.

Sheet Pan Lemon Turmeric Chicken and Potatoes
Ingredients
For the Potatoes:
2 lbs Russet potatoes, cubed into 1"-1 1/2" pieces
3 tbsp olive oil
Juice and zest from one lemon
4 garlic cloves, minced
1 tsp ground turmeric
1/2 tsp salt
1/2 tsp ground black pepper
For the Chicken:
2 eggs
Juice from one lemon (about 2 tbsp)
2.5 lbs chicken drumsticks (6 large drumsticks)
1 cup panko breadcrumbs
2 tsp garlic powder
1 tsp ground turmeric
1/2 tsp paprika
1/4 tsp ground thyme
1/4 tsp salt
1/4 tsp ground black pepper
Olive oil, for basting
Lemon wedges, for serving
Instructions
Preheat oven to 425°F. Add all potato ingredients to a large mixing bowl and toss to combine so that the potato pieces are evenly coated.
Pour out potatoes onto a large rimmed sheet pan and push them towards the exteriors of the pan, leaving room for the drumsticks. Brush the excess liquid on the center space to help keep the drumsticks, when they're added, from sticking to the pan.
Add eggs and lemon juice to a shallow dish and beat with a fork.
In a separate shallow dish, add breadcrumbs, garlic powder, turmeric, paprika, thyme, salt, and pepper.
Dip each drumstick into the egg mixture, and then into the breadcrumb mixture, taking care to press the breadcrumb mixture on the drumstick to adhere to all parts. Repeat for all drumsticks, placing them in an alternating fashion in the open space on the sheet pan.
Bake for 25 minutes, then remove and baste each drumstick with olive oil. Flip each drumstick and potato over, and then place back in the oven to bake for an additional 25 minutes, or until the potatoes are fork-tender and the chicken reaches 165°F. Let stand for a few minutes, squeeze lemon wedges over top of chicken and potatoes, and serve.
Notes
The sheet pan I used is roughly 13" x 17 1/2" and was fairly full, so use your largest pan (or separate everything into two pans).
Check out this
sheet pan horseradish salmon and potatoes
recipe for another tasty and less clean-up meal!