This easy honey chamomile tea latte is a soothing and warm drink sweetened with just a touch of honey. So much cheaper to make at home than buying in a coffee shop!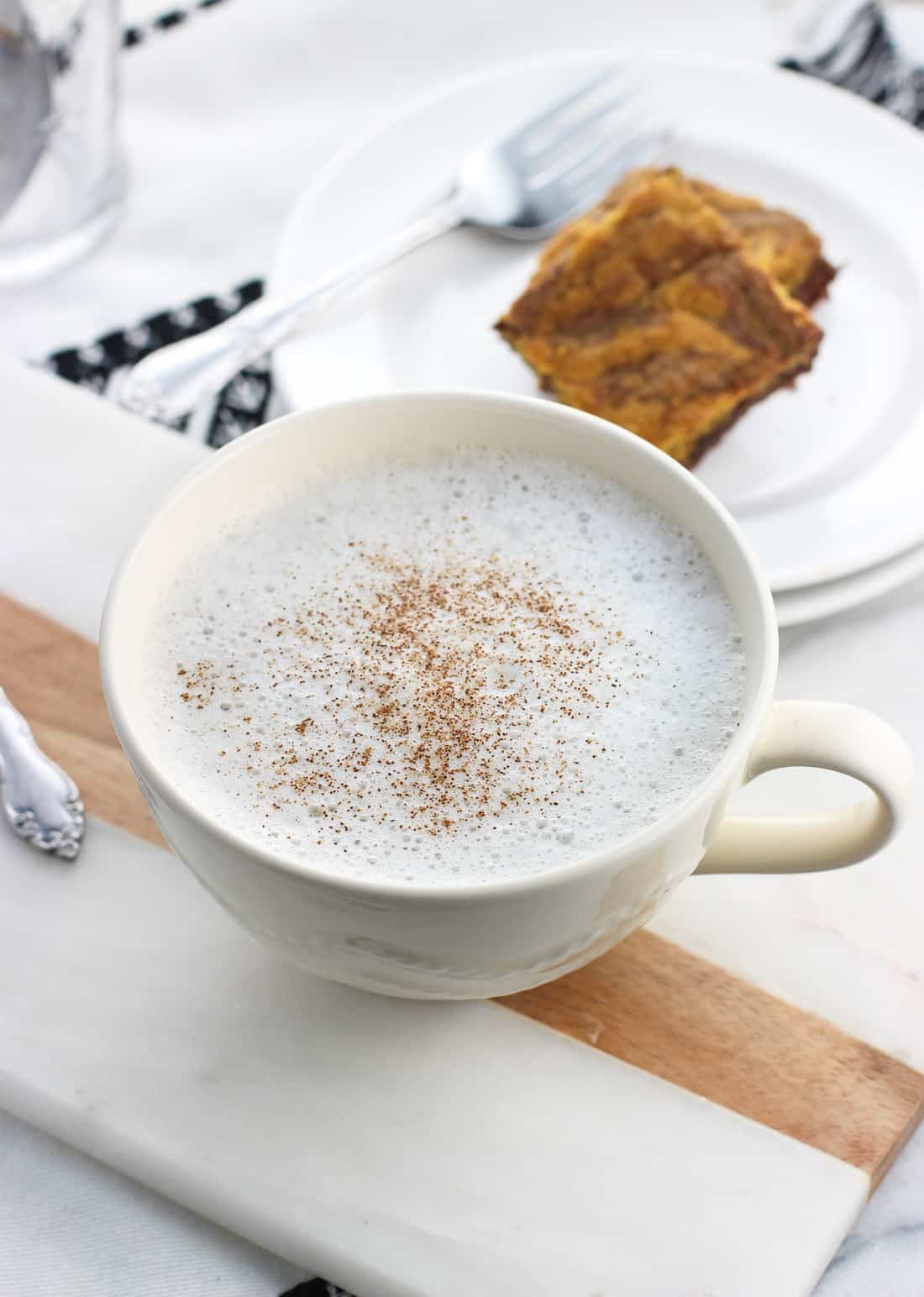 Let's talk about nighttime routines. For starters, do you have one? I generally thrive on routine, but my post-dinner sequence has become pretty serious. First dishes get washed, and then coffee is programmed for the morning, sandwiches are made for the next day's lunches, countertops are wiped down, the large quantity of crumbs I inevitably produce making dinner are vacuumed...but I've found it must happen in that order or else I forget about everything and head straight for TV and couch time.
Such is the case when Brian graciously tackles the mountain of dishes I've created, say, making three batches of toasted coconut matcha rice crispy treats in one day. A normal amount for the two of us to snack on, right? Once the first step in my routine is eliminated then WHOOSH, everything else slips my memory, too. The next morning when I find myself in full-scramble mode making coffee and sandwiches as fast as I possible can I always envision that I'm in the final countdown of a Top Chef challenge, when everyone's in a full-blown panic.
Except I'm the contestant that's in danger of not actually getting the food on the plate by the buzzer, and not their neighbor fussing over plating and garnishes. 🙂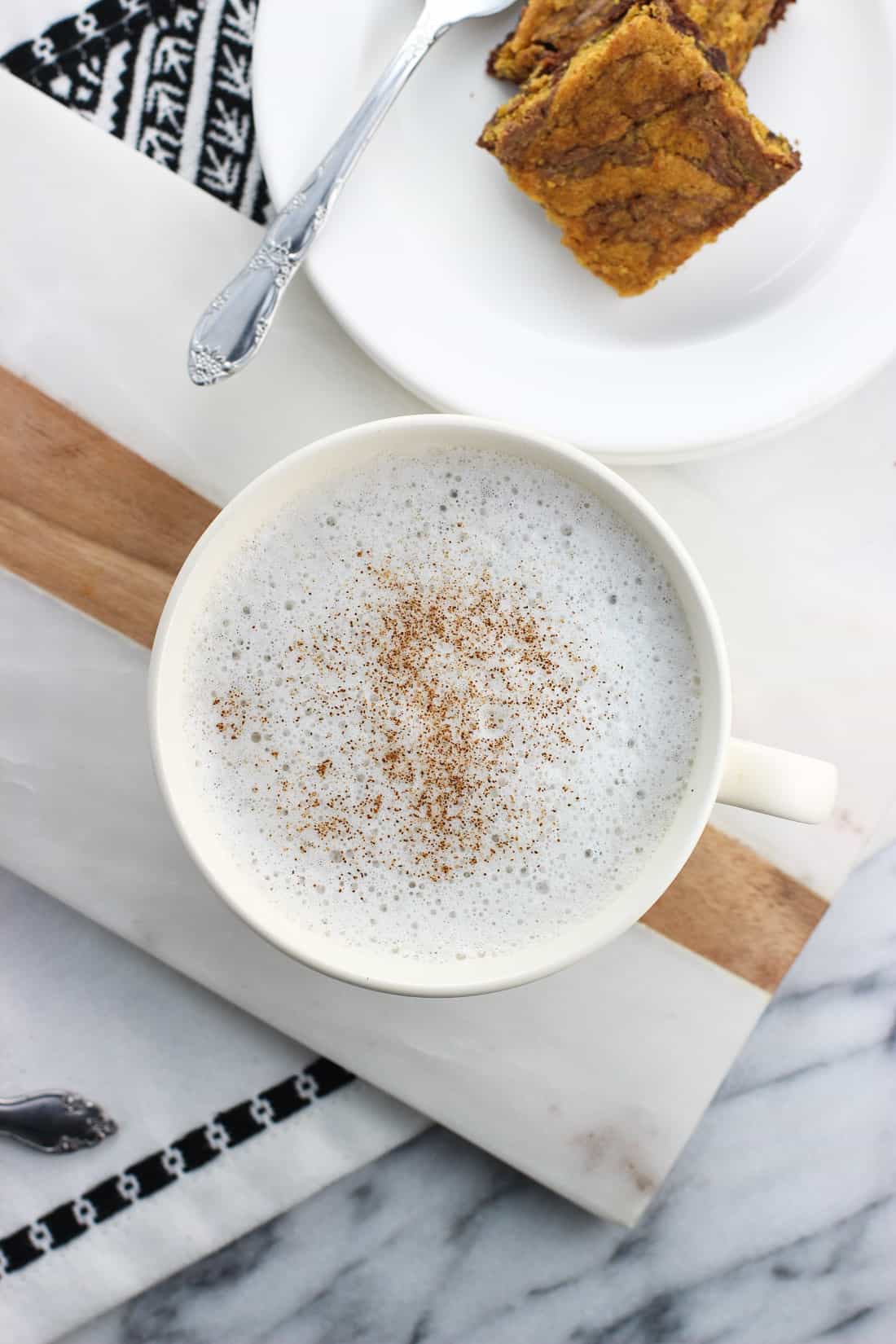 BUT once my after dinner chores are done I am alllll about TV. Specifically putting my feet up, grabbing a fuzzy blanket, researching wedding stuff on my laptop, and watching TV. I've come to love tea in the evening, and this honey chamomile tea latte has worked its way into my nighttime routine.
Ever exist in that space where you're not hungry enough for dessert, but if you don't have a little something before bed you're sure to wake up famished at 4 am? That's me if I have a dinner on the lighter or earlier side. Enjoying a chamomile tea latte (instead of just straight chamomile tea) helps to ward off that early morning hunger while not feeling like I'm overeating with a snack I don't particularly feel like having.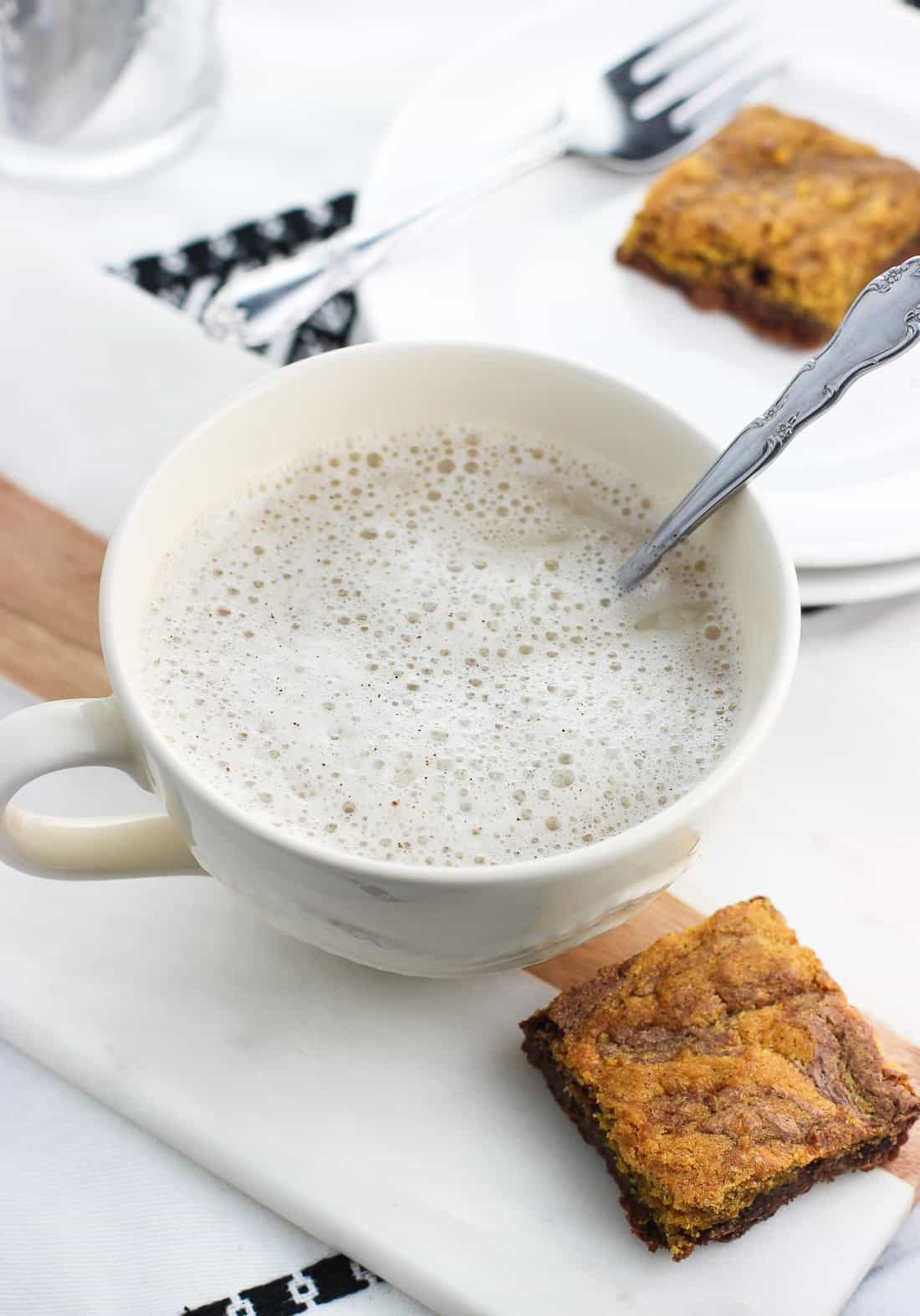 I love tea lattes (specifically extra dirty iced chai tea lattes...), but they tend to be pretty pricy when ordered out at a coffee shop. Around $4 I think? Oof. This homemade tea latte recipe cost me less than 50 cents. Plus you don't even have to leave the house to enjoy one, if that's as much of a selling point for you as it is for me.
Chamomile has a relatively mild flavor in comparison to black tea varieties, so you'll want to brew it stronger than you would if you were sipping it solo. I like to use two chamomile tea bags with eight ounces (one cup) of water, which results in a more concentrated flavor. Tip: measure out the water before you pour it into the tea kettle so you're not having to mess around with measuring boiling hot water.
I also used about one-quarter of a cup of milk and two teaspoons of honey in this chamomile tea latte, but there is wiggle room here for you to dilute and sweeten it as you like. Regular/almond milk, more/less/no honey, etc. The cinnamon on top is of course optional but it added a really nice touch!
Tools used:
This

is my favorite chamomile tea. Very affordable and has a wonderful, well-rounded flavor.
I've frothed milk several different ways at home. This

milk frother

came with my espresso machine and is a work horse. Before I had that I would use an

electric handheld frother

(a less expensive option).
*This post contains affiliate links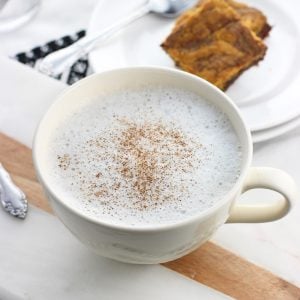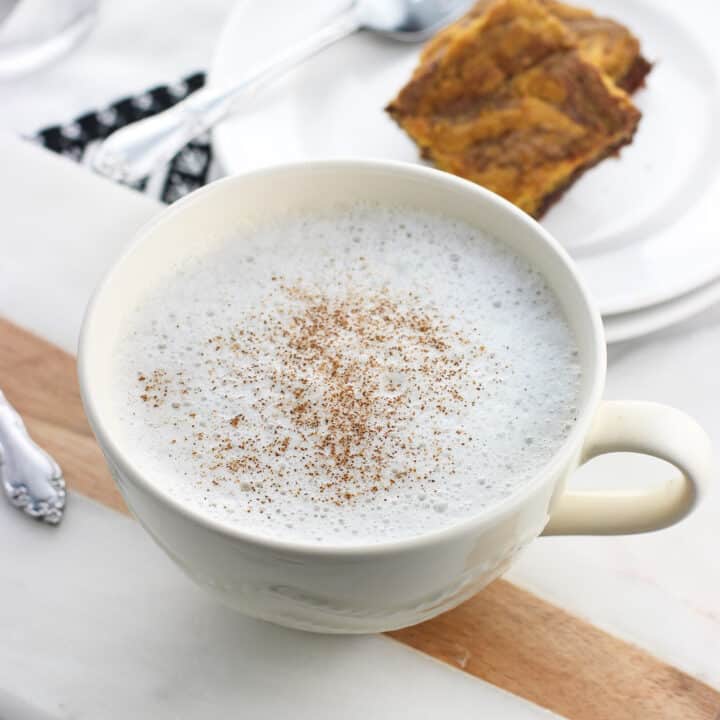 Honey Chamomile Tea Latte
This easy honey chamomile tea latte is a soothing and warm drink sweetened with just a touch of honey. So much cheaper to make at home than buying in a coffee shop!

Print
Pin
Rate
Ingredients
8

oz

water

2

chamomile tea bags

¼

cup

milk

(your preferred variety)

2

teaspoon

honey

Ground cinnamon

for serving
Instructions
Boil water and pour over tea bags. Let steep for 6 minutes.

While the tea is steeping, stir together milk and honey and heat/froth.

Once tea is ready, pour in milk/honey, stir, and shake ground cinnamon over top.
Notes
A top layer of foam on this chamomile tea latte is a special treat, but if you don't have a frothing tool handy, heat the milk on the stove until it's just barely bubbling around the perimeter (keep a close eye because this will happen fast). Remove from heat and give it a vigorous whisk.
Nutritional info calculated based on 1% milk, will vary depending on the variety you use.
Nutrition
Serving:
1
drink
|
Calories:
68
kcal
|
Carbohydrates:
15
g
|
Protein:
2
g
|
Fat:
0.6
g
|
Saturated Fat:
0.4
g
|
Cholesterol:
3
mg
|
Sodium:
27
mg
|
Potassium:
149
mg
|
Sugar:
15
g
|
Calcium:
60
mg
Nutritional information is provided as an estimate. As it can vary due to many factors (brands used, quantities, etc.), we cannot guarantee its accuracy.
Food Safety and Nutrition Disclaimer