Cioccolata calda is a type of Italian hot chocolate that is ultra thick and creamy – almost like a warm, sippable chocolate pudding. This recipe is is dairy-free and vegan (with a dairy option), and can easily be doubled!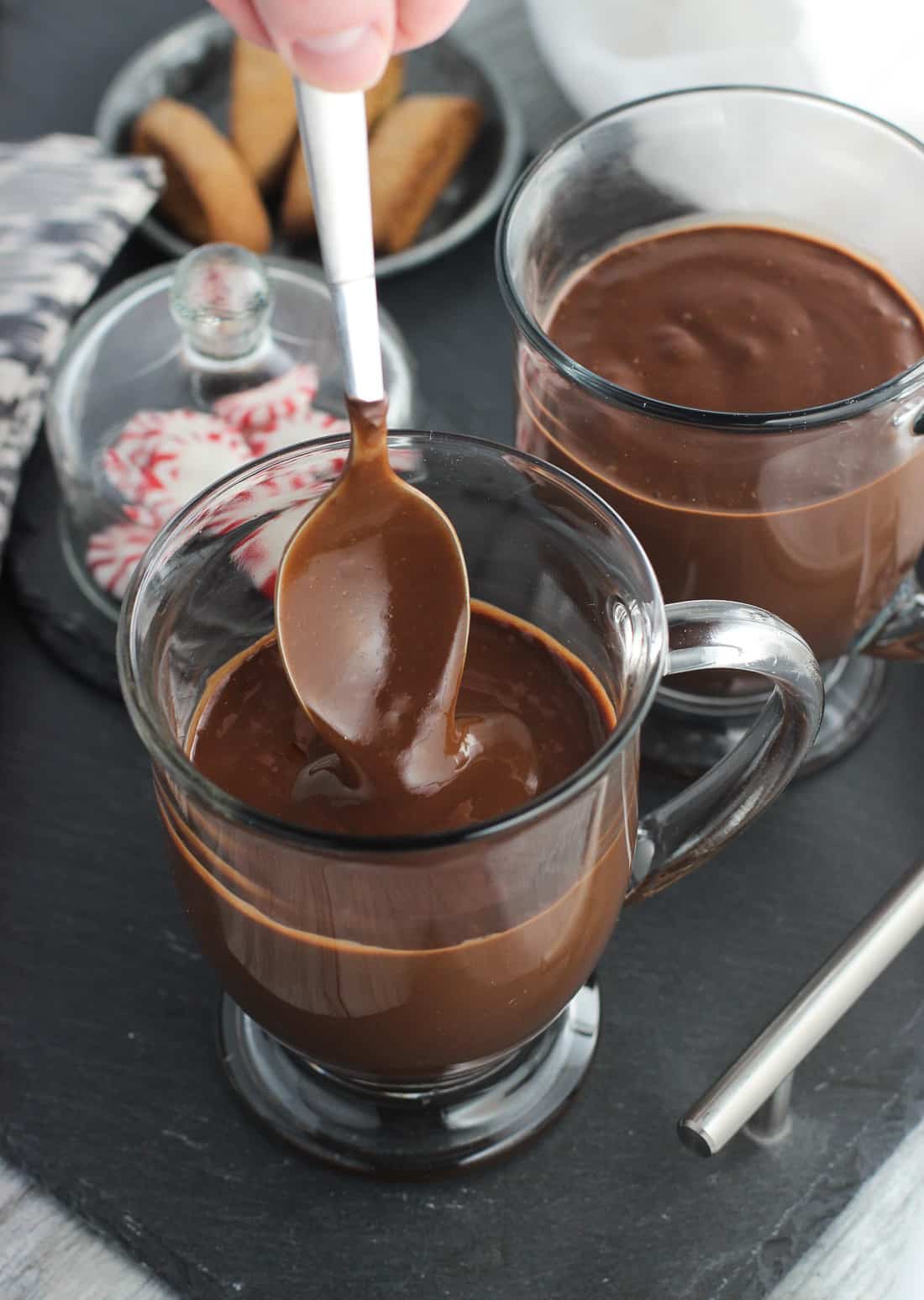 Now before we dig into this real deal Italian hot chocolate, I have a confession to make. Once upon a time I was convinced that I didn't like hot chocolate. Didn't like it! Is that even possible? Of course I was always a chocolate fanatic, but I wasn't ever a straight up cow's milk fan, so maybe that was it? Never mind the fact that chocolate milk was on the nice list. I'm blaming it on kid logic.
It really wasn't until post-college when I worked in an office with unlimited hot chocolate packets that I realized you can make it with hot water and get around that whole milk thing. But by then my taste buds matured and realized milk in hot chocolate wasn't scary. In fact it was extra creamy, extra flavorful, extra good!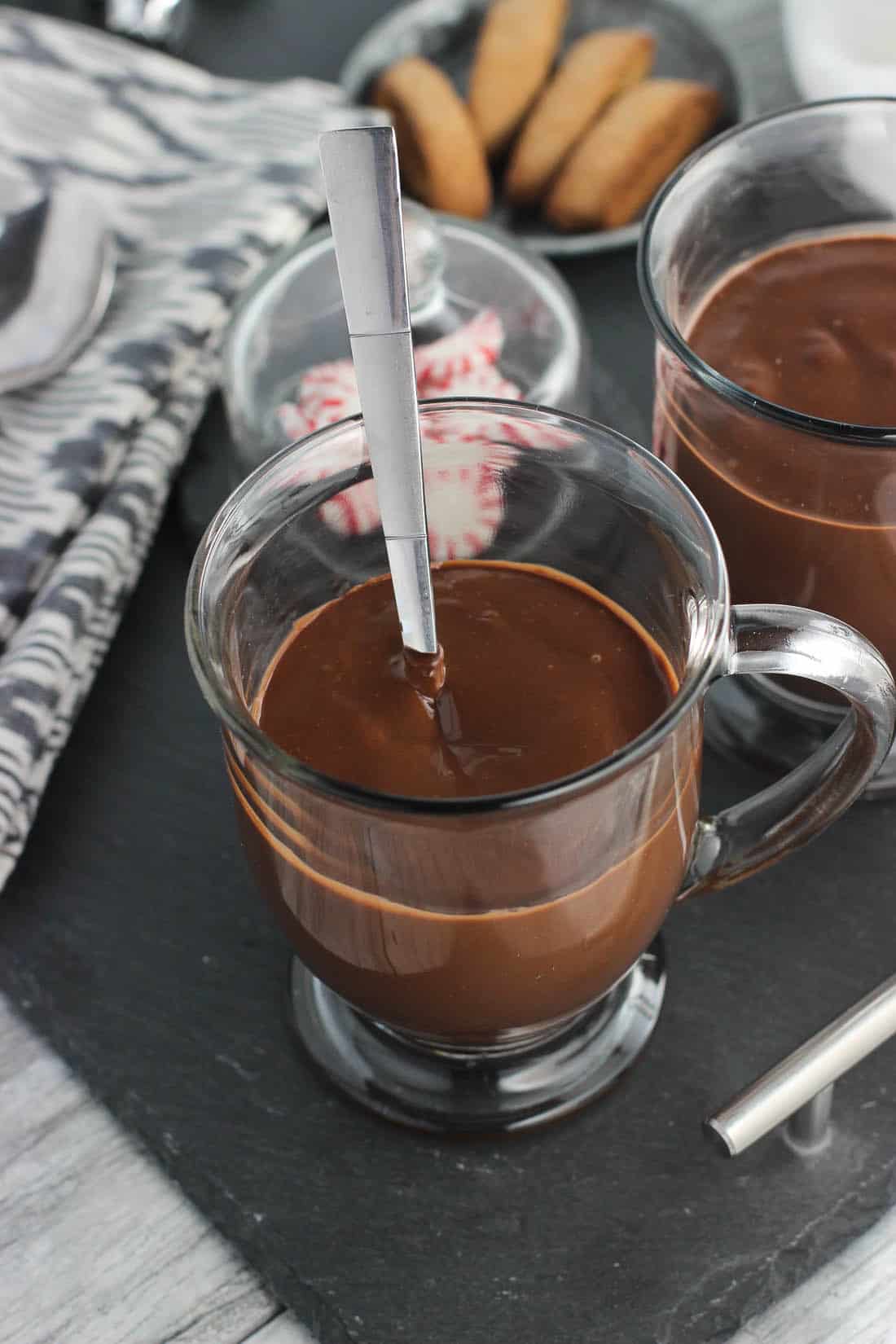 Over the past year I've been intentional with my dairy intake. This means I might enjoy a meal or dessert with a dairy element, but go easy on dairy for the rest of the day. Surprisingly (or really, not surprisingly), this hasn't been all that difficult with all of the fabulous dairy alternatives out there. I've used almond milk in this recipe, but use your preferred nut milk or milk alternative. The cornstarch is the thickening agent here, so your kind of milk is less important for texture.
Cioccolata calda (Italian hot chocolate) is a special kind of hot chocolate that is thick. T-H-I-C-K. It's almost like drinking a warm chocolate pudding, except it's still in sippable form. And it's dairy-free/vegan while not tasting any differently from regular hot chocolate to boot! A simple mix of unsweetened cocoa powder, sugar, salt and unsweetened almond milk are brought to a simmer, and then a slurry consisting of a little bit of the milk and cornstarch is slowly added in, thickening the hot chocolate within a few minutes of cook time. This extra step of creating the slurry takes no time and is responsible for the ultra creaminess, so please don't skip it! I have a feeling I'll be enjoying my fill of Italian hot chocolate long after winter is through.

Cioccolata Calda (Italian Hot Chocolate)
Ingredients
2 tbsp unsweetened cocoa powder
2 tbsp granulated sugar
pinch of salt
3/4 cup plus 1 tbsp almond milk, divided*
2 tsp cornstarch
1/4 tsp vanilla extract
Instructions
Whisk together unsweetened cocoa powder, sugar, and salt in a small saucepan. Set saucepan over low-medium heat and pour in 3/4 cup almond milk. Whisk to evenly disperse dry ingredients. Let mixture cook until it reaches a small simmer.
Meanwhile, whisk together cornstarch and remaining 1 tbsp almond milk in a small bowl until cornstarch has dissolved, creating a slurry.
Once hot chocolate mixture has reached a simmer, very slowly pour in the slurry, whisking continually. Continue to cook the hot chocolate over low-medium heat for 3-5 minutes as it thickens, or until thickness is to your liking. Remove from heat and stir in vanilla extract. Pour and serve while warm.
Notes
Recipe can easily be doubled or tripled.

*Use your preferred milk - even dairy milk if you like.