Italian-seasoned breadcrumb and Parmesan crusted polenta slices are quickly pan-fried and topped with basil pesto for a delicious appetizer or side dish recipe.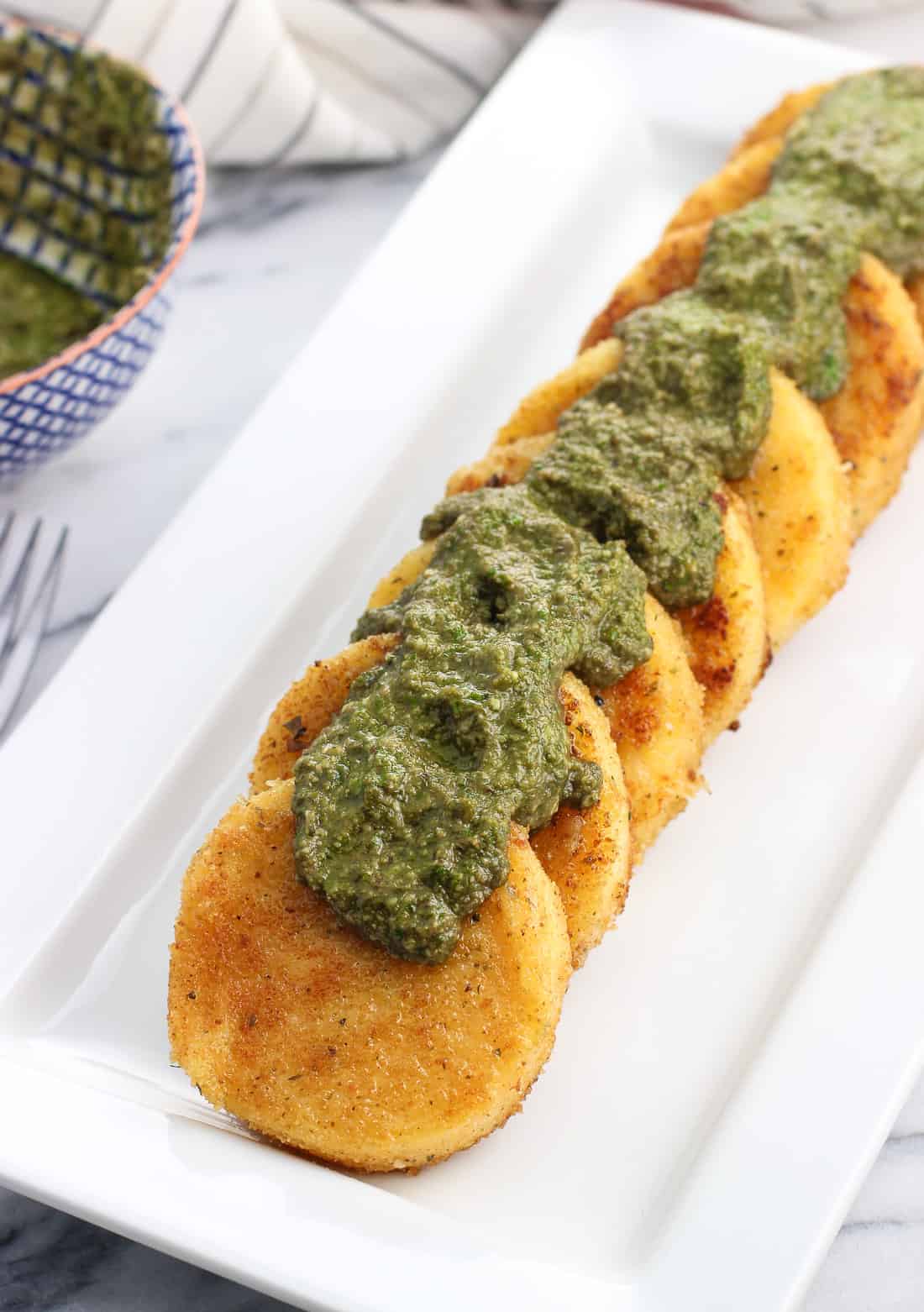 If I was really going for alliteration I could have called this Pan-Fried Parmesan Polenta with Pesto, but that seemed a little extra. What's also extra was how many times I told Brian "OMG. These." while I was diving into this tray of Parmesan crusted polenta slices about half a second after finishing up these pictures.
Do you do that with certain foods? Make everyone in the vicinity stop what they're doing and take a bite/taste/spoonful of whatever it is because it's just too good to keep to yourself? This Parmesan crusted polenta is that kind of food for me.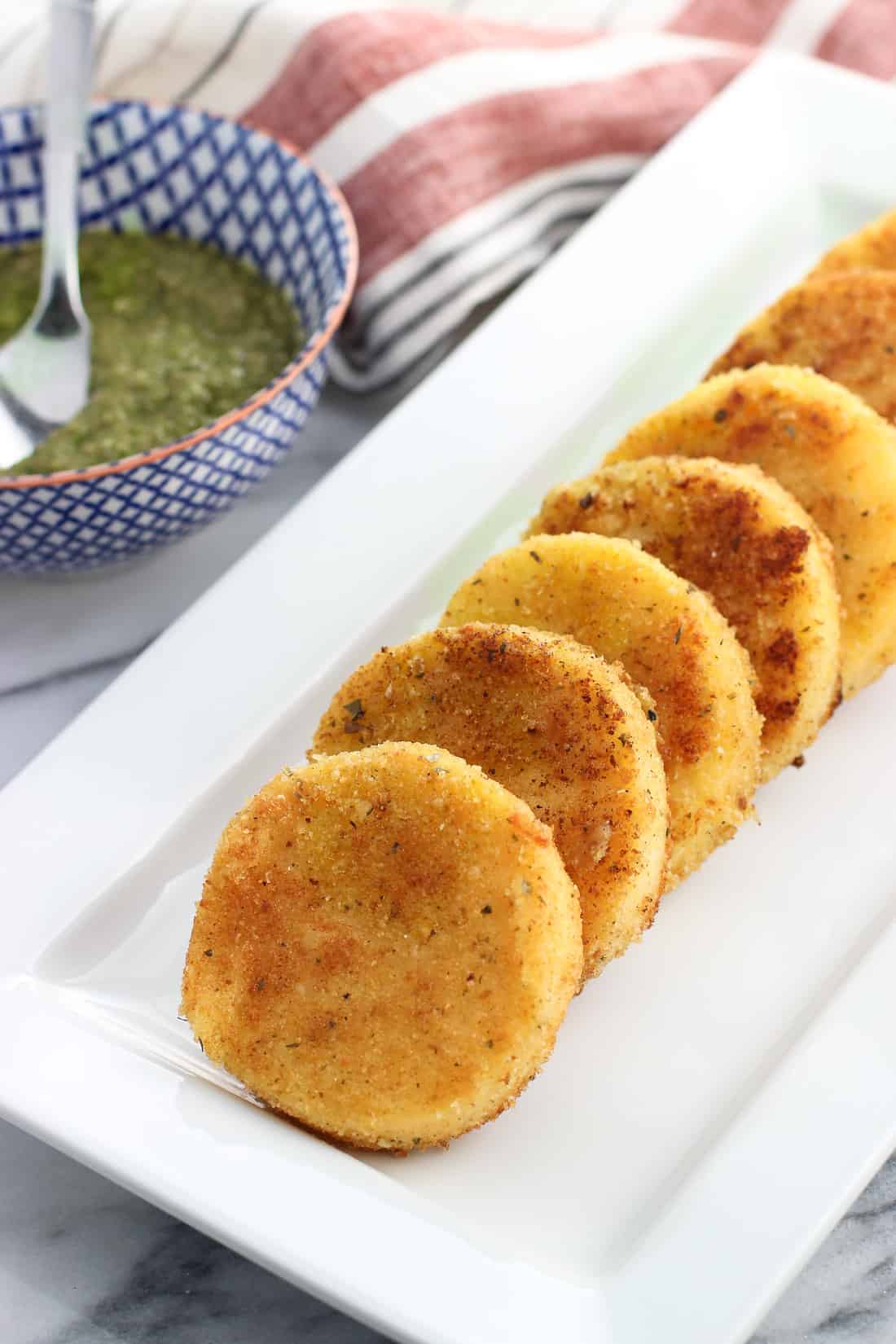 I have to say I got the idea to make this from the sweet cashier at our local grocery store. We were chatting about the items I was buying and she asked me what this tube was. I said it was a dense cornmeal type thing you can slice called polenta. She then asked me what I was going to do with it, in which I had no answer because it was an impulse buy.
Side note – when it comes to impulse buys at the grocery store, I really try hard for them to be shelf-stable so I'm not feeling the heat on figuring out what to do with something before it goes bad.
Anyway, she scanned my next item which was Parmesan and suggested I do something with that. Challenge ACCEPTED.
…not that I ever need to be challenged to eat Parmesan, but you know. These Parmesan almond crusted pork chops with parsley pesto came to mind, so I based this recipe off of that one.
Once sliced, the polenta is dipped in egg and coated in an equal mixture of Italian-seasoned breadcrumbs and grated Parmesan. Then they're quickly pan-fried until golden-brown. You can certainly stop there and enjoy them as-is, but I prepared a simple basil pesto to spoon over top for a bold burst of flavor. I fear my backyard herb garden won't be around for too much longer, so any excuse to make pesto is alright by me.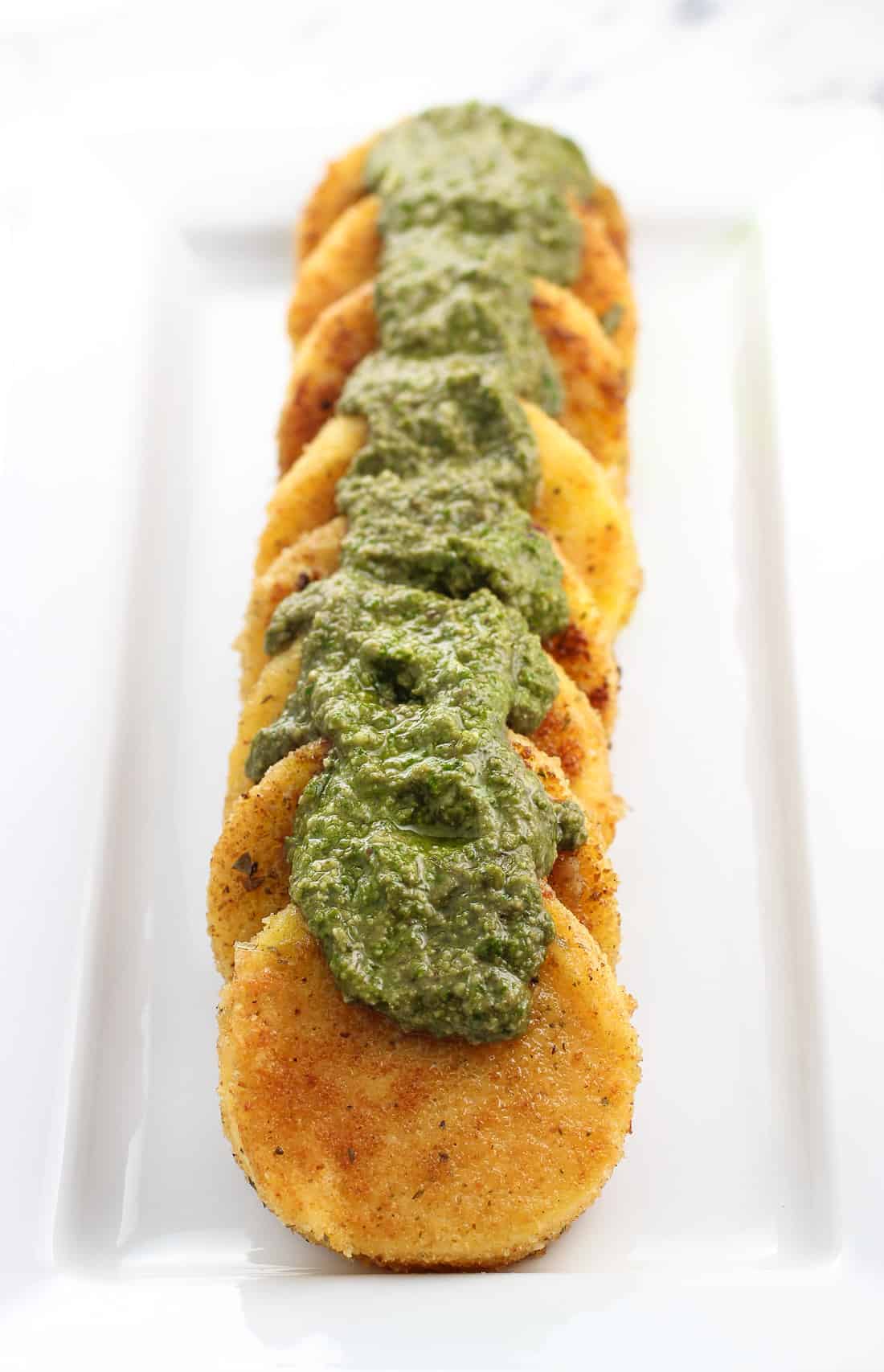 Recipe notes:
Depending on how seasoned your brand of breadcrumbs is, you can always add additional seasonings and stir them in. If you're into spicy foods, I'm thinking some crushed red pepper flakes would be a delicious addition.
You can also serve the pesto in a bowl on the side if you'd rather not spoon it over top.
Warmed marinara sauce would be another delicious option for dipping/topping if not spooning the pesto over top.
I suggest placing polenta slices on a baking sheet and baking until hot when reheating leftover portions.
Note that I didn't bake these, I just placed the breaded polenta on a wire rack before I pan-fried them in batches. Though that does give me an idea for baked polenta…
Parmesan Crusted Polenta with Pesto
Italian-seasoned breadcrumb and Parmesan crusted polenta slices are quickly pan-fried and topped with basil pesto for a delicious appetizer or side dish recipe.
Ingredients
For the polenta:
1

18-oz

tube polenta

1

egg plus 1 tbsp water

1/4

cup

Italian seasoned breadcrumbs

1/4

cup

grated Parmesan cheese

2

tbsp

olive oil,

more if needed to pan fry
For the pesto:
1

cup

very well packed basil leaves

2

tbsp

walnuts or pine nuts

2

cloves

garlic,

minced

1/4

cup

extra-virgin olive oil

3

tbsp

grated Parmesan cheese
Instructions
Slice polenta into slices about 1/2"-thick. My tube yielded ten slices.

Add egg and water to a bowl and beat with a fork or whisk.

Add breadcrumbs and 1/4 cup Parmesan to a separate bowl and stir together.

Dip each polenta slice in the egg, taking care to cover all sides. Lift the slice up and let any excess egg drip off back into the bowl.

Then coat each slice with the breadcrumb/Parmesan mixture, taking care to press the breadcrumbs/Parmesan into the top, bottom, and sides of the slice.

Add 2 tbsp olive oil to a skillet and heat over medium heat. Once hot, add polenta slices in a single layer with some space between them. You'll likely need to cook them in a few batches. Cook for a few minutes, until the bottoms are golden-brown. Flip and cook until the other side is golden-brown. Once done, remove from the skillet and place them on a paper towel-lined plate to absorb any excess oil.

To make the pesto, add basil, nuts, and garlic to the bowl of a food processor. Process until combined and basil leaves are in small pieces. Add oil and process until creamy, scraping down the sides as need be. Add 3 tbsp Parmesan and process until combined.

Spoon pesto sauce over top of polenta slices for serving, or serve it alongside as a dipping sauce.
Nutrition
Calories:
308
kcal
|
Carbohydrates:
20.4
g
|
Protein:
8.6
g
|
Fat:
22.3
g
|
Saturated Fat:
4.5
g
|
Cholesterol:
41
mg
|
Sodium:
532
mg
|
Potassium:
61
mg
|
Fiber:
1.6
g
|
Sugar:
1.5
g
|
Calcium:
100
mg
|
Iron:
1.1
mg
Nutritional information is provided as an estimate. As it can vary due to many factors (brands used, quantities, etc.), we cannot guarantee its accuracy.