Thank you Potatoes USA for sponsoring this post. Make a delicious and convenient meal today with potatoes!
This recipe for spinach artichoke smashed potatoes is a mash-up of side dish and appetizer favorites. Enjoy the crisp exterior of smashed buttery yellow potatoes along with a dollop of creamy spinach artichoke dip using fresh spinach for the ultimate in comfort food.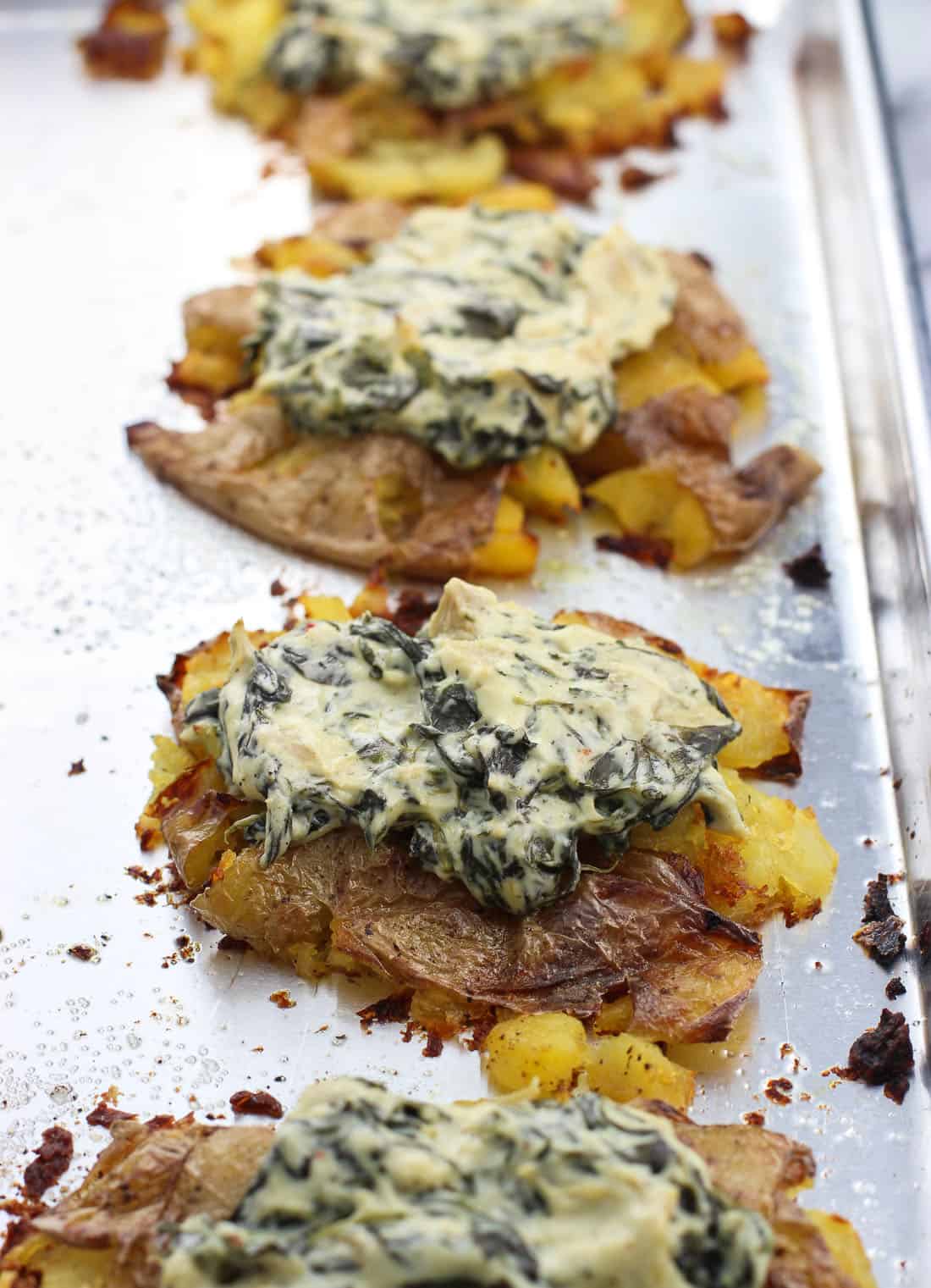 Over the past few months I've been on a mission to optimize all things related to meal planning, grocery shopping, and kitchen storage. The after-work stare into the refrigerator hoping a dinner idea pops out was happening way too often, I was going off-list when it came to buying groceries (only because I usually forget my list at home), and our freezer and pantry were full of various unmarked foil-wrapped leftovers (freezer) and many half-used containers of of the same ingredients (pantry).
It was time to get serious with meal planning, make my list in the notes app on my phone, and use up my inadvertent freezer/pantry stockpile.
All in all, things have been going well. I feel less scattered when it comes to fixing weeknight meals, and I've been enjoying thinking up new recipes and uses for frozen leftovers and the ingredients in my pantry stash. Since I've started approaching my kitchen situation with an extra discerning eye, I have a newfound appreciation for ingredients that are affordable, stay for a good long while, and have a ton of versatility.
a.k.a. potatoes!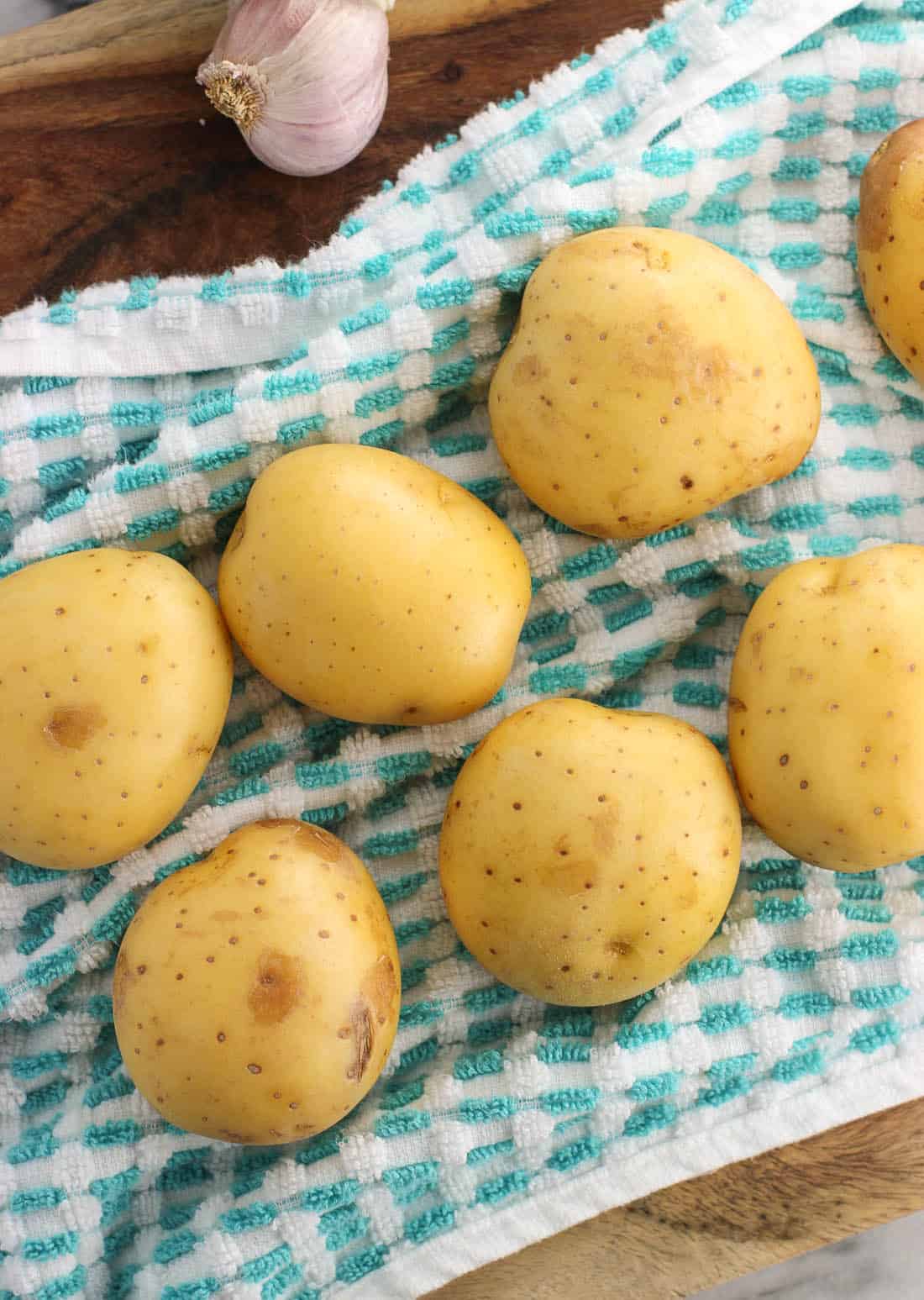 What's not to love about potatoes?
Potatoes are a convenient ingredient to use in a wide range of dishes, from breakfast to dinner, snacks to side dishes, and more. They're one of the ingredients that I always have on hand because they fit right in no matter what type of food I'm cooking. Did you know that potatoes are a key staple in every cuisine around the world? Kitchen pantry VIPs right here.
When it comes to smashed potatoes, I like to use yellow potatoes because of their velvety interior. It acts as a great contrast to the crispy edges once they're smashed and roasted, resulting in a wholly satisfying accompaniment to a meal. The smashed potato base here doesn't use many ingredients at all - just yellow potatoes, olive oil, salt, and pepper.
Once the potatoes are boiled until fork-tender, let them cool long enough to be handled. Oil up a large baking sheet, place them on, then press into them with your hand (what I used) or a potato masher until thin. Brush them with a generous amount of oil, season with salt and pepper, and roast until crisp. That's it!
Oh, and you don't have to be ultra precise when it comes to the smashing. You'll want all of the potatoes to be roughly the same thickness so they roast to the same doneness, but do get them fairly thin. After all, the thinner they are = more surface area = more perfectly crisp edges.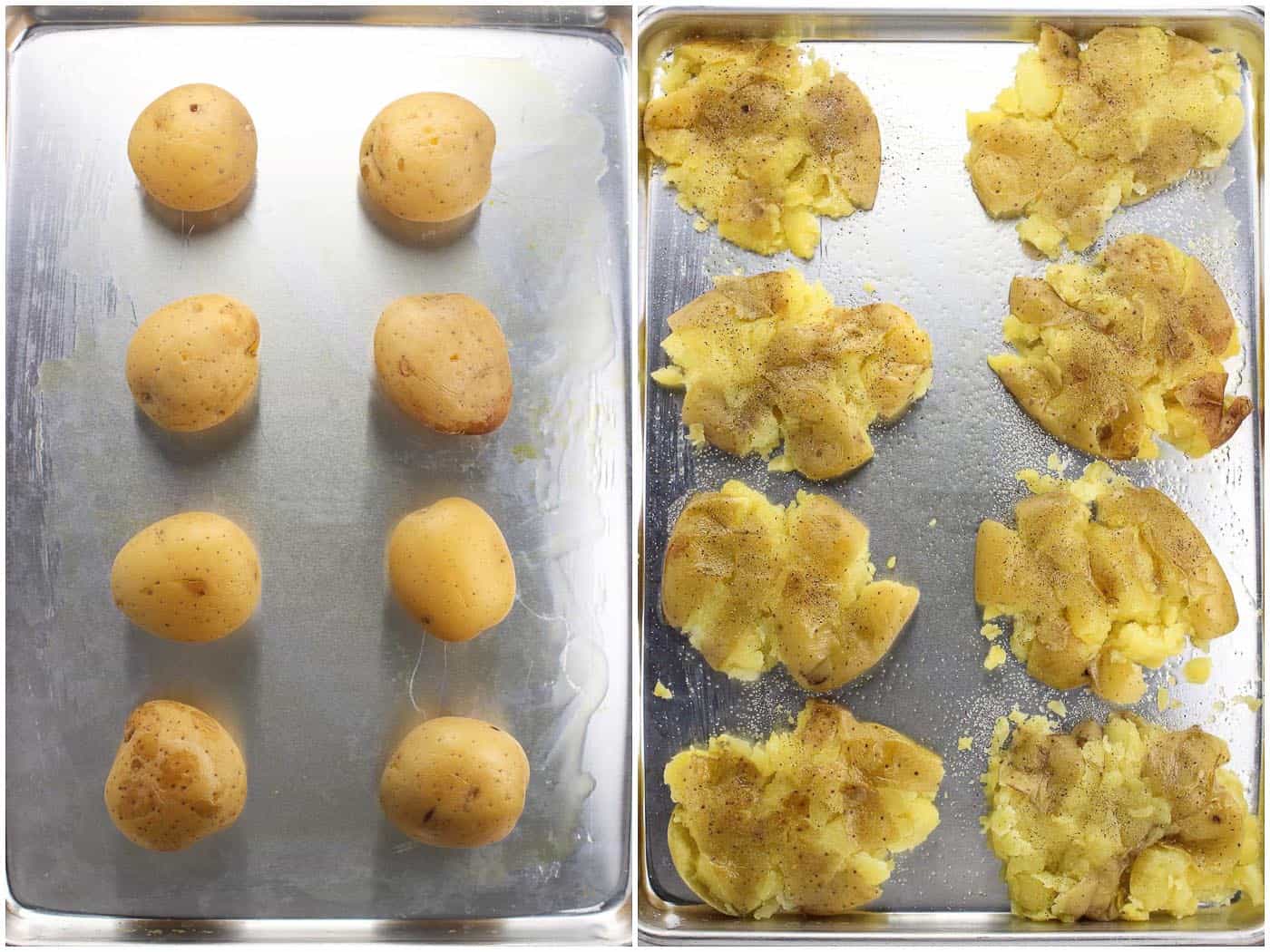 In my opinion, smashed potatoes are the perfect mix between a baked potato and hash browns - parts buttery soft and parts crisp. Always a dinner favorite! You can always add additional seasonings over top, but I stuck with salt and pepper because of the other delicious component going on here. They are all spinach artichoke smashed potatoes after all...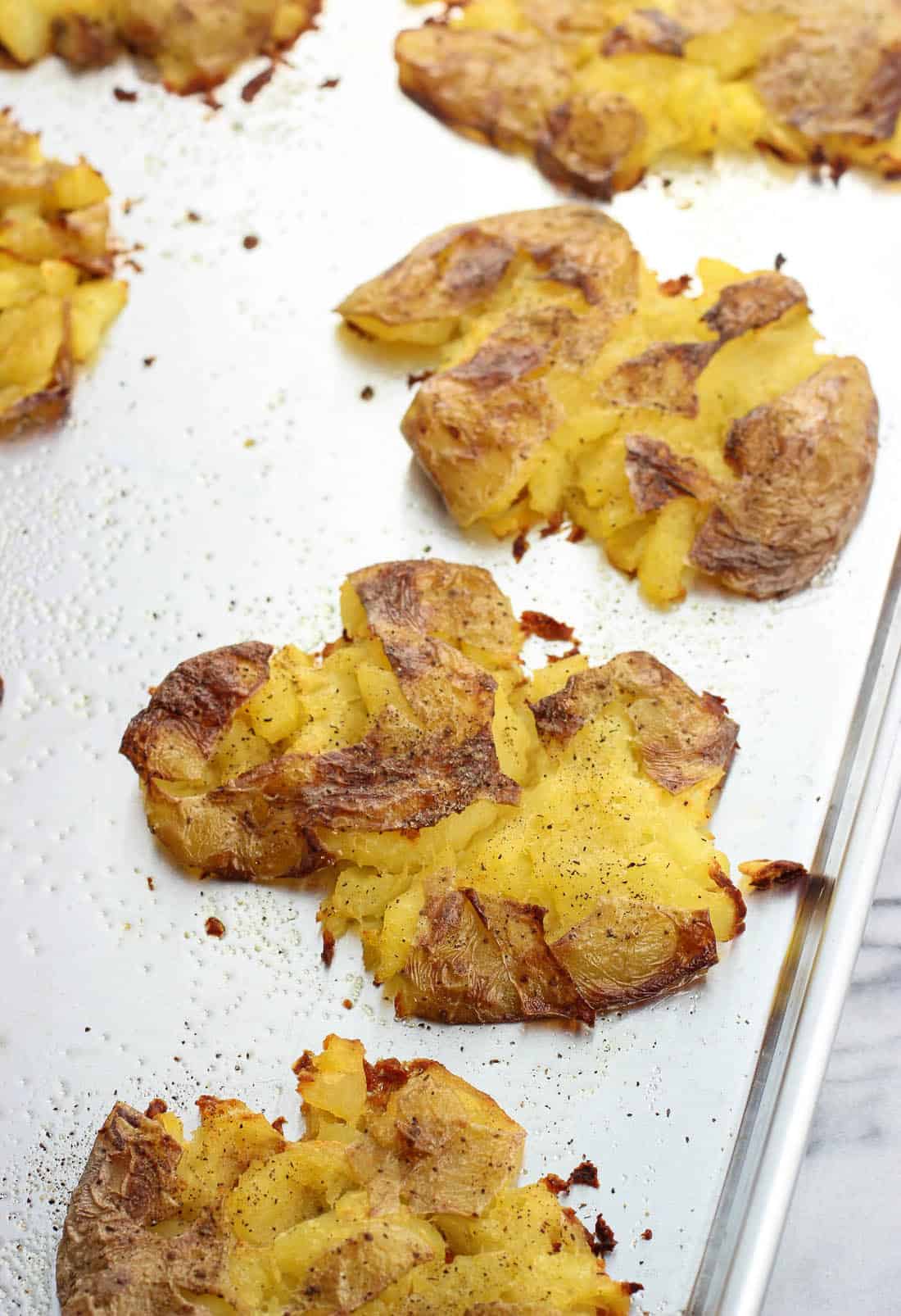 A dollop of warm and creamy spinach artichoke dip takes these classic smashed potatoes to the next level. While it adds a few extra steps to a side dish recipe, there are a few tricks I use to cut down on both the total recipe time and the number of dishes to clean up afterwards.
For starters, the yellow potatoes will boil until fork-tender so they can be smashed and roasted. Once the potatoes are done and cooling, I rinse out the sauce pan to use for the spinach artichoke dip. I'm a fan of anything that saves an extra pot from being washed.
Then comes the timing for these spinach artichoke smashed potatoes. The potatoes roast for about a half hour, which is more than enough time for the dip to be prepared from start to finish. If it's done before the potatoes, just set the burner to low heat and occasionally stir.
And feel free to sneak a few chip-fuls as quality control. That's what I did. 😉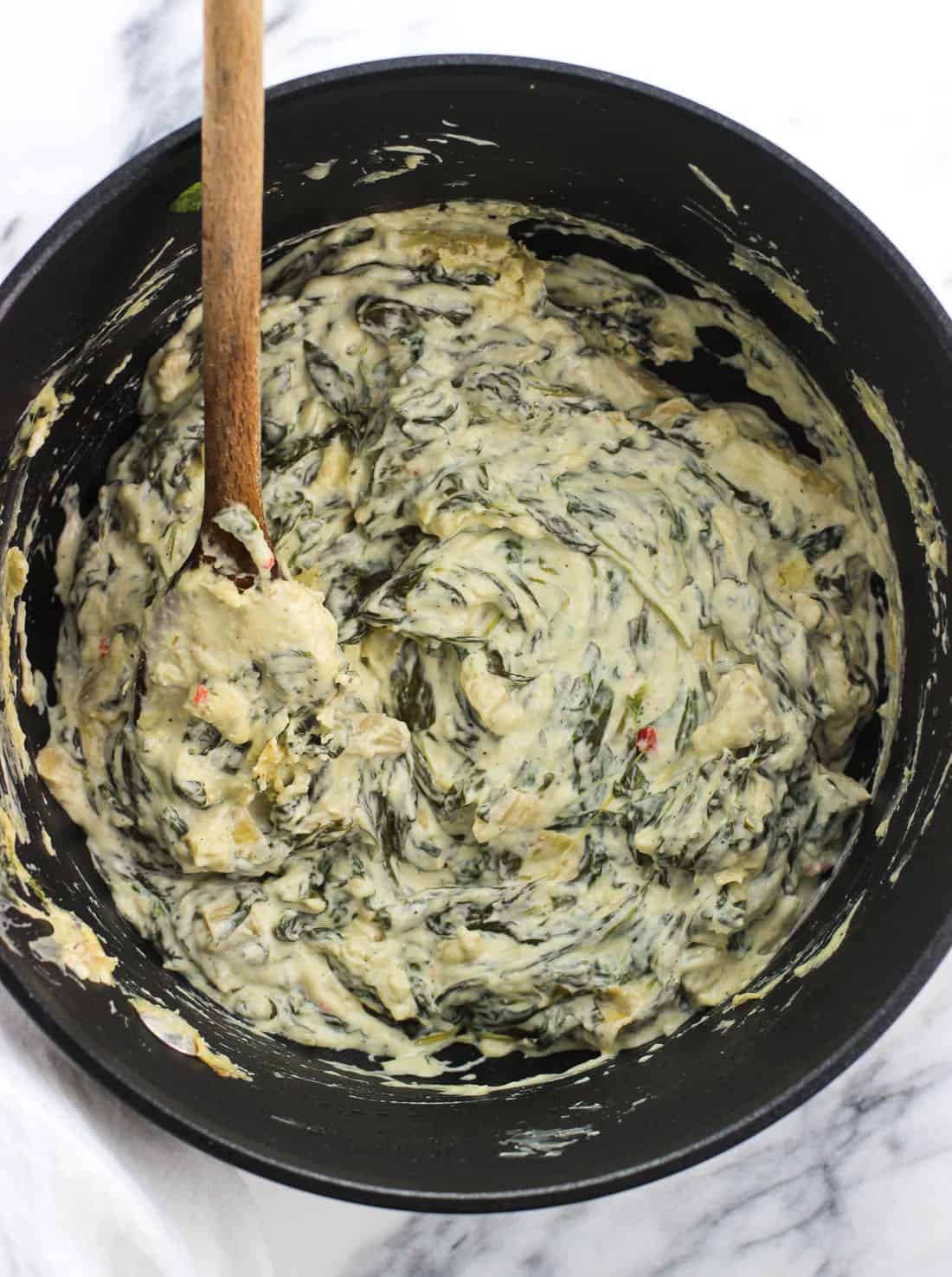 This recipe for spinach artichoke dip is fairly simple - things really just get added to the same pot and stirred until creamy and warm. Since I used fresh baby spinach leaves, you'll want to add them to the sauce pan (which has olive oil and garlic) in increments. Spinach wilts up SO much, so if it at first looks like your sauce pan is too small, you'll likely be just fine.
Once all of the spinach is added, in go the artichoke hearts, Worcestershire, cheeses, and yogurt. Once warmed throughout and creamy, take a spoonful and see if you'd like to add additional seasonings to make it to your taste, keeping in mind that the potatoes will have salt on them that will mix with the dip once compiled.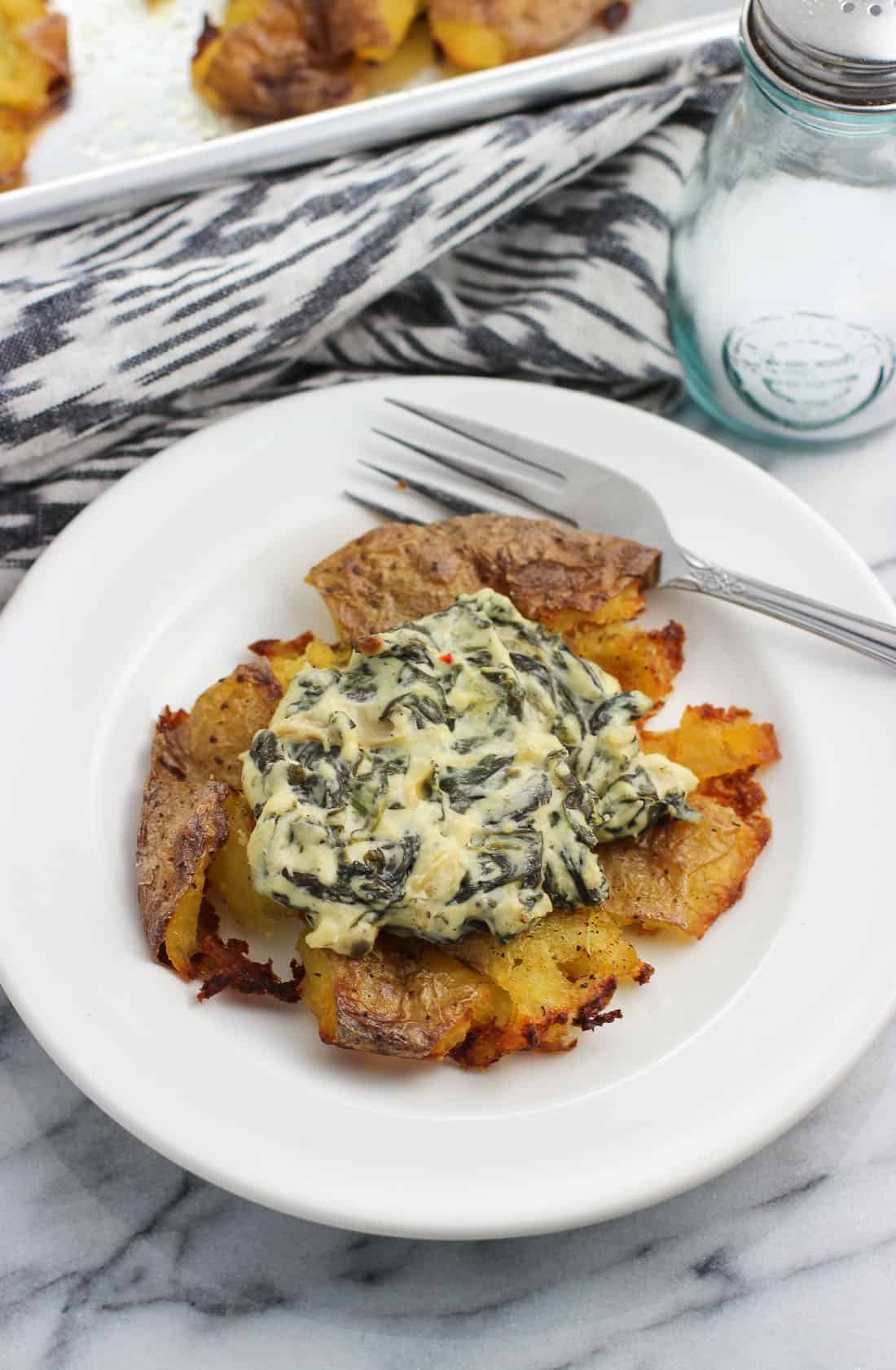 You'll want to serve these potatoes very soon after removing them from the oven so they retain their perfectly crispy exteriors. I love the variety of texture here from the crispness of the potatoes to the creaminess of the dip.
Check out the Potato Goodness Facebook page to learn more about the different potato varieties and fun new ways to use them!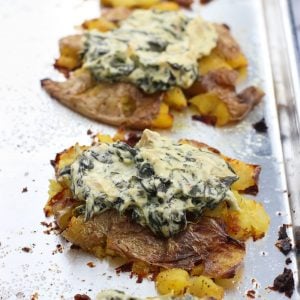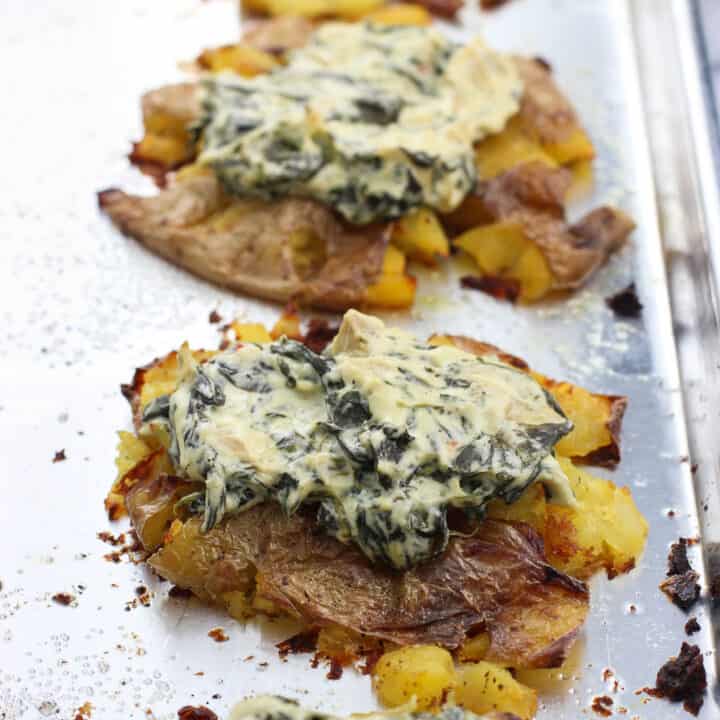 Spinach Artichoke Smashed Potatoes
This recipe for spinach artichoke smashed potatoes is a mash-up of side dish and appetizer favorites. Enjoy the crisp exterior of smashed buttery yellow potatoes along with a dollop of creamy spinach artichoke dip using fresh spinach for the ultimate in comfort food.
Print
Pin
Rate
Ingredients
For the smashed potatoes:
8

small yellow potatoes

(about 2 lbs total)

3

tablespoon

olive oil,

divided

Salt and pepper
For the spinach artichoke dip:
1 ½

tablespoon

olive oil

2

cloves

garlic,

minced

8

oz

baby spinach leaves

4

marinated artichoke hearts,

blotted dry and roughly chopped

½

teaspoon

Worcestershire sauce

4

oz

cream cheese

(regular or reduced-fat)

2

oz

shredded pepperjack cheese

¼

cup

full-fat plain Greek yogurt

¼

cup

grated Parmesan cheese

Optional: a few dashes of hot sauce
Instructions
Scrub potatoes and place them in a medium sauce pan. Add enough water to cover them and salt the water.

Bring to a boil over high heat, and let boil for around 30 minutes, or until the potatoes are fork-tender.

Remove the potatoes from the boiling water and let them cool off for a few minutes, long enough to be handled. Meanwhile rinse out the sauce pan and get it ready to use for the spinach artichoke dip.

Situate an oven rack in the top third of the oven and preheat oven to 425°F. Brush a large rimmed baking sheet well with about 1 tablespoon of olive oil. Place the potatoes equally apart and press into each one with the heel of your palm (or a potato masher) until each potato is about ½"-thin. If any pieces come loose and separate from the potato, just press them back together.

Brush each smashed potato generously with the remaining 2 tablespoon of olive oil and season with salt and pepper.

Place baking sheet in the oven and roast for 35-40 minutes, or until each smashed potato is golden-brown with crisp edges.

While the potatoes are roasting, prepare the dip. Add 1 ½ tablespoon olive oil to the sauce pan set over medium heat. Add minced garlic and saute for 1-2 minutes.

Add baby spinach leaves to the sauce pan in batches, adding more once the previous batch wilts down. Stir the spinach around occasionally as it wilts.

Once all of the spinach has wilted, add chopped artichoke hearts, Worcestershire, cream cheese, and pepperjack cheese and stir until the cheese is melted and the cream cheese is evenly dispersed throughout.

Add Greek yogurt and Parmesan cheese and stir until the mixture is heated well throughout. Lower heat and stir occasionally to keep the dip warm while the potatoes are roasting.

Remove sheet from oven and place a dollop of spinach artichoke dip in the center of each smashed potato. Serve immediately.
Notes
CYou can use a different variety of shredded cheese, but I like to use pepperjack for additional flavor.
Sour cream may be subbed in for the Greek yogurt.
Prep time includes a half hour of inactive time for the potatoes to boil.
Nutrition
Serving:
1
potato and topping
|
Calories:
227
kcal
|
Carbohydrates:
18.9
g
|
Protein:
7.1
g
|
Fat:
14.4
g
|
Saturated Fat:
5.3
g
|
Cholesterol:
19
mg
|
Sodium:
210
mg
|
Potassium:
161
mg
|
Fiber:
2.3
g
|
Sugar:
2.3
g
|
Calcium:
160
mg
|
Iron:
1.6
mg
Nutritional information is provided as an estimate. As it can vary due to many factors (brands used, quantities, etc.), we cannot guarantee its accuracy.
Food Safety and Nutrition Disclaimer
I was selected for this opportunity as a member of CLEVER and the content and opinions expressed here are all my own.