Enjoy the fall coffeehouse favorite at home with this homemade maple pumpkin coffee syrup! The flavors of maple and pumpkin pair perfectly together in this easy coffee syrup that'll save you serious $$.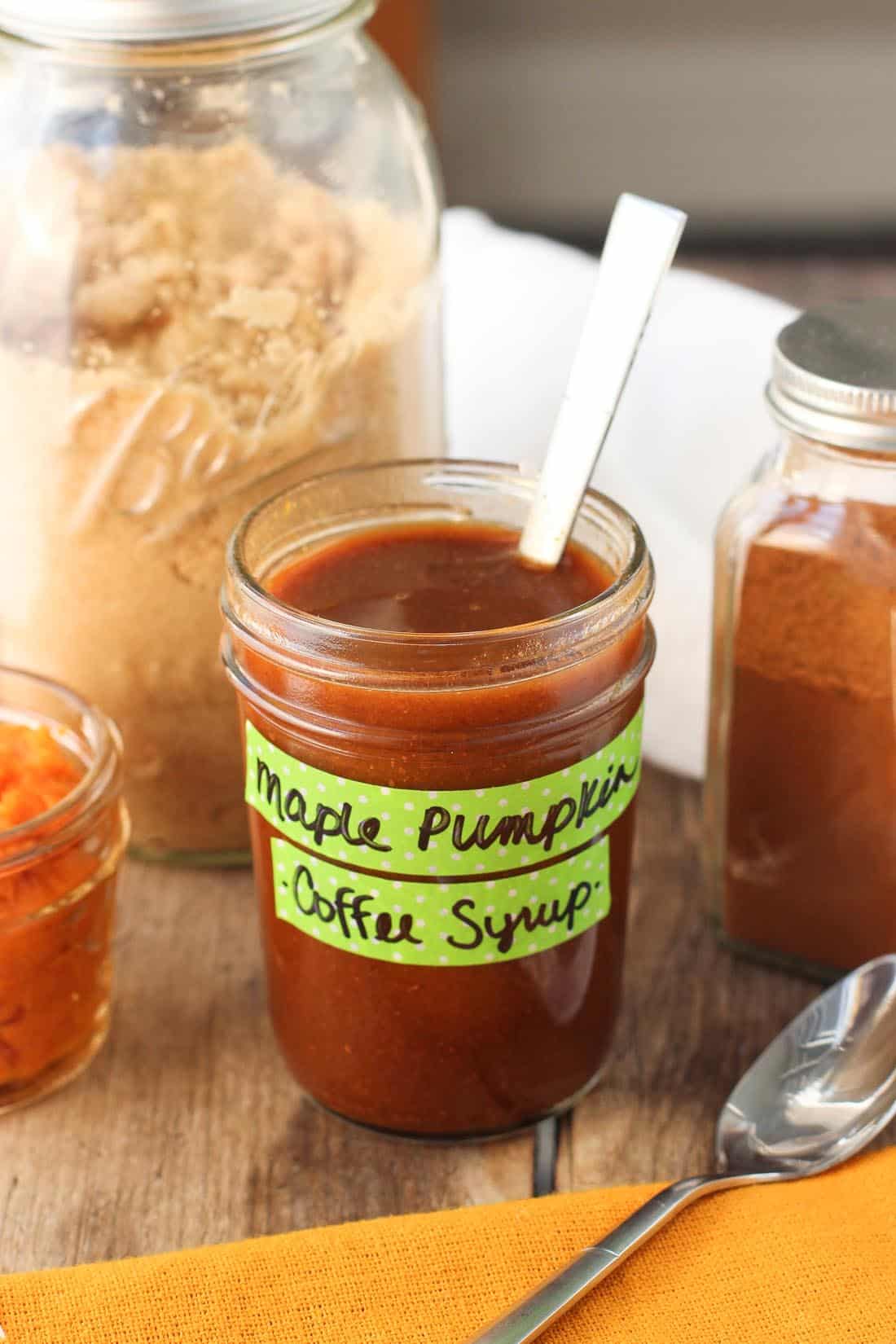 There are certain things I have crazy strong willpower around, and other things where I pretend like I don't even know the word "willpower" exists. Heavy hitters in the second category are pumpkin spice latte ice cream, Pringles, Chex Mix, and especially Utz Pub Mix. Whose idea was it to make that pub mix in super gigantic Costco-sized tubs, anyway? When one of those is around, look out. I'll just be over here, crunching away and pretending there are only eight servings per tub. Because there are, right? 😬
On the other end of the spectrum there are things I most definitely love but hardly ever indulge myself with. Flavored lattes for one! I live within walking distance to a totally awesome coffee shop that probably couldn't make a bad coffee beverage if they tried, but I hardly ever go. Of course the price tag has something to do with that, but I routinely pass it up for a plain old cup of coffee, made at home or at work. So I guess I have frou-frou caffeine willpower if you will. I'll take it (and it certainly makes my wallet happy too...)
On those occasions that I do splurge and order something, however, I go b-i-g. Multiple flavors, special milk, the works. A few weeks ago I noticed a pumpkin maple latte on their menu board and promptly knew I needed one of those in my life. I ordered one before work and sipped and savored that pumpkin maple almond milk latte alllll morning long. Seriously...I think I made it last until it was time for my early afternoon coffee.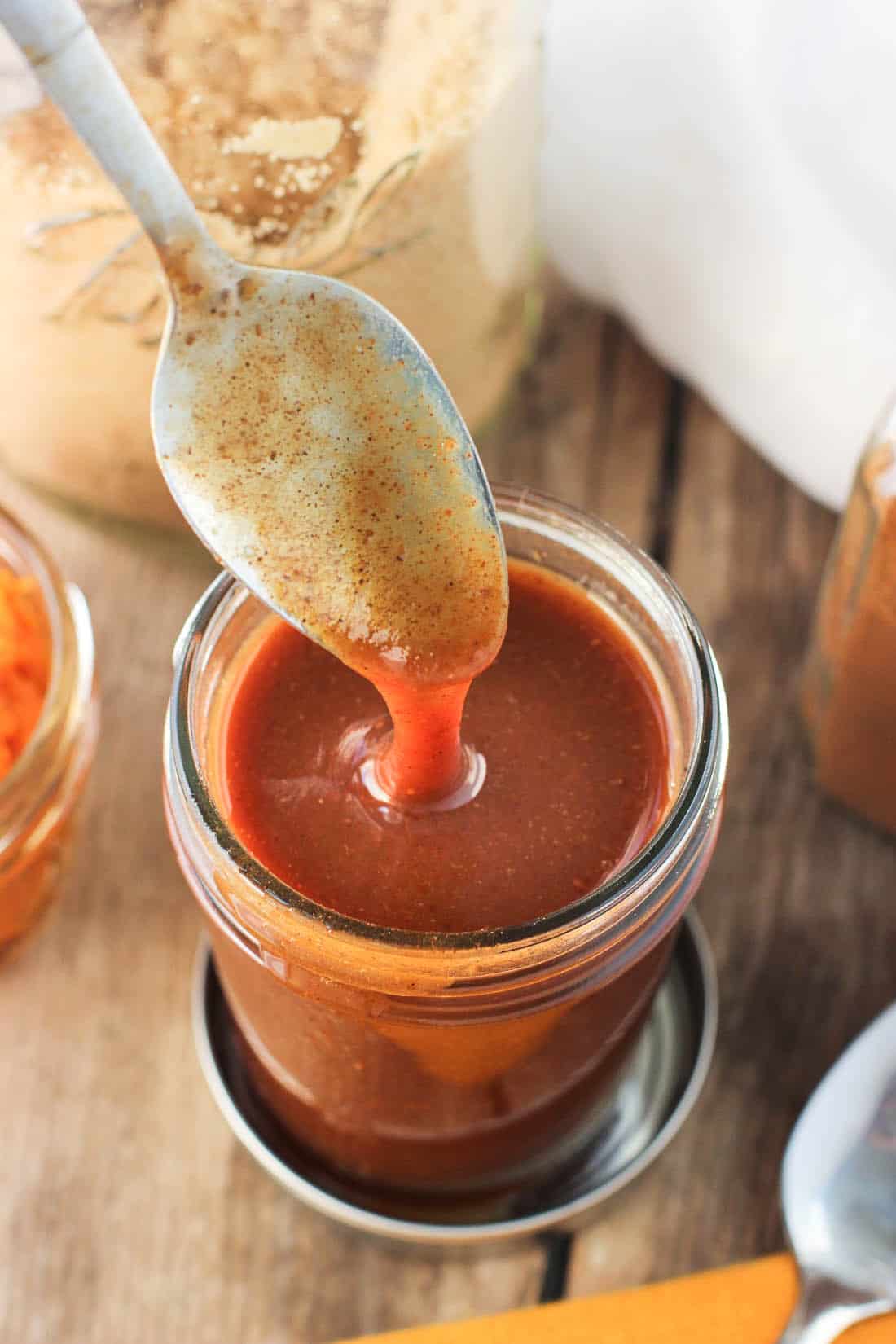 That latte was so good that I couldn't resist the urge to stop back in a few days later for another. And then I knew I needed to get my booty in gear and try my hand at a homemade version before this indulgence went the way of the pub mix. So this maple pumpkin offee syrup was born! It comes together quickly on the stove top, and is made with real pumpkin puree, maple extract, brown sugar, and all of those warm pumpkin pie spices. It'll be ready for your flavored lattes (or steamers) in no time!
Now I know I just admitted I haven't had an actual Starbucks pumpkin spice latte in years, so my comparison point for this syrup are the independent coffee shop versions I've been enjoying way more than normal this time of year. As written below this syrup is sweetened with brown sugar, but feel free to experiment with your sweetener(s) of choice. And then there's the matter of pumpkin pie spice flavoring. A quick Google or Pinterest search will bring you about fifty million different pumpkin pie spice recipes, so you can for sure adjust the quantities/ratios of the different components to your liking. I'm not a huge fan of nutmeg (as in, if I add even a smidge too much it's ALL I can taste) so I kept that quantity small, instead going for a bolder cinnamon/ginger flavor. You do you though!
Peeping around online I've seen a few homemade coffee syrup recipes calling for the mixture to be strained prior to storing, but I skipped that step and didn't mind. The ingredients dissolve pretty well while on the stove top, and then thin out even more once it's stirred into to a hot beverage. Maybe I should have called this the lazy girl's maple pumpkin coffee syrup. 🙂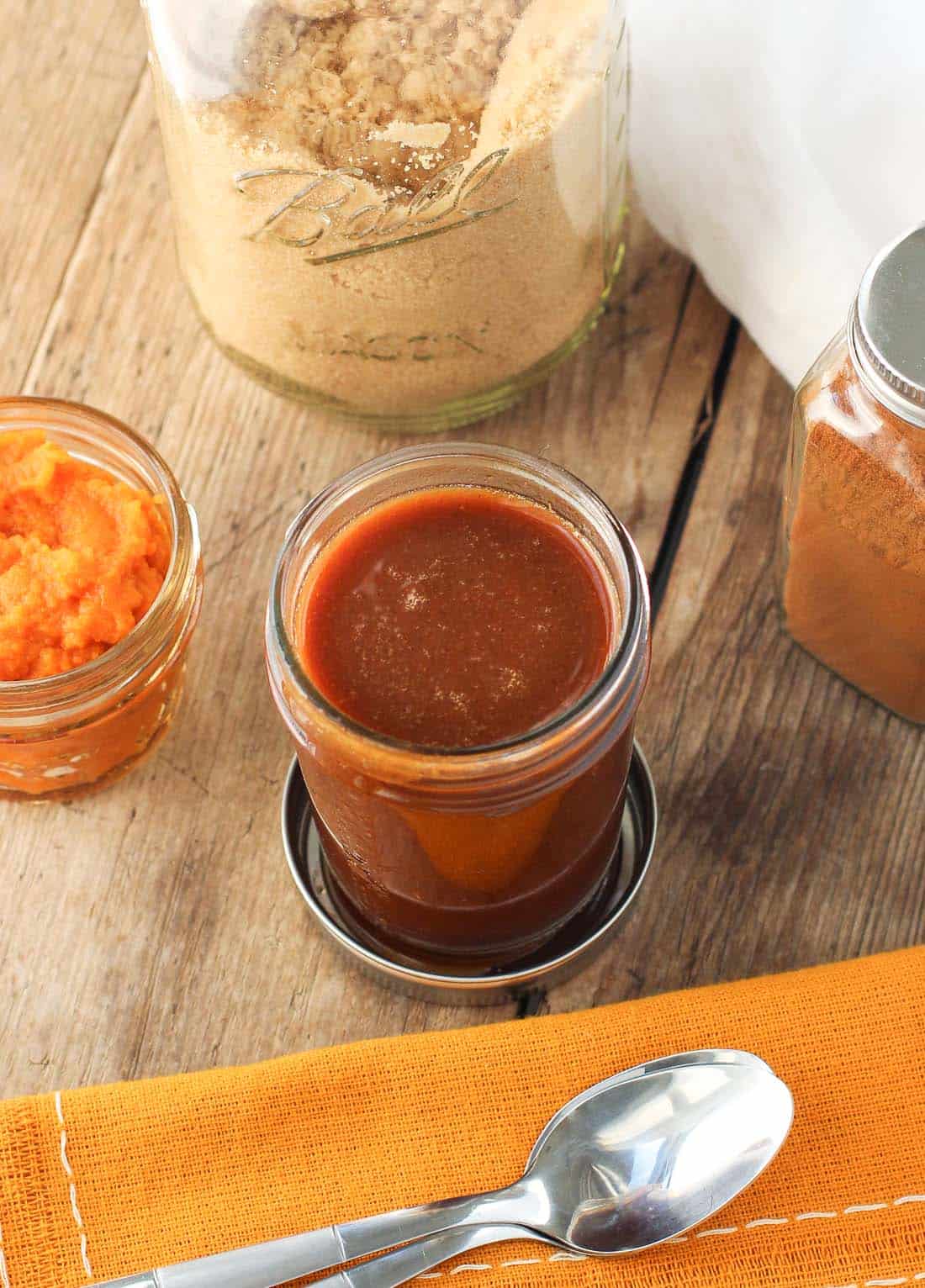 I used maple extract in this syrup instead of actual maple syrup because I find it has a much more concentrated maple flavor, so just a small amount will do the trick. Plus it adds maple flavor without the additional sugar of maple syrup, so there's that.
Maple Pumpkin Coffee Syrup
Enjoy the fall coffeehouse favorite at home with this homemade maple pumpkin coffee syrup! The flavors of maple and pumpkin pair perfectly together in this easy coffee syrup that'll save you serious $$.
Print
Pin
Rate
Ingredients
¾

cup

water

½

cup

brown sugar

¼

cup

pumpkin puree

1 ¾

teaspoon

ground cinnamon

½

teaspoon

ground ginger

⅛

teaspoon

ground nutmeg

⅛

teaspoon

ground cloves

½

teaspoon

maple extract

or more to taste

½

teaspoon

vanilla extract
Instructions
Set a small saucepan over medium to medium-high heat and add water, brown sugar, pumpkin puree, cinnamon, ginger, nutmeg, and cloves. Whisk so that sugar dissolves and the mixture becomes smooth. Let mixture heat until just barely boiling, but not reaching a full boil. Reduce heat to medium-low.

Continue to cook mixture for 2-3 minutes, or until it has thickened just a little bit. Remove saucepan from heat and whisk in maple and vanilla extracts. Store syrup in the refrigerator.
Notes
To use, I suggest stirring a few tablespoons into steamed milk and a shot (or two) of espresso. Adjust the quantity of maple pumpkin coffee syrup to taste!
Recipe yields about 8 oz of syrup in total.
Recipe adapted from Gimme Some Oven's

Pumpkin Spice Latte
Nutrition
Serving:
1
oz
|
Calories:
37
kcal
|
Carbohydrates:
9.5
g
|
Protein:
0.1
g
|
Sodium:
3
mg
|
Potassium:
28
mg
|
Fiber:
0.2
g
|
Sugar:
9
g
|
Calcium:
10
mg
|
Iron:
0.2
mg
Nutritional information is provided as an estimate. As it can vary due to many factors (brands used, quantities, etc.), we cannot guarantee its accuracy.
Food Safety and Nutrition Disclaimer
If you're feeling the pumpkin + maple love, check out these recipes, too!
Vegan Pumpkin Spice Latte Ice Cream - creamy (without dairy or eggs) with espresso bean flecks!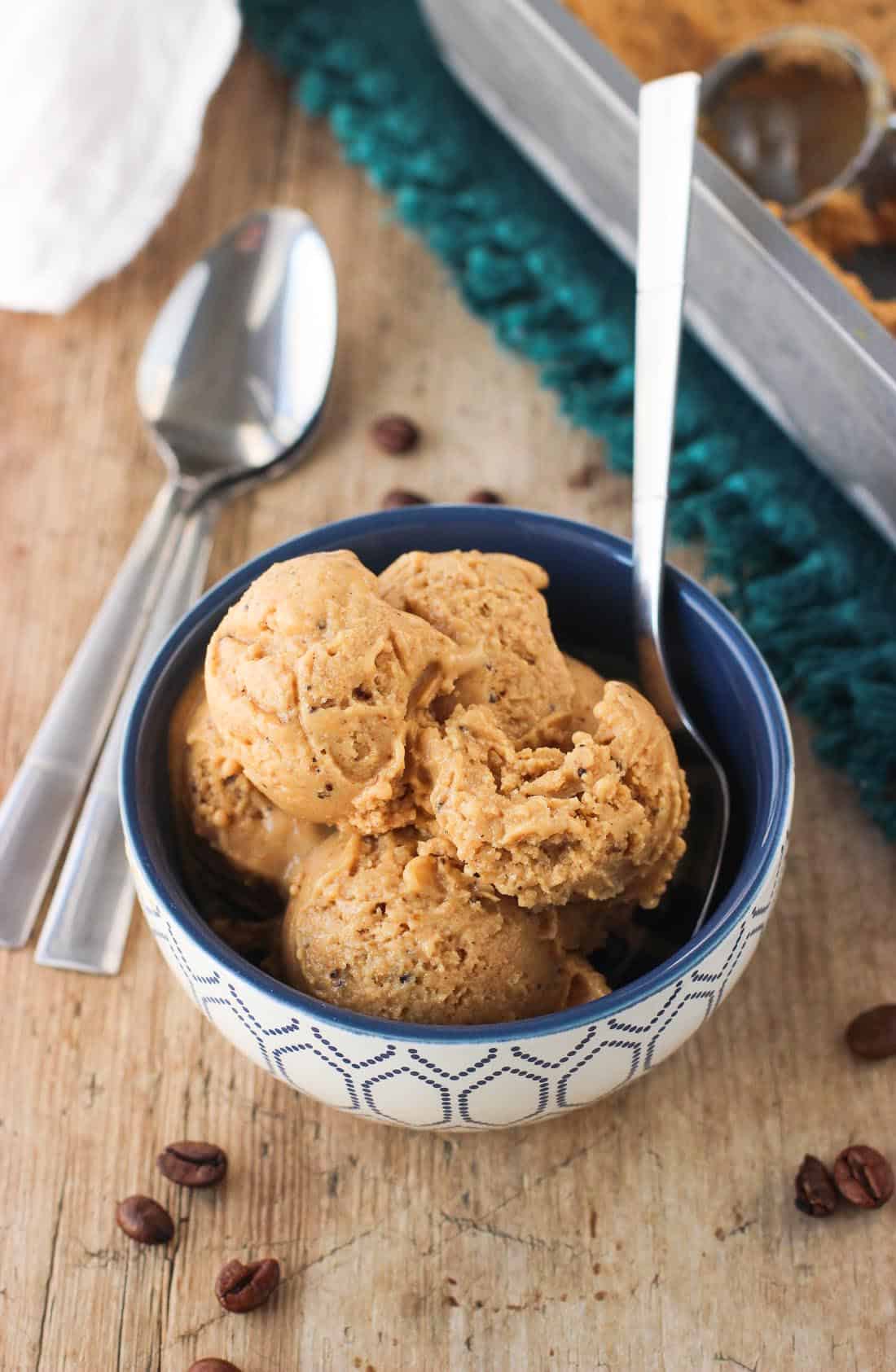 Chocolate Chip Pumpkin Banana Bread - also uses maple extract!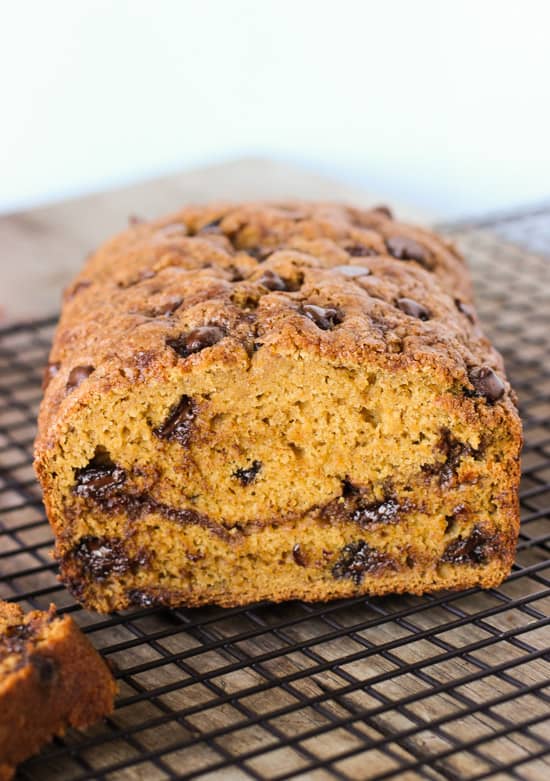 Baked Chocolate Pumpkin Donuts - because who should choose between chocolate and pumpkin?