This lemon yogurt cake recipe produces a soft and tender loaf cake bursting with lemon and made with a blend of oils for a nice flavor addition. It's perfect for brunch and dessert alike!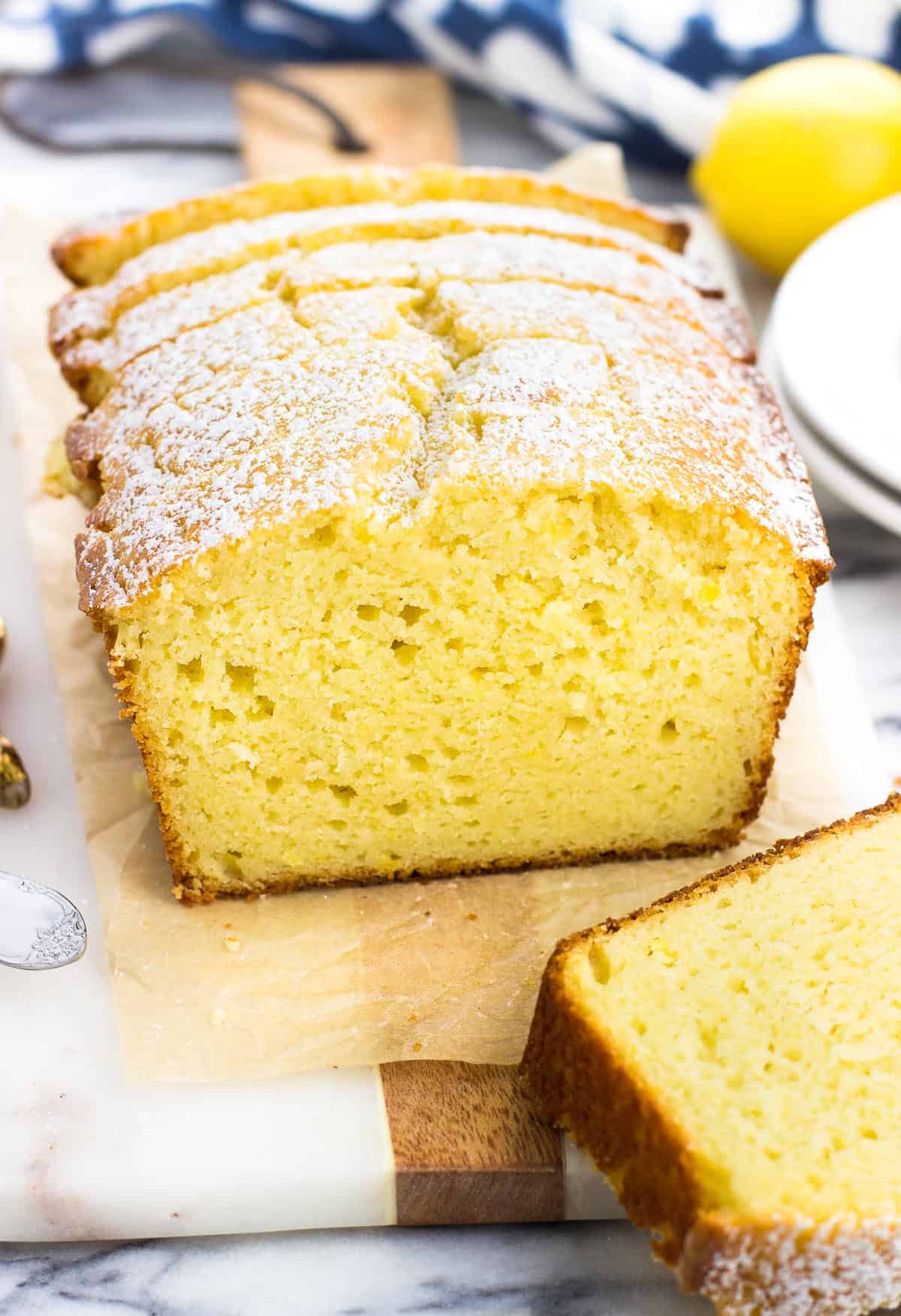 In celebration of spring on the horizon, it only feels right to share a seasonal recipe. And while I make and love lemon-flavored anything year-round, it just screams SPRING. That lemon flavor is bright, cheery, and quite a nice pick-me-up as the weather (fingers crossed!) begins to warm up.
Since I've been stretching out the time between my grocery trips as long as I can, I've started adding several ingredients to my orders without having any specific plans for them. Recently one of these extras has been a big tub of plain Greek yogurt. I figured there wasn't any harm in that as it's a true all-purpose type of ingredient and I'd certainly come up with ways to use it all.
Besides eating by itself or in smoothies, it's an integral part of this tremendous Greek yogurt caesar salad dressing and adds a healthy touch to creamy celery soup. Truly a kitchen workhorse!
This go around I went the sweet route and worked on a yogurt dessert recipe. Yogurt adds a ton of tenderness and moisture to baked goods, and its tanginess pairs well with citrus flavors. All this to say that lemon yogurt cake was a clear winner.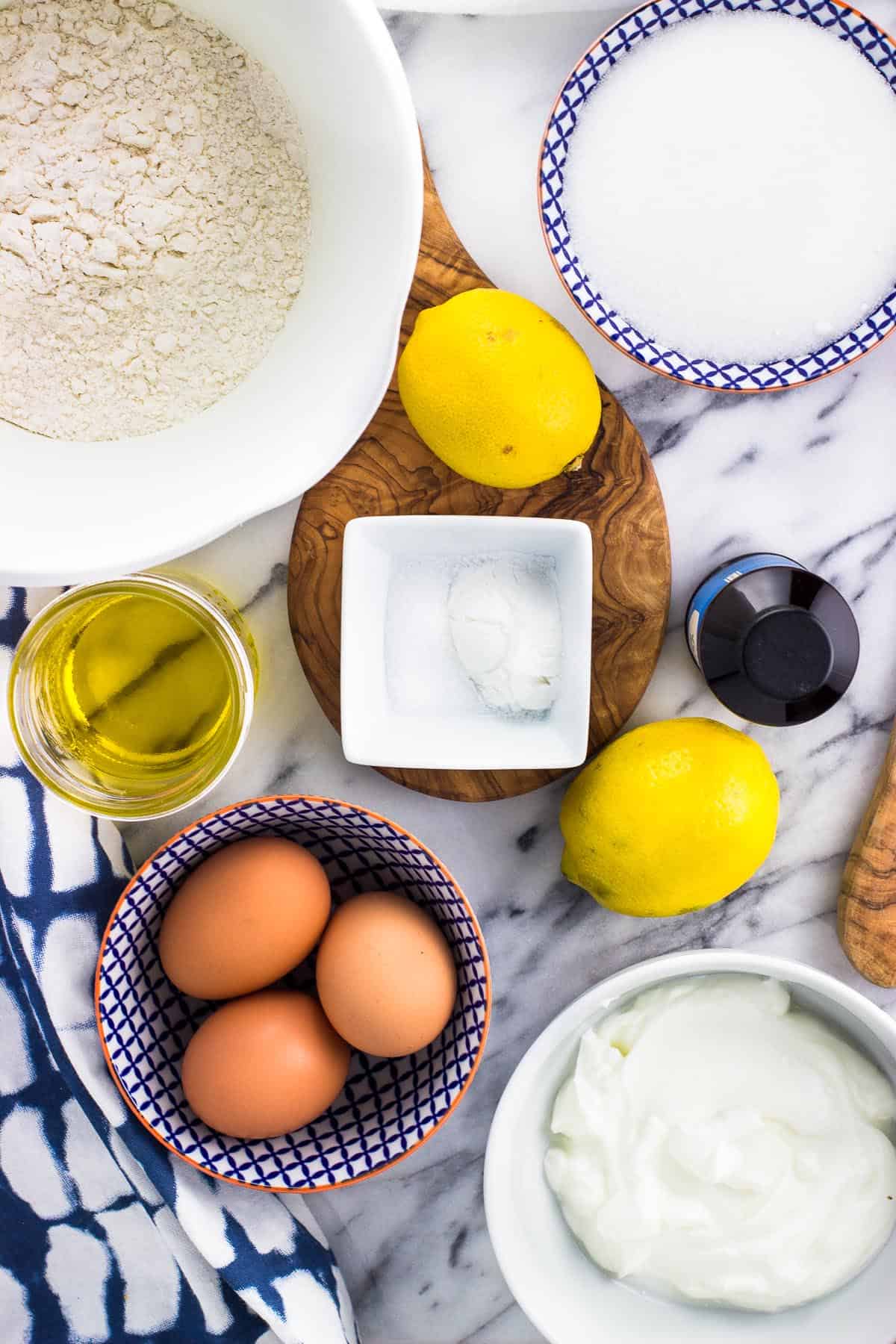 It's hard to pick a favorite part! This cake is sweet but not overly so, served with a simple dusting of confectioners' sugar in place of a perhaps more traditional icing glaze. It would totally work as a brunch dessert or sweet morning snack.
It has easy prep, which can be boiled down to combining the wet and dry ingredients first separately and then together, then baking until done. And the blend of oils? One in particular adds a complementary hint of flavor that kept my husband guessing as for what the "secret" ingredient was. Read on to find out!
Recipe ingredients
The dry ingredients are fairly basic as far as baked goods go. You'll need all-purpose flour, baking powder, and salt. The wet ingredients are really the stars of the show.
Yogurt: I like to use plain Greek yogurt to make this lemon yogurt cake as it's thicker than regular yogurt. And because of the additional oil added to the recipe, the fat percentage isn't crucial. I tested this recipe the most with nonfat yogurt and it works great, but you could also use low-fat or whole milk varieties if you prefer. Regular, non-Greek yogurt is fine, too.
Oil: Oil is the other part of the equation that provides moisture and a tender crumb in this cake. Using a 50:50 blend of a neutral oil (like canola or vegetable) and extra-virgin olive oil won out in my testing. Olive oil lends a hint of its unique flavor and a slight Mediterranean feel that truly meshes well with the citrus flavors here.
Lemon: Two tablespoons of freshly-squeezed lemon juice and one tablespoon of lemon zest bring a bright and bold lemon flavor to this yogurt cake. One medium to large lemon should be all you need (with a little lemon juice left over).
You'll also need one cup of granulated sugar, three eggs, and one teaspoon of vanilla extract.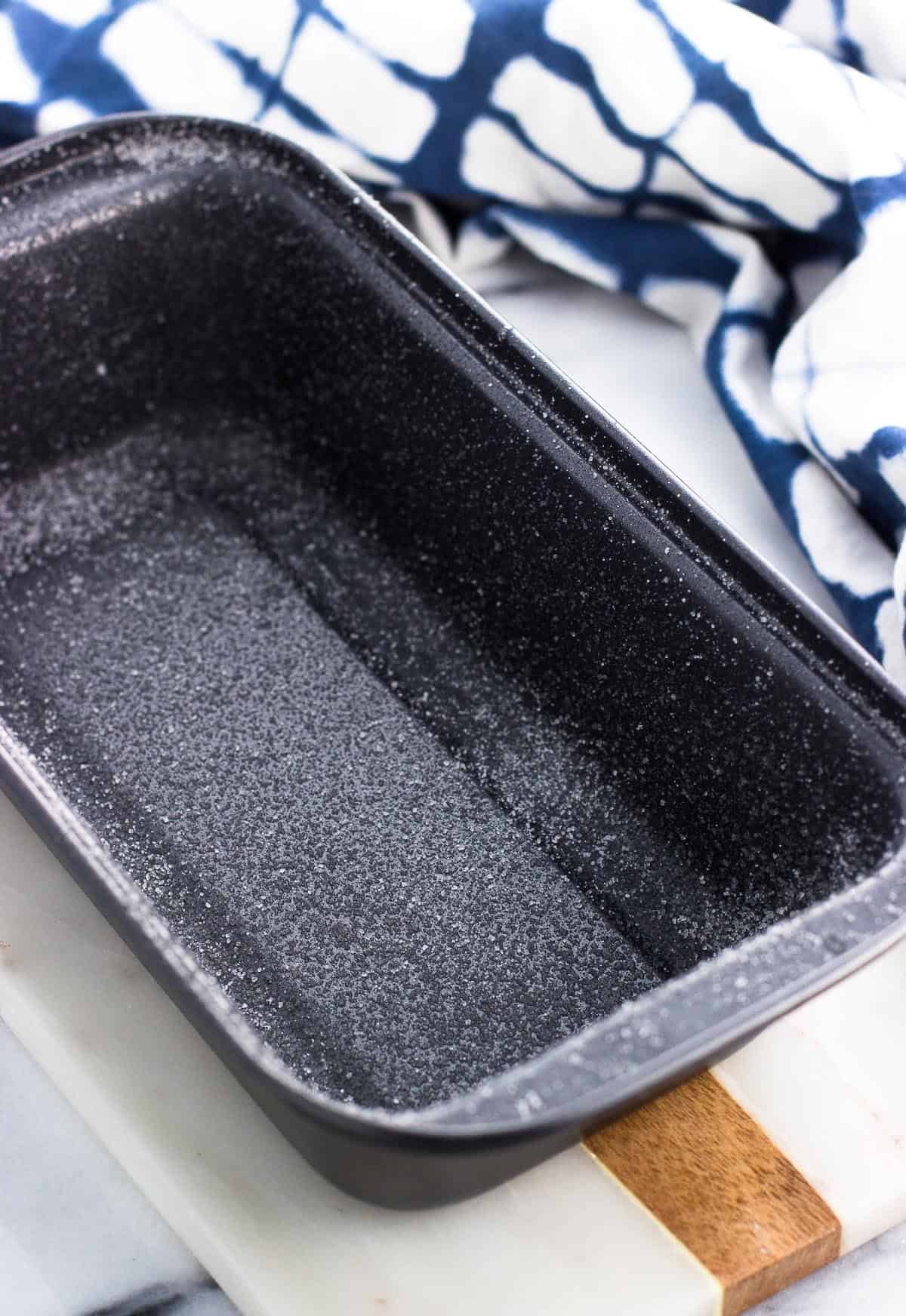 Grease and sugar the pan
The first step to this recipe is to prepare the pan, which in this case means greasing and sugaring. Most commonly done with flour, coating the pan with something extra helps the batter grip the sides of the pan as it bakes. This results in taller baked goods that have a nicely risen center.
While this recipe certainly works fine with flouring, I loved the extra special touch sugaring the pan provided. The granulated sugar melts into the crust to make it extra hearty and brings a tiny bit of extra sweetness. And that's a welcome turn of events seeing as this lemon yogurt cake isn't iced or glazed.
All you need to do is to grease the loaf pan with either cooking spray or unsalted butter, and then sprinkle one or two teaspoons of granulated sugar in the pan. Shake the pan around to have the sugar adhere to the bottom and all sides, and then tap out the excess into the sink or over the garbage.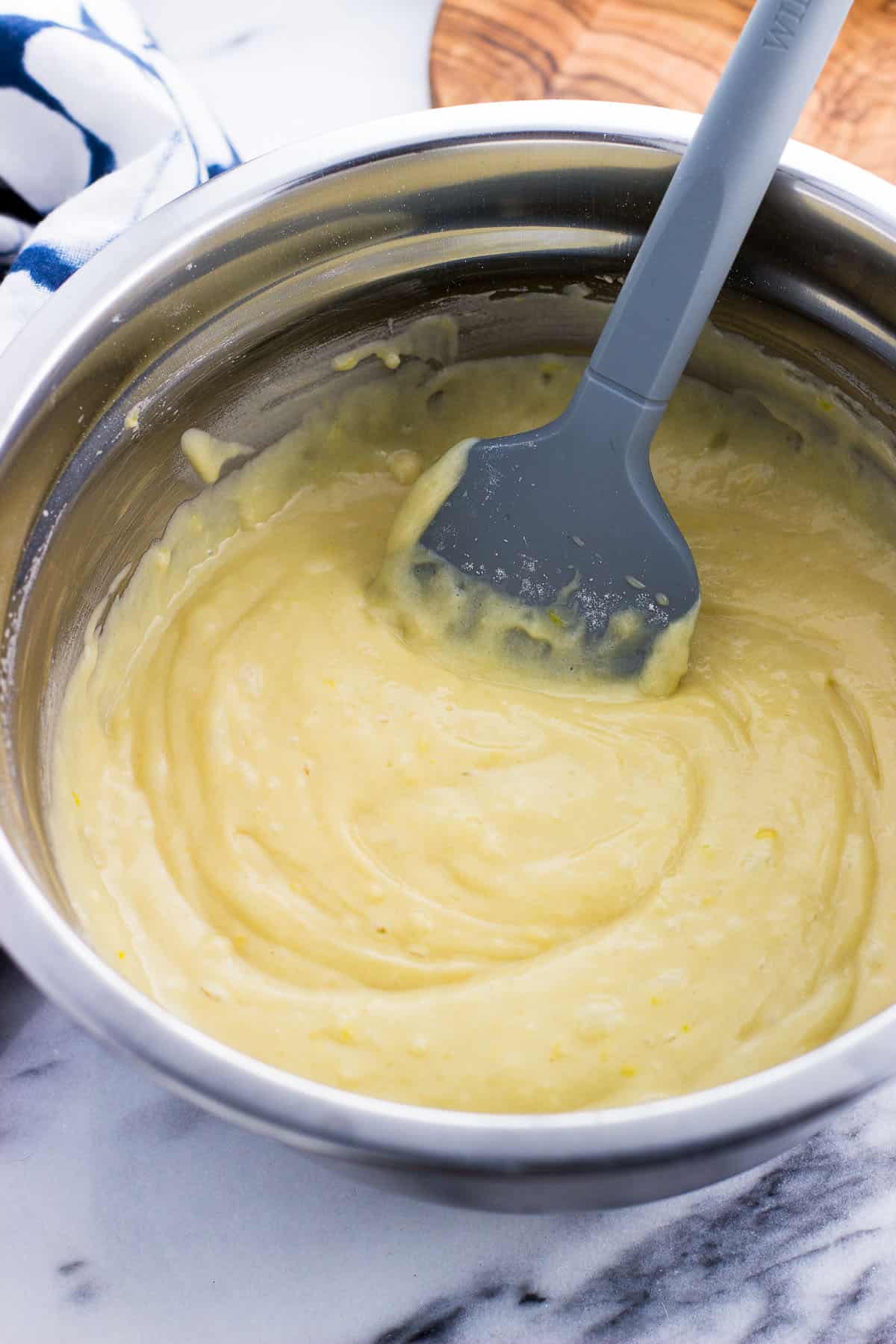 How to make lemon yogurt cake
First whisk together the dry ingredients: flour, baking powder, and salt until evenly combined. If you have differently-sized mixing bowls, use a smaller bowl here and save a larger one for the wet ingredients.
In a separate bowl add the sugar, yogurt, eggs, oils, lemon juice, zest, and vanilla extract. Whisk the wet ingredient mixture well until smooth and creamy. I usually don't pull out an electric mixer for this one – whisking by hand is fine.
Pour the dry ingredients into the bowl with the wet and whisk or stir well until combined. The batter should be nearly all smooth (the tiny lump-like things in the batter photo above are bubbles), then pour it into the prepared loaf pan. Bake for 45-50 minutes, or until the edges are golden-brown and a tester, such as a toothpick or a long piece of dry spaghetti inserted into the center comes out clean.
Resist the urge to open the oven door to check on this lemon yogurt cake as it's baking, as the influx of cooler air can interfere with the cake rising. Rely on your oven light to keep tabs on its progress, or shine a flashlight in your oven door window if you need to replace the lightbulb (like me!). If you do have to open the door to peek, wait until near the end of the timer time to take a quick look.
Let this cake cool in the pan for twenty minutes, then loosen the edges with a thin spatula or a knife and transfer it to a wire rack to fully cool before slicing, dusting with confectioners' sugar, and serving.
Related recipes
Another baking recipe that relies on a creamy dairy product to provide tons of moisture is this one for lemon ricotta muffins. Spongy and flavored with an excellent flavor duo of lemon and almond extract, this is another springtime favorite.
Those flavors also make an appearance in a cookie classic, Italian ricotta cookies. Moist and covered in a glaze and rainbow nonpareils, these are great any time of year but make an especially nice addition to an Easter (or Christmas!) dessert table.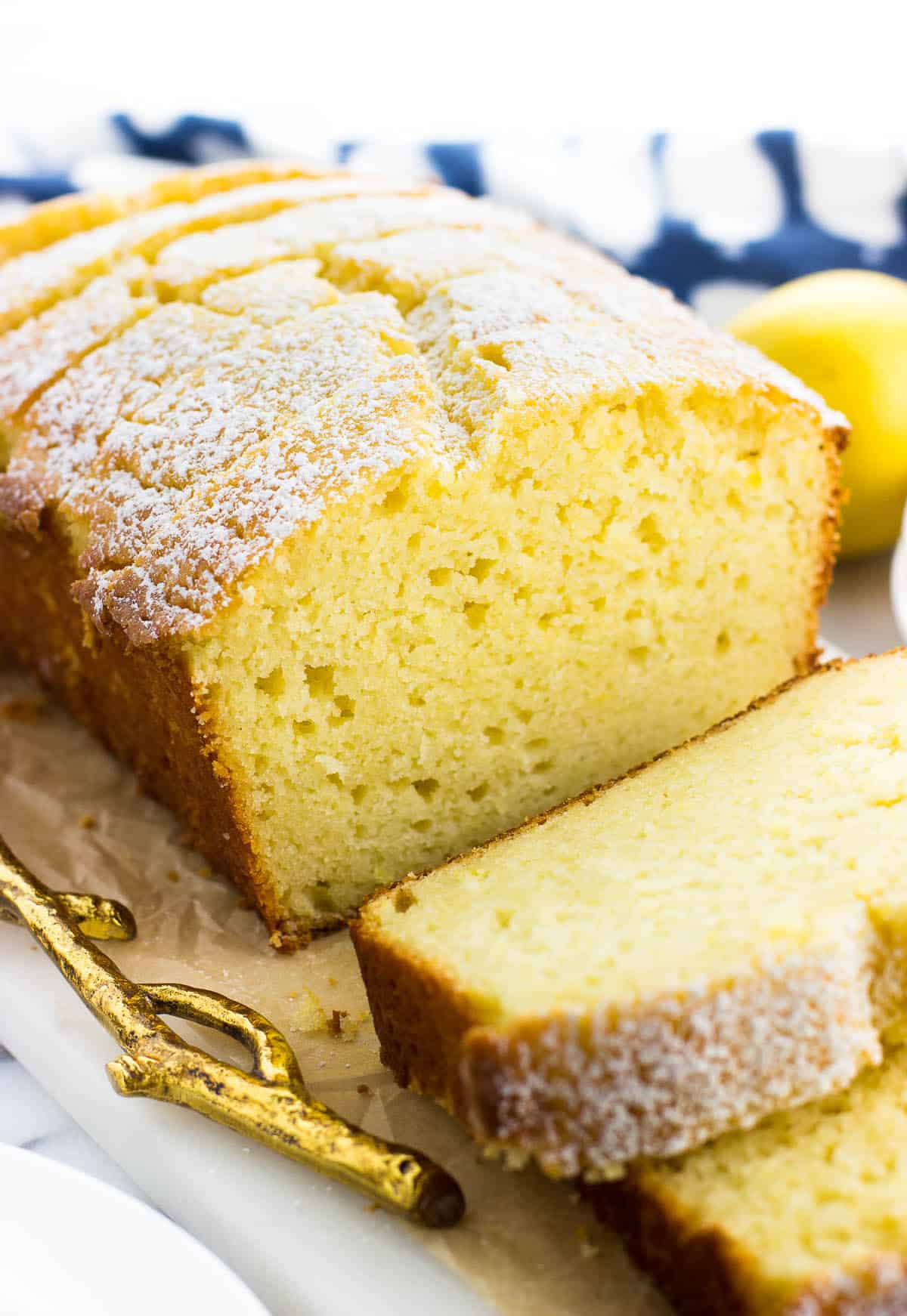 Recipe notes
It's easier to zest the lemon first while the lemon is whole before slicing it in half to juice!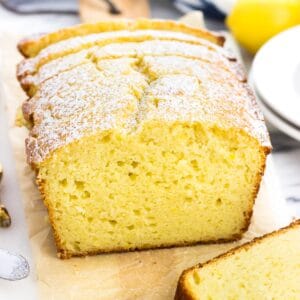 Lemon Yogurt Cake
This lemon yogurt cake recipe produces a soft and tender loaf cake bursting with lemon and made with a blend of oils for a fun flavor addition. It's perfect for brunch and dessert alike!
Print
Pin
Rate
Ingredients
1 ½

cups (186g)

all-purpose flour

2

tsp

baking powder

½

tsp

salt

1

cup

granulated sugar

⅔

cup

plain yogurt

(I usually use Greek)

3

large

eggs

¼

cup

neutral-tasting oil

such as canola or vegetable

¼

cup

extra-virgin olive oil

2

tbsp

lemon juice

1

tbsp

grated lemon zest

(from about 1 large lemon)

1

tsp

vanilla extract

Confectioners' sugar

for dusting
Instructions
Preheat oven to 350°F. Grease an 8 ½" x 4 ½" loaf pan with unsalted butter or cooking spray, then sprinkle 1-2 teaspoons of granulated sugar all over the greased pan to coat the bottom and sides well. Shake out any excess sugar. Set aside pan for now.

In a medium mixing bowl add flour, baking powder, and salt and whisk to combine.

In a separate mixing bowl add granulated sugar, yogurt, eggs, both oils, lemon juice, lemon zest, and vanilla extract. Whisk to combine very well.

Add the dry ingredients to the bowl with the wet and whisk until combined evenly and smooth. Pour out batter into the prepared loaf pan.

Bake for 45-50 minutes, or until the edges are golden-brown and a tester inserted into the center of the loaf comes out clean. Let the cake cool in the pan for 20 minutes, then carefully run a thin spatula or paring knife along the sides of the pan to loosen it before transferring it to a wire rack to cool completely before slicing. Dust with confectioners' sugar just prior to serving.
Notes
Loaf pan: This recipe was made and tested in an 8 1/2" x 4 1/2" loaf pan. A 9" x 5" pan will also work, though your cake will be less tall and the bake time will likely need to be adjusted down. Yogurt: Fat percentage is not super important as there's oil added here as well. This recipe was tested with non-fat Greek yogurt and works great. Low-fat or whole-milk types will also work, as well as non-Greek yogurt if you prefer. Oil: The half-and-half split of neutral oil and olive oil is my preferred way to make this cake flavor-wise, but using all neutral oil would work fine instead. I haven't tried this cake with all olive oil.
Nutrition
Serving:
1
slice
|
Calories:
267
kcal
|
Carbohydrates:
35.8
g
|
Protein:
5.4
g
|
Fat:
12
g
|
Saturated Fat:
1.6
g
|
Cholesterol:
49
mg
|
Sodium:
143
mg
|
Potassium:
168
mg
|
Fiber:
0.6
g
|
Sugar:
21
g
|
Calcium:
74
mg
|
Iron:
1
mg
Nutritional information is provided as an estimate. As it can vary due to many factors (brands used, quantities, etc.), we cannot guarantee its accuracy.
Recipe adapted from Food Network